General Information
From The US Consul General - Ongoing U.S. Citizen Evacuation Efforts from Cabo San Lucas in Aftermath of Hurricane Odile, September 19, 6 pm

Mexico City, September 19, 2014 – Most U.S. citizens have left the La Paz area and basic services have improved in much of the area. U.S. Consular support assisting U.S. citizens in La Paz is now relocating to Los Cabos. Any U.S. citizen in the La Paz area needing to depart immediately should make their way to Los Cabos airport where there are commercial flight options.

Most U.S. citizens have also departed Los Cabos and anyone remaining in the area who wishes to leave should be able to find a flight out of the area. U.S. Consular officials remain on the ground in Los Cabos to assist U.S. citizens in need of emergency consular services.

U.S. citizens are strongly discouraged from taking Highway One north from Los Cabos to Tijuana for the time-being; while the road is technically open, numerous wash-outs, a gasoline shortage, and other obstacles make the journey on this highway dangerous and arduous.

U.S. citizens wishing to provide charitable assistance to victims in Baja Sur should note that complicated customs and clearance requirements govern such assistance if originating abroad. The most efficient way to provide assistance and disaster relief is through cash contributions to the charity of your choice, earmarked for Hurricane Odile disaster relief.

U.S. citizens requiring assistance can continue to visit https://tfa.state.gov/ccd, selecting "2014 Hurricane Odile," and providing as much information as possible. Phone 1-888-407-4747 (From the United States and Canada), +1-202-501-4444 (From all other countries), or email OdileEmergencyUSC [- at -] state.gov for additional information.

International Community FoundationTo Help With Relief Efforts Out Of San Diego - If you re interested in making a tax deductible contribution please contact Alana by email ( Alana [- at -] icdfn.org ) or call 619-336-2255, make a note Baja Relief Efforts. As well Rotary International of Bend Oregon is taking donations of daily living supplies such a clothes, bedding, personal hygiene items, diapers and cash or check. A Rotary contact is being set up in Calif. I will forward a soon as the roads down the peninsula are open, Rotary contact is Cindi O'Neil at coneil [- at -] solairehomebuilders.com.

East Cape Health Center is working closely with Los Cabos Children's Foundation ( Greg Edwards ) and Amigos Los Nino's ( Gay Thatcher) in Cabo San Lucas. We are looking for donations of clothing, personal hygiene products, diapers, bedding, shoes, glasses, medications and cash can be dropped off at the clinic and check contribution can be made out to East Cape Community Urgent Care Clinic in memo Baja Relief, as their partners we will direct efforts their way for Cabo. My thoughts and prayers are with you all Thank you all, Char

From Andrew Erickson's Posts - I just spoke to the Mexican Consul General in San Diego. The Mexican government is STRONGLY DISCOURAGING in-kind donations to Baja Sur. Please work with the charity of your choice, already present in Mexico, with monetary donations. The Mexican Government is asking that people not attempt to bring charitable contributions into Mexico. https://www.facebook.com/groups/TalkBaja/?fref=nf

Gringo Gazette September 18th Report - 3 people dead. 2 were high executives from El Boleo mine who tried to cross a road flooded by a river, another one died of a heart attack.

Frontier Airlines Info - Received 9/18: Just talked to Frontier. The earliest flight they can book me for is the 25th of Oct. with no charge to do so. They will go out to Nov. 18th with no additional charge. The man I spoke with was not very confident that the airport would be operational by November. He offered to give me my money back, reroute me to another location, or give credit up to a year. I booked on the 25th Oct.

Alaska Airlines Info - I spoke with Alaska Airlines yesterday (Sept 19), they have actively been involved in sending humanitarian flights to La Paz, with food and water and today are sending planes to fly out people, Alaska deserves big credits for this effort! scott [- at -] scotthedrick.com

Mex One Update - We strongly recommend that you delay any trips south as airports are closed and many roads are flooded and are impassable.

Tropical Storm Polo is right on the heels of Hurricane Odile, and is expected to bring more rains and winds to Baja starting this weekend. As we hear more information about conditions, we'll keep everyone updated... Discover Baja

Roads throughout Baja California Sur are flooded and impassable. We highly recommend not traveling south of San Quintin at this time.


Cabo San Lucas / San Jose Del Cabo
From The Gringo Gazette -
Nearly 50,000 people moved from Los Cabos to La Paz.
1,000 are people waiting at the La Paz airport to leave, because they drove up there before the Cabo airports opened. Volaris and Interjet are sending planes to Cabo free of charge and there are some commercial flights available now out of Cabo. Also, in the past few days many hundreds of tourist were flown out on the military transports that brought federal soldiers in.
Electricity is restored to 70% north of La Paz and 40% in La Paz. It is estimated it will take around 2 to 3 weeks to restore all power in Los Cabos, but barrio by barrio, the lights are twinkling back on. Almost 3,000 high tension poles are down or damaged. Airport, hospitals and shelters have electricity with power plants.
300 CFE trucks and about 1,000 electricity company workers were brought here in addition to the 1,000 we already have.
The heads of tourism, civil protection and Fonatur are here and they all say they will stay until everything is sorted out.
More than 3,000 soldiers, sailors and federal gendarmerie are here as of yesterday.
Neighbors have built barricades in some street for protection while convoys of armed cops and soldiers are patrolling at night. The looting and roving gangs have been brought under control and a 10 pm curfew is being enforced.
7 people have jailed last night for looting, however, it was thousands of people who are responsible for that behavior.
Cabo Mil is up and running and doing a terrific job of putting out information in both Spanish and English.
David Flores, our editor in Cabo has counted 75 Electric Poles that are down on the ground; he says the real number could be more than double that. There are 200 CFE trucks on their way to Cabo from mainland Mexico and northern Baja.
The Mexican government and different associations are flying in food to La Paz, the government will be distributing the food.
There is only one single OXXO in Cabo that hasn't been looted.
You probably won't hear from your loved ones in Cabo or La Paz until the power grid is restored; this doesn't mean something bad happened to them, there is just no cell or regular telephone service.

Trips To Cabo San Lucas Not Recommended - I spoke with Able Bercovich yesterday about his trip to Cabo San Lucas on Thursday. He described the experience as being in a Mad Max movie and he would not suggest going to Cabo unless absolutely necessary. Abel talked about bands of men with baseball bats along the roads and total devastation of businesses along the highway. The only two reasons to go to Cabo, Costco and the airport, are not in operation--so what's the point in going anyway. Give it a few weeks for them to recover before venturing down there unless absolutely necessary. - Dennis Ross, S/V Two Can Play

Roads between San Jose del Cabo and Cabo San Lucas are clear and safe to travel. - http://www.bajafly.com/report/Bajafly.report.htm

The road north from Cabo San Lucas on Hwy. 19 has heavy traffic headed for La Paz where hotels are already filled to capacity - Baja Insider

La Paz

The road between Loreto and La Paz is open.- http://www.bajafly.com/report/Bajafly.report.htm

Another fleet of CFE power trucks has arrived this AM in La Paz to service the entire region. La Paz hopes to have as much as 70% restored today.

The Tel Cel office is open in the MEGA shopping center in La Paz for those wishing to recharge their cell phones. Purchasing time at independent markets has proven problematic with credit disappearing due to internet linking problems. Many ATM's are online and more expected by Friday - Baja Insider

Fuel has become less of a commodity Friday as more stations in La Paz open under their own power.

We live Colinas del Sol. Which is north of Centro end of Altamerano St. 3 Elec Posts down on our road, more down further up.. So no elec, or water. Interenet and phone came today but sporatic, in town today (Sep 19), talked to CFE and they said they will be up there tomorrow and water should come back also. Info for anyone else up there. The Colonia up the hill and below us still in the dark as we are. Pedregal has all so i hear. We are hoping for the best. Carole

Hello Everyone, We are in desperate need of rentals. Anything and everything will be considered. We are having a wave of people from Cabo looking for short and long term rentals. Please give us a call if you have any thing you would consider renting. 6121546898 MX Cell 4805268017 USA. As you can imagine people are desperate to get out of there. Thank you very much, Regards, RObert

We wanted to let everyone know that Destino Cristiano (Christian Church) is having services on Sunday as usual, starting at 10am. Our power is stable! Our service is in English, with the sermon notes translated in Spanish projected via PowerPoint. 520 Allende (the literal corner of Allende and Ramiriez - 6 blocks up from the Malecon.)

From The BajaInsider - Updated Thursday, September 18, 2014 2:21 PM MDT - Clean-up is already well underway in La Paz. Cellular service and 3G internet has been restored. Purchasing time on cell phones and 3G (Banda Ancha) has proven problematic at non-Telcel locations due to the internet connections still being down via land lines.

More CFE and military arrived by land and air this morning. Vehicles are still in short supply, as it requires about a 1800 mile drive around from the mainland. Telcel/Telmex has dispatched a special tech crew to help restore communications. Looting, which is becoming a large problem in Cabo San Lucas is relatively limited here in La Paz to OXXO's for staple foods and beer.

The govenor of Baja California Sur addressed the state by radio and outlined the priorties in restoration of normality. In Cabo San Lucas the first priority will be the restoration of safety and law. More than 500 troops and federal police will be doing that today, Thursday. Next water will be restored, followed by power and health services. Specail federal tax dispensations have been requested for the next 90 days for Baja Sur.

The body of Guenter Trebbow, a long time figure in the La Paz cruising fleet has recovered after his boat went aground and sank early Monday. Two additional cruisers remain missing as of 10AM Thursday morning. Their sunken vessel was found empty by Navy divers on Wednesday.

Clean up had begun inland by late Monday with folks cleaning the streets in front of their homes. Hurricane response in La Paz has always been amazing. Despite early dire predictions, fuel began to be available more readily this evening and grocery stores were already opening their doors. We still have a lot of cleaning up to do. But business will begin to return to normal before week's end.

The marina community in La Paz was again the hardest hit with 29 boats aground, driven up by high winds. The center of the hurricane was just about 32 miles west of La Paz at 5AM local time, the barometer bottomed out here at Marina CostaBaja at 4AM and the most damaging winds come from the east as the front edge of the storm went past. This far from the storm center we experienced high end Category 1 conditions with a low pressure of 986. Closer to the system the fury of the conditions rose rapidly.

Seen below, one of the biggest single messes was created when a light bar in the La Paz stadium was blown back over itself, taking the light tower and the upper loge with it, completely blocking 5 de Mayo with 6-10 feet of debris. We didn't have a great deal of rain here in La Paz, several inches mind you, but for a very brief few minutes the rain came down at a 45 inches per minute rate! This storm was much gustier than nearly as second runner-up Hurricane John.

CFE the power entity, reported more the 500 poles snapped in the city of La Paz. Concrete high tension power lines in Centenario we doubled over like toothpicks. When we drove the city Monday afternoon at least half of the business signs are down, with the exception of the supermarkets that learned the hard way in the last hurricane. Nearly every block had multiple trees down and some cable in the road. Most overhead street signs were down or bent to pretzels.

The La Paz airport is open but flights are booked and lines for stand-by are long as folks attempt to flee Cabo for stateside destinations. La Paz does not offer direct flights to the US or Canada. The Ferry is operating to Mazatlan as of Wednesday afternoon. Tickets are at a premium. Hotels in La Paz have been accused of price gouging due to the short supply and large demand. The mayor is investigating. The governor of Baja California Sur has requested and received State of Emergency status and funding. Tomas

Loreto

The road between Loreto and Tripui is open.- http://www.bajafly.com/report/Bajafly.report.htm

Power, water and phones are restored. Trees and power lines down. Military cleaning up. Driver made it from La Paz to Loreto Wednesday. Road passable but one lane in places - Vagabundos del Mar



Los Barriles / East Cape

Cell Service - If you want cell service - drive to the arroyos. For whatever reason they are working there.

I did receive two phone calls from LB today (9/19) There is now a generator at the water pump. Not sure who is able to get water. No electricity yet. Hard line phones work and cell phones work in the arroyos.

No details yet, but a friend made it through from Los B to El Rosario on 9/18-9/19)

Kathy C's hard line phone is now working if you want a house inspection or have questions about the LB area. Call between 5-6pm 624-141-0530

Road is open from La Ribera to Los Barriles. - http://www.bajafly.com/report/Bajafly.report.htm

Mulege

Houses wiped away, no electricity or gas, roads are flooded and covered with mud... Vagabundos del Mar

The roads are horrible. Once in awhile we see a semi- making its way from Loreto to Mulege. Hopefully with food and items needed in town. The road north to Sta. Rosalia is passable but takes at least two hours one way.

The road north of that (so I've heard) is really bad. Gone in some places.

It's looking more like Hurricane Polo will continue outside the Baja and not make a direct hit. Meanwhile, the scraping out of mud continues here in Mulege. The beaches got the water and wind that Mulege got but we didn't get the mud and most of us have solar power and generators, therefore our internet works and we have communication with the outside world. And we Bomberos have radio contact with Mulege Bomberos.

The last time I spoke with the Chief in town he had had two hours of sleep. He is busy directing the cleanup effort. And he knows when this is over he will get to go home and replace his roof that left during the storm. When last I was in town, the Bomberos were trying to get the mud out of the clinic.

All the books from the new library were thrown out on the sidewalk in a soggy mess. It's one step forward for this town and, darn it, several steps back. Still, as we went through town everyone we met smiled and went back to their cleaning. We didn't get a whine or complaint from one of them!

Road is open from Santa Rosalía north to Vizcaíno and south to La Paz but it is rough. - http://www.bajafly.com/report/Bajafly.report.htm

First arroyo south of Coyote on the highway near Mulege has been washed out. - http://www.bajafly.com/report/Bajafly.report.htm

On Line Donations Thru Mulege Rotary - Donation Procedure Using Paypal: We are using Mike Fleming's paypal account. Here is how you do that: 1. go to paypal.com
2. login as usual
3. click on "send money"
4. copy and past or just type in TO: mike [- at -] fleming.cc
5. fill in your donation amount, click "PERSONAL" and choose "gift" and click continue.
6. on the next screen scroll down & write in the note space: "Forward this donation to Mulege Rotary" then click send and you have donated.

Some caveats: First, misspelling will mess things up so cut and paste is the way to go. Second: PayPal may hold large donation amounts for a day or two to "verify funds" or have other similar process with your account, usually they explain that on screen or in an email. No big deal.

Third: in step 5 above, clicking PERSONAL and choosing gift eliminates the 3% paypal fee so 100% of your donation is received.

Thanks for supporting Rotary and the fine citizens of Mulege. Any questions....fire away. Use this forum or my email: tntsell [- at -] sbcglobal.net

San Juanico / Cuidad Insurgentes

The road is severed 18 Km south of San Juanico.

Santa Rosalia

Ed from S/v SeaMoore here. I left to visit family in Oregon; leaving boat, wife, and friends in Santa Rosalia last Sunday before anyone scheduled a hurricane. I have been in contact several times with Teri and all is well for the boaters (relatively) in the marinas. Reports I have seen are accurate; the old marina was destroyed; but the people were safe. The new marina Fonatur was OK and all the boats survived; but only due to heroic action by staff and boaters present. My boat in particular was on a dock that broke loose from the pilings and several docklines snapped in half; requiring quick and cautious work to save my boat!!! I am told I owe more than one dinner to folks down there! Last I heard they are still looking for the bodies of persons (mine officials) swept into the harbor with their car. Boats Ulalena, Raindancer, Pantera , and SeaMoore are ok and catching their breath. They have electricity (north side of town only) and internet but no water flowing. I talked to bus lines yesterday and could not find any busses that are traveling from Tijuana to Santa Rosalia yet; but the alternate route by ferry from Guaymas is working.

I have been in Santa Rosalia now since Sunday on way to San Diego. Aside from the areas close the water the old town was not affected at all and all stores and restaurants open. Water is having to be trucked in but this is working. Gas stations open. Electricity and internet only down for one day. All in all in pretty good shape!



Todos Santos / El Pescadero

News From Cerritos: Town had quite a bit of damage. Sandbar gone, Pemex gone (200 hundred cars in line at Todos Santos pemex for gas; running off generator), major damage to OXXO, Baja Beans ok, major damage at Rancho Pescadero, the Ejido building is gone, No food or beer in town. the Mariscos Pescadero palapa is gone. Almost everyone in town has broken car windows. Road is open La Paz to Cabo. No power crews working in area, they are all in cabo and lapaz. (09/18)

From Alvaro Colindres: Todos Santos Pemex is intact and open for business. The highway is open to La Paz and CSL. The clean up process and restoring services are well on their way. Although the news probably does not look good, it's not all bad. We are going to prevail! And there is no place I'd rather be!!! Todos Santos, BCS (09/18)

Situation is grim, report from arlene, looting in pescadero, driving a big truck, wearing masks. (09/18)

All is well at Casa Rancho. We had extensive palapa damage but nothing structural to the rooms or kitchens. I already dismantled the 2 palapas and they are on the street. One neighboor just took a major load of free firewood. And now I have about 20 cargas of pre drilled leaves if anyone is interested. Gas is now available, cel phones on, bancomer open for a few hours this morning. People are seriously rallying to clean up and the place already looks decent. Woody, paul was a mere sea breeze compared to this monster. The noise and pressure were unbelievable. It felt like being in on airplane that was going down. More later. (09/18)

I am at shut up franks. No cell service, no electricity. They have a generator and Telmex phone and internet is working. What can I say? About 60% of all power poles are down and just about every large tree and every piece of aluminum roof. The road that the Mtn. Shadows rv park on is ruined so I can't comment on anything there. If the building is made of Cement, it is probably still there. I have seen many RVs here in TS flipped on their side, stripped on their siding or crushed. I have seen others completely flipped over. I have seen a few still okay.

Looting is a huge problem. Many many families lost everything they own. Food is in short supply but the government has an 18 wheeler here giving out free food and water. The President was here yesterday. I am ok. Damage to the properties I care for and my personal house was wiped out. But all in all, I'm okay. - Katie Jay (09/18)

Looting is HORRIBLE here. Locals vs locals, etc. Someone told me that they hear gun fire around their area at night. That is the area above the Bomberos. I am really glad that we have gasoline now and one ATM open and of course SHUT UP FRNAKS!! YAY!! Football is on! Imagine that!?! - Katie Jay (09/18)

Los Barriles to SJDC airport not passable. Caduaño Bridge is down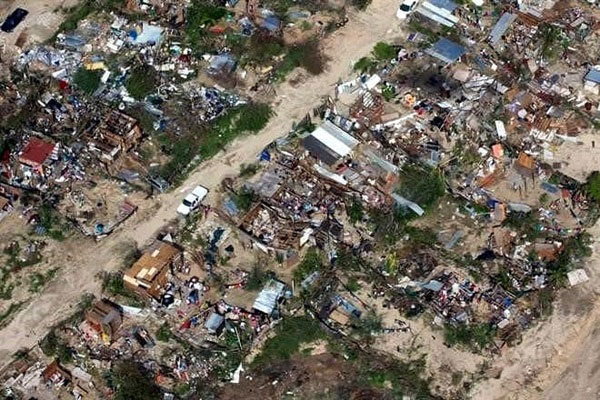 San Jose del Cabo



San Jose del Cabo



Hwy 1 - Vizcaino / Guerrero Negro



Hwy 1 - Vizcaino / Guerrero Negro


https://bisbeesconservationfund.org/Donate/CaboRelief

Mulege



View From La Poza Web Cam



Cabo San Lucas



Cabo San Lucas WalMart Store After Damage and Looting



Aduano Bridge - Los Cabos



Road Cut 18 Km South of San Juanico



Street Scene In Front of Hotel California, Todos Santos



Road Cut at Km 193 NearCataviña



Todos Santos



Todos Santos



Todos Santos



Hwy 1 - Vizcaino / Guerrero Negro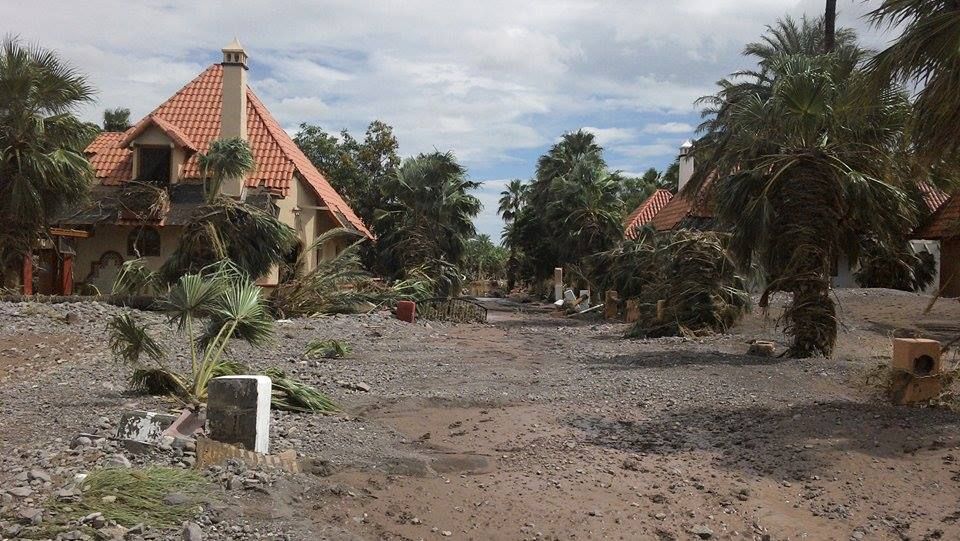 "The Orchard" Mulege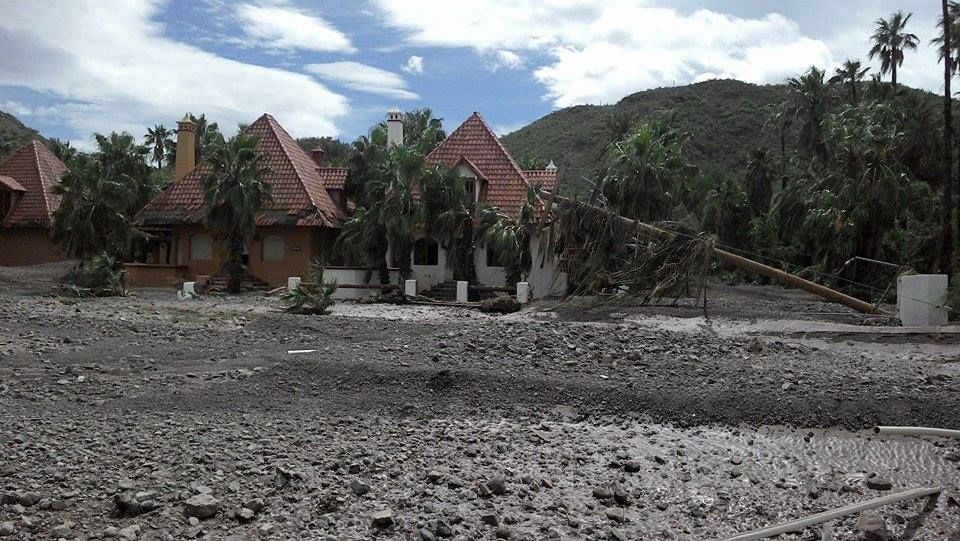 "The Orchard" Mulege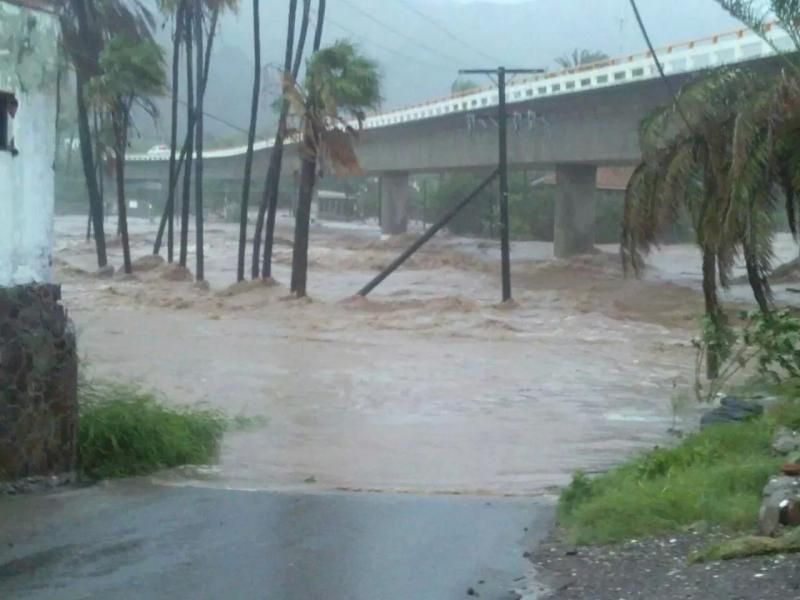 The River - Mulege