Today's Weather
Click for Forecast


Click for Larger Maps

---
Community Access
Policia Preventiva
Todos Santos Police
612 145-1052
Commandante Navarro

Ministero Publico
State Police
612 145 0198
Commandante Erigoyen

Bomberos
Fire Department
Cel. 612-142-6387
Commandante Cadena


---




---
Baja Western Onion
Alan Thompson - Publisher
Debra Webster - Editor
Advertising Information
e-mail For General Feedback
---
News and Events, Questions and Answers, Food And Fun, For Sale and Wanted
---

Have You Been Missing The Open Readings? Well, They're Back! - They're coming back the third Sunday of every month starting November 17th, 4:00 pm at Michael's at the Gallery. Everyone is welcome to read a 5 minute original piece. Enjoy a beautiful afternoon on the patio sipping a wine or beer while listening to your friends and neighbors share their latest literary creations. BIG thank you to Michael and Pat Cope for their ongoing support of the arts in our town. Any questions, call or email me. - Susan Doyle, timsudoyle [- at -] hotmail.com, 145-0821

Looking Into The Mirror - Artist's Self-Portraits at Galeria Alas Y Olas in Todos Santos, Friday, Feb. 7, 2014, 7 pm. How does the artist see him or herself? Twenty artists from Todos Santos and La Paz will be exhibiting their self-image in a group exhibit. Please join us at our reception. - Contact: Jennifer Power palapapower [- at -] hotmail.com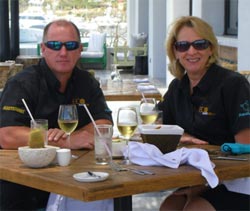 Ecosmart Technologies - Professional Solar Energy and Water Conservation Services - We have 20 years of energy and resource conservation products and service experience. Six years and running in BCS.
Our commercial grade solar batteries have the longest warranty at prices equal to the other batteries on the market.
Now offering a limited number of 250 watt solar panels for $350.00 U.S. Dollars.
Guaranteed installation services by qualified staff, to North American Electrical and Plumbing Standards.
Erwin Lapschies - erwinecosmart [- at -] gmail.com, Cell; 624 166 9473, Los Cabos


Want To Run/Own A Reputable/Succesful Local Business In Beautiful Todos Santos? - La Bodega de Todos Santos is a small, profitable, well regarded and fun business at the heart of Todos Santos. Its entrepreneurial owner, McCandless "Mac" Sutton is looking for a sophisticated Business Manager/Investor or substantial Owner(s) to actively participate in this Retail Baja Wine Store and Distributor of the premier wines of the dramatically emerging Mexican Wine Industry. The business has been growing for the last 4 years, has clients throughout BCS and is located in the center of town. Serious investors and candidates are urged to contact Mr. Sutton forthwith. - Mac Sutton, labodegadetodossantos [- at -] gmail.com, Baja California Sur

Beach Front B & B Partner Wanted - Cerritos Beach Bed and Breakfast is seeking a partner/investor. 10 suites, grotto pool and 2 spas. Bar and restaurant. Perfect for destination weddings Construction is proceeding with the goal of opening in spring. Annual return on investment 25%. Perfect for an investment club. Please visit our website - Jim Coulson, jimcoulscontractor [- at -] yahoo.com, http://www.cerritosbeachbedandbreakfast.com/, 612 183 1077, Baja California Sur

Antique Pedal Sewing Machine, And More - Selling a few items: Pedal sewing machine -$1,200 pesos. Also available for sale are:
Sturdy wooden chair - $500 pesos
smaller gas stove with oven (can be used for camping). $700 pesos
White table lamp $150 pesos
tall Iron bar stool/chair $300 pesos, needs cushions
I live close to Rancho Pescadero. If you would like a photo, let me know. Please email or text if you have questions. - S. Peterson, photosumitra [- at -] sbcglobal.net, 612 151-3848, Pescadero


Bistro Magico Pre-season Dinner Tuesday Night! - This Tuesday, October 15th, from 5:30-8:30 we will be hosting a casual Italian Night in advance of our re-opening on October 26th. The menu will be:
Linguini with Turkey Meatballs
Fresh Greens
Basil Bread
Tiramisu Cannoli Cups
*** Veggie Sauce Substitutions & Brown Rice also available. No Reservations required but drop us a line if you can to let us know how many to prepare for. BYOB. $200 pesos. We are also looking for Guest Chefs and Caterers who want to participate with us this season. Send an email to:info [- at -] bistromagico.com Let us know who you are, what you like to cook and your availability between Nov-March. - Rima Lyn, info [- at -] bistromagico.com, 612 162 9200, Pescadero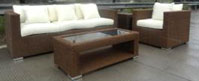 Furniture! Casa Decor La Paz & Cabo - Patio Furniture * Wicker & Rattan * Marble * Rustic Hand Painted Furniture * Copper Furniture * Lighting * Kitchen Cabinets * Doors * Floor & Wall Covering * Art * Accessories * Metal Furniture * Fountains and Urns * Mexican Furniture * Imports from Around the World * Large Selection of Furniture, Rugs & Accessories. Interior Design Service! Custom Furniture! We have it all! 2 locations (Cabo and La Paz) Summer Sale: 25% to 40% Off Selected items!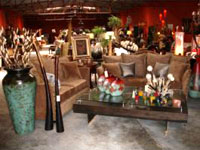 Now Wholesale to the Public: ** Low Price Guarantee. Venta de Mayoreo al Publico ** Garantizamos los precios mas baratos
Cabo San Lucas: km 3.5 on four lane next to Artisanos & Natural Granit. Tel:172 6675; Vonage: 888-557-6533; Mexican Cell: 624-176 8146. Mary Aguirre E-mail: mary.aguirre [- at -] casadecorcabo.com
La Paz: 12,000 sq. Warehouse 560 Marques De Leon
Visit our website at www.antiquerowmarket.com or e-mail: richards77 [- at -] pcisys.net
3 to 12 month Credit - no interest with Banamex card Telephone: 612-129-3364 or Cell: 612-141-7615; USA Telephone: 303-777-5157 - Luis Hernandez


Solar Hot Water Systems - I have PV (photovoltaic solar panels that generate electricity), can't that heat my water? Click website below for the answer Solar Domestic FAQ #2. Solstice Solar of Baja, Solar Hot Water Heating Systems for Home or Pool. - Skip Ackerman, info [- at -] solsticesolarofbaja.com, http://solsticesolarofbaja.com/residential/solar-domestic/faq/, 624-142-8002 or 970-963-0846

Electrical Maintenance Service - Electrical maintenance service, electromechanical, landscape lighting, pools, solar systems. We have a lathe to manufacture precision parts, welding and soon (CNC Roter). (612) 1395517 marcoecastro [- at -] hotmail.com. We have customers references, they support us! - Marco Castro, marcoecastro [- at -] hotmail.com, (612) 1395517, Baja California Sur

Invitation Skymed Member Appreciation Luncheons - SkyMed CEO Will Klein is hosting Member Appreciation Luncheons for our valued SkyMed members the week of Nov. 18 - 22 in San Miguel de Allende, Cabo San Lucas, and La Paz & mid-February in Ajijic/Lake Chapala. If you plan to be in any of those areas during those dates, contact me with the CITY where you would like to attend the luncheon, to receive your personal invitation with all the specifics of this wonderful event. - Cathie Smith, cathie.smith [- at -] skymed.com, www.skymed.com/cathiesmith, 575-993-8227 or 866-460-3486, Todos Santos

Trailer For Sale - 29 foot Terry, solid, excellent condition, exceptionally clean, must see. $6800usd. dlpenguin57 [- at -] yahoo.com, 707.540.5181 or 612.149.2568, Pescadero


Plastic Surgeon In La Paz - Offers 30 Years of Experience. Certified until 2015, member of ISAPS (International Society Of Aesthetic Plastic Surgery), member of AMCPER (Mexican Society Of Plastic Surgery), and many others. I do any cosmetic surgery, botox, fillers, radiofrecuency (procedure in which you get skin tightening, and treatment of cullulite), intense pulse light (treatment in which you improve the quality of your skin,and disappear sundamage), permanent hair removal.



My address is Ignacio Ramirez at the corner with Reforma street. Visit www.drmanliospeziale.com where you can see some surgery results of pre and postoperative cases. Do not take risks: If you are going to do something cosmetic, do it with a Certified Plastic Surgeon.

- Manlio Speziale, manliospeziale [- at -] gmail.com, www.drmanliospeziale.com, 612 1295252 Office, Cell 612 141 6298, La Paz


Hierbabuena - Restaurante Y Hortaliza - Open Thursday, Friday, Saturday, Sunday from 11am-8pm. On the Pemex/Oxxo road towards the beach in Pescadero. ranchohierbabuena [- at -] gmail.com, 612.149.25.68, Pescadero

In Need Of A Bicycle To Rent/Borrow - Hi, I am a smallish female looking to rent a bike while in the area for November for my transportation. Please contact me if you have a bike or know how I could find one for the month. I am happy to help you out + bring something down for you from the States. Thanks alot. - Jennifer, jensands2001 [- at -] yahoo.com, Todos Santos



The Distillery Presents - Working On Gearing Up For Season - Closed & no movie night Tuesday. Check our website and the Baja Western Onion for updates.

!Now Available! - "Baja Midnight" White Lightning Moonshine - Offering 102 Proof White Lightning just for starters. Try your new & old favorite. "Get Your Shine On"

Check The Distillery web calendar for all the latest info: thedistillery.mx/calendar-of-events - Vivianne, viviannej [- at -] thedistillery.mx, www.thedistillery.mx, 612-145-0098, Todos Santos



Pumpkin Pie, Sunday Thanksgiving [- at -] Baja Beans - Come join us this Sunday, Oct. 20, at Baja Beans, April will be exploring the deliciousness of pumpkin pie ingredients and we will let you know why this tradition could be the most sexy of the year according to Dr. Alan Hirsch, Director of Smell and Taste Treatment and Research Center of Chicago University. Follow us on Facebook to find out! - Hesed Najera, hesed [- at -] bajabeans.com, https://www.facebook.com/pages/Baja-Beans-Roasting-Co/174169142624610?ref=hl, 612 177 8893



The Best Smoked Fish In Baja - Available now until the end of April. All smoked fish is vacuum sealed. Will Deliver! caboextremeb.c.s [- at -] gmail.com, 612-142-5511, Pescadero


Landscaping Palms - Visit A Working Palm Plantation - Come by for a walk around a beautiful, organized palm plantation in Todos Santos. We have species big and small. You could drive away with some small potted palms in your car or pick-up, or you could make arrangements to have your development project supplied with hundreds or thousands of mature palms.

To find us, Print This: From the center of Todos Santos, drop down TopetÉ and follow that all the way to the stop sign. Go left at the stop sign – CafÉ La Esquina will be on your left, keep going by Casa Dracula on your right, by the school on your right and follow the new pavement to the stop sign. On the pole straight ahead of this stop sign there is one of our signs – it is at the bottom of several directional signs and says, 'HDP – ventas en palma'. Go off the pavement straight ahead here and follow this road for about 1/3 mile where you will see the entry to our plantation on the left. There is a sign on the gate which says, 'Huerta Del Pacifico'. - Dean Mcquillen, todossantos1 [- at -] hotmail.com, palms.mx, 612.152.6785 (Nepo), Todos Santos


Yoga With Jessica Schedule Update - I'm pleased to announce classes are now available 7 days a week. Current schedule of Public classes:
Monday, Wednesday, and Friday- Casa Rupestre, 9:30am
Tuesday, Thursday- Hotelito, 9am
Classes from 60-90min. Suggested donation of 70pesos. Locations: Casa Rupestre is 1 block north of Mercado El Sol 2. Turn Right after passing the mercado and vivero, 3rd house on left. Pink house with cave paintings in front. Hotelito is a few blocks behind Cafe La Esquina on La Cachora road. Follow the signs.

I also offer Early Morning yoga, yoga for teens & kids, restorative/yin/beginner yoga, private sessions, and semi-private sessions. Availability by reservation.

November 4th-9th I will be teaching a yoga retreat in the luxurious Rancho Las Cruces for Paraiso Adventures. A few spots left, with special discounts for locals (yes, you winter-birds too!). Get your yoga on twice a day, 5 days in a row. Please note there will be no public classes that week

Contact me by phone, email, or Facebook for questions, comments, doubts, requests, etc. Peace, Blessings, Namaste - Jessica Huff, 9jwh.1love [- at -] gmail.com, https://www.facebook.com/TodosSantosYogaWithJessica, 612-105-9107, Todos Santos

Available To Help - Bilingual, dependable, Mexican available to help with translation, transportation, and errands. Reasonable rates. - Ramiro Cota, ramiro_laroca [- at -] hotmail.com, 612 178-0187

Buy Pick Up 4-Cylinder - I need a reliable imported pickup truck. Preferably 1.5 cabin, Toyota, Nissan, Datsun would be awesome. Open to a Tropper before 1991, or Suzuki... basically japanese, economic, good shape truck. Needs to be 4 Cylinder. Anything around 2500 usd - Hesed Najera, hesedn [- at -] gmail.com, 612 177 8893



Excellent House Keeper Available / Excelente Ama De Casa Disponible - I am seeking house cleaning opportunities in the Todos Santos area. I am an honest and reliable housekeeper and I will take good care of your home. My English is very limited but you can call my friend Iris at 612 119 6998 for English. For a reference, please send Email to Lisa Welsch at lwelsch [- at -] cbriveras.com.

Busco oportunidades de limpieza de la casa en la zona de Todos Santos. Soy un ama de llaves confiables y voy a cuidar bien de su hogar. Para una referencia, por favor envíe un correo electrónico a Lisa Welsch: lwelsch [- at -] cbriveras.com.

Please contact me by Email or Telephone / Por favor, póngase en contacto conmigo por correo electrónico o teléfono: - Rocio Castro, lucydory_ [- at -] hotmail.com, 612 133 8906.


Transporting Goods Or Furnishings To Mexico? - 27 + years experience "Voted Best in Baja" Freight forwarding, customs clearance, staging and warehousing, Shipping direct to your door, Courteous, trustworthy, professional, No job to big or to small, Big enough to serve, small enough to care. I can show you how to save your precious dollars. Monica Page Logistics - Monica Page, mpage [- at -] Monicapagelogistics.com, www.monicapagelogistics.com, 619-777-8909, Baja California Sur

Toilet And Sink 4 Sale - I have a blue Toilet and sink set for sale. Both are used but in perfect shape. Asking $75 usd - Veronica, bejoyous08 [- at -] yahoo.com, 612-197-0605, Pescadero


Need Service For Your Dish TV, Shaw Direct, Or Hughesnet Internet System? - If you need service, I can help you. Whether you need new parts, a new dish or cables, or just a repointing to get you back online or restore your TV service, call me at 612 104 2000 or send an Email to todossantostech [- at -] gmail.com or showmethetruth [- at -] hotmail.es.

I am local, and I provide service for new installations and repairs for the entire Los Cabos region at reasonable rates. - Ernesto Pardo, Todos Santos Technologies, todossantostech [- at -] gmail.com, showmethetruth [- at -] hotmail.es, 612 104 2000, Todos Santos



Iphone 4 For Sale - I have for sale my excellent condition iphone 4. 32gb, comes with a waterproof case.. which I paid $80 for... and is jailbroken. That means you can use it with any carrier. Plug in your telcel chip or ATT for example and your good to go. Only $350.00. Email me. I am in La Paz. bajaheinz [- at -] yahoo.com, La Paz

Dos Tocayos! Live At Blues Smokehouse - Saturday, October 19th, 6pm to 9pm. Come enjoy delicious BBQ Ribs and Chicken. Live music with Los Dos Tocayos in Pescadero across the street from the Pemex next to the Dr. office and fruit stand. Family friendly. Children welcome.Look forward to seeing you. - Randall Northrup, rcnbcs [- at -] gmail.com, 612 142 8762, Pescadero

New Samsung 40 TV For Sale - Brand new Series 5003/40" HDMI Outputs for sale. Bought it and never used it.... Great for bar or home...Priced well below Costco price. $500.00 USD - Erwin Lapschies, erwinecosmart [- at -] gmail.com, 6241669473



Let Our Advertisers Know You Found Them In The Baja Western Onion :) -
---
Readers Tip: You can find and search Most Back Issues of The Baja Western Onion here: bajawesternonion.com/back-issues.asp -
---
Submit your News and Events, Questions and Answers articles here: http://www.bajawesternonion.com/submitad.asp

---
Exchange Rate - Mexican Pesos to $1 USD - Courtesy exchange-rates.org
---
Please Note: The "Featured Events This Week" section is limited to non-recurring business and community events (Sorry, no "Happy Hours," "Daily Specials," "Weekly Classes," or other recurring business (for profit) activities or workshops.)


---
Tuesday, October 15
Bistro Magico Pre-season Dinner Tuesday Night - From 5:30-8:30 we will be hosting a casual Italian Night in advance of our re-opening on October 26th. - Rima Lyn, info [- at -] bistromagico.com, 612 162 9200, Pescadero

Saturday, October 19
Dos Tocayos! Live At Blues Smokehouse - 6pm to 9pm. Live music with Los Dos Tocayos in Pescadero across the street from the Pemex next to the Dr. office and fruit stand. - Randall Northrup, rcnbcs [- at -] gmail.com, 612 142 8762, Pescadero

Palapa Society Library Open For Adults And Children - From 10 to 1pm, Palapa Society Center, Todos Santos. Calle Bojorquez between Cuauhtemec and Carrillo. - Eva info [- at -] palapasociety.com, Todos Santos

---


Anyone planning an event should check the Online Community Calendar
before choosing a date to see if something else is already planned and avoid conflicts. -
Featured Local Services Directory Return to Top

Alarm And Security Systems

Home Security - BajaAlarm provides the Todos Santos, Pescadero & Cerritos areas with Security Alarm Systems, Alarm System Monitoring, Camera Surveillance Systems, and Property Watch & Inspections. For more info or free estimate please email: bajaalarm [- at -] shaw.ca, or call: 612-118-6854. - BajaAlarm, Baja California Sur

Computer Repairs

Josue Castillo Parts, service, cleaning, anti-virus, home networking. - jocama85 [- at -] hotmail.com, 612 143 1508, Pescadero



Satellite TV/Water Systems

Todos Santos Technologies - Water System Installation, Tinaco cleaning, Satellite TV system installs and repairs. - Humberto Pardo, showmethetruth [- at -] hotmail.es, 612-104-2000, Todos Santos.

Solar Energy

Solar Energy Products - We offer the following items in stock: panels, controllers, inverters, pumps, refrigerators. Panels by order from $1.40 USD per watt. We can provide facturas. Located in Pescadero, Como El Sol, S. de RL de CV. For more information, call 612-149-3825; or write heideladam02 [- at -] gmail.com, Pescadero.

Towing Services

Baja Wheeling Towing Service - Baja Wheeling S.A. de C.V. is a legal, professional transporting company, servicing canada, usa and mexico. your rig won't be impounded by the federales. Call for a quote: 011-52-612-688-0073, send email bajawheeling [- at -] gmail.com or visit bajawheeling.com. Baja California Sur

---

Your Ad Here

Advertise For Only $5 US per Week! - Advertise your services in The Baja Western Onion here in our New Local Services Directory Put your ad in front of over 3,700 3,800 Baja Western Onion Readers twice a week for only $5.00 US per week. More Info Here
---
Real Estate, Rentals, and House Sitting - Available/Wanted Return to Top
---



Pescadero Casa 4 Rent - Ocean views 3 rows from the water in Pescadero, 2 bedroom, 2 bath, 2 story, furnished home. All gated. Includes, washer, dryer, wifi. Walk to Rancho Pescadero Hotel. Asking $1500 a month, long- or short-term rental. - Julie Oneill, julieoneill41 [- at -] hot,mail.com, 612 1188 462, Todos Santos



House For Sale - Casa a la venta / House for Sale in Todos santos BCS. In Las Brisas, just two blocks from Mercado El Sol II, ten minutes walk to the beach, and 10 minutes in car to the town. Finish it your way. There are some details that are missing so you can do it the way you want it, to do your dream house. The land is 824 m2, about 8,869 ft2. The house is small, about 65m2 in the first story, the ceiling is 84m2, and tne basements are ready to support a second and a third story. The garden is really nice. We have mango, avocado ,apple, fig, guavas, lime, orange, plum, pommegranate, pasion fruit, banana and papaya trees, also different cactus and date palms. We really have lots of fruits on the garden. - Marcela Paz, Marge0609 [- at -] hotmail.com, http://houseforsalets.blogspot.mx, Todos Santos

Oceanfront San Pedrito 3bdrm House - 3bdrm/2ba Oceanfront house 50 feet from the beach. All rooms are looking at the San Pedrito surf break. Available for Thanksgiving, Christmas, and New Years Only! This house will go fast! caboextremeb.c.s [- at -] gmail.com, 612-142-5511, Pescadero


---
Submit your Real Estate/Rentals/House Sitting/Property Management Services articles here: http://www.bajawesternonion.com/submitad.asp


---
Rides or Caravans Available/Wanted Return to Top
Note: Ads will run for two weeks unless dated. Please list the date in the title, and specify which airport. Goes without saying, everyone shares expenses for beer, gas, food, etc

To remove your ad if you find a ride or caravan, let us know here: www.bajawesternonion.com/submitad.asp -
---

Heading South From Okanagan BC - Usually use my air miles to fly but would consider to copilot for you or drive down your vehicle, done the road trip a few times, schedule flexible plan to leave mid Oct. or so - Peter Obstfeld, peterokelowna [- at -] hotmail.com, 250 317 5030

Ride Share Available To Todos Santos October 20 or 21 - Leaving Northern Calif. San Francisco Bay Area-San Jose. we plan to travel 3 days. Space for 1 person. Can pick up anywhere on route 101 from san jose. please phone us at 622-5350 - Henry Arevalo, arevalosan [- at -] aol.com, 530-622-5350, United States

Ride From Los Cabos Airport on October 21 - I am looking for a ride from the Los Cabos Airport (SJD), after 4:00PM to Todos Santos. - Paul Bumann, paul [- at -] boominenterprises.com, 858-735-3538, Todos Santos

Need Ride From Cabo Airport To TS - Need a ride from airport to TS for self and small dog. On 10/28. Arrive 2:35 on Alaska Air. - Pamela Vantress, pavantress [- at -] yahoo.com, 415-246-8117, United States

Ride Needed From SJD Airport To Pescadero Oct. 29 - Looking for a ride for 2 gringas from SJD Airport to the Beach side of Pescadero, October 29th in the afternoon. Will pay $ - Robyn Sills, res [- at -] usamedia.tv, Pescadero

Driving San Diego-Todos Santos - Planning to leave San Diego area for Todos Santos the end of October -- exact date somewhat flexible -- hoping to find co-driver/passenger to join me and my extremely sweet medium sized, well behaved, dog. - Sara Gay Dammann, sgdamm2002 [- at -] gmail.com, 231-675-5264, United States

Need Ride From San Jose Airport To Todos Santos November 1st - Hello! We, meaning myself, two small dogs and a cat, will be flying from Calgary, Canada and arriving at San Jose airport at approximately 1.22pm on November 1st. Todos Santos will be our final resting place and, guess what, all of us need a ride! If you can help we will certainly pay the going rate and would be furever grateful:) Thank you! Patricia, Trooper, Martin and Rascal Fullerton. - Patricia Fullerton Sims, patriciafullerton56 [- at -] gmail.com, 403-569-1011, Canada

Caravanning From Tecate First Week in November - Crossing over at Tecate. Mostly camping on the way to la Paz. Self sufficient female with dos perros muy valientes. If you wish to join us on this familiar trip write to: cosmic.cougar [- at -] gmail.com - cosmic.cougar [- at -] gmail.com, Baja California Sur

Ride To La Paz November 7th? - Very nice mature female needs a ride from Todos Santos to La Paz sometime around November 7th. Will gladly pay for gas and more. email: villagedwellers [- at -] yahoo.com. - , villagedwellers [- at -] yahoo.com, Todos Santos

From Cancun to Cabo On November 20 Or So - Traveling from Cancun area to Cabo area, and returning to Cancun on November 27 or so. Will drive your vehicle, share ride or whatever, either or both ways or only to Mexico City D.F. or wherever. There are two of us. Both very reliable with good references. Webb Elkins, Playa del CArmen, Mexico; webbelkins [- at -] hotmail.com; 984 129 8095 Cell Mexico; 925 226 8038 Skype - Webb Elkins, webbelkins [- at -] hotmail.com, none, 9252268038

Pick Up At Cabo Airport - Family of 10 arriving on Dec. 21. Looking for someone to pick us up at airport and deliver to Pescadoro. - Maryjane Steele, mwards [- at -] aol.com, 202 437 1873

Ride Share Or Caravan December, 2013 - I am looking to connect with folks driving down Baja. I am coming down from Colorado for a 3-4 month stint. Contact me at deniseesm [- at -] icloud.com Please Re: email as interested in caravan Baja. Thank you - Abrams Denise, deniseesm [- at -] icloud.com, Cabo San Lucas


---
Submit your Rides or Caravans Needed/Available articles here: http://www.bajawesternonion.com/submitad.asp


---
Pet Corner (Lost and Found pet articles will run for two weeks) Return to Top
Let us know if you find or place your pet so we can remove your ad -
---

Wanted: Good Home For Two Lovely Doggies - They are rescued Todos Santos dogs, already vaccinated, spayed and in good health. Male and female about 1 year old, size small-med, very kind and protective. More info & photos please email me. - Stefano, pumpkinfood [- at -] gmail.com

Deaf Dog Needs Home - Very sweet pit bull mix, med size, 10 months old, excellent disposition, non aggressive, quirky, playful and intelligent, seeks kind and caring owner. Doesn't bark much. Great companion. - Ricardo Perez, 612 119-2997



Not Getting Enough Affection? - Need some loving? There are many beautiful cats and kittens just waiting to purr for you at Kitty Heaven. You could visit with them once a week or as often as you like. You might even want to help clean up a bit or maybe buy them some food. Why don't you come for a visit? - they love meeting new friends. - Angelique, bajakitties [- at -] yahoo.com, 145-0250


---
Submit your Pet Corner articles here: http://www.bajawesternonion.com/submitad.asp (and remember to Spay or Neuter your pets)

---

Quote of the Day: " When Time is spent, Eternity begins. " ~ Helen Hunt Jackson