On The Web Site:
---
Today's Weather
Click for Forecast


Click for Larger Maps

---
Community Access
Policia Preventiva
Todos Santos Police
612 145-1052
Commandante Navarro

Ministero Publico
State Police
612 145 0198
Commandante Erigoyen

Bomberos
Fire Department
Cel. 612-142-6387
Commandante Cadena


---




---
Baja Western Onion
Alan Thompson - Publisher
Debra Webster - Editor
Advertising Information
e-mail For General Feedback
---
---
News and Events, Questions and Answers, Food And Fun, For Sale and Wanted
---
Hierbabuena - Cafe And Hortaliza - August schedule: Open Thursday, Friday, Saturday, Sunday 9-5ish. On the Pemex/Oxxo road towards the beach in Pescadero. ranchohierbabuena [- at -] gmail.com, (612)149.25.68, Pescadero


CPR Training? - Does anyone near Todos Santos have the skill set to teach CPR training? It seems like a good idea anywhere, especially here. I would certainly like to update my ancient training if there is. I don't know if we could get a group together at this time of the year but I'm willing to try if someone is willing to teach. Thanks, Janel - Janel Beeman, janelb3 [- at -] yahoo.com

Plastic Surgeon In La Paz - Offers 30 Years of Experience. Certified until 2015, member of ISAPS (International Society Of Aesthetic Plastic Surgery), member of AMCPER (Mexican Society Of Plastic Surgery), and many others. I do any cosmetic surgery, botox, fillers, radiofrecuency (procedure in which you get skin tightening, and treatment of cullulite), intense pulse light (treatment in which you improve the quality of your skin,and disappear sundamage), permanent hair removal.



My address is Ignacio Ramirez at the corner with Reforma street. Visit www.drmanliospeziale.com where you can see some surgery results of pre and postoperative cases. Do not take risks: If you are going to do something cosmetic, do it with a Certified Plastic Surgeon.
- Manlio Speziale, manliospeziale [- at -] gmail.com, www.drmanliospeziale.com, 612 1295252 Office, Cell 612 141 6298, La Paz


Looking For Best DSL/Internet Solution - Looking for the best solution for internet access in Baja. I have a home in the Cerritos Beach area and I need high quality/speed internet for remote work. I currently use TelCel wifi card. Need a better solution! Contact me if you have one. Thanks! - Sally Morin, sally [- at -] sallymorinlaw.com, Pescadero


News From La Canada Del Diablo ... and More! - Summer is here! The clearance sale continues. Mention this ad when you come in and see surprise we have waiting for you.

Don't miss the big savings on all furniture. Come by and see what is on sale. We are still receiving custom furniture orders. Send us a photo or drawing of your idea for that table, chair, or other special piece of furniture. We will let you know if we can do it, and how much it will cost. All custom orders take about 5 weeks.

There is still limited storage unit space available. Units are available on a yearly or monthly basis. We can store your car for 1.00 dollar per day. Contact us to reserve your storage unit or your parking spot.

Have you ever thought about how nice it would be to live in downtown Todos Santos? Close to everything. Private entrance. Secure. Great neighbors and neighborhood. You could not be in a better downtown location. Nice furnished one bedroom with bath and kitchen. Six hundred dollars a month, including all utilities, cable television, and wireless high speed internet. A deal! Long term renter only. Contact us for more information.

Summer store hours are Monday-Saturday, 9-5. Look forward to seeing you soon. Thank you! - Barbara Perkins, bperkins0403 [- at -] gmail.com, www.lacanadadeldiablo.com, 612-140-0069



Need Subaru Mechanic - I need a mechanic in the La Ventana/ La Paz or SJD area that can work on Subarus. I will be bringing down the parts (clutch kit and flywheel) for a wagon with a weak clutch stored at Los Cabos airport.

I'm following up on Charloy (sp) in El Sargento who was a referral from Baja Joe's. Anyone know him? Also I'm tracking down Miguel in La Paz who was recommended by Chloe. Any other ideas? I'll be in BCS starting Thanksgiving Day for 1 1/2 weeks in the Cabo Pulmo to La Ventana region. - Mike Schubert, schubwa [- at -] yahoo.com, 541-480-9342, Cabo Pulmo-East Cape


The Distillery Presents - T G I Friday and James BBQ Night - Friday August 2, 4:00 - 7:00pm. Come in for 2 for 1 drinks, darts and complimentary fresh popcorn. BBQ starts at 5:00.

The Distillery Movie Night - TBD - Friday August 2 - 8:15pm Check The Distillery calendar of events for details. Check The Distillery web calendar for all the latest info: http://thedistillery.mx/calendar-of-events - Vivianne, viviannej [- at -] thedistillery.mx, www.thedistillery.mx, 612-145-0098, Todos Santos



3 Dangerous Dogs In La Poza Beach - On Sunday 28th we went for a walk with my little dog(10 months) in La Poza beach in Todos Santos, we saw a lady walking with 3 dogs, but since we saw they had an owner we thought "no problem". When we got closer to them one of the dogs attacked my puppy and the other two came to help too! My puppy Chica was bitten really bad (3 big holes), today she is at the vet (Dr. David) with a huge infection in her back paw which was transmitted by saliva, she wouldn't be able to walk normal because of the pain and the huge "ball". I do not pretend to accuse anyone i just want to warn other people who walk their dogs there! And please, please if you do not have well trained dogs or do not know how to control them just try to keep them in a leash. Wish you all a great day. Isa & Chica. - Isa Alor, Todos Santos

Shipping Goods Or Furnishings To Mexico? - "Voted best in Baja" 25 + years experience, Freight forwarding, Customs clearance, Staging in our warehouse, Shopping service, Trustworthy, Courteous, Professional, Monica Page Logistics - Monica Page, mpage [- at -] monicapagelogistics.com, www.monicapagelogistics.com, 619-777-8909

Translate Spanish - I can help the English community in understanding Spanish for simple business items such as Doctors, payment of bills, contractors and more. Etc, Etc. Nomial fees. lowerbaja [- at -] yahoo.com, 612-161-4728, Todos Santos

Construction Foam For Sale - construction foam, 14 feet x 4 feet x 4 inches thick. Or metric, 4.30 meters x 1.20 x 10 cm. 30 pieces total. Picture available. - Tom, 612-152-6065, La Paz


Tango At Rancho Pescadero - Sat., Aug. 3, starting at 7:00, Rancho Pescadero. Professional dancer, Adrian Meza, will be demonstrating and teaching tango this Saturday - please join us for tango and salsa under the stars - Contact: Tori Sepulveda oscarntori [- at -] yahoo.com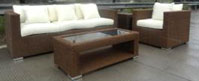 Furniture! Casa Decor La Paz & Cabo - Patio Furniture* Wicker & Rattan* Marble * Rustic Hand Painted Furniture * Copper Furniture * Lighting * Kitchen Cabinets * Doors * Floor & Wall Covering * Art * Accessories * Metal Furniture* Fountains and Urns * Mexican Furniture * Imports from Around the World* Large Selection of Furniture, Rugs & Accessories. Interior Design Service! Custom Furniture! We have it all! 2 locations (Cabo and La Paz) Summer Sale: 25% to 40% Off Selected items!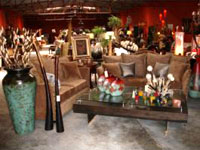 Now Wholesale to the Public: ** Low Price Guarantee. Venta de Mayoreo al Publico ** Garantizamos los precios mas baratos
Cabo San Lucas: km 3.5 on four lane next to Artisanos & Natural Granit. Tel:172 6675; Vonage: 888-557-6533; Mexican Cell: 624-176 8146. Mary Aguirre E-mail: mary.aguirre [- at -] casadecorcabo.com
La Paz: 12,000 sq. Warehouse 560 Marques De Leon
Visit our website at www.antiquerowmarket.com or e-mail: richards77 [- at -] pcisys.net
3 to 12 month Credit - no interest with Banamex card Telephone: 612-129-3364 or Cell: 612-141-7615; USA Telephone: 303-777-5157 - Luis Hernandez


Solar Pool Light - lots of research, but wrong solar pool light. spent $130+$60 freight and handling and customs to ship down. wanted blue light and this is white. very nice product and new in box. cost me $75-$100 to ship back so i'll sell locally for $125. You can see it at: http://www.swimtownpools.com/STAR-SHINE-Solar-Powered-Floating-Pool-Light-p/na4183.htm. I'm in La Paz. Rick 612-151-1240 - Rick Shannon, reshannon2000 [- at -] yahoo.com, www.swimtownpools.com/STAR-SHINE-Solar-Powered-Floating-Pool-Light-pna4183.htm, 612-151-1240, Baja California Sur


Lebanese Night At Bistro Magico On August 3rd - Saturday at 7pm, Come and join us for our last Guest Chef Dinner of the season at Bistro Magico Corner of Hildalgo and Militar, Todos Santos. Isabel Jirash from Casablanca B&B will be cooking a magnificent authentic meal, featuring:
Lamb Kibbeh (for the appetizer)
Charmoula Stuffed Eggplant
M'jadara (Rice, Lentils, Caramelized Onion)
Fatoush Salad and homemade Labneh Yogurt
Rose Ice Cream with Cookies for Dessert
250 pesos per person. Limited to 22 people so please contact us for a reservation. We will be eating outside in the shade. Vegetarian substitutions available. BYOW - Rima Lyn, info [- at -] bistromagico.com, 612 169 9200, Pescadero.


Summer Savings On Home Furnishings And Accessories - It's not too hot to shop! Mention this ad and save 15% on our gently used dining tables, beds, desks, side tables, chairs, lamps, rugs. There's even a leather recliner in stock. All items are hand selected for quality and appearance. For photos please visit our website at www.masmilagros.com or come and visit us in Cabo. Showings are by appointment so please call when you are in Cabo. Muchisimas Gracias - Sandra, scandiber [- at -] yahoo.com, http://www.masmilagros.com, 624-129-8691, Cabo San Lucas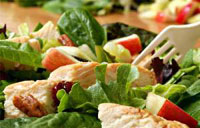 Pollos Del Campo - It is important to eat healthy, which is why Pollos del Campo offers the most natural of dinners. Pollos del Campo is special to your dishes, delight your family and friends with the best of farm and region. Imagine prepare a delicious Mole, Barbecue, delicious soup or simply baked with spices, there are an endless number of dishes. We are in Rangel s/n between Degollado and Zaragoza, Todos Santos, BCS. We are open Monday thru Saturday, from 9:00 to 15:00 hrs. - Eraida Duarte, https://www.facebook.com/PollosDelCampo?ref=hl, 612 145 0859, Todos Santos

Juice Bar Slates Opening - Jugod Santos Juice Bar is opening this week at the gym in Camino a Las Playitas, el otro lado, Todos Santos! - Lyobáá Perea, Todos Santos



Let Our Advertisers Know You Found Them In The Baja Western Onion :) -
---
Readers Tip: You can find and search Most Back Issues of The Baja Western Onion here: bajawesternonion.com/back-issues.asp -
---
Submit your News and Events, Questions and Answers articles here: http://www.bajawesternonion.com/submitad.asp

---
Exchange Rate - Mexican Pesos to $1 USD - Courtesy exchange-rates.org
---
Please Note: The "Featured Events This Week" section is limited to non-recurring business and community events (Sorry, no "Happy Hours," "Daily Specials," "Weekly Classes," or other recurring business (for profit) activities or workshops.)


---
Friday, August 2
Movie - TBD, The Distillery, 8:15pm. - Vivianne, viviannej [- at -] thedistillery.mx, www.thedistillery.mx, 612-145-0098, Todos Santo

Saturday, August 3
Tango At Rancho Pescadero - Starting at 7:00, Rancho Pescadero. Professional dancer, Adrian Meza, will be demonstrating and teaching tango this Saturday - please join us for tango and salsa under the stars - Contact: Tori Sepulveda oscarntori [- at -] yahoo.com

Dog Training Seminar With Enrique Morales Perron - 10am to 12pm, Casa Zorro, Pescadero near Rancho Pescadero. We have about 5 slots left for this dog training seminar with a great Cabo Dog Trainer. 100p per dog. Please email for registration and directions. - Gogo Diaz gogodiaz [- at -] gmail.com, 612 169 9200, https://www.facebook.com/?ref=tn_tnmn#!/enrique.perron?fref=ts

Palapa Society Library Open For Adults And Children - From 10 to 1pm, Palapa Society Center, Todos Santos. Calle Bojorquez between Cuauhtemec and Carrillo. - Eva info [- at -] palapasociety.com, Todos Santos

Lebanese Night At Bistro Magico - 7pm, Bistro Magico Corner of Hildalgo and Militar, Todos Santos. Gourmet Meal cooked by Isabel Jirash. 250 pesos per person. BYOW - Rima info [- at -] bistromagico.com, 612 169 9200

Roof Party At La Garra Bar - Jurrasic Rock, Classic Oldies Rock & Roll. 9:00 pm. COVER $40p. - Happy & Chuy Cota, Lagarrarsb [- at -] gmail.com, https://www.facebook.com/lagarra.bar, 612-145-0004, Todos Santos

Sunday, August 3
Dharma Talks - 10-11:30 am, La Arca, Topete/Pilar. Talk and guided Vipassana meditation. Everyone welcome. - Alvaro Colindres, Eldharma [- at -] mac.com, roberthalldharmatalks.wordpress.com, 612-145-0676, Todos Santos

---


Anyone planning an event should check the Online Community Calendar
before choosing a date to see if something else is already planned and avoid conflicts. -
Featured Local Services Directory Return to Top

Computer Repairs

Josue Castillo Parts, service, cleaning, anti-virus, home networking. - jocama85 [- at -] hotmail.com, 612 143 1508, Pescadero


---

Home Security

BajaAlarm provides Todos Santos, Pescadero & Cerritos with Security Alarm Systems, Alarm System Monitoring, Camera Surveillance Systems, Property Watch & Inspections, Property Maintenance and Property Management. Canadian Gringo-operated, Ex-Firefighter & First Responder. Email us at: bajaalarm [- at -] shaw.ca, or call: 624-141-9343, Baja Alarm, Baja California Sur

Satellite TV/Water Systems

Todos Santos Technologies - Water System Installation, Tinaco cleaning, Satellite TV system installs and repairs. - Humberto Pardo, showmethetruth [- at -] hotmail.es, 612-104-2000, Todos Santos.

---

Towing Services

Baja Wheeling Towing Service - baja wheeling s.a. de c.v. is a legal, professional transporting company, servicing canada, usa and mexico. your rig won't be impounded by the federalizes. Ask us for a quote at 011-52-612-688-0073, send a email to bajawheeling [- at -] gmail.com or review our websit at http://www.baja-wheeling.com. bajawheeling [- at -] gmail.com, www.baja-wheeling.com, Baja California Sur

---

Your Ad Here

Advertise For Only $5 US per Week! - Advertise your services in The Baja Western Onion here in our New Local Services Directory Put your ad in front of over 3,700 Baja Western Onion Readers twice a week for only $5.00 US per week. More Info Here
---
Real Estate, Rentals, and House Sitting - Available/Wanted Return to Top
---
Caretaker Sought For La Tierra Sagrada Near Rancho Nuevo... Stay Cool This Summer! - Looking for a caretaker at "La Tierra Sagrada" near Rancho Nuevo & Yandara Yoga Community. Located at the southernmost end of Cerritos beach, km 74. August 15 - October 15th... Private 18 acre ranch oasis on beach with several beach cabanas. You would be responsible for watering plants & garden in this lush paradise, as well as, caring for 2 dogs and 2 cats. Couple preferred. Nice and cool over here & water pila for cool dips. Enjoy ocean/mountain views, amazing sunrises & sunsets & cool breeze from upper deck. Live in house or if you have an RV, water hookup & septic available. Please contact us if you are interested. Photos available on Facebook link below. - April & Bolo, lotusmother [- at -] hotmail.com, https://www.facebook.com/april.dancer/posts/10151592243334177, 612 169 9291, Baja California Sur

---
Submit your Real Estate/Rentals/House Sitting/Property Management Services articles here: http://www.bajawesternonion.com/submitad.asp


---
Rides or Caravans Available/Wanted Return to Top
Note: Ads will run for two weeks unless dated. Please list the date in the title, and specify which airport. Goes without saying, everyone shares expenses for beer, gas, food, etc

To remove your ad if you find a ride or caravan, let us know here: www.bajawesternonion.com/submitad.asp -
---

Looking For 2 People To Help - I am looking for a companion/driver up to CA. leaving August 18. My destination is Northern CA., but up the peninsula to San Diego is when I need the help. Also, am looking for a house sitter to be at my home in Las Tunas from Aug. 18 to Sept 18...5 weeks, mas o minus. The position requires keeping track of an irrigation schedule and feeding 2 dogs twice/day. - Virginia Moonstone Mazzetti, moonstonenow [- at -] yahoo.com, 612-119-4098

Seattle To Todo Santos - We are leaving Seattle on August 31 and plan to arrive in Todo Santos on Sept. 3 or 4. If you are driving from anywhere along the way and would like to caravan, please reply. - Terry Hawes, thawes47 [- at -] gmail.com, 4252415693

---
Submit your Rides or Caravans Needed/Available articles here: http://www.bajawesternonion.com/submitad.asp


---
Pet Corner (Lost and Found pet articles will run for two weeks) Return to Top
Let us know if you find or place your pet so we can remove your ad -
---

Hola! My Name Is T-Bone-->> - I showed up in Las Brisas last February and the kind neighbors have fed me and nursed me back to good health. I still live on the street, but would love and need a permanent home. At about 1.5 years old, I am an easygoing guy, get along well with other dogs and would make a very devoted companion. Please contact Andy to bring me home. - Andy Mical, connieandymical [- at -] yahoo.com, 612-178-0081, Todos Santos

Adorable Tiny Fluffy Puppy - Needs a good forever home.Sweet male puppy found in desert. Clean and healthy. Available at El Tecalote Bookstore. For more information write JulieA2dogs [- at -] yahoo.comJulieA2dogs [- at -] yahoo.com. - Julie Angle

Dog Found - Here in the San Vicente area of Todos Santos we found a lost dog. It is a male with brown and white colors it looks like part pit bull and the dog had tags from Tennesse and the name of owner that being Mr. King. - , arechiga66 [- at -] yahoo.com, 612-161-4728, Todos Santos

Cute Puppies - We have 5 puppies,2 are males, 6 weeks old and ready for loving homes. Mom is a medium size sweet natured dog and is a light golden brown color. Call Suzanne 612-119-1744 - Suzanne Morrison, carlosysuz [- at -] yahoo.com, 612-119-1744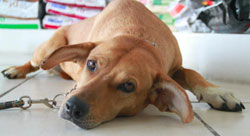 Dog Needs Home-->> - Orejitas (little Ears) is looking for a home. She is a rescued former street dog, very strong but kind and loving, needs attention and someone to adopt her. She is aprox. 3 years old, is spayed and has been wormed, and needs to be treated for ehrichia, (will provide doxiciclina). All medical records are available. - Erendira Valle, erevalle [- at -] gmail.com, 612 14 17 630, Baja California Sur

Not Getting Enough Affection? - Need some loving? There are many beautiful cats and kittens just waiting to purr for you at Kitty Heaven. You could visit with them once a week or as often as you like. You might even want to help clean up a bit or maybe buy them some food. Why don't you come for a visit? - they love meeting new friends. - Angelique, bajakitties [- at -] yahoo.com, 145-0250

Good Info On What To Do If You Lose Your Dog In Baja (or Anywhere) - This excellent article courtesy of Baja Insider: www.bajainsider.com/baja-life/pet-care/findinglostdogs.htm -
---
Submit your Pet Corner articles here: http://www.bajawesternonion.com/submitad.asp (and remember to Spay or Neuter your pets)

---

Quote of the Day: " No one can make you feel inferior without your consent. " ~ Eleanor Roosevelt


---
---
Help Support The Baja Western Onion!

We can accept donations by Credit Card, PayPal, cash, check or direct deposit.

For more information, please visit our web site at http://www.BajaWesternOnion.com/donate.asp.
Copyright © 2006 — 2013. The Baja Western Onion. All Rights Reserved. For redistribution, please give credit to the Baja Western Onion and include a link to our web site at:
http://www.BajaWesternOnion.com
. Published Using 100% Recycled Electrons :) Save The Planet - Think before printing...
Return to Top
---