On The Web Site:
---
Today's Weather
Click for Forecast


Click for Larger Maps


Click for Forecast

---
Community Access
Policia Preventiva
Todos Santos Police
612 145-1052
Commandante Navarro

Ministero Publico
State Police
612 145 0198
Commandante Erigoyen

Bomberos
Fire Department
Cel. 612-142-6387
Commandante Cadena


---





---
Baja Western Onion
Alan Thompson - Publisher
Debra Webster - Editor
Advertising Information
e-mail For General Feedback
---
---
News and Events, Questions and Answers, Food And Fun, For Sale and Wanted
---

Pick Your Own At The Huerta In Todos Santos -->> Saturday, June 8, 9 to 12 at Finca "La Bien Amada" (the well loved) you can come with the family and harvest your own herbs & vegetables, all Organic and ready to make it to your kitchen! We'll also offer fresh fruit water and some "antojitos" for sale at affordable prices. We'll have rosemary, thyme, oregano, sage, arugula, eggplant, watermelon, snow peas, corn and chili. Highway 19, 2 gates from Hogar del Nino. - Perla, perlararemex [- at -] gmail.com, 612 176 1910, Todos Santos



Fellowship Offered - The Palapa Society of Todos Santos is offering a full-time, paid Educational Fellowship for the upcoming school year beginning August 1, 2013 and ending June 30, 2014. The scope of this fellowship is to oversee the Puente Hacia el Ingles Program and after-school English language classes for community children, teach specific classes, implement a training component for volunteer teachers, directly assist other teachers and volunteers, organize and implement effective use and supplementation of existing materials and curriculums and provide a link to the community regarding specific programs and the general mission of the Palapa Society.

Candidates should be bilingual, live in the Todos Santos area, have experience working with children in an educational setting, good organizational and computer skills, and a creative vision for implementing and building bilingual language programs. Resumes and Letters of Interest should be submitted via email to info [- at -] palapasociety.org no later than June 15, 2013. A personal interview will also be required. - Donna Doll, info [- at -] palapasociety.org


Philips Y Fernandez, Architectural Antiques Liquidation. Sale By Appointment Only - Exclusive architectural elements for your construction project: doors, windows, gates, furnitures and more, now 30% discount for liquidation, much more below than my purchase price. Architects, designers, lovers of antiquities, don't pass up this opportunity. Dealers welcome. I can meet you in the yellow, mexican style showrooms, which are located 300 meters left from the main road (Hogar del Niño), next to Las Quintas, Todos Santos, before the first gas station to La Paz. Preferably on Saturday. - Patricia Fernández, pyfdiseno [- at -] gmail.com, 044 612 127 2860, Todos Santos


Looking For State Certified CA Notary - I am looking for a state certified California notary in the San Jose Del Cabo area preferably, but will travel. I need to send a notarized power of attorney with someone leaving to Ca. In approximately 2 weeks. If anyone knows how to go about this, please contact me asap....thanks! - Karin, karin-marie [- at -] msn.com

Thank You From Tesoro Escondido - Tesoro Escondido second hand store would like to thank the community for all the support and/or donations that we have received. We will remain open for the slow season. Please come in to check out our large selection of new items or drop off your unwanted stuff. Are you cleaning out your bodega? We can pick up too. Thank you. - Nancy, nancys.53 [- at -] hotmail.com, 612 142 3565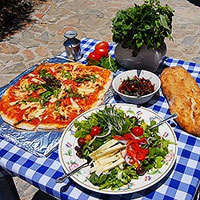 Chef Pietro Vacca Invites You To La Parola Restaurant And Bar In Las Tunas! - Authentic Mediterranean Cuisine in a beautiful garden setting with lovely vistas is now open 7 days a week from 1 PM till 10 PM! Just a short distance from Todos Santos on the "otro lado" turn up the hill off Camino Las Playitas at the La Parola sign, (where the blue machina used to live.)

Bringing his amazing cooking talents from a lifetime in the kitchen in Italy, La Paz and Monterrey, Mexico Chef Pietro has over 50 combinations of pizza to offer, all fresh and bubbly direct from oven to table. Weekly entrees offered include Lasagne Bolognase, Lasagne Blanco, Pasta al Pesto, Spaghetti con Camaron, Pasta al Fresco, Fettucine Mar Rosso, Papas el Forno and Papas el Vino, Beef Torna la Vita, Lamb Albaccio al Forno, various Carpaccio Mariscos and fresh fish Mediterranean style.

Also offering guests wine and beer, as well as a full bar to compliment the meal and for un gran finale for dessert, try Chef Peitro's Tiramisu or the Torta de la Nonna! All items on the menu can be prepared to go, as well as catering for large or small groups in true Mediterranean style, Buon Appetito! - Chef Peitro Vacca, 877-277-4920, Las Tunas, Todos Santos


Trade RV For Boat - 2007 jayco grayhawk 30' RV to trade for center console panga or something comparable for use on the sea of cortez. RV has only 7,500 miles and is in great shape, but awning has been removed. RV worth around $45,000. - Steve Smith, sailormanbajabcs [- at -] hotmail.com


Landscaper Available - Hello, my name is Ivis Antonio Villa Marquez. I have lived in Todos Santos all my life, 33 years. I started working in landscaping 10 years ago; Desert Gardens, Big Rocks Gardens. I can supply you with white sand, gravel, flagstones, desert plants, all kinds of flowers, and roses. I am an albañil, and also an expert in dry stacking rocks to make paths, floors, foundations, steps, and can provide you with or transplant for you all kinds of palms including Royals and Bismarkias. - Ivis Antonio Villa Marquez, ivisjardinests [- at -] gmail.com, 612 11 88947


Rumi Garden Restaurant - Enjoy fine Asian Dining with a new and exciting menu with many choices and great prices. We also have a new and fantastic cocktail list with many choices. Come relax with 64 Exotic Teas, and surf the web on our free WiFi. We also host events, workshops, art shows, and offer catering. Live music on special occasions.

Our hours are from 12:00 - 9:00pm (closed Tuesdays). Reservations Accepted. Located at 128 Santos Degollado Ave, near the south end of Todos Santos, on the road to Cabo San Lucas. Look for our sign. Excellent food and prices in a beautiful and soulful space! - Rumi Garden, yanggum [- at -] rumigarden.com, www.RumiGarden.com, 612-145-1088, Todos Santos


Aldo Needs To Borrow Or Rent A Car For A Couple Of Weeks - Hey Todos Amigos, I am coming down mid June for a few weeks and my trusty Suburban is out of commision. I need to borrow, rent, trade for a car to get from my house in Las Tunas to town, Cerritos, etc... No long trips, no driving to Cabo or La Paz, just getting around town and to the beach... Happy to do whatever works for you :-) If you or someone you know has a vehicle for me please let me know... Thanks so much! Aldo (Alan Cooper) - Aldo (alan) Cooper, tropic.aldo [- at -] yahoo.com, 406-218-0082, Todos Santos



Surgery Question - Has anyone had any experience with Baja or Mainland hernia surgery? If so, can you describe the type of surgery... layer-repair or mesh, mentioning the kind of mesh if you know it. How long ago and are you pleased with the outcome? Thank you. exmatrix [- at -] lycos.com


The Distillery Presents - New Summer Schedule starting Saturday, June 1st! New Hours, New Event Nights & New Events:
Sunday - 9:00am - 3:00pm. Breakfast/Brunch Special - Just for starters: Mimosa $30p - Bloody Maria $30p - Gratis Coffee.
Monday - Closed.
Tuesday - 3:00pm - 10:00pm. Movie Night & Pasta Night. Enjoy salad, special pasta plates, garlic bread & dessert.
Wednesday - 8:30am - 8:30pm. Steak Night every other week, starting June 12. Check the Baja Western Onion and our webpage calendar for details.
Thursday - 8:30am - 8:30pm.
Friday - 8:30am - 10:00pm. TGIF, Movie Night & BBQ Night. After Happy Hour, James will dazzle you with his weekly Smoker & BBQ specialties & watch the movie or take home.
Saturday - 8:30am - 10:00pm. Growler refills 1/2 off all day! Special Event Night (as scheduled). Check the Baja Western Onion and our webpage calendar for announcements.
The Distillery Movie Night - Beasts of the Southern Wild Tuesday June 4 - 8:15pm. Starting with cartoons then the movie. You have never seen anything quite like "Beasts of the Southern Wild." It's a film that will have you thinking about the love between a father and a daughter, appreciating what you have in life, and our ability to adapt to whatever comes at us. Details: imdb.com/title/tt2125435/. Our movies look great with our new HD projector shown on the our 8' screen and surround sound stereo system. Come early and have dinner before the movie to get the best seating. Always free admission & popcorn.

Check our online calendar thedistillery.mx/calendar-of-events for upcoming events. - Vivianne, viviannej [- at -] thedistillery.mx, thedistillery.mx, 612-145-0098, Todos Santos
News From La Canada Del Diablo: the Prices Go Even Lower! - June clearance sale. We have deals. All furniture and decor items are priced to sell. Beautiful lamps, all UL approved as low as 200.00 pesos.
Great barstools marked down to 1100.00 pesos. Picture and mirror frames, marked down to below wholesale prices. It is worth your time to stop by and see what is on sale. Come by and check out our inventory. Our hours are Monday-Saturday, 9 am - 6 pm.

Just a note: Remember Josafat, the electrical mechanic, who suffered the tragic loss of his wife and his 2 year old grandchild on the highway three years ago? He has recovered from his life threatening injuries, and reopened his mechanic shop in the Todos Santos area. Josefat, apart from being a great guy, is an excellent mechanic. Next time your car needs anything electrical, tune up, air conditioning, etc., give Josafat a call. 614-141-5526.

We look forward to your visit at La Canada Del Diablo. Thank you ! - Barbara Perkins, bperkins0403 [- at -] gmail.com, www.lacanadadiablo, 612-140-0069



Wanted: 4X4 ATV - Has anyone got a 4x4 ATV in good working order for sale? If so please contact Mel at melntrace.livingthedream [- at -] gmail.com. Thanks. - Mel Spence, melnrace.livingthedream [- at -] gmail.com, Elias Calles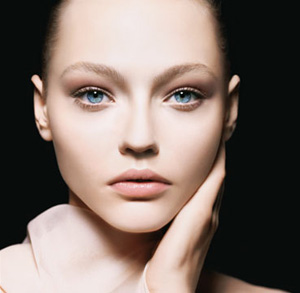 Plastic Surgeon In La Paz - Plastic Surgeon in La Paz Offers 30 Years of Experience. Certified until 2015, member of ISAPS (International Society Of Aesthetic Plastic Surgery), member of AMCPER (Mexican Society Of Plastic Surgery), and many others.

I do any cosmetic surgery, botox, fillers, radiofrecuency, intense pulse light, permanent hair removal.

For Mother's Day I offer a 25% discount on surgeries; 30% disc. on radiofrecuency treatments; and 20% disc.on IPL tratments. My address is Ignacio Ramirez at the corner with Reforma street. - Manlio Speziale, manliospeziale [- at -] gmail.com, www.drmanliospeziale.com, 612 129 5252, Cell 612 141 6298, La Paz

Hurricane Season! - We are now officially in hurricane season! Are you uninsured or "unsure" if you are properly insured? Is your homeowners policy in Spanish & you don't know what you have or don't have? Licensed insurance agent with many years of experience in U.S. & Mexico representing the only company that issues your homeowners Policy In English as well as Spanish & is designed like the policies you are used to back home. Free Quote at www.mexpro.com/cathiesmith - click on Mexico Home & Condo Insurance. You can even buy your policy there 24/7, or email your phone number to cathie.smith [- at -] mexpro.com & I'll call you personally. - Cathie Smith, 480-256-0219, Baja California Sur


Wood Furniture Manufacturers/Carpentry - CAOBA creates solid wood furniture to impeccable quality standards. We offer a full satisfaction guarantee on every furniture piece. We make a wide variety of furniture, from: interior and exterior solid wood furniture, House planning and extension, Kitchen, Bathroom, Bedroom, Entertainment Centers, Home Bar, Doors and more. We are located in Todos Santos in Rafael M. Pedrajo Street, between Santos Degollado and Verduzco, with personal attention in La Paz, Todos Santos, Los Cabos, San José de Los Cabos and Los Barriles. - Israel Mejia, caoba_emadera [- at -] yahoo.com.mx, 612.105.2481, 612.103.8395, Todos Santos


Robbery - Monday late afternoon our car was broken into at La Pastora. Nothing was really in the vehicle, just some shorts and a shirt - but they destroyed the lock on the outside of the door. Don't leave anything in your vehicle. The police have been notified. - Name withheld by request, Todos Santos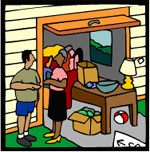 The Last Moving Sale - We still have some things to sell before packing up and leaving. This sale is for Mary Shortell. The location in on the way to La Poza. After you turn at the small church, go one block. Instead of turning right to La Poza, turn left. It is the first home on the left. Everything must go. Saturday, June 1, from 9 to 11 only - Sylvia St.clair, sasinbaja [- at -] yahoo.com, 612-145-0563, Todos Santos

Wonderful News For The Environment - From one of my professional sources of news in the solar field I read about Ford buying solar power from Mexico, a new agreement. At the end of of the article, it also stated yesterday an agreement was reached that LaPaz would have the largest Latin American Solar plant. So googled it and found another one that backs it up. This is incredibly good news, once this one is up and running I know they will put in more, I just wish it was solar concentrating like they are doing in Mexicali. For my links and more information, visit: la-ventana.forumotion.com/t318-solar-updates-reflective-and-pv-for-the-world

"A new 30 MW solar photovoltaic power plant is currently being constructed in Mexico — in La Paz, Baja California Sur. Once completed, the plant will be Latin America's largest photovoltaic solar power plant, providing enough electricity to power an estimated 160,000 households." - Dean devolpi, dean [- at -] la-ventana.com, United States

What's Your Favorite Day Trip? - Sometimes you just want to get away. Long time resident Lowell Anderson suggested that Pescadero Life do a series on interesting day trips... the first story is about El Triunfo, a charming town about an hour north of Todos Santos. Let us know your favorite getaway location within easy driving distance. Just click "Contact Us" on www.PescaderoLife.com to suggest fun day trip locations. www.PescaderoLife.com

Playitas Paving Info - According to several sources, including the Delegado, the paving of Playitas road should begin again in July. Apparently, the construction crew was taken off the Playitas project several months ago in order to complete the side streets in downtown Todos Santos. As soon as that paving is done, the crew will resume work on Playitas. Asociacion de Colonias de Todos Santos (ACTS)

Según varias fuentes, incluyendo el Delegado, la pavimentación de la carretera de Playitas debe comenzar otra vez en julio. Al parecer, el equipo de construcción fue sacado del proyecto Playitas hace varios meses para completar las calles laterales en el centro de Todos Santos. Tan pronto como se haga esa pavimentación, los trabajadores reanudarán el trabajo en Playitas. Asociacion de Colonias de Todos Santos (ACTS), Todos Santos

Recycle And Insulated Block - I suggested to a friend of mine that he he go to the farmers markets and collect the packing material, the foam used for packing a product like toaster and TVs. He has set up a manufacturing plant in LaPaz that takes this material away from the landfills and he makes the insulated blocks for building homes with a R23 insulating factor. So a double win for us. It is very affordable, he says, and adds about $4,000.00 per 1000 square feet of space, so should pay off in 3-5 years with our high electric rates. And any builder can adapt to it in a short time. Inform your friends who are contemplating building here about this alternative. Also, if you agree with me, he should go to farmers markets at least once a month to collect foam for recycling, email me directly (not a reply on this board) so I can give him feedback that people would do it. - Dean devolpi, dean [- at -] la-ventana.com, www.efblockmx.info, United States

Heaven On Earth 2014 - "Totem and Saints" with the Heaven on Earth 2014 Dream Team in Todos Santos. The dates are January 6-10, 2014, at the Todos Artes Compound. The week will feature the Dream Teams artists, Lisa Reinertson, John Toki and Donna Billick will use ceramic, mosaic, cement, steel and glass to create "Totems and Saints." Go to donnabillickart.com and view the details and registration information. Welcome to Heaven. - Donna Billick, rockartus [- at -] aol.com, 530 219 5918, Todos Santos

Buena Fortuna Botanical Garden Tour - Botanical Garden Tours - Come for a tour of this incredible jungle oasis rich with diversity in the heart of the Baja desert. Buena Fortuna, a true manifestation of botanical abundance, was started over a decade ago with seeds and plants collected from all over the world by world renowned botanist, Gabriel Howearth. The site in La Ribera is home to over 3,500 species of plants from around the world, the result of a lifetime of research and collection from Gabriel's travels. The gardens are organized botanically by plant families, designed in combination with permaculture principles, and shaped in diverse symbolic forms, such as the Vitamin Pyramid garden, or the Tree of Life garden.

Guided tours offered every Saturday starting at 10:00 am. Tours include refresments $150 pesos per person. Produce, landscape design consultations, exotic nursery plants, compost and rare organic seeds also available. Buena Fortuna is located at the entrance to La Ribera, approximately 7 miles/12km east from Las Cuevas, on the north side of the road across the street from cabo riverea. Look for the big yellow gates. Look forward to sharing the rich diversity of the world planting our garden paradise seed by seed. For reservations, contact: - Gabriel Howearth, buenafortunagardens [- at -] gmail.com, buenafortunapermaculture.wordpress.com/, La Ribera

My Lawyer Rocks - The Mexican Supreme Court: I just found out that my young attorney, John Moreno, won a huge victory in Mexico City this week. He argued for a woman in San Antonio (between La Paz and El Triunfo) to Save her land. He won. I love happy endings and I love my abogado. Congratulations, John! - Jan, jans [- at -] janimagine.com, http://www.thebajalawyer.com/


Palms To Transform Your Property - There is no paradise in the desert without palms. The best time to plant a palm was 20 years ago. The second best time to plant a palm is today. Check out our new website for great deals, and information: palms.mx.

Why would you not want over 30 different species of palms on your property? Come on by and revel in the tropical diversity. See our website for directions to one of the healthiest palm plantations in all of Southern Baja: palms.mx. We've got your palms; whether they are in pots that you can drive away in your pick-up, or require our crane to move into place - we transform properties. - Dean Mcquillen, todossantos1 [- at -] hotmail.com, 612.152.6785 (Nepo), Todos Santos

Baja Lucy Needs A Home - Lucy is a 1.5 year old Baja rescue dog. She has a black head, white body with black spots. She is a lover not a fighter, gets along with all people and dogs and is a good watch dog. She loves walks on the beach and swimming. - Tracy Kirk, trainirk360 [- at -] gmail.com, 624-124-8060, Los Barriles

2002 Ford Explorer - 6 cylinder, 4.0 Liter V6 motor, with 109,000 miles, air conditioning, stereo CD, automatic transmission, single traction. It is imported with 2012 plates, in good condition inside and out. The price is $4,850 USD (or best offer). call Steve 612 157 6087 - Daniela Hauptmann, 612 157 6087, Todos Santos


---
Readers Tip: You can always find and search Back Issues of The Baja Western Onion here: bajawesternonion.com/back-issues.asp -
---
Submit your News and Events, Questions and Answers articles here: http://www.bajawesternonion.com/submitad.asp

---
Exchange Rate - Mexican Pesos to $1 USD - Courtesy exchange-rates.org
---
Please Note: The "Featured Events This Week" section is limited to non-recurring business and community events (Sorry, no "Happy Hours," "Daily Specials," "Weekly Classes," or other recurring business (for profit) activities or workshops.)


---
Friday, May 31
Used Clothing, Crafts & Goods Sale - Fund raiser in support of Huellitas Del Corazon A.C. (Paws of the Heart) Registered Charity for Dogs and Cats, 10am to 3pm. Pelicano's in Centenario, La Paz. Vendors and donations welcome. Info: www.facebook.com/pages/huel litas-del-corazon-a-c, shawn.t508 [- at -] gmail.com - Shawn Templeton, 612-106-4013

T G I F At The Distillery - 4:00 - 7:00, 2 for 1 drinks, darts, free chips & queso. - The Distillery, Calle Hidalgo, Todos Santos, viviannej [- at -] thedistillery.mx, 612-145-0098, www.thedistillery.mx

Music By The Sara Benassi Group - The Doc Restaurant, Cabo San Lucas, 7.30 p.m. - Alberto Poli, alberto [- at -] solecaliente.com, Todos Santos

Saturday, June 1
Saturday Farmers Market - 8 a.m.- 12 p.m., La Canada Del Diablo, Todos Santos - bperkins0403 [- at -] gmail.com, lacanadadeldiablo.com, 612-140-0069

The Last Moving Sale - For Mary Shortell. The location in on the way to La Poza. After you turn at the small church, go one block. Instead of turning right to La Poza, turn left. It is the first home on the left. From 9 to 11 only - Sylvia St.clair, sasinbaja [- at -] yahoo.com, 612-145-0563, Todos Santos

Stephan Bodian Satsang Event - Stephan Bodian will be giving a Satsang Meditation/Discussion at the home of Steve Monaco and Rhoda Jacobs, Las Tunas, 9am to 1pm. Followed by a shared 'bring-your-own-meal' lunch. $200 pesos. Space is limited. For info and RSVP, contact ASAP: - Steve Monaco, smridhwan [- at -] gmail.com, Todos Santos

Palapa Society Library Open For Adults And Children - From 10 to 1pm, Palapa Society Center, Todos Santos. Calle Bojorquez between Cuauhtemec and Carrillo. - Eva , info [- at -] palapasociety.com, Todos Santos

Half Off Growlers Refills Of Baja Brewing - 8:30am - 9:00pm, The Distillery, Calle Hidalgo Todos Santos. Bring your growler and get 1/2 off the refill. We have growlers if you need one. - Vivianne viviannej [- at -] thedistillery.mx, 612-145-0098, www.thedistillery.mx

Music By The Sara Benassi Group - 7:30PM, Baja Peppers Restaurant, inside Mar de Cortez hotel, Cabo San Lucas. - Alberto Poli, alberto [- at -] solecaliente.com, Todos Santos

Sunday, June 2
Dharma Talks - 10-11:30 am, La Arca, Topete/Pilar. Talk and guided Vipassana meditation. Everyone welcome. - Alvaro Colindres, Eldharma [- at -] mac.com, roberthalldharmatalks.wordpress.com, 612-145-0676, Todos Santos

Monday, June 3
Duplicate Bridge - 1:00pm, Las Fuentes Restaurant, Todos Santos. 30 pesos. Bring a partner. - bridge.ts.bcs [- at -] gmail.com, 612 145-0119

Tuesday, June 4
The Distillery Movie Night - Beasts of the Southern Wild , 8:15pm. Cartoons followed by the movie. Free admission & popcorn. - Vivianne, viviannej [- at -] thedistillery.mx, www.thedistillery.mx, 612-145-0098, Todos Santos
---


Anyone planning an event should check the Online Community Calendar
before choosing a date to see if something else is already planned and avoid conflicts. -
Featured Local Services Directory Return to Top

Airport Transportation - Errands

Ernesto Miranda - Rides to/from La Paz/SJDC airports, courier services, errands, help dealing with Mexican business and gov't; Car Registrations, TelCel/TelMex, CFE, Seguro Social, etc. - 612-117-7497, ernie_net [- at -] hotmail.com

---

Computer Repairs

Josue Castillo Parts, service, cleaning, anti-virus, home networking. - jocama85 [- at -] hotmail.com, 612 143 1508, Pescadero


---

Language Classes

Se Habla...La Paz Spanish Language Summer School Specials for Baja Residents, Family and Friends. Call or message 122-7763 or write info [- at -] sehablalapaz.com or SKYPE julidelapaz. You can also visit our website, www.sehablalapaz.com. ¡Bienvenidos!

---

Satellite TV/Water Systems

Todos Santos Technologies - Water System Installation, Tinaco cleaning, Satellite TV system installs and repairs. - Humberto Pardo, showmethetruth [- at -] hotmail.es, 612-104-2000, Todos Santos.

---

Solar Water Heating Systems

Solstice Solar Of Baja - Want a warm pool or hot shower without paying high energy bills? Visit Solstice Solar of Baja's website to learn about our quality systems designed for Southern Baja. - Skip Ackerman, info [- at -] solsticesolarofbaja.com, www.solsticesolarofbaja.com, 970-963-0846 or 624-142-8002


Your Ad Here!

Advertise For Only $5 US per Week! - Advertise your services in The Baja Western Onion here in our New Local Services Directory Put your ad in front of over 3,700 Baja Western Onion Readers twice a week for only $5.00 US per week. More Info Here
---
Real Estate, Rentals, and House Sitting - Available/Wanted Return to Top
---

Casita For Rent - Cute, quaint casita for rent on quiet ranch in Pescadero. Available immediately. - Mariposa, 044-612-176-3119

Housesitter/Caretaker Wanted - Annie's place needs a caretaker. Clean, responsible, for long term situation. Steps from the beach, bedroom suite with bath and large shared inside/outside kitchen. Light rent. - Jane Delozier, jane.delozier [- at -] yahoo.com, 707 827 3572, Todos Santos

Wanted: Long Term Rent - I am looking for a place to rent in Todos Santos or Pescadero from December 2013 till May 2014. My price range in around 400 per month - Bill Brooks

---
Submit your Real Estate/Rentals/House Sitting/Property Management Services articles here: http://www.bajawesternonion.com/submitad.asp


---
Rides or Caravans Available/Wanted Return to Top
Note: Ads will run for two weeks unless dated. Please list the date in the title, and specify which airport. Goes without saying, everyone shares expenses for beer, gas, food, etc

To remove your ad if you find a ride or caravan, let us know here: www.bajawesternonion.com/submitad.asp -
---

Driving To San Diego June 1 - Senior woman with well behaved dog good working car,driving to San Diego from San Jose would like to caravan north leaving June 1st not in a hurry 3 nights on road have done the trip many times ! please contact me at bajadome [- at -] hotmail.com if interested - bajadome [- at -] hotmail.com

Driving North Early June - Hi, my name is Clive and I am an experienced driver heading from San Jose Del Cabo to Orange County Ca on or about June 7th. Willing to take your light freight or mail for gas, or even a passenger, split the gas and hotel. On the Baja I hit the road quite early and stop to take photographs occasionally. Drive takes me three days. Contact aperture92629 [- at -] yahoo.com; or call 624-130-7543 or Mobile 624-178-5021 - Clive Jackman, aperture92629 [- at -] yahoo.com, 624-130-7543, San Jose Del Cabo

Good Person To Share Driving And Expenses. - Looking for a nonsmoking, good hearted person to share driving and expenses to San Diego. Am flexible about leaving date. email pjedge [- at -] hotmail.com - Patricia Huff, 624-146-9015

Caravan - I'm looking to caravan to Todos Santos/Pescadero the week of June 10th from Santa Cruz, CA or L.A. I'm a single woman driving alone down to Baja for the first time. - Sharon Mazer, inner_wisdom [- at -] hotmail.com, 831.454.9530, United States

Ride Share - Leaving June 12-15. Need someone to share driving and some expense. Call 624-146-9015 or email pjedge [- at -] hotmail.com Patricia - Patricia Huff, pjedge [- at -] hotmail.com, 624-146-9015, Baja California Sur

---
Submit your Rides or Caravans Needed/Available articles here: http://www.bajawesternonion.com/submitad.asp


---
Pet Corner (Lost and Found pet articles will run for two weeks) Return to Top
Let us know if you find or place your pet so we can remove your ad -
---

Little Kitty -->> - Hello,I recently rescued a kitty that kept coming in my property and I'm looking for a home for him. He is beautiful, very social and very small! If you are interested call me and you can meet the little guy! - Claudia M, c_laudi_1988 [- at -] hotmail.com, 612 171 0954, Todos Santos

Dogs Need Home - I have 2 dachshund for adoption. They are looking for love and big yard for play and are very friendly. If you are interested, I can send photos. - Gelacio, gelacio_tds [- at -] hotmail.com, 612 151 4978, Todos Santos

Gotta Have Her - 10 month old female labador that is the most precious girl you could ever want. She has had all her shots and has been spayed. She's in excellent health but her owners are moving into an apartment in La Paz and cannot take her. This would be a great addition to anyones household. - Rick Plaia, rickplaia [- at -] hotmail.com, 612.178.0000, Baja California Sur


Stolen Dog!-->> - Hi, I'm desperately looking for my dog, which was stolen from us in Cabo San Lucas. She is a 7 month old English Bull Terrier, her name is Mancha. Here is a photograph of her. There's a reward if anyone finds her or leads us to her. Any info please call 612 140 6840. Regards, Armando Gonzalez, juanpablosolis [- at -] gmail.com, 612-140-6840

Lost & Found Dogs - If you have lost your dog please check our Baja Dogs La Paz Official fb site to see if your dog is listed there. If you think your dog has been stolen or somehow may be in La Paz send his/her pic to Lostdogs [- at -] bajadogslapaz.org. Claudia will post your dog and this is sent out to more than 600 people as well as posted on our fb site. You can also print these Posters and distribute them. Our success rate is very high approx 80% result in reuniting pet with owner. You can sign up to receive this service also. - Claudia H., bdlp [- at -] bajadogslapaz.org, www.bajadogslapaz.org, 612 255 8948



Not Getting Enough Affection? - Need some loving? There are many beautiful cats and kittens just waiting to purr for you at Kitty Heaven. You could visit with them once a week or as often as you like. You might even want to help clean up a bit or maybe buy them some food. Why don't you come for a visit? - they love meeting new friends. - Angelique, bajakitties [- at -] yahoo.com, 145-0250


---
Submit your Pet Corner articles here: http://www.bajawesternonion.com/submitad.asp (and remember to Spay or Neuter your pets)

---

Quote of the Day: " Art is the signature of civilizations. " ~ Beverly Sills


---
---
Help Support The Baja Western Onion!

We can accept donations by Credit Card, PayPal, cash, check or direct deposit.

For more information, please visit our web site at http://www.BajaWesternOnion.com/donate.asp.
Copyright © 2006 — 2013. The Baja Western Onion. All Rights Reserved. For redistribution, please give credit to the Baja Western Onion and include a link to our web site at:
http://www.BajaWesternOnion.com
. Published Using 100% Recycled Electrons :) Save The Planet - Think before printing...
Return to Top
---