On The Web Site:
---
Today's Weather
Click for Forecast


Click for Larger Maps


Click for Forecast

---
Community Access
Policia Preventiva
Todos Santos Police
612 145-1052
Commandante Navarro

Ministero Publico
State Police
612 145 0198
Commandante Erigoyen

Bomberos
Fire Department
Cel. 612-142-6387
Commandante Cadena


---






---
Baja Western Onion
Alan Thompson - Publisher
Debra Webster - Editor
Advertising Information
e-mail For General Feedback
---
---
News and Events, Questions and Answers, Food And Fun
---

Great News For Hogar Del Niño Donations! - We've had many requests in the past for an easy way to make donations to Hogar del Niño from the US and for the ability to get a US tax deduction for donations. Thanks to the excellent work of a new community supporter, we now have the ability to do both. For instructions on how to make donations in this manner contact Nancy Serfas at Nancyserfas [- at -] aol.com or Nancy Naigle at nnaigle [- at -] att.net, and we'll provide the details. The summer months have been very lean for the Hogar, and food supplies are very low. An influx of donations soon will be of great help! - Nancy Naigle

Found Phone - I recently found a phone in Las Tunas. It's in good condition but locked so I can't contact you. Please provide a description of it and we'll get it back to you. I'm sure you miss it. - Mir, mikeandmir [- at -] yahoo.com, 6121345347


¡Que Rico! Vacation Schedule - Open Tuesday through Friday, extending our hours from 10:00am to 4:00pm. The shop is now closed on Saturdays until some time in October (we'll announce it here)--still available on Saturdays for special order pick-ups and other times by appointment. Located across the street from La Paloma Ice Cream store on H. Colegio Militar (entrance set back from the sidewalk). Come visit ¡Que Rico! - Deborah & Jaime, quericofoods [- at -] gmail.com, 612-118-6031, Todos Santos

Permaculture People & Projects - We are keen to hear from anyone who is involved in permaculture projects around Baja, especially north of La Paz, as well as anyone who would like to be involved in permaculture projects in the future. Please contact us via our website and visit the site for more detailed information. Many thanks J & R - www.bajaperma.wordpress.com


Call For Artists And Crafters! - There will be a Grand Opening for "The Wholesome Store" or "La Tienda Sana", affiliated with "Wholesome Home and Garden", a Permaculture-Feng Shui venture by Virginia Moonstone Mazzetti. The event will be a Garden Art Show and Sale. Garden art can be: stepping stones for pathways, wind chimes, wind socks, mobiles, sculpture, painted rocks, sundials, birdbaths, pottery, planters, stained glass, paintings, outdoor furniture, fountains and water features, and more.

The Show and Sale will be December 14, 15, 16 and hopefully there will be a variety of price ranges to appeal to every shopper. Artists, start creating now, and let Virginia see some of your work via e-mail or bring it by the new building created for the shop in Las Tunas, Todos Santos - Virgiinia Moonstone Mazzetti, moonstonenow [- at -] yahoo.com, 612-119-4098

Sept. 9- Need A Ride From Loreto To Scoprion Bay Or At Least To Insurgentes - I fly into Loreto on September 9 at 1:30 PM. I am going to Scorpion Bay. Is anyone going to Scorpion Bay that day? Or at least to Insurgentes? I will pay for the gas plus $25. - Justin Dow, justindow [- at -] yahoo.com, MX- 624-157-2842 / US- 912-399-421, Loreto

DVD Burner Needed - We are trying to find someone in Todos Santos that could loan us a DVD burner. We'd like to burn about 50 DVDs. It's for a not for profit group involved in Low Impact Building and we have no budget to hire or buy one. If you can help out with a loan or would be happy to do this for us then please get in touch. woodcrafty [- at -] gn.apc.org, Todos Santos

Recycling And Repurposing - We are looking for ideas or links about fish waste being turned into fertilizer here in Baja, as well as links to anyone who can reuse glass and plastic bottles, tires etc. Please contact us via our website. Thanks. www.bajaperma.wordpress.com


Vote From Abroad - Americans living overseas or who will be out of the United States on election day can both register to vote (in their last state of residence) and obtain absentee ballots. The website: https://www.votefromabroad.org/ is extremely easy to follow. There is a backup if a person encounters problems: votercentral [- at -] democratsabroad.org. This is the time to start the process.


Hotel Casa Tota And La Santeña In Downtown Todos Santos - Are you reading this from far away- perhaps a land with many rules and lots of people? Are you beginning to dream about a return to your wild, beautiful, Baja home?

We'll be waiting for you! We are planning a full season of parties, roof receptions, creative activities and Chef Tony's fresh food.

Be sure to join us on December 29th for a post-Por Que 5K mimosa, Yoga in the Street on December 31st, our New Years Celebration and more! And that's just December.

We look forward to seeing both familiar and new faces here at Casa Tota and La Santeña. Be good, drive safely, travel well and come back soon! HotelCasaTota [- at -] gmail.com, www.HotelCasaTota.com, 612 145 0590, Todos Santos


Seeking English Teacher - Escuela Pacifica, a small not-for-profit elementary school in Todos Santos, seeks English teacher to teach grades 1 and 2 from January through March of 2013. Please contact for more information, thanks. - Serena S. info [- at -] escuelapacifica.org, escuelapacifica.org/Escuela_Pacifica/Escuela_Pacifica.html, 612 132 8913

Cabo Sport Fishing - Looking for recommendations for a sport fishing company in Cabo. 5 people in December. Thank you. srbranzanti [- at -] gmail.com

Funk, Jazz, Blues And Reggae Fridays - once again on this coming Friday the 7th Ben and the Men will heat up your night from 7 - 10pm at the Rumi Garden. Come and enjoy BCS hottest music and dance or simply chill. Great meal and drink Specials!! Come on down and party with us, Ben and the Men... - Ben, bajaboar [- at -] yahoo.com, 612 154 8118


Los Pericues Is Dead - SEMARNAT announced today (Fri Aug 31, 2012) that the developer that was attemtping to get approval for the mega project Los Pericues otherwise known as Cabo Cortes refrito has withdrawn their application. Thank you CEMDA, Niparaja, Wildcoast, Friends of Cabo Pulmo and Greenpeace for your hard work! The magnificent reef is saved?for now. - Susan Fogel (Courtesy, La Paz Gringos) -


Grand Opening Of Sunshine Smoothies === Save The Date ===, 09/05/2012 - 10am-12 noon, In front of Mini Super Cristal (next to Pizza Napoli), El Pescadero. Sunshine Smoothies, a not-for-profit venture, is proud to announce our grand opening on September 5th 2012. We are so excited about this project where we fill morning tummies full of love. - Fiona P artistinterface [- at -] gmail.com

Baja California Traditional Pottery Workshop - Rancho Pilar is Now offering you the opportunity to learn the art of traditional pottery as kept by the rural traditions since mission times. One week hands on workshops (one or two students, 36 hours or more per week)starting the second week of October, 2012.

No wheel, no kiln! Learn from traditional potters, cuco Moiron and Pilar Ojeda, how to process natural clays and make and fire your ouwn pots, pans, lamps and more.Praxis, history and field trips. Classes will take place at our studio and home, at km 74, hwy 19 (20 km south of Todos Santos. Reserve now the best time for you, october through december 2012.

for a free brochure, price and reservations please writte, call or stop by Rancho Pilar by taking the road towards the beach at Km. marker 74 in our new hwy 19, drive 300 mts. then make a left and go to the end of the road. Thank you for helping us keep Baja California Sur traditions alive, Pilar y Cuco. - Cuco Moiron, ranchopilar [- at -] ail.com, 612 158 2483, Elias Calles



Spanish And English Language Labs With Guillermo Bueron - Led by certified Berlitz instructor Guillermo Bueron, small intimate classes of up to five participants will enjoy personalized hands-on guidance throught the program, Taught utilizing the Berlitz language method, upon completion of the 10 hour program paticipants should be able to: Ask directions, order in restaurants and cafes, bargain in the markets and communicate with Spanish speaking people at a basic level. Classes start September 5.

English Classes. Please call for information. Secretaría de Turismo in BCS will be paying part of the fee for workers in the hotel industry. Language Labs will be held in the Cultural Center. - Guillermo Bueron Prieto, g_bueron [- at -] yahoo.com, www.guillermolanguageandtravel.com, 612 161 4165, Todos Santos



"I'm From Microsoft" Telephone Scam - The following link will let you know what to expect if you receive a Fake Call from someone pretending to be from Microsoft:
www.youtube.com/watch?v=OMoPcy_q6nQ&feature=youtube_gdata_player
This youtube video will give you a step by step example of the calls I have received as well as a lot of my friends. The quickest way to end the call and stop them from calling again is to tell them you have a Mac Computer! - thecomputerguy, thecomputerguy [- at -] usa.com, Courtesy Baja Pony Express -


Brews And Blues Presents The Brews Brothers - every Sunday including this 9th at Cerritos Beach Brewing Company in the heart of Pescadero from 4 - 7 pm. Classic 50's, 60's and 70's Jazz and Blues Standards. Great dance tunes! Best of all, homemade Beers and Sodas as well as Floats, great food and great people. Come and enjoy a good time in an air-conditioned environment. - , cerritosbeachbrew [- at -] gmail.com, 612 154 8118

Cafélix Will Not Close! - All September we will be open for you! We are negreros! But happily open for you! Come and relax in the air conditioning! With a beer iced latte a big burro or so! 8 am to 9 pm cafelix everyday and boyitacos, 12 to 9 pm. c ya here! blesings! - Felix Vazquez, salesboy_vagu [- at -] hotmail.com, salesboy_vagu [- at -] hotmail.com, 6121312081, Todos Santos

Baja Dogs And The Rain - In the last 2 weeks we had a lot more rain than we are used to at the refuge. Unfortunately, most of the tarps used to protect our outside dogs were destroyed. Please consider making a donation of used (or new) tarps, or any other material you think can be used to provide shade and shelter to the dogs in the corrales. We also need dog food and used crates to evacuate the smaller dogs in case of a bigger storm. We have 54 dogs at the moment and at least half of them would have to be taken out of the refuge during a storm.

And again, like every year, we´ll need temporary homes for the smaller dogs, so if you can help us take care of a puppy or 2 in case of a weather emergency for 3-4 days, please send an email to voluntarios [- at -] bajadogslapaz.org. We´ll provide food and a crate and we understand if the dog has to be kept in the crate most of the time, what´s inportant is to keep them safe and above water. If you live downtown or can´t get things to the refuge (the road isnt in great condition at the moment) you can drop off your donations at "Cafe Papanayo" on Isabel La Católica and 3 buildings before 16 de septiembre from 11 am to 11 pm everyday (We highly recommend their pizzas). Or you can email us and we´ll pick up.

Dhorea is out of town at the moment so, if you want more information regarding this you can email me [- at -] maggiechac [- at -] yahoo.com or call 612 155 8948 (Vet Carlos, refuge number) or 612 152 8433 Maggie. Or Claudia lostdogs [- at -] bajadogslapaz.org. Thanks for all the help that throughout the years LPG has provided to our dogs. We really appreciate it and look forward to continuing rescuing dogs with your help. Thanks again - Maggie, maggiechac [- at -] yahoo.com Courtesy, La Paz Gringos


---
Submit your News and Events, Questions and Answers articles here: http://www.bajawesternonion.com/submitad.asp

---
Exchange Rate - Mexican Pesos to $1 USD - Courtesy exchange-rates.org
---
Return to Top
---
Featured Events This Week
Please Note: The "Featured Events This Week" section is limited to non-recurring community events (Sorry, no "Happy Hours," "Daily Specials," "Weekly Classes," or other recurring business activities or workshops.)


---
Wednesday, September 05
Grand Opening Of Sunshine Smoothies - 10am-12 noon, In front of Mini Super Cristal (next to Pizza Napoli) , El Pescadero. - Sunshine Smoothies, Fiona P artistinterface [- at -] gmail.com

Thursday, September 06
Dinner And A Movie At Cerritos Beach Brewing Co. - 7:00 PM, Cerritos Beach Brewing, Pescadero. Dinner a pint of beer or float, enjoyed watching a movie. This week we will be showing Office Space, a very good comedy. So come enjoy good beer and good laughter. Also have board games and free wifi - Robert Dale cerritosbeachbrewing [- at -] gmail.com, 612 102 1534, www.cerritosbeachbrewing.WordPress.com

Friday, September 07
Live Music With Ben & The Men - Rumi Garden, 7 to 10 p.m. $25p beer, $40p wine, $100p dinner. Reservations 612-145-1088 or www.RumiGarden.com. - Rumi Garden, 612-145-1088, Baja California Sur

Sunday, September 9th
Brew & Blues - 4:00-7:00 PM, Cerritos Beach Brewing, Pescadero. Come enjoy great Live Blues and Jazz and great beer and food here in Pescadero. Happy hour 2 for 1 from 4 to 5 PM, See you here. - Contact: Robert Dale cerritosbeachbrewing [- at -] gmail.com, 612 102 1534, www.cerritosbeachbrewing.WordPress.com

---
Baja Western Onion Readers Want To Know About Your Events! To Submit A Community Event, Go Here: www.bajawesternonion.com/submitad.asp.


Anyone planning an event should check the Online Community Calendar
before choosing a date to see if something else is already planned and avoid conflicts.

Check the Online Community Calendar here: www.bajawesternonion.com/community-calendar.asp -
---
Return to Top
---
Misc. Sales and Services Available
---

2002 Ford Explorer For Sale - Quiero vender una Ford Explorer Modelo 2002 6 Cilindros(V6) Motor 4.0 Lts, tiene 108,000 millas, aire acondicionado, stereo cd, transmision automatica, traccion sencilla. Esta importada como nacional, buenas condidiones en general tanto exterior como interior. Las placas estan vigentes de 2012. El precio es de 5,850 usd (obo). Telefono para informacion: 6121431508. Email: jocama85 [- at -] hotmail.com

I would like to sell a 2002 Ford Explorer, 6 cylinder, 4.0 Liter V6 motor, with 108,000 miles, air conditioning, stereo CD, automatic transmission, single traction. It is imported with 2012 plates, in good condition inside and out. The price is $5,850 USD (or best offer). Telephone for information 612 143 1508. - Josue (Pronounced "Ho Sway") Castillo, jocama85 [- at -] hotmail.com, 612 143 1508, Pescadero

Dr. Manlio Speziale Moves To A New Office - Dr.Manlio Speziale, plastic surgeon, is moving his practice to a different location. Starting September 1 he´ll be doing consultations at Plaza Reforma on the corner of Reforma and Ramirez in La Paz. Tel 612 129 5252 Cel. 612 141 6298 manliospeziale [- at -] gmail.com - Manlio Speziale, manliospeziale [- at -] gmail.com, 612 129 5252, La Paz

Pacific Window Washing - Profesional home window washing. Servicing Cabo San Lucas, Rancho Migrino, Pescadero, Todos Santos and anywhere in between. Free estimates. - Mark, pacificwindowwashing [- at -] gmail.com, 612 143 3316, Pescadero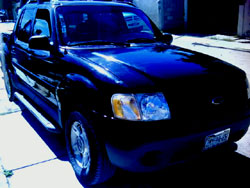 Sport Trac For Sale - Luxury edition, leather seats, sunroof, 4x4, 6 cylinders, a/c, black color, 2002 model, Baja plates, excellent conditions. $7000 USD. - Ernesto Miranda, ernie_net [- at -] hotmail.com, 612-117-7497, Pescadero

Delightful Summer Specials At Caeli Casa Holística! - *Golf ball Massage & happy feet- Enjoy a deep massage to soothe and relax those sore and tight muscles getting enough and comfortable pressure in those trouble spots using special golf balls in specific areas. Improve your flexibility, eliminate stress and anxiety, regain your vitality. The treatment ends with exfoliation, reflexology and refreshing mask to pamper and moisturize your feet. Both for only $50 USD (80 min.) ***Get 5% off if you mention this ad!

Also available On Site service, ask for other promotions and menu. Guaranteed best service in town by Certified Holistic & Bodywork Therapist Mónica Velázquez. For appointments, call 612 145-0381 or 612-149-1552 (cell) or write caelicasaholistica [- at -] gmail.com / Todos Santos BCS - www.facebook.com/pages/CAELI-Casa-holistica/141768632522923. - Mónica Velázquez, caelicasaholistica [- at -] gmail.com


Need A Propane Refrigerator? We've Got Them. - Crystal Cold Propane refrigerators built by the Amish in Illinois. 11 cu ft to 22 cu ft. Delivered to you. We are the exclusive dealer for Crystal Cold in BCS. - Jim Coulson, jimcoulsoncontractor [- at -] yahoo.com, www.propanerefrigerator.com/, 612 183 1077, Baja California Sur


Professional Tile & Grout Cleaning - Got Dirt? Maybe it's time for a professional cleaning. Services Offered:
Tile & Grout Cleaning
Stone Cleaning
Rug Cleaning
Furniture Cleaning
Power Washing
Free Estimates and Free Demonstration Cleaning available. - Justin Lindholm, justin [- at -] pacificsteamclean.com, www.pacificsteamclean.com, 612 105 7421


Accounting Services In Todos Santos - We can assist you with your corporate and individual needs. We offer accounting and administrative services including:
Registration of corporations with SECOFI and INM
Registration and reporting of construction and construction workers with IMSS
Recording and reporting foreign investments with the Secretaria de Economia
Counseling and immigration assistance for FM2 and FM3
Property management including payment of utilities, water, CFE, fideicamiso
Assistance with water rights
Offices in central Todos Santos
Many local references
FRIMAR GROUP
E.C.M. Raquel Martinez Peralta - Raquel Martinez Peralta frimargroup [- at -] hotmail.com, 612-14-86907


Solar Water Heating Systems - Make a SolarSmart investment today with immediate returns!  Solstice Solar of Baja is your local Solar Hot Water specialist for your home and pool.   - Skip Ackerman, ackerman1952 [- at -] gmail.com, www.solsticesolarofbaja.com, 970-963-0846 Vonage or 624-142-8002


Not Wanted - Not Wanted: 1998 Ford F150 supercab, new tires, A/C, good conditions, California license plate and current. New machine was installed on 2004. Title available. Pictures available upon request. - Yulma Verdugo, yevs0206 [- at -] gmail.com, 612-148-4624, La Paz


---
Submit your Misc. Sales and Services Available/Wanted articles here: http://www.bajawesternonion.com/submitad.asp


---
Return to Top
---
Real Estate, Rentals, and House Sitting - Available/Wanted
---

I Want To Buy Property - I want to enter into a contract to purchase 3000 m2 or greater on a 36 nor 48 month equal payment purchase at a principal plus 5% rate.The contract needs to be entered into by November 1st, 2012, so that a base structure level can be constructed for temporary living by April 15, 2013. The land must have access to water and should be able to have a 360 view once a 3.5 storey exquisitely modern home is completed.

ONLY the terms listed above will be considered, Please do not contact with any other offers. Early payment completion is very probable for the right property. In the Todos Santos area or within 30 Km of TS - G.V. Stone, eurada [- at -] gmail.com, 612-178-0200, Todos Santos

Lot For Sale In Town: $25,000 USD - Small lot for sale in town one block and a haf from the high school, full service, Light on the street, phone line, mega cable, electricity hig h power 220 volts, new water line underground , sewer, all the papers in rule. already subdivide, hefo75 [- at -] hotmail.com for more information. it is good location. - Hugo Figueroa, hefo75 [- at -] hotmail.com, www.bajawesternonion.com/submitad.asp, 612-177-0502, Todos Santos

Rental Wanted - Taking a sabbatical and looking to rent small house or part of house November for 6 months Todo Santos and area. clfedryna [- at -] hotmail.com

---
Submit your Real Estate/Rentals/House Sitting/Property Management Services articles here: http://www.bajawesternonion.com/submitad.asp


---
Return to Top
---
Rides or Caravans Available/Wanted
Note: Ads will run for two weeks unless dated. Please list the date in the title, and specify which airport. Goes without saying, everyone shares expenses for beer, gas, food, etc

To remove your ad if you find a ride or caravan, let us know here: www.bajawesternonion.com/submitad.asp -
---



Need a Ride to or From the Airport? Or Someone to Assist You With Errands? - I am a young, bilingual Christian man and I can provide you with rides to or from the La Paz or San Jose Del Cabo airports. I can also help you with courier services, errands, or navigating the intricacies of dealing with Mexican businesses and the government; Car Registrations, TelCel and TelMex, CFE, Seguro Social, etc.

Reasonable Rates - Contact: Ernesto, Cel. 612-117-7497, ernie_net [- at -] hotmail.com


Our Dog Needs A Ride To Southern California - We have rescued a little dog while we were here in Todos Santos and we need to get her home to Southern California. She is small (probably about 15 pounds and very sweet). She has had all her shots and is healthy. We're leaving Todos Santos on Aug 22, so we could meet you anytime after that. We will help pay for gas or course. We could meet you in San Diego or Los Angeles or? Please reply asap. Thanks. - David Roth, rothphoto [- at -] mac.com, 310.938.7502

Driving To Todos Santos From Seattle In September - We are headed home (Todos Santos) from Seattle soon after Labor Day in September. This time we are driving! If you have a small item or paperwork you need brought down, please feel free to contact us. - Lynn Benfield, uprivergrl [- at -] gmail.com

Driving From New Mexico - I plan on driving to Baja early November, via Tucson, Los Mochas, ferry to La Paz. Looking for a rider to share the ride. - Rosario Carelli, wearethedrum [- at -] yahoo.com, 828 380 0122 US cell#

Will Drive Your Vehicle To Baja Late October ~ Early November - Responsible couple with perfect driving record available to drive your vehicle down to Baja Sur some time late October/early November. Ideal pick-up from the Olympic Peninsula or Los Angeles but any location down the west coast is an option. - Sasha Landis, jacqueline.mention [- at -] gmail.com, Los Barriles


---
Submit your Rides or Caravans Needed/Available articles here: http://www.bajawesternonion.com/submitad.asp


---
Return to Top
---
Pet Corner (Lost and Found pet articles will run for two weeks)
Let us know if you find or place your pet so we can remove your ad -
---

Looking For A Home >>> - Homeless. We are Three Black Puppies, about 12 weeks old, who were left at Punta Lobos a few weeks ago. They say we're mostly labs. If you are out at Punta Lobos, we pretty much hang out at Carlos' van, where there is sometimes food and water. We would love to be adopted. If interested please call Pam 612-102-7983. senoracobb [- at -] yahoo.com, Todos Santos

Please Adopt Me - My name is Jackson, I'm a one year old male long haired (silky) white terrier. I have been neutered and had all my shots. I am loving and lovable and very well socialized. I get along just fine with children and other dogs. If you want to have a look at me (I assure you I'm adorable), please call Mariposa and we can meet. - Mariposa, 612-176-3119, Pescadero

Please Take Me Home. - Beautiful, loving, playful, litterbox trained year old Calico cat, Chiclet needs a new home. She is neutered and up to date with shots. Due to severe allergies we are unable to keep her but we love her so much and want to make sure she goes to a special home. She was rescued as a kitty and has grown into being a grateful loving adult cat. Please consider her for your house cat. bbnbugs [- at -] yahoo.com, 6121543380, Todos Santos


<<< Gorgeous Young Things - These little beauties were dumped in a box at Kitty Heaven at midday, totally dehydrated. They have been here for a week now, appear to be about 3 1/2 weeks old, and are thriving beautifully. They are so active, they can't sit still for a portrait. One tortoise shell, one red one, one white and one black baby. - Angelique Schorenstein, bajakiities [- at -] yahoo.com, 145-0250

Navy Seal Dog Of Choice Now Available: Belgian Shepherd Malinois. - Navy Seal Dog of Choice Now Available: Belgian Shepherd Malinois. 4 Months of Age. Highly Motivated, Obedient, Competent, Atractive, Working and Companion K-9s. Special for Compound Security and Personal Protection. Beatiful, Sociable, Strong. Call Bill [- at -] 624 150 5279 or E-mail billneubrand [- at -] hotmail.com - Bill Neugrand, imageshack.us/photo/my-images/52/img20120721140030.jpg/, 624 150 5279, Cabo San Lucas

Traveling To Mainland? - We are looking for someone to take our well behaved, very sweet and intelligent, medium-size dog over to the mainland. Family will be waiting on the other side to pick her up. If you are taking the ferrie across, or even flying, we can contribute to your ticket. Please e-mail: erin_bannon [- at -] hotmail.com. - Erin Bannon, erin_bannon [- at -] hotmail.com, 1(519)273-1915, Canada

Have You Seen Bear? - Actually, she looks more like a fox than a bear with her long, reddish brown coat, bushy tail, one ear upright the other half-cocked and slender medium size body. She answers to "Bear." She disappeared from my home here at Los Cerritos Wednesday, July 25, the night I returned from the U.S. Please contact me if you spot her. Thank you, Leirion - Leirion, leirion2 [- at -] gmail.com, 612-131-3334, United States

Good Info On What To Do If You Lose Your Dog In Baja (or Anywhere) - This excellent article courtesy of Baja Insider: www.bajainsider.com/baja-life/pet-care/findinglostdogs.htm -
---
Submit your Pet Corner articles here: http://www.bajawesternonion.com/submitad.asp (and remember to Spay or Neuter your pets)



Return to Top
---
Quote of the Day: " What some people mistake for the high cost of living is really the cost of high living. " ~ Doug Larson


---
Looking for the complete Community Events Calendar? Click Here!


---
Return to Top
---
---
Help Support The Baja Western Onion!

We can accept donations by Credit Card, PayPal, cash, check or direct deposit.

For more information, please visit our web site at http://www.BajaWesternOnion.com/donate.asp.
Copyright © 2006 - 2012. The Baja Western Onion. All Rights Reserved. Published Using 100% Recycled Electrons :)
Return to Top
---