On The Web Site:
---
Today's Weather
Click for Forecast


Click for Larger Maps


Click for Forecast

---
Community Access
Policia Preventiva
Todos Santos Police
612 145-1052
Commandante Navarro

Ministero Publico
State Police
612 145 0198
Commandante Erigoyen

Bomberos
Fire Department
Cel. 612-142-6387
Commandante Cadena


---







---
Baja Western Onion
Alan Thompson - Publisher
Debra Webster - Editor
Advertising Information
e-mail For General Feedback
---
---
News and Events, Questions and Answers, Food And Fun
---

Thank You From Leonardo's Family To Todos Santos Community - The Perel family – Sylvia, Sonia, Jonathan and Sofia – would like to express our deepest gratitude to all of our friends and community in Todos Santos and La Paz. You have shown unwavering support and generosity in this time of great loss and sorrow. We would like to thank everyone who has stood by us - whether by offering your support and consolation, helping with food, sending us your thoughts and prayers, or just simply by celebrating Leonardo's life with us. The memory and spirit of Leonardo, as our husband, father, mentor and great inspiration will forever live in all of our hearts and will continue to inspire all of those he knew and loved for generations to come. - Leonardo's Family, Todos Santos

2013 Art Season - A major season is being planned for the vibrant art community of Todos Santos. The events are printed in the community calendar section, but most specifically, there will be a Christmas small works show opening January 6th, the Artists studio tour (Feb 10) with the pre-show opening Jan 9)- (contact Gruenitz10 [- at -] yahoo.com) and the Todos Santos shades of Blue Show open to the community. Artists and collectors will enjoy this coming year so start planning ahead! - Tori Sepulveda, oscarntori [- at -] yahoo.com, Todos Santos


Local Hotel Deal - Coming from outside of the area? Use Buena Vista Beach Resort as your "home base" and stay the weekend and enjoy all of the celebrations in Los Barriles. With a price of only $ 875.00 pesos per person, the package includes: *Room accommodations (double occupancy)

*Mexican buffet dinner with Concert (8:00 p.m.)
*A la carte breakfast or buffet style
*Check-in starting at 11:00 a.m.
*Taxes and gratuities
*Nanny Service (additional cost)
*Up to two kids free (4 years and younger)
*Additional nights $500.00p per person. Courtesy Baja Pony Express -

Need Pemex Info - Hi, just a question that I'm having a hard time with. Does any one know the chemical make up of the regular grade gasoline that Pemex sells? We want to bring a Jeep down and need to know if they sell methanol or ethanol blend gas. Greatly appreciated. - Mar Lautischer, Tazdevil67 [- at -] hotmail.com, Cabo San Lucas


Hotel Casa Tota And La Santeña In Downtown Todos Santos - Are you reading this from far away- perhaps a land with many rules and lots of people? Are you beginning to dream about a return to your wild, beautiful, Baja home?

We'll be waiting for you! We are planning a full season of parties, roof receptions, creative activities and Chef Tony's fresh food.

Be sure to join us on December 29th for a post-Por Que 5K mimosa, Yoga in the Street on December 31st, our New Years Celebration and more! And that's just December.

We look forward to seeing both familiar and new faces here at Casa Tota and La Santeña. Be good, drive safely, travel well and come back soon! HotelCasaTota [- at -] gmail.com, www.HotelCasaTota.com, 612 145 0590, Todos Santos


Swimsuit Seamstress - Hola! There used to be a gal in La Paz named Katrina I believe that made custom swimsuits. I have lost track of her over the years. Does anyone remember her and if not, does anyone have any suggestions for another custom swimsuit maker? Thanks! TDCC. Please reply to: tcarpentercarter [- at -] gmail.com - TDCC


Transporting Goods From Costco To TS - Does anyone know of a transportation service that can help us move our purchases from Costco in Cabo to our new home in Todos Santos? We will have several beds, washer/dryer/BBQ grill + more. Need service Sept. 16 or 17th. - Terry And Mike Hawes, thawes47 [- at -] gmail.com



Spanish And English Language Labs With Guillermo Bueron - Led by certified Berlitz instructor Guillermo Bueron, small intimate classes of up to five participants will enjoy personalized hands-on guidance throught the program, Taught utilizing the Berlitz language method, upon completion of the 10 hour program paticipants should be able to: Ask directions, order in restaurants and cafes, bargain in the markets and communicate with Spanish speaking people at a basic level. Classes start September 5.

English Classes.Please call for information. Secretaría de Turismo in BCS will be paying part of the fee for workers in the hotel industry.Language Labs will be held in the Cultural Center. - Guillermo Bueron Prieto, g_bueron [- at -] yahoo.com, www.guillermolanguageandtravel.com, 612 161 4165, Todos Santos



Concert And Dinner Under The Stars at Buena Vista Beach Resort - Sept. 14 Independence Day celebrations, Concert and Dinner under the stars. Join us September 14th to celebrate our Independence Day, with an intimate evening under the stars on our beach with the majestic "Voice of Mexican Traditions" Luna Itzel and her amazing backup troupe. www.lunaitzel.com/eng/wordpress/?page_id=10 Mexican-style Buffet Dinner and Concert only $325 pesos p/p. Reservations required. 624-142-0199 & 624-142-0099 or Email info [- at -] hotelbuenavista.com, Los Barriles. Courtesy Baja Pony Express -


Getting Our Mail From The US Down To Todos - We will be in Todos Santos for the next 2 years and will need to have our mail sent down once per month. Any tips on the best way to do this? Thanks - Dave

Need A/C Mechanic - Can you recommend a good A/C mechanic for LG mini=split? I have tried to contact Bruno in Todos Santos without success [maybe on vacation]. e-mail me at carlosysuz [- at -] yahoo.com. Thanks. Chuck - Chuck Morrison, carlosysuz#yahoo.com

East Cape Club Fishing Tournament - Good luck to everyone at the East Cape Club and their new event. Check out the schedule and come on by to support this GREAT event for the community-for a change!! Sign ups today-Friday. BTW....great band!!!!! Here's the info:

*Friday, August 31--Opening ceremony, sign ups and Captain's Meeting at Vago's Bar on the beach across from the old Pemex from 4 p.m. to 9p.m. "We'll have music, Corona Girls, the Captain's Meeting and for the ceremony, local authorities will join us," founding member and president Felipe Valdez said.

*Saturday Sept. 1--Shotgun start at 7 a.m. Weight station will be open from noon until 6 p.m. There will be lots of Corona Girls at the weight station, live music by Banda La Grande from Mazatlan from 4 p.m. until 8pm and free food for everyone from the fish being caught, as soon as they start weighing in fish. The Awards Ceremony will start 8pm but the party will go all night. Courtesy Baja Pony Express -
---
Submit your News and Events, Questions and Answers articles here: http://www.bajawesternonion.com/submitad.asp

---
Five-day Exchange Rate - Mexican Pesos to $1 USD - Courtesy exchange-rates.org
---
Return to Top
---
Featured Events This Week
Please Note: The "Featured Events This Week" section is limited to non-recurring community events (Sorry, no "Happy Hours," "Daily Specials," "Weekly Classes," or other recurring business activities or workshops.)


---
Friday, August 31
Permaculture Walk-about And Informative Talk - "Wholesome Home and Garden" will host a Permaculture Walk-about and lecture from 8 a.m. to 10. The demonstration site is the home of Virginia Moonstone Mazzetti and the new location of a garden shop-to-be. The fee will be by donation. See full article above for directions. - Va. Moonstone Mazzetti, moonstonenow [- at -] yahoo.com, 612-119-4098

Cello And Piano Recital - Javier A. Mercado Bellato (cello) and Antonio Colunga Green (Piano), 19:00, Centro Cultural La Paz, 16 de Septiembre near Belisario Dominguez. Free Admission.

Live Music With Ben & The Men - Rumi Garden, 7 to 10 p.m. $25p beer, $40p wine, $100p dinner. Reservations 612-145-1088 or www.RumiGarden.com. - Rumi Garden, 612-145-1088, Baja California Sur

Full Moon - Blue Moon Party, Friday August 31 - 6:30pm, Teatro Luna Azul, . Hot summer dance party under the August Blue Moon. Cool drinks, Garden Pesto, Homemade Pasta, Great Prices! Free Entrance. Bring drums and musical instruments and your dancing shoes! - Contact: Bluemooninbaja [- at -] yahoo.com, tsbmp.blogspot.com

Saturday, September 01
Sunset and Fire Show - 7:00 PM, with Fimo and Tim Lang, Saturday at the Hotel Guaycura on the SkyDeck - www.guaycura.com.mx, frontdesk [- at -] guaycura.com, 612-175-0800, Todos Santos

Tuesday, September 04
Palabra Por Palabra Book Group - The group meets at the centrally located home of one of its members at 2 p.m. Sessions are generally the first Tuesday of the month. Please bring books you recommend for discussion. There is no assigned book during these summer sessions. For more information, contact Allende Books on Independencia #518, between Serdan and Prieto, La Paz.

---
The Print-edition Of The Baja Onionskin Online - The Baja Onionskin is a printable version of the Community Events Calendar for the week. During the summer, we'll discontinue printing out and distributing paper copies but we'll post The Onionskin in PDF format online for download. Please feel free to download, print and distribute to your guests and visitors as you see fit. You can download the latest edition here: www.bajawesternonion.com/Onionskin/current.pdf. Advertising Information here: www.bajawesternonion.com/onion-skin.asp. -
---
Download This Week's printable edition of The Baja Onionskin Community Calendar
in PDF format Here: www.bajawesternonion.com/Onionskin/current.pdf
---


Anyone planning an event should check the Online Community Calendar
before choosing a date to see if something else is already planned and avoid conflicts.

Check the Online Community Calendar here: www.bajawesternonion.com/community-calendar.asp -
---
Return to Top
---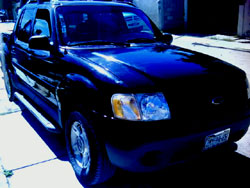 Misc. Sales and Services Available
---

Sport Trac For Sale - Luxury edition, leather seats, sunroof, 4x4, 6 cylinders, a/c, black color, 2002 model, Baja plates, excellent conditions. $7000 USD. - Ernesto Miranda, ernie_net [- at -] hotmail.com, 612-117-7497, Pescadero

A+ Private Tutoring - Now Open in Pescadero. Modern one room schoolhouse with 1000+ book library is available for home schooling and private tutoring. Age range is Kindergarten to Adults. Services include: Computer Training, Math Tutoring, and Home Schooling. Classes are in English, taught by an experienced and credentialed California educator. Land's End offers a safe and encouraging atmosphere for learning. Please call or email for more information. - Michella Rotalo, michellajean [- at -] hotmail.com, 612-147-7537, Pescadero


La Canada Del Diablo - Furniture, Mirrors, Spring Air Mattresses, Lamps. Everything is on sale!
Come by and check out our marked down prices.

Remember, we are still collecting clothing and blankets for the farm workers who have so little.

Our hours are: Monday thru Saturday 9:00 a.m. to 6:00 p.m. - Barbara Perkins, bperkins0403 [- at -] gmail.com, www.lacanadadeldiablo.com, 612-140-0069


Grand Piano For Sale - A grand piano 5'55'' krakauer, action and strings recently reconditioned. Located in av. fco.i.madero 3325 col.pueblo nuevo. - John Boyle, boyle0352 [- at -] yahoo.com, 612-185-4465 and 612-141-5518, La Paz

Need A Plumber Or Maintenance? - For the very best work on plumbing, yard maintenance and removal of trash you can call Roberto. He speaks both English and Spanish. He has reasonable rates. He is very well known in Todos Santos. Call him at 612-158-0038 lowerbaja [- at -] yahoo.com, 612-158-0038, Todos Santos


Accounting Services In Todos Santos - We can assist you with your corporate and individual needs. We offer accounting and administrative services including:
Registration of corporations with SECOFI and INM
Registration and reporting of construction and construction workers with IMSS
Recording and reporting foreign investments with the Secretaria de Economia
Counseling and immigration assistance for FM2 and FM3
Property management including payment of utilities, water, CFE, fideicamiso
Assistance with water rights
Offices in central Todos Santos
Many local references
FRIMAR GROUP
E.C.M. Raquel Martinez Peralta - Raquel Martinez Peralta frimargroup [- at -] hotmail.com, 612-14-86907

Professional Electrical Maintenance - Solar Panels, Power Generators, Wind turbines and WiFi Antennas Maintenance. Excellent recommendations! - Marco Castro, marcoecastro [- at -] hotmail.com, 6121395517


---
Submit your Misc. Sales and Services Available/Wanted articles here: http://www.bajawesternonion.com/submitad.asp


---
Return to Top
---
Real Estate, Rentals, and House Sitting - Available/Wanted
---
Looking For Long-Term Home Rental - Responsible couple looking to move to Pescadero/ Todos Santos area. Would like a 2 or 3 bedroom house long term. Looking to move by Oct. 1 - 15 2012. - Heather Burton, hsouthgate2003 [- at -] yahoo.com, 624 132 3580



Need RV Space For Rent - Looking for a Long-term RV space in Elias Cias, Rancho Nuevo, Cerritos, Pescadero or Todos Santos. I would like to park it at a private home or property. If you have hookups, water, elect, sewer, WiFi. I would love it close to the beach. Need flat ground. I only use it on the week ends or 3 days a week. If you need to get away for week ends and would like to have someone to secure your property it may benefit you. I could water and I love animals. I have a home in Cabo and am a R.E. Broker in Cabo & Todos Santos. Lots of references. With my banker, lawyer, accountant etc. Lived in the area 23 years and have been flying into Cabo since 1967. I need to make a decision & move my 28' C model motorhome by the 10th of September and am looking now. I can pay rent. Please call my cell: 624 113-3959, Vonage 714 442-0587 or best 714 586-9009 leave a message if no answer. - Sharon Armstrong, sharon [- at -] caborealtors.com, Pescadero




Unfurnished Long Term House Rental - Hi! We are looking for an unfurnished long term house for rent in Todos Santos. We are a family of 4 and soon 5. Minimum 2 bedrooms and 1 bathroom is OK. If you know about something, please write... adrio_bl [- at -] hotmail.com. Thanks - Adrian Banuelos, adrio_bl [- at -] hotmail.com


---
Submit your Real Estate/Rentals/House Sitting/Property Management Services articles here: http://www.bajawesternonion.com/submitad.asp


---
Return to Top
---
Rides or Caravans Available/Wanted
Note: Ads will run for two weeks unless dated. Please list the date in the title, and specify which airport. Goes without saying, everyone shares expenses for beer, gas, food, etc

To remove your ad if you find a ride or caravan, let us know here: www.bajawesternonion.com/submitad.asp -
---



Need a Ride to or From the Airport? Or Someone to Assist You With Errands? - I am a young, bilingual Christian man and I can provide you with rides to or from the La Paz or San Jose Del Cabo airports. I can also help you with courier services, errands, or navigating the intricacies of dealing with Mexican businesses and the government; Car Registrations, TelCel and TelMex, CFE, Seguro Social, etc.

Reasonable Rates - Contact: Ernesto, Cel. 612-117-7497, ernie_net [- at -] hotmail.com


Our Dog Needs A Ride To Southern California - We have rescued a little dog while we were here in Todos Santos and we need to get her home to Southern California. She is small (probably about 15 pounds and very sweet). She has had all her shots and is healthy. We're leaving Todos Santos on Aug 22, so we could meet you anytime after that. We will help pay for gas or course. We could meet you in San Diego or Los Angeles or? Please reply asap. Thanks. - David Roth, rothphoto [- at -] mac.com, 310.938.7502

Driving To Todos Santos From Seattle In September - We are headed home (Todos Santos) from Seattle soon after Labor Day in September. This time we are driving! If you have a small item or paperwork you need brought down, please feel free to contact us. - Lynn Benfield, uprivergrl [- at -] gmail.com

Driving From New Mexico - I plan on driving to Baja early November, via Tucson, Los Mochas, ferry to La Paz. Looking for a rider to share the ride. - Rosario Carelli, wearethedrum [- at -] yahoo.com, 828 380 0122 US cell#

Will Drive Your Vehicle To Baja Late October ~ Early November - Responsible couple with perfect driving record available to drive your vehicle down to Baja Sur some time late October/early November. Ideal pick-up from the Olympic Peninsula or Los Angeles but any location down the west coast is an option. - Sasha Landis, jacqueline.mention [- at -] gmail.com, Los Barriles


---
Submit your Rides or Caravans Needed/Available articles here: http://www.bajawesternonion.com/submitad.asp


---
Return to Top
---
Pet Corner (Lost and Found pet articles will run for two weeks)
Let us know if you find or place your pet so we can remove your ad -
---

Looking For A Home >>> - Homeless. We are Three Black Puppies, about 12 weeks old, who were left at Punta Lobos a few weeks ago. They say we're mostly labs. If you are out at Punta Lobos, we pretty much hang out at Carlos' van, where there is sometimes food and water. We would love to be adopted. If interested please call Pam 612-102-7983. senoracobb [- at -] yahoo.com, Todos Santos


<<< Gorgeous Young Things - These little beauties were dumped in a box at Kitty Heaven at midday, totally dehydrated. They have been here for a week now, appear to be about 3 1/2 weeks old, and are thriving beautifully. They are so active, they can't sit still for a portrait. One tortoise shell, one red one, one white and one black baby. - Angelique Schorenstein, bajakiities [- at -] yahoo.com, 145-0250

Navy Seal Dog Of Choice Now Available: Belgian Shepherd Malinois. - Navy Seal Dog of Choice Now Available: Belgian Shepherd Malinois. 4 Months of Age. Highly Motivated, Obedient, Competent, Atractive, Working and Companion K-9s. Special for Compound Security and Personal Protection. Beatiful, Sociable, Strong. Call Bill [- at -] 624 150 5279 or E-mail billneubrand [- at -] hotmail.com - Bill Neugrand, imageshack.us/photo/my-images/52/img20120721140030.jpg/, 624 150 5279, Cabo San Lucas

Traveling To Mainland? - We are looking for someone to take our well behaved, very sweet and intelligent, medium-size dog over to the mainland. Family will be waiting on the other side to pick her up. If you are taking the ferrie across, or even flying, we can contribute to your ticket. Please e-mail: erin_bannon [- at -] hotmail.com. - Erin Bannon, erin_bannon [- at -] hotmail.com, 1(519)273-1915, Canada

Have You Seen Bear? - Actually, she looks more like a fox than a bear with her long, reddish brown coat, bushy tail, one ear upright the other half-cocked and slender medium size body. She answers to "Bear." She disappeared from my home here at Los Cerritos Wednesday, July 25, the night I returned from the U.S. Please contact me if you spot her. Thank you, Leirion - Leirion, leirion2 [- at -] gmail.com, 612-131-3334, United States

Good Info On What To Do If You Lose Your Dog In Baja (or Anywhere) - This excellent article courtesy of Baja Insider: www.bajainsider.com/baja-life/pet-care/findinglostdogs.htm -
---
Submit your Pet Corner articles here: http://www.bajawesternonion.com/submitad.asp (and remember to Spay or Neuter your pets)



Return to Top
---
Quote of the Day: " I've wrestled with reality for 35 years, Doctor, and I'm happy to state I finally won out over it. " ~ Mary Chase (1887 - 1973), Jimmy Stewart in "Harvey", 1950


---
Looking for the complete Community Events Calendar? Click Here!


---
Return to Top
---
---
Help Support The Baja Western Onion!

We can accept donations by Credit Card, PayPal, cash, check or direct deposit.

For more information, please visit our web site at http://www.BajaWesternOnion.com/donate.asp.
Copyright © 2006 - 2012. The Baja Western Onion. All Rights Reserved. Published Using 100% Recycled Electrons :)
Return to Top
---