On The Web Site:
---
Today's Weather Click for Extended Forecast

---
Community Access
Policia Preventiva
Todos Santos Police
612 145-1052
Commandante Navarro

Ministero Publico
State Police
612 145 0198
Commandante Erigoyen

Bomberos
Fire Department
Cel. 612-142-6387
Commandante Cadena


---









---
Baja Western Onion
Alan Thompson - Publisher
Debra Webster - Editor
Advertising Information
e-mail For General Feedback
---
---
News and Events, Questions and Answers
---

Annual Stars & Stripes Festival - Thursday, June 28 thru Sunday, July 01, don't miss this World-class fishing tournament, first-class golf, major-headliner music festival with music by the Doobie Brothers, and live auction benefitting children's charities. Also offered are Zip-line tours and Quad-runner rides with Wild Canyon Adventures. Events will be centered at the Hilton Los Cabos Beach & Golf Resort, Cabo San Lucas.

About Stars & Stripes: Started in 1996 by Dick Gebhard, then a board member of Big Brothers Big Sisters of Orange County, Stars and Stripes has grown from a new idea by a creative visionary, to one of the most significant and innovative charity fundraisers in the country. The event has donated over $10 million to Southern California charities over its 15-year history and over the past three years has expanded its list of beneficiaries which this year includes: Orangewood Children's Foundation, Boy Scouts of Los Angeles, Miracles for Kids and most recently, Court Appointed Special Advocates (CASA OC).

Additionally, Stars & Stripes gives back to communities in the Cabo San Lucas area, this year, monies raised will also benefit Mexico's Green Scholarship Program. Affectionately known as "The Feel Good Tournament," Stars and Stripes seeks to be an effective charity fundraiser which creates lasting memories for both the organizations it assists and those participating in the event each year. - christi.starsandstripes [- at -] gmail.com, (949) 280-4742, www.starsandstripestournament.com/

Celebrate The Life Of Pat Light - If you knew and loved Pat Light, please join us at Cerritos Beach this Sunday, June 10, at noon for a gathering of kindred spirits and paddle-out. - Bobbi, 612.167.6610, Elias Calles

U.S. Consular Agency Hours - The U.S. Consular Agency in Los Cabos is pleased to announce that we will be open to the public by appointment from 8:00 a.m. to 1:30 p.m. on Tuesday, June 18, 2012, through Thursday, 21, 2012, to process applications for U.S. passports and consular reports of birth abroad, and to provide notarial services. A consular officer from the U.S. Consulate General in Tijuana will be present to provide these services. If you would like to make an appointment, please call 624-143-3566. The U.S. Consular Agency continues to provide daily assistance to U.S. citizens who require emergency services.

The Consular Agency is currently unable to provide routine passport and notarial services outside of these dates, but will announce future opportunities as they arise. In the interim, please call 624-143-3566 with questions or to add your name to the waiting list. Located at: Tiendas de Palmilla, Carretera Transpeninsular Km 27.5. Local B221, San José del Cabo, Baja California Sur, C.P. 23406. Telephone: (624) 143-3566; Fax: (624) 143-6750 Email: USConsulCabo [- at -] yahoo.com - San Jose Del Cabo


G20 Summit Information Corrections - Lic. Julio Camarena Villaseñor, G20 Chancellor and the SRE's Oficial Mayor, was interviewed (bilingual) Sunday June 3 on Cabo Mil's Los Cabos Now and made a specific point of refuting/correcting the widely-circulated information on the Lifestyle Villas blog, and reprinted in the June 5 edition of the Baja Western Onion. He was particularly concerned regarding inaccurate dates, incomplete or distorted information, and hyperbole regarding beach closures.

The Camarena interview is available as a podcast at www.cabomil.com.mx - from the homepage go to the podcast page, choose June 3 from the calendar and the time 1900 / 1930. There is a slider bar to advance the podcast. (As far as I know, the interview is not yet on the main podcast list.). There is also important information in the podcast missing from the list, especially regarding the high security polygon from the Convention Center through to and along Paseo San Jose, San Jose's beachfront boulevard.

Clarifications from the interview (Courtesy Baja Tips Weekly):
The toll road will be closed from the 15th – 19th of June. This will be open only to those transporting delegations. Anyone who needs to go to the airport will have to use the old route through San Jose Del Cabo.
Some of the beach accesses in front of the hotels where the government heads will be staying will be restricted from the 15th – 20th of June. Those hotels are One and Only Palmilla, Marquis, Fiesta Americana, Sheraton, Ventanas, Esperanza, and Westin.
Other locations with heightened security will be the Hilton, headquarters for the B20 (Businesses) and the Cabo San Lucas Cultural Pavillion where the NGO's will be convening as well as scheduled concerts and performances. From June 15th-20th, during the evenings, there will be various events, concerts, movie screenings, ballet & exhibits at the Cultural Pavilion located in down town Cabo. All functions are open to the public & free.
Highest concentration of Security will be present on June 17,18, and 19, from the new Convention Center off the airport toll road in San Jose to the area around Hotel Barcelo, where the G20 headquarters is located, and around Hotel El Faro, the International Press Center.
All names of staff working at any of the resorts or who supply the hotels, need to fill out an accreditation form available at the Accreditation Center at Hotel Mayan, or will not be allowed onto the premises. You must carry the accreditation on you at all times. This does not apply to condominiums in those areas.
There will be maritime restrictions around the 7 hotels mentioned above, as well as Barcelo and El Faro. No maritime restrictions in Cabo San Lucas harbor. No private planes will be allowed to land in SJD, but be directed to land in CSL airport instead.
All schools, hospitals & regular businesses will remain open, unless a decision is made by the actual institution
This means that the popular snorkeling spots like Santa Maria, Chileno Bay & surf spots like El Tule, Acapulquito, the Rock & Zippers will not be accessible from the 15th until the 20th
Be prepared to wait in traffic, so leave at least 30-45 min before your meetings or appointments, there will possibly be various check points along the highway.
Saludos, - Sabrina Lear, English Language Programming, Radio Cabo Mil 96.3 FM, loscabosnow [- at -] sabrinalear.com, (624) 145 7963, www.cabomil.com.mx

Thank Heaven For St. Luke´s! - Recently I was admitted to St. Luke´s Clinic suffering from severe pneumonia that hadn´t responded to the treatment I was getting from the respiratory specialist I was seeing in La Paz. We decided to take advantage of their $100 peso consult they offer every Monday & Thursday and received a very thorough examination by Dr. Jorge Diaz, who recommended I be hospitalized on site so that I could be treated intravenously. The doctors, nurses and staff are very professional and caring and really want to help get you well. They have lab and x-ray services on site so test results were available rapidly to help with my treatment. The cost of the hospitalization, lab work, x-rays, medical services was reasonable and fair. I feel very fortunate that we have such a fine facility at our disposal right here in Todos Santos and will not hesitate to return for consults or hospitalization if needed in the future. - Don Mitchell, kiwimay1999 [- at -] yahoo.com, Todos Santos



Pets In The Cabin Of Alaska Airlines Planes (Courtesy Baja Pony Express) - There is a new law that took affect on June 1 that states: no "in-cabin pets" on any flights into and out of Mexico. I know this for a fact because American Airlines would not let my friends fly with the cat that they had made reservations for when they left last week and the same thing happened to my daughter flying out yesterday with her small dog on Alaska Airlines. At least Alaska called us yesterday morning and gave us a heads up about the hard kennel. Animals will only be able to travel in the hold in a Hard-sided kennel into and out of Mexico in the future. - Sheila Hughes

--------------------------------------------------------------------------

I called the 800 number given for Alaska earlier this afternoon on LPG and talked to 3 different people who confirmed that their policy had just changed. However, none of them could provide hard evidence that there is an actual Mexican law or official Directive from the Mexican gov't to support their claim. According to an article on this subject which I posted a couple of weeks ago, this so-called "new rule" is actually just a misinterpretation of a 2007 directive from the Mexican government which restricts in-cabin pets on Domestic air travel only (i.e. flights on Mexican airlines within Mexico): yapamerida.blogspot.mx/2012/05/new-united-continental-airline-pet.html

The contact info I have for Alaska/Horizon is as follows: Alaska Airlines, P.O. Box 68900, Seattle, WA 98168, 206-433-3200; Horizon Air, P.O. Box 68977, Seattle, WA 98168, 206-241-6757; Alaska Airlines Customer Care: 1-800-654-5669. The online customer service inquiry form can be found at: www.alaskaair.com/www2/ssl/help/ConsumerAffairsForm.asp?Company=Alaska. You can email them at: Customer.Care.Reply [- at -] AlaskaAir.com. - Sheryl, La Paz Gringos

Lost Wallet - Lost my wallet while eating at the health food store in Todo Santos. Appreciate any info on getting my personal ID's back. The small wallet is tan with a peace sign on the front. Thank you so much, Sumitra Alice Peterson - Sumitra Peterson, photosumitra [- at -] sbcglobal.net, 612-151-3848

Looking For Canning Supplies - I am looking for canning supplies here in town. If you are no longer canning and would like to sell your supplies, please email me. - Eva, anothergreatday [- at -] live.com, Todos Santos


More Than 6 Million Linkedin Passwords Stolen - If you have an account on Linkedin or eHarmony, you may want to log in and change your password. Here is a link to this story: money.cnn.com/2012/06/06/technology/linkedin-password-hack/?source=linkedin.

And here's a tool to find out if your password may have been stolen: venturebeat.com/2012/06/07/was-your-linkedin-password-hacked-heres-how-to-find-out/ - moderator [- at -] bajawesternonion.com,


IRS Is Getting Serious - Senate Bill Would Revoke Passports of Tax Delinquents, according to Michael Cohn of Accounting Today. The Senate has unanimously approved a provision to a highway transportation bill that would revoke the passports of people with seriously delinquent tax debts.

The provision, which was part of a larger amendment by Senate Majority Leader Harry Reid, D-Nev., to the Senate version of a surface transportation bill, was approved by unanimous consent last Tuesday. The amendment would allow the State Department to deny, revoke or limit a passport for any individual whom the Internal Revenue Service has certified as having a "seriously delinquent tax debt" in excess of $50,000. The amount would be adjusted for inflation in future years.

A seriously delinquent tax debt would be one for which a notice of a federal tax lien or a notice of a levy has been filed. However, there is an exception when the debt is being paid in a timely manner under an agreement with the IRS, or if collection on the debt has been suspended because of a collection due process hearing or other relief has been requested or is pending. - Paul Jubb, pilothere [- at -] pauljubb.com, www.gringotax.com, 916.363.4025



Local Travel Deals


5-Night Stay In Puerto Vallarta with Free Mexican Cooking Class For $399 - Across the Sea of Cortez at the Fiesta Americana Puerto Vallarta $399 for a five-night stay for two adults and two kids 12 or younger in a superior room (up to a $650 value). One Mexican cooking class with the hotel chef (a $100 value). Half off spa treatments. Half off Vallarta Adventures tours and activities. Kids 12 or younger eat free. Total value: up to $750. Combine up to 10 nights. Available now through June 14, 2012. Get the deal here: www.anrdoezrs.net/click-5636555-10872943?url=http%3A//www.groupon.com/deals/ga-fiesta-americana-puerto-vallarta

The first 50 people to buy this deal will receive a complimentary upgrade to a deluxe room, but even late comers will be able to enjoy views of the ocean from their room's private patio. Fiesta Americana Puerto Vallarta, Puerto Vallarta, Mexico, Av. Francisco Medina Ascencio km. 2.5 Zona Hotelera Norte, Puerto Vallarta, 48333


---

4-Night Stay In San José del Cabo For $309, 7 Nights For $449 - Posada Real Los Cabos, relaxing resort near Los Cabos beach scene. San José del Cabo. Four- or seven-night stay for two adults from $309 for four nights (up to a $348 value) $449 for seven nights (up to a $609 value). Up to two kids 12 or younger stay free. Included in both options: Daily breakfast for two (a $30 value/day). Airport transfers for two adults and two kids 12 or younger (a $135 value). Offer expires June 11.

Combine multiple nights. Get The Deal Here: www.anrdoezrs.net/click-5636555-10872943?url=http%3A//www.groupon.com/deals/ga-posada-real-los-cabos. Paseo Malecon San Jose, 23400 San José del Cabo, Baja California Sur. -
---
For advertising information on how to post your Local Travel Deal here, please contact us at Advertising [- at -] BajaWesternOnion.com

---
Today's Exchange Rate - Mexican Pesos to $1 USD - Courtesy X-rates.com
---
Submit your News and Events, Questions and Answers articles here: http://www.bajawesternonion.com/submitad.asp


Return to Top
---
Featured Events This Week
Please Note: The "Featured Events This Week" section is limited to non-recurring community events (Sorry, no "Happy Hours," "Daily Specials," "Weekly Classes," or other recurring business activities or workshops.)
---
Friday June 08
What About Me By One Giant Leap - Teatro Luna Azul Movie Night. Inspirational movie, words and music from around the world. Tex Mex Dinner from 6pm. Movie at sunset. By donation. - bluemooninbaja [- at -] yahoo.com, tsbmp.blogspot.com

Pizza Friday - Free $60 peso salad-for-two with purchase of any large pizza, Napoli Pizza, 1:00pm - 10:00 pm. Your choice of Mixed or Mediterranean Salad. Also offering lasagna, spaghetti, etc. Hidalgo between Colegio Militar & Juarez, Todos Santos - Anabel Gonzales, napoli_todosantos [- at -] hotmail.com, 612-158-0733

Saturday June 09
Dinner at Diane's ***Sold Out*** - Please write to reserve for the next dinner. - Diane, dianejoy39 [- at -] yahoo.com, Todos Santos

Danzas de Oriente Medio / Bellydance Show Alternativo - 19:30, City Theater, La Paz. Performed by Habibi, Najmah Meira, Farah and Ikbal. 50% of ticket sales support the Colegio de Bachilleres Plantel 11 (generations 2009-2012) Tickets $60 pesos / sales at entrance. Contact Ana: ana [- at -] danzasorientales.mx, Cel: 612-3486428

Rap Battle - 7:30 p.m., Hotel Casa Tota And La Santeña, Todos Santos. Local Rappers and Musicians compete. Food and drink specials available. - HotelCasaTota [- at -] gmail.com, www.HotelCasaTota.com, 612-145 0590, Todos Santos

Sunday, June 10
Final Sunday Morning Zumba With Jan - 8:00 - 9:00am, La Esquina, Classes $50 pesos, everyone welcome. - Jan Turner, jant [- at -] aol.com, 145-0684

---
For Our Complete Community Calendar, GO HERE
---
Recurring Events Each Week
Saturdays
Farmer's Market - 8 a.m.-12 p.m., La Canada Del Diablo, Todos Santos.www.lacanadadeldiablo.com, 612-140-0069.

Sundays
1st Mariachi Of Todos Santos - Taco Platter, BBQ and Free Tequila Shot, 1 - 4 p.m., Hotel California. - info [- at -] hotelcaliforniabaja.com, www.hotelcaliforniabaja.com, 612-145-0525, Todos Santos

Sushi Sundays - 3 p.m. to 8 p.m., Cerritos Surf Colony Bar and Grill. oficinacerritos [- at -] gmail.com, 612-131-8011, Pescadero

Mondays
Sunset Yoga - Hotel Casa Tota, 5:30 p.m. Bring mat and wear layers. 60 pesos. - Christine, HotelCasaTota [- at -] gmail.com, www.HotelCasaTota.com, 612-145-0590

Baja Monday Wine Tastings - Flight Night from 5 p.m. to 8 p.m., La Bodega, Calle Hidalgo, Todos Santos. LaBodegaDeTodosSantos [- at -] gmail.com, 612-152-0181.

Wednesdays
Sunset Yoga - Hotel Casa Tota, 5:30 p.m. Bring mat and wear layers. 60 pesos. - Christine, HotelCasaTota [- at -] gmail.com, www.HotelCasaTota.com, 612-145 -0590

Big Red Wednesdays - Structured Baja red wines by the glass from 5 p.m. to 8 p.m., La Bodega, Calle Hidalgo, Todos Santos. LaBodegaDeTodosSantos [- at -] gmail.com, 612-152-0181.

Perico Wednesdays - Live music and Open Mic, 20 pesos beer, 50 pesos Margaritas, El Perico Azul, Todos Santos.

Fridays
Sunset Yoga - Hotel Casa Tota, 5:30 p.m. Bring mat and wear layers. 60 pesos. - Christine, HotelCasaTota [- at -] gmail.com, www.HotelCasaTota.com, 612-145-0590



(Recurring Events Each Week listed here are reserved for paid advertisers)
---
For Our Complete Listings of Recurring Workshops, Events and Meetings, GO HERE
---

---
Community Events and Workshops Notification Page - Submit event notices for The Community Calendar or Workshops and Meetings pages.

Anyone planning an event should check the Online Community Calendar before choosing a date to see if something else is already planned and avoid conflicts. Check the Online Community Calendar here: www.bajawesternonion.com/community-calendar.asp -
Return to Top
---

---
Stepping Out - Food, Music, Arts and Entertainment
---
Escape The G-20/ Beat The Heat" - Celebrate The 4-Lane! Contact Baja.com to plan your Todos Santos Getaway! Special packages available at Hotel California from $72/night; La Alianza from $270/2nights; Pay for 2-Stay for 3 deals at Los Colibris from $150, Flora del Mar from $315, Serendipity from $300 and Arriba de la Roca from $550. Pay for 4-Stay for 5 deals at Villa Santa Cruz from $660 and Rancho Pescadero from $900. Each package includes extra features, among them breakfasts, dinners, wine, tours, cooking class, spa treatments and more. Contact Baja.com for these exclusive offers for June and July. - Lisa Green, Lisa.green [- at -] baja.com, Baja.com, 612-145-0087, Todos Santos


Baja Biscuits At Canada Del Diablo - Baja Biscuits is still at Canada del Diablo on Saturdays from 9 a.m. to 1 p.m. Ace is serving up breakfast skillets, bagel sandwiches and doughnuts for breakfast. For lunch, he has his delicious BBQ pork or Italian sausage sandwiches, each with a side of creamy coleslaw. He would love to see you this Saturday. - Ace Shawver, aceandlinda [- at -] yahoo.com, (612) 149-3572, Todos Santos


Hotel California - Music and dancing every Saturday night!
Signature Margaritas made with our Awarding Winning Hotel California Tequila, Beers, and Dancing! Music begins at 8 p.m. No Cover.

Bistro Santo Vino & Wine Bar
Spring/Summer Hours Monday-Friday 5 p.m. to 10 p.m. Reservations Recommended

Keep up with the latest Hotel California info by joining our facebook fan page
Follow us on facebook
info [- at -] hotelcaliforniabaja.com, www.hotelcaliforniabaja.com, 612.145.0525, Todos Santos



Kundalini Yoga - Tuesdays and Thursdays 4:30 p.m. with Kirantana, Saturday 10:00 a.m. with Bhavani. 100 pesos. Casa Diamante, La Cachora. Hotelito lane down towards the beach, second right. Signs posted. - Noel Cianci, noelcianci [- at -] mac.com, Todos Santos

Galeria La Paz At Art House Is Open ! - Sidne is opening the Galeria from 1 to 4 p.m., Monday thru Friday, in June. We are offering 20 to 40 % discount. Fine Furnishings and Art and great Prices. Art House is liquidating everything to make room for A New Community Theater, the Art House Players Internacional Theater Company. Our First Play will be in Late November and is called "Wonder of the World." We may perform two weekends in La Paz and one night in Todos Santos (not sure of the date yet). We will need a place to perform but this will not be until December or January.

So, please, take advantage of our Summer Liquidation Sale Of Galeria La Paz at Art House La Paz, Calle Revolucion #655 between Victoria and Morelos next to the French School and the Vivero with Francisco. We look forward to meeting you. You can call 165 5020 (the Galeria telephone) or Sidne's evening phone for appointments, 123 3177. - Sidne Byars, sidne [- at -] galeria-la-paz.com, https://www.facebook.com/Arthouselapaz, 165-5020, La Paz


Hotel Casa Tota And La Santeña In Downtown Todos Santos - Rap Battle! Saturday, June 9, 7:30 p.m.-ish. Come see local MC Shipper defend his hometown pride against MC. Morel E. Flexible of the Otro Lado. Live accompaniment with Chef Tony Peralta (from K-L) on the bass and Jorge Espinoza on drums. And Adrian from Pescadero's famous Los Traviesos (and our kitchen!) on accordion. Yes, Accordion. If you have a better, stranger, more entertaining plan than that for a Saturday night in June we salute you, and also we would like to know you. Please come introduce yourself. If you don't have a better plan, you should totally come join us, because worst case, we are going to laugh a lot. Not AT the rappers, just at the general ridiculous of a rap battle with live accordion in a pueblo magico at the southern tip of Baja Sur.

We'll also have simple food and drink specials, because the kitchen guys and the bartender will be playing music. Come! 7:30PM and on!

La Santeña will be closed Friday, June 8, at 6 p.m. for the remainder of the evening for a private party.

Our $100 peso comida corrida continues everyday with three courses and a agua de sabor. Kick ass wifi, Baja Beans coffees and our famous sometimes slow but seriously smiley service. HotelCasaTota [- at -] gmail.com, www.HotelCasaTota.com, 612-145 0590, Todos Santos


Libreria El Tecolote - The Only Book Store In Town - Serving the best espresso in town - steaming hot or icy cold. Try our special Teco-latte!
The Only juice bar in town serving exotic and healthy vegetable and fruit juices and smoothies with local organic produce as available and locally homemade yogurt.

And, of course, Mom's freshly baked goodies!
Monday thru Saturday, 9 a.m. to 4 p.m. Sunday, 12 p.m. to 3 p.m. Phone: 145-0295 - Kate Lewis, katemlewis [- at -] yahoo.com, El Tecolote, Todos Santos.
---
Submit your Stepping Out - Food, Music and Entertainment announcements here: http://www.bajawesternonion.com/submitad.asp



Return to Top
---

---
Misc. Sales and Services Available
---

June Discount - Is "June gloom" making you feel down in the dumps? Maybe pampering your nail's & tootsies is just what you need! Chica's is having a mani/pedi special for the whole month of June for just $35. Just call or email for an appointment & mention this ad to receive discount. Oh come on ... you deserve it! And, if you need a gift or want to treat someone special, we always have gift certificates available to purchase. Located on the beautiful terrace at La Canada Del Diablo. Tues.- Sat. by appointment. - Kathie Cullinane, chicassalon [- at -] gmail.com, 612-142-3160, Todos Santos

Wheelchair accessable travel trailer for sale - 1993 sierra cobra 24 ft, roomy with new roof fans, new ac, roof redone, fridge stove with 4 burners and 2 sinks, microwave, queen bed in front, new converter an upgraded electrical, 5 new tires, bathtub an shower in rear, all up grades professionaly done. $10,000 obo - jay d, wcdude65 [- at -] yahoo.ca, 624 168 9074, Cabo San Lucas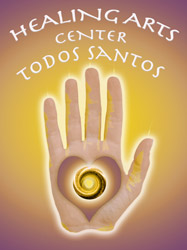 The Healing Arts Center of Todos Santos - is a community of health professionals, working together to offer services to support clients on the journey towards balance & well-being, expand awareness in the local & foreign communities of alternative therapy options, including ancient healing art forms as well as more modern evolutions in the realm of natural healing, and empower patients, students & clients by teaching ways to prevent illness and methods of self care to address imbalances.
• Acupuncture & Chinese Medicine - Jane Sipe, L. Ac. jasi57 [- at -] juno.com & Barbara Elsner, L. Ac. 1sheurchin [- at -] gmail.com 612-151-7026
• Massage - Kurtis Parsons puravidahealthfood [- at -] gmail.com 612-169-2095
• Acutonics (Sound Healing) - Lynn Wedekind tuneintuit [- at -] gmail.com 612-151-3051
• Reiki - Allison Eaton info [- at -] allisoneaton.com, www.allisoneaton.com, 612-152-3896
• Counseling & Body Centered Psychotherapy - Shawna Owen, RPC (EMDR, IBP) harmonywithall [- at -] mac.com 612-151-7728
• Anxiety, Mood, Couples Counseling - Jolyn Wells-Moran, PhD, MSW, LMHC (beginning November, 2012) jwmcounseling [- at -] yahoo.com, www.anxiety-specialist.com
• T'ai Chi & Qi Gong Classes - Rhoda Jacobs barakabaja [- at -] gmail.com 612-157-6088

Practitioners interested in joining this dynamic group contact Jane jasi57 [- at -] juno.com - Todos Santos Healing Arts Center, Jane Sipe, 612 151 7026, Todos Santos


Polk Speakers For Sale - I have 2 polk audio lsi25 tower powered sub-floor model speakers for sale. Original price in 2005 was $2000 USD; will sell for $1000 USD or best offer. Excellent condition. Contact Walt Schultz at 612-169-0786 or write woschultz [- at -] msn.com - Walt Schultz, woschultz [- at -] msn.com, 612-169-0786


Handyman/Pool Service, Etc. - Hi, I am living here in Baja Sur and loving it! There is one itsy, bitsy hang up that may prevent me from staying and living the dream. Yep, you guessed it, dinero. No, not Robert, but ole' bill dollar. I am hopeful though. I am guessing there is someone out there that could use some help with their place. Whether it's pools, yard work, dog runner, etc. If so, let me know. Greatly appreciated - Todd Schmidt, tj.schmidt72 [- at -] gmail.com, 612-107-1162 /624-189-2526, Baja California Sur

Clearance Sale at La Canada Del Diablo - Furniture, Mirrors, Spring Air Mattresses, Lamps. Everything is on sale!!!
Come by, enjoy the Farmer's Market, and check out our marked down prices.



Mention this ad and receive an EXTRA 10% discount.

We will be serving Free coffee (with or with out Kahlua). Stop in and help us celebrate the arrival of Spring.

Remember, we are still collecting clothing and blankets for the farm workers who have so little.

Our hours are: Monday thru Saturday 9:00 a.m. to 6:00 p.m. - Barbara Perkins, bperkins0403 [- at -] gmail.com, www.lacanadadeldiablo.com, 612-140-0069


For Sale: 2003 Toyota Tacoma Prerunner - 2wd, 4dr, 6cyl, 140,000 miles, automatic, red with tan interior, bed liner, bed topper, power windows and locks, 2" lift, cold air, good condition, reliable. $9,500 or best offer. brantwarren [- at -] hotmail.com


Not Getting The Local Network Channels? - If you're not receiving the "Big Four" local network channels (ABC, CBS, NBC, AND FOX) through your Dish Network receiver in Mexico, we can help. Now, you can receive local networks in Standard Definition from San Francisco and/ or New York anywhere in Mexico (or the US!).
The monthly fee for the programming service is automatically debited to your credit card each month directly by the service provider. You can also put your account on vacation hold or terminate your account at any time directly with the service provider. There is a one-time fee for setting up your Local Network service of $100 US, plus $25 for each additional receiver up to a maximum of four receivers per account. The olympics are coming, don't wait! For more information, please contact us at: - Baja Satellite, alan [- at -] BajaSatellite.com, www.bajasatellite.com/local-network-channels-in-baja-mexico-dn.asp


Accounting Services In Todos Santos - We can assist you with your corporate and individual needs. We offer accounting and administrative services including:
Registration of corporations with SECOFI and INM
Registration and reporting of construction and construction workers with IMSS
Recording and reporting foreign investments with the Secretaria de Economia
Counseling and immigration assistance for FM2 and FM3
Property management including payment of utilities, water, CFE, fideicamiso
Assistance with water rights
Offices in central Todos Santos
Many local references
FRIMAR GROUP
E.C.M. Raquel Martinez Peralta - Raquel Martinez Peralta frimargroup [- at -] hotmail.com, 612-14-86907
---
Submit your Misc. Sales and Services Available/Wanted articles here: http://www.bajawesternonion.com/submitad.asp



Return to Top
---
---
Real Estate, Rentals, and House Sitting - Available/Wanted
---
Buy While Land Is Down - Land for sale by owner, near Los Planes, Cortez side of Baja. 2000 meter road front rustic lots, power and water 350 feet away. Fertile soil, 10 minutes to beaches, 1 mile to town. Near green builder school. Quiet area, private holding (not ejido), clear titles. $14k USD cash, $19k financed 3 years, 25% down, 3% interest. Larger parcels available at $2 dollars/meter. - Randy Echter, rke1951 [- at -] gmail.com, www.bajagreenbuilder.com, 612-154-0485, 612-868-0307, La Paz

---
Submit your Real Estate/Rentals/House Sitting/Property Management Services articles here: http://www.bajawesternonion.com/submitad.asp



Return to Top
---
Rides or Caravans Available/Wanted
Note: Ads will run for two weeks unless dated. Please list the date in the title, and specify which airport. Goes without saying, everyone shares expenses for beer, gas, food, etc

To remove your ad if you find a ride or caravan, let us know here: www.bajawesternonion.com/submitad.asp -
---

Van Heading To Van - Heading north to Vancouver in the next week or so (ad first appeared June 5) in VW van with space for passengers and/or cargo; happy to help if I can! Timing flexible within a few days either way. Route flexible. BC, WA, OR, CA, NV, ID, UT, AZ destinations considered. - Mark Lasanowski, mark [- at -] marklasanowski.ca, 612.137.2845, Todos Santos

Getting Desperate. Please Help - Hi. i neeed to get my dog back to Vancouver Island. She is currently in the Pescadero area. I cannot fly her as there are heat restrictions now in effect. I am looking for someone who is driving to B.C. who is willing to do me this enormous favor. I am willing to pay for your trouble. She is a really good girl, about 40 pounds, not too big. Any info that might help would be greatly appreciated. Please help me! katyeorose [- at -] yahoo.ca

Anyone Need A Ride From La To Cabo? - Mid May to June - Looking to move down to Cabo with flexible dates between mid May and the end of June. This will be my first trip through Baja so really hoping for someone who has done this before or to join a caravan heading across the border and down to LP or preferably Cabo. I have two dogs so if we are riding together, will be great if you like dogs too! - M Currie, macurrie [- at -] bellsouth.net, Baja California Sur


---
Submit your Rides or Caravans Needed/Available articles here: http://www.bajawesternonion.com/submitad.asp



Return to Top
---
Pet Corner (Lost and Found pet articles will run for two weeks)
Let us know if you find or place your pet so we can remove your ad -
---

Lost Poodle! - We lost our dog! He is a poodle, about 4 years old and his name is "Doky." Please, if you know something about his whereabouts, call either of these numbers: (English) 612-132-8777; (Spanish) 612-118-1227. My three daughters, my husband and I would appreciate it.

Perro extraviado. Es un pudul, el perro tiene 4 años, y su nombre es DOKY. Por favor, si sabe algo. Comuníquese al número: (Ingles) 612-132-8777; (Español) 612-118-1227. Mis tres hijas mi esposo y yo, se lo agradeceremos. - Victor Sossa, lacio31hotmail.com, 612-132-8777, Todos Santos

Please! - We are leaving soon and have to find homes for four, 7-week old kittens. Box trained, eating solids, will make good housers or mousers. Black, black with a white spot on chest, grey, and grey tabby. Please help. Thank you. - Todd, toddgerson [- at -] ymail.com, 6121524494, Pescadero

Help Save A Starving Dog - Courtesy Baja Pony Express - When traveling north (or south) we all see the starving homeless dogs along the road. Especially around San Quintin and the towns north. So, if you see a dog in distress and can stop safely, please call one of these groups and get transporting directions, instead of leaving them to starve and die on the road side. To help you with your rescue, have an old blanket, kibbles, water bowl and a loop collar leash in your car. If you are not comfortable transporting them, even offering them food will help.

If You See An Animal In Distress, Call: The Baja Animal Sanctuary, near Rosarito, 22 miles south of the San Ysidro border 619-786-7928 www.BajaAnimalSanctuary.org. C.A.R.E in the Punta Banda area, 1/2 hour south of Ensenada. 626 145 0484 www.carebaja.org. Please print these numbers and carry them with you. Together we can make a change. - ALMA Humanitaria, A.C., www.almacares.com
---
Submit your Pet Corner articles here: http://www.bajawesternonion.com/submitad.asp (and remember to Spay or Neuter your pets)



Return to Top
---
Quote of the Day: " If we listened to our intellect, we'd never have a love affair. We'd never have a friendship. We'd never go into business, because we'd be cynical. Well, that's nonsense. You've got to jump off cliffs all the time and build your wings on the way down. " ~ Ray Bradbury


---
Looking for the complete Community Events Calendar? Click Here!


---
Return to Top
---
---
Help Support The Baja Western Onion!

We can accept donations by Credit Card, PayPal, cash, check or direct deposit.

For more information, please visit our web site at http://www.BajaWesternOnion.com/donate.asp.
Copyright © 2006 - 2012. The Baja Western Onion. All Rights Reserved. Published Using 100% Recycled Electrons :)
Return to Top
---