On The Web Site:
---
Today's Weather Click for Extended Forecast

---
Community Access
Policia Preventiva
Todos Santos Police
612 145-1052
Commandante Navarro

Ministero Publico
State Police
612 145 0198
Commandante Erigoyen

Bomberos
Fire Department
Cel. 612-142-6387
Commandante Cadena


---











---
Baja Western Onion
Alan Thompson - Publisher
Debra Webster - Advertising
e-mail For General Feedback
---
---
News and Events, Questions and Answers
---

Manos Magicas Needs Help - M.M. has to move again but to an adjacent class room in the Centro de la Cultura, old and dirty. Needs new electricity, wiring and fans, new windows, shelves and more. All donations or help welcome, as well as jars for new mangos salsa. Still few mango chutney left. Come to visit every Tuesday from 3:30 to 5:30. - Cat Chambaret, chambaretcat [- at -] mac.com, 612-102-8393, Todos Santos

Wanna Work On A Creative Short Film? - Two amateur cinematographers are shooting a short film in and around Todos/Pescadero over the next two weeks. If you have any interest in contributing to the collaborative process we need help in various areas of the production, including but not limited to: actors, extras, drivers, dancers, location scouters, grips, production assistants. If you are a novice filmmaker yourself or have any professional equipment that you'd like to put to good creative use feel free to contact us as well. FilmBaja [- at -] gmail.com

Free Medical Services - Courtesy Baja Pony Express - The President of Mexico ordered that a new free medical service system be implemented and it was, the system is called Seguro Popular which provides doctor consultation and services, hospitalization and medicine for free to each and every person residing in Mexico including foreigners who are residing in Mexico at any Centro de Salud. This free service is available to all foreigners, to acquire it one must present passport, CURP ID card and proof of domicile (electrical or water bill with one`s name on it), it is not necessary to show the No Inmigrate, Inmigrante or Inmigrado Permit issued by immigration or Carta de Naturalizacion; for foreigners who do not have a property there is a 100 pesos charge. To register one must go to the registration center (Centro de Afilicacion) in La Paz, said center is located on the blv. where the Municipal palace (Palacio Municipal) is located and more precisly in front of the Velodromo. - Lic. J.E. Beaulne

Blue Cross In Mexico - Would anyone have any up to date information on Blue Cross now offering coverage for ex pats now living full time in BCS? Heard they were in Guadalajara, responding to requests from that large American retirement community, and I'm curious if this coverage now is also available here in BCS. Comments and information most appreciated. Kevin Lynk, Cabo kevinlynk [- at -] prodigy.net.mx - Kevin Lynk, kevinlynk [- at -] prodigy.net.mx

Questions - I have four questions for the readers of The Onion:
Seek advice for truck to buy & leave in TS. good mileage, easy repair. Buy in Canada (BC) or Baja? Register BC or Baja?
How to keep critters out of clothing stored over the summer?
An upholsterer in TS who can replace the leather on a traditional Mexican chair?
Canadian (BC) living full time in Mexico- what do you do for health care? OAS? Your secrets are safe, we might do the same thing.
Thanks! - Marcia, marciastromsmoe [- at -] gmail.com, Todos Santos

Haul Trailer La Paz To San Diego - I need my 12' x 6' trailer hauled from La Paz to San Diego. My MX cell is 624-164-2340. I can send you a picture of the trailer - Todd Thompson , toddt2000 [- at -] aol.com, 937-478-4800

Property Taxes - Courtesy Baja Pony Express - Each year municipalities in Baja California Sur provide a discount during a certain period, if one pays during that period and gets the discount, one can not ask an additional discount because of age. In other words, if one is older than 60 and has the ID card from the Instituto Nacional de los Personas Adultas Mayores (Inapam formally called Insen), one can get the 50% discount applied only on the full amount of the property taxes, NOT on the reduced amount during the discount period. - Lic. J.E. Beaulne

Need Small Package Brought Down From North - Need backpack kit, about 1 1/2 ft by 1 ft. by 3 in. brought to Todos Santos. Will mail it to your address. Will return the favor sometime (I go up and down) or will pay a fee for the service. - Christine Douglas, cdoug1946 [- at -] yahoo.com, 612-103-7021, Todos Santos

Low Cost Shuttle Van To/from Airport - I recently flew to Cabo and discovered an airport shuttle service that goes to Cabo San Lucas, Todos Santos and La Paz. It is just like the small van services one would find in the states, transporting up to 7 people at a time with room in the back for luggage. The service can be booked online and only costs $240 pesos (one way)from SJD airport to Todos Santos. The two times I took it I had English speaking drivers, both very congenial. The online link is: www.ecobajatours.com/Principal.aspx. - Barry, Todos Santos

Pet Owner Alert: Courtesy Baja Pony Express - Bacon Treats manufactured in China are killing dogs as evidenced by this link: news.yahoo.com/chinese-pet-treats-linked-900-dog-deaths-illnesses-180336402--abc-news-topstories.html

Please Keep The Bocana Clean - Please don't place trash bags in the Las Tunas bocana for pick up since there is No trash service. It has become a real problem as the neighborhood dogs rip them open and scatter the garbage everywhere. Thank you. - Mike


No Photo Appeared With Your Announcement? - If you submitted a photo with your announcement and it wasn't included, here's why:
The link was bad. All links need to end in .JPG, .JPEG, .GIF, or .PNG or they will not display. Links that end in .HTM, .HTML, or a bunch of numbers won't work.
The photo's dimensions were too big. Photos need to be no larger than 250 X 250 pixels (about 3.5"), otherwise they take up too much space.
The photo's file size was too large. All photos need to be under 30 KiloBytes in file size, otherwise they take too long to load.
We don't have time to fix too-large photos or bad links so we delete them. We've posted a detailed tutorial online explaining how to correctly add photos to your announcement. You can find it here: www.bajawesternonion.com/how-to-post-photos-with-your-ad-or-article.asp

Of course, if this is too much for you, we can resize, upload and host your photo on the Baja Western Onion web site for only $5.00 US per photo. Be sure to let us know in the "Additional Comments" box when you submit an announcement. Then send the photo by Email to Moderator [- at -] bajawesternonion.com. Be sure to reference your announcement so we know which image goes with which announcement. Payment can be made to Our PayPal account at: Advertising [- at -] bajawesternonion.com. - The Baja Western Onion,
---
Today's Exchange Rate - Mexican Pesos to $1 USD - Courtesy X-rates.com
---
Submit your News and Events, Questions and Answers articles here: http://www.bajawesternonion.com/submitad.asp


Return to Top
---
Featured Events This Week
Please Note: The "Featured Events This Week" section is limited to non-recurring community events (Sorry, no "Happy Hours," "Daily Specials," "Weekly Classes," or other recurring business activities or workshops.)
---
Friday, May 25
Cerritos Beach Brewing Company Opens - Come enjoy our handcrafted Pale, Amber, Porter's and Raspberry beers. Pass the stadium and the elementary school to the right of the pink and turquoise roundabout in Pescadero. - Reggie O'brien, cerritosbeachbrewing [- at -] gmail.com, 612.153.0262, Pescadero

Saturday, May 26
Garbage Clean Up Day - 9am. Join Palapa Society students to help clean up. Cabo entrance to Todos Santos. The G20 is coming to BCS we need to show our Pueblo clean. Garbage bags and gloves provided. - Emanuela, emagard [- at -] mac.com, Todos Santos

Galería Indigo Welcomes Robert Wood - "Paintings of Todos Santos" by Robert E Wood. Artist demonstration in the gallery 12-4 PM, followed by Wine and Cheese Art Opening 5-7 PM at galería índigo, Calle Juarez, Todos Santos - Frieda Telemans, indigotodossantos [- at -] yahoo.com, 044-612-137-3473, Todos Santos

Live Music At Hotel California - Featuring Ben And The Men. Music begins at 8pm. No Cover. - Hotel California, info [- at -] hotelcaliforniabaja.com, www.hotelcaliforniabaja.com, 612.145.0525, Todos Santos

Saturday, May 26 thru Monday, May 28
2012 Alma Fishing Tournament In Buena Vista - The 8th Annual ALMA Fishing Tournament, "For Pets' Sake," will be held at the Buena Vista Beach Resort. Prizes for 2012 include 1st place: $1,000 Cash, 2nd place: $500 Cash, and 3rd place: 1 day of fising on Verdugos super panga, plus 2 nights lodging at the beautiful Verdugos Beach Resort (www.verdugosbeachresort.com). A.L.M.A. provides much needed spay/neuter services, vaccines, public education, foster care, adoption and emergency medical services. Info: Sheila Marshall Mex: 044-624-137-7683, US: 206-414-2982. Carole Berry, Mex: 624-141-0500 or send Email: - Fundraiser [- at -] almacares.com, www.almacares.com/Eastcape_billfish_tournamen.html, Los Barriles

Sunday, May 27
Sunday Morning Zumba With Jan Begins - 8:00 - 9:00am, La Esquina, Scheduled for the next three weeks, May 27th, June 3rd & 10th. Classes $50 pesos, everyone welcome. - Jan Turner, jant [- at -] aol.com, 145-0684

Monday, May 28 through Friday, June 1
5-day Traditional Pottery Workshop - 9am to 3pm, plus a firing day. Taught by Cuco and Pilar Moiron. Rancho Pilar, Km 74, Hwy 19 near Todos Santos. ranchopilar [- at -] hotmail.com, 612-158-2483 - Cuco Moiron, 612-158-2483, United States

Tuesday, May 29
Big Event Planning Meetings - 12 Noon, Baja Beans, El Pescadero. Plans for a community event linked to summer youth sports program are under way. Be involved. Join the process to support community-building. Contact: Debora pesccom [- at -] hotmail.com

Wednesday, May 30 thru Friday, June 1
U.S. Consular Agency Open By Appointment - The U.S. Consular Agency in Los Cabos will be open to the public by appointment from 8:00 a.m. to 1:30 p.m. to process applications for U.S. passports and consular reports of birth abroad, and notarial services. A consular officer from the U.S. Consulate General in Tijuana will be present to provide these services. To make an appointment, call 624-143-3566. The U.S. Consular Agency continues to provide daily assistance to U.S. citizens who require emergency services. The Consular Agency is located at Tiendas de Palmilla, Carretera Transpeninsular Km 27.5, Local B221, San José del Cabo, Baja California Sur, C.P. 23406. USConsulCabo [- at -] yahoo.com, After-hours emergency: 001 (619) 692-2154.

Thursday, May 31
State Song Festival - The Festival de la Canción Sudcaliforniana Competition at the state level begins at 6:00PM, Teatro De La Ciudad, La Paz. Participants are judged on music (melody, musical arrangement, rhythm and originality), lyrics (poetic structure and theme) and performance. Info: The Centro Estatal de Artes, Tradiciones y Culturas Populares de BCS, F. Madero between 5 de Mayo and Independencia (in front of Jardín Velasco), 612-122-8980.

Friday, June 01
2-Day Writing Workshop In Pescadero Begins - June 1 & 2, Fri. & Sat., 10am -5pm. Led by Zoe Edmonds and Becky Deans. $1000 pesos for both days. Info and Registration: Zoe (612)105-0056 zoe [- at -] artforlifebaja.com, Becky (612)143-7542 bajabeck [- at -] gmail.com - artforlifebaja.com

---
Recurring Events Each Week
Saturdays
Farmer's Market - 8 a.m.-12 p.m., La Canada Del Diablo, Todos Santos.www.lacanadadeldiablo.com, 612-140-0069.

Sundays
Farmer's Market - Music and Brunch - 10 a.m.-2 p.m., Baja Beans. info [- at -] bajabeans.com, www.bajabeans.com, 612-143-7138, Pescadero

1st Mariachi Of Todos Santos - Taco Platter, BBQ and Free Tequila Shot, 1 - 4 p.m., Hotel California. - info [- at -] hotelcaliforniabaja.com, www.hotelcaliforniabaja.com, 612-145-0525, Todos Santos

Sushi Sundays - 3 p.m. to 8 p.m., Cerritos Surf Colony Bar and Grill. oficinacerritos [- at -] gmail.com, 612-131-8011, Pescadero

Mondays
Sunset Yoga - Hotel Casa Tota, 5:30 p.m. Bring mat and wear layers. 60 pesos. - Christine, HotelCasaTota [- at -] gmail.com, www.HotelCasaTota.com, 612-145-0590

Baja Monday Wine Tastings - Flight Night from 5 p.m. to 8 p.m., La Bodega, Calle Hidalgo, Todos Santos. LaBodegaDeTodosSantos [- at -] gmail.com, 612-152-0181.

Wednesdays
Sunset Yoga - Hotel Casa Tota, 5:30 p.m. Bring mat and wear layers. 60 pesos. - Christine, HotelCasaTota [- at -] gmail.com, www.HotelCasaTota.com, 612-145 -0590

Big Red Wednesdays - Structured Baja red wines by the glass from 5 p.m. to 8 p.m., La Bodega, Calle Hidalgo, Todos Santos. LaBodegaDeTodosSantos [- at -] gmail.com, 612-152-0181.

Perico Wednesdays - Live music and Open Mic, 20 pesos beer, 50 pesos Margaritas, El Perico Azul, Todos Santos.

Fridays
Sunset Yoga - Hotel Casa Tota, 5:30 p.m. Bring mat and wear layers. 60 pesos. - Christine, HotelCasaTota [- at -] gmail.com, www.HotelCasaTota.com, 612-145-0590



(Recurring Events Each Week are reserved for paid advertisers)
---

---
Community Events and Workshops Notification Page - Submit event notices for The Community Calendar or Workshops and Meetings pages.

Anyone planning an event should check the Online Community Calendar before choosing a date to see if something else is already planned and avoid conflicts. Check the Online Community Calendar here: www.bajawesternonion.com/community-calendar.asp -
Return to Top
---

---
Stepping Out - Food, Music, Arts and Entertainment
---

2-Day Writing Workshop In Pescadero - June 1 & 2, Fri. & Sat., 10am -5pm. Beginning writers, established writers, closet writers come and get inspired! Bring a notebook, lap top, whatever you need to write the story that is floating around in your head. During the 2 days you will be inspired to: Create vivid characters, map out the basic structure of your story and create the beginning and ending of your book.

Creativity coach and writer, Zoe Edmonds and Life Coach and writer, Becky Deans team up to light the fire under you so you will finally write the book you have always wanted to write. 2 days of useful information, experiential exercises, writing time, play and support. Cost is $1000 pesos for both days. For more information and to register contact Zoe (612)105-0056 zoe [- at -] artforlifebaja.com, or Becky (612)143-7542 bajabeck [- at -] gmail.com - It's The Write Time, artforlifebaja.com


Baile De Mascaras Tickets On Sale - Masquerade dance tickets for Saturday, June 2, benefit the town of EL Pescadero and cumulative pesos = votes for "Dulce", candidate for Queen of San Juan Carnival (June 22-24). Suggested donation 50 pesos (including mask first 50 tickets) in advance, 70 pesos at door. Mask and costume contests, door prizes, entertainment, dance & Pescadero Pizza party. Tickets may be donated for others to attend. Tickets are available at Marina's Restaurant, by phone/email contact below. Support community and youth civic involvement. - Debora, pesccom [- at -] hotmail.com, 612-118-3423, Pescadero


Hotel California - Saturday May 26th Live Music featuring Ben & The Men
Signature Margaritas made with our Awarding Winning Hotel California Tequila, Beers, and Dancing! Music begins at 8pm. No Cover.

Bistro Santo Vino & Wine Bar
Spring/Summer Hours Monday-Friday 5 PM to 10 PM. Reservations Recommended

Keep up with the latest Hotel California info by joining our facebook fan page
Follow us on facebook
info [- at -] hotelcaliforniabaja.com, www.hotelcaliforniabaja.com, 612.145.0525, Todos Santos


Pura Vida Health Food Store And Deli In New Location! - Located directly behind Pemex! We are on the exact same street but a half block closer to the main street, right by the Key Guy. We are extremely exicited to be in this more open and inviting space. Without the support of our local community who are choosing a vibrant healthy lifestyle, Pura Vida would not exist. We are so greatful to be a part of a movement of conciousness with FOOD! It has really been a blessing to be able to assist our community in fighting diseases, facilitating cleanses, and providing a hub with healthy alternative food that taste Amazing!

We have been relying on feedback to provide more product for our community. So far we have added new menu items in our deli, a larger product selection, and currently carrying more local products. The more local we buy/sell, the better it is for our environment and the economy. Thanks again for choosing a healthy way of life and allowing us to be a part of that journey! Follow us on Facebook.com - Our Pura Vida - Joella & Kurtis, puravidahealthfood [- at -] gmail.com, 612-145-0471


Duplicate Bridge, every Monday - 1:00 PM, Las Fuentes Restaurant, Todos Santos. Duplicate bridge play - about 20 boards - about 3 hours - Norman Rosenblatt cabonorm [- at -] yahoo.com, 612 130-3162 or cell 612 157-9846
Berlitz Summer Courses With Guillermo Bueron - Summer time and the living is easy....now that the cocktail party scene has slow down give yourself time to start learning or brush up your Spanish skills. Easy method.Berlitz teaches languages through Total Immersion, forget writing and reading in class, you learn a language By Speaking It. A native apeaker will also teach you Mexican Culture with hints of History and Geography.
Intensive Course. 10 weekly classes. 2 hours a day. Monday/Friday
Semi Intensive. 20 monthly classes.1 hour a day.
Classes start June 4 at the Cultural Center. Organizational meeting at 9 AM. - Guillermo Bueron Prieto, g_bueron [- at -] yahoo.com, www.guillermolanguageandtravel.com, 612-161-4165, Todos Santos



Zumba With The Doctora - Experience the true latino dance class every morning at La Mutualista, one block south from Barrajas tacos, and 1 1/2 blocks west. Mon.-Wed.-Fri. at 10 a.m.; Tus.-Thurs.-Sat. at 8 a.m. - Doctora Oliva, oliva11y12 [- at -] hotmail.com, 612-145-0201, Todos Santos


Baja Beans Roasting Co. - Specialty coffee and baked goods in a space with soul and style. Open 7 a.m. to 3 p.m. Closed Mondays. Events:
Sunday Brunch, Music and Market - 10 a.m. to 2 p.m.
- Sandra Wohlers, info [- at -] bajabeans.com, www.bajabeans.com, 612-143-7138, Pescadero


Heaven On Earth 2013 - Heaven on Earth 2013 workshop, is creating Chandeliers, yes, multi-media light fixtures extraordinair. January 7-11 at the studio of Donna Billick, Todos Artes, in the town of Todos Santos. Visit www.vimeo.com/3865519 to get a look at Heaven on Earth last years Aztec Calendar project. Contact Donna for more info. - Donna Billick, rockartus [- at -] aol.com, 530-219-5918


Baja Bash - Fundraiser Event Of Wildcoast - Join Wildcoast for a special evening that brings the best of Baja to San Diego! The evening will be a celebration of all the natural beauty and conservation of Baja, with world-renowned chefs, Baja wines and live music from Nortec Collective, a collection of Mexican and electronic sounds. Saturday June 2, 6 – 10 p.m. Port Pavilion on the Broadway Pier [San Diego]. Tickets: $75.00 all inclusive (Food, wine and great music). - Cecilia Fischer, cecilia.fischer [- at -] wildcoast.net, www.wildcoast.net, 612 157 5902, Baja California Sur



El Tecolote Serves Up Espresso and More! - Let thy food be thy medicine and let thy medicine be thy food.- Hippocrates
Come enjoy a healthy fresh squeezed juice at the juice/espresso bar in the El Tecolote Bookstore
Just the thing to keep your immune system strong and your body energized during these chilly days
Open At 8 A.M.
- Kate Lewis, katemlewis [- at -] yahoo.com, El Tecolote, Todos Santos.
---
Submit your Stepping Out - Food, Music and Entertainment announcements here: http://www.bajawesternonion.com/submitad.asp



Return to Top
---

---
Misc. Sales and Services Available
---

Super Clean Terry Trailer - Sleeps up to five, excellent refrigerator, stereo system with radio and CD player, cable ready, microwave. Also features LOTS of storage space, terrific lay-out, large awning, outside shower, inside shower and tub. Towing gear. Beautifully appointed. (Photos appear on web site). If you own a lot and need an inexpensive house, need a guest house, need a casita for domestic help, need a back-up plan when the electricity goes out, or want to travel in comfort in style, you should see this gem! Only $6995 U.S. or best offer! - Virginia Vertiz, exmexprop.webs.com, 612-149-9710, La Paz

Single Bed For Sale - Mattress is the pillow top that measures 39" wide x 74" long and 11" deep. The frame is a dark wood frame but has no headboard. From floor to bottom of wood frame is only 8 inches. This is bed is coming from a brand new condo in vista Mar and is like new, as it's only been slept in once. The only reason to sell it is to get a larger size bed. Asking $450 USD. If interested, please contact Cindy [- at -] 122-5670 or cell 141-9903, cindycrane090 [- at -] gmail.com - Cindy Crane, cindycrane090 [- at -] gmail.com, 612-141-9903, La Paz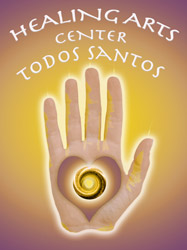 The Healing Arts Center of Todos Santos - is a community of health professionals, working together to offer services to support clients on the journey towards balance & well-being, expand awareness in the local & foreign communities of alternative therapy options, including ancient healing art forms as well as more modern evolutions in the realm of natural healing, and empower patients, students & clients by teaching ways to prevent illness and methods of self care to address imbalances.
• Acupuncture & Chinese Medicine - Jane Sipe, L. Ac. jasi57 [- at -] juno.com & Barbara Elsner, L. Ac. 1sheurchin [- at -] gmail.com 612-151-7026
• Massage - Kurtis Parsons puravidahealthfood [- at -] gmail.com 612-169-2095
• Acutonics (Sound Healing) - Lynn Wedekind tuneintuit [- at -] gmail.com 612-151-3051
• Reiki - Allison Eaton info [- at -] allisoneaton.com, www.allisoneaton.com, 612-152-3896
• Counseling & Body Centered Psychotherapy - Shawna Owen, RPC (EMDR, IBP) harmonywithall [- at -] mac.com 612-151-7728
• Anxiety, Mood, Couples Counseling - Jolyn Wells-Moran, PhD, MSW, LMHC (beginning November, 2012) jwmcounseling [- at -] yahoo.com, www.anxiety-specialist.com
• T'ai Chi & Qi Gong Classes - Rhoda Jacobs barakabaja [- at -] gmail.com 612-157-6088

Practitioners interested in joining this dynamic group contact Jane jasi57 [- at -] juno.com - Todos Santos Healing Arts Center, Jane Sipe, 612 151 7026, Todos Santos

Professional Power Washing - Industrial, Commercial, and Residential power washing. Now servicing the entire south cape, from Todos Santos to Los Barrilles. No Job to Small or Large. Call or email for free quotes. - Randy Northrup, bcspropowerwash [- at -] gmail.com, 612 142 8762, Baja California Sur


2005 Toy Trailer ("carretilla") - 2005 Toy Trailer, back door comes down and becomes a ramp to load up multiple ATVs, motorcycles, tools, storage, etc. Outside measurements are 12'8" long x 6'6" wide x 6'9" high (~560 cubic feet), outdated Nevada plates. Located in Pescadero, right on the highway. $2,500 OBO.

2005 Toy Trailer ("carretilla"), la puerta de atras se baja y se forma una rampa para cargar varios ATVs, motocicletas, herramientas, deposito, etc. 3.87 metros de largo x 1.99m ancho, 2.06m alto, un total de 15.9 metros cubicos. Placas vencidas de Nevada, USA. Ubicado en Pescadero, sobre la carretera. $34,000. - Bill, usa13 [- at -] yahoo.com, Pescadero



Apple TV - I have a new, in-box Apple TV. Wouldn't work for my application. Paid $130 USD, sell for $90 and include hdmi cable and mini adapter. I'm in la paz - Rick, reshannon2000 [- at -] yahoo.com, 612-151-1240


Clearance Sale at La Canada Del Diablo - Furniture, Mirrors, Spring Air Mattresses, Lamps. Everything is on sale!!!
Come by, enjoy the Farmer's Market, and check out our marked down prices.



Mention this ad and receive an EXTRA 10% discount.

We will be serving Free coffee (with or with out Kahlua). Stop in and help us celebrate the arrival of Spring.

Remember, we are still collecting clothing and blankets for the farm workers who have so little.

Our hours are: Monday thru Saturday 9:00 a.m. to 6:00 p.m. - Barbara Perkins, bperkins0403 [- at -] gmail.com, www.lacanadadeldiablo.com, 612-140-0069
Accounting Services In Todos Sants - We can assist you with your corporate and individual needs. We offer accounting and administrative services including:
Registration of corporations with SECOFI and INM
Registration and reporting of construction and construction workers with IMSS
Recording and reporting foreign investments with the Secretaria de Economia
Counseling and immigration assistance for FM2 and FM3
Property management including payment of utilities, water, CFE, fideicamiso
Assistance with water rights
Offices in central Todos Santos
Many local references
FRIMAR GROUP
E.C.M. Raquel Martinez Peralta - Raquel Martinez Peralta frimargroup [- at -] hotmail.com, 612-14-86907



Power Saver - $ 60 Usd - (. Todos Santos and Pescadero.) Start saving now in receipt of your electric bill until a 30% is easily installed in a plug or contact your home or business without tools need to do their work only begins to reduce the amount of electricity wasted when running the from your appliances or appliances in your business ... Specs: VAC or 220 VAC Voltaje 110 biphasic versus a connection. And only a single phase 60 Hz constant frequency throughout Mexico. Capacity Dimensions w horn 20,000 7.5 x5x3, 5 cm. Just plug it in and get the next. • Reduce the amount of electricity used by household appliances • allows you to save money on your receipt • stabilizes the voltage • prolongs the life of your appliances • protects against power surges. I am located in Todos Santos and Pescadero, but I can send them to Cabo San Lucas, San Jose, or La Paz. Ask about our new products! - Victor Sossa, the_mexican_service [- at -] hotmail.com, 6121181385

Shaw Direct Satellite TV Systems From Canada - Now get quality, North American satellite TV in English and High Definition:



• ABC, NBC, CBS, Fox and PBS from Detroit, Michigan, Rochester New York, Spokane and Seattle
• NFL Sunday Ticket - Not Available on Dish Network • NBA League Pass, and 80 Other Sports Channels
• HBO and 30 Other Movie Channels • Over 80 High-definition Channels
• Vacation Holds Allow You to Suspend Programming While You're Away • Variety, Family, Music, French and Special-interest Programming


For a list of available Shaw Direct channels, go here: www.bajasatellite.com/shaw-direct-satellite-tv-program-listings.asp. We set up your programming account directly with Shaw Direct, allowing you to manage your account directly. For more information on available Shaw Direct programming and monthly subscription rates, go here: www.bajasatellite.com/ShawDirectProgramming.asp.
Complete Shaw Direct System - DSR600 HD Receiver - $698 US
Complete Shaw Direct DVR System - DSR630 HD Receiver with Digital Video Recorder - $1,098 US
Price includes Shaw Direct Account activation, and Canadian, US and Mexican Shipping and Importation. Installation not included. A standard single-dish Shaw Direct system installation in the Todos Santos area will run about $200 for labor and materials. Travel fees for installation in remote locations, ground-mount poles, long cable runs, conduit, installation on high roofs or walls, or connections to additional TVs at additional cost. For more information Contact Us today: alan [- at -] BajaSatellite.com, www.bajasatellite.com, (530) 903-4257 (US), (01) 555 351 0882 (Mexico), Baja California Sur
---
Submit your Misc. Sales and Services Available/Wanted articles here: http://www.bajawesternonion.com/submitad.asp



Return to Top
---
---
Real Estate, Rentals, and House Sitting - Available/Wanted
---
Buy While Land Is Down - Land for sale by owner, near Los Planes, Cortez side of Baja. 2000 meter road front rustic lots, power and water 350 feet away. Fertile soil, 10 minutes to beaches, 1 mile to town. Near green builder school. Quiet area, private holding (not ejido), clear titles. $14k USD cash, $19k financed 3 years, 25% down, 3% interest. Larger parcels available at $2 dollars/meter. - Randy Echter, rke1951 [- at -] gmail.com, www.bajagreenbuilder.com, 612-154-0485, 612-868-0307, La Paz



Spring Special Discount - We are offering a 20% discount on all 1-week rentals for the months of May and June. This applies to each of our 3-rental units & remember, we have A/C and a new pool. Go to VRBO.com and insert property #119676. I know you or your visiting guests will enjoy. their stay with us. Check it out! - Chuck Cimino, carlosylina [- at -] hotmail.com, (612) 145-0562, Todos Santos


Commercial Opportunity In Todos Santos - Rare property available in the center of Todos Santos. Just a half block down from the legendary Hotel California, in the Historic District of Todos Santos.

Comercial and/or residential, this ocean view property is an ideal location for uses including office, gallery or studio, restaurant, coffee house, or nightclub. The large 922 sq. meter property could also be developed into town homes, condos, hotel or apartments and/or retail.

Exclusively listed by Pescadero Properties at $349,000 USD

For more information - local cel: 612 348 5468 - US Line: 310 622 4497 - roc [- at -] pescadero-properties.com, www.pescadero-properties.com, Todos Santos


Cerritos Beach Lot! - Excellent investment opportunity! Ocean view lot in Cerritos Beach, just steps away from the water. Great location in the Baja - paved road access, and only five minutes away from the highway. Great investment opportunity! With development taking place next door, prices are rising. Front access: 30m (98 ft); Total area: 1,110 m2 (12,000 sq. ft.). Price: $150,000 USD. For photos, refer to www.solpacificocerritos.com. Contact Info: Angel Arteaga Cell: (612) 155-5555; email: a.arteaga1980 [- at -] gmail.com. Location: http://g.co/maps/rq3jv. Photos can be seen at: http://bajasur.es.craigslist.com.mx/reo/3034694090.html. - Pescadero

House Sitters Available - We have been house sitting for 20+ years in Canada. For the last 2 years we have been wintering in Baja, for 6 months. We will be leaving Canada at the end of October this year (2012), to head down to Baja for another 6 months. We are very interested in house sitting while we are in your area. We spend time in Mulege, Loretto, Los Barriles, Todo Santos, El Pescadores, Cabo San Lucas and San Jose, Cabo Palmo, and a alot of places in between. We are very qualified and can provide you with a worry free service. Let us know if you can see us as a fit for your needs. - Debbie And Jelle Duyf, jduyf [- at -] hotmail.com

House Caretaker Available - Male, 53, seeking house sitting opportunity. long-term. - Thorp Minister, thorpminister [- at -] yahoo.com, (702) 238-6162


---
Submit your Real Estate/Rentals/House Sitting/Property Management Services articles here: http://www.bajawesternonion.com/submitad.asp



Return to Top
---
Rides or Caravans Available/Wanted
Note: Ads will run for two weeks unless dated. Please list the date in the title, and specify which airport. Goes without saying, everyone shares expenses for beer, gas, food, etc

To remove your ad if you find a ride or caravan, let us know here: www.bajawesternonion.com/submitad.asp -
---

Getting Desperate. Please Help - Hi. i neeed to get my dog back to Vancouver Island. She is currently in the Pescadero area. I cannot fly her as there are heat restrictions now in effect. I am looking for someone who is driving to B.C. who is willing to do me this enormous favor. I am willing to pay for your trouble. She is a really good girl, about 40 pounds, not too big. Any info that might help would be greatly appreciated. Please help me! katyeorose [- at -] yahoo.ca

Ride Offered To San Diego - Space available for one passenger to share driving and gas from San Jose del Cabo to San Diego. Room for bags and/or surfboards in the back of the pick-up. Hoping to leave on Friday, May 25, and make the drive in two or three days. Contact Jackie at sbjackie [- at -] gmail.com. - Jackie Campbell, sbjackie [- at -] gmail.com, San Jose Del Cabo

Anyone Need A Ride From La To Cabo? - Mid May to June - Looking to move down to Cabo with flexible dates between mid May and the end of June. This will be my first trip through Baja so really hoping for someone who has done this before or to join a caravan heading across the border and down to LP or preferably Cabo. I have two dogs so if we are riding together, will be great if you like dogs too! - M Currie, macurrie [- at -] bellsouth.net, Baja California Sur

Airport Ride May 31 - Would like a ride for 1 person from San Jose Airport to TS on May 31 about 4:30 pm. - Pamela Vantress, pavantress [- at -] yahoo.com, 145-0254 or (612) 105-3935


---
Submit your Rides or Caravans Needed/Available articles here: http://www.bajawesternonion.com/submitad.asp



Return to Top
---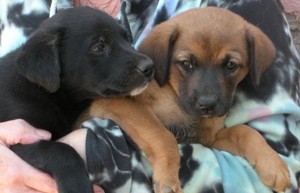 Pet Corner (Lost and Found pet articles will run for two weeks)
Let us know if you find or place your pet so we can remove your ad -
---

We Still Need A Home--->>> - Two female puppies who were abandoned at Punta Lobos are still looking for a home. They are sweet, adorable, healthy, flealess and ready to go. Now 9 weeks old, I beg you to adopt them because I am becoming way too attached. When old enough they can be spade free of charge. Please call or e-mail me. Gracias. - Pam Cobb, senoracobb [- at -] yahoo.com, 612-102-7983, Todos Santos

Lost Dog - Missing: 6-month-old brown male labrador since April 28. Near beach between San Pedrito and Los Cerritos. His name is Mr.Brown. Reward offered. He is very important to us. Please contact us at 612-119-2519.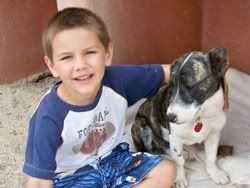 <<<- Lost Dog - Lost Dog in Las Brisas area. Help us please find "Baja", he is a 6 month old, fixed male, black and white with a new collar and new rabies tag. He only half of his left ear. Very sweet and cute. Thank you. - Tim And Elisabeth Spencer, thespencerfamily [- at -] yahoo.com, s411.photobucket.com/albums/pp194/katiejay99/?action=view&current=lostdogbaja.jpg, 612-167-8606

Please! - We are leaving soon and have to find homes for four, 7-week old kittens. Box trained, eating solids, will make good housers or mousers. Black, black with a white spot on chest, grey, and grey tabby. Please help. Thank you. - Todd, toddgerson [- at -] ymail.com, 6121524494, Pescadero

Help Save A Starving Dog - Courtesy Baja Pony Express - When traveling north (or south) we all see the starving homeless dogs along the road. Especially around San Quintin and the towns north. So, if you see a dog in distress and can stop safely, please call one of these groups and get transporting directions, instead of leaving them to starve and die on the road side. To help you with your rescue, have an old blanket, kibbles, water bowl and a loop collar leash in your car. If you are not comfortable transporting them, even offering them food will help.

If You See An Animal In Distress, Call: The Baja Animal Sanctuary, near Rosarito, 22 miles south of the San Ysidro border 619-786-7928 www.BajaAnimalSanctuary.org. C.A.R.E in the Punta Banda area, 1/2 hour south of Ensenada. 626 145 0484 www.carebaja.org. Please print these numbers and carry them with you. Together we can make a change. - ALMA Humanitaria, A.C., www.almacares.com
---
Submit your Pet Corner articles here: http://www.bajawesternonion.com/submitad.asp (and remember to Spay or Neuter your pets)



Return to Top
---
Quote of the Day: " Luck is what you have left over after you give 100 percent. " ~ Langston Coleman


---
Looking for the complete Community Events Calendar? Click Here!


---
Return to Top
---
---
Help Support The Baja Western Onion!

We can accept donations by Credit Card, PayPal, cash, check or direct deposit.

For more information, please visit our web site at http://www.BajaWesternOnion.com/donate.asp.
Copyright © 2006 - 2012. The Baja Western Onion. All Rights Reserved. Published Using 100% Recycled Electrons :)
Return to Top
---