On The Web Site:
---
Today's Weather Click for Extended Forecast

---
Community Access
Policia Preventiva
Todos Santos Police
612 145-1052
Commandante Navarro

Ministero Publico
State Police
612 145 0198
Commandante Erigoyen

Bomberos
Fire Department
Cel. 612-142-6387
Commandante Cadena


---







---
Baja Western Onion
Alan Thompson - Publisher
Debra Webster - Advertising
e-mail For General Feedback
---
---
News and Events, Questions and Answers
---

2012 Equinox - Sun Rises Due East and Sets Due West - The March 2012 equinox happened today on March 20 at 5:14 Universal Time, which was 12:14 a.m. Central Daylight Time. For the U.S. West and Hawaii, the equinox occurred in the evening hours of March 19. The March equinox signals the beginning of spring in the Northern Hemisphere and autumn in the Southern Hemisphere. earthsky.org/tonight.

Also, continuing thru this week, Venus and Mars put on a brilliant display very close together in the evening western sky. Making the view even more spectacular, Venus and Mars will be joined by a very thin crescent moon on Sunday the 25th and Monday the 26. -
- Baja California Sur

Festival De Artes Is Coming Soon - Courtesy Baja Pony Express - If you haven't signed up for a space rental, please go by La Casa in Los Barriles. Or visit Baja Books and Maps at the San Jose Organic Market in San Jose on Saturday. Booth fee is $325.00 pesos. Sorry, all shaded spaces are sold out!. Have a great day and we look forward to you participation. Please contact festivaldeartes13 [- at -] gmail.com, Los Barriles

Festival de Artes estará disponible muy pronto. Si no se han inscrito para un alquiler de espacio, por favor vaya por La Casa de Los Barriles. O visite Baja Libros y mapas en el Mercado de San José Orgánica en San José el sábado. Cuota de Boothes de $ 325,00. Lo sentimos, todos los espacios sombreados están agotadas!. Tiene un gran día y esperamos que la participación. Por favor, póngase en contacto con festivaldeartes13 [- at -] gmail.com, Los Barriles

Secretary Of Tourism Reaching Out To The English Speakers - The Secretary of Tourism in Baja California Sur has started their English Facebook page with everything that one needs to know about this beautiful State. The page has all kinds of helpful and great information on upcoming events, different attractions around the state and much more. Don't hesitate, and take a look. Let's help support our state by "liking" their facebook page. You can also follow them on Twitter [- at -] Visit Baja Sur. Facebook- www.facebook.com/pages/Visit-Baja-Sur/181690668576377. Thank you so much. - Secretary of Tourism, La Paz BCS, Olivia Brower, 612-117-8349

Cabo Marine Show Returns for Its Third Year - New dates and an all new location on the famed Cabo San Lucas marina have been set for the returning Cabo Marine Show. The third annual Cabo Marine Show will run from July 5-7, 2012 at IGY Marina Cabo San Lucas, docks K through M, and will be open to the general public. The event will host more than 50 local and foreign vendors and draw hundreds of additional visitors to the marina.
"We are very proud to be partnering once again with IGY Marina Cabo San Lucas in our long term vision to establish an international boat show here in Los Cabos, Mexico", said Sergio Igartua, organizer of Cabo Marine Show. "Their participation and the support of all our sponsors are what makes this type of event possible."
MAA+Eventos, a Mexico City based events management company has been contracted to handle all sales and logistics of the third annual Cabo Marine Show, including booth sales, registration and hotel accommodations. For more information please contact: MAA+Eventos at +52 (55) 5563-5386 or e-mail: info [- at -] maaseventos.com

Amistad Award Dinner Los Barriles - Courtesy Baja Pony Express - Reservations are coming to a close. We will only be accepting reservations through March 23rd. This promises to be a highlight of this years activities honoring two people for their great commitment to our community. Both Cheryl Dondlinger and Noe Araiza Fiol have given so much to this community this is our opportunity to say thank you for their dedication.

If you need reservation you can make them via our website www.losbarrilesrotaryclub.org or by calling 142-8084. - Steve Fowler

Oasis Of Hope - Has anyone had experience with the cancer wellness center, Oasis of Hope, located in Tijuana, BCS? A good friend in the States is considering this alternative medicine center. Thanks as always for your help. - Joy Obrien, allie_todossantos [- at -] yahoo.com

Help Wanted: Work At The Beach! - Cerritos Surf Colony is looking for a Front Desk/Reservations Agent to assist on site. Must speak English, be computer literate and able to begin work immediately. Experience preferred. Inquire within or contact Giovanni [- at -] (612) 131-8011. - Giovanni Espinoza, oficinacerritos [- at -] gmail.com, www.cerritossurfcolony.com, (612) 131-8011, Pescadero

Looking For Dogs - Hello everybody here Luis the new manager of the skatepark, first of all thanks to all the people who read the last add and offered their help, we are very thankful. I´m looking right now for two dogs that can help me watch the property, so please if you can donate or know someone that can donate a dog to the park please let me know. The dogs will be in very good hands. Cell: 612-103-0897. E-mail: pescaderoskatepark [- at -] gmail.com. - Luis Flores, pescaderoskatepark [- at -] gmail.com, 612-103-0897, Pescadero

Lost: A Light Blue, Cotton Sweater - If you have found it, please call me at 612-161-2907. Thank you. - Emanuela, emagard [- at -] mac.com, Todos Santos

RE: EcoTours Shuttle - I just wanted to let everybody know what a pleasant experience I had with the shuttle ride sponsored by Ecotours. The shuttle was clean, the driver was very nice and even with all the road work we made it to the airport with time to spare. He even stopped for a bathroom break! I hope we can keep this new endeavor alive! You can even go online to get tickets either to or from the airport. No more waiting for the bus for me! Just wanted to pass on the good word! - Sarah Smith

Feedback To The Baja Western Onion - Hello, We are currently visiting Baja Sur for 3 weeks from a cold and blustery Western Canada. We included visits to La Paz and Todos Santos (Las Tunas area) in our plans. The Western Onion greatly enhanced our knowledge of the areas and events and outings we could enjoy during our visit.

I do have a special Thank You and Job Well Done to the folks who have designed, built and maintain the single track mountain biking trails in both the La Paz and Las Tunas areas. We have thoroughly enjoyed several great days of riding and did not expect to find trails in such great condition or such an extensive networks. We met people out biking, hiking and walking dogs as we gasped, grinded and smiled our way through 30 miles of trails in Las Tunas and 40 miles in La Paz! Thanks again to those who work on the trails and keep them in great shape. Your hard work does not go un-noticed. What a riot! - Lorri & Ken, Calgary, Alberta Canada

Car Top Carrier Wanted - Looking for a roof-mounted cargo carrier box or bag or a hitch-mounted trunk. - Leonard Zweig, leonardz [- at -] olympus.net, 612-118-8057, Pescadero

Pick You Own - To all those that came and picked their own veggies, thank you very much. Will let you know when there is more. - Sylvia St.clair, sasinbaja [- at -] yahoo.com

Lost: A Light Blue, Cotton Sweater - If you have found it, please call me at 612-161-2907. Thank you. - Emanuela, emagard [- at -] mac.com, Todos Santos


---
Today's Exchange Rate - Mexican Pesos to 1 USD - Courtesy X-rates.com
---
Submit your News and Events, Questions and Answers articles here: http://www.bajawesternonion.com/submitad.asp


Return to Top
---
---
Featured Events This Week
Please Note: The "Featured Events This Week" section is limited to non-recurring community events (Sorry, no "Happy Hours," "Daily Specials," "Weekly Classes," or other recurring business activities or workshops.)
---
Tuesday, March 20
Todos Santos Book Group - 10:30 AM, Las Casitas, Todos Santos. This Week: A Visit from the Goon Squad by Jennifer Egan. Contact: heavenlybliss57 [- at -] hotmail.com
Thursday, March 22
Cafe Des Artists Meeting - 4pm - 5pm, Cafe Todos Santos. Monthly gathering of local visual artists as well as visiting artists to share experiences on creating and marketing their art. Topic will be changing your Hacienda status to a small business status to eliminate monthly/annual accounting and filing. All practicing artists welcome. Contact: Diane Knight dianekknight [- at -] hotmail.com, 612-145-0586, www.artistsoftodossantos.com

Baja Shakespeare Performs 'Cinderella', March 22 Thru 25 - Doors open at 6 p.m., play at 7 p.m., Rancho Buena Vista. Baja Shakespeare's "Cinderella" to be performed under the stars. Dress warmly and bring a flashlight. Tickets: $20.00 USD/$260 pesos at Smokey's Bar and Cantina, Los Barriles or reserve through Will Call. Overnight accommodations available. Contact: bajarhino [- at -] yahoo.com, 624-142-8008

Saturday, March 24
Live Surfabilly Riot Music At La Esquina - Tim Lang and his Post-Surf crew, featuring the percussion stylings of Kurtis Parsons. Doors open at 6:30 PM, music at 7:00. 50 peso cover. - Marimar, hola [- at -] laesquinats.com, www.laesquinats.com, 612-145-0851, Todos Santos

Live Music At Hotel California - 8 PM, featuring Bluz Explozion. No Cover. - info [- at -] hotelcaliforniabaja.com, www.hotelcaliforniabaja.com, (011-52) 612-145-0525, Todos Santos

Sunday, March 25
Festival Del Caballo Todos Santos - Public invited to ride with the Cabalgata from Puente La Muela to town, 9:30 AM. Equipment sale and riding exhibition follows at the Stadium (behind Pemex station), after 12 PM. Contact Arturo Geraldo, President 612-127-2317, Cayetano Garcia 612-140-0793 or e-mail Kaia: kaia [- at -] mindspring.com

---

---
Community Events and Workshops Notification Page - Submit event notices for The Community Calendar or Workshops and Meetings pages.

Anyone planning an event should check the Online Community Calendar before choosing a date to see if something else is already planned and avoid conflicts. Check the Online Community Calendar here: www.bajawesternonion.com -
Return to Top
---

---
Stepping Out - Food, Music, Arts and Entertainment
---

Lang & Crew Live At La Esquina! - Tim Lang & His Post-Surf Crew will be playing this Saturday night, March 24th at La Esquina. Featuring the percussion stylings of Kurtis Parsons. This is a full band show with songs off Tim's upcoming album Post-Surf. Dig it! Doors open at 6:30. - Lang, tim [- at -] timlang.net, www.timlang.net/calendar.html, Todos Santos


Hotel California - Saturday March 24th Live Music featuring Bluz Explozion
Signature Margaritas made with our Awarding Winning Hotel California Tequila, Beers, and Dancing! Music begins at 8pm. No Cover.

Bistro Santo Vino & Wine Bar
Hours 5 PM to 11 PM Daily. Reservations Recommended

Click Here Visit our ONLINE Store
Keep up with the latest Hotel California info by joining our facebook fan page
Follow us on facebook
- , info [- at -] hotelcaliforniabaja.com, www.hotelcaliforniabaja.com, (011-52) 612-145-0525, Todos Santos



Tsegyalgar West Open House - There will be an Open House for Tsegyalgar West in the San Jose Mountains April 8. Meet Costantino Albini and Anya Neyman visiting instructors for Tsegyalgar West. See www.tsegyalgarwest.org for directions and more information. - Secretary, tsegyalgarwestsecretary [- at -] gmail.com , www.tsegyalgarwest.org



Hotel Casa Tota And La Santeña In Downtown Todos Santos Present: - So many things to talk about!

NEW - Sunset yoga on the roof. Every Monday, Wednesday and Friday at 5:30PM . Friday classes will be accompanied by live percussion with the super talented Pepe Sosa of Escupe Lupe. We believe that balance can mean yoga followed by a margarita, and we invite you to find balance here at Casa Tota. Please bring a mat and wear layers, as we will be outside. 60 pesos.

Hotel Casa Tota and La Santeña- where you can get up, get down, stretch, eat, drink, dance, sleep, swim, soak, and more.

The Super Bass Challenge remains unclaimed. - Christine, HotelCasaTota [- at -] gmail.com, www.HotelCasaTota.com, 612 145 0590, Todos Santos


Mmm Q Chile ... escoje Tu Relleno - Stuffed peppers, breading (capeados) and baked. Cheese-Corn-Mushrooms-Potato-Groud beef (Picadillo)- Grilled Beef-Marlin-Tuna-Shrimp and Combinations. Chile Baked Potato filled with Cheese Beef, Corn, Mushroom and Cream. We also offer Potatoes and Clams, Stuffed. - Rosalia Trasviña, que_chile_ts [- at -] hotmail.com, 145-0165

Baja Beans Roasting Co. - Specialty coffee and baked goods in a space with soul and style. Open 7 a.m. to 3 p.m. Closed Mondays. Events:
Sunday Brunch, Music and Market - 10 a.m. to 2 p.m.
Salsa Dance Classes - Every Thursday 4 p.m. to 5:30 p.m.
- Sandra Wohlers, info [- at -] bajabeans.com, www.bajabeans.com, 612-143-7138, Pescadero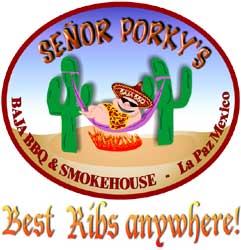 Señor Porky's Baja BBQ and Smoke House! The Best Ribs Anywhere!



New Restaurant in La Paz - Featuring Kansas City slow-smoked meats not found anywhere in Mexico. Now open 7 days a week from 7:30 AM with full breakfast menu and Cappuccino, to 10 p.m., and weekends until midnight. Watch the sunset from our spectacular ocean view! Located on the Malecon in La Paz at Alvaro Obregon #670, on the corner of Allende and Rosales (next to the Arco Hotel).


• New Menu • Daily Specials • Lower Prices • Many New Items Under 75 Pesos •

To ensure the best quality for Porky's Smokehouse Meats, we start with the best meats available. Then we dry-rub the meats with a combination of 20 spices, then slow-smoke for up to 18 hours at low temperature to obtain maximum flavor and tenderness while sealing in the natural juices and smoke flavor that is unmatched anywhere! We know you'll agree that Señor Porky's Baja BBQ and Smoke House are the best you have ever tasted.
"Special Of The Day" Every Day:

Monday - Margarita Monday - 2 For 1
Tuesday - 3 Tacos - 40 Pesos
Wednesday - Wing Day - 8 Pesos Each
Thursday - Burger And Beer - 75 Peso
Friday - 1 Free Beer - With Entrée
Saturday - 1 Free Desert - With Entrée
Sunday - Any Burrito - 55 Pesos
Plus fantastic side orders include Pasta Salad, BBQ beans, Coleslaw, Sweet Potato fries, New Mexico Green Chile with Pork, Caesar Salad and Homemade Deserts. Dine in, or carry out from our "Pig Out" Meats to Go Menu. Download our entire Menu here: files.me.com/richards771/1wclv6. For more information, call 612-129-3667. - Richard Stubbs, richards77 [- at -] pcisys.net, La Paz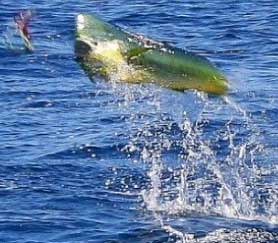 Todos Santos Fishing Charters - Why deal with a middleman? Come direct to the owner/operator
Fully Registered Sportsfishing Company


Bilingual Crew


Top Quality Tackle and Gear
Whether game fishing or whale watching, contact us for your ocean adventures. Visit our website for full details: www.fishingtodossantos.com or www.todossantosfishingcharters.com.

Package deals available when booking fishing and our casita for your complete holiday - www.bajasurtodossantos.com, or call Lee at 612-119-7880 or Brenda at 624-114-1351


New Painting - I have some of my new work up at Casa Dracula until Sunday the 28th. If you would like to view the work, please contact me at 612-118-8761. I will be happy to set up a time for us to meet there. Thanks. - Patricia Larsen, plar3 [- at -] hotmail.com, patricia-larsen.com, 612-118-8761



El Tecolote Serves Up Espresso and More! - Let thy food be thy medicine and let thy medicine be thy food.- Hippocrates
Come enjoy a healthy fresh squeezed juice at the juice/espresso bar in the El Tecolote Bookstore
Just the thing to keep your immune system strong and your body energized during these chilly days
Open At 8 A.M.
- Kate Lewis, katemlewis [- at -] yahoo.com, El Tecolote, Todos Santos.
---
Submit your Stepping Out - Food, Music and Entertainment announcements here: http://www.bajawesternonion.com/submitad.asp



Return to Top
---
Misc. Sales and Services Available
---

Gadgets 4 Sale - The following items are for sale:
Flip Video Camera 8GB ULTRA HD – Like New – Excellent Condition. $100 USD. See at: http://www.amazon.com/Flip-UltraHD-Video-Camera-Generation/dp/B0023B14TK
Insignia Digital Picture Frame - Like New – Excellent Condition. $30 USD. See at: http://www.ebay.com/itm/Insignia-NS-DPF7G-7-Digital-Photoframe-/270932566232?pt=LH_DefaultDomain_0&hash=item3f14d6e0d8
HP Photosmart 130: Print beautiful photos from your digital camera's memory card without a computer. Prints 4 x 6 inch photos quickly and easily. $50 USD. Excellent condition includes paper, ink cartridges.
- Lisa Welsch, lwelsch [- at -] cbriveras.com, 612-140-1414, Todos Santos



2003 Yamaha 250 Dirtbike - Excellent Shape, Clean Title, 1300 miles. $2000 USd Or Fair Offer! jayhegwer [- at -] yahoo.com


March Madness ! - Chica's Salon at La Canada del Diablo is offering $5 off pedi's, $2 off mani's & $5 off a full set of acrylic nails for the month of March. Mention this BWO ad when booking your appointment to receive discount. Open year around for manicures, pedicures, acrylic nail's & wedding services Mon. - Sat. by appointment. Need a birthday, anniversary or thank you gift? We also have gift certificates available for purchase. Located at La Canada del Diablo in Todos Santos. - Kathie Cullinane, chicassalon [- at -] gmail.com, 612-142-3160, Todos Santos


Casa Decor in La Paz and Cabo - Indoor And Outdoor Furniture, Patio furniture * Wicker & Rattan* Marble * Rustic hand painted furniture * Copper furniture * Lighting * Kitchen Cabinets * Doors * Floor & Wall covering * Art * Accessories * Metal Furniture* Fountains and Urns * Mexican furniture * Imports from around the world

Very Unique selection of furniture and accessories. Interior Design service! Custom made furniture!
Cabo: km 3.5 on four lane next to Artisanos tel:614-1768146 - vonage: 888-557 6533 Mary Aguirre. E-mail: mary.aguirre [- at -] casadecorcabo.com / Mex Cell 624-176 8146
Loreto: Village at Loreto Bay, #310 Nopolo tel: 613-134-0200
La Paz: 12,000 sq. Warehouse 560 Marques De Leon 612-129 3364, USA Tel: 303-777-575 / E-mail: richards77 [- at -] pcisys.net, www.antiquerowmarket.com
!2 Containers Just Arrived: Outdoor, Wicker, Rattan And And Cast Aluminum Furniture. Big Savings. Very Large Selection! - Richard Stubbs, richards77 [- at -] pcisys.net, 303 777-5157


Watercolor Paper - I have some new Fabriano Artistico paper for sale. Extra White 300 GSM (140 POUND), Soft Pressed, 2 ten-packs (20 sheets), unopened. Hot Pressed, 6 sheets in original packing. All 26 sheets for $90.00 USD. I can deliver to Todos Santos. - Frank Hills, zorba1360 [- at -] yahoo.com, 121-1833 or (cell) 612-154-1050, La Paz



Artistic Doors In Cedar And Iron - Now In Exhibition At La Canada Del Diablo - Unique, hand-made Artistic Interior Doors in Cedar and Iron and also in Pine and Iron.


Ready to receive the finishing colors that match your dream home.

Exclusive lot of brand new doors, no further production of these, limited lot and quantities only, these doors will not last, hurry for a better selection!

Doors are in exhibition for your shopping pleasure and convenience at La Cañada del Diablo.

Buy one or buy the whole lot, we offer an additional discount! www.villasaguablanca.com/Miscellaneous.html, 612-140-0069, Todos Santos



Utility Rack For Sale - Utility rack for full size van (chevy, ford, gmc..). $175.00 obo. Please text Toby at 612-167-2743. Great shape. - Tobias Kline, tobiaskline [- at -] hotmail.com, 612-167-2743, Todos Santos



Solar Water Heating - Solar Water Heating technology is the most direct and efficient conversion of sunlight into usable energy available. Using the sun to heat your domestic water or your pool is the most practical and least expensive application of solar energy available at this time. Visit our website for more information. - Skip Ackerman, ackerman1952 [- at -] gmail.com, www.solsticesolarofbaja.com, 624-142-8002 or 970-963-0846 Vonage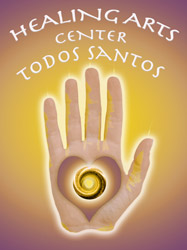 The Healing Arts Center of Todos Santos - is a community of health professionals, working together in the TS/Pescadero area offering services to support clients on the journey towards balance & well-being, expanding awareness of the local & foreign communities of alternative therapy options, including ancient healing art forms as well as more modern evolutions in the realm of natural healing, and empowering patients, students & clients by teaching ways to prevent illness and methods of self care to address imbalances.
• Acupuncture & Chinese Medicine - Jane Sipe, L. Ac. jasi57 [- at -] juno.com & Barbara Elsner, L. Ac. (beginning February, 2012) 1sheurchin [- at -] gmail.com 612-151-7026
• T'ai Chi & Qi Gong Classes - Rhoda Jacobs barakabaja [- at -] gmail.com 612-157-6088
• Reiki - Allison Eaton info [- at -] allisoneaton.com, www.allisoneaton.com, 612-152-3896
• Massage - Kurtis Parsons (beginning February, 2012) puravidahealthfood [- at -] gmail.com 612-169-2095
• Acutonics (Sound Healing) (Sound Healing) - Lynn Wedekind tuneintoit [- at -] gmail.com 612-151-3051
• Kinan Classes (Mayan-Toltec Form) - Daniel Camargo daniel [- at -] ancestralmessenger.com, www.ancestralmessenger.com, 612-139-6987
• Body Centered Psychotherapy - Shawna Owen, RPC (EMDR, IBP) harmonywithall [- at -] mac.com, 612-151-7728
• Anxiety, Mood, Couples Counseling - Jolyn Wells-Moran, PhD, MSW, LMHC (beginning November, 2012) jwmcounseling [- at -] yahoo.com, www.anxiety-specialist.com
Practitioners interested in joining this dynamic group contact Jane jasi57 [- at -] juno.com - Todos Santos Healing Arts Center, Jane Sipe, 612 151 7026, Todos Santos


Yamaha Xl700 Jetski 3 Person - 1999 Yamaha XL700 jetski in perfect condition. 3 person PWC. Imported in Mexico. Just serviced by Motorsport Racing in La Paz. Comes with yamaha cover and single trailer. 3000 coconuts. Located in El Sargento. - Arnaud V, info [- at -] socalhitech.com, 612-156-6769, La Paz

Barstool And Dining Chair Sale - Mention this ad to receive 10% off all barstools and dining chairs. This offer is good through April 1st. Thanks and hope to see you soon. - Sandra, scandiber [- at -] yahoo.com, www.masmilagros.com, 624-129-8691 , Cabo San Lucas


Motorhome For Sale - 1995 24 foot Slumberqueen Canadian built, Ford V8. Excellent running condition, good inside, sleeps 5. All systems work. Kitchen, toilet, etc. Easy to drive. Excellent solar panel and inverter, 2-6v in coach, new 12v in motor. Good, 3-yr-old tires, spare. New curtains. Sacrifice at $10,000 USD. Call for appt. Spanish/English spoken. Gillian - Gillian Herbert, gillyndolly [- at -] hotmail.com, 612-176-5877, Baja California Sur



Accounting Services In Todos Sants - We can assist you with your corporate and individual needs. We offer accounting and administrative services including:
Registration of corporations with SECOFI and INM
Registration and reporting of construction and construction workers with IMSS
Recording and reporting foreign investments with the Secretaria de Economia
Counseling and immigration assistance for FM2 and FM3
Property management including payment of utilities, water, CFE, fideicamiso
Assistance with water rights
Offices in central Todos Santos
Many local references
FRIMAR GROUP
E.C.M. Raquel Martinez Peralta - Raquel Martinez Peralta frimargroup [- at -] hotmail.com, 612-14-86907


1999 Dodge Dakota Truck - 2WD, 90,000 miles, new tires, body & interior in great condition, South Dakota registration. $7000 OBO. marcosramirez [- at -] comcast.net, 707-738-2157 or 612-149-2568

Banda Ancha Internet Device For Rent - Banda Ancha USB internet device, newer 3G model with unlimited internet bandwidth. For rent monthly or weekly. - Robert Quirk, rq [- at -] todossantosrentals.net, (624) 147-0326



Canary Island Date Palms For Sale - We've recently acquired some Canary Island Date Palms. These are good size, but we only have a few of them. These are iconic palms, these particular Canary Island Date Palms have a lot of years under their belts, and would require a crane to plant, which we have. We could plant these for $400.00/per as long as your property has access for a 33' long crane truck.

We also picked up some stout Blue Mediterranean Fan Palms - these are great for under-planting your bigger blue, or green palms for either unity or contrast, or anywhere else where you want a splash of blue - they don't get big, but spread out some - we also have some with all the same characteristics, but they are green.

Also new are some potted Fijian Palms - these are solidly trunked-out, maybe 2-1/2' - 3' from the ground to the tip of the fronds - not common here in Baja, but will grow well. ¡Email me for photos! - Dean Mcquillen, todossantos1 [- at -] hotmail.com, 612.133.03.11



Introducing The "Baja Onionskin" - The Baja Onionskin print edition highlights community events, restaurants, shops, and entertainment each week in our local area. Delivered every Friday to area hotels and businesses, the intended readers are visitors to Todos Santos. The Baja Onionskin provides a quick, up-to-date, and convenient way for visitors to know what our community has to offer each week.

Here's an example of The Baja Onionskin From January 05 in PDF format: www.bajawesternonion.com/Onionskin/120105.pdf.

We offer paid commercial and non-profit sponsorship opportunities, which will allow your ad or coupon offer to appear each week in The Baja Onionskin. More info here: www.bajawesternonion.com/onion-skin.asp. If you are an area business, restaurant, or hotel, and would like learn more about advertising opportunities or how to receive copies of the Baja Onionskin each week for your guests and customers, please Email Maryann [- at -] BajaWesternOnion.com or call 612 145 0791. -

Great Little 16' Casita Camper Trailer For Sale - We have a nice little 1997 16' Casita "Spirit" camper that we have very much enjoyed. It has been our Air conditioned summer bedroom, guest room, and base camp for adventures. AC, heater, water heater, 3-way fridge, 2 burner stove, bathroom w/shower, awning (needs repair), double bed, closet and lots of storage. Only weighs about 1900 pounds so it can be towed with most anything. Good overall condition, but needs some TLC and love from a new owner. Will sell for $4900, but will consider a trade for a 16' or larger enclosed utility trailer. Located in Las Tunas and sometimes in Pescadero... E-mail or Call Aldo 612-135-4470 for more info or to take a look. Thanks SO MUCH! Cheers, Aldo and Bequia - Alan, Aka Aldo, tropic.aldo [- at -] yahoo.com, 612-135-4470, Todos Santos


HughesNet Satellite Internet Systems - Limited-time Offer - Now Get $299.99 in HughesNet Mail-in Rebates, plus $10 off monthly service for the first three months:
Always-On Satellite Internet Connection
Available Anywhere in Baja
PC, Mac, Wireless Compatible
Multiple Computers Can Share the Same Internet Connection Full-Time
Vacation Holds Available
Professional Installation Available
Available HughesNet Service Plans:
Plan - Max. Speed
Down/Up 1
Daily Data Transfer
Allowance 2
Monthly Service Fee 3
Home - 700 Kbps/128 Kbps
250 MB
$39.99/mo. 1st three months - then $49.99
Pro - 1.0 Mbps/200 Kbps
350 MB
$59.99/mo. 1st three months - then $69.99
Pro Plus - 1.5 Mbps/200 Kbps
450 MB
$69.99/mo. 1st three months - then $79.99
Complete 0.74 Meter HughesNet Satellite Internet System
$499.99 - Complete System Plus Account Setup
$140.00 - US / Mexican Shipping and Importation to Todos Santos
$639.99 - Sub Total

($299.99) - Less HughesNet Mail-in Rebates
$349.00 - Your Net Equipment Cost After Mail-in Rebates4
1 Absolute maximum speeds as stated by Hughesnet. Actual speeds will be less.
2 Daily Data Transfer Allowance now includes a rollover of unused data to the following day, up to a maximum of 2 times the plan's normal daily aloowance.
3 Monthly service fees shown are for first three months of service after $30.00 HughesNet mail-in rebate.
4 Equipment price does not include installation labor or materials. Installation available.

Baja Satellite is an Authorized HughesNet® Reseller. For more information Contact Us today: BajaSatellite [- at -] Hughes.Net, www.bajasatellite.com, (530) 903-4257 (US), (01) 555 351 0882 (Mexico), Baja California Sur
---
Submit your Misc. Sales and Services Available/Wanted articles here: http://www.bajawesternonion.com/submitad.asp



Return to Top
---
---
Real Estate, Rentals, and House Sitting - Available/Wanted
---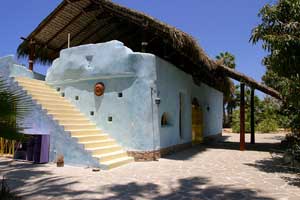 Todos Santos Beach House on a Tranquille Lush 5, 206.22 Sqmt Property - For Sale by Owner: - Two (2) separate driveway entries give the 5,206.22 sq meter (1.25 acre) property privacy from both the front and back, giving flexibility to build additional homes or to split in the future. Soil on the property is rich organic black soil, ideal for other organic gardening.

Property is an enclosed oasis and has unlimited access to farm water that nourishes the over 85 mature mango trees, 80 lush palm trees over 5 feet, passion fruit trees, citrus fruit trees and avocado trees, all of which give the property its cool shade that is coveted in the region and frequently not available on other properties of comparable or more value in the desert landscape.
* Property has power, water (both municipal and farm water), gas and Internet.
* A 6-minute walk takes you to the secluded beach, and a 5-minute drive finds you in the heart of TS.
* Motivated Seller with Reduced Listing
If you have questions or would like to make an offer after viewing the property on YouTube (www.youtube.com/watch?v=krg9FEeiRtk), feel free to contact us. Save on the fee and make us a good offer. - Anh Walch, anhwalch [- at -] yahoo.com, 212-692-0912, Todos Santos


Beachfront Long-Term Rentals Available - Long-term rentals available, beachfront overlooking San Pedrito surf break. 4 bedroom, fully furnished home or 1 bedroom individual casitas available. Beautiful grounds, bbq grilling areas, very private, wi-fi internet, cable tv. Monthly rates until November. Email for more information - Wendy, tropicalcasitas5 [- at -] gmail.com, www.tropicalcasitas.com, 624-191-2831

Property For Sale - Beachfront for $69K! Property located in Boca del Alamo just 5 miles north of El Cardonal. 20 meters of frontage 47 meters deep (1/4 acre). Includes Valentin built garage, septic installed, cement trailer pad, fenced and 360 views. Photos available upon request. sunsetmorghan [- at -] yahoo.com 624-182-4068 or USA 619-819-5062. - Linc, cabolink [- at -] yahoo.com, 624-182-4068, Baja California Sur

Long Term Avaiable In Rancho Nuevo - Beginning the first of May. Ocean and mountain views. Please call or eamil for more information. - Scotty Mclemore, scottybcs [- at -] hotmail.com, 612-135-3500


---
Submit your Real Estate/Rentals/House Sitting/Property Management Services articles here: http://www.bajawesternonion.com/submitad.asp



Return to Top
---
Rides or Caravans Available/Wanted
Note: Ads will run for two weeks unless dated. Please list the date in the title, and specify which airport. Goes without saying, everyone shares expenses for beer, gas, food, etc

To remove your ad if you find a ride or caravan, let us know here: www.bajawesternonion.com/submitad.asp -
---



Need a Ride to or From the Airport? Or Someone to Assist You With Errands? - I am a young, bilingual Christian man and I can provide you with rides to or from the La Paz or San Jose Del Cabo airports. I can also help you with courier services, errands, or navigating the intricacies of dealing with Mexican businesses and the government; Car Registrations, TelCel and TelMex, CFE, Seguro Social, etc.

Reasonable Rates - Contact: Ernesto, Cel. 612-117-7497, ernie_net [- at -] hotmail.com


Caravan Wanted In March - We are still looking to Caravan To Todos Santos area next week, could leave Northern California after March 19, and meet anywhere on the way to the border. We have been delayed but still hopeful to find fellow travelers. Thanks - Debra Dawson, goodthym [- at -] mcn.org, (707) 964-0509

Ride To San Jose Ariport Needed March 25 - A boy needs to be at the airport by 10:30 AM, March 25. Money for gas. Email with phone number is more reliable. - Scotty Mclemore, scottybcs [- at -] hotmail.comc, 612-135-3500

Heading North End of March - Heading North end of March (the 28th). Room for 1-2 passengers, share driving. Contact Martha at 145-0298. - Martha Kincaid, martha2mendo [- at -] yahoo.com, 612-145-0296

Caravan North Mid April - Looking for others who would like to caravan north in mid April and cross at the Tecate border. I also have room for one passenger who is "traveling light" and needs a ride. You can write me at jeannerogers [- at -] ymail.com or call at: 612-171-3148 - Jeane Rogers, jeannerogers [- at -] ymail.com, 612-171-3148


---
Submit your Rides or Caravans Needed/Available articles here: http://www.bajawesternonion.com/submitad.asp



Return to Top
---
Pet Corner (Lost and Found pet articles will run for two weeks)
Let us know if you find or place your pet so we can remove your ad -
---

Found Cat - There is a tailess Siamese type cat with a worn leather collar that's been hanging around our house. If this is your cat, contact me to claim her. - Gail Mcallister, heronsnestbaja [- at -] earthlink.net

Gorgeous Puppy Looking For A Home - We found this puppy today, cutest little thing. He must have gotten lost or abandoned by someone that could not care for him anymore because he is pretty healthy, but looks scared. We are looking for a foster home or a forever home. Please look at his pictures, you may know where he belongs or may want to adopt him. - Ellie Ferri, elliefp [- at -] gmail.com, 612-108-8375, Todos Santos

Purebred Akita - We are moving to the States and need to find a good home here locally for our 5 yr. old Akita; as she has lived at Cerritos Beach since a pup. She is a purebred, all white, fixed, always groomed and a healthy, beautiful dog. Plays with other dogs and great with kids. The most loving Akita you will ever find. Not a watchdog! Paid $600.00 for her and would be open to offers. - Jordon Cameron, two40jordi [- at -] hotmail.com, 612-149-5066

Good Info On What To Do If You Lose Your Dog In Baja (or Anywhere) - This excellent article courtesy of Baja Insider: www.bajainsider.com/baja-life/pet-care/findinglostdogs.htm -
Impossible to Resist! - New arrivals at Kitty Heaven despite all of our efforts to spay and neuter (but without the help of the community, there would be even more!).

All colors, all very young and playful. For more information, call Angelique at 612-145-0250 or write her at BajaKitties [- at -] Yahoo.com

Kitty Heaven is the only all-cat refuge in Baja California Sur. Visit us on the web athttp://bajarescue.org/#KittyHeaven.

We survive via your kind donations. To send your support, please click the "Donate" button below:


---
Submit your Pet Corner articles here: http://www.bajawesternonion.com/submitad.asp (and remember to Spay and Neuter your pets)



Return to Top
---
Quote of the Day: " It takes a long time for a man to look like his portrait. " ~ James Whistler


---
Looking for the complete Community Events Calendar? Click Here!


---
Return to Top
---
---
Help Support The Baja Western Onion!

We can accept donations by Credit Card, PayPal, cash, check or direct deposit.

For more information, please visit our web site at http://www.BajaWesternOnion.com/donate.asp.
Copyright © 2006 - 2012. The Baja Western Onion. All Rights Reserved. Published Using 100% Recycled Electrons :)
Return to Top
---