On The Web Site:
---
Today's Weather Click for Extended Forecast

---
Community Access
Policia Preventiva
Todos Santos Police
612 145-1052
Commandante Navarro

Ministero Publico
State Police
612 145 0198
Commandante Erigoyen

Bomberos
Fire Department
Cel. 612-142-6387
Commandante Cadena


---








---
Baja Western Onion
Alan Thompson - Publisher
Debra Webster - Advertising
e-mail For General Feedback
---



Current Publishing Schedule - The Baja Western Onion has returned to our normal publishing schedule of two issues per week, to be mailed every Tuesday and Friday. To help ensure your announcement is included, please submit it no later than 5 PM the previous day. Based upon our normal publication schedule, that means announcements need to be submitted by 5 p.m. Monday for the Tuesday edition, and 5 p.m. Thursday for the Friday edition.


---
News and Events, Questions and Answers
---

"El Chapo" Eludes Mexican Police In Cabo San Lucas - By The Associated Press - Mexican federal police nearly nabbed drug-kingpin, Joaquin "El Chapo" Guzman in a coastal mansion located in the exclusive Punta Ballena development in Cabo San Lucas three weeks ago. Guzman's Sinaloa cartel controls trafficking in nearly half of Mexico. Much of the rest of the country is in the hands of the Zetas cartel. He has a $7 million bounty on his head in Mexico and the U.S., and teams of law enforcement agents from both countries are devoted to his capture.

The Los Cabos area is considered one of the safest locations in Mexico, and a favorite vacation spot despite the violence that plagues much of the rest of the country. But the peninsula also has been frequented by drug lords. Federal police arrested one of Mexico's most violent drug traffickers, Teodoro Garcia Simental, known as "El Teo," two years ago in the home he owned in La Paz. The U.S. Coast Guard in 2006 arrested Francisco Javier Arellano Felix, head of the Tijuana-based Arellano Felix gang, as he was sport fishing off the coast of Los Cabos.

Story and details here: worldnews.msnbc.msn.com/_news/2012/03/12/10655040-mexico-police-nearly-nab-drug-lord-el-chapo -


Baja Reggae 2012 Correction - Cerritos Beach Club and Surf and Cerritos Tequila will be hosting the annual Baja Reggae Concert with Ky Mani Marley and not Cerritos Surf Colony. The dates are Thursday, April 5, Friday, April 6, and Saturday, April 7 (and not Sunday the 8th.). - Juan Martinez, www.cerritosbcs.com, 624-143-4850

Ping Pong Tournament Results - The organizers of the tournament would like to take this opportunity to thank Baja Beans, all the volunteers, the players and the spectators who helped make the event a huge success. Over 14,000 pesos were raised. This money will be used to send lifeguards to the United States for training and certification.

The tournament had an A level draw, an A level consolation draw, a B level draw, a B level consolation draw, and a doubles draw. Unfortunately, not all of the players' last names were noted at the tournament, but you know who you are. The A level was won by Lee, who beat Pescadero's own Robert Quirk in a hard fought, down to the wire, exciting final, 3 games to 2. The B level was won by Don, who beat George in the final. The doubles was won by the team of Todos Santos' own Marco Torres and Peter Lepine, who defeated the A level winner, Lee and his partner Michael Omaha, 3 games to 2. The A Consolation was won by Sam, who defeated Jimmy in the final, and finally, the B consolation was won by Dennis Naigle, who beat Ben of Ben and the Men fame. - Oscar Rosales, oscar5682 [- at -] gmail.com

CFE Billing Info Now Online - Courtesy Baja Pony Express - Electric Service information is now available on line at www.cfe.gob.mx. Information includes: recent bill, and Account Balance which has been hard to obtain. Go to the www site and register with a user name and password (you will also need your service number and name from your elec. bill (enter the service number without spaces). Your Saldo (balance) can be found by clicking the green arrow under Pagar (Pay), to the right of Ver Historial (View History). -


Telmex Internet - Curious if those of you who have a hard wired Telmex DSL line experience significant periods of very low internet connection speeds. My wireless receiver is connected to an antenna broadcasting Telmex internet and I am often receiving an unusable signal. - Darryl, darrylb9 [- at -] gmail.com, Todos Santos

------------------------
There is an interesting article on BajaInsider about the speeds of local Internet services: www.bajainsider.com/baja-life/general-information/bajainternetservice.htm - Editor
------------------------

Come Pick You Own Veggies. - This Thursday, March 15, from 9 to 11 a.m. only, please bring your bags and good spirits. I have grown too much mixed leaf lettuces and white stem chard. I will help you harvest. All are grown in the organic method from heirloom seeds. Camino del Pacifico, north side of road, 3rd or 4th home, green wall. Please park across the street in parking area. - Sylvia St.clair, Todos Santos


Local Travel Deal - - Get a three-night stay for two in a "loft room" at the The Bel Air Resort & Spa In San Jose Del Cabo for $269, normally $773, for a 65% savings. Combine up to six nights. Here is a link to the offer at Groupon: www.anrdoezrs.net/click-5636555-10872943?url=http%3A//www.groupon.com/deals/ga-m-bel-air-collection-resort. You must book the deal by 5/31 or the promotional value expires, and travel must be completed by 5/31.

Here is a link to the Bel Air's web site: www.belaircabos.com/ing/index_i.asp -


Local Hiking Ideas? - We have friends coming to visit next week who are experienced hikers and would like to do some walking in the hills locally. If anyone has any suggestions on where they might go for an interesting hike in the hills, I would appreciate your ideas. Thank you. - Melanie Salyer, salyer.melanie [- at -] gmail.com, Rancho Nuevo

A Young Mexican Girl - who is a baker is looking for a used, but in good condition, Kitchen Aid or a mixer strong enough for bread dough. - Scotty Mclemore, scottybcs [- at -] hotmail.com

RE: Shuttle To Airport - You can book on line. Google shuttle to la paz and the destinations are all there, including to and from Todos Santos/SJD. You even get seat selection. There are only 6 seats, so it might be prudent to book early. - Nicola

Trampoline Wanted - Medium size, good condition. Also anything else that could be used for canine agility training, i.e. old saw horses, tunnels, anything you could think of to crawl through or jump over. Thanks, Janel - Janel Beeman, janelb3 [- at -] yahoo.com

Baja Shakespeare March 23-25 - We have reservations at a nice hotel in Buena Vista area for Friday and Saturday night. If you are interested in staying with us and going to the Baja Shakespeare play on Saturday, March 24th, please email me for details. Limited availability. cmyviews [- at -] yahoo.com

I Am Looking For A Heavy Metal Doctor In Baja, No Joke. - Or clinic that can test and perhaps perform a chelation treatment for heavy metal poisoning. thanks - , richygreengo [- at -] hotmail.com

Off-road Vehicles - looking for store where I can get off-road/4W vehicle parts. Also looking for motorcycle people to go on rides with and watch motorcross together. new to area. - Bruce Bodenhofer, brucekb1955 [- at -] msn.com, 612-103-7021, Todos Santos

Shoes.... - Does any good neighbor know where I could find Birkenstock sandals in La Paz or Los Cabos? gracias.... - Joy Obrien, allie_todossantos [- at -] yahoo.com

Blue Medical Net Hospital In La Paz - Courtesy Baja Pony Express - Having recently had the distinction of being an inpatient in Blue Medical Net Hospital, I wanted to pass on information about this new medical facility located along the 4 lane (across from Home Depot).

I have had several incidents over the past year where I had to be treated at their facility. I cannot say enough good things about the medical staff, their professionalism, and concern for each of their patients. Can you imagine in this day and age that a hospital will care more for their patients than the US Dollar or PESO ! And when did a surgeon care enough about his patient's stress level prior to surgery and had a masseuse come in to give a relaxing massage to help alleviate that stress ... well, it happened and it's not out of the ordinary for them to take special care of their patients.

Recently the Blue Medical staff has been placing Announcements in the Gringo Gazette and in the local Daily News giving information on the specialists that are associated with Blue Medical Net. Take the time to check them out - the medical staff have been trained in the top medical schools in the U.S. and in Mexico and other countries - and they speak English. They will gladly take you on a tour of their facility; ie: E.R., Pharmacy, treatment rooms, X-ray, operating room, comfortable and roomy patient rooms, etc. Call and ask about the medical specialists that are available. Phone 624-104-3911 and talk with an English speaking receptionist. -
---
Today's Exchange Rate - Mexican Pesos to 1 USD - Courtesy X-rates.com
---
Submit your News and Events, Questions and Answers articles here: http://www.bajawesternonion.com/submitad.asp


Return to Top
---
---
Featured Events This Week
Please Note: The "Featured Events This Week" section is limited to non-recurring community events (Sorry, no "Happy Hours," "Daily Specials," "Weekly Classes," or other recurring business activities or workshops.)
---
Tuesday, March 13
Art Reception For Tori Sepulveda - 5:00 - 7:00 p.m., Caffe Todos Santos, Todos Santos. Share an evening of fine art with new paintings by Tori Sepulveda, hosted by, and with special thanks to Angelo and Magda - Contact: Tori Sepulveda oscarntori [- at -] yahoo.com, 612-1366738
Saturday, March 17
El Tango Desde Sus Raices / From The Roots of The Tango - 9:30 a.m. until 12:30 p.m., Estancia Uruguaya Parrilla Bar, Revolucion #784 esq Salvatierra, Col. Esterito, La Paz. Argentinian and Uraguayan artists singing and dancing the Tango. Also Folklorico Dance Show. Reservations required. 612-122-5412. Artistas uruguayos y argentinos cantando y bailando tango, ademas show de danzas folkloricas: malambo y boleadoras. Previa reservacion. Tel 1225412 - estancia.uruguaya [- at -] hotmail.com, www.facebook.com/estanciauruguaya.parrillabar - .

Gardening With Natural Alternatives Seminar: Open Forum - With Cathy Fuller, The Gardening Guru. 12:00 noon, property of Bill & Susie Bradford, KM67. east side of Highway 19, through large green gate. Cerritos. Seminar/Workshops free of charge but donations welcome. Bring pen, paper, bottle of water, chair and gardening questions. E-mail for rsvn: gardeningguruinc [- at -] gmail.com. Facebook: www.facebook.com/#!brages/The-Gardening-Guru/351102126685. - Cathy Fuller, www.gardeningguru.webs.com, Pescadero

Barry Cloyd Part of Celtic Celebration at "Franks" - Touring Singer/Songwriter Barry Cloyd is scheduled to appear at "Shut Up Frank's" in Todos Santos for a night of St. Patrick's Day music and Celtic craziness. Barry starts at 5 p.m. Saturday, March 17. Traditional corned beef and cabbage dinner and green beer served starting at 3 p.m. barryc1025 [- at -] aol.com, www.barrycloyd.com, 309.635.7774 USA

Wind And C [- at -] Suki's Saint Paddy's Day Feast - La Santeña at Hotel Casa Tota. Chef Carolen and Chef Tony Peralta create a Saint Patrick's Day Menu to knock your green socks off. 300 pesos per person. Reservations suggested. windandc [- at -] pacific.net, www.HotelCasaTota.com, Todos Santos

Cuban Night At Guaycura - Join us after sunset. With Noralys Cantero on The Sky deck. reservation [- at -] Guaycura.com, www.Guaycura.com, 612 175 0800, Todos Santos

Live Music and Dia de San Patricio (Saint Patrick´s Day) at Hotel California - Featuring Riddim Forz. Tequila, Beers, and Dancing. Music begins at 8pm. No Cover. - info [- at -] hotelcaliforniabaja.com, www.hotelcaliforniabaja.com, 612-145-0525, Todos Santos

Sunday, March 18
Open Reading - 4 PM, Galeria de Todos Santos. Beer and wine available. Visitors welcome to join or just listen. Original works only, around 5 minutes. - Susan Doyle, timsudoyle [- at -] hotmail.com, 145-0821

El Triunfo "100 Years Ago" Art Festival - 11am, El Centro, El Triunfo. 100 year anniversary of the El Triunfo Casa Municipal Clock. Folkloric dancing, ballroom dancing, local food tastings, 3PM classical guitar and piano concert at the Museum, historical photos, art exhibition and sale. Free transportation provided from Soriana in La Paz at 10:00 am. - Selene Nikizuki, sogden17 [- at -] gmail.com , 612 124 0700, descubrebajasur.com/?p=1379, Baja California Sur

1st Annual Pueblo Chico - Infierno Grande Party - 7PM, Hotel Casa Tota And La Santeña, K-L Reggae from La Paz and La Santeña's house band, Escupe Lupe. Food and drink specials. - Christine, HotelCasaTota [- at -] gmail.com, www.HotelCasaTota.com, 612 145 0590, Todos Santos

Tuesday, March 20
Todos Santos Book Group - 10:30 AM, Las Casitas, Todos Santos. This Week: A Visit from the Goon Squad by Jennifer Egan. Contact: heavenlybliss57 [- at -] hotmail.com
---

---
Community Events and Workshops Notification Page - Submit event notices for The Community Calendar or Workshops and Meetings pages.

Anyone planning an event should check the Online Community Calendar before choosing a date to see if something else is already planned and avoid conflicts. Check the Online Community Calendar here: www.bajawesternonion.com -
Return to Top
---

---
Stepping Out - Food, Music, Workshops and Entertainment
---

Free Organic Gardening Seminar Offered Saturday, March 17, at 10 a.m. until approximately 1 p.m. "Gardening With Natural Alternatives" will focus on Natural/Organic Products for the Garden. The seminar, the last of three, is free and will be lead by The Gardening Guru (Cathy Fuller). The seminar will be an open discussion/forum covering all your questions, ideas, helpful tips, relative to alternate methods of gardening, pesticide use and addressing your pesky pest issues.

There will be free samples of epsom salts and fly ribbons! Bring your pen, paper, bottle of water, chair and all your gardening questions! Donations accepted (suggested: $50 pesos). Directions to green entrance gate: Northbound from Elias Calles, turn right off at "HOTEL" sign (KM67) and take dirt road south to entrance under hwy bridge. Southbound from Todos Santos/El Pescadero, go over highway bridge at KM67 and U-Turn, follow northbound directions above. Look for balloons tied to hwy barrier over bridge and green sign. Lots of parking available! After the seminar stay for 1:1 questions/product information. - Cathy Fuller, gardeningguruinc [- at -] gmail.com, https://www.facebook.com/events/322926177756474/, 612-107-8588 (text), Pescadero
Hotel California - Saturday March 17th Live Music featuring Riddim Forz.
Enjoy one of our Signature Margaritas made with our Awarding Winning Hotel California Tequila, Beers, and Dancing! Music begins at 8pm. No Cover.

Bistro Santo Vino & Wine Bar
Hours 5 PM to 11 PM Daily. Reservations Recommended

March 17 - Dia de San Patricio - Saint Patrick´s Day at Santo Vino.

Raw oysters on the half shell, Irish whiskey vinaigrette.
Lamb and Guinness stew, mashed potatoes.
Brisket, baby potatoes and cabbage.
Irish cream and chocolate creme brulee.
Green artisanal beers.

Click Here Visit our Online Store. Keep up with the latest Hotel California info by joining our facebook fan page. Follow us on facebook - , info [- at -] hotelcaliforniabaja.com, www.hotelcaliforniabaja.com, 612-145-0525, Todos Santos



Art Reception For Tori Sepulveda - Please join us for what may be the final art reception of the season celebrating the art of Tori Sepulveda on Tuesday, March 13, 5:00 - 7:00 at Caffe Todos Santos. Music will be provided by Alberto and Roberto and fine treats by Angelo and Magda - Tori Sepulveda, oscarntori [- at -] yahoo.com, 612-136-6738, Todos Santos



Hotel Casa Tota And La Santeña In Downtown Todos Santos Present: - So many things to talk about!

Sunday, March 18th We'll be dancing in the street. (Ojala!) For our first Annual Pueblo Chico, Infierno Grande Party. K-L Reggae from La Paz will be headlining and La Santeña's kitchen staff's own house band Escupe Lupe will do their best to prove you do like Norteño music! We'll kick it off at 7PM. Food and drink specials.

NEW- Sunset yoga on the roof. Every Monday, Wednesday and Friday at 5:30PM . Friday classes will be accompanied by live percussion with the super talented Pepe Sosa of Escupe Lupe. We believe that balance can mean yoga followed by a margarita, and we invite you to find balance here at Casa Tota. Please bring a mat and wear layers, as we will be outside. 60 pesos.

Hotel Casa Tota and La Santeña- where you can get up, get down, stretch, eat, drink, dance, sleep, swim, soak, and more.

The Super Bass Challenge remains unclaimed. - Christine, HotelCasaTota [- at -] gmail.com, www.HotelCasaTota.com, 612 145 0590, Todos Santos

Wind And C [- at -] Suki's Saint Paddy's Day Feast Saturday, March 17th, 2012 - At Wind and C's [- at -] Suki's in Todos Santos green is more than a holiday color. The Valentine's Day Dinner at La Santeña proved that two chefs are better than one! (OK, not always, but these two might be special) The collaborative creative spark continues with Chef Carolen, the "C" in Wind and C [- at -] Suki's and Chef Tony Peralta of La Santeña teaming up again, creating a Saint Patrick's Day Menu to knock your green socks off. As always, Carolen and Wind and crew will be using super fresh produce from the restaurant garden, and all ingredients are sourced locally, ethically, and sustainably as possible. 300 pesos per person includes the following four course menu:
Appetizer: House cured salmon with dill cream
Soup: Garden fresh broccoli soup garnished with blue cheese crisps
Main: Corned Beef and colcannon (mashed potatoes and cabbage), served with onion gravy. Veggie option available.
Dessert: Stout Irish gingerbread with whipped cream and Baileys jello
And of course, we wouldn't forget the drinks on this festive holiday- our menu includes a pint of fresh Baja Brewing Company Beer or a glass of wine.
So if missed your chance to experience these two at Valentines Day, or if you were lucky enough to be there the first time and want more of the love... Reservations suggested as limited seating is available. Also, Chef Carolen is Irish from Nor Cal, and Chef Tony is a Choyero from La Paz, but we are resisting any and all combinations of clever Mexi-Mick cuteness. La Santeña at Hotel Casa Tota will be open and serving the usual fresh Mex-cellent food. windandc [- at -] pacific.net, www.HotelCasaTota.com, Todos Santos



Barry Cloyd Part of Celtic Celebration at "Franks" - Touring Singer/Songwriter Barry Cloyd is scheduled to appear at "Shut Up Frank's" in Todos Santos for a night of St. Patrick's Day music and Celtic craziness. Barry starts at 5 p.m. Saturday, March 17. So, bring your Irish attitude and come on out and raise a glass in celebration. Erin Go Bragh...Slainte...See ya there! - Barry Cloyd, barryc1025 [- at -] aol.com, www.barrycloyd.com, 309.635.7774 USA

Baja Beans Roasting Co. - Specialty coffee and baked goods in a space with soul and style. Open 7 a.m. to 3 p.m. Closed Mondays. Events:
Sunday Brunch, Music and Market - 10 a.m. to 2 p.m.
Salsa Dance Classes - Every Thursday 4 p.m. to 5:30 p.m.
- Sandra Wohlers, info [- at -] bajabeans.com, www.bajabeans.com, 612-143-7138, Pescadero


Notice Regarding Open Reading - The next Open Reading is March 18 at the Galeria de Todos Santos at 4 p.m. Beer and wine available. Last month's readings were amazing, one of the best yet! Don't miss it this month. Visitors to Todos Santos are welcome to join us to read or just listen. Around 5 minutes, original works only, please. Big thanks to Michael and Pat Cope for the use of their space for this event, it makes for a lovely afternoon. - Susan Doyle, timsudoyle [- at -] hotmail.com, 145-0821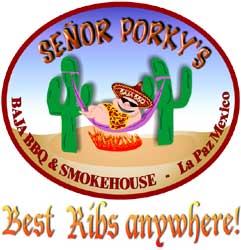 Señor Porky's Baja BBQ and Smoke House! The Best Ribs Anywhere!



New Restaurant in La Paz - Featuring Kansas City slow-smoked meats not found anywhere in Mexico. Now open 7 days a week from 7:30 AM with full breakfast menu and Cappuccino, to 10 p.m., and weekends until midnight. Watch the sunset from our spectacular ocean view! Located on the Malecon in La Paz at Alvaro Obregon #670, on the corner of Allende and Rosales (next to the Arco Hotel).


• New Menu • Daily Specials • Lower Prices • Many New Items Under 75 Pesos •

To ensure the best quality for Porky's Smokehouse Meats, we start with the best meats available. Then we dry-rub the meats with a combination of 20 spices, then slow-smoke for up to 18 hours at low temperature to obtain maximum flavor and tenderness while sealing in the natural juices and smoke flavor that is unmatched anywhere! We know you'll agree that Señor Porky's Baja BBQ and Smoke House are the best you have ever tasted.
"Special Of The Day" Every Day:

Monday - Margarita Monday - 2 For 1
Tuesday - 3 Tacos - 40 Pesos
Wednesday - Wing Day - 8 Pesos Each
Thursday - Burger And Beer - 75 Peso
Friday - 1 Free Beer - With Entrée
Saturday - 1 Free Desert - With Entrée
Sunday - Any Burrito - 55 Pesos
Plus fantastic side orders include Pasta Salad, BBQ beans, Coleslaw, Sweet Potato fries, New Mexico Green Chile with Pork, Caesar Salad and Homemade Deserts. Dine in, or carry out from our "Pig Out" Meats to Go Menu. Download our entire Menu here: files.me.com/richards771/1wclv6. For more information, call 612-129-3667. - Richard Stubbs, richards77 [- at -] pcisys.net, La Paz
Argentina Wine And Olive Oil For Sale - Vinos Del Tengo Melbec [- at -] $160 a bottle, Case of 6 [- at -] $900; Vinas And Parrales Melbec, Syrah, Chardonnary, Cabernet Souvignon [- at -] $100 a bottle, Case of 12 [- at -] $1020; Asus Olive Oil frist press and extra virgin [- at -] $70 a bottle, case of 12 [- at -] $780. Please contact Sonia via email: francosonia16 [- at -] yahoo.com. Phone: 612-143-2571 - Sonia Franco, francosonia16 [- at -] yahoo.com, 612-143-2571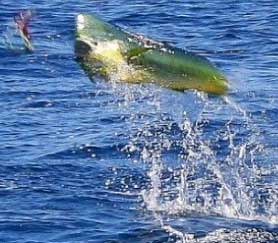 Todos Santos Fishing Charters - Why deal with a middleman? Come direct to the owner/operator
Fully Registered Sportsfishing Company


Bilingual Crew


Top Quality Tackle and Gear
Whether game fishing or whale watching, contact us for your ocean adventures. Visit our website for full details: www.fishingtodossantos.com or www.todossantosfishingcharters.com.

Package deals available when booking fishing and our casita for your complete holiday - www.bajasurtodossantos.com, or call Lee at 612-119-7880 or Brenda at 624-114-1351


Natural Horsemanship Clinic - Vet and trainer Liz Bracken will offer a Natural Horsemanship Clinic Wedesday, March 21, from 9:30 AM to 4:00 PM. All horses and riders are welcomed regardless of training. Clinic will be held at Rancho El Camino in La Paz off the Libramiento to Pichelingue. Cost for horse and rider 700 pesos, audits 100 pesos. Lunch and drinks included. Please join us even if you don't have a horse. For more information on what to expect or where the ranch is contact us at 612-149-1832 or 612-149-0588. There are only 5 horse and rider tickets left. Please reserve your ticket ahead. - Susu Sanders, sususanders [- at -] hotmail.com, ranchoelcamino.org, 612-149-1832, La Paz



El Tecolote Serves Up Espresso and More! - Let thy food be thy medicine and let thy medicine be thy food.- Hippocrates
Come enjoy a healthy fresh squeezed juice at the juice/espresso bar in the El Tecolote Bookstore
Just the thing to keep your immune system strong and your body energized during these chilly days
Open At 8 A.M.
- Kate Lewis, katemlewis [- at -] yahoo.com, El Tecolote, Todos Santos.
---
Submit your Stepping Out - Food, Music and Entertainment announcements here: http://www.bajawesternonion.com/submitad.asp



Return to Top
---
Misc. Sales and Services Available
---
Casa Decor in La Paz and Cabo - Indoor And Outdoor Furniture, Patio furniture * Wicker & Rattan* Marble * Rustic hand painted furniture * Copper furniture * Lighting * Kitchen Cabinets * Doors * Floor & Wall covering * Art * Accessories * Metal Furniture* Fountains and Urns * Mexican furniture * Imports from around the world

Very Unique selection of furniture and accessories. Interior Design service! Custom made furniture!
Cabo: km 3.5 on four lane next to Artisanos tel:614-1768146 - vonage: 888-557 6533 Mary Aguirre. E-mail: mary.aguirre [- at -] casadecorcabo.com / Mex Cell 624-176 8146
Loreto: Village at Loreto Bay, #310 Nopolo tel: 613-134-0200
La Paz: 12,000 sq. Warehouse 560 Marques De Leon 612-129 3364, USA Tel: 303-777-575 / E-mail: richards77 [- at -] pcisys.net, www.antiquerowmarket.com
!2 Containers Just Arrived: Outdoor, Wicker, Rattan And And Cast Aluminum Furniture. Big Savings. Very Large Selection! - Richard Stubbs, richards77 [- at -] pcisys.net, 303 777-5157


Torres Architecture- - Now open in Todos Santos on Topete Between Centenario and Juárez , we offer complete construction projects, residential, commercial, renovations, as well as property management. During the design process we adapt to your specific needs, using 21 century architectural tools and over 15 years of construction experience in the area. Services include (100% bilingual):
Architectural design: full set of plans, and 3d renderings
Engineering plans: calculations and DRO signatures
Construction licenses
Full remote construction: reports, for long distance clients
Renovations: Ceramic work, pulidos, carpentry, roofing, wall finishes
Additions: with integrated design to original construction
Property management: full care of residency for when you are gone, adaptable with rentals by owners
Contact builder Marco Torres (612) 137-8261, lepim [- at -] yahoo.com, or Arq. Daniel Torres (612) 167-1944, torreslepine [- at -] yahoo.com. Office 145-0669 (office with stone façade on calle Topete). - Todos Santos



Artistic Doors In Cedar And Iron - Very Limited Sets Available For Limited Time Only - Artistic Doors in cedar and Iron and in Pine and Iron. Unique, hand-made Artisanal doors, single and double door sets. One-of-a- kind opportunity to add these doors to your home. Very Limited sets available in Todos Santos during February and March only. Specifications include the following:
8 FT. Tall
6 FT. Wide
3" Width
Quite heavy and very solid
Brand new
Ready to finish to match your home colors
Accepting reservations now, possibly some trade accepted: info [- at -] villasaguablanca.com. For more details and photos, visit:www.villasaguablanca.com/Miscellaneous.html. Get one or get all! Amazing opportunity for builders, architects and contractors, special price for the whole lot (40 doors). - Lauren Klein, Todos Santos
Mountain Bike - Specialized Stumpjumper, front suspension, XTR rear derailer, LX front. $450.00. stevej [- at -] ida.net, 612-171-3307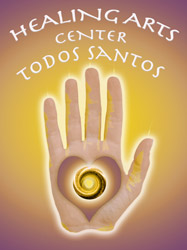 The Healing Arts Center of Todos Santos - is a community of health professionals, working together in the TS/Pescadero area offering services to support clients on the journey towards balance & well-being, expanding awareness of the local & foreign communities of alternative therapy options, including ancient healing art forms as well as more modern evolutions in the realm of natural healing, and empowering patients, students & clients by teaching ways to prevent illness and methods of self care to address imbalances.
• Acupuncture & Chinese Medicine - Jane Sipe, L. Ac. jasi57 [- at -] juno.com & Barbara Elsner, L. Ac. (beginning February, 2012) 1sheurchin [- at -] gmail.com 612-151-7026
• T'ai Chi & Qi Gong Classes - Rhoda Jacobs barakabaja [- at -] gmail.com 612-157-6088
• Reiki - Allison Eaton info [- at -] allisoneaton.com, www.allisoneaton.com, 612-152-3896
• Massage - Kurtis Parsons (beginning February, 2012) puravidahealthfood [- at -] gmail.com 612-169-2095
• Acutonics (Sound Healing) (Sound Healing) - Lynn Wedekind tuneintoit [- at -] gmail.com 612-151-3051
• Kinan Classes (Mayan-Toltec Form) - Daniel Camargo daniel [- at -] ancestralmessenger.com, www.ancestralmessenger.com, 612-139-6987
• Body Centered Psychotherapy - Shawna Owen, RPC (EMDR, IBP) harmonywithall [- at -] mac.com, 612-151-7728
• Anxiety, Mood, Couples Counseling - Jolyn Wells-Moran, PhD, MSW, LMHC (beginning November, 2012) jwmcounseling [- at -] yahoo.com, www.anxiety-specialist.com
Practitioners interested in joining this dynamic group contact Jane jasi57 [- at -] juno.com - Todos Santos Healing Arts Center, Jane Sipe, 612 151 7026, Todos Santos

Accounting Services In Todos Sants - We can assist you with your corporate and individual needs. We offer accounting and administrative services including:
Registration of corporations with SECOFI and INM
Registration and reporting of construction and construction workers with IMSS
Recording and reporting foreign investments with the Secretaria de Economia
Counseling and immigration assistance for FM2 and FM3
Property management including payment of utilities, water, CFE, fideicamiso
Assistance with water rights
Offices in central Todos Santos
Many local references
FRIMAR GROUP
E.C.M. Raquel Martinez Peralta - Raquel Martinez Peralta frimargroup [- at -] hotmail.com, 612-14-86907
Instituto De Inglés "América" - Learn how to understand, write, read and speak Basic Spanish. First lesson: no commitment. Fair fares. Welcome at our facilities in Barrio de San Juan El Pescadero. Gracias. Estimado paisano: Aprenda el Inglés Básico Americano desde 2hs/semana, durante 1.5 años como máximo. Horarios diversos. Precios accesibles. Bienvenidos, El Pescadero - Pablo Ramirez, inst.america.elpescadero [- at -] hotmail.com, 130-3270 and cell. ph. 612-151-2385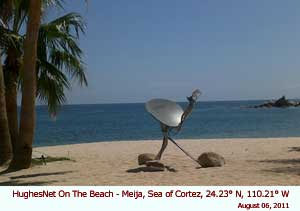 HughesNet Satellite Internet Systems - Limited-time Offer - Now Get $329 in HughesNet Mail-in Rebates:
Always-On Satellite Internet Connection
Available Anywhere in Baja
PC, Mac, Wireless Compatible
Multiple Computers Can Share the Same Internet Connection Full-Time
Vacation Holds Available
Professional Installation Available
Available HughesNet Service Plans:
Plan - Max. Speed
Down/Up 1
Daily Data Transfer
Allowance 2
Monthly Service Fee 3
Home - 700 Kbps/128 Kbps
250 MB
$39.99/mo. 1st three months - then $49.99
Pro - 1.0 Mbps/200 Kbps
350 MB
$59.99/mo. 1st three months - then $69.99
Pro Plus - 1.5 Mbps/200 Kbps
450 MB
$69.99/mo. 1st three months - then $79.99
Complete 0.74 Meter HughesNet Satellite Internet System
$499.99 - Complete System Plus Account Setup
$140.00 - US / Mexican Shipping and Importation to Todos Santos
$639.99 - Sub Total

($299.99) - Less HughesNet Mail-in Rebates
$349.00 - Your Net Equipment Cost After Mail-in Rebates4
1 Absolute maximum speeds as stated by Hughesnet. Actual speeds will be less.
2 Daily Data Transfer Allowance now includes a rollover of unused data to the following day, up to a maximum of 2 times the plan's normal daily aloowance.
3 Monthly service fees shown are for first three months of service after $30.00 HughesNet mail-in rebate.
4 Equipment price does not include installation labor or materials. Installation available.

Baja Satellite is an Authorized HughesNet® Reseller. For more information Contact Us today: BajaSatellite [- at -] Hughes.Net, www.bajasatellite.com, (530) 903-4257 (US), (01) 555 351 0882 (Mexico), Baja California Sur
---
Submit your Misc. Sales and Services Available/Wanted articles here: http://www.bajawesternonion.com/submitad.asp



Return to Top
---
---
Real Estate, Rentals, and House Sitting - Available/Wanted
---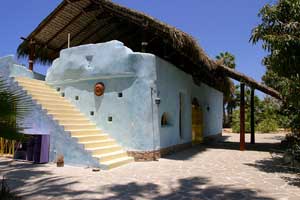 Todos Santos Beach House on a Tranquille Lush 5, 206.22 Sqmt Property - For Sale by Owner: - Two (2) separate driveway entries give the 5,206.22 sq meter (1.25 acre) property privacy from both the front and back, giving flexibility to build additional homes or to split in the future. Soil on the property is rich organic black soil, ideal for other organic gardening.

Property is an enclosed oasis and has unlimited access to farm water that nourishes the over 85 mature mango trees, 80 lush palm trees over 5 feet, passion fruit trees, citrus fruit trees and avocado trees, all of which give the property its cool shade that is coveted in the region and frequently not available on other properties of comparable or more value in the desert landscape.
* Property has power, water (both municipal and farm water), gas and Internet.
* A 6-minute walk takes you to the secluded beach, and a 5-minute drive finds you in the heart of TS.
* Motivated Seller with Reduced Listing
If you have questions or would like to make an offer after viewing the property on YouTube (www.youtube.com/watch?v=krg9FEeiRtk), feel free to contact us. Save on the fee and make us a good offer. - Anh Walch, anhwalch [- at -] yahoo.com, 212-692-0912, Todos Santos


Looking For a Housesitter? - If you need some one to take care of your place during summer time or even longer in Todos Santos or Pescadero, contact me. I have references from other house sitting. - Dulce , amayaum [- at -] gmail.com, www.unicirka.wordpress.com, 6121565652


Big House For Rent In Agua Blanca - Are you a writer, filmmaker or artist in search of a private residence that can nurture, inspire and foster your creative spirit? Consider this secure, traditional Mexican 3,500+ SF residence available in March for either a family or group of artists at: www.villasaguablanca.com.

This property has exposed columns, roof top terrace with Pacific Ocean views 12 kilometers north of Todos Santos. This serene location will power your spirit during the day through harnessing the energy from the ocean waves crashing and the crooning from the desert wildlife at night. This location allows you to not only admire the view of whales breaching in the Pacific Ocean, but affords long secluded desert beach walks which make this part of Baja California so charming. This 3 bedroom, 4 bath villa is only 500 yards away from the Pacific Ocean and is powered by a generator.

We are looking for a long-term rental, at only $550.00 per month, negotiable, we'll adjust to your budget. For more information, please visit: http://villasaguablanca.com/Rentals.html; or call in Todos Santos: 612-149-8903 - Lauren Klein, lauren.klein [- at -] sbcglobal.net, villasaguablanca.com/Rentals.html, 612-149-8903, Todos Santos

---
Submit your Real Estate/Rentals/House Sitting/Property Management Services articles here: http://www.bajawesternonion.com/submitad.asp



Return to Top
---
Rides or Caravans Available/Wanted
Note: Ads will run for two weeks unless dated. Please list the date in the title, and specify which airport. Goes without saying, everyone shares expenses for beer, gas, food, etc

To remove your ad if you find a ride or caravan, let us know here: www.bajawesternonion.com/submitad.asp -
---



Need a Ride to or From the Airport? Or Someone to Assist You With Errands? - I am a young, bilingual Christian man and I can provide you with rides to or from the La Paz or San Jose Del Cabo airports. I can also help you with courier services, errands, or navigating the intricacies of dealing with Mexican businesses and the government; Car Registrations, TelCel and TelMex, CFE, Seguro Social, etc.

Reasonable Rates - Contact: Ernesto, Cel. 612-117-7497, ernie_net [- at -] hotmail.com


Caravan Wanted In March - Couple looking for someone to caravan in mid March from Northern California to Todos Santos. Could meet anywhere before the border. - Debra Dawson, goodthym [- at -] mcn.org, (707) 964-0509

Caravan North To The Desert - Looking for some folks who would like to caravan north, possibly stopping in Comondu for wine tasting, San Pedro Matir for some wildflowers and high mountain picnicking, maybe hot springs at Uruapan, then the border thru Tecate, the safe crossing. room for riderS who want to share gas. You can write me at gypszcaravan [- at -] gmail.com - Tall Man, gypszcaravan [- at -] gmail.com, Todos Santos

Ride To San Jose Ariport Needed March 25 - A boy needs to be at the airport by 10:30 AM, March 25. Money for gas. Email with phone number is more reliable. - Scotty Mclemore, scottybcs [- at -] hotmail.comc, 612-135-3500

Heading North End of March - Heading North end of March (the 28th). Room for 1-2 passengers, share driving. Contact Martha at 145-0298. - Martha Kincaid, martha2mendo [- at -] yahoo.com, 612-145-0296

Caravan North Mid April - Looking for others who would like to caravan north in mid April and cross at the Tecate border. I also have room for one passenger who is "traveling light" and needs a ride. You can write me at jeannerogers [- at -] ymail.com or call at: 612-171-3148 - Jeane Rogers, jeannerogers [- at -] ymail.com, 612-171-3148


---
Submit your Rides or Caravans Needed/Available articles here: http://www.bajawesternonion.com/submitad.asp



Return to Top
---
Pet Corner (Lost and Found pet articles will run for two weeks)
Let us know if you find or place your pet so we can remove your ad -
---

Found Cat - There is a tailess Siamese type cat with a worn leather collar that's been hanging around our house. If this is your cat, contact me to claim her. - Gail Mcallister, heronsnestbaja [- at -] earthlink.net

Gorgeous Puppy Looking For A Home - We found this puppy today, cutest little thing. He must have gotten lost or abandoned by someone that could not care for him anymore because he is pretty healthy, but looks scared. We are looking for a foster home or a forever home. Please look at his pictures, you may know where he belongs or may want to adopt him. - Ellie Ferri, elliefp [- at -] gmail.com, 612-108-8375, Todos Santos

Purebred Akita - We are moving to the States and need to find a good home here locally for our 5 yr. old Akita; as she has lived at Cerritos Beach since a pup. She is a purebred, all white, fixed, always groomed and a healthy, beautiful dog. Plays with other dogs and great with kids. The most loving Akita you will ever find. Not a watchdog! Paid $600.00 for her and would be open to offers. - Jordon Cameron, two40jordi [- at -] hotmail.com, 612-149-5066

Female, All White With Wolf Mask Wolf Hybrid - Very sweet, very good with cats, children and other animals, loves women and needs a good home. Beautiful, well behaved, very well trained but current home is no longer possible. Please help by adopting this wonderful artic wolf hybrid. Please email: eigeinbaja [- at -] yahoo.com or call 178-0077 or cell phone 612-137-1926. - Arlene De Vries Eige, eigeinbaja [- at -] yahoo.com, United States

Found Sweet Puppy - Really friendly puppy showed up at our house in Pescadero near the beach. We have bathed him and have been feeding him. We leave on Saturday, March 3, so he needs a good home. Please call John or Mike at 612-171-5208 or write mikejustus [- at -] Mac.com. He is healthy. - John Elleston, Mikejustus [- at -] Mac.com, 612-171-5208

Found: Sweet and Sad Male Bassethound - Walking at La Poza Beach, Feb. 19, at 8:30 A.M., we found a very, very thirsty, hungry and sweet Basset hound, white and beige spoted. He walked along with us to our home and is waiting for his owner to pick him up. - Isabel Jirash, isabelgourmet [- at -] yahoo.com.mx, 01-612-145-0832, Todos Santos


Impossible to Resist! - New arrivals at Kitty Heaven despite all of our efforts to spay and neuter (but without the help of the community, there would be even more!).

All colors, all very young and playful. For more information, call Angelique at 612-145-0250 or write her at BajaKitties [- at -] Yahoo.com

Kitty Heaven is the only all-cat refuge in Baja California Sur. Visit us on the web athttp://bajarescue.org/#KittyHeaven.

We survive via your kind donations. To send your support, please click the "Donate" button below:


---
Submit your Pet Corner articles here: http://www.bajawesternonion.com/submitad.asp (and remember to Spay and Neuter your pets)



Return to Top
---
Quote of the Day: " My theory is that all of Scottish cuisine is based on a dare. " ~ Mike Myers


---
Looking for the complete Community Events Calendar? Click Here!


---
Return to Top
---
---
Help Support The Baja Western Onion!

We can accept donations by Credit Card, PayPal, cash, check or direct deposit.

For more information, please visit our web site at http://www.BajaWesternOnion.com/donate.asp.
Copyright © 2006 - 2012. The Baja Western Onion. All Rights Reserved. Published Using 100% Recycled Electrons :)
Return to Top
---