On The Web Site:
---
Today's Weather Click for Extended Forecast

---
Community Access
Policia Preventiva
Todos Santos Police
612 145-1052
Commandante Navarro

Ministero Publico
State Police
612 145 0198
Commandante Erigoyen

Bomberos
Fire Department
Cel. 612-142-6387
Commandante Cadena


---








---
Baja Western Onion
Alan Thompson - Publisher
Debra Webster - Advertising
e-mail For General Feedback
---



Current Publishing Schedule - Beginning this week, the Baja Western Onion returned to our normal publishing schedule of two issues per week, to be mailed every Tuesday and Friday. To help ensure your announcement is included, please submit it no later than 5 PM the previous day. Based upon our normal publication schedule, that means announcements need to be submitted by 5 p.m. Monday for the Tuesday edition, and 5 p.m. Thursday for the Friday edition.


---
News and Events, Questions and Answers
---

Artesan/Organic Market Opens - Join us Friday, March 9, 10 a.m.-3 p.m. to celebrate the opening of a new weekly market (and work/art/healing space). All are welcome to come buy and or sell/trade/barter, but all goods must be handmade or locally grown. 10 artisans from Mexico, Argentina, Italy and Spain will be featured, as well as yoga, performance art, organic produce, wood oven pizza, coffee, tea, and more. This recently formed art & healing commune is dedicated to promoting handmade artisan goods, and are planning to give art workshops and natural healing clinics in the near future. At Gabo's old gallery, calle Progreso and Cuauhtémoc, San Vicente, Todos Santos - Citlali Soriano, marileshug [- at -] yahoo.com.ar, 552 797-2010

Baja Shakespeare On Cabomil This Sunday - Be sure to tune in to Los Cabos Now this Sunday and join Sabrina Lear when she interviews Baja Shakespeare's Ron Weber and Roxanne Rosenblatt about this season's production of Cinderella, a British Pantomime, which translates to loads of fun, music and plain old silliness. Learn about the history of this dynamic group as well as their presentation style, always keeping the tastes of the Baja audiences in mind.

Go to 96.3 FM on your radio dial or go to the following link to their site, click on the camera on the left of the screen and you'll be good to go. Tune in between 7:30 pm to 8:30 pm Sunday evening, March 11th. And we hope to see you at the show! www.cabomil.com.mx/intro.php


El Tango Desde Sus Raices / From The Roots of The Tango - Saturday, March 17, 9:30am until 12:30pm at Estancia Uruguaya Parrilla Bar, Revolucion #784 esq Salvatierra, Col. Esterito, La Paz. Argentinian and Uraguayan artists singing and dancing the Tango. Also Folklorico Dance Show. Reservations required. For more information call 612 122 5412. Artistas uruguayos y argentinos cantando y bailando tango, ademas show de danzas folkloricas: malambo y boleadoras. Previa reservacion. Por mas informacion Tel 1225412... Vos no te lo podes perder! No cover, menu especial. Te Esperamos. - estancia.uruguaya [- at -] hotmail.com, www.facebook.com/estanciauruguaya.parrillabar -
.

Festival De Artes - April 1st in Los Barriles. The Asoc. de Artes will have representatives at the following locations this weekend, to sign artist's up for this event. March 10th San Jose Organic Market 9:00 - 12:00 noon Kathy Obenshain, March 11th Todos Santos/Pesadero Market 10:00 - 11:00 Jamie Kepler Grisetti, March 11th Cabo San Lucas Costco Parking Lot 12:30 - 1:30 Jamie Kepler Grisetti. Paid prior to March 25th: 10' x 10' $325.00 pesos, 10' x 10' w/shade $400.00 pesos. Paid at the event site on April 1st: 10' x 10' $425.00 pesos

Festival De Artes - 01 de abril en Los Barriles. La Asoc. de Artes representantes en la este fin de semana, para firmar artista para este evento. 10 de marzo San José Mercado Orgánico 09:00-12:00 Kathy Obenshain, 11 de marzo de Todos Santos / Pesadero Mercado 10:00-11:00 JamieKepler Grisetti, 11 de Marzo Cabo San Lucas Costco Estacionamiento 12:30 - 1:30 Jamie Kepler Grisetti. Pagado antes de 25 de marzo: 10 'x 10' $ 325.00 pesos, 10 'x 10' w / sombra $ 400.00 pesos. Se pagará al sitio del evento el 1 de abril: 10 'x 10' $ 425.00 pesos - festivaldeartes19 [- at -] gmail.com, English tel/fax #141-0266, Español # 124-8057 -


Animal Lovers Of Mexico Newsletter - Courtesy Baja Pony Express - Alma's February newsletter, was a big hit and we are very proud of it! We covered the East Cape infestation of the "Brown Tick", offering many "natural and safe ways to treat the problem. If you missed it please sign up and it will be sent to you. (Follow directions below)

Our March issue continues with one of the Natural products suggested in the newsletter, Apple Cider Vinegar, and its uses in addition to flea and tick treatment. Sign up by going to ALMA's ( "Animals Lovers of Mexico"), website... www.almacares.com .On the homepage is a sign up box. You will receive a Confirmation Email, you must confirm to receive this informative newsletter. (Check your junk) If you signed up and did not confirm, resign up. We at ALMA hope that you will take a few moments enjoying "The ALMA Scoop", we keep it short for easy reading. www.almacares.com

RE: Airport Shuttle Service From Todos Santos - We received the following responses from our readers:
1. - My husband and I took the shuttle service on Feb 16th. from the Todos Santos Bus Depot. It actually took about 2 1/2 hours because of the road work and they neglected to tell us that our small dog (in a soft carrier) had to ride in the baggage compartment in the back. Other that that little inconvenience, the ride was fine. It is a van, not a bus and every seat was filled. It stops at the Cabo bus depot, then on to the Airport. It takes the toll road, which I think is why it took longer, thought the driver says it is faster when the traffic is bad. We will probably not take the shuttle next time, as our little guy was quite upset not to be near us. I hope this info helps. - Gail

2. - It is a wonderful service and very reasonable. But they are using a van and it is imperative that you make a reservation because it fills up easily. - Marilyn

3. - The new Todos Santos to San Jose airport shuttle service is indeed up and running. First run is at 8.05 (which connects with my Westjet flight to Calgary, yeah!!). There are 2 more, 9.35 and 11.35 I believe, which get you there in time for afternoon departures. Aguila sells the tickets but the vehicle is operated by EcoBaja tours and is a brand new mini bus. Buy the ticket the day before to guarantee your seat. I think they have to have a booking before they show up, it isn't a bus you flag down. My cousin took it on Sunday. He left his jacket on the bus. It was turned in and I retrieved it next day. Gotta love Mexican bus drivers, they are true professionals.

Nothing but praise for this efficient and convenient service. Lets support it and keep it going. Oh, and the cost is 240 pesos!! E-maill me for more info or better yet go into the Aguia bus depot next to the park on Militar. - Nicola, cortesnic [- at -] hotmail.com
-


Baja Farm Animal Sanctuary Revisited - Last night I watched a very excellent presentation: www.youtube.com/watch?feature=player_embedded&v=7vWbV9FPo_Q#! It powerfully and cogently explains the importance of connecting with the animals around us.

And, that is what establishing a farm animal sanctuary in Baja is about, caring for those who most need it and demonstrating how natural, liberating and healthy empathic and compassionate activities really are. Yet, my hope to launch a Baja Farm Animal Sanctuary met with several obstacles, most of which could have been overcome with sufficient capital. I am still very interested in this project but I can't do it alone. Here's what it will take:
A place for the animals with adequate shade, other improvements, adequate water, etc. Possibly an acceptable place could be found and leased for a reasonable amount of money.
A person to reside on site and provide security for the animals.
Volunteers to help with care and feeding.
Veterinarian services.
On site management to oversee the care of animals, admittance of new animals, manage volunteer activities, greet the public.
A legal structure, whatever would best suit the activities of the sanctuary, possibly dual non-profit status for Mexico and the US.
Sufficient funding to establish the sanctuary, sustain a reasonable period of operation and enable regular fund raising activities to be developed (these might include; on site food service, showing films, developing a lecture series, giving tours, developing a park area to be leased for private functions, etc.).
The only way I know to raise the amount of money required is to pull together a really excellent Kickstarter project. If you aren't familiar with Kickstarter, here's the link: www.kickstarter.com. If you feel motivated to roll up your sleeves and get really creative with a like minded group, let me hear from you again! - Cheryl, allinharmony [- at -] gmail.com

Baja Sky Tonight (Friday) - Courtesy Baja Pony Express - Moonrise is at 8:13pm. Look for Saturn to the upper left of the moon, and the bright star Spica to the upper right. Through binoculars, Saturn is a steady golden color, Spica a sparkling blue-white. Saturn is the farthest planet from the sun that can be easily seen with the unaided eye. In the west, the Pleiades, a young, faint open star cluster, can be found above Jupiter and Venus. Venus will reach this cluster in early April. Most people can see the 6 brightest stars in this cluster on a dark night. Through binoculars there are more than 30 stars. Subaru refers to the Pleiades. The Subaru logo is an ellipse that encloses the 6 naked-eye stars of the Pleiades.

Daylight Saving Time Begins This Weekend in the US and Canada - Daylight Saving Time (DST) is also called "Summer Time" or "Daylight Savings Time," and begins on the second Sunday in March in most parts of the US and Canada. "Regular Time" is known as "Standard Time," "Normal Time" or "Winter Time." On Sunday, March 11, most residents in the US and Canada will move their clocks ahead 1 hour. Daylight Saving Time will not occur in Hawaii, Arizona, Midway Islands, and Wake Island, much of Saskatchewan, a small region of British Columbia, a small region of Nunavut Territory, and a small region of Quebec. Most countries around the world do not observe Daylight Saving Time. It tends to be a system observed in only in more industrialized nations.

Daylight Saving Time in most of Mexico will occur three weeks later on Sunday April 1st. The state of Sonora does not observe Daylight Saving Time. In 2010, the Mexican government authorized ten Mexico municipalities that border the United States to began Daylight Saving Time to correspond with US Daylight Saving Time. These areas include Acuna, Coahuila, Anahuac, Nuevo Leon, Juarez, Chihuahua, Matamoros, Tamaulipas, Mexicali, Baja California, Nuevo Laredo, Tamaulipas, Ojinaga, Chihuahua, Piedras Negras, Coahuila, Reynosa, Tamaulipas, and Tijuana, Baja California.

This change was requested to facilitate commerce with the US. Transportation and banking industries were especially affected by the three-week difference in daylight saving time and, in many cases, businesses had to to open an hour earlier in order to conduct business with US companies during the period when the two countries were on different times -


Share Office Space - I have been seeking some office space here in Todos Santos but maybe it's best to share an office with one or two people. In checking around, I find that many office spaces can be rented for a discount rate. I can be ready next month for a space. lowerbaja [- at -] yahoo.com, 612-161-4728, Todos Santos

Part-Time Cleaner Sought - Baja Beans Roasting Co. is looking for a part time dishwasher, cleaner and kitchen assistant friday, Saturday and Sundays. Please inquire in person at the cafe Tuesday to Friday 12-3 p.m. Thank You - Sandra Wohlers, info [- at -] bajabeans.com, www.bajabeans.com, 612-143-7138, Pescadero

Twice Yearly Sun Outage Cycle For TV and Internet Communications Satellites - We're right at the start of the twice-yearly sun outage cycle as the sun lines up behind the communications satellites on it's movement North each spring. You may experience a loss of TV channels or Internet service for a few minutes each day in the Baja California Sur peninsula from March 08 thru March 13.

Sun outage will affect all satellite users of Dish Network, Shaw Direct, HughesNet, Starband, SKY, Dish Mexico and VSAT systems. Start and End times will be different for different satellites. The next period of sun outage will occur from September 29 thru October 06, 2012 as the sun once again moves south for the winter. - Alan Thompson, alan [- at -] BajaSatellite.com, www.bajasatellite.com, (530) 903-4257/33 8421 1142(MX), Todos Santos

Scarf Found - At the beach in Pescadero. Call to identify. - Susan Ballard, 612-134-8683


---
Today's Exchange Rate - Mexican Pesos to 1 USD - Courtesy X-rates.com
---
Submit your News and Events, Questions and Answers articles here: http://www.bajawesternonion.com/submitad.asp


Return to Top
---
---
Featured Events This Week
Please Note: The "Featured Events This Week" section is limited to non-recurring community events (Sorry, no "Happy Hours," "Daily Specials," "Weekly Classes," or other recurring business activities or workshops.)
---
Friday, March 9
Artesan/Organic Market Opens - 10 a.m.-3 p.m., opening of a new weekly market (and work/art/healing space). At Gabo's old gallery, calle Progreso and Cuauhtémoc, San Vicente, Todos Santos - Citlali Soriano, marileshug [- at -] yahoo.com.ar, 552-797-2010

Iron Chef Baja Cook Off - 7 p.m., Tre Galline restaurant, Calle Juarez and Topete, Todos Santos. Come watch master chefs Angelo Dal Bon and Carlito Cham of Carlito's Place in Pescadero compete for top Baja California chef's Honors. $80 USD. Contact: Angelo Dal Bon, angelodalbon [- at -] gmail.com, 612- 145-0274

30th Birthday Party For Hesed Nájera - 8 p.m. to Midnight, Tortuga Bar, Los Cerritos. Pura Vida playing live. - Hesed Nájera, hesedn [- at -] gmail.com, www.villasdecerritosbeach.com/, 612-151-2514

And Then There Was Nun - Doors open 6:30 p.m., Show Starts 7:30 p.m., Teatro Luna Azul, Todos Santos. An off-the-wall comedy that blends Hollywood's most famous Movie Stars in an Agatha Christie Style plot. Contact: Bluemooninbaja [- at -] yahoo.com, Http://tsbmp.blogspot.com

Saturday, March 10
Linda Hamilton's Nomad Chic Pop Up Shop - 9 a.m. to 1 p.m., at La Santeña / Hotel Casa Tota. - HotelCasaTota [- at -] gmail.com, www.HotelCasaTota.com, 612.145.0590

Baja Ha Ha Golf And Luau Theme Dinner - An East Cape Guild Benefit Event. Golf at the second arroyo north of town 1 p.m. and dinner at 5 p.m. Dinner at Casa Harper in Esmeralda just north of 2nd arroyo. Tickets $25 or 300 pesos at Roadrunner Cafe Tuesday and Wednesday from 10 a.m.-noon this week. For information and/or tickets, call Joan 142-8140 or Margy 142-8014 in Los Barriles.

Noche Latina At La Esquina - Live Band "sexto Sentido" - 7:00pm, La Esquina, Todos Santos. Great Latin Band playing styles such as Latin Jazz, Salsa, Merengue, Samba and more. 50 peso cover. - Contact: Marimar hola [- at -] laesquinats.com, 612-145-0851, www.laesquinats.com

And Then There Was Nun - Doors open 6:30 p.m., Show Starts 7:30 p.m., Teatro Luna Azul, Todos Santos. An off-the-wall comedy that blends Hollywood's most famous Movie Stars in an Agatha Christie Style plot. Contact: Bluemooninbaja [- at -] yahoo.com, Http://tsbmp.blogspot.com

Hotel California Live Music - 8 pm, Flashback. - info [- at -] hotelcaliforniabaja.com, (011-52) 612-145-0525, www.hotelcaliforniabaja.com

Sunday, March 11
Daylight Saving Time Begins in the US and Canada - Move your clocks ahead one hour

Dr. Tomas, La Paz Veterinarian, To Visit Todos Santos - 10.45 a.m,. Mary Shortell's house. For directions, email Mary at mshortell [- at -] hotmail.com. To arrange a consultation with Dr. Tomas, call 122-5662 (La Paz clinic) or 612-117-6118 (cell) - Todos Santos

Baja Shakespeare On Cabomil - 7:30 pm to 8:30 pm, Los Cabos Now, Sabrina Lear interviews Baja Shakespeare's Ron Weber and Roxanne Rosenblatt about this season's production of Cinderella. Tune to 96.3 FM, or click www.cabomil.com.mx/intro.php, click on camera on left of screen.

Tuesday, March 13
Art Reception For Tori Sepulveda - 5:00 - 7:00 p.m., Caffe Todos Santos, Todos Santos. Share an evening of fine art with new paintings by Tori Sepulveda, hosted by, and with special thanks to Angelo and Magda - Contact: Tori Sepulveda oscarntori [- at -] yahoo.com, 612-1366738

---

---
Community Events and Workshops Notification Page - Submit event notices for The Community Calendar or Workshops and Meetings pages.

Anyone planning an event should check the Online Community Calendar before choosing a date to see if something else is already planned and avoid conflicts. Check the Online Community Calendar here: www.bajawesternonion.com -
Return to Top
---

---
Stepping Out - Food, Music, Workshops and Entertainment
---

Last Chance To See ' And Then There Was Nun' - Final shows this Friday & Saturday March 9 & 10. Audiences Love it! Check out our new Vivian Leigh. And the lovely Tara Miller as Marilyn Monroe. Fabulous! A play filled with your favorite Hollywood Movie Stars from the past. A must see! Teatro Luna Azul. Tickets at Tecolote.

Doors open at 6:30 p.m., Show at 7:30 p.m. Info & Directions: tsbmp.blogspot.com. (Photo: Robert Hall as Alfred Hitchcock, Photo by Laurie Pearce Bauer) bluemooninbaja [- at -] yahoo.com

Hotel California - Saturday March 10th Live Music featuring FLASHBACK
Signature Margaritas made with our Awarding Winning Hotel California Tequila, Beers, and Dancing! Music begins at 8pm. No Cover.

Bistro Santo Vino & Wine Bar
Hours 5 PM to 11 PM Daily. Reservations Recommended

Click Here Visit our ONLINE Store
Keep up with the latest Hotel California info by joining our facebook fan page
Follow us on facebook
- info [- at -] hotelcaliforniabaja.com, www.hotelcaliforniabaja.com, 612-145-0525, Todos Santos



Saturday Market - Saturday market in Todos Santos! La Canada del Diablo's Saturday market is in its 3rd year. Come on by for: organic meats, tamales, mole sauces, luxury chocolates, delicious desserts, fresh fruits, veggies & more. There is room for more venders, selling new, & gently used. So clean out your bodega or your closet & come to the market. Every Saturday under the mango tree from 9:00-12:00ish. Buy/Sell/Trade. - Shauna Hughes, 612-105-1825, Todos Santos



La Santeña And Hotel Casa Tota - Linda Hamilton's Nomad Chic Pop Up Shop will be making our lobby more interesting and attractive on Saturday, March 10, from 9 a.m. to 1 p.m. Our full bar will be ready and waiting -- drinking and shopping is a time honored tradition and so much better in the flesh than on the Internet ... not that we all don't tuck into a nice pinot at home from time to time and obsessively browse Caylpso. Come out in to the light of day and drink and shop with friends.

The free room in exchange for a complete and accurate rendition of SuperBass remains unclaimed. Todos, we thought you were creative and artsy! Performers, Artists, Singers, Songwriters: This is a special built for you! George Ruenitz, we expected you last week!

La Santeña is open 7 days a week from 7 a.m. to 10 p.m. with fresh Mexican food at prices that will make you smile. And with cocktails that might make you sing. ... HotelCasaTota [- at -] gmail.com, www.HotelCasaTota.com, 612.145.0590
Wind And C [- at -] Suki's Saint Paddy's Day Feast Saturday, March 17th, 2012 - At Wind and C's [- at -] Suki's in Todos Santos green is more than a holiday color. The Valentine's Day Dinner at La Santeña proved that two chefs are better than one! (OK, not always, but these two might be special) The collaborative creative spark continues with Chef Carolen, the "C" in Wind and C [- at -] Suki's and Chef Tony Peralta of La Santeña teaming up again, creating a Saint Patrick's Day Menu to knock your green socks off. As always, Carolen and Wind and crew will be using super fresh produce from the restaurant garden, and all ingredients are sourced locally, ethically, and sustainably as possible. 300 pesos per person includes the following four course menu:
Appetizer: House cured salmon with dill cream
Soup: Garden fresh broccoli soup garnished with blue cheese crisps
Main: Corned Beef and colcannon (mashed potatoes and cabbage), served with onion gravy. Veggie option available.
Dessert: Stout Irish gingerbread with whipped cream and Baileys jello
And of course, we wouldn't forget the drinks on this festive holiday- our menu includes a pint of fresh Baja Brewing Company Beer or a glass of wine.
So if missed your chance to experience these two at Valentines Day, or if you were lucky enough to be there the first time and want more of the love... Reservations suggested as limited seating is available. Also, Chef Carolen is Irish from Nor Cal, and Chef Tony is a Choyero from La Paz, but we are resisting any and all combinations of clever Mexi-Mick cuteness. La Santeña at Hotel Casa Tota will be open and serving the usual fresh Mex-cellent food. windandc [- at -] pacific.net, www.HotelCasaTota.com, Todos Santos



Todos Tango Festival - Dance Tango in Todos Santos, Mexico. Friday thru Sunday, March 31 - April 1, 2012. No Experience Necessary. Suggested Donation: 50 pesos per workshop. Headquarters at Flora del Mar. Details on Clay's website. - Jeanne Rogers, www.claysdancestudio.com/TodosTango12, 612-171-3148, Baja California Sur



Spanish Lessons With Guillermo Bueron - This ad is directed toward people who are interested in new Spanish Workshops. Just returned from Cuba where Internet is slow therefore I was unable to reply. Classes started Monday, March 5, at 9 a.m. in the Cultural Center in Todos Santos. Classes will also be held Tuesday's at noon at Baja Beans in Pescadero. Looking forward to working with you. - Guillermo Bueron Prieto, g_bueron [- at -] yahoo.com, www.guillermolanguageandtravel.com, 612-161-4165, Todos Santos

Baja Beans Roasting Co. - Specialty coffee and baked goods in a space with soul and style. Open 7 a.m. to 3 p.m. Closed Mondays. Events:
Sunday Brunch, Music and Market - 10 a.m. to 2 p.m.
Salsa Dance Classes - Every Thursday 4 p.m. to 5:30 p.m.
- Sandra Wohlers, info [- at -] bajabeans.com, www.bajabeans.com, 612-143-7138, Pescadero


Corned Beef For St Patricks's Day - Que Rico will be selling a limited number of corned beefs for St Patrick's Day. Call or come in to reserve yours. We also have loads of new products like house cured lox, organic chicken breasts and pastrami. - Andrea Park, Quericofoods [- at -] gmail.com, 612-118-6031, Todos Santos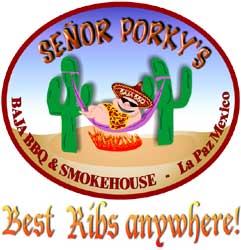 Señor Porky's Baja BBQ and Smoke House! The Best Ribs Anywhere!



New Restaurant in La Paz - Featuring Kansas City slow-smoked meats not found anywhere in Mexico. Now open 7 days a week from 7:30 AM with full breakfast menu and Cappuccino, to 10 p.m., and weekends until midnight. Watch the sunset from our spectacular ocean view! Located on the Malecon in La Paz at Alvaro Obregon #670, on the corner of Allende and Rosales (next to the Arco Hotel).


• New Menu • Daily Specials • Lower Prices • Many New Items Under 75 Pesos •

To ensure the best quality for Porky's Smokehouse Meats, we start with the best meats available. Then we dry-rub the meats with a combination of 20 spices, then slow-smoke for up to 18 hours at low temperature to obtain maximum flavor and tenderness while sealing in the natural juices and smoke flavor that is unmatched anywhere! We know you'll agree that Señor Porky's Baja BBQ and Smoke House are the best you have ever tasted.
"Special Of The Day" Every Day:

Monday - Margarita Monday - 2 For 1
Tuesday - 3 Tacos - 40 Pesos
Wednesday - Wing Day - 8 Pesos Each
Thursday - Burger And Beer - 75 Peso
Friday - 1 Free Beer - With Entrée
Saturday - 1 Free Desert - With Entrée
Sunday - Any Burrito - 55 Pesos
Plus fantastic side orders include Pasta Salad, BBQ beans, Coleslaw, Sweet Potato fries, New Mexico Green Chile with Pork, Caesar Salad and Homemade Deserts. Dine in, or carry out from our "Pig Out" Meats to Go Menu. Download our entire Menu here: files.me.com/richards771/1wclv6. For more information, call 612-129-3667. - Richard Stubbs, richards77 [- at -] pcisys.net, La Paz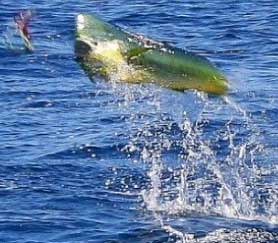 Todos Santos Fishing Charters - Why deal with a middleman? Come direct to the owner/operator
Fully Registered Sportsfishing Company


Bilingual Crew


Top Quality Tackle and Gear
Whether game fishing or whale watching, contact us for your ocean adventures. Visit our website for full details: www.fishingtodossantos.com or www.todossantosfishingcharters.com.

Package deals available when booking fishing and our casita for your complete holiday - www.bajasurtodossantos.com, or call Lee at 612-119-7880 or Brenda at 624-114-1351



Botanical Garden Tours - At Buena Fortuna Botanical Gardens in La Ribera, guided by world renowned botanist, ecologist, anthropologist, and social activist Gabriel Howearth. Explore Baja Sur's most diverse organic botanical gardens, with over 3,000 plant species here at Buena Fortuna. Gabriel Howearth, founder of Seeds of Change, the largest organic seed company in North America, will be giving guided tours every Saturday starting at 10:00 am. Tours include refreshments $150 pesos per person.

Buena Fortuna's famous organic restaurant will also be serving lunch by reservation for $150 pesos. Produce, landscape design consultations, exotic nursery plants, compost and rare organic seeds also available. To make reservations please contact Gabriel by email at buenafortunagardens [- at -] gmail.com. Special tours and events can also be arranged anytime given prior notice. Spring has sprung at Buena the flowers are budding out quickly and plants are growing fast! birds and butterflies are dancing around the garden. the jujube a delious, nutrional, medicial fruit from india is falling now from the trees for guest to snack on during the tour. come and enjoy with us the spring splendor and bountiful beauty - Gabriel Howearth, buenafortuna [- at -] gmail.com



El Tecolote Serves Up Espresso and More! - Let thy food be thy medicine and let thy medicine be thy food.- Hippocrates
Come enjoy a healthy fresh squeezed juice at the juice/espresso bar in the El Tecolote Bookstore
Just the thing to keep your immune system strong and your body energized during these chilly days
Open At 8 A.M.
- Kate Lewis, katemlewis [- at -] yahoo.com, El Tecolote, Todos Santos.
---
Submit your Stepping Out - Food, Music and Entertainment announcements here: http://www.bajawesternonion.com/submitad.asp



Return to Top
---
Misc. Sales and Services Available
---

March Madness ! - Chica's Salon at La Canada del Diablo is offering $5 off pedi's, $2 off mani's & $5 off a full set of acrylic nail's for the month of March. Mention this BWO ad when booking your appointment to receive discount. Open year around for manicures, pedicures, acrylic nail's & wedding services Mon. - Sat. by appointment. Need a birthday, anniversary or thank you gift? We also have gift certificates available for purchase. Located at La Canada del Diablo in Todos Santos. - Kathie Cullinane, chicassalon [- at -] gmail.com, 612-142-3160, Todos Santos

Monkindingis Is Now Open - We have moved our store from Ensenada and are now open in the old video store across from Frank's next to Migel's. We have a lot of different items like bicycles, patio furniture and products from the mainland. Come by soon for the best selection. Open Wednesday through Sunday, 11 a.m. to 5 p.m.- Ana & Gary, gasper_gary [- at -] yahoo.com, 612-102-8953


Mac Tudor Back In Town - Anyone need some help with the new Mac OS, or iPad bells and whistles, make that device hum with a little help ... hooverin for a bit in this town ... get in touch if you want ... reasonable rates, and trades available. - Tall Man, gypszcaravan [- at -] gmail.com, Todos Santos


Casa Decor in La Paz and Cabo - Indoor And Outdoor Furniture, Patio furniture * Wicker & Rattan* Marble * Rustic hand painted furniture * Copper furniture * Lighting * Kitchen Cabinets * Doors * Floor & Wall covering * Art * Accessories * Metal Furniture* Fountains and Urns * Mexican furniture * Imports from around the world

Very Unique selection of furniture and accessories. Interior Design service! Custom made furniture!
Cabo: km 3.5 on four lane next to Artisanos tel:614-1768146 - vonage: 888-557 6533 Mary Aguirre. E-mail: mary.aguirre [- at -] casadecorcabo.com / Mex Cell 624-176 8146
Loreto: Village at Loreto Bay, #310 Nopolo tel: 613-134-0200
La Paz: 12,000 sq. Warehouse 560 Marques De Leon 612-129 3364, USA Tel: 303-777-575 / E-mail: richards77 [- at -] pcisys.net, www.antiquerowmarket.com
!2 Containers Just Arrived: Outdoor, Wicker, Rattan And And Cast Aluminum Furniture. Big Savings. Very Large Selection! - Richard Stubbs, richards77 [- at -] pcisys.net, 303 777-5157


Last Opportunity - One week left to buy enclosed cargo trailer. Great for transporting Quads, moving or storage. email for more information and pictures. - Jim Sharp, jsharp [- at -] bigsky.net, 612-105-0450, Todos Santos



Trailer/Palapa/Outside Wet Bar For Sale - Located in Mountain Shadows RV Park, west of Pescadero, these high quality improvements need to be seen. Included are 22ftx42ft steel palapa with thatched roof, 10ftx22ft 2nd story viewing deck(great for sunrises and sunsets), 30ft 1987 travel trailer in great condition, L-shaped granite top wet bar, propane tank, hot water tank, pela with automatic pressure pump, large privacy bathroom/shower, fridge, barbeque, and 9ft privacy walls on the back and one side. Cost over $42,000 -- will sell for $32,000. - Frank Shearer, shearer49 [- at -] yahoo.com


Spring Time Is Coming... Perfect To Love And Pamper Yourself! - Bring Your Own Equilibrium And Wellness - Caeli Casa Holistica, Natural healing therapies and spa treatments. Lower your stress, increase your energy, love yourself. Aromatherapy relaxing massage, Deep tissue, Specific therapeutic massage, Hot stone therapy, Holistic massage therapy,Tibetan singing bowls and chakra harmonization. Organic facials- hydrating, purifyng, sensitive skin. Guaranteed best service in town by Certified Holistic Therapist Mónica Velázquez. For appointments, call 612 145-0381 or 612-149-1552 (cell) or write caelicasaholistica [- at -] gmail.com / Todos Santos - Mónica Velázquez, caelicasaholistica [- at -] gmail.com, Todos Santos



Artistic Doors In Cedar And Iron - Very Limited Sets Available For Limited Time Only - Artistic Doors in cedar and Iron and in Pine and Iron. Unique, hand-made Artisanal doors, single and double door sets. One-of-a- kind opportunity to add these doors to your home. Very Limited sets available in Todos Santos during February and March only. Specifications include the following:
8 FT. Tall
6 FT. Wide
3" Width
Quite heavy and very solid
Brand new
Ready to finish to match your home colors
Accepting reservations now, possibly some trade accepted: info [- at -] villasaguablanca.com. For more details and photos, visit:www.villasaguablanca.com/Miscellaneous.html. Get one or get all! Amazing opportunity for builders, architects and contractors, special price for the whole lot (40 doors). - Lauren Klein, Todos Santos


Leaving Town And Moving North Sale - I am on way my way back to Canada and have a variety of items to sell. Glass fusing kiln with shelves and some molds, 1/2 price, Bullseye tested compatible glass, 1/3 retail price, gloves and glasses and a variety of other fusing materials and tools. Floor safe, fire and water proof. Scuba gear, woman's med 5/3 fullsuit, hood, one set of heavy gloves and one set of light gloves, weight belt with bullet and sandbag weights, regulator, vest, fins, flashlight, knife and dive bag. Sell as package and priced to sell. Only used 4 times and in excellent condition. Enclosed, movable, lockable utility trailer. Great mobile, instant storage. Camping gear, 4 person tent, 2 Thermo rest mattresses, new sleeping bag. Antique brass clothes stand. TV, printer scanner. 10 ft across portable swimming pool. Great summer time fun. Other odds and ends. Everything in excellent condition and priced to sell. - Wendy Faith, wendy_faith [- at -] yahoo.ca, 145-0255, Todos Santos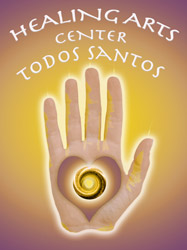 The Healing Arts Center of Todos Santos - is a community of health professionals, working together in the TS/Pescadero area offering services to support clients on the journey towards balance & well-being, expanding awareness of the local & foreign communities of alternative therapy options, including ancient healing art forms as well as more modern evolutions in the realm of natural healing, and empowering patients, students & clients by teaching ways to prevent illness and methods of self care to address imbalances.
• Acupuncture & Chinese Medicine - Jane Sipe, L. Ac. jasi57 [- at -] juno.com & Barbara Elsner, L. Ac. (beginning February, 2012) 1sheurchin [- at -] gmail.com 612-151-7026
• T'ai Chi & Qi Gong Classes - Rhoda Jacobs barakabaja [- at -] gmail.com 612-157-6088
• Reiki - Allison Eaton info [- at -] allisoneaton.com, www.allisoneaton.com, 612-152-3896
• Massage - Kurtis Parsons (beginning February, 2012) puravidahealthfood [- at -] gmail.com 612-169-2095
• Acutonics (Sound Healing) (Sound Healing) - Lynn Wedekind tuneintoit [- at -] gmail.com 612-151-3051
• Kinan Classes (Mayan-Toltec Form) - Daniel Camargo daniel [- at -] ancestralmessenger.com, www.ancestralmessenger.com, 612-139-6987
• Body Centered Psychotherapy - Shawna Owen, RPC (EMDR, IBP) harmonywithall [- at -] mac.com, 612-151-7728
• Anxiety, Mood, Couples Counseling - Jolyn Wells-Moran, PhD, MSW, LMHC (beginning November, 2012) jwmcounseling [- at -] yahoo.com, www.anxiety-specialist.com
Practitioners interested in joining this dynamic group contact Jane jasi57 [- at -] juno.com - Todos Santos Healing Arts Center, Jane Sipe, 612 151 7026, Todos Santos
18' Ocean Fishing Boat For Sale - Comes with a new 60 HP, 4-stroke Mercury motor with only 93 hours on it:
Easy Pull Trailer With Excellent Tires
2 New Batteries
Center Fiberglass Console
Ready To Go Fishing!
Price Reduced! $8,200 USD. This is a great price -- it's like buying a motor and getting the boat and trailer for free! - Kent Hansen, kenthansen [- at -] shaw.ca, La Paz




2004 Titan Truck - 2004 white Nissan Titan Truck, good condition, runs great, new brakes, tinted windows, national license,68,000 miles. $9,000.00 USD or pesos. Phone 624-144-1008 (home) or 624-182-3103 (cell). - Scott Ramm, sramm92239 [- at -] aol.com, 624-144-1008



News From La Canada Del Diablo - Spring house cleaning begins the Saturday:
ALL dining room chairs 20% off
ALL barstools 20 % off
ALL Chilean Pine Furniture 20 % off
ALL mirrors 15 % off
BIG SAVINGS !!!
Are you thinking about a storage unit? Leave your treasures in our hands. Relax while you are away, knowing your valuables are safe. Rent by the month or the year.

We still have a few spaces in our car storage area. Make your reservation soon. Still just $1.00 USD per day for most cars.

Remember, we are still receiving clothing, bedding etc for the farmworkers and their families. Anything you wish to share, will be given to families who have so little.

Our hours are Monday Thru Saturday, 9 a.m.- 6 p.m. Thank you ! - Barbara Perkins, bperkins0403 [- at -] gmail.com, www.lacanadadeldiablo.com, 612-140-0069
bperkins0403 [- at -] gmail.com, www.lacanadadeldiablo.com, 612-140-0069




2008 29'xlr Toyhauler Travel Trailer - Totally set up for dry camping with three huge solar panels, inverter, golf cart batteries, monitors, chargers, huge tanks. The only travel trailer Toyhauler with a slide out and separate 10' box for two quads. Two queen beds come down from the ceiling. TV, stereo, surround sound, thermal package, AC, every option. Paid over $50k new. In Pescadero, priced to sell at $22K. Not pesos! - Mike Jones, Mike [- at -] fraserriversedge.com, 612-142-3462, Pescadero


'99 Ford F150 4x4 - New tranny engine, all is good, body, elec, interior. 4500 cash. 1 year in the Baja. email to leave telephone number. - Molea John, jmolea [- at -] sbcglobal.net, 760-967-708, Todos Santos



Accounting Services In Todos Sants - Please note: If you have recently sent me an email and not received a reply, please resend. I have had computer problems. Thank you.

We can assist you with your corporate and individual needs. We offer accounting and administrative services including:
Registration of corporations with SECOFI and INM
Registration and reporting of construction and construction workers with IMSS
Recording and reporting foreign investments with the Secretaria de Economia
Counseling and immigration assistance for FM2 and FM3
Property management including payment of utilities, water, CFE, fideicamiso
Assistance with water rights
Offices in central Todos Santos
Many local references
FRIMAR GROUP
E.C.M. Raquel Martinez Peralta - Raquel Martinez Peralta frimargroup [- at -] hotmail.com, 612-14-86907


Quires Tener Tu Web Site? - Excelente oportunidad de administrar tu propio web site! www.todossantosbaja.com busca un administrador general, ya tenemos cartera de clientes y antiguedad de mas de 10 anios en la web, pero no suficiente tiempo para administrarla. Llamanos si te interesa ganar hasta un 100% de tus ventas. - Perla, perlararemex [- at -] gmail.com, www.todossantosbaja.com, 6121761910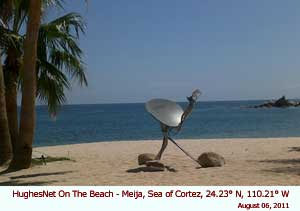 HughesNet Satellite Internet Systems - Limited-time Offer - Now Get $329 in HughesNet Mail-in Rebates:
Always-On Satellite Internet Connection
Available Anywhere in Baja
PC, Mac, Wireless Compatible
Multiple Computers Can Share the Same Internet Connection Full-Time
Vacation Holds Available
Professional Installation Available
Available HughesNet Service Plans:
Plan - Max. Speed
Down/Up 1
Daily Data Transfer
Allowance 2
Monthly Service Fee 3
Home - 700 Kbps/128 Kbps
250 MB
$39.99/mo. 1st three months - then $49.99
Pro - 1.0 Mbps/200 Kbps
350 MB
$59.99/mo. 1st three months - then $69.99
Pro Plus - 1.5 Mbps/200 Kbps
450 MB
$69.99/mo. 1st three months - then $79.99
Complete 0.74 Meter HughesNet Satellite Internet System
$499.99 - Complete System Plus Account Setup
$140.00 - US / Mexican Shipping and Importation to Todos Santos
$639.99 - Sub Total

($299.99) - Less HughesNet Mail-in Rebates
$349.00 - Your Net Equipment Cost After Mail-in Rebates4
1 Absolute maximum speeds as stated by Hughesnet. Actual speeds will be less.
2 Daily Data Transfer Allowance now includes a rollover of unused data to the following day, up to a maximum of 2 times the plan's normal daily aloowance.
3 Monthly service fees shown are for first three months of service after $30.00 HughesNet mail-in rebate.
4 Equipment price does not include installation labor or materials. Installation available.

Baja Satellite is an Authorized HughesNet® Reseller. For more information Contact Us today: BajaSatellite [- at -] Hughes.Net, www.bajasatellite.com, (530) 903-4257 (US), (01) 555 351 0882 (Mexico), Baja California Sur
---
Submit your Misc. Sales and Services Available/Wanted articles here: http://www.bajawesternonion.com/submitad.asp



Return to Top
---
---
Real Estate, Rentals, and House Sitting - Available/Wanted
---

Casita For Rent - Small casita in Todos Santos available for rent April 1, 2012. Kitchenette, queen size bed, bathroom, wi-fi. Perfect for 1 person long term or 2 people short term. Long or short term rental rates. Email or call for rental information. kcbreck [- at -] gmail.com, 612-142-3160, Todos Santos

Beach House Partner Wanted. - Looking for a partner for a beach house presently under construction. It is located on the beautiful beach of Los Cerritos. 2 master suites, 2 guest suites, 4 and 1/2 bath. 3,400 sq ft. Ocean facing spa, 2-car garage with maids unit. Gated driveway, security walls. Safe swimming in front of property. Classic Spanish architecture complete with tile roofs, marble floors, finishes and granite counter tops. Happy to email pictures and plans. - Jim Coulson, jimcoulsoncontractor [- at -] yahoo.com, 612-183-1077, Baja California Sur


Big House For Rent In Agua Blanca - Are you a writer, filmmaker or artist in search of a private residence that can nurture, inspire and foster your creative spirit? Consider this secure, traditional Mexican 3,500+ SF residence available in March for either a family or group of artists at: www.villasaguablanca.com.

This property has exposed columns, roof top terrace with Pacific Ocean views 12 kilometers north of Todos Santos. This serene location will power your spirit during the day through harnessing the energy from the ocean waves crashing and the crooning from the desert wildlife at night. This location allows you to not only admire the view of whales breaching in the Pacific Ocean, but affords long secluded desert beach walks which make this part of Baja California so charming. This 3 bedroom, 4 bath villa is only 500 yards away from the Pacific Ocean and is powered by a generator.

We are looking for a long-term rental, at only $550.00 per month, negotiable, we'll adjust to your budget. For more information, please visit: http://villasaguablanca.com/Rentals.html; or call in Todos Santos: 612-149-8903 - Lauren Klein, lauren.klein [- at -] sbcglobal.net, villasaguablanca.com/Rentals.html, 612-149-8903, Todos Santos



Seekng A 4-month Rental North Of Todos Santos - My husband and I are looking to line up a place to live for next winter season (2012-2013) in the area north of Todos Santos. We winter in Baja every year between the end of November through the end of March and would like to rent/take care of your home. We would be happy to perform light landscaping and household duties. We have two children (ages 3 & 5) and would like a home with 2 bedrooms. Any information would be welcomed! Gracias! - Ingrid Schaefer, itsingrid [- at -] yahoo.com, 612.147.1408, Todos Santos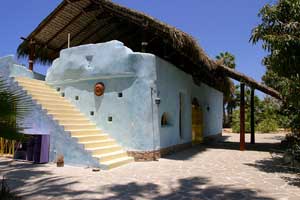 Todos Santos Beach House on a Tranquille Lush 5, 206.22 Sqmt Property - For Sale by Owner: - Two (2) separate driveway entries give the 5,206.22 sq meter (1.25 acre) property privacy from both the front and back, giving flexibility to build additional homes or to split in the future. Soil on the property is rich organic black soil, ideal for other organic gardening.

Property is an enclosed oasis and has unlimited access to farm water that nourishes the over 85 mature mango trees, 80 lush palm trees over 5 feet, passion fruit trees, citrus fruit trees and avocado trees, all of which give the property its cool shade that is coveted in the region and frequently not available on other properties of comparable or more value in the desert landscape.
* Property has power, water (both municipal and farm water), gas and Internet.
* A 6-minute walk takes you to the secluded beach, and a 5-minute drive finds you in the heart of TS.
* Motivated Seller with Reduced Listing
If you have questions or would like to make an offer after viewing the property on YouTube (www.youtube.com/watch?v=krg9FEeiRtk), feel free to contact us. Save on the fee and make us a good offer. - Anh Walch, anhwalch [- at -] yahoo.com, 212-692-0912, Todos Santos


Housesitter/avail.for Rent - Housesitting position with very low rent in casita in farmland area of Todos Santos. Beautiful, quiet area, lovely views; close to water, and walking distance to town. Available May 1 to approx. August 20. all amenities; incl. hi-speed internet. - Sandra Arevalo, arevalosansan [- at -] aol.com, 530-622-5350, Todos Santos



Pescadero West Home For Rent - Two-story furnished house, 2 bedroom, 1 bath, separate 1 bedroom, 1 bath casita. 1,400 square feet. Incredible views/landscaping. Must be able to care for two outside cats. Available May 1 through Nov. 31. Truly one of a kind. $490 USD plus utilities. Write me, Frank, at shearer49 [- at -] yahoo.com. - Frank, shearer49 [- at -] yahoo.com



House For Rent - Casita for rent, 550, all utils included. Las Brisas barrio, leave phone number in email. - Molea John, jmolea [- at -] sbcglobal.net, 760-967-7608, Todos Santos

---
Submit your Real Estate/Rentals/House Sitting/Property Management Services articles here: http://www.bajawesternonion.com/submitad.asp



Return to Top
---
Rides or Caravans Available/Wanted
Note: Ads will run for two weeks unless dated. Please list the date in the title, and specify which airport. Goes without saying, everyone shares expenses for beer, gas, food, etc

To remove your ad if you find a ride or caravan, let us know here: www.bajawesternonion.com/submitad.asp -
---



Need a Ride to or From the Airport? Or Someone to Assist You With Errands? - I am a young, bilingual Christian man and I can provide you with rides to or from the La Paz or San Jose Del Cabo airports. I can also help you with courier services, errands, or navigating the intricacies of dealing with Mexican businesses and the government; Car Registrations, TelCel and TelMex, CFE, Seguro Social, etc.

Reasonable Rates - Contact: Ernesto, Cel. 612-117-7497, ernie_net [- at -] hotmail.com


Looking To Caravan To Todos - We are a couple Looking for someone to caravan driving from California to Todos area around March 11 or 12. email Deb Dawson at goodthym [- at -] mcn,org or phone (707) 964-0509 or John Wozniak (707) 962-0932. - Debra Dawson, goodthym [- at -] mcn.org, (707) 964-0509, Baja California Sur

Caravan North To The Desert - Looking for some folks who would like to caravan north, possibly stopping in Comondu for wine tasting, San Pedro Matir for some wildflowers and high mountain picnicking, maybe hot springs at Uruapan, then the border thru Tecate, the safe crossing. room for riderS who want to share gas. You can write me at gypszcaravan [- at -] gmail.com - Tall Man, gypszcaravan [- at -] gmail.com, Todos Santos

Drivin North In a Week Or Two - Driving North in a moter home, need a partner for part of the way. Going to Canada - Mike Malley, malleysonline [- at -] hotmail.com, Pescadero

Ride To San Jose Ariport Needed March 25 - A boy needs to be at the airport by 10:30 AM, March 25. Money for gas. Email with phone number is more reliable. - Scotty Mclemore, scottybcs [- at -] hotmail.comc, 612-135-3500

Heading North End of March - Heading North end of March (the 28th). Room for 1-2 passengers, share driving. Contact Martha at 145-0298. - Martha Kincaid, martha2mendo [- at -] yahoo.com, 612-145-0296


---
Submit your Rides or Caravans Needed/Available articles here: http://www.bajawesternonion.com/submitad.asp



Return to Top
---
Pet Corner (Lost and Found pet articles will run for two weeks)
Let us know if you find or place your pet so we can remove your ad -
---

Boo Boo Has Been Found! - Some good news from his owner to share with our readers.

Gorgeous Puppy Looking For A Home - We found this puppy today, cutest little thing. He must have gotten lost or abandoned by someone that could not care for him anymore because he is pretty healthy, but looks scared. We are looking for a foster home or a forever home. Please look at his pictures, you may know where he belongs or may want to adopt him. - Ellie Ferri, elliefp [- at -] gmail.com, 612-108-8375, Todos Santos

Purebred Akita - We are moving to the States and need to find a good home here locally for our 5 yr. old Akita; as she has lived at Cerritos Beach since a pup. She is a purebred, all white, fixed, always groomed and a healthy, beautiful dog. Plays with other dogs and great with kids. The most loving Akita you will ever find. Not a watchdog! Paid $600.00 for her and would be open to offers. - Jordon Cameron, two40jordi [- at -] hotmail.com, 612-149-5066

Female, All White With Wolf Mask Wolf Hybrid - Very sweet, very good with cats, children and other animals, loves women and needs a good home. Beautiful, well behaved, very well trained but current home is no longer possible. Please help by adopting this wonderful artic wolf hybrid. Please email: eigeinbaja [- at -] yahoo.com or call 178-0077 or cell phone 612-137-1926. - Arlene De Vries Eige, eigeinbaja [- at -] yahoo.com, United States

Found Sweet Puppy - Really friendly puppy showed up at our house in Pescadero near the beach. We have bathed him and have been feeding him. We leave on Saturday, March 3, so he needs a good home. Please call John or Mike at 612-171-5208 or write mikejustus [- at -] Mac.com. He is healthy. - John Elleston, Mikejustus [- at -] Mac.com, 612-171-5208

Found: Sweet and Sad Male Bassethound - Walking at La Poza Beach yesterday, Feb. 19, at 8:30 A.M., we found a very, very thirsty, hungry and sweet Bassethound, white and beige spoted. He walked along with us to our home and is waiting for his owner to pick him up. - Isabel Jirash, isabelgourmet [- at -] yahoo.com.mx, 01-612-145-0832, Todos Santos


Impossible to Resist! - New arrivals at Kitty Heaven despite all of our efforts to spay and neuter (but without the help of the community, there would be even more!).

All colors, all very young and playful. For more information, call Angelique at 612-145-0250 or write her at BajaKitties [- at -] Yahoo.com

Kitty Heaven is the only all-cat refuge in Baja California Sur. Visit us on the web athttp://bajarescue.org/#KittyHeaven.

We survive via your kind donations. To send your support, please click the "Donate" button below:


---
Submit your Pet Corner articles here: http://www.bajawesternonion.com/submitad.asp (and remember to Spay and Neuter your pets)



Return to Top
---
Quote of the Day: " It was such a lovely day I thought it a pity to get up. " ~ W. Somerset Maugham


---
Looking for the complete Community Events Calendar? Click Here!


---
Return to Top
---
---
Help Support The Baja Western Onion!

We can accept donations by Credit Card, PayPal, cash, check or direct deposit.

For more information, please visit our web site at http://www.BajaWesternOnion.com/donate.asp.
Copyright © 2006 - 2012. The Baja Western Onion. All Rights Reserved. Published Using 100% Recycled Electrons :)
Return to Top
---