On The Web Site:
---
Today's Weather Click for Extended Forecast

---
Community Access
Policia Preventiva
Todos Santos Police
612 145-1052
Commandante Navarro

Ministero Publico
State Police
612 145 0198
Commandante Erigoyen

Bomberos
Fire Department
Cel. 612-142-6387
Commandante Cadena


---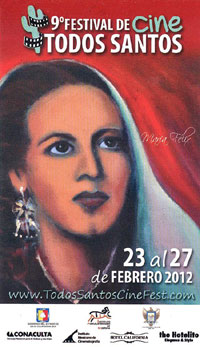 ---
Baja Western Onion
Alan Thompson - Publisher
Debra Webster - Advertising
e-mail For General Feedback
---



Advertising In The Baja Western Onion - As always, text-based announcements are Free, as long as they're not repeated more often than once every 14 days for the same individual, business, item or event. To submit a Free announcement, go here: www.bajawesternonion.com/submitad.asp. If you would like your announcement to appear more frequently, we offer paid sponsorships, with discounts for longer-term sponsorships. Non-profits, and now most types of private-party announcements, are eligible for a 50% discount off our regular rates.

The Baja Western Onion now has over 3,300 subscribers, and we're mailing three issues per week every Monday, Wednesday and Friday. That means your paid announcement can make over 9,000 impressions per week. For more info, go here: www.bajawesternonion.com/advertising.asp. Thank you everyone for your continued support of The Baja Western Onion :) - moderator [- at -] bajawesternonion.com. -
---
News and Events, Questions and Answers
---

Garbage Clean Up Day - To be held Saturday, Feb. 25, at 9 a.m. For those interested in helping out, please come to the road to Las Playtas in front of the new gym. All volunteers are super welcome. Garbage bags and gloves will be provided. - Emanuela, emagard [- at -] mac.com, 612-161-2907, Todos Santos

Free: Used Ping Pong Table - Very used ping pong table to any one who wants to come and pick it up. - Kathleen, ksfroese [- at -] hotmail.com, Baja California Sur

Need Help Paying Property Taxes - I live in Northern California and I can't make it down to San Jose Del Cabo to pay my property taxes in person. I have tried several times to pay them online but I can't seem to get the website to work. Does anybody have any suggestions or remedies? - Kyle Daniska, kyledaniska [- at -] yahoo.com, 530-343-6903

Wanted: Vehicle To Rent! - Looking for dependable vehicle to rent through April 28, 2012. Please e-mail me lisafloridagirl [- at -] aol.com. Thanks! - Lisa Elam, lisafloridagirl [- at -] aol.com, Todos Santos

La Ventana Swap Meet - There will be a swap meet next Sunday, Feb 26th from 8-10 in the main campground in La Ventana. Bring anything you wish to sell or swap: windsurfing and kiting gear, camping and household stuff, artwork, yummy things to eat and drink, etc. - , Baja California Sur

Double Pane Window Glass Replacement - Does anyone out there know of a shop in La Paz or Cabo that can repair U.S. manufactured windows.(Low E, double pane.) If you do, email me at heyleuc [- at -] gmail.com.heyleuc [- at -] gmail.com, Todos Santos

Pet Carrier Needed - Want to buy pet carrier for my cat. - Kathleen, ksfroese [- at -] hotmail.com

Baja Night Sky This Week: Courtesy Baja Pony Express - There will be great views of the moon, 5 planets, some of the brightest stars in the sky, and several satellite flares this week.

The constellation Orion still dominates the high southern sky from 7pm to 10pm and later. It contains 7 of the 100 brightest stars in the sky. When you look through binoculars at the green hazy cloud or nebula in the sword hanging just below the 3 bright stars in the belt, you are watching a star factory that contains some of the hottest stars known.

Of the 200,000,000,000 stars in our Milky Way Galaxy, you can only see about 2000 of them on a clear night. Stay up all night and you will see about 4000 of the 6000 we see from Earth during the course of one year. The brightest star, Sirius, is just below Orion.

This may be your last chance to find the second brightest star, Canopus, below and to the right of Sirius about 3 and 1/2 fists. Once you head for home back north, Canopus will fall below the horizon for most viewers. Can you imagine what Orion would look like if you crossed the equator and looked back to the north to find the constellation? It would appear a little different--upside down.

Wednesday: Soon after sunset look for the crescent moon low in the west. With binoculars try to find Mercury just to its south. At 7:35:33pm there will be a satellite flare over the mid to north end of Cerralvo about halfway up to the zenith.

Thursday: There is a brighter flare tonight at 7:29:26pm at the same spot, and another on Friday at 7:23:20pm. This last one will be very bright in Los Barriles at 7:23:11pm.

Saturday: The crescent moon will be just above Venus.

Sunday: The waxing crescent moon will be just to the right of Jupiter. All week reddish Mars will be up in the east by 9pm, and Saturn will rise around 10pm. -
---
Today's Exchange Rate - Mexican Pesos to 1 USD - Courtesy X-rates.com
---
Submit your News and Events, Questions and Answers articles here: http://www.bajawesternonion.com/submitad.asp


Return to Top
---

---
Featured Events This Week
Please Note: The "Featured Events This Week" section is limited to non-recurring community events (Sorry, no "Happy Hours," "Daily Specials," "Weekly Classes," or other recurring business activities or workshops.)
---
Wednesday, February 22
Wholesome Home and Garden Workshops - Permaculture talk, 2 to 4 PM. Fee: $100 pesos; Place: In the Otro Lado in Todos Santos. From Calle Juarez turn onto Topete and cross the hueta, turning left on the Horizontal. Go past the school and continue onto the dirt road which swings to the right. In a mile look for a sign on the right saying "Permaculture Workshop". - Va. Moonstone Mazzetti, wholesomehomeandgarden [- at -] gmail.com, Baja Tips Weekly, "Spot Light on Virginia Mazzetti, 612-119-4098

Thursday, February 23
9th Todos Santos Film Festival - Feb 23 ~ 27. Non-profit benefit. 30 films this year, with proceeds supporting 70 kids enrolled in our Youth In Video Educational Program. Sponsors Welcome. All Films with English Subtitles. - Sylvia Perel, sylvia [- at -] latinofilmfestival.org, http//www.TodosSantoscinefest.com, Todos Santos

Cafe Des Artists - 3-5 p.m., Cafe Todos Santos, Todos Santos. Monthly gathering of local visual artists as well as visiting artists to share experiences on creating and marketing their art. Contact: Diane Knight dianekknight [- at -] hotmail.com, 612-145-0586, www.artistsoftodossantos.com

Friday, February 24
Dia De La Bandera - Flag Day in Mexico - Día de la Bandera is a national holiday in Mexico. Flag Day is celebrated every year on February 24 since its implementation in 1937. It was established by the President of Mexico, General Lázaro Cárdenas, before the monument to General Vicente Guerrero, first to pledge allegiance to the Mexican flag on March 12, 1821. -

Friday, February 24 - Sunday, February 26
Oil Painting Workshop With Ezra Katz - Friday, February 24, at 9 a.m. until Sunday, February 26, at 1 p.m., Galeria de Ida Victoria, V. Guerrero 1128, between Zaragoza and Obregón, half block from Flexi shoe shop, San José del Cabo. Join us in the gallery for this exciting workshop with local artist Ezra Katz, whether to try your hand for the first time at oil painting or to perfect your technique, all levels are welcome and encouraged. www.facebook.com/events/283241768398666/

Saturday, February 25
Garbage Clean Up Day - Begins at 9 a.m. For those interested in helping out, please come to the road to Las Playtas in front of the new gym. Volunteers welcomed. Garbage bags and gloves will be provided. - Emanuela, emagard [- at -] mac.com, 612-161-2907, Todos Santos
Sunday, February 26
La Ventana Swap Meet - 8-10, main campground, La Ventana.

18th Annual Todos Santos Historic House Tour - 9:30 AM - 3:00 PM, Centro Cultural, Todos Santos. Self and guided tours of historic homes in and around Todos Santos. Sponsored by the Palapa Society, all proceeds benefit childrens' educational and medical programs. Registration: 9:30 AM. to 1 PM. Homes open from 10 AM to 3 AM. Contact: www.palapasociety.org

Oscar Award Night - Festival De Cine De Todos Santos Fundraiser - 4pm to ??, Hotel California, Todos Santos. Oscar Awards on 3 Large Screen TVs at Hotel California – with 1 quiet room for serious viewers. Tickets and Ballots sold at Hotel California and Tecolote Bookstore. Contact: Sylvia Perel sylvia [- at -] latinofilmfestival.org, 612-140-1414, www.todossantoscinefest.com/

---

---
Community Events and Workshops Notification Page - Submit event notices for The Community Calendar or Workshops and Meetings pages.

Anyone planning an event should check the Online Community Calendar before choosing a date to see if something else is already planned and avoid conflicts. Check the Online Community Calendar here: www.bajawesternonion.com/community-calendar.asp -
Return to Top
---

---
Stepping Out - Food, Music, Workshops and Entertainment
---

Out With The Old, In With The New – Desertu Welcomes You! - For those of you who have been waiting for Chef José Uribe & his wife Carmen to make Il Giardino their own ... well, the time has come! "Il Giardino" is no more, it is now "Desertu," and José & Carmen are eager to share their fresh unique menu with you.

Pizza lovers do not despair! The popular pizza menu is in place but with improved recipes and quality of ingredients in the ever lovely garden setting. All pizzas are now available at the same reduced cost of 185 pesos for one of those enormous pies. And if you mention this ad with your pizza order, they'll throw-in two beers or sodas for free!

As for the savory new menu – although José inherently sees food preparation through the lens of his Basque country origin, and he & Carmen hail from Mexico City where José worked as executive chef at two highly acclaimed restaurants which received 4 consecutive 5 Star Diamond awards under his stewardship – Desertu is decidedly about a multicultural, global and simple approach to cuisine. A versatile and contemporary menu that focuses on fresh, local meats and seafood, simply but artfully prepared, with just a few ingredients to enhance the main component of the dish.

Think ... fresh clams a la Marinara, beef filet with Gorgonzola, whole grilled fish with twice-cooked garlic, risotto with saffron and mussels. You get the idea...scrumptious! Their new standard menu is augmented daily with unique and interesting seasonal specials, a great new grill, a thoughtful wine list and creative delectable desserts.

Desertu is a whole new mouthful of flavor for this town; sure to surprise and delight your palate. But, taste for yourself, open daily from 1pm-10pm, closed Wednesday; José & Carmen welcome you and hope to see you at Desertu soon! - Desertu, rdesertu [- at -] gmail.com, 145-0199, Todos Santos


Hotel California - Bistro Santo Vino & Wine Bar
Santo Vino is now open 7 days a week from 5pm till 11pm. Reservations Recommended
*30 Mexican wine labels, 12 by the glass.
*Baja artisan beers.
*Creative jamaica, tamarind and jalapeño margaritas.
*Chef's store featuring Dany's flavored salts, Baja olive oil and vanilla.
*Cooking classes.
Click Here Visit our ONLINE Store
Keep up with the latest Hotel California info by joining our facebook fan page
Follow us on facebook
- , info [- at -] hotelcaliforniabaja.com, www.hotelcaliforniabaja.com, (612) 145.0525, Todos Santos

Fun, Fashion & Cocktails in Cabo! - Join us for a fabulous evening of cocktails, fashion and fun! Featuring Todos Santos' own ... Nomad Chic & Belazul Swimwear! March 8, 4 to 6 p.m. - Poolside at Bahia Hotel & Beach Club (Av. El Pescador s/n Medano Beach). RSVP 624.143.1889 - info [- at -] baresquina.com - Linda Hamilton, linda [- at -] lindahamiltondesigns.com, https://www.facebook.com/pages/Nomad-Chic/184057581646858, 612.105.2857 or 415.381.9087, Baja California Sur

Permaculture Workshop - The ethics and principles of Permaculture and how they turn into action will be presented in a workshop taught by Virginia Moonstone Mazzetti on Wednesday, Feb. 22. There will be a walk around the property to see some techniques in action. Time: 2-4 p.m. Fee: 100 pesos. In Las Tunas, Todos Santos. From Jaurez take Topete out of town. Take a left at Horizonte, past the school and take the sweeping right turn onto Las Playitas. Go another mile and look for a sign across from Mini Super Jaunita. Turn right and follow the next sign to the right. - Virginia Mazzetti, moonstonenow [- at -] yahoo.com, wholesomehomeandgarden [- at -] gmail.com, 612-119-4098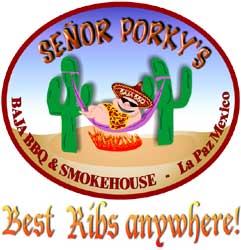 Señor Porky's Baja BBQ and Smoke House! The Best Ribs Anywhere!



New Restaurant in La Paz - Featuring Kansas City slow-smoked meats not found anywhere in Mexico. Now open 7 days a week from 7:30 AM with full breakfast menu and Cappuccino, to 10 p.m., and weekends until midnight. Watch the sunset from our spectacular ocean view! Located on the Malecon in La Paz at Alvaro Obregon #670, on the corner of Allende and Rosales (next to the Arco Hotel).


• New Menu • Daily Specials • Lower Prices • Many New Items Under 75 Pesos •

To ensure the best quality for Porky's Smokehouse Meats, we start with the best meats available. Then we dry-rub the meats with a combination of 20 spices, then slow-smoke for up to 18 hours at low temperature to obtain maximum flavor and tenderness while sealing in the natural juices and smoke flavor that is unmatched anywhere! We know you'll agree that Señor Porky's Baja BBQ and Smoke House are the best you have ever tasted.
"Special Of The Day" Every Day:

Monday - Margarita Monday - 2 For 1
Tuesday - 3 Tacos - 40 Pesos
Wednesday - Wing Day - 8 Pesos Each
Thursday - Burger And Beer - 75 Peso
Friday - 1 Free Beer - With Entrée
Saturday - 1 Free Desert - With Entrée
Sunday - Any Burrito - 55 Pesos
Plus fantastic side orders include Pasta Salad, BBQ beans, Coleslaw, Sweet Potato fries, New Mexico Green Chile with Pork, Caesar Salad and Homemade Deserts. Dine in, or carry out from our "Pig Out" Meats to Go Menu. Download our entire Menu here: files.me.com/richards771/1wclv6. For more information, call 612-129-3667. - Richard Stubbs, richards77 [- at -] pcisys.net, La Paz


Oscar Awards Night - Festival De Cine Todos Santos - Fundraiser - Sunday, Feb. 26, 4 p.m. to ?? at Hotel California. Oscar Awards on 3 Large Screen TVs – with 1 quiet room for serious viewers. Dress Hollywood Glam with prizes for best dressed male/female. Doors open at 4 p.m. for the "Red Carpet" review. Oscars Awards to follow. Ballot cards for $50 pesos with a prize for the winner. Pre-sale tickets $150 pesos at El Tecolote Bookstore and Hotel California, and at the door for $200 pesos . Offering complimentary tapas, no-host bar and special no-host appetizer menu. We hope to see you. Be Fabulous Darlings! - Sylvia Perel, sylvia [- at -] latinofilmsociety.org, www.todossantoscinefest.com, Todos Santos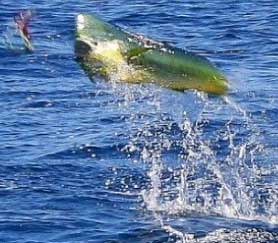 Todos Santos Fishing Charters - Why deal with a middleman? Come direct to the owner/operator
Fully Registered Sportsfishing Company


Bilingual Crew


Top Quality Tackle and Gear
Whether game fishing or whale watching, contact us for your ocean adventures. Visit our website for full details: www.fishingtodossantos.com or www.todossantosfishingcharters.com.

Package deals available when booking fishing and our casita for your complete holiday - www.bajasurtodossantos.com, or call 612-119-7880 or 624-114-1351


Delicious Homemade Yoghurt! - The Yoghurt you already know and love. Thick, natural and no sugar nor preservatives added. Easy to combine with almost everything. Now available daily at Kate´s Juice Bar in El Tecolote. Wednesdays and Saturdays at the Organic Markets. - Isabel Jauregui, chabeisamar [- at -] yahoo.com.mx, 612-145-0532 and 612-152-3813, Todos Santos


Start The New Year Well! - Thank your body for helping you make it through the holidays by treating yourself to a nutrition packed freshly squeezed fruit or vegetable juice from the new juice bar in the Libreria El Tecolote.
WiFi available
The Best Espresso In Town!
The Daily News Is Here Mon.-Sat. Open At 8 A.M.
- Kate Lewis, katemlewis [- at -] yahoo.com, El Tecolote, Todos Santos.


New Bagel Shop In La Paz - Bagel Shop y la galeria, offers fresh made bagels the traditional Jewish way we boil them and bake them daily. We have garlic, sesame, chia, cinnamon with raisins and cranberries, sun dried tomato, wheat and plain. You can accompany with different cream cheese: chipotle, chives, blueberry, olives and bell pepper to mention a few.

At the Bagel Shop we offer bagel sandwiches like bagels with lox, chicken bagel sandwich or a breakfast bagel with bacon and egg and waffles with a strawberry compote. Follow us in FB at Bagel Shop y la galeria. We are located on Belisario Dominguez 291 between Constitucion and 5 de Mayo, Tel. 12-55878 open Mon-Sat 7:30 AM - 3 PM.

We also deliver fresh made Bagels and Bagel Chips at the new Mega on Abasolo across from the VW store. - Patricia Del Valle, pdelvalle2001 [- at -] msn.com, (612) 12-558-78, Baja California Sur


---
Submit your Stepping Out - Food, Music and Entertainment announcements here: http://www.bajawesternonion.com/submitad.asp



Return to Top
---
Misc. Sales and Services Available
---

Ford Exployer For Sale - I own a 1992 Ford 4/4. It has many new parts and has a Calif. license plate with current tags. This car runs good. There is a five speed manual tranmission. Asking price is $2500 USD. The car is in Todos Santos. arechiga66 [- at -] yahoo.com, 612-161-4728, Todos Santos



Spanish Lessons With Guillermo Bueron - Berlitz Total Immersion Method for all levels. The Survival Spanish Program will teach you basic words and phrases most often used during travel to Spanish speaking countries. Two hours of instruction per day. Monday through Friday.
The Intensive Program.20 monthly lessons. Learn to integrate the minor and major tenses. Classes will start March 5. Classes are held in the Cultural Center TS and Baja Beans Pescadero. - Guillermo Bueron Prieto, g_bueron [- at -] yahoo.com, www.guillermolanguageandtravel.com, 612-161-4165, Todos Santos


Travel Agent Wanted - Wanted: Superstar with Personality! Must love travel and embrace technology. Experience as a travel agent would be ideal. Must have ability to handle high volume of phone calls and emails. Highly organized, self-starter. Comfortable with travel industry software, booking engines, net rates contracts, social media and a strong writer. English required. Bi-lingual preferred. Email jobs [- at -] baja.com with your resume and salary history and expectations. jobs [- at -] baja.com

Artistic Doors In Cedar And Iron - Very Limited Sets Available For Limited Time Only - Artistic Doors in cedar and Iron and in Pine and Iron. Unique, hand-made Artisanal doors, single and double door sets. One-of-a- kind opportunity to add these doors to your home. Very Limited sets available in Todos Santos during February and March only. Specifications include the following:
8 FT. Tall
6 FT. Wide
3" Width
Quite heavy and very solid
Brand new
Ready to finish to match your home colors
Accepting reservations now, possibly some trade accepted: info [- at -] villasaguablanca.com. For more details and photos, visit:www.villasaguablanca.com/Miscellaneous.html. Get one or get all! Amazing opportunity for builders, architects and contractors, special price for the whole lot (40 doors). - Lauren Klein, Todos Santos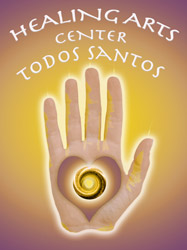 The Healing Arts Center of Todos Santos - is a community of health professionals, working together in the TS/Pescadero area offering services to support clients on the journey towards balance & well-being, expanding awareness of the local & foreign communities of alternative therapy options, including ancient healing art forms as well as more modern evolutions in the realm of natural healing, and empowering patients, students & clients by teaching ways to prevent illness and methods of self care to address imbalances.
• Acupuncture & Chinese Medicine - Jane Sipe, L. Ac. jasi57 [- at -] juno.com & Barbara Elsner, L. Ac. (beginning February, 2012) 1sheurchin [- at -] gmail.com 612-151-7026
• T'ai Chi & Qi Gong Classes - Rhoda Jacobs barakabaja [- at -] gmail.com 612-157-6088
• Reiki - Allison Eaton info [- at -] allisoneaton.com, www.allisoneaton.com, 612-152-3896
• Massage - Kurtis Parsons (beginning February, 2012) puravidahealthfood [- at -] gmail.com 612-169-2095
• Acutonics (Sound Healing) (Sound Healing) - Lynn Wedekind tuneintoit [- at -] gmail.com 612-151-3051
• Kinan Classes (Mayan-Toltec Form) - Daniel Camargo daniel [- at -] ancestralmessenger.com, www.ancestralmessenger.com, 612-139-6987
• Body Centered Psychotherapy - Shawna Owen, RPC (EMDR, IBP) harmonywithall [- at -] mac.com, 612-151-7728
• Anxiety, Mood, Couples Counseling - Jolyn Wells-Moran, PhD, MSW, LMHC (beginning November, 2012) jwmcounseling [- at -] yahoo.com, www.anxiety-specialist.com
Practitioners interested in joining this dynamic group contact Jane jasi57 [- at -] juno.com - Todos Santos Healing Arts Center, Jane Sipe, 612 151 7026, Todos Santos
18' Ocean Fishing Boat For Sale - Comes with a new 60 HP, 4-stroke Mercury motor with only 93 hours on it:
Easy Pull Trailer With Excellent Tires
2 New Batteries
Center Fiberglass Console
Ready To Go Fishing!
Price Reduced! $8,200 USD. This is a great price -- it's like buying a motor and getting the boat and trailer for free! - Kent Hansen, kenthansen [- at -] shaw.ca, La Paz



Limited RV Sites Available - New RV Park within walking distance to to beach. Pool, laundry, full hook ups, gated park with excellent security record. Beautiful location in Pescadero. We have a limited number of full hook up sites available for the season and a limited number of permanent resident sites. No other place like this in the area. Very reasonable rates and great people. Call for more details or check out our website at www.mountainshadowrv.com/. Mexican cell: 52 (612) 139-2713; USA Phone: (619) 780-8048; Canada Phone: (604) 210-0564 - Kenny Sewell, mountainshadowrv [- at -] gmail.com, 604-628-9532 - Kennny Sewell, www.facebook.com/pages/Mountain-Shadow-RV-All-Adult-Resort/134505649959493, 52 (612) 139-2713, Pescadero



Accounting Services In Todos Sants - We can assist you with your corporate and individual needs. We offer accounting and administrative services including:
Registration of corporations with SECOFI and INM
Registration and reporting of construction and construction workers with IMSS
Recording and reporting foreign investments with the Secretaria de Economia
Counseling and immigration assistance for FM2 and FM3
Property management including payment of utilities, water, CFE, fideicamiso
Assistance with water rights
Offices in central Todos Santos
Many local references
FRIMAR GROUP
E.C.M. Raquel Martinez Peralta - Raquel Martinez Peralta frimargroup [- at -] hotmail.com, 612-14-86907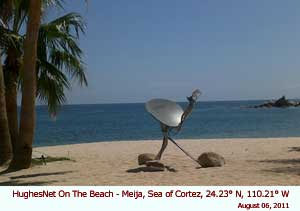 HughesNet Satellite Internet Systems - Limited-time Offer - Get $259 in Mail-in Rebates:
Complete 0.74 Meter HughesNet System - $399.99 $199 US After Mail-in Rebate! 1

Plus get a mail-in rebate for $10 off each month of service for the first three months of service:
Available Service Plans:
Plan - Max. Speed
Down/Up 2
Daily Data Transfer
Allowance 3
Monthly Service Fee 4
Home - 700 Kbps/128 Kbps
250 MB
$39.99/mo. 1st three months - then $49.99
Pro - 1.0 Mbps/200 Kbps
350 MB
$59.99/mo. 1st three months - then $69.99
Pro Plus - 1.5 Mbps/200 Kbps
400 MB
$69.99/mo. 1st three months - then $79.99
1 Equipment price shown is after $199.99 HughesNet mail-in rebate. Does not include Mexican shipping, importation or installation, and $100 Mexican account activation fee.
2 Absolute maximum speeds as stated by Hughesnet. Actual speeds will be less.
3 Daily Data Transfer Allowance now includes a rollover of unused data to the following day, up to a maximum of 2 times the plan's normal daily aloowance.
4 Monthly service fees shown are for first three months of service after $30.00 HughesNet mail-in rebate.

Baja Satellite is an Authorized HughesNet® Reseller. For more information Contact Us today: BajaSatellite [- at -] Hughes.Net, www.bajasatellite.com, (530) 903-4257 (US), (01) 555 351 0882 (Mexico), Baja California Sur
---
Submit your Misc. Sales and Services Available/Wanted articles here: http://www.bajawesternonion.com/submitad.asp



Return to Top
---
---
Real Estate, Rentals, and House Sitting - Available/Wanted
---

Beach Lots For Sale - I am trying to sell two big lots in Elias Calles. These lots are beach front lots. One lot is one hectare while the other lot is over 16,000 sq. meters. There is water pipes at road but no electric power. Both lots have an asking price of $75 per sq. meter. I have many pictures to send out. lowerbaja [- at -] yahoo.com, 612-161-4728, Cabo San Lucas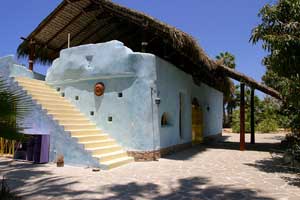 Todos Santos Beach House on a Tranquille Lush 5, 206.22 Sqmt Property - For Sale by Owner: - Two (2) separate driveway entries give the 5,206.22 sq meter (1.25 acre) property privacy from both the front and back, giving flexibility to build additional homes or to split in the future. Soil on the property is rich organic black soil, ideal for other organic gardening.

Property is an enclosed oasis and has unlimited access to farm water that nourishes the over 85 mature mango trees, 80 lush palm trees over 5 feet, passion fruit trees, citrus fruit trees and avocado trees, all of which give the property its cool shade that is coveted in the region and frequently not available on other properties of comparable or more value in the desert landscape.
* Property has power, water (both municipal and farm water), gas and Internet.
* A 6-minute walk takes you to the secluded beach, and a 5-minute drive finds you in the heart of TS.
* Motivated Seller with Reduced Listing
If you have questions or would like to make an offer after viewing the property on YouTube (www.youtube.com/watch?v=krg9FEeiRtk), feel free to contact us. Save on the fee and make us a good offer. - Anh Walch, anhwalch [- at -] yahoo.com, 212-692-0912, Todos Santos


House Sitter - Retired Banker living in San Diego is avaliable for your house sitting needs. Minium assignment 2 weeks. I have been house sitting in the East Cape area for 6 yrs. I will fly to Cabo rent a car. No cost to you! Last assignment in Punta Pescadero. Referances. Ted lemanowicz 760-727-5063 tlemanowic [- at -] sbcglobal.net - Ted Lemanowicz, tlemanowic [- at -] sbcglobal.net, 760-727-5063


For Rent: Quaint Cottage -
Quaint cottage on lovely ranch in Percadero.

Call Mariposa for details at 612-17-63119.

Looking For Rental - Writer (female) looking for a furnished place to rent from July 1st through September 20th. Prefer north side of Todos Santos or close by. Local character reference available. $600 mo. - Sam Crespi, samcrespi [- at -] gmail.com, 360-435-8977/434-566-9186

---
Submit your Real Estate/Rentals/House Sitting/Property Management Services articles here: http://www.bajawesternonion.com/submitad.asp



Return to Top
---
Rides or Caravans Available/Wanted
Note: Ads will run for two weeks unless dated. Please list the date in the title, and specify which airport. Goes without saying, everyone shares expenses for beer, gas, food, etc

To remove your ad if you find a ride or caravan, let us know here: www.bajawesternonion.com/submitad.asp -
---



Need a Ride to or From the Airport? Or Someone to Assist You With Errands? - I am a young, bilingual Christian man and I can provide you with rides to or from the La Paz or San Jose Del Cabo airports. I can also help you with courier services, errands, or navigating the intricacies of dealing with Mexican businesses and the government; Car Registrations, TelCel and TelMex, CFE, Seguro Social, etc.

Reasonable Rates - Contact: Ernesto, Cel. 612-117-7497, ernie_net [- at -] hotmail.com


Ride From San Jose Airport Needed Feb. 24 - Arriving at 2 p.m. Would like to hire a driver for pick up at the San Jose Airport to take me to Todos Santos or Cerritos. Please include rate and other information in response. bonstan [- at -] telus.net - Bon Staniszkis

Ride Request Northward - Hello, I'm a gardener/baker/yoga teacher in Pescadero, warming up to a journey North come the end of the month. I'm envisioning myself in sunny San Diego, but I would be thrilled for any assistance getting at least to Baja Norte where I can catch a cheaper bus. I will gladly share gas money, snacks, poems, ideas, pleasant silence, and driving assistance if you would like. Sometime between the 23rd and the 28th would be ideal, but I am wicked flexible. Thanks! - Jacob Wartell, jwartell [- at -] coa.edu

Ride Needed From Todos Santos To Cabo Airport - March 1. Need to be there at 1 p.m. 2 people, minimal luggage. Pay for gas. Please write me at deborahdenise2 [- at -] gmail.com. deborahdenise2 [- at -] gmail.com

---
Submit your Rides or Caravans Needed/Available articles here: http://www.bajawesternonion.com/submitad.asp



Return to Top
---
Pet Corner (Lost and Found pet articles will run for two weeks)
Let us know if you find or place your pet so we can remove your ad -
---
Boo Boo Is Lost - Black Lab Cross - looks like a small Lab. Boo Boo is all black and had a purple collar on with bones on it. She is very friendly and very smart. If you have seen this dog of know its whereabouts, please call Dean McQuillen: 612-133-0311 - Dean Mcquillen, todossantos1 [- at -] hotmail.com, 612-133-0311, Todos Santos

Found: Sweet and Sad Male Bassethound - Walking at La Poza Beach yesterday, Feb. 19, at 8:30 A.M., we found a very, very thirsty, hungry and sweet Bassethound, white and beige spoted. He walked along with us to our home and is waiting for his owner to pick him up. - Isabel Jirash, isabelgourmet [- at -] yahoo.com.mx, 01-612-145-0832, Todos Santos

Flying Fido And Morris Into Mexico, Courtesy Baja Pony Express - Useful Article from Baja Insider 12/12/11: (1) You will need a Original Health Certificate completed by a Vet,. The documentation should verify that the dog has received all its shots. Do Not Try To Use A Photocopy. Rabies Shot not over 1 year old. (yes in the states it is 3 years but not Mexico Upon arriving at the airport, after clearing customs you will need to import the dog. This is pretty painless. They take your health certificate back to the office photocopy it and bring you the import papers with an official stamp. Hope that helps. Jim Hall

(2) Mexico Customs, currency & airport tax regulations details: www.iatatravelcentre.com/MX-Mexico-customs-currency-airport-tax-regulations-details.htm. All pets require a veterinary health certificate, issued not more than 5 days before arrival. For dogs and cats, health certificate must include: - (for pets older than 3 months) rabies vaccination history issued within 12 months before arrival [NOTE: Rule has changed since 2009. Now every 3 years - Editor]. If rabies vaccination history is not included, rabies vaccination certificate must be attached. - attestation that the pet is free from ECTO and ENDO parasites (or a deworming certificate). Further information can be found at: www.senasica.gob.mx ("Phytozoosanitary Inspection" and "When travelling, bring your pet"). And for a much more detailed description of the process: www.senasica.gob.mx/?Idioma=2&id=623 - Sheryl, Owner of La Paz Gringos

Mexico recently changed the rabies policy. We flew into SJD In October and were asked to present health certificates for our dog and cat. They registered the animals and presented me with papers welcoming them into Mexico. The person who helped us also told me that the policy for rabies had changed in Mexico from a shot each year had changed to a shot every three years, just like in the USA.



Impossible to Resist! - New arrivals at Kitty Heaven despite all of our efforts to spay and neuter (but without the help of the community, there would be even more!).

All colors, all very young and playful. For more information, call Angelique at 612-145-0250 or write her at BajaKitties [- at -] Yahoo.com

Kitty Heaven is the only all-cat refuge in Baja California Sur. Visit us on the web athttp://bajarescue.org/#KittyHeaven.

We survive via your kind donations. To send your support, please click the "Donate" button below:


---
Submit your Pet Corner articles here: http://www.bajawesternonion.com/submitad.asp (and remember to Spay and Neuter your pets)



Return to Top
---
Quote of the Day: " A woman is the only thing I am afraid of that I know will not hurt me. " ~ Abraham Lincoln


---
Looking for the complete Community Events Calendar? Click Here!


---
Return to Top
---
---
Help Support The Baja Western Onion!

We can accept donations by Credit Card, PayPal, cash, check or direct deposit.

For more information, please visit our web site at http://www.BajaWesternOnion.com/donate.asp.
Copyright © 2006 - 2012. The Baja Western Onion. All Rights Reserved. Published Using 100% Recycled Electrons :)
Return to Top
---