On The Web Site:
---
Today's Weather Click for Extended Forecast

---
Community Access
Policia Preventiva
Todos Santos Police
612 145-1052
Commandante Navarro

Ministero Publico
State Police
612 145 0198
Commandante Erigoyen

Bomberos
Fire Department
Cel. 612-142-6387
Commandante Cadena


---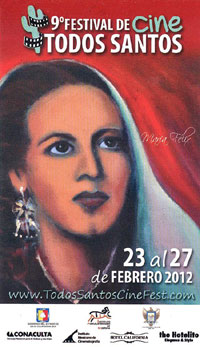 ---
Baja Western Onion
Alan Thompson - Publisher
Debra Webster - Advertising
e-mail For General Feedback
---
---
News and Events, Questions and Answers
---

Historic House Tour Call For Docents! - This year's Palapa Historic House Tour is Sunday, Feb. 26, and we are inviting everyone interested in hosting at one of the houses to contact Evan Smith at Esmith1617 [- at -] hotmail.com or by calling him at 612-158-0217. This year promises to be bigger than ever and we look forward to having you join in the fun with us. - Evan Smith, Esmith1617 [- at -] hotmail.com, 612-158-0217

Todos Recycling Program Will Operate On Call For February - Hello all, and thank you for your patience and continued recycling efforts. For at least the the month of February, the recycling program will be on call. That means we will come to you for the same suggsted donation. We are still having issues with after-hours dumping in town, and must rectify this situation. We are colllecting plastic, metals, and large cardboard only (I can advise you where to take paper and glass in Cabo San Lucas). Please contact Ira at 612-152-4334 for collection. - Enviromass, info [- at -] enviromass.com, 612-152-4334

2012 Fur Ball - Thanks to everyone who came to support this year's Fur Ball. Special thanks go to the Hotel California and Chef Danny and his staff of SantoVino for preparing a delicious dinner for everyone. Big thanks to the restaurants who provided great appetizers: Sta. Fe, El Zaguan, Casa Tota, Guayacura, Cafelix; Wind and C at Suki's for baking cup cakes.

Gratitude goes to the artists who donated their paintings to the art auction: Erick Ochoa, Jill Logan, Catherine Edwards, Michael Cope, Ezra Katz, Roxanne Sparks, Tori Sepulveda, Margi Woodall, Lindy Hanson; and the private art collectors who gave generously.

More thanks to the donors to the raffle. To the many wonderful volunteers, without whom we could not have pulled it off: thank you, thank you, thank you. See you next year! -- Amigos de los Animales de Todos Santos, a.c.

Café Des Artists To Meet - The next meeting of Café Des Artists will be at Caffe Todos Santos Thursday, Feb. 23, from 3 p.m. to approx. 5 p.m. The 18 artists who attended the January meeting enjoyed a lively exchange of thoughts and experiences, mostly around inspiration. The group decided that at the February meeting we would talk about the recent Open Studio Tour and spend more time discussing work habits – safe work habits and space. Caffe Todos Santos will set a space aside for us to gather, however artists will be responsible for their own food and beverage. All practicing artists are welcome. - Diane Knight, dianekknight [- at -] hotmail.com, 145-0586, Todos Santos

Missing Person - Hola Todo. Does anybody know Gary Faulk? He lives in the Huerta at the beach in El Pescadero. He has been there for 20 years or so. If anybody knows him, please send me a email at chrissmarine [- at -] gmail.com. He has not responded to emails for a long time and we are worried about him. Thanks. Chris Barnett - Chris Barnett, chrissmarine [- at -] gmail.com

Lord Of The Winds Photo Contest - Congratulations to Kim Bruens and Kathy Lowrey for winning the best photo contest during the Lord of the Winds contest! Winning photo's can be seen at www.kiteboardingbajaschool.com and all submissions can be seen on our facebook page. Kiteboardingbaja. - Nicole Eden, nicole [- at -] kiteboardingbaja.com, www.kiteboardingbajaschool.com, 624-155-1813, Los Barriles

Volunteers Needed - Come and volunteer at the Teatro in Todos Santos during the 9th Festival de Cine Todos Santos. Help is needed on Saturday, Feb. 25, from 5 p.m. -10 p.m. and on Sunday, Feb. 26, from 4:30 p.m. -7:30 p.m. For more information, email Celia at heavenlybliss57 [- at -] hotmail.com. - Celia Devault, heavenlybliss57 [- at -] hotmail.com

Race In Cabo Sunday - Anyone going to 5K/half marathon in Cabo on Sunday? Anyone want to? Registration is Saturday, the race is Sunday at 6 a.m. so we would have to leave early. - Marcia, marciastromsmoe [- at -] gmail.com, 612-177-7157

Who Has Car Storage - Does anyone know of someone who will store a car in Todos Santos? - Mark Oliver, buggylifer [- at -] yahoo.com, 612-132-1477, Todos Santos

Old Movie Posters - I am looking to contact the person that was selling the old Mexican movie posters at the the big garage sale in December. I am interested in purchasing a set of them if they are still available. - Brian Moisey, brianmoisey [- at -] gmail.com

Vehicle Transporting - Require a 1-Ton pickup to be "decked" - not driven - from Pescadero, BCS, to Kamloops, British Columbia. Does anybody have any information or advice on this? skejam [- at -] hotmail.com - Jim Skelton, skejam [- at -] hotmail.com, 612-169-8007, Pescadero

Add A Little Sparkle To Your Day - Imagine waking every morning to a postcard that makes you laugh or makes you think or makes you dream. Postcards from Gusto is an inspiring get-up-and-go note from your number one fan and a new one appears in your inbox every morning. Maybe it'll come with a picture of a love note carved into a tree or a tropical waterfall or a really happy camel.

Completely advertisement-free, these little nuggets come in the form of a postcard whose name happens to be Gusto. Postcards from Gusto is an I-hope-this-adds-a-little-sparkle-to-your-day kind of website that changes every morning. To see it, visit www.PostcardsFromGusto.com. Postcards from Gusto doesn't sell anything—it just makes the world a better place one morning at a time. - Chris Day, 4806068255, Todos Santos


---
Today's Exchange Rate - Mexican Pesos to 1 USD - Courtesy X-rates.com
---
Submit your News and Events, Questions and Answers articles here: http://www.bajawesternonion.com/submitad.asp


Return to Top
---

---
Featured Events This Week
Please Note: The "Featured Events This Week" section is limited to non-recurring community events (Sorry, no "Happy Hours," "Daily Specials," "Weekly Classes," or other recurring business activities or workshops.)
---
Wednesday, February 15
Wholesome Home and Garden Workshops - An Introduction to Feng Shui, the original environmental science based on Taoist principles. Learn the basics of observing and analyzing your space so that you can create more health, wealth and happiness in your life. Time: 1-4; Fee: $400 pesos; Place: The home of Tory Sepulveda in Todos Santos. - Va. Moonstone Mazzetti, wholesomehomeandgarden [- at -] gmail.com, Baja Tips Weekly, "Spot Light on Virginia Mazzetti, 612-119-4098

Valentines Do-Over For Singles - Live music, 20 pesos beer, 50 pesos margaritas. El Perico Azul (esquina de Topete y Centenario) - Casa Tota, hotelcasatota [- at -] gmail.com, 145-0590, Todos Santos

Thursday, February 16
Cabaret Circus Theater Show - Circus, Theater Cabaret Show from Guadalajara and Slovenia. Todos Santos show, 4:00 pm at the parking place of CaFelix Boyitacos. $200 pesos. Reservations by mail. Space limited - Dulce Chavez, amayaum [- at -] gmail.com, www.unicirka.wordpress.com, 612-156-5652
Friday, February 17 - Saturday, February 18
And Then There Was Nun - Doors open 6:30pm, Show Starts 7:30pm., Teatro Luna Azul, Todos Santos. An off-the -wall comedy that blends Hollywood's most famous Movie Stars in an Agatha Christie style plot. Contact: Bluemooninbaja [- at -] yahoo.com, Http://TSBMP.blogspot.com

Friday, February 17
Red Autismo Fundsaiser Event - The Silent Midnight Rider. Book signing and cocktail party 6 -9 pm at the Shoppes at Palmilla. Come and joins for the launch of this wonderful children's book, based on the story of a child with autism on the beach. - Red Autismo, info [- at -] redautismo.org, www.redautismo.org, 524-12-06328, Baja California Sur

Saturday, February 18
Gardening With Natural Alternatives - When: 10 a.m., Where: Property of Bill & Susie Bradford, KM 67 - East Side of HWY 19 - thru large green gate, Los Cerritos. Description: Natural/Organic Products for Garden - Free Seminar #2 by The Gardening Guru (Cathy Fuller). Bring your pen, paper, bottle of water, chair and all your gardening questions! email to RSVP. Contact: Cathy Fuller gardeningguruinc [- at -] gmail.com, http://gardeningguru.webs.com/, www.facebook.com/events/213036338788675/

Viva Amor! Tracy Durland Sings Songs Of Love - 7-9 p.m., Cafelix, Todos Santos. In Honor of Valentine's Day/Dia del Amor y La Amistad, Tracy will be warming your heart with songs of love; Romantic Classics in Spanish and Jazz in English. Contact: Felix Guluarte salesboy_vagu [- at -] hotmail.com, 612-145-0568

Sunday, February 19
Open Reading - 4:00 p.m., Michael Cope Gallery, Todos Santos. Writers are invited to share their work. Refreshments will be available.. Contact: Susan Doyle timsudoyle [- at -] hotmail.com, 145-0821

Yoga Benefit For The Children's Orphanage And Amigos De Los Animales - 4:30 p.m., La Esquina, Todos Santos. A special heart opening 1 1/2 hour Yoga Sampler Class lead by Shane, Kate, Marimar, Lee, Mayra, Jessica, Kim and more. Live music and healthy snacks. Contact: Kimberly Wexman kwexman [- at -] mac.com

Reiki Level 2 Certification Workshop - 12:30 - 5:30 p.m., Healing Arts Center of Todos Santos, Todos Santos. In Reiki Level II, you will deepen the Reiki Energy Healing Practice, learn Distance Reiki and receive Reiki Level II Certification. $90 USD. Contact: Allison Eaton info [- at -] allisoneaton.com, 612-152-3896, www.allisoneaton.com

---

---
Community Events and Workshops Notification Page - Submit event notices for The Community Calendar or Workshops and Meetings pages.

Anyone planning an event should check the Online Community Calendar before choosing a date to see if something else is already planned and avoid conflicts. Check the Online Community Calendar here: www.bajawesternonion.com/community-calendar.asp -
Return to Top
---

---
Stepping Out - Food, Music, Workshops and Entertainment
---

Contemplative Vajra Dance - If you missed the first course in January, there is another opportunity this coming weekend, February 17, 18 and 19 in Todos Santos. It will start at La Arca at 2 p.m. Friday, Feb. 17, with continuing sessions Saturday and Sunday. We have a new, eight-meter round mandala for the dance and practice together weekly! All welcome to come. This is a contemplative practice that involves sound and movement in order to integrate the three aspects of Body, Speech and Mind in to our real nature. Additional courses and retreats at Tsegyalgarwest in the mountains of San Jose del Cabo. Visit http://bajagar.blogspot.com for more information - Laurie, tsegyalgarwest.org, Baja California Sur

Local Play A Hit! - If you haven't seen " And Then There Was Nun" playing at Teatro Luna Azul, then get yourself over there on Friday Feb. 17 or Saturday Feb. 18.

It's a funny, campy play full of Hollywood Movie Stars, with an Agatha Christie style plot, and unexpected twists in the story.. tickets at Tecolote.

Check the blog for Show times, directions, Hotel info and more. TSBMP.blogspot.com - Blue Moon In Baja, Bluemooninbaja [- at -] yahoo.com

Photo L to R: Kathryn Hepburn/ Isabel Smyth; Vivien Leigh/ Jeanne Rogers; Joan Crawford/ Vickie Butler; on the floor: Judy Garland/ Marilyn Martin; Marilyn Monroe/ Valma Brenton; Bette Davis/ Pat Raines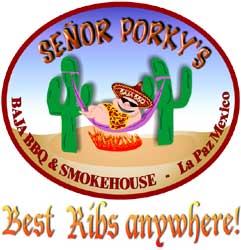 Señor Porky's Baja BBQ and Smoke House! The Best Ribs Anywhere!



New Restaurant in La Paz - Featuring Kansas City slow-smoked meats not found anywhere in Mexico. Now open 7 days a week from 7:30 AM with full breakfast menu and Cappuccino, to 10 p.m., and weekends until midnight. Watch the sunset from our spectacular ocean view! Located on the Malecon in La Paz at Alvaro Obregon #670, on the corner of Allende and Rosales (next to the Arco Hotel).


• New Menu • Daily Specials • Lower Prices • Many New Items Under 75 Pesos •

To ensure the best quality for Porky's Smokehouse Meats, we start with the best meats available. Then we dry-rub the meats with a combination of 20 spices, then slow-smoke for up to 18 hours at low temperature to obtain maximum flavor and tenderness while sealing in the natural juices and smoke flavor that is unmatched anywhere! We know you'll agree that Señor Porky's Baja BBQ and Smoke House are the best you have ever tasted.
"Special Of The Day" Every Day:

Monday - Margarita Monday - 2 For 1
Tuesday - 3 Tacos - 40 Pesos
Wednesday - Wing Day - 8 Pesos Each
Thursday - Burger And Beer - 75 Peso
Friday - 1 Free Beer - With Entrée
Saturday - 1 Free Desert - With Entrée
Sunday - Any Burrito - 55 Pesos
Plus fantastic side orders include Pasta Salad, BBQ beans, Coleslaw, Sweet Potato fries, New Mexico Green Chile with Pork, Caesar Salad and Homemade Deserts. Dine in, or carry out from our "Pig Out" Meats to Go Menu. Download our entire Menu here: files.me.com/richards771/1wclv6. For more information, call 612-129-3667. - Richard Stubbs, richards77 [- at -] pcisys.net, La Paz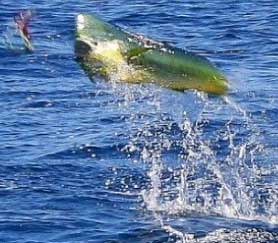 Todos Santos Fishing Charters - Why deal with a middleman? Come direct to the owner/operator
Fully Registered Sportsfishing Company


Bilingual Crew


Top Quality Tackle and Gear
Whether game fishing or whale watching, contact us for your ocean adventures. Visit our website for full details: www.fishingtodossantos.com or www.todossantosfishingcharters.com.

Package deals available when booking fishing and our casita for your complete holiday - www.bajasurtodossantos.com, or call 612-119-7880 or 624-114-1351

Clay Sculpture Workshop Conducted By Jaznum - Mondays and Wednesdays from 4 to 7 p.m. Registration at Zatar Gallery (besides Casa Tota) or email us. Workshop location: Calle Pilar/between Topete & Hidalgo (gray metal door at your right hand coming from Topete).

Cost: $160 USD [8 sessions] or $25 USD per session. It is for Adults only. Do you want for your children? Let us know! - Alina Bishop, alina [- at -] zatargallery.com, 624-153-6730, Todos Santos

Cabaret De Circo Y Teatro With Cabaret Capricho, Buèinel Y Dulce Chavez - We are presenting to you Cabaret Capricho, Buèinel y Dulce Chavez. Don't miss last chance of El folk chou! Best circus ever came to Todos Santos! Thursday, Feb. 16 at 4 p.m. at Cafelix Boyitacos-parking lot. Tickets sold in Cafelix - Dulce Chavez, amayaum [- at -] gmail.com, 52-612-156-5652


Start The New Year Well! - Thank your body for helping you make it through the holidays by treating yourself to a nutrition packed freshly squeezed fruit or vegetable juice from the new juice bar in the Libreria El Tecolote.
WiFi available
The Best Espresso In Town!
The Daily News Is Here Mon.-Sat. Open At 8 A.M.
- Kate Lewis, katemlewis [- at -] yahoo.com, El Tecolote, Todos Santos.

---
Submit your Stepping Out - Food, Music and Entertainment announcements here: http://www.bajawesternonion.com/submitad.asp



Return to Top
---
Misc. Sales and Services Available
---

Low Energy? Low/no Libido? Hair Loss? Weight Gain? - It could be an Endocrine System Imbalance. Saturday, Feb 18, from 9-12 p.m. Dr. Bill Sniechowski is offering a complimentary hormone status assessment (pituitary, thyroid, adrenal, ovary/testes) at La Canada del Diablo. Health is a Matter of Balance! - Dr. Bill Sniechowski, DrBill.Baja [- at -] yahoo.com, 624-118-1603, Todos Santos



Artistic Doors In Cedar And Iron - Very Limited Sets Available For Limited Time Only - Artistic Doors in cedar and Iron and in Pine and Iron. Unique, hand-made Artisanal doors, single and double door sets. One-of-a- kind opportunity to add these doors to your home. Very Limited sets available in Todos Santos during February and March only. Specifications include the following:
8 FT. Tall
6 FT. Wide
3 " Width
Quite heavy and very solid
Brand new
Ready to finish to match your home colors
Accepting reservations now, possibly some trade accepted: info [- at -] villasaguablanca.com. For more details and photos, visit:villasaguablanca.com/Miscelaneous.html. Get one or get all! Amazing opportunity for builders, architects and contractors, special price for the whole lot (40 doors). - Lauren Klein, Todos Santos


Items For Sale - Queen size canopy bed frame (frame only), microwave oven, digital picture frame, Mountain Pottery bowl with palm edging, water jet wand for hose, exercise ball, stand, stretchy bands, videos and DVD's, Porta potty, table lamps with shades, 2 table top bbq's, box new dishes with palm tree motif, canvas cot, tennis ball hopper, 5 tubes new balls, metal lounge chair with cushion, clip on reading lights, blood pressure cuff. All items subject to availability, all items in US dollars. email for further information. - Jim Sharp, jsharp [- at -] bigsky.net, Todos Santos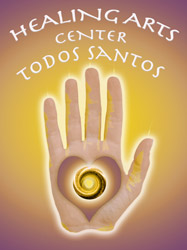 The Healing Arts Center of Todos Santos - is a community of health professionals, working together in the TS/Pescadero area offering services to support clients on the journey towards balance & well-being, expanding awareness of the local & foreign communities of alternative therapy options, including ancient healing art forms as well as more modern evolutions in the realm of natural healing, and empowering patients, students & clients by teaching ways to prevent illness and methods of self care to address imbalances.
• Acupuncture & Chinese Medicine - Jane Sipe, L. Ac. jasi57 [- at -] juno.com & Barbara Elsner, L. Ac. (beginning February, 2012) 1sheurchin [- at -] gmail.com 612-151-7026
• T'ai Chi & Qi Gong Classes - Rhoda Jacobs barakabaja [- at -] gmail.com 612-157-6088
• Reiki - Allison Eaton info [- at -] allisoneaton.com, www.allisoneaton.com, 612-152-3896
• Massage - Kurtis Parsons (beginning February, 2012) puravidahealthfood [- at -] gmail.com 612-169-2095
• Acutonics (Sound Healing) (Sound Healing) - Lynn Wedekind tuneintoit [- at -] gmail.com 612-151-3051
• Kinan Classes (Mayan-Toltec Form) - Daniel Camargo daniel [- at -] ancestralmessenger.com, www.ancestralmessenger.com, 612-139-6987
• Body Centered Psychotherapy - Shawna Owen, RPC (EMDR, IBP) harmonywithall [- at -] mac.com, 612-151-7728
• Anxiety, Mood, Couples Counseling - Jolyn Wells-Moran, PhD, MSW, LMHC (beginning November, 2012) jwmcounseling [- at -] yahoo.com, www.anxiety-specialist.com
Practitioners interested in joining this dynamic group contact Jane jasi57 [- at -] juno.com - Todos Santos Healing Arts Center, Jane Sipe, 612 151 7026, Todos Santos


Pacific Spaces At La Canada - Check out our outdoor furniture sets, tables and chairs, pottery, and fireplaces. Next week we will have our custom made upolstered furniture sets from the mainland along with custom made teak outdoor furniture with sunbrella fabrics. We can custom order any type of furniture you would like. Please stop by and check us out. - Gary Gasper, gasper_gary [- at -] yahoo.com, 612-102-6648, Baja California Sur


18' Ocean Fishing Boat For Sale - Comes with a new 60 HP, 4-stroke Mercury motor with only 93 hours on it:
Easy Pull Trailer With Excellent Tires
2 New Batteries
Center Fiberglass Console
Ready To Go Fishing!
PRICE REDUCED! $8,200 USD. This is a great price -- it's like buying a motor and getting the boat and trailer for free! - Kent Hansen, kenthansen [- at -] shaw.ca, La Paz




New Insulated Building Material - Novidesa Insulated Concrete Forms are now available in Baja Sur. www.novidesa.com.mx. These Insulated Concrete Forms are made in Mexico by a joint venture between Canadian and Mexican chemical companies. Novidesa concrete forms are identical to US and Canadian types but are 35% cheaper. - Kelly Hoogers, kghoogers [- at -] yahoo.com, www.ednc.biz, 612-158-9854


Cargo Trailer For Sale - 2007 Great Timber enclosed cargo trailer. 6'x12' interior. Wheel wells on outside, 2 doors - Jim Sharp, jsharp [- at -] bigsky.net, Todos Santos



Garage Sale Saturday - Feb. 18, 9:00 a.m. Many RV and camping related things plus other items and tools. Several freebies. South of Pescadero, across from Villas de Cerritos/Tortuga Bar and Grill on the main Cerritos Beach Road, 1/2 mile before the beach. Look for balloons and streamers. See the green arrow on Google map: http://maps.google.com/maps?q=23.336242,-110.174935&num=1&t=h&vps=1&sll=37.0625,-95.677068&sspn=44.25371,78.046875&ie=UTF8 - Jim Skelton, skejam [- at -] hotmail.com, 612-169-8007, Pescadero



News From La Canada Del Diablo - Works by Charles Stewart and more at Del Diablo!
ALL mirrors 15 % off. Come in, save money.
All works by Todos Santos' founding artist, Charles Stewart has been reduced 15%. Take advantage of what may be your last opportunity to own a piece of history. Direct deposit payment in the United States is available. Pieces are limited, so don't miss your chance.
We are excited to announce that Mail Station, is bigger and better then ever. You can now receive and send letters and packages. You can even have your prescription medications delivered right here to your mailbox. Imagine, you will now be able to order online, and have your order delivered hassle free to Todos Santos.
If you would like more information and complete details of the new expanded services the company has to offer, please join us this Thursday, (tomorrow, Feb. 2) any time between the hours of 11 a.m. and 4 p.m., at the GOT BAJA? office, located in the Casa Blanca, just down from the Tecolote Bookstore. Company representatives will be on hand to answer all your questions, and help you get registered. Sign up, and start shopping !!!
We, at La Canada Del Diablo, look forward to serving you and all of your shopping needs. Our store hours are 9 a.m. - 6 p.m., Monday-Saturday. - Thank you, Pedro and Barbara and the kids. bperkins0403 [- at -] gmail.com, www.lacanadadeldiablo.com, 612-140-0069




Tarahamura Indians, Copper Canyon, Stem Cell Healing - The next Destino Los Cabos y Mar de Cortés Magazine contains interesting stories you will want to read! This is the issue you will want your ad for terrific exposure! Discover Sonora, get to know Peter Buck, Learn about the G20, New Stem Cell therapy center opening in San Jose, Organic farming, the ladies in Investment banking, Golf Residence Club, a week in the Copper Canyon and so much more. Average time spent reading Destino magazine is 45 minutes, giving your ad exposure that produces results. 70,000 magazines printing, 5 months of distribution: March - July, Expanded distribution to Mar de Cortes region and the best prices for the best quality printing! Deadline for ad space is Feb. 17, Contact Destino Today! - Susan Carol, destinoloscabos [- at -] gmail.com, (624) 142-4949, Baja California Sur



Accounting Services In Todos Sants - We can assist you with your corporate and individual needs. We offer accounting and administrative services including:
Registration of corporations with SECOFI and INM
Registration and reporting of construction and construction workers with IMSS
Recording and reporting foreign investments with the Secretaria de Economia
Counseling and immigration assistance for FM2 and FM3
Property management including payment of utilities, water, CFE, fideicamiso
Assistance with water rights
Offices in central Todos Santos
Many local references
FRIMAR GROUP
E.C.M. Raquel Martinez Peralta - Raquel Martinez Peralta frimargroup [- at -] hotmail.com, 612-14-86907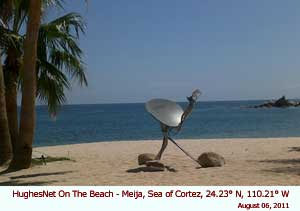 HughesNet Satellite Internet Systems - Limited-time Offer - Get $259 in Mail-in Rebates:
Complete 0.74 Meter HughesNet System - $399.99 $199 US After Mail-in Rebate! 1

Plus get a mail-in rebate for $10 off each month of service for the first three months of service:
Available Service Plans:
Plan - Max. Speed
Down/Up 2
Daily Data Transfer
Allowance 3
Monthly Service Fee 4
Home - 700 Kbps/128 Kbps
250 MB
$39.99/mo. 1st three months - then $49.99
Pro - 1.0 Mbps/200 Kbps
350 MB
$59.99/mo. 1st three months - then $69.99
Pro Plus - 1.5 Mbps/200 Kbps
400 MB
$69.99/mo. 1st three months - then $79.99
1 Equipment price shown is after $199.99 HughesNet mail-in rebate. Does not include Mexican shipping, importation or installation, and $100 Mexican account activation fee.
2 Absolute maximum speeds as stated by Hughesnet. Actual speeds will be less.
3 Daily Data Transfer Allowance now includes a rollover of unused data to the following day, up to a maximum of 2 times the plan's normal daily aloowance.
4 Monthly service fees shown are for first three months of service after $30.00 HughesNet mail-in rebate.

Baja Satellite is an Authorized HughesNet® Reseller. For more information Contact Us today: BajaSatellite [- at -] Hughes.Net, www.bajasatellite.com, (530) 903-4257 (US), (01) 555 351 0882 (Mexico), Baja California Sur
---
Submit your Misc. Sales and Services Available/Wanted articles here: http://www.bajawesternonion.com/submitad.asp



Return to Top
---
---
Real Estate, Rentals, and House Sitting - Available/Wanted
---

Caretaker's Available - We are an Honest, Clean, Responsible family seeking a caretaker position short or long term. Excellent local references. Call or email T.R. at trandbrandy [- at -] hotmail.com, 612-168-9224 (Pescadero)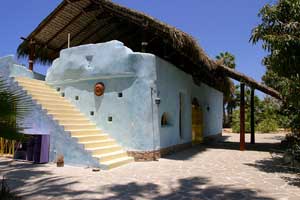 Todos Santos Beach House on a Tranquille Lush 5, 206.22 Sqmt Property - For Sale by Owner: - Two (2) separate driveway entries give the 5,206.22 sq meter (1.25 acre) property privacy from both the front and back, giving flexibility to build additional homes or to split in the future. Soil on the property is rich organic black soil, ideal for other organic gardening.

Property is an enclosed oasis and has unlimited access to farm water that nourishes the over 85 mature mango trees, 80 lush palm trees over 5 feet, passion fruit trees, citrus fruit trees and avocado trees, all of which give the property its cool shade that is coveted in the region and frequently not available on other properties of comparable or more value in the desert landscape.
* Property has power, water (both municipal and farm water), gas and Internet.
* A 6-minute walk takes you to the secluded beach, and a 5-minute drive finds you in the heart of TS.
* Motivated Seller with Reduced Listing
If you have questions or would like to make an offer after viewing the property on YouTube (www.youtube.com/watch?v=krg9FEeiRtk), feel free to contact us. Save on the fee and make us a good offer. - Anh Walch, anhwalch [- at -] yahoo.com, 212-692-0912, Todos Santos


Housing Wanted - Housing wanted for the remainder of the school year. Feb. 19 - June 20, possibly longer. - Vicki Vanyo, victoriavanyo [- at -] yahoo.com, 612-105-1962


For Rent: Quaint Cottage -
Quaint cottage on lovely ranch in Percadero.

Call Mariposa for details at 612-17-63119.
---
Submit your Real Estate/Rentals/House Sitting/Property Management Services articles here: http://www.bajawesternonion.com/submitad.asp



Return to Top
---
Rides or Caravans Available/Wanted
Note: Ads will run for two weeks unless dated. Please list the date in the title, and specify which airport. Goes without saying, everyone shares expenses for beer, gas, food, etc

To remove your ad if you find a ride or caravan, let us know here: www.bajawesternonion.com/submitad.asp -
---



Need a Ride to or From the Airport? Or Someone to Assist You With Errands? - I am a young, bilingual Christian man and I can provide you with rides to or from the La Paz or San Jose Del Cabo airports. I can also help you with courier services, errands, or navigating the intricacies of dealing with Mexican businesses and the government; Car Registrations, TelCel and TelMex, CFE, Seguro Social, etc.

Reasonable Rates - Contact: Ernesto, Cel. 612-117-7497, ernie_net [- at -] hotmail.com


Caravan mid-February? - Leaving Oregon mid-February for East Cape, flexible. Looking for another to caravan with. Have dogs so need some stops. Not in a crazy/fast hurry :-). Could meet someone at Estero Beach Resort in Ensenada and at least to La Paz (thru the more desolate areas). Have driven several times. Please write: rossib [- at -] linnbenton.edu - Barbara, rossib [- at -] linnbenton.edu, Baja California Sur

Ride From San Jose Airport Needed Feb. 24 - Arriving at 2 p.m. Would like to hire a driver for pick up at the San Jose Airport to take me to Todos Santos or Cerritos. Please include rate and other information in response. bonstan [- at -] telus.net - Bon Staniszkis

Ride Request Northward - Hello, I'm a gardener/baker/yoga teacher in Pescadero, warming up to a journey North come the end of the month. I'm envisioning myself in sunny San Diego, but I would be thrilled for any assistance getting at least to Baja Norte where I can catch a cheaper bus. I will gladly share gas money, snacks, poems, ideas, pleasant silence, and driving assistance if you would like. Sometime between the 23rd and the 28th would be ideal, but I am wicked flexible. Thanks! - Jacob Wartell, jwartell [- at -] coa.edu

Ride North Needed - Hey all, My boyfriend and I are in southern Baja, specifically in La Ribera at Buena Fortuna Botanical Garden. We need to get to LA, but we will take a ride for any part of the way. We are easy going and can help with gas and driving. Send an email nagelben [- at -] yahoo.com. Thanks, Carys and Benji - Benji Nagel, nagelben [- at -] yahoo.com, Baja California Sur

---
Submit your Rides or Caravans Needed/Available articles here: http://www.bajawesternonion.com/submitad.asp



Return to Top
---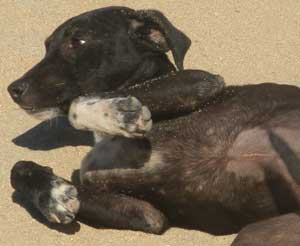 Pet Corner (Lost and Found pet articles will run for two weeks)
Let us know if you find or place your pet so we can remove your ad -
---

I've Been Adopted! ->>> - That's what you get for procrastinating -- I've been adopted!

Black Lab Reunited with Owner - Just sharing this bit of good news with our readers regarding the black lab that was recently found.

Good Info On What To Do If You Lose Your Dog In Baja (or Anywhere) - This excellent article courtesy of Baja Insider: www.bajainsider.com/baja-life/pet-care/findinglostdogs.htm -

Boo Boo Is Lost - Black Lab Cross - looks like a small Lab. Boo Boo is all black and had a purple collar on with bones on it. She is very friendly and very smart. If you have seen this dog of know its whereabouts, please call Dean McQuillen: 612-133-0311 - Dean Mcquillen, todossantos1 [- at -] hotmail.com, 612-133-0311, Todos Santos


Impossible to Resist! - New arrivals at Kitty Heaven despite all of our efforts to spay and neuter (but without the help of the community, there would be even more!).

All colors, all very young and playful. For more information, call Angelique at 612-145-0250 or write her at BajaKitties [- at -] Yahoo.com

Kitty Heaven is the only all-cat refuge in Baja California Sur. Visit us on the web athttp://bajarescue.org/#KittyHeaven.

We survive via your kind donations. To send your support, please click the "Donate" button below:


---
Submit your Pet Corner articles here: http://www.bajawesternonion.com/submitad.asp (and remember to Spay and Neuter your pets)



Return to Top
---
Quote of the Day: " Affection is responsible for nine-tenths of whatever solid and durable happiness there is in our lives. " ~ C. S. Lewis


---
Looking for the complete Community Events Calendar? Click Here!


---
Return to Top
---
---
Help Support The Baja Western Onion!

We can accept donations by Credit Card, PayPal, cash, check or direct deposit.

For more information, please visit our web site at http://www.BajaWesternOnion.com/donate.asp.
Copyright © 2006 - 2012. The Baja Western Onion. All Rights Reserved. Published Using 100% Recycled Electrons :)
Return to Top
---