On The Web Site:
---
Today's Weather Click for Extended Forecast

---
Community Access
Policia Preventiva
Todos Santos Police
612 145-1052
Commandante Navarro

Ministero Publico
State Police
612 145 0198
Commandante Erigoyen

Bomberos
Fire Department
Cel. 612-142-6387
Commandante Cadena


---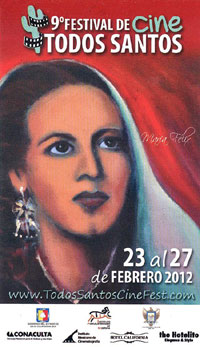 ---
Baja Western Onion
Alan Thompson - Publisher
Debra Webster - Advertising
e-mail For General Feedback
---



Advertising In The Baja Western Onion - As always, text-based announcements are Free, as long as they're not repeated more often than once every 14 days for the same individual, business, item or event. To submit a Free announcement, go here: www.bajawesternonion.com/submitad.asp. If you would like your announcement to appear more frequently, we offer paid sponsorships, with discounts for longer-term sponsorships. Non-profits, and now most types of private-party announcements, are eligible for a 50% discount off our regular rates.

The Baja Western Onion now has over 3,300 subscribers, and we're mailing three issues per week every Monday, Wednesday and Friday. That means your paid announcement can make over 9,000 impressions per week. For more info, go here: www.bajawesternonion.com/advertising.asp. Thank you everyone for your continued support of The Baja Western Onion :) - moderator [- at -] bajawesternonion.com. -
---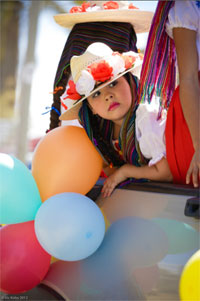 News and Events, Questions and Answers
---

Photos of The Todos Santos Arts Festival Parade and Sunday's Shows ->>> - The first Arts Festival parade on Sunday, and the subsequent events in the plaza (including an amazing merge of locals drummers with stilt dancers and percussion players from the parade), were a lot of fun. Here's a public link to a slideshow of the favorites from the photos I took that day: http://photography.vickirby.com/tsartsfest/slideshow. Enjoy! - Vic Kirby, vic [- at -] vickirby.com, photography.vickirby.com, 145-0586

Last Minute Change In The Todos Santos Arts Festival Schedule - Due to health problems, the pianist Mauricio Henaine, scheduled to give a concert Wednesday, Feb. 8, will not be able to perform. Instead, we will present the music band, "Los Pulpos En Su Tinta," (Octopus In Its Ink). We apologize for any inconvenience. Sincerely, the XV Todos Santos Arts Festival Organizing Committe. - Heriberto Parra Hake, hparra [- at -] prodigy.net.mx, 612-117-3945, Todos Santos

Animal Lovers of Mexico Association (ALMA) - Courtesy Baja Pony Express - Alma's newsletter will be out soon. The brown tick, which is almost endemic in our area is discussed with different options offered to prevent your dog from hosting them that are unique to our area. Also you will meet some charming dogs wanting to love someone unconditionally!

You can sign up on Alma's website's homepage. www.almacares.com. You will receive an email asking you to confirm, just click the link and you will be signed up. Check your junk mail for almaenews [- at -] gmail.com. If you failed to confirm, please sign-up again. Thank you to those who have complimented us on the newsletter, we are glad you enjoy it and learn from it. We try to keep is short for easy reading. - ALMA

Lost Keys - I lost three keys on a gold clasp across from the hospital Tuesday morning +- 9AM. If you find them and turn them into Tecolote Book Store I will so appreciate it. - Claudia Hatler, 612-100-5872

Who Sells Honda Generators? - I am looking for a Honda 2000i generator inverter. Who sells them here? - Stanley Patenaude, stanley [- at -] caboinnhotel.com, 624-147-7577

Stuff Needs Ride Down To Todos - We can't get everything in our car! If you live in Bay Area, California, and are going down and have some room and need some gas money, please call us. We are leaving in approx. one week. - Christine Douglas, cdoug1946 [- at -] yahoo.com, 510-984-3030; 510-776-0951, Todos Santos


HughesNet Satellite Internet Token Bank - HughesNet has a Fair Access Policy, or "FAP," which limits the amount of data you can download each day. Whe the limit is exceeded, the system speed drops to something like that of a dial-up telephone modem. The FAP reduction can last for up to 24 hours. This can be pretty frustrating when attempting to download large videos or streaming audio programs. To help keep track of your daily usage, you can download and install HughesNet's Status Meter widget here: services.hughesnet.com/service_tools/Status_Meter/index.cfm

Many HughesNet customers are not aware that HughesNet provides one free "restore" token each month that can be applied to immediately restore service to full speed if the customer goes over their FAP limit. HughesNet also makes additional tokens available for purchase for around $10 to $15, depending upon your service plan.

Announced this last week, HughesNet has introduced a new "Token Bank" feature; if you don't use your free monthly Restore Token, you can carry it over to the following month up to a maximum total of three tokens. There is no additional charge for the new feature and it has already been automatically added to everyone's service plan. Additional tokens are still available for purchase. For more information about HughesNet's FAP Policy and the new Token Bank feature, go here: www.hughesnet.com/residential-satellite-internet/faqs/fair-access-policy.cfm - alan [- at -] hughes.net

Journal Del Pacifico - The latest issue of "Journal del Pacifico," Festival 2012, is now available at fine locations through Todos Santos, Pescadero and La Paz. Look inside for information on the Festival de Cine Todos Santos (with film showing in La Paz at Galería Galería and Teatro Juárez), the Artist's Studio Tour and the Historic Home Tour. All these events and more are also on our blog: http://journaldelpacifico.com/blog/
Can't be in Baja right now? Read the whole issue in PDF format at: http://journaldelpacifico.com/blog/issues-online/festival-2012/
If you'd like to receive our magazine at your location, contact us today! yani [- at -] journaldelpacifico.com Proud to be Mexican owned, printed in Mexico and promoting Baja for over 15 years. - Janice Kinne, journaldelpacifico.com/blog/


---
Today's Exchange Rate - Mexican Pesos to 1 USD - Courtesy X-rates.com
---
Submit your News and Events, Questions and Answers articles here: http://www.bajawesternonion.com/submitad.asp


Return to Top
---

---
Featured Events This Week
Please Note: The "Featured Events This Week" section is limited to non-recurring community events (Sorry, no "Happy Hours," "Daily Specials," "Weekly Classes," or other recurring business activities or workshops.)
---
Wednesday, February 08
15th Annual Todos Santos Art Festival - Continues with a Flamenco Guitar Recital, Jesús Gallo, soloist, at 7 p.m. at the Church of Nuestra señora del Pilar. At 8 p.m. will be a classical piano concert by Mauricio Haneine in the Manuel Marquez de Leon Theater. Contact: www.todossantoscultura.com

Todos Santos Recycling Program To Restart - Only taking Plastic, Large Cardboard, and all metals. We also accept cooking oil from restaurants or homes if it is in a gallon jug or bigger. No Glass And No Paper or magazines. If you are interested in taking your glass and paper to Cabo, I can instruct you where to take it. The suggested donation is still $50 pesos per drop (volunteers can recycle by donating time). - Enviromass Recycling, info [- at -] enviromass.com, www.enviromass.com, 624-196-1846, Todos Santos


Sunset Cine Club Presents "A Day Without Mexicans" - 7PM, Café Brown (Colegio Militar & Hidalgo), Todos Santos. Come enjoy a movie, talk about film, make a movie suggestion: Dir. Sergio Arau, with Eduardo Palomo - Carlos Navarro aortico_cang [- at -] hotmail.com, 6121451067, www.facebook.com/pages/Sunset-Cine-Club/174680779285589
Thursday, February 09
Meet The Artist Series - 5:30 PM, Cafelix Coffee & Kitchen, Todos Santos - Popular local artist, Erick Ochoa, will talk about his life as an artist. Benefits Palapa Society. Contact: Michael Mcallister heronsnestbaja [- at -] earthlink.net, 612-152-6166

Open Studios Tour Gallery Preview, - 6PM, Visions Gallery at Cafelix Coffee & Kitchen, Todos Santos. Previewing the work of the 31 artists who will be participating in the Palapa Society's 3rd Annual Artists Open Studio Tour on February 12th. Contact: Mike Mcallister heronsnestbaja [- at -] earthlink.net, 044-612-152-6166

Thursday, February 09 - Friday, February 10
Figure Painting: 2-Day Seminar With Michele Guilvezan Tanner - Michele is coming back! She enjoyed meeting everyone so much 6 months ago she wants to have another class. 2 days, 9 a.m.-4 p.m., painting a live model. The first day will be an entire figure, the second day a portrait only, with a discussion after lunch. Cost: $150 USD plus a donation for a local model. Call or email Penny to reserve your space: 612-147-7550. - Penny Brozda, pennybrozda [- at -] mac.com, www.giulvezan.com/, 612-147-7550

Friday, February 10
Tai Chi Classes At Cerritos Begins - 11 a.m.- 12:15 p.m. Beginning Tai Chi class to meet every Friday through April. Please call/email for information and/or directions. - Rhoda Jacobs, barakabaja [- at -] gmail.com, www.taichifoundation.org, 612-157-6088 (cell)

Sunday, February 12
Early Valentines Brunch On Sunday At Posada La Poza - Brunch Buffet, 10 am to 2 pm., 150 pesos plus t&t. Reservation required. - Juerg and Libusche, reservations [- at -] lapoza.com, www.lapoza.com, 6121450400

Reiki Level I Certification Workshop - 12:30 - 5:30 p.m., Healing Arts Center of Todos Santos, Todos Santos. Learn Reiki Hands-On Healing. In this course, you will learn how to give Reiki Healing to yourself and to others, and receive Reiki Level I Certification. $75 USD. Register at info [- at -] allisoneaton.com.. Contact: Allison Eaton info [- at -] allisoneaton.com, 612-152-3896, www.allisoneaton.com

3rd Annual Artists Open Studio Tour - 10AM to 5PM, Throughout Todos Santos, Todos Santos. 31 local artists will have their studios open to the public. Tour tickets and self-guided tour maps available at Cafelix Coffee & Kitchen 9AM to 3PM on the day of the event. - Contact: Michael Mcallister heronsnestbaja [- at -] earthlink.net, 044-612-152-6166

Monday, February 13
Cabaret Circus Theater Show - Circus, Theater Cabaret Show from Guadalajara and Slovenia. Cerritos and Pescadero show is tonight at 6:00 p.m. at Villa de Cerritos las Tortugas. Reservations by mail. Space limited - Dulce Chavez, amayaum [- at -] gmail.com, www.unicirka.wordpress.com, 612-156-5652
Tuesday, February 14
Valentine's Day - Saint Valentine's Day, commonly shortened to Valentine's Day, is an annual commemoration held on February 14 celebrating love and affection between intimate companions: en.wikipedia.org/wiki/Valentine%27s_Day

Reception For The Art Of Emanuela Gardner5:00 - 7:00 p.m., Caffe Todos Santos, Todos Santos. We invite you to Join Emanuela Gardner at Caffe Todos Santos for a reception featuring her fine art photography . Contact: Tori Sepulveda oscarntori [- at -] yahoo.com, 612-136-6738

Valentine's Raw & Romantic Dinner - Pura Vida Health Food Store, Todos Santos. Candle-light dinner with complimentary glass of Argentinean wine and four courses of all raw delicacies created with local organic produce and love. RSVP to reserve your spot. Advance Purchase Tickets: Couple (2) $450. Single $250. Limited Tickets at The Door: Couple (2) $500, Single $300. All food gluten and dairy free - Katie Kusala, livinglovecuisine [- at -] gmail.com, 6121332851, Todos Santos

San Valentine's Day at Hotel Guaycura - Suprise yourself with our San Valentine's Day "Lovers' Menu." Live Music by Angel Miguel - Saxophone/Piano Jazz-Pop and Latin. Hotel Guaycura, 612 175 0800, www.guaycura.com, Todos Santos

---

---
Community Events and Workshops Notification Page - Submit event notices for The Community Calendar or Workshops and Meetings pages.

Anyone planning an event should check the Online Community Calendar before choosing a date to see if something else is already planned and avoid conflicts. Check the Online Community Calendar here: www.bajawesternonion.com/community-calendar.asp -
Return to Top
---

---
Stepping Out - Food, Music, Workshops and Entertainment
---
Valentine's Dinner At La Santeña - Chef Carolen of Wind and C's [- at -] Suki's and La Santena's own Chef Tony are collaborating on a very special Valentine's dinner. Carolen is as real-deal farm to table as you can get (and started her career at The French Laundry, though she'll never tell you that herself). Tony brings a young, fresh twist to traditional Mexican foods and flavors. Food details to follow as we are giving the artists room to create.

All dinner reservations in place by February 13th at 5 p.m. will be entered into a drawing for a free night's lodging at Hotel Casa Tota following dinner. Winners to be notified on Feb. 13th, so you'll have time to pack your toothbrush and lacy underalls...

$600 pesos a couple, for a starter, main and dessert. Tax, tip and beverages are not included. Wind and C [- at -] Suki's will be open on Valentine's Day and serving their regular delicious menu. - HotelCasaTota [- at -] gmail.com, www.HotelCasaTota.com, 145-0590, Todos Santos


Early Valentines Brunch On Sunday At Posada La Poza - Come and join us for a relaxing, delicious Brunch Buffet on Sunday, Feb. 12, from 10 am to 2 pm. for only 150.- pesos plus tax and tip. served on the whale deck with a great view. Reservation required on (612)145-0400. See you Sunday. - Juerg and Libusche Wiesendanger, reservations [- at -] lapoza.com, www.lapoza.com, 6121450400


Valentine's Raw & Romantic Dinner - Join Living Love Cuisine at Pura Vida Health Food Store in Todos Santos for Valentine's Day [Tuesday, February 14], and experience a taste of the Divine. Dinner prepared by raw chef Katie Kusala. Enjoy a candle light dinner with a complimentary glass of Argentinean wine and four courses of all raw delicacies created with local organic produce and love. Living food is known to create harmony in the body mind and spirit and ignite the senses.

Raw & Romantic Menu:
Brochette - Almond Toast Topped W/ a Mix Of Pescadero Vine-ripened Tomatoes, Baby Basil, and Garlic
Caesar Salad - Romaine Generously Dressed W/ Ocean-friendly Caesar Dressing, Fresh Croutons, Sundried Capers and Pine-Nut Parmesan
Lasagna - Zucchini Noodles Layered W/ Cashew Ricotta, Marinara, Pesto and Marinated Mushrooms
Dessert - Passion Fruit Cheescake / Chili-dusted Chocolate Cheesecake
RSVP to reserve your spot. Advance Purchase Tickets: Total couple price (2) $450. Single $250. Limited Tickets At The Door: Couple (2) $500, Single $300. All of our food is gluten and dairy free* - Katie Kusala, livinglovecuisine [- at -] gmail.com, 6121332851, Todos Santos


Tai Chi Classes At Cerritos - Rhoda Jacobs will be teaching a new Beginning Tai Chi class starting Friday, Feb. 10, from 11 a.m.-12:15 p.m. This class will meet every Friday through April. Come and take as many classes as you can starting this Friday. Please call/email for information and/or directions. No prerequisites required. - Rhoda Jacobs, barakabaja [- at -] gmail.com, www.taichifoundation.org, 612-157-6088 (cell)

Hotel California - Bistro Santo Vino & Wine Bar - Hours 5 PM to 11 PM Daily Closed on Sunday. Reservations Recommended
Santo Vino now features a "Festival del Arte" inspired menu. Selected items include:
- Baked giant "chocolata" clams with prosciutto, parmesan and pesto.
- Yellow tail fillet with chipotle, cilantro Hollandaise sauce.
- Baja blue shrimp baked in parchment paper with tomatoes, olives, onions and garlic.
- 12 oz T-Bone, green peppercorn and Hotel California Tequila cream sauce.
- Pastel "3 leches" with coconut milk.
Featuring 30 labels of Mexican wine! 12 by the glass. Creative mango and spicy margaritas. Artisanal Baja beers.

Click Here Visit our Online Store. Keep up with the latest Hotel California info by joining our facebook fan page Follow us on facebook - info [- at -] hotelcaliforniabaja.com, www.hotelcaliforniabaja.com, 612.145.0525, Todos Santos

Local Play A Hit! - If you haven't seen " And Then There Was Nun" playing at Teatro Luna Azul, then get yourself over there on Friday Feb. 17 or Saturday Feb. 18.

It's a funny, campy play full of Hollywood Movie Stars, with an Agatha Christie style plot, and unexpected twists in the story.. tickets at Tecolote.

Check the blog for Show times, directions, Hotel info and more. TSBMP.blogspot.com - Blue Moon In Baja, Bluemooninbaja [- at -] yahoo.com


Shut Up Frank's! - We have the NBA package and show all Laker games! Closed Mondays. Happy hour Tuesday-Friday 3pm-6pm...$20p well drinks, $20p beers and don't forget the Happy hour burger special, 1/4lb burger, fries, and a pint of beer, $50p (that is not a misprint). If you haven't been in a few years, come check us out. New mgmt., new menu, new staff, & New Kitchen! Thanks to everyone for your love and support this last six months and what a great Super Bowl!! - Steve Fidnick, cabofiddy [- at -] yahoo.com, 145-0707, Todos Santos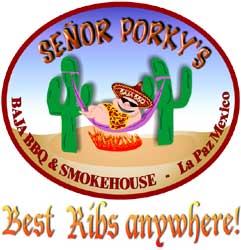 Señor Porky's Baja BBQ and Smoke House! The Best Ribs Anywhere!



New Restaurant in La Paz - Featuring Kansas City slow-smoked meats not found anywhere in Mexico. Now open 7 days a week from 7:30 AM with full breakfast menu and Cappuccino, to 10 p.m., and weekends until midnight. Watch the sunset from our spectacular ocean view! Located on the Malecon in La Paz at Alvaro Obregon #670, on the corner of Allende and Rosales (next to the Arco Hotel).


• New Menu • Daily Specials • Lower Prices • Many New Items Under 75 Pesos •

To ensure the best quality for Porky's Smokehouse Meats, we start with the best meats available. Then we dry-rub the meats with a combination of 20 spices, then slow-smoke for up to 18 hours at low temperature to obtain maximum flavor and tenderness while sealing in the natural juices and smoke flavor that is unmatched anywhere! We know you'll agree that Señor Porky's Baja BBQ and Smoke House are the best you have ever tasted.
"Special Of The Day" Every Day:

Monday - Margarita Monday - 2 For 1
Tuesday - 3 Tacos - 40 Pesos
Wednesday - Wing Day - 8 Pesos Each
Thursday - Burger And Beer - 75 Peso
Friday - 1 Free Beer - With Entrée
Saturday - 1 Free Desert - With Entrée
Sunday - Any Burrito - 55 Pesos
Plus fantastic side orders include Pasta Salad, BBQ beans, Coleslaw, Sweet Potato fries, New Mexico Green Chile with Pork, Caesar Salad and Homemade Deserts. Dine in, or carry out from our "Pig Out" Meats to Go Menu. Download our entire Menu here: files.me.com/richards771/1wclv6. For more information, call 612-129-3667. - Richard Stubbs, richards77 [- at -] pcisys.net, La Paz


9th Annual Todos Santos Film Festival - Tickets On Sale Now! - The Todos Santos Film Festival & the Baja Rancheros are coming to town Feb. 23-27. The event will feature 30 films from Latin America, Mexico and Baja California. Special Events include Short Film Festival, Youth in Video, Agua y Oro, Hollywood in Todos Santos at Hotel California, Baja Cinema, prestigious guests and more.

Reserved Tickets are on sale now at El Tecolote Bookstore in Todos Santos. VIP line for patrons with tickets. In Los Cabos/La Paz, call GotBaja at 612-125-5991. Visit our website for the latest information. cinefest [- at -] latinofilmfestival.org, www.TodosSantoscinefest.org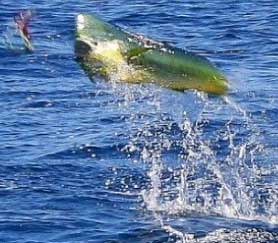 Todos Santos Fishing Charters - Why deal with a middleman? Come direct to the owner/operator
Fully Registered Sportsfishing Company


Bilingual Crew


Top Quality Tackle and Gear
Whether game fishing or whale watching, contact us for your ocean adventures. Visit our website for full details: www.fishingtodossantos.com or www.todossantosfishingcharters.com.

Package deals available when booking fishing and our casita for your complete holiday - www.bajasurtodossantos.com, or call 612-119-7880 or 624-114-1351



Buena Fortuna Botanical Garden Tour - Come tour The Garden of Eden at Buena Fortuna Botanical Gardens guided by world renowned botanist, ecologist, anthropologist, and social activist... Gabriel Howearth. Explore Baja Sur's most diverse organic botanical gardens, with over 3,000 plant species here at Buena Fortuna located at the entrance of La Ribera 12km east from Las Cuevas.

Gabriel Howearth, founder of Seeds of Change- the largest organic seed company in North America, will be giving guided tours every Saturday starting at 10:00 am. The cost of the tours are $150 pesos per person. Buena Fortuna's famous organic restaurant will also be serving a delicious all organic lunch by reservation for $150 pesos.

Landscape design consultations, exotic nursery plants, soil and compost, and rare organic seeds also available. Special tours, lunches, and events can also be arranged anytime given prior notice. Seedfully sprouting diversity! - Gabriel Howearth, buenafortunagardens [- at -] gmail.com, 6241548594


Start The New Year Well! - Thank your body for helping you make it through the holidays by treating yourself to a nutrition packed freshly squeezed fruit or vegetable juice from the new juice bar in the Libreria El Tecolote.
WiFi available
The Best Espresso In Town!
The Daily News Is Here Mon.-Sat. Open At 8 A.M.
- Kate Lewis, katemlewis [- at -] yahoo.com, El Tecolote, Todos Santos.


We Are Moving The Bakery Pan D'Les - After three years in the same location, we found a new spot just a block away from the Catedral de La Paz and on the same street as some of your favorite destinations in La Paz: Aramburo Supermarket, Tres Virgenes restaurant, and Buffalo BBQ. Pan D'Les is now located at the corner of Constitucion and Madero. Watch for your personal invitation to our grand opening party later this month. Click the link for our facebook page with map to the new store. - Theo Breadguy, lapaz.breadguy [- at -] gmail.com, www.facebook.com/photo.php?fbid=172618329511908&set=a.110263679080707.17437.100002912258848&type=1&theater, La Paz


---
Submit your Stepping Out - Food, Music and Entertainment announcements here: http://www.bajawesternonion.com/submitad.asp



Return to Top
---
Misc. Sales and Services Available
---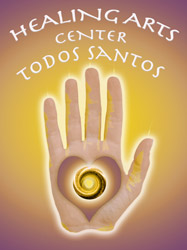 Healing Arts Center - The Healing Arts Center of Todos Santos is a community of like-minded health professionals, working together in the TS/Pescadero area:
• offering our services to support and accompany our clients on their journey towards balance and well-being;
• to expand the awareness of the local and foreign communities of alternative therapy options, incorporating ancient healing art forms such as acupuncture and tai chi as well as more modern evolutions in the realm of natural healing such as cranial-sacral work, body-centered psychotherapy, and sound healing using acupuncture meridians and points;
• empowering our patients, students and clients by teaching ways to prevent illness and methods of self care to address imbalances.
To those ends, it is our intention to create a new paradigm for healing and wellness, encompassing broad spectrum of healing art forms, for the highest and best good for all.
• Acupuncture & Traditional Chinese Medicine - Jane Sipe, L. Ac., jasi57 [- at -] juno.com, www.nccaomdiplomates.com/janesipe, 612-151-7026, and Barbara Elsner, L. Ac. (beginning February, 2012),1sheurchin [- at -] gmail.com, 612-151-7026
• T'ai Chi & Qi Gong Classes - Rhoda Jacobs, barakabaja [- at -] gmail.com, 612-157-6088
• Reiki Treatments, Chakra Balancing, & Yoga Classes - Allison Eaton, info [- at -] allisoneaton.com, www.allisoneaton.com, 612-152-3896
• Massage - Dulce Amaya, amayaum [- at -] gmail.com, 612-156-5652, and Kurtis Parsons (beginning February, 2012), puravidahealthfood [- at -] gmail.com, 612-169-2095
• Healing with Acutonics (Sound Healing) - Lynn Wedekind, tuneintoit [- at -] gmail.com, 612-139-6987
• Kinan (Ancient form of Mayan-Toltec Yoga) - Daniel Camargo, daniel [- at -] ancestralmessenger.com, www.ancestralmessenger.com, 612-139-6987
• Body Centered Counseling & Psychotherapy (Individuals & Couples) - Shawna Owen, RPC (EMDR, IBP), harmonywithall [- at -] mac.com, 612-151-7728
• Anxiety, Mood, Couples Counseling - Jolyn Wells-Moran, PhD, MSW, LMHC (beginning November, 2012),jwmcounseling [- at -] yahoo.com, www.anxiety-specialist.com
- Todos Santos Healing Arts Center, Jane Sipe, jasi57 [- at -] juno.com, 612 151 7026, Todos Santos


2007 Honda CRV - EX-L Model, Top of the line. Silver metallic grey paint. All grey leather, tinted moon roof, am/fm/cd/sat radio with full Nav. system. Has extra 6 pack CD in console, rear color back-up camera, extra power ports in front, center console and rear. Great gas milage. 2 owners, never wrecked, always serviced. Near perfect condition, just had a service done this week. Kelly Blue book is $18,800 for this CRV, asking $17,950. Write: todoslarry [- at -] gmail.com - Larry, todoslarry [- at -] gmail.com, 612-137-9229


18' Ocean Fishing Boat For Sale - Comes with a new 60 HP, 4-stroke Mercury motor with only 93 hours on it:
Easy Pull Trailer With Excellent Tires
2 New Batteries
Center Fiberglass Console
Ready To Go Fishing!
PRICE REDUCED! $8,200 USD. This is a great price -- it's like buying a motor and getting the boat and trailer for free! - Kent Hansen, kenthansen [- at -] shaw.ca, La Paz




Make Me An Offer - For sale:
Almost new Hurricane submersible water pump by Jacuzzi. Model TLSHUR16 P.SI Paid $950 USD - would like $600
Kruger water heater "instant hot" by Bosch. Used three days only. Still in box. 78,500 KJ/H. This is also known as a flash heater. It brings hot water to your shower instantly. They use these all over Europe as they save space and work so well. I paid $650 USD. I could use $400.
- Jeanne, caboqt [- at -] hotmail.com, Rancho Migriño


Solar Water Heating Systems - The sun is an unlimited source of clean energy. This energy is available for free. The energy from the sun is falling on the earth every day, whether we utilize it or not. Harvesting your own clean, unlimited, free, non-polluting renewable energy means that your energy supply is secure. Self sufficiency is the shortest and most definite path to security. Consider solar water heating for your home or pool. - Skip Ackerman, ackerman1952 [- at -] gmail.com, www.solsticesolarofbaja.com, 624-142-8002



Moving Furniture Or Anything To Mexico - Freight Forwarding, Customs Clearance, staging in our warehouse in San Diego, Ship to your doorstep or even set up in your home. We do it all with a personal touch. Voted "Best in the Baja" by Baja Traveler Magazine readers. No job too big or too small, Family owned and operated.Courteous,professional service who will save you money because we understand the importation laws of Mexico. 25 + years experience. - Monica Page, mpage [- at -] lopezpage.com, 619-666-4529



News From La Canada Del Diablo - Works by Charles Stewart and more at Del Diablo!
ALL mirrors 15 % off. Come in, save money.
All works by Todos Santos' founding artist, Charles Stewart has been reduced 15%. Take advantage of what may be your last opportunity to own a piece of history. Direct deposit payment in the United States is available. Pieces are limited, so don't miss your chance.
We are excited to announce that Mail Station, is bigger and better then ever. You can now receive and send letters and packages. You can even have your prescription medications delivered right here to your mailbox. Imagine, you will now be able to order online, and have your order delivered hassle free to Todos Santos.
If you would like more information and complete details of the new expanded services the company has to offer, please join us this Thursday, (tomorrow, Feb. 2) any time between the hours of 11 a.m. and 4 p.m., at the GOT BAJA? office, located in the Casa Blanca, just down from the Tecolote Bookstore. Company representatives will be on hand to answer all your questions, and help you get registered. Sign up, and start shopping !!!
We, at La Canada Del Diablo, look forward to serving you and all of your shopping needs. Our store hours are 9 a.m. - 6 p.m., Monday-Saturday. - Thank you, Pedro and Barbara and the kids. bperkins0403 [- at -] gmail.com, www.lacanadadeldiablo.com, 612-140-0069




GE Propane Stove - Brought it down from the states 3 months ago and need to sell. Perfect condition. $350. Call 612-171-3307 or email stevej [- at -] ida.net. stevej [- at -] ida.net, 6121713307



Bajapeacewear's Valentines Day Sale - Come on out to the Baja Beans Sunday Market February 12th and buy something for your sweetheart. Affordable, unique, handcrafted gifts. Many items are already marked 25 - 50% off, and for V Day we're taking an additional 20% off anything Red!

If you haven't experienced the Sunday Market at the "Bean" you should check it out. It's a very cool happening with fun for the whole family. Food, Music, Market, and of course, great coffee. - Bonnie O'neill, bajapeacewear [- at -] hotmail.com, 612-134-0141, Pescadero


Artistic Doors In Cedar And Iron - Brand New, Hand Made - Artesanal Doors, 8 ft. Tall X 6 Ft. Wide double and single sets. In Pine and Iron, also in Cedar and Iron. 4 different models to choose. Available on February 26th. taking reservations now. Pictures available here: www.villasaguablanca.com/Miscelaneous.html - Lauren Klein, info [- at -] villasaguablanca.com, Todos Santos



For Sale-vendo Jeep + Trailer - 2002 Jeep Grand Cherokee Limited (with all the options), 4x4, with 94,000 miles, Mexican frontier plates $5,500 obo. 2005 Toy Trailer (back door comes down and becomes a ramp to load up multiple ATVs, motorcycles, tools, storage, etc.) 12'8" long x 6'6" wide x 6'9" high (560 cubic feet), outdated Nevada plates, $2,000 obo.

2002 Jeep Grand Cherokee Limited (con todas las opciones), 4x4, with 150,000 kilometros, places Fronterizas $71,500. 2005 Toy Trailer ("carretilla"), la puerta de atras se baja y se forma una rampa para cargar varios ATVs, motocicletas, herramientas, deposito, etc. 3.87 metros de largo x 1.99m ancho, 2.06m alto, un total de 15.9 metros cubicos. Placas vencidas de Nevada, USA, $26,000. - Bill, usa13 [- at -] yahoo.com, 044-612-132-4710, Pescadero


Accounting Services In Todos Sants - We can assist you with your corporate and individual needs. We offer accounting and administrative services including:
Registration of corporations with SECOFI and INM
Registration and reporting of construction and construction workers with IMSS
Recording and reporting foreign investments with the Secretaria de Economia
Counseling and immigration assistance for FM2 and FM3
Property management including payment of utilities, water, CFE, fideicamiso
Assistance with water rights
Offices in central Todos Santos
Many local references
FRIMAR GROUP
E.C.M. Raquel Martinez Peralta - Raquel Martinez Peralta frimargroup [- at -] hotmail.com, 612-14-86907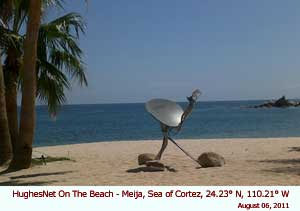 HughesNet Satellite Internet Systems - Limited-time Offer - Get $259 in Mail-in Rebates:
Complete 0.74 Meter HughesNet System - $399.99 $199 US After Mail-in Rebate! 1

Plus get a mail-in rebate for $10 off each month of service for the first three months of service:
Available Service Plans:
Plan - Max. Speed
Down/Up 2
Daily Data Transfer
Allowance 3
Monthly Service Fee 4
Home - 700 Kbps/128 Kbps
250 MB
$39.99/mo. 1st three months - then $49.99
Pro - 1.0 Mbps/200 Kbps
350 MB
$59.99/mo. 1st three months - then $69.99
Pro Plus - 1.5 Mbps/200 Kbps
400 MB
$69.99/mo. 1st three months - then $79.99
1 Equipment price shown is after $199.99 HughesNet mail-in rebate. Does not include Mexican shipping, importation or installation, and $100 Mexican account activation fee.
2 Absolute maximum speeds as stated by Hughesnet. Actual speeds will be less.
3 Daily Data Transfer Allowance now includes a rollover of unused data to the following day, up to a maximum of 2 times the plan's normal daily aloowance.
4 Monthly service fees shown are for first three months of service after $30.00 HughesNet mail-in rebate.

Baja Satellite is an Authorized HughesNet® Reseller. For more information Contact Us today: BajaSatellite [- at -] Hughes.Net, www.bajasatellite.com, (530) 903-4257 (US), (01) 555 351 0882 (Mexico), Baja California Sur
---
Submit your Misc. Sales and Services Available/Wanted articles here: http://www.bajawesternonion.com/submitad.asp



Return to Top
---
---
Real Estate, Rentals, and House Sitting - Available/Wanted
---

Roommate Wanted - It is too big a house for just me. I could use a good roommate. Ocean view, beach 2 minute walk away, lovely rustic very tranquil area. All bedrooms have their own big bathrooms. Big kitchen. all utilities included. $550 USD/month. Come see it. You will love it. No smokers or pets please. - Jeanne, caboqt [- at -] hotmail.com, Rancho Migriño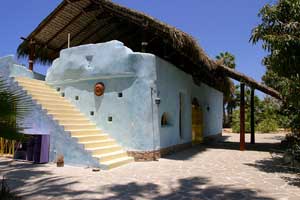 Todos Santos Beach House on a Tranquille Lush 5, 206.22 Sqmt Property - For Sale by Owner: - Two (2) separate driveway entries give the 5,206.22 sq meter (1.25 acre) property privacy from both the front and back, giving flexibility to build additional homes or to split in the future. Soil on the property is rich organic black soil, ideal for other organic gardening.

Property is an enclosed oasis and has unlimited access to farm water that nourishes the over 85 mature mango trees, 80 lush palm trees over 5 feet, passion fruit trees, citrus fruit trees and avocado trees, all of which give the property its cool shade that is coveted in the region and frequently not available on other properties of comparable or more value in the desert landscape.
* Property has power, water (both municipal and farm water), gas and Internet.
* A 6-minute walk takes you to the secluded beach, and a 5-minute drive finds you in the heart of TS.
* Motivated Seller with Reduced Listing
If you have questions or would like to make an offer after viewing the property on YouTube (www.youtube.com/watch?v=krg9FEeiRtk), feel free to contact us. Save on the fee and make us a good offer. - Anh Walch, anhwalch [- at -] yahoo.com, 212-692-0912, Todos Santos


House Sitter/animal Lover/handyman/security Guard - Hi. My name is Richard and I am a 42- year-old male that is moving to Cabo San Lucas in March to work in sales for a five star resort. I am an absolutely ideal house sitter if you are in need of one. I love animals, so pets are definitely ok with me. Additionally, I am exceedingly clean and I am a handyman with every and all things in a home from plumbing to carpentry. Furthermore, I am well educated and highly attentive to any and all details (I went to school at Pepperdine University in Malibu). I have also studied martial arts for many years (Jiu Jitsu, Taekwondo, Shotokan Karate, Kickboxing) and I am a great person to have around for additional security and overall peace of mind. I am accustomed to living in luxurious surroundings and keeping those surroundings safe, clean and pristine! Please feel free to call me to discuss my qualifications further. - Richard Allen, soldbyrlb [- at -] yahoo.com, (949) 836-3501, Cabo San Lucas



Los Cardones Room Rentals - Just a reminder! Los Cardones at Cerritos Beach has newly finished and furnished rooms for rent nightly or weekly:
Double Room $40 Usd/Night (Double Bed)
Queen Room $50 Usd/Night (Queen Bed And Two Twins)
King Room $55 Usd/Night (King Bed And Two Twins)
Price Breaks For Weekly Rentals
Exquisitely furnished...quiet...hot water...five minute walk to the beach. Starting to book up with reservations for February! Best deal super close to the beach!! - Kelly, khpescado [- at -] gmail.com, www.loscardonesbaja.com, 612-144-1019 or 612-170-4513, Pescadero
---
Submit your Real Estate/Rentals/House Sitting/Property Management Services articles here: http://www.bajawesternonion.com/submitad.asp



Return to Top
---
Rides or Caravans Available/Wanted
Note: Ads will run for two weeks unless dated. Please list the date in the title, and specify which airport. Goes without saying, everyone shares expenses for beer, gas, food, etc

To remove your ad if you find a ride or caravan, let us know here: www.bajawesternonion.com/submitad.asp -
---



Need a Ride to or From the Airport? Or Someone to Assist You With Errands? - I am a young, bilingual Christian man and I can provide you with rides to or from the La Paz or San Jose Del Cabo airports. I can also help you with courier services, errands, or navigating the intricacies of dealing with Mexican businesses and the government; Car Registrations, TelCel and TelMex, CFE, Seguro Social, etc.

Reasonable Rates - Contact: Ernesto, Cel. 612-117-7497, ernie_net [- at -] hotmail.com


Ride Offered To and From SJD Airport From TS Friday, Feb. 10 - I'm heading to SJD for 2:30 p.m. from Todos Santos and I will have room for some passengers who need a ride to the airport or back from the airport. Feel free to email, text or call (no voicemail) to work out the details. - Ward Whitehead, wardwhitehead [- at -] hotmail.com, 612-143-7561, Todos Santos

Ride Needed From Airport To Pescadero, Feb.12 - Arriving at Los Cabos 1 p.m. Sunday - looking for ride to Pescadero for 2 people. Will pay gas. Thanks. - Lauren Wheat, laurenandron [- at -] hotmail.com, 805-901-4367

Caravan mid-February? - Leaving Oregon mid-February for East Cape, flexible. Looking for another to caravan with. Have dogs so need some stops. Not in a crazy/fast hurry :-). Could meet someone at Estero Beach Resort in Ensenada and at least to La Paz (thru the more desolate areas). Have driven several times. Please write: rossib [- at -] linnbenton.edu - Barbara, rossib [- at -] linnbenton.edu, Baja California Sur

Ride From San Jose Airport Needed Feb. 24 - Arriving at 2 p.m. Would like to hire a driver for pick up at the San Jose Airport to take me to Todos Santos or Cerritos. Please include rate and other information in response. bonstan [- at -] telus.net - Bon Staniszkis

Ride North Needed - Hey all, My boyfriend and I are in southern Baja, specifically in La Ribera at Buena Fortuna Botanical Garden. We need to get to LA, but we will take a ride for any part of the way. We are easy going and can help with gas and driving. Send an email nagelben [- at -] yahoo.com. Thanks, Carys and Benji - Benji Nagel, nagelben [- at -] yahoo.com, Baja California Sur

Anyone Traveling South To Todos Santos? - Looking for someone to take a small package to Todos Santos for me. It is fabric, so not too heavy. Need time to Federal Express to you from Sonoma, CA. - Linda Hamilton, linda [- at -] lindahamiltondesigns.com, 415.381.9087, Todos Santos

Ride Needed - Needed: A ride for one very adventurous cat from Rancho Leonaro to San Ignacio. Cali the calico, who is originally from El Rosario, decided to stow away in someone's truck canopy and travel to East Cape. She is really having a great time there but we want her back. If you are cat tolerant and would consider bringing her with you from the south to here, we will gladly host your stay here at Ignacio Springs. Cali is a very good traveler. We can possibly arrange a meet up to get her to you if you are not in that region. Please call us at 615-154-0333 or email terry [- at -] ignaciosprings.com. Thanks. Terry and Gary - Terry Marcer, 615-154-0333, Baja California Sur

Coming Down From Taos? - If anyone is coming down from Taos I have a prescription waiting for me at Walgreens that I would greatly appreciate being brought down for me. Please let me know and I will arrange for them to give it to you. Thanks. - Brock Taylor, bajabrock [- at -] gmail.com, 612-145-0873

---
Submit your Rides or Caravans Needed/Available articles here: http://www.bajawesternonion.com/submitad.asp



Return to Top
---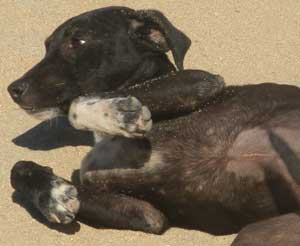 Pet Corner (Lost and Found pet articles will run for two weeks)
Let us know if you find or place your pet so we can remove your ad -
---

Please Adopt Me ->>> - I am just laying here in the sand waiting for someone to take me home or at least scratch my stomach. I live at Punta Lobos and am around 8 mos. old. I have just been spayed and the vet says I am in good health. But puppy life is lonely out here. Think about it. If interested call or e-mail me. - Pam Cobb, senoracobb [- at -] yahoo.com, 612-102-7983, Todos Santos


<<<--- Lost Cat - "Radio," our male cat, got out of the house early on Saturday, Jan. 21. Normally he would return ASAP at the sound of his food. It's been over 24 hours and there's no sign of him on our property or the neighbors. He's white with grey and black stripes, blue eyes, large, fixed. If you have any information to his whereabouts please contact us at the Old Charles Stewart home on the corner of Obregon & Centenario next to Cafe Todos Santos. - Janine & Mauricio Duran Wall, durm_27 [- at -] hotmail.com coneyislandgreen [- at -] yahoo.com, (612)152-4499 or (612)134-4478, Todos Santos


Lab Mix Puppy For Adoption - Lily is a 10-week-old lab mix puppy found under the fig tree near Rancho Pescadero with her sister Bella. Bella is going to Santa Cruz in April, but Lily is up for adoption on 1/29/12. She will have all her shots by then. Lily is in great health, very cute, attentive, easy. Crate training in progress. She often sleeps all night (8 p.m.-6 a.m.). Lily looks like she will be medium sized. Please email if interested. - Sally Bondi, sally [- at -] 2s2ginc.com, 612-171-3714, Pescadero




The Homeless Dogs Of Punto Lobos - They are running out of food. Can you help us? We deliver food and water four times a week and we are getting low once again. A bag of food from Costco or CitiClub keeps them going for a couple of months.

Just call and we will arrange to pick it up. Thank you for your generosity. - The Punto Lobos Dog Team, maryanndoug [- at -] gmail.com, 145-0791

---
Submit your Pet Corner articles here: http://www.bajawesternonion.com/submitad.asp (and remember to Spay and Neuter your pets)



Return to Top
---
Quote of the Day: " A wonderful fact to reflect upon, that every human creature is constituted to be that profound secret and mystery to every other. " ~ Charles Dickens


---
Looking for the complete Community Events Calendar? Click Here!


---
Return to Top
---
---
Help Support The Baja Western Onion!

We can accept donations by Credit Card, PayPal, cash, check or direct deposit.

For more information, please visit our web site at http://www.BajaWesternOnion.com/donate.asp.
Copyright © 2006 - 2012. The Baja Western Onion. All Rights Reserved. Published Using 100% Recycled Electrons :)
Return to Top
---