On The Web Site:
---
Today's Weather Click for Extended Forecast

---
Community Access
Policia Preventiva
Todos Santos Police
612 145-1052
Commandante Navarro

Ministero Publico
State Police
612 145 0198
Commandante Erigoyen

Bomberos
Fire Department
Cel. 612-142-6387
Commandante Cadena


---






---
Baja Western Onion
Alan Thompson - Publisher
Debra Webster - Advertising
e-mail For General Feedback
---
---
News and Events, Questions and Answers
---
♫ The Todos Santos Music Festival: Thank You! ♫ - The Palapa Society of Todos Santos is tremendously excited by the unbelievable generosity of the many individuals who helped to make the Todos Santos Music Festival a rousing success during the past three weeks. The amount of money raised will enable us to continue the high quality of our programs as well as to serve even more children and members of our community. You have given us a much needed opportunity to do further good... for this we are grateful and humbled. We will not let you down!

Although the Todos Santos Music Festival would not have been possible without the dedication and countless volunteer hours of numerous others, we would like to especially acknowledge and thank the following key participants:
♫ Festival Generator/Musician: Peter Buck
♫ Festival Organizers: Chloe Johnson & Janice Kinne
♫ Hotel California: Sponsor and creator of an ideal environment for the musicians, audience and dancers; a special thank you to Alejandro Blanco, Fito Blanco, Pedro Castro, Debbie Stewart and the always smiling waiters for all of the extra hours "above and beyond."
♫ Sponsors: Pacifico Beer and Journal del Pacifico
♫ Visiting Musicians: Scott McCaughey, Steve Wynn, Linda Pitmon, Robyn Hitchcock, Bill Rieflin, Dave Depper, John Ramberg, Kev'n Kinney, Chuck Prophet, Fermando Viciconte, Blake Sennett, Brittany Smith, Olivia Morisco, Mike Mills, Kraig Johnson, Kevin Riley
♫ Local Musicians: Guaycura Band, Flashback, Cowboy,Cosima Rose,Tofito & Students
♫ Plaza MC: Oscar Rosales
Again, thanks to all of you... the organizers, the musicians, the audiences, the citizens of Todos Santos. It has been a remarkable three weeks of fabulous music, friendship and commitment. - The Palapa Society of Todos Santos, info [- at -] palapasociety.org, www.palapasociety.org


Todos Santos Recycling Program To Restart Wednesday February 8th, 2012 - Hello All, Thank you all for respecting the month we took off to clean up the recycling area in Todos Santos. Due to illegal dumping the area was becoming overrun with glass and even non-recyclables. We have been cleaning and will continue to do more before the reopening.

Starting February 8th we will be only taking Plastic, Large Cardboard, and all metals. We will also accept cooking oil from restaurants, or homes if it is in a gallon jug or bigger. No Glass And No Paper or magazines at this time please. We are not accepting these items for the following reasons: 1) We will need to continue to manage the current glass and paper situation before accepting anymore glass. 2) The road construction makes it increasingly difficult to transport glass (and paper) to Cabo due to the wear and tear on our vehicles with heavy loads. Since the beginning of this project in March of 2010, our goal has always been to operate a sustainable program, where every step we took was a successful one. Likewise the step we are taking now is to maintain the sustainability of the program. Please help us by NOT bringing glass or paper. If you are interested in bringing your glass and paper to Cabo, I sincerely urge you to, and I would be happy to instruct you where to bring it. (Colored glass can only be recycled on the first Thursday of the month in Cabo).

Lastly we are hoping to paint the building in town and would love to have any old paint donated in the month of February. Any old lonas (tarps) would be greatly appreciated too! Also we would love to have any volunteers that would like to lend a hand in the month of February on drop off days. Drop off will be from 11-2 Wednesday February 8th. Plastic, Large Cardboard, and all Metals ONLY. Please NO GLASS or PAPER at this time. The suggested donation is still $50 pesos per drop (volunteers can recycle by donating time). Thanks again for your continued support. Let's make it to the 2- year anniversary in March 2012! - Enviromass Recycling, info [- at -] enviromass.com, www.enviromass.com, 624 196 1846, Todos Santos

RE: Attacks - We received a number of questions and concerns about an anonymously-submitted article that appeared in this last Wednesday's edition of the Baja Western Onion warning readers about assaults in Todos Santos. The warning was vague and did not reference actual events. This is reminder that specific facts, rather than opinions or vague warnings, help our readers determine the validity and seriousness of such alarms, and how to react to them accordingly. As always, we will not reprint the names or identifying information of anyone simply accused of a crime, and ask readers to report all crimes to the local Mexican authorities. -


Baja Night Skies - Courtesy Of The Ventanaview - The Hubble Space Telescope (HST), 44 feet long and about 14 feet wide, will pass over southern Baja Sur several nights this week, each pass lasting between 4 and 5 minutes. Tuesday it will rise West of SW (WSW) around 7:33:30 pm. Wednesday evening the HST will be at its brightest.

It will rise about 7:30pm WSW and pass very near Venus, the extremely bright planet in the west after sunset. About 1 minute 40 seconds later it will graze Uranus (binoculars needed), then heads directly for bright Jupiter overhead and intersect the planet at about 7:33:35pm. It then continues across the sky passing near the bright star Aldebran before fading out inside the giant winter hexagon of 6 bright stars, which includes the brightest star in the night sky, Sirius, situated below the constellation of Orion.

A thin crescent moon will also be near Venus on Wednesday evening. On Thursday the HST will rise around 7:27pm just to the north of Venus and will pass near the waxing crescent moon. TS -


5K Run/Walk Canceled - Unfortunately, it is necessary to provide notice that the 5K run/walk scheduled for March 24, 2012 has been canceled. Hopefully, this event will return in 2013. - Tim Doyle, timsudoyle [- at -] hotmail.com, Todos Santos

Bicycle Wanted - Full suspension adult trail bike wanted to buy or rent for 2-3 months - Les Macneill, marciastromsmoe [- at -] gmail.com, 612 177 7157, Todos Santos

Vehicle Wanted To Rent - Hi, I have been car-sharing for 2 months and now need to find another vehicle to borrow/share from mid Feb - April 9. Just for Todos Santos/Pescadero. Less than 100 Kms a week. Mornings only is fine. Have squeaky clean B.C. licence and really good refs! Might suit older person who would like an occasional driver, shopping done etc. I have no phone so use e-mail please. - Nicola, cortesnic [- at -] hotmail.com, Todos Santos

Gasoline Situation 4th Edition - I have tested the following Pemex stations; Pescadero delivers about 89%. Todos Santos town station delivers about 89%. Todos Santos north delivers just over 95%. LaPaz car wash and other LaPaz stations deliver 100%. I also tested the "myth" that some pumps at these stations deliver full measure, it is a myth! - Name Withheld By Request

A Way To Recharge Your "Banda Ancha" - If you have a cell phone from the same service provider as your banda ancha this method will work to "recharge" it.
1. buy a 500 peso cad at Oxxo or other source
2. Swap banda ancha sim card to cell phone
3. dial *333
4. select option 3
5 enter code from card and end call
6. select text message on cell phone
7. text "BAT30"
8. send to 5050
9. wait for reply text to verify transaction is complete. This may take a couple of minutes. I was pleased to not that I received a "bonus" of 3 gigs for a total of 6 gigs!!
10. transfer sim back to banda ancha. - Les Schubert, lschubert [- at -] platinum.ca, 612 139 1209


Reminder: How To Post a Photo Or Image With Your Announcement - We're still seeing many announcements submitted with broken links to photos or graphics. We often don't have the time to figure out what the poster intended, and will delete these links rather than trying to fix them. We've posted a detailed tutorial online explaining how to add photos to your announcement. You can find it here at: www.bajawesternonion.com/how-to-post-photos-with-your-ad-or-article.asp

Of course, if this is too much for you, we can resize, upload and host your photo on the Baja Western Onion web site for only $5.00 US. Just let us know in the "Additional Comments" box when you submit an announcement. Then send us the photo by Email to Moderator [- at -] bajawesternonion.com. Be sure to reference your announcement so we know which image goes with which announcement. Payment can be made to Our PayPal account at: Advertising [- at -] bajawesternonion.com. - The Baja Western Onion,
---
Today's Exchange Rate - Mexican Pesos to 1 USD - Courtesy X-rates.com
---
Submit your News and Events, Questions and Answers articles here: http://www.bajawesternonion.com/submitad.asp


Return to Top
---
---
Featured Events This Week
Please Note: The "Featured Events This Week" section is limited to non-recurring community events (Sorry, no "Happy Hours," "Daily Specials," "Weekly Classes," or other recurring business activities or workshops.)
---
Friday, January 27
Reception Of Lorna's Garden, Artwork By Jennifer Power And Lorna Logan - 3 p.m. - 6 p.m., Alas y Olas Gallery - Casa Franco, 3 doors west of Hotel California on Juarez, Todos Santos. Please join us at the reception of Lorna's Garden. A joining of the art of Jennifer Power and Lorna Logan. Contact: Daphna Jindrich alasyolasgallery [- at -] hotmail.com, 612-159-1234

Friday, January 27 - Thursday, February 2
Fourth Annual Vipassana Meditation Retreat - Residential 7 days, Serendipity B&B, Todos Santos. Meditation and movement with Robert Hall and Richard Strozzi Heckler - Contact: Robert Hall robertkhall [- at -] mac.com, 612-1450-676, www.eldharma.com. Make reservations with Sharon at www.Serendipityventures.com

Saturday, January 28
Art Show - La Ventana - 12:00 noon till 5:30 pm, Punta Cabrilla Clubhouse at Lana Lane, El Sargento North. Proceeds to benefit the art programs in our community schools. If you wish to participate as an exhibitor or helper, there is still room for that. - Lana Nixon, info [- at -] laventanabayproperties.com or call 114-0374, or Lana's cell: 044-612-149-5000, holalana [- at -] gmail.com, Baja California Sur

The Secrets Of Acting Revealed Begins - Saturdays, 3:30 to 5:00 p.m., Jan. 28 thru March 24. Learn stage movement; voice; acting terminology; dramatic interpretation; character development and more with renowned Canadian director/actor, George Dawson. La Arca, Todos Santos. Donations to cover the space encouraged. - Roxy Rosenblatt, caboroxy [- at -] yahoo.com, 612-130-3162

Live Music - Hotel Guaycura - Live Saxophone and Piano Jazz-Pop, and Latin Music at Hotel Guaycura, Legaspy esq. Topete s/n Col. Centro, Todos Santos, info [- at -] guaycura.com.mx, www.guaycura.com.mx, 612 175 0800, Todos Santos

Bluz Explozion - Hotel California - Live music, Margaritas, Beers, and Dancing at 8 p.m. No Cover. - Hotel California, info [- at -] hotelcaliforniabaja.com, www.hotelcaliforniabaja.com, 612.145.0525, Todos Santos

Tim Lang Live At Marina's - Enjoy the surfabilly stylings of Tim Lang at Marina's restaurant in Pescadero. Dinner and drink specials with relaxed small-town vibe. - Tim, tim [- at -] timlang.net, www.timlang.net

Live Music With Los Tocayos Sat At Cafelix. - Greg and Greg, 6 to 9 on Sat. nite. See you there! - Greg Kitchel, g.kitchel [- at -] montereybay.com, gregkitchel.com, 612 119 3705, Todos Santos

Sunday, January 29
We Are 100! (days Old) Party - Come celebrate with us our first 100 days at Hotel Casa Tota and La Santeña Restaurant and Cantina, downtown Todos Santos. Live music and dancing, begins at 5PM, with special guests, including some of the Casa Tota All Stars and others. There will be dancing. - HotelCasaTota [- at -] gmail.com, www.HotelCasaTota.com, 612 145 0590, Todos Santos
Thursday, February 02
Sunset Cine Club Presents " A Selection Of Mexican Shorts " (english Subtitles) - 7PM, Hotel Guaycura, Sky Bar, Todos Santos. Come enjoy a movie, talk about film, make a movie suggestion. Contact: Carlos Navarro aortico_cang [- at -] hotmail.com, 6121451067, www.facebook.com/pages/Sunset-Cine-Club/174680779285589
Friday, February 03
One-day Workshop: Set Intentions For 2012 - 9:30 a.m. to 3:30 p.m., Vista Room, Marina de LaPaz , LaPaz. A free, fun and creative workshop and discover your Soul's desire and then anchor it through conscious intention. Contact: Lynn Johnson spiritaslj [- at -] gmail.com, 624-137-4527

Todd Clouser Real Blues Revue, Friday February 3rd - Dinner at 6pm, Music at 7pm, Teatro Luna Azul, Todos Santos.  Join us for a night of infectious, deep hearted blues music guaranteed to get you dancing. Come early for Pasta Night Specials.. Contact: Bluemooninbaja [- at -] yahoo.com, Http://TSBMP.blogspot.com
---

---
Community Events and Workshops Notification Page - Submit event notices for The Community Calendar or Workshops and Meetings pages.

Anyone planning an event should check the Online Community Calendar before choosing a date to see if something else is already planned and avoid conflicts. Check the Online Community Calendar here: www.bajawesternonion.com/community-calendar.asp -
Return to Top
---

---
Stepping Out - Food, Music, Workshops and Entertainment
---

We Are 100! (days Old) - Dear Todos Santos, On Sunday, January 29th, please help us celebrate surviving our first 100 days at Hotel Casa Tota and La Santeña Restaurant and Cantina in downtown Todos Santos.
Live music will start at 5PM, with very special guests, including some of the Casa Tota All Stars and other homegrown heros. There will be dancing.
Special "Thank You, Todos Santos" prices on selected food and drinks all night long.
We hope to see you there (and to maybe do a shot of tequila with you!)

Love,
Miguel, Christine, Josh, Anabel, Jorge, Chef Tony, Marisol, Hesed, Daphne, Jesse, Arturo, Shipper, Pepe, Raul, Freddy, AnaMaria, Tommy, Angelita, Monica, Fatima, Chepi, Marcella, Juan, Miguel Angel, Alonzo, Arnulfo... PS. Miguel is not allowed to throw anyone in the pool this time. - HotelCasaTota [- at -] gmail.com, www.HotelCasaTota.com, 612 145 0590, Todos Santos


Live Music With Los Tocayos Sat At Cafelix. - Greg and Greg will be taking up their usual places from 6 to 9 on Sat. nite. C'mon in for pizza, beer and a good time. See you there! - Greg Kitchel, g.kitchel [- at -] montereybay.com, gregkitchel.com, 612 119 3705, Todos Santos

9th Todos Santos Film Festival Is Coming To Town! - We would like to invite you to participate in this year's 9th Todos Santos Film Festival - Feb 23 ~ 27, 2012. More films than ever (30) and more kids involved in our educational program (70). The Festival is a non-profit enterprise and its Youth In Video Educational Program, are supported by donations like yours. Two levels of commitment:
Amigos / Friends ~ $50 dollars
Estrellas / Stars ~ $100 dollars
Amigos and Estrellas will be listed in the film festival catalog. Deadline Feb 1st. All of these members will have priority and reserved seating for 2 at the Opening Night Film "The Painting Lesson" (Chile, 2011). All Films with English Subtitles. - Sylvia Perel , sylvia [- at -] latinofilmfestival.org, http//www.TodosSantoscinefest.com, Todos Santos



Start The New Year Well! - Thank your body for helping you make it through the holidays by treating yourself to a nutrition packed freshly squeezed fruit or vegetable juice from the new juice bar in the Libreria El Tecolote.
WiFi available
The Best Espresso In Town!
The Daily News Is Here Mon.-Sat. Open At 8:00 A.M.
- Kate Lewis, katemlewis [- at -] yahoo.com, El Tecolote, Todos Santos.


Greens And Herbs Will Return February 4-5 - Thanks to all my fresh greens, herb and reusable bag customers, I'm attending the 14th annual Grupo Tortuguero turtle conference, and will be absent from the farmer's markets this weekend, but will back Feb 4-5 at Cañada del Diablo and Baja Beans. Special orders always welcome, free delivery: Mixed greens, arugula, mint, basil, rosemary, sage, thyme, tarragon, margoram, oregano, chives, italian parsely and cilantro. - Patricia Baum, teampaty [- at -] gmail.com, 612 145-0882

Clay Sculpture Workshop At The 15th Todos Santos Arts Festival - Jaznum Fragoso Bishop will be giving a Clay Sculpture Workshop February 7th to 10th from 4 to 6 P.M. at the Cultural Center under the Arts Festival. The workshop es free of charge, all you have to do is provide your own material wich are 4 kilos of clay and a small table or piece of plywood 45X45 centimeters. We can advise you about the clay. Please sign up at Zatar gallery (Next to Hotel Casa Tota), the Cultural Center or by phone or e-mail with Heriberto Parra Hake. - Heriberto Parra Hake, hparra [- at -] prodigy.net.mx, www.todossantoscultura.com/agendac.html, 612 117 3945, Todos Santos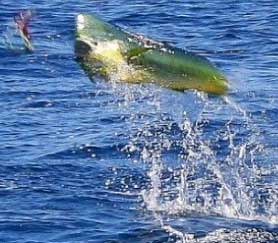 Todos Santos Fishing Charters - Why deal with a middleman? Come direct to the owner/operator
Fully Registered Sportsfishing Company


Bilingual Crew


Top Quality Tackle and Gear
Whether game fishing or whale watching, contact us for your ocean adventures. Visit our website for full details: www.fishingtodossantos.com or www.todossantosfishingcharters.com.

Package deals available when booking fishing and our casita for your complete holiday - www.bajasurtodossantos.com, or call 612-119-7880 or 624-114-1351


Art Show - La Ventana - Saturday, January 28th, 12:00 noon till 5:30 pm. Punta Cabrilla Clubhouse at Lana Lane, El Sargento North. Contact us for more information about this year's show or just mark it on your calendar and come on by! Proceeds to benefit the art programs in our community schools. If you wish to participate as an exhibitor or helper, there is still room for that! Lana: info [- at -] laventanabayproperties.com or call 114-0374, or Lana's cell: 044-612-149-5000. - Lana Nixon, holalana [- at -] gmail.com, 612-149-5000, Baja California Sur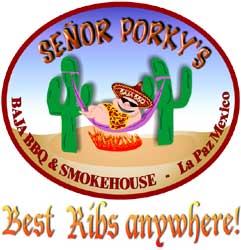 Señor Porky's Baja BBQ and Smoke House! The Best Ribs Anywhere!



New Restaurant in La Paz - Featuring Kansas City slow-smoked meats not found anywhere in Mexico. Now open 7 days a week from 7:30 AM with full breakfast menu and Cappuccino, to 10 p.m., and weekends until midnight. Watch the sunset from our spectacular ocean view! Located on the Malecon in La Paz at Alvaro Obregon #670, on the corner of Allende and Rosales (next to the Arco Hotel).


• New Menu • Daily Specials • Lower Prices • Many New Items Under 75 Pesos •

To ensure the best quality for Porky's Smokehouse Meats, we start with the best meats available. Then we dry-rub the meats with a combination of 20 spices, then slow-smoke for up to 18 hours at low temperature to obtain maximum flavor and tenderness while sealing in the natural juices and smoke flavor that is unmatched anywhere! We know you'll agree that Señor Porky's Baja BBQ and Smoke House are the best you have ever tasted. Menu highlights include:

• Slow Smoked Ribs • Pulled Pork • Beef Brisket • BBQ Chicken • Smoked Bratwurst •

Plus fantastic side orders include Pasta Salad, BBQ beans, Coleslaw, Sweet Potato fries, New Mexico Green Chile with Pork, Caesar Salad and Homemade Deserts. Dine in, or carry out from our "Pig Out" Meats to Go Menu. Download our entire Menu here: files.me.com/richards771/1wclv6. For more information, call 612-129-3667. - Richard Stubbs, richards77 [- at -] pcisys.net, La Paz

Tim Lang Live At Marina's - Saturday nights enjoy the surfabilly stylings of Tim Lang at Marina's restaurant in Pescadero.

Enjoy dinner and drink specials with our relaxed small town vibe! - Tim , tim [- at -] timlang.net, www.timlang.net, Pescadero

Valentine's Raw & Romantic Dinner - Join Living Love Cuisine at Pura Vida Health Food Store in Todos Santos for Valentine's Day [Tuesday, February 14], and experience a taste of the Divine. Enjoy a candle light dinner with a complimentary glass of Argentinean wine and four courses of all raw delicacies created with local organic produce and love. Living food is known to create harmony in the body mind and spirit and ignite the senses.

Raw & Romantic Menu:
Brochette - Almond Toast Topped W/ a Mix Of Pescadero Vine-ripened Tomatoes, Baby Basil, and Garlic
Caesar Salad - Romaine Generously Dressed W/ Ocean-friendly Caesar Dressing, Fresh Croutons, Sundried Capers and Pine-Nut Parmesan
Lasagna - Zucchini Noodles Layered W/ Cashew Ricotta, Marinara, Pesto and Marinated Mushrooms
Dessert - Passion Fruit Cheescake / Chili-dusted Chocolate Cheesecake
RSVP to reserve your spot. Advance Purchase Tickets: Total couple price (2) $450. Single $250. Limited Tickets At The Door: Couple (2) $500, Single $300. All of our food is gluten and dairy free* - Katie Kusala, livinglovecuisine [- at -] gmail.com, 6121332851, Todos Santos
---
Submit your Stepping Out - Food, Music and Entertainment announcements here: http://www.bajawesternonion.com/submitad.asp



Return to Top
---
Misc. Sales and Services Available
---

Nanny/Beach Nanny - Available for Nannying in the Todos Santos and Pescadero Area. 25 yr old canadian f/ with car. I have been coming to baja for 8 years. I have Life Saving for taking the kids to the beach and can offer surf lessons through Marios Surf School. Love being around kids, love cooking and will do over night nannying.

Call for any questions or references :) - Leia Bradley, leiabradley [- at -] hotmail.com, +52 624-116-0617, Todos Santos





Limited RV Sites Available - New RV Park within walking distance to to beach. Pool, laundry, full hook ups, gated park with excellent security record. Beautiful location in Pescadero. We have a limited number of full hook up sites available for the season and a limited number of permanent resident sites. No other place like this in the area. Very reasonable rates and great people. Call for more details or check out our website at www.mountainshadowrv.com/. Mexican cell: 52 (612) 139-2713; USA Phone: (619) 780-8048; Canada Phone: (604) 210-0564 - Kenny Sewell, mountainshadowrv [- at -] gmail.com, 604-628-9532 - Kennny Sewell, www.facebook.com/pages/Mountain-Shadow-RV-All-Adult-Resort/134505649959493, 52 (612) 139-2713, Pescadero



Class A Bus - Top of the line 2006 Pace Arrow 33 foot bus with 2 large slideouts. 20,000 miles $70,000 in as new condition even with complete cover and 2 air-conditioners. - Alex Springer, alexkspringer [- at -] msn.com, 624 159 7994


Accounting Services In Todos Sants - We can assist you with your corporate and individual needs. We offer accounting and administrative services including:
Registration of corporations with SECOFI and INM
Registration and reporting of construction and construction workers with IMSS
Recording and reporting foreign investments with the Secretaria de Economia
Counseling and immigration assistance for FM2 and FM3
Property management including payment of utilities, water, CFE, fideicamiso
Assistance with water rights
Offices in central Todos Santos
Many local references
FRIMAR GROUP
E.C.M. Raquel Martinez Peralta - Raquel Martinez Peralta frimargroup [- at -] hotmail.com, 612-14-86907



BMW R1200gs Adventure - 2011 with 3,000 miles, as new with all the toys including ESA and full BMW paniers and top box. $20,000 ready to explore the world - Alex Springer, alexkspringer [- at -] msn.com, 624 159-794


18' Ocean Fishing Boat For Sale - Comes with a new 60 HP, 4-stroke Mercury motor with only 93 hours on it:
Easy Pull Trailer With Excellent Tires
2 New Batteries
Center Fiberglass Console
Ready To Go Fishing!
PRICE REDUCED! $8,200 USD. This is a great price -- it's like buying a motor and getting the boat and trailer for free! - Kent Hansen, kenthansen [- at -] shaw.ca, La Paz





Inflatable Boat - For sale: 2009 14' Mercury Inflatable boat with 25hp Mercury two-stroke outboard. As new. Only 30 hrs. Complete with 2009 Highliner trailer. New price $7,000 USD. Selling price $4,200. Please email for photos and information. - , davidinbaja [- at -] gmail.com



For Sale-vendo Jeep + Trailer + Laptop En Pescadero - 2002 Jeep Grand Cherokee Limited (with all the options), 4x4, with 94,000 miles, Mexican frontier plates $7,500 obo. 2005 Toy Trailer (back door comes down and becomes a ramp to load up multiple ATVs, motorcycles, tools, storage, etc.) 12'8" long x 6'6" wide x 6'9" high (560 cubic feet), outdated Nevada plates, $3,800 obo. Dell Inspiron 1010 Netbook, Intel Atom N450, 1.66Ghz, 1Gb Ram, 160Gb hard disk, HDIM connector, Windows XP-Pro $225; also an Acer netbook, similar characteristics (no HDIM) $175. Dell Inspiron 600m laptop, Pentium M, 1.46 Ghz, 512Mb Ram, 28Gb hard disk, XP-home $150.

2002 Jeep Grand Cherokee Limited (con todas las opciones), 4x4, with 150,000 kilometros, places Fronterizas $97,500. 2005 Toy Trailer ("carretilla"), la puerta de atras se baja y se forma una rampa para cargar varios ATVs, motocicletas, herramientas, deposito, etc. 3.87 metros de largo x 1.99m ancho, 2.06m alto, un total de 15.9 metros cubicos. Placas vencidas de Nevada, USA, $49,500. Vendo 2 netbooks, $2925 y $2275; mas una laptop $1950 ver caracteristicas arriba. - Bill, usa13 [- at -] yahoo.com, 612-132-4710

19' Camper/trailer For Sale - Hi folks. we have an older used camper/trailer that we no longer use. location: Todos Santos. everything works..., cheap, easy way to stay out of the sun and wind. call, or email with questions. - Eric Schaefer, scheric [- at -] hotmail.com, 612.147.1408, Todos Santos



Solar Water Heating Systems - The amount of sunlight that hits the earth every few hours has more energy than the entire United States will consume in a year. The energy from the sun is there, and it is freely supplied by nature-all we need to do is intercept it, convert it, and use it. Consider solar water heating for your pool or home. Contact the local experts. - Susan Ackerman, ackerman1952 [- at -] gmail.com, www.solsticesolarofbaja.com, 624-142-8002


Casa Decor, La Paz, Indoor and Outdoor Furniture - Large 12,000 SQ. FT. Warehouse in La Paz at 560 Marquez de Leon, between Altamirano and Ramirez, Tel: 612-129-3364.

Take a Virtual Tour of our selection online: http://www.youtube.com/watch?v=YJK_MCrzZ3E:

• Largest Inventory In The Baja • Patio Furniture • Wicker, Rattan and Marble
• Rustic Hand Painted Furniture • Lighting • Metal Furniture • Copper Furniture
• Kitchen Cabinets • Doors • Floor and Wall Covering • Art • Accessories
• Fountains and Urns • Mexican Furniture • Imports From Around The World
• Very Unique Selection Of Furniture and Accessories • Furniture Packages




>>> Special! Bring In This Ad For A 10% Discount! <<<


The Best In-stock selection in the Baja of affordable Indoor and Outdoor Furniture at Casa Decor. Three Locations: Casa Decor La Paz, Casa Decor Cabo San Lucas on the Four lane at KM 3.5 next to Artisanos and Natural Marble and Stone, Tel: 888 557 6533 or 624-178-8146, and NOW in Loreto! - Mary Aguirre, Chief Designer, richards77 [- at -] pcisys.net, USA Tel 303 777 5157, http://www.antiquerowmarket.com, Baja California Sur


Ford Explorer For Sale - Ford Explorer XLT 1993 for sale - white - 160K miles - new tires - upgraded new air conditioning - imported - very well maintened - great conditions inside and outside - 3000 dollars - bajamotors [- at -] hotmail.com - , bajamotors [- at -] hotmail.com, www.casaverdeinn.com.mx


HughesNet Complete System For Sale - Used HughesNet system available in Pescadero, with larger 0.98 meter dish and 2-watt transmitter to provide more signal margin for rain fade and HN7000S modem, wireless router, and external omni-directional wireless distribution antenna. $1,000 US. Will consider offers. - Ernesto Pardo, showmethetruth [- at -] hotmail.es, 612 104 2000

Shaw Direct Satellite TV Systems From Canada - Now get quality, North American satellite TV in English:



• ABC, NBC, CBS, Fox and PBS from Detroit, Michigan, Rochester New York, Spokane and Seattle
• NFL Sunday Ticket - Not Available on Dish Network • NBA League Pass, and 80 Other Sports Channels
• HBO and 30 Other Movie Channels • Over 80 High-definition Channels
• Vacation Holds Allow You to Suspend Programming While You're Away • Variety, Family, Music, French and Special-interest Programming


For a list of available Shaw Direct channels, go here: www.bajasatellite.com/shaw-direct-satellite-tv-program-listings.asp. We set up your programming account directly with Shaw Direct, allowing you to manage your account directly. For more information on available Shaw Direct programming and monthly subscription rates, go here: www.shawdirect.ca/english/learn/programming/default.asp.
Complete Shaw Direct System - DSR600 HD Receiver - $698 US
Complete Shaw Direct DVR System - DSR630 HD Receiver with Digital Video Recorder - $1,098 US
Price includes Account activation, and Canadian, US and Mexican Shipping and Importation. Installation not included. A standard single-dish Shaw Direct system installation in the Todos Santos area will run about $200 for labor and materials. Travel fees for installation in remote locations, ground-mount poles, long cable runs, conduit, installation on high roofs or walls, or connections to additional TVs at additional cost. For more information Contact Us today: alan [- at -] BajaSatellite.com, www.bajasatellite.com, (530) 903-4257 (US), (01) 555 351 0882 (Mexico), Baja California Sur


HP Printer For Sale - I have a 1 yr old HP PhotoSmart C4680 printer for sale. This is an all in one(Copy, fax, scan, print) Unfortunately the scan function is not working. It prints great and comes with extra ink. $45.00 USD. (the ink alone is worth more than that). Call Tom 612-178-0096 - , carrollemail [- at -] aol.com



Introducing The "Baja Onionskin" - The Baja Onionskin print edition highlights community events, restaurants, shops, and entertainment each week in our local area. Delivered every Friday to area hotels and businesses, the intended readers are visitors to Todos Santos. The Baja Onionskin provides a quick, up-to-date, and convenient way for visitors to know what our community has to offer each week.

Here's an example of The Baja Onionskin From January 05 in PDF format: www.bajawesternonion.com/Onionskin/120105.pdf.

We offer paid commercial and non-profit sponsorship opportunities, which will allow your ad or coupon offer to appear each week in The Baja Onionskin. More info here: www.bajawesternonion.com/onion-skin.asp. If you are an area business, restaurant, or hotel, and would like learn more about advertising opportunities or how to receive copies of the Baja Onionskin each week for your guests and customers, please Email Maryann [- at -] BajaWesternOnion.com or call 612 145 0791. -
---
Submit your Misc. Sales and Services Available/Wanted articles here: http://www.bajawesternonion.com/submitad.asp



Return to Top
---
---
Real Estate, Rentals, and House Sitting - Available/Wanted
---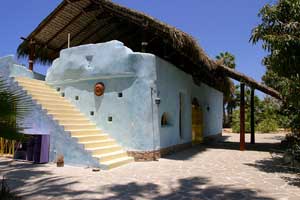 Todos Santos Beach House on a Tranquille Lush 5, 206.22 Sqmt Property - For Sale by Owner: - Two (2) separate driveway entries give the 5,206.22 sq meter (1.25 acre) property privacy from both the front and back, giving flexibility to build additional homes or to split in the future. Soil on the property is rich organic black soil, ideal for other organic gardening.

Property is an enclosed oasis and has unlimited access to farm water that nourishes the over 85 mature mango trees, 80 lush palm trees over 5 feet, passion fruit trees, citrus fruit trees and avocado trees, all of which give the property its cool shade that is coveted in the region and frequently not available on other properties of comparable or more value in the desert landscape.
* Property has power, water (both municipal and farm water), gas and Internet.
* A 6-minute walk takes you to the secluded beach, and a 5-minute drive finds you in the heart of TS.
* Motivated Seller with Reduced Listing
If you have questions or would like to make an offer after viewing the property on YouTube (www.youtube.com/watch?v=krg9FEeiRtk), feel free to contact us. Save on the fee and make us a good offer. - Anh Walch, anhwalch [- at -] yahoo.com, 212-692-0912, Todos Santos


House For Rent! - Confortable house for rent in las tunas very close to the beach.2 bedroom,2 bathroom,living room and kichen.All the house is with fourniture, including TV with sky. Come and check it out your self,i promise that it is what you are looking for,because you wont get any other house more chip and beautiful than this. - Mireille Nzohabona, 6121007805, Todos Santos



Los Cardones Hotelito, Camping and Event Space, Playa Cerritos - Los Cardones Hotelito now has three rooms available to rent. Spacious rooms with king or queen beds, plus twin beds all with private bathrooms and balconies. Great views of the surf at Playa Cerritos! Camping on site is also available. Los Cardones is a 100% solar-powered property with commitment to sustainability. Come enjoy the peace and solitude of the beautiful Baja desert in our natural surroundings! We are located just a short stroll to great surf at Cerritos and a convenient place to meet for Mario's Surf School.

Restaurant space is available to lease for private dinners, parties or other special events. Contact us for pricing and availability. For reservations, contact: khpescado [- at -] gmail.com. - Kelly, khpescado [- at -] gmail.com, www.loscardonesbaja.com, 612-144-1019 or 612-170-4513, Pescadero



House For Rent- Las Brisas - Charming one bedroom one bathroom house, 14' ceilings, tastefully furnished and decorated, ocean and desert views, fenced and gated with shaded parking, satellite tv with 8 movie channels, internet, water and electricity included. $475/month- min 6 months, longer preferred. For photos see link. - casamariabaja [- at -] gmail.com, www.facebook.com/pages/Casa-Maria-Todos-Santos/215924155167582?sk=photos, Todos Santos


House For Rent In North Todos Santos - For rent to responsible party: beautiful house,3,500 SF construction and 2,500 Square meters of land. Northern area of Todos Santos, Villas Agua Blanca:
3 BR, 3 1/2 BA, Master bedroom with Terrace to Ocean View
Fully furnished kitchen with brand new gas stove with 6 burners, fridge, etc.
Secluded, private beach 3 minutes walking from the home door.
Main entry with gates for cars and People, all perimeter fenced.
Available March - October 2012, only $490.00US per month, and we can negotiate if you do any enhancements, or we can adjust to your budget, no pets, no smokers definitely. Call or email for details: Lauren Klein lauren.klein [- at -] sbcglobal.net (+1) 775-336-8204. You can see home pictures here: villasaguablanca.com/Rentals.html
---
Submit your Real Estate/Rentals/House Sitting/Property Management Services articles here: http://www.bajawesternonion.com/submitad.asp



Return to Top
---
Rides or Caravans Available/Wanted
Note: Ads will run for two weeks unless dated. Please list the date in the title, and specify which airport. Goes without saying, everyone shares expenses for beer, gas, food, etc

To remove your ad if you find a ride or caravan, let us know here: www.bajawesternonion.com/submitad.asp -
---



Need a Ride to or From the Airport? Or Someone to Assist You With Errands? - I am a young, bilingual Christian man and I can provide you with rides to or from the La Paz or San Jose Del Cabo airports. I can also help you with courier services, errands, or navigating the intricacies of dealing with Mexican businesses and the government; Car Registrations, TelCel and TelMex, CFE, Seguro Social, etc.

Reasonable Rates - Contact: Ernesto, Cel. 612-117-7497, ernie_net [- at -] hotmail.com


Coming Down From Taos? - If anyone is coming down from Taos I have a prescription waiting for me at Walgreens that I would greatly appreciate being brought down for me. Please let me know and I will arrange for them to give it to you. Thanks. - Brock Taylor, bajabrock [- at -] gmail.com, 612-145-0873

Ride Offered To Cabo San Lucas - I'm leaving the United States Soon. We can split gas. Give me a call or email at richygreengo [- at -] hotmail.com, 575-779-6146. Thanks, Richy. - Richard Green, richygreengo [- at -] hotmail.com, 575-779-6146

Ride South - Anyone heading down soon? Can drive/share and $/share. I go back-and-forth every 6 weeks and want to beat the airfare reality. Cerritos area. reggiecollins [- at -] att.net, Baja California Sur

Wanted: Ride To Cabo Airport Jan. 31 - Need ride to San Jose del Cabo airport Tuesday, Jan. 31. Plane leaves at 5:20 p.m. Share gas expenses. - Christine Douglas, cdoug1946 [- at -] yahoo.com, 612-103-7021

Flying In or Out of Cabo on Feb 1st - I will be arriving that day and am looking for a ride but also have a car in TS and would like to hear from folks departing that day and needing a way to get to the airport. - Tom Parrish, tparrish [- at -] air.org, Todos Santos

Driving Calgary To Baja in Early February - Leaving Calgary, AB, in minivan late January to Baja, via California. Have room for one mature passenger and/or small parcels to help with costs. Very flexible with dates and route, but want to be at least to La Paz by Feb. 10. Would love to hear about anyone else heading that way in early February for possible caravan. Drop me a note if you have designs on influencing any part of this trek. - L. McMillan, makintraxx [- at -] gmail.com, 403-973-8959

Ride Available Early February - Todos Santos to Northern California. Leaving early Feb. 7. Space for 1, maybe 2, and luggage. Need to arrive in S.F. Bay Area on Feb. 10. Better to phone if interested. cell: 612-118-2379 - Sandra Arevalo, arevalosan [- at -] aol.com, 612-178-0056

Caravan mid-February? - Leaving Oregon mid-February for East Cape, flexible. Looking for another to caravan with. Have dogs so need some stops. Not in a crazy/fast hurry :-). Could meet someone at Estero Beach Resort in Ensenada and at least to La Paz (thru the more desolate areas). Have driven several times. Please write: rossib [- at -] linnbenton.edu - Barbara, rossib [- at -] linnbenton.edu, Baja California Sur

---
Submit your Rides or Caravans Needed/Available articles here: http://www.bajawesternonion.com/submitad.asp



Return to Top
---
Pet Corner (Lost and Found pet articles will run for two weeks)
Let us know if you find or place your pet so we can remove your ad -
---

Lab Mix Puppy For Adoption - Lily is a 10-week-old lab mix puppy found under the fig tree near Rancho Pescadero with her sister Bella. Bella is going to Santa Cruz in April, but Lily is up for adoption on 1/29/12. She will have all her shots by then. Lily is in great health, very cute, attentive, easy. Crate training in progress. She often sleeps all night (8 p.m.-6 a.m.). Lily looks like she will be medium sized. Please email if interested. - Sally Bondi, sally [- at -] 2s2ginc.com, 612-171-3714, Pescadero


Lost Cat ->>> - "Radio," our male cat, got out of the house early on Saturday, Jan. 21. Normally he would return ASAP at the sound of his food. It's been over 24 hours and there's no sign of him on our property or the neighbors. He's white with grey and black stripes, blue eyes, large, fixed. If you have any information to his whereabouts please contact us at the Old Charles Stewart home on the corner of Obregon & Centenario next to Cafe Todos Santos. - Janine & Mauricio Duran Wall, durm_27 [- at -] hotmail.com coneyislandgreen [- at -] yahoo.com, (612)152-4499 or (612)134-4478, Todos Santos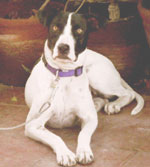 <<<- Nice Dog Needs Home - Cute boxer-like dog needs good home, has been fixed and is healthy, very energetic and is a good watch dog. www.facebook.com/media/set/?set=a.10150468445372414.358302.692117413&type=1&l=5960ca10ca - Eva Torres Lepine, eva_lepine [- at -] hotmail.com, 612-108-8447, La Paz



Stray Puppy Needs Good Home ->>> - I am a stray that was rescued in La Paz at a Christmas Eve party, I am extremely skinny and would like to find a good home. The nice girl that rescued me is willing to foster me for a while and have me fixed as soon as I gain a bit of weight, but I will need a good home because it is a little crowded at her house and just not possible for me to stay here forever. - Eva Torres, eva_lepine [- at -] hotmail.com, 612-108-8447, La Paz


Impossible to Resist! - New arrivals at Kitty Heaven despite all of our efforts to spay and neuter (but without the help of the community, there would be even more!).

All colors, all very young and playful. For more information, call Angelique at 612-145-0250 or write her at BajaKitties [- at -] Yahoo.com

Kitty Heaven is the only all-cat refuge in Baja California Sur. Visit us on the web athttp://bajarescue.org/#KittyHeaven.

We survive via your kind donations. To send your support, please click the "Donate" button below:


---
Submit your Pet Corner articles here: http://www.bajawesternonion.com/submitad.asp (and remember to Spay and Neuter your pets)



Return to Top
---
Quote of the Day: " Musicians don't retire; they stop when there's no more music in them. " ~ Louis Armstrong


---
Looking for the complete Community Events Calendar? Click Here!


---
Return to Top
---
---
Help Support The Baja Western Onion!

We can accept donations by Credit Card, PayPal, cash, check or direct deposit.

For more information, please visit our web site at http://www.BajaWesternOnion.com/donate.asp.
Copyright © 2006 - 2012. The Baja Western Onion. All Rights Reserved. Published Using 100% Recycled Electrons :)
Return to Top
---