On The Web Site:
---
Today's Weather Click for Extended Forecast

---
Community Access
Policia Preventiva
Todos Santos Police
612 145-1052
Commandante Navarro

Ministero Publico
State Police
612 145 0198
Commandante Erigoyen

Bomberos
Fire Department
Cel. 612-142-6387
Commandante Cadena


---






---
Baja Western Onion
Alan Thompson - Publisher
Debra Webster - Advertising
e-mail For General Feedback
---
---
News and Events, Questions and Answers
---

Immigration Has Moved - I'm sure it has been said before, but it is an important detail, the Immigration office in La Paz has moved and is no where near where it used to be. As you approach the intersection of 5th of February from the long entrada, go to the far right lane and turn RIGHT, away from the water. At the end of the first long block and on your right is a white boxy building with black lettering. That is Immigration. Parking is easier than along the Malecon. jeepsurfs [- at -] gmail.com


Baja Bird Book - "Birds We See" in Baja California Sur, Mexico. A book by C.E. Llewellyn with over 185 original photographs. A guide book to birding in Baja. See the video and order the book at http://birdswesee.com/order-books-3/about-birds-we-see-in-baja-california-sur-mexico/. We have also started a question and answer forum and blog nearly every day. Come join us! BirdsWeSee.com. www.BirdsWeSee.com, Baja California Sur

Looking To Rent A Car - Do you have an extra or hardly used vehicle that you´d like to rent? I don´t need to drive often enough to justify the outrageous rent-a-car prices. I am a responsible and experienced driver, willing to negotiate a fair price. Thanks! - April Randol, 707-696-9436, Todos Santos


Lobo Found a Home! ->>> - Nice to share the news that Lobo has been adopted!

Editor's Note - We frequently receive Email that notices in The Pet Corner - Lost and Found section work, both in helping pets find their Forever Home, or to find their way back home. If you've lost your little "Fur Baby," think about submitting a notice. Also, thanks so much for letting us know when you find or place your little ones so we can remove your notice.

DJ Needed - Looking for a DJ for my wedding in Todos. Need minimal equipment and would manage playlists for the evening. 1 Speakers, 1 Mixer With iPod Connection (OR Speakers connect directly to Ipod), 1 Wireless Microphone (would be nice but not necessary), 1 Dj To Control The Ipod Play List and Microphone - Rose Walker, kea.wyatt [- at -] gmail.com, Todos Santos

Housecleaner Needed - Looking for help the month of February. About 10-12 hours a week, including Saturday and Sunday. Located south of Rancho Nuevo so must have transportation. 60 pesos an hour. Phone 612-149-2639 - Elias Calles

Who Is Going? - I'm interested in going to La Ventana for the Burning Bush Festival on Saturday the 12th. Do you possibly have room for me? From Todos Santos? I will pay traveling expences. - Rebecca Ingram, Beckahi81 [- at -] gmail.com, Burning Bush, 624-160-1373


---
Today's Exchange Rate - Mexican Pesos to 1 USD - Courtesy X-rates.com
---
Submit your News and Events, Questions and Answers articles here: http://www.bajawesternonion.com/submitad.asp


Return to Top
---
---
Featured Events This Week
Please Note: The "Featured Events This Week" section is limited to non-recurring community events (Sorry, no "Happy Hours," "Daily Specials," "Weekly Classes," or other recurring business activities or workshops.)
---
Friday, January 13
Todos Santos Music Festival Continues - Through Saturday, Jan. 14. 8 p.m. each evening, Hotel California, Todos Santos. Charity concert to benefit The Palapa Society of Todos Santos, A.C. Two sets per night, featuring Robyn Hitchcock & The Venus 3 (Featuring Peter Buck of R.E.M., Bill Rieflin, and Scott Mccaughey). Free admission, with reserved tables available for suggested $5 per seat charitable donation. Info and reservations: Hotel California, info [- at -] hotelcalifornia.com, www.hotelcaliforniabaja.com, 612-145-0525, Todos Santos

Saturday, January 14
Derek Buckner Plein Air Workshop Continues - 3-day painting workshop: Jan. 13, 14 and 15. Email for info. - Marsha Dahlquist, dahl1751 [- at -] hotmail.com, 612-103-8024

Lord of the Wind Showdown; "No Envy, Who's It Gonna Be?" Continues - Through Jan. 16. World's top talent in kiteboarding, windsurfing and Stand Up Paddle. Hotel Palmas de Cortez, Los Barriles. Contact: chris [- at -] lordofthewindbaja.com, www.lordofthewindbaja.com

Vajra Dance Of The 6 Spaces - Through Jan. 15. Tsegyalgar West Retreat land, San Jose del Cabo Area. Beautiful and powerful meditation dance on a mandala. Harmonizes the energies of the people who do it. Contact: Secretary tsegyalgarwestsecretary [- at -] gmail.com , www.tsegyalgarwest.org, bajagar.blogspot.com/

Low Energy? Low/No Libido? Hair Loss? Weight Gain?, Jan. 14 - 9-11am, La Canada del Diablo, Todos Santos. Complimentary hormone & endocrine status assessment: pituitary, thyroid, adrenal, & ovary/testes. - Contact: Dr. Bill Sniechowski drbillinbaja [- at -] yahoo.com, 624-118-1603 Rotary Club Sponsored Events During Lord Of The Wind - Schedule: 8 a.m. Run with the Wind, 9 a.m.-10:30; Pancake Breakfast, 10 a.m. Bocce Ball Tournament - Events sponsored by the Rotary Club of Los Barriles. www.lordofthewindbaja.com

Los Colonos Homeowners Association First Annual Meeting - 4 p.m., La Arca, Todos Santos. Please join us for the first annual meeting of the LCHOA, a Todos Santos community organization. - Contact: secretary [- at -] lchoa.mx, www.lchoa.mx

Gardening With Natural Alternatives Seminar: Natural/Organic Products for The Garden - With Cathy Fuller, The Gardening Guru. Begins at 10 a.m. and continues until noon, property of Bill & Susie Bradford, KM67. east side of Highway 19, through large green gate. Cerritos. Seminar/Workshops free of charge but donations welcome. Bring pen, paper, bottle of water, chair and gardening questions. E-mail for rsvn: gardeningguruinc [- at -] gmail.com. Facebook: www.facebook.com/#!/pages/The-Gardening-Guru/351102126685. - Cathy Fuller, www.gardeningguru.webs.com, Pescadero

Todos Santos Music Festival - Continues. See Friday, Jan. 13 listing.

Tim Lang Live At Marina's - Surfabilly Music, 6PM, Marina's restaurant in Pescadero. Drink specials available all night. - See you there! - Tim , tim [- at -] timlang.net, www.timlang.net, marinasbajapescadero.com/, Pescadero

Sunday, January 15
Lord Of The Wind Competition - Continues. See Saturday, Jan. 14 listing.

Vajra Dance Of The 6 Spaces - Continues. See Saturday, Jan. 14 listing.

Writer's Open Reading - 4 p.m., Michael's Galeria, top of Topete, Todos Santos. Read and listen to original works, around 5 minutes each please. Contact: Susan Doyle, 145-0821, timsudoyle [- at -] hotmail.com

Live Music At La Esquina - Enjoy 2x1 drinks from 5-6 p.m. and live music around 5:30 p.m. every Saturday at La Esquina. Tonight we'll feature singer song-writer Joe Firstman. - Marimar And Paula, hola [- at -] laesquinats.com, www.laesquinats.com, 612-145-0851, Todos Santos

Monday, January 16 Thru Sunday, January 22
La Ventana Classic 2012 - Clinics Jan 16-18, Competition Jan 19-22. Location TBD, La Ventana. La Ventana Kite and windsurf events plus SUP island crossing, downwinder and more. Benefit to support our schools. Contact: Tim, tim [- at -] palapasventana.com

Monday, January 16
Lord Of The Wind Competition - Continues. See Saturday, Jan. 14 listing.

Wednesday, January 18 Thru Saturday, January 21
Todos Santos Music Festival Resumes (Last Week) - 8 p.m. each evening, Hotel California, Todos Santos. Charity concert to benefit The Palapa Society of Todos Santos, A.C. Two sets per night, featuring Scott Mccaughey and The Minus 5 (Featuring Peter Buck of R.E.M., Bill Rieflin, and John Ramberg). Free admission, with reserved tables available for suggested $5 per seat charitable donation. Info and reservations: Hotel California, info [- at -] hotelcalifornia.com, www.hotelcaliforniabaja.com, 612.145.0525, Todos Santos

---

---
Community Events and Workshops Notification Page - Submit event notices for The Community Calendar or Workshops and Meetings pages.

Anyone planning an event should check the Online Community Calendar before choosing a date to see if something else is already planned and avoid conflicts. Check the Online Community Calendar here: www.bajawesternonion.com/community-calendar.asp -
Return to Top
---

---
Stepping Out - Food, Music, Workshops and Entertainment
---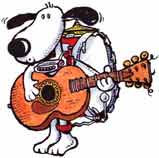 9th Annual Fur Ball - Will be held on Saturday, February 4, once again at the lovely Hotel California. The fun begins at 3:00 p.m. with delicious appetizers and a no-host bar. There will be a raffle for many treasures and a live auction of exquisite art from local artists as well as live music and dancing. Dinner, appetizers and dessert all included in the 280 peso ticket.

All proceeds go to the year-round spay and neuter program. Tickets available at El Tecolote and Hotel California or call Angelique - Angelique, bajakitties [- at -] yahoo.com, 145-0250



Secrets Of The Garden Is Open Again - Come by for Breakfast or Lunch 8-3. Closed Wednesdays. Sundays we have a special of either Pozole or Birria and as with all our dishes, available for take out. Vegetarians dishes always available. We also are catering groups at the restaurant or at your place. We can make up special dishes upon request. Call 612-119-4766 for directions, advance ordering if you are in a hurry, for take out, or for events and catering. English spoken and Gringos appreciated. - Laura, laura-gus2011 [- at -] hotmail.com, 612-119-4766, Todos Santos

The Todos Santos Music Festival Continues - At Hotel California, Jan. 11-14. This week featuring Robyn Hitchcock & The Venus 3 (with Peter Buck of R.E.M., Bill Rieflin, and Scott Mccaughey). Two sets per night starting at 8 p.m. A benefit for the Palapa Society of Todos Santos, A.C. Free admission, with reserved tables available for suggested $5 per seat charitable donation. click here for more event information and band schedule.

Bistro Santo Vino & Wine Bar Hours 5 p.m. to 11 p.m. Daily, Closed on Sunday. Reservations Recommended

Click Here Visit our Online Store. Join our Facebook fan fan page to keep up with the latest Hotel California info. - Debbie Stewart, info [- at -] hotelcaliforniabaja.com, www.hotelcaliforniabaja.com, (011-52) 612-145-0525, Todos Santos
Hotel Casa Tota and La Santeña In Downtown Todos Santos - Did all that cold and snow up North drive all your best friends come to visit at once? Our proudly modest rooms are the perfect place to send your houseguests (or yourself!) for a night or two ... we'll do the cooking and cleaning so you can enjoy your vacation home, too!

La Santeña is open everyday from 7 a.m. to 10 p.m. serving fresh, handcrafted Mexican food and delicious eggs benedict, Baja Beans coffee and espresso drinks, Mexican wines and creative cocktails in our historic setting and sidewalk cafe, all for a fair price by our friendly (and handsome) servers.

Every Monday Night-Live Music from 6-10 p.m. and community table seating at 7 p.m.- shared conversation, separate checks. HotelCasaTota [- at -] gmail.com, www.HotelCasaTota.com, 145.0590, Todos Santos


Start The New Year Well! - Thank your body for helping you make it through the holidays by treating yourself to a nutrition packed freshly squeezed fruit or vegetable juice from the new juice bar in the Libreria El Tecolote.

WiFi available.

The Best Espresso In Town!

The Daily News Is Here Mon.-Sat. Open At 8:00 A.M.
- Kate Lewis, katemlewis [- at -] yahoo.com, El Tecolote, Todos Santos.


Rave Reviews - For "And Then There Was Nun": "A delightful play! ... the parts played of famous movie stars of long ago were totally believable.  Even the voices sounded like the real actors! ... Lots of laughs... Well done!" Now playing Friday, Jan. 20, only at Teatro Luna Azul in Todos Santos. Seating is limited so get your tickets at Tecolote Bookstore. Bluemooninbaja [- at -] yahoo.com, Http://TSBMP.blogspot.com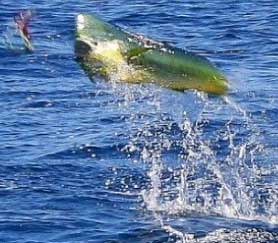 Todos Santos Fishing Charters - Why deal with a middleman? Come direct to the owner/operator
Fully Registered Sportsfishing Company



Bilingual Crew



Top Quality Tackle and Gear
Whether game fishing or whale watching, contact us for your ocean adventures. Visit our website for full details: www.fishingtodossantos.com or www.todossantosfishingcharters.com.

Package deals available when booking fishing and our casita for your complete holiday - www.bajasurtodossantos.com, or call 612-119-7880 or 624-114-1351


Touring Musician Available For Gigs/Shows, March 2012 - My name is Barry Cloyd and I'm a full-time touring Acoustic Singer/Songwriter who is coming to the Todos Santos/Pescadero area for an extended stay through most of March 2012. Third time in the Baja and looking to better establish myself with the Baja Sur Community. I am continuously touring the US doing over 200 shows per year, have 9 CD's, have toured Europe and would love to perform in some of the Baja's beautiful venues while in Mexico. Please feel free to check out my on-line presence and electronic press kit at www.barrycloyd.com. Thanks very much and hope to see you in the Baja. - Barry Cloyd, barryc1025 [- at -] aol.com, www.barrycloyd.com, 309.635.7774 (USA), Pescadero

Photo Contest - Kiteboarding Baja is sponsoring a kiteboarding photo contest for Lord of the Wind Showdown. Top photos will receive $250 USD each towards kiteboarding lessons. La Photographic Contest de Arte has two categories:
Best kiteboarding action shot: We are looking to capture the emotion of riding and to capture the athletes in motion.
Best scenic shot: we are looking to capture the spirit of Los Barriles during the Lord of the Wind Showdown contest.
Kiteboarding Baja is a kiteboarding school committed to encouraging vacationers and locals to get involved in kiteboarding. If you are not a rider "yet" you can get involved by show casing your best photograph taken during the Lord of the Wind Showdown contest.

Rules are: Digital format in JPG, limited correction are permissible. Photos must be taken during the Lord of the Wind Showdown. Photos must be submitted with the subject line 'best action photo' or 'best scenic photo'. One photo per person, submissions will be accepted from January 12- January 15.

Prizes: First prize in each category will receive $250 USD towards a kiteboarding lesson. Photos will be uploaded onto Kiteboarding baja. Facebook page; and www.kiteboardingbajaschool.com. The top three photos in each category will be hung up in the Kiteboardingbaja shack at the first arroyo. For more information about Kiteboardingbaja, visit their webpage: www.kiteboardingschool.com. If you are interested in showing your photographs or presenting, we are taking submissions starting January 12 to January 15. Please contact Nicole Eden for submissions at Nicole [- at -] kiteboardingbaja.com or call (cell) +52 1-624-166-0986. You can also visit: www.kiteboardingBajaschool.com - Nicole Eden, nicole [- at -] kiteboardingbaja.com, www.kiteboardingbajaschool.com, 624-155-1813, Los Barriles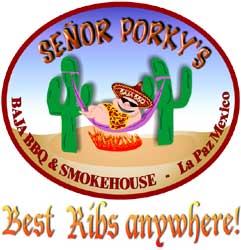 Señor Porky's Baja BBQ and Smoke House! The Best Ribs Anywhere!



New Restaurant in La Paz - Featuring Kansas City slow-smoked meats not found anywhere in Mexico. Now open 7 days a week from 7:30 AM with full breakfast menu and Cappuccino, to 10 p.m., and weekends until midnight. Watch the sunset from our spectacular ocean view! Located on the Malecon in La Paz at Alvaro Obregon #670, on the corner of Allende and Rosales (next to the Arco Hotel).


• New Menu • Daily Specials • Lower Prices • Many New Items Under 75 Pesos •

To ensure the best quality for Porky's Smokehouse Meats, we start with the best meats available. Then we dry-rub the meats with a combination of 20 spices, then slow-smoke for up to 18 hours at low temperature to obtain maximum flavor and tenderness while sealing in the natural juices and smoke flavor that is unmatched anywhere! We know you'll agree that Señor Porky's Baja BBQ and Smoke House are the best you have ever tasted. Menu highlights include:

• Slow Smoked Ribs • Pulled Pork • Beef Brisket • BBQ Chicken • Smoked Bratwurst •

Plus fantastic side orders include Pasta Salad, BBQ beans, Coleslaw, Sweet Potato fries, New Mexico Green Chile with Pork, Caesar Salad and Homemade Deserts. Dine in, or carry out from our "Pig Out" Meats to Go Menu. Download our entire Menu here: files.me.com/richards771/1wclv6. For more information, call 612-129-3667. - Richard Stubbs, richards77 [- at -] pcisys.net, La Paz
---
Submit your Stepping Out - Food, Music and Entertainment announcements here: http://www.bajawesternonion.com/submitad.asp



Return to Top
---
---
Misc. Sales and Services Available
---

Fun As Hell Baja Buggy For Sale - We have owned this volkswagen Baja Dune Buggy for more than two years now and have had a blast with it. The buggy looks good, runs good, gets great gas mileage, and literally glides over the dirt roads of Pescadero. We have all the records associated with its history and have cared for it meticulously. Runs better than it ever has. Our circumstances have changed now and it needs to find another home. Asking $6000 USD. You can see photos of it on the link provided. Email if you want to take a look and kick the tires. - Clem Akins, ropesguy [- at -] gmail.com, www.flickr.com/photos/22298660 [- at -] N06/6687515625/in/set-72157628845894575/, 612-147-5531, Pescadero


Looking For Wood Works? We Can Help! - Caoba offers you interior and exterior solid wood furniture, House planning and extension, Kitchen, Bathroom, Bedroom, Entertainment Centers, Home Bar, Doors and more. At Caoba our furniture is created from solid hardwoods, joined together with strong wood joints and high quality hardware. We are located in Todos Santos in Rafael M. Pedrajo Street, between Santos Degollado and Verduzco, with personal attention in La Paz, Todos Santos, Los Cabos, San José de Los Cabos and Los Barriles. - Israel Mejia, caoba_emadera [- at -] yahoo.com.mx, 612.105.2481, 612.103.8395, La Paz



Nanny/Beach Nanny - Available for Nannying in the Todos Santos and Pescadero Area. 25 yr old canadian f/ with car. I have been coming to baja for 8 years. I have Life Saving for taking the kids to the beach and can offer surf lessons through Marios Surf School. Love being around kids, love cooking and will do over night nannying.

Call for any questions or references :) - Leia Bradley, leiabradley [- at -] hotmail.com, +52 624-116-0617, Todos Santos



Attention: Designers The Asian Antiques - Will only be in the Galleria Cafe Santa Fe until the end of January, Wed., Fri., and Sat. afternoons or by appointment. Also, beautiful marble shelves to dress up a hall. - Scotty Mclemore, scottybcs [- at -] hotmail.com, 612-100-5872



Limited RV Sites Available - New RV Park within walking distance to to beach. Pool, laundry, full hook ups, gated park with excellent security record. Beautiful location in Pescadero. We have a limited number of full hook up sites available for the season and a limited number of permanent resident sites. No other place like this in the area. Very reasonable rates and great people. Call for more details or check out our website at www.mountainshadowrv.com/. Mexican cell: 52 (612) 139-2713; USA Phone: (619) 780-8048; Canada Phone: (604) 210-0564 - Kenny Sewell, mountainshadowrv [- at -] gmail.com, 604-628-9532 - Kennny Sewell, www.facebook.com/pages/Mountain-Shadow-RV-All-Adult-Resort/134505649959493, 52 (612) 139-2713, Pescadero



Inflatable Boat - For sale: 2009 14' Mercury Inflatable boat with 25hp Mercury two-stroke outboard. As new. Only 30 hrs. Complete with 2009 Highliner trailer. Paid new $7,000 USD. Selling price $4,200. Please email for photos and information. davidinbaja [- at -] gmail.com


18' Ocean Fishing Boat For Sale - Comes with a new 60 HP, 4-stroke Mercury motor with only 93 hours on it:
Easy Pull Trailer With Excellent Tires
2 New Batteries
Center Fiberglass Console
Ready To Go Fishing!
Price $8700 USD. This is a great price -- it's like buying a motor and getting the boat and trailer for free! - Kent Hansen, kenthansen [- at -] shaw.ca, La Paz



20 Years Of Solar Services - Ecosmart Technologies have been serving BCS for 5 years, supported by 20 years of north american experience. 210 watt guaranteed Solar panels for $600.00 USD. Complete installation off grid or grid-tied. 100's of great energy saving products to work with your home and lifestyle. - Ann Perkins, eawenterprizes [- at -] gmail.com, www.wix.com/erwinecosmart/ecosmart-tecnologies-ea, 624-166-9473, Baja California Sur



Farmer's Market At La Esquina Every Wednesday Until April! - There are three Farmer's Markets in this beautiful community. Let's support our local economy by checking them out. The farmer's market at La Esquina is on Wednesdays from 9 a.m.-noon. The other two are Saturday at La Cañada del Diablo and Sunday at Baja Beans in Pescadero. Thanks for your support! - Marimar And Paula, hola [- at -] laesquinats.com, www.laesquinats.com/farmersmarketwednesdaysareback.html, 612-145-0851, Todos Santos


Casa Decor, La Paz, Indoor and Outdoor Furniture - Large 12,000 SQ. FT. Warehouse in La Paz at 560 Marquez de Leon, between Altamirano and Ramirez, Tel: 612-129-3364.

Take a Virtual Tour of our selection online: http://www.youtube.com/watch?v=YJK_MCrzZ3E:

• Largest Inventory In The Baja • Patio Furniture • Wicker, Rattan and Marble
• Rustic Hand Painted Furniture • Lighting • Metal Furniture • Copper Furniture
• Kitchen Cabinets • Doors • Floor and Wall Covering • Art • Accessories
• Fountains and Urns • Mexican Furniture • Imports From Around The World
• Very Unique Selection Of Furniture and Accessories • Furniture Packages




>>> Special! Bring In This Ad For A 10% Discount! <<<


The Best In-stock selection in the Baja of affordable Indoor and Outdoor Furniture at Casa Decor. Three Locations: Casa Decor La Paz, Casa Decor Cabo San Lucas on the Four lane at KM 3.5 next to Artisanos and Natural Marble and Stone, Tel: 888 557 6533 or 624-178-8146, and NOW in Loreto! - Mary Aguirre, Chief Designer, richards77 [- at -] pcisys.net, USA Tel 303 777 5157, http://www.antiquerowmarket.com, Baja California Sur


Explorer Sport Trac For Sale! - Model 2003, 4x4, automatic, 6 cil. A/C. Baja plates. Good conditions. $7000 USD or best offer. La Paz area. - Ernesto Miranda, ernie_net [- at -] hotmail.com, 612-117-7497

Kite Sail Equipment For Sale - Barely used: DaKine Impact Vest; DaKine Power Harness; Convert 9mm Kite. deacon [- at -] wildblue.net



Enclosed Cargo Trailer $2,900 USD - '03 Pioneer drop tandem axle. Ambulance doors at back, front/side door, secure locking system. Interior: 6' wide, 16' long, 6.5' tall. 2" hitch, 15" above ground. Tires almost new, spare tire is new. Permanent plate. Excellent shape. Call 612-169-8007 or 612-132-6980 or write skejam [- at -] telus.net. Located at Los Cerritos skejam [- at -] telus.net, 612-169-8007



Film Maker/Photographer In Town: - Just putting the word out that I am in the Todos Santos/Pescadero area for a stint and looking to pick up some photo/film work. I have an array of still and HD video equipment and am available to do any sort of multi-media work including weddings/parties, promo videos, real estate videos, web videos, short documentaries or all of the above with still imagery. I have the ability to edit as well. Please let me know if you have any needs! Thanks, Seth Warren. seth [- at -] nrpw.com, skype: sethnrpw or text: 624-174-1130 - Seth Warren, seth [- at -] nrpw.com, www.nrpw.com, 624-174-1130





Heavy Garrafones & Bottled Water - Dear Friends, why buy expensive bottled water? Or carry heavy Garrafones? When you can get great-tasting, pathogen-free drinking water straight from your faucet! Introducing the "Blue Angeletto," simple to install under your kitchen sink providing a totally "green" solution, with essential monitoring and no water wastage, no chemicals and no electricity. All components and Filters are performance certified by NSF, WQA or NASA with low maintenance and running cost and 5-year Comprehensive Guarantee (exc. replacement filters and cartridges). The recommended retail price is $559 USD (inc. IVA) but, throughout January 2012, we have a special 20% OFF promotion for only $448 USD (inc. IVA). Ideal for homes, restaurants, small businesses, dentists etc. And remember, while stocks last, there is also 20% OFF all our residential, commercial and marine filters, cartridges and housings. All are top quality, US manufactured, with high dirt-holding capability. Chris & Alicia, H2O Profesionales Internacionales, S.A. de C.V. Madero 430, La Paz, BCS - Chris Salter, chris [- at -] aguadebaja.com, www.aguadebaja.com, 612-157-7695, Baja California Sur


Shaw Direct Satellite TV Systems From Canada - Now get quality, North American satellite TV in English:



• ABC, NBC, CBS, Fox and PBS from Detroit, Michigan, Rochester New York, Spokane and Seattle
• NFL Sunday Ticket - Not Available on Dish Network • NBA League Pass, and 80 Other Sports Channels
• HBO and 30 Other Movie Channels • Over 80 High-definition Channels
• Vacation Holds Allow You to Suspend Programming While You're Away • Variety, Family, Music, French and Special-interest Programming


For a list of available Shaw Direct channels, go here: www.bajasatellite.com/shaw-direct-satellite-tv-program-listings.asp. We set up your programming account directly with Shaw Direct, allowing you to manage your account directly. For more information on available Shaw Direct programming and monthly subscription rates, go here: www.shawdirect.ca/english/learn/programming/default.asp.
Complete Shaw Direct System - DSR600 HD Receiver - $698 US
Complete Shaw Direct DVR System - DSR630 HD Receiver with Digital Video Recorder - $1,098 US
Price includes Account activation, and Canadian, US and Mexican Shipping and Importation. Installation not included. A standard single-dish Shaw Direct system installation in the Todos Santos area will run about $200 for labor and materials. Travel fees for installation in remote locations, ground-mount poles, long cable runs, conduit, installation on high roofs or walls, or connections to additional TVs at additional cost. For more information Contact Us today: alan [- at -] BajaSatellite.com, www.bajasatellite.com, (530) 903-4257 (US), (01) 555 351 0882 (Mexico), Baja California Sur
---
Submit your Misc. Sales and Services Available/Wanted articles here: http://www.bajawesternonion.com/submitad.asp



Return to Top
---
---
Real Estate, Rentals, and House Sitting - Available/Wanted
---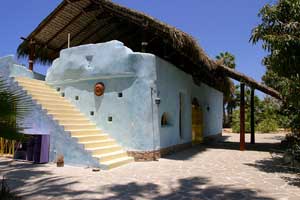 Todos Santos Beach House on a Tranquille Lush 5, 206.22 Sqmt Property - For Sale by Owner: - Two (2) separate driveway entries give the 5,206.22 sq meter (1.25 acre) property privacy from both the front and back, giving flexibility to build additional homes or to split in the future. Soil on the property is rich organic black soil, ideal for other organic gardening.

Property is an enclosed oasis and has unlimited access to farm water that nourishes the over 85 mature mango trees, 80 lush palm trees over 5 feet, passion fruit trees, citrus fruit trees and avocado trees, all of which give the property its cool shade that is coveted in the region and frequently not available on other properties of comparable or more value in the desert landscape.
* Property has power, water (both municipal and farm water), gas and Internet.
* A 6-minute walk takes you to the secluded beach, and a 5-minute drive finds you in the heart of TS.
* Motivated Seller with Reduced Listing
If you have questions or would like to make an offer after viewing the property on YouTube (www.youtube.com/watch?v=krg9FEeiRtk), feel free to contact us. Save on the fee and make us a good offer. - Anh Walch, anhwalch [- at -] yahoo.com, 212-692-0912, Todos Santos


Two Lots For Sale In La Paz - Cheap! - Great opportunity to buy property cheap! I will sell a couple of lots in La Paz specifically in Centenario. 20 mts x 40mts each. Fully walled, and in one of them a house project. If you are looking for a bargain, please contact me today at: 612-141-9558. Price is from $30,000 to $25,000 USD, each. If interested, write me at danielpelatos [- at -] hotmail.com and I will deliver photos. - Daniel Pelatos, danielpelatos [- at -] hotmail.com, www.danielpelatos.com, 612-141-9558, Baja California Sur
---
Submit your Real Estate/Rentals/House Sitting/Property Management Services articles here: http://www.bajawesternonion.com/submitad.asp



Return to Top
---
Rides or Caravans Available/Wanted
Note: Ads will run for two weeks unless dated. Please list the date in the title, and specify which airport. Goes without saying, everyone shares expenses for beer, gas, food, etc

To remove your ad if you find a ride or caravan, let us know here: www.bajawesternonion.com/submitad.asp -
---



Need a Ride to or From the Airport? Or Someone to Assist You With Errands? - I am a young, bilingual Christian man and I can provide you with rides to or from the La Paz or San Jose Del Cabo airports. I can also help you with courier services, errands, or navigating the intricacies of dealing with Mexican businesses and the government; Car Registrations, TelCel and TelMex, CFE, Seguro Social, etc.

Reasonable Rates - Contact: Ernesto, Cel. 612-117-7497, ernie_net [- at -] hotmail.com


Need Ride From SJD Airport To Todos Jan. 15 - I arrive at 3:40 PM, Sunday, Jan. 15 and would love to share a ride to Pescadero/Todos Sunday afternoon. Charging Mexico phone number now; hope it will work - so please email me. Denise - Denise Duble, dkduble [- at -] gmail.com, 612-167-6337

Ride South - Anyone heading down soon? Can drive/share and $/share. I go back-and-forth every 6 weeks and want to beat the airfare reality. Cerritos area. reggiecollins [- at -] att.net, Baja California Sur

Driver Needed From Santa Cruz To Todos Santos Or La Paz - Would like to find someone to drive my car. I am in Todos Santos and my car is in Santa Cruz, CA. I would be willing to pay expenses for the trip. My car is a beautiful 1982 Mercedes Benz which runs great and has just been serviced and checked with new tires, ready for the trip. - Sumitra Peterson, photosumitra [- at -] sbcglobal.net, no phone yet, Todos Santos

Co-pilot Wanted - I need to drive from Todos Santos to Sonoma, California, and would love someone to join me at least across the border. I have room for one person w/ one piece of luggage. Hoping to leave next week, or at least by the end of January. I will pay all gas and accommodations. - Linda Hamilton, lindahamil [- at -] gmail.com, 612.105.2857 or 415.381.9087, Todos Santos

Ride Needed from SJDC Airport to Todos Santos Jan. 16 - Need a ride from Cabo airport to Todo Santos Jan. 16, will share taxi. - Cristi, clfedryna [- at -] hotmail.com, Todos Santos

Need Ride From Todos-SJD Jan. 18 - Will share gas for ride to airport to catch a 2:30 p.m. United flight on Jan. 18. One person, two bags. - Mike Cerre, mike [- at -] globetv.com, 612-108-1198

Need Ride from SJD to TS Jan. 20 - Looking for ride to Todos from UA 1:30 p.m. arrival from SFO on 1/20. Also, need return ride to SJD on Jan. 25 for 2:30 flight. Can deliver car to/from airport on those dates, too. Thanks. - Dwight Holing, dwight.holing [- at -] gmail.com, 925-998-2411, United States

Need A Ride From TS To SJD Airport Jan. 22 - I need a ride from Todos Santos to SJD ariport Sunday, Jan. 22. My plane leaves at 2:18. Thanks, Rick. otter43 [- at -] hotmail.com - Rick Myers, otter43 [- at -] hotmail.com

Ride Needed From La Paz Airport Jan. 22 - I would appreciate a ride from the La Paz airport to Todos Santos on Sunday, Jan. 22, at about 2:30 p.m. My Volaris fight gets in at 1:25 p.m. Please let me know if you may help: 858-735-3538 or paul [- at -] boominenterprises.com. Thank you, Paul - Paul Bumann, paul [- at -] boominenterprises.com, 858-735-3538

Caravan La Paz To San Diego Jan. 25, 26 Or 27 - Looking for caravan partner to drive back to border sometime the week of Jan. 22. Have dog so will need to make a few stops. Want to stop in Mulege and Rosario on way back e.g. take time and not drive like a mad person. For more information, please write me at marinacchang [- at -] gmail.com - Marina Chang, marinacchang [- at -] gmail.com, La Paz

Driving Calgary To Baja in Early February - Leaving Calgary, AB, in minivan late January to Baja, via California. Have room for one mature passenger and/or small parcels to help with costs. Very flexible with dates and route, but want to be at least to La Paz by Feb. 10. Would love to hear about anyone else heading that way in early February for possible caravan. Drop me a note if you have designs on influencing any part of this trek. - L. McMillan, makintraxx [- at -] gmail.com, 403-973-8959

---
Submit your Rides or Caravans Needed/Available articles here: http://www.bajawesternonion.com/submitad.asp



Return to Top
---
Pet Corner (Lost and Found pet articles will run for two weeks)
Let us know if you find or place your pet so we can remove your ad -
---

Do You Know Her? - Jan. 10 this lovely female Shepard came into our yard (right by the road leading to La Poza) hoping for a kind human touch and an invitation to dinner. She's in excellent condition, very well-behaved and obedient - learning immediately to give our cat her space. She is very smart and responds immediately to any kindness! She had an extremely heavy clip on her weathered collar indicating that she may have been tied - possibly over an extended period as her collar shows much stress and is cut away underneath this clip - obviously from straining to get free. I cannot keep this dog even for one more week. If she is yours - claim her now - or if you would like to consider this beautiful girl as your own faithful companion - the time is NOW. Call Linda Stobbe at 145-0377. - Linda Stobbe, lsstobbe [- at -] yahoo.com, 145-0377, Todos Santos

Nice Dog Needs Home - Cute boxer-like dog needs good home, has been fixed and is healthy, very energetic and is a good watch dog. www.facebook.com/media/set/?set=a.10150468445372414.358302.692117413&type=1&l=5960ca10ca - Eva Torres Lepine, eva_lepine [- at -] hotmail.com, 612-108-8447, La Paz


<<<- Lost Dog "Chaco" Reward! - Lost my dog at San Pedrito beach. I'm at the north end of beach white house on bluff, "Osprey House". My dog Chaco ran off Tuesday morning, if you have seen him, please contact. Short hair, black back, brown legs, pointed ears, like a little shepherd. Medium weight,about 30lbs. Red collar with tags. If you have any information call Russell 612-168-6810 - Russell Sutter, bajaosprey [- at -] gmail.com, www.bajaosprey.com, 612-168-6810, Pescadero


Stray Puppy Needs Good Home ->>> - I am a stray that was rescued in La Paz at a Christmas Eve party, I am extremely skinny and would like to find a good home. The nice girl that rescued me is willing to foster me for a while and have me fixed as soon as I gain a bit of weight, but I will need a good home because it is a little crowded at her house and just not possible for me to stay here forever. - Eva Torres, eva_lepine [- at -] hotmail.com, 612-108-8447, La Paz

Stray Dog Needs Ride To Cabo Humane Society - During the fireworks a dog showed up at my casa. A brindle pit bull, skinny, scared, humble. I can't keep him and have no way to take him to Cabo to the Humane Society. Can you help? I live in Todos Santos, in the otro lado. 612-118-7393 - Anne Marie Maurier, l.maurier [- at -] yahoo.com, 612-118-7393

Looking For A Better Life - We Ran Away >From Home - Hi, Our names are Gus & Scout and we're brothers. We left home because there were 11 of us and we just didn't all get along very well. And, a dog had recently killed one of our brothers and later attacked our sister. It was getting scary.

We're 18 months old, fixed, and can be friendly. I have gray and black stripes with white feet and am big for my age. Gus is totally black, green eyes, and average size. Our owners miss us a lot and just want people in Pescadero (just north of the Tequila Factory by the beach) or there about -- to know that we're cool cats and could use a little love and food if you see us hanging around. We're outdoor cats and can fend for ourselves but... Thanks for reading about us and please be nice to us if we stop by for a visit :-) - Bonnie, bajapeacewear [- at -] hotmail.com, Pescadero

Lost Golden Retriever - Lost GR in North Pescadero area 3 weeks ago. Was sick with weepy eyes and caretakers let her go. Am home now and heartbroken. If you have seen her(Layla), please call Barbara Chick at 612-154- 5983. Reward - Barbara Chick, 612-154-5983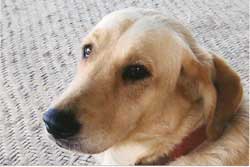 <<<- Have You Seen Leyla?? - Attention Pescadero Residents - Please help! I've just returned from a trip to find out that my beautiful (very blonde!) "golden retriever" mix, "Leyla" - my faithful companion for more than three years - "went missing" around the 10th of December. The people that I'd paid to care for her are clueless - and I am truly beyond heartsick! She left from my yard in north Pescadero - right by the Huerta Huizapol - a few blocks (on the right-hand side) before the Pemex if you're coming in from Todos Santos. I'm offering a generous reward for your help in returning Leyla to her home! She's very people-friendly and loves car rides. Please call me if you have any information and can help. - Barbara Chick, 044-612-154-5983, Pescadero

Good Info On What To Do If You Lose Your Dog In Baja (or Anywhere) - This excellent article courtesy of Baja Insider: www.bajainsider.com/baja-life/pet-care/findinglostdogs.htm -
---
Submit your Pet Corner articles here: http://www.bajawesternonion.com/submitad.asp (and remember to Spay and Neuter your pets)



Return to Top
---
Quote of the Day: " A nation or civilization that continues to produce soft-minded men purchases its own spiritual death on the installment plan. " ~ Martin Luther King, Jr.


---
Looking for the complete Community Events Calendar? Click Here!


---
Return to Top
---
---
Help Support The Baja Western Onion!

We can accept donations by Credit Card, PayPal, cash, check or direct deposit.

For more information, please visit our web site at http://www.BajaWesternOnion.com/donate.asp.
Copyright © 2006 - 2012. The Baja Western Onion. All Rights Reserved. Published Using 100% Recycled Electrons :)
Return to Top
---