On The Web Site:
---
Today's Weather Click for Extended Forecast

---
Community Access
Policia Preventiva
Todos Santos Police
612 145-1052
Commandante Navarro

Ministero Publico
State Police
612 145 0198
Commandante Erigoyen

Bomberos
Fire Department
Cel. 612-142-6387
Commandante Cadena


---





---
Baja Western Onion
Alan Thompson - Publisher
Debra Webster - Advertising
e-mail For General Feedback
---
---
News and Events, Questions and Answers
---
El Pescadero Season Events - The subdelegada (Mayor), C. Ma. Del Carmen Higuera Perez, invites you to attend several December activities: Tree lighting, Central Plaza, Dec. 14, 6 p.m.; Seniors (>60 yrs) Turkey Race, Central Plaza, Dec. 17; End of Year Dance, Dec. 31; and Day of the Three Kings (Children's Races/Toy Raffle), Jan 6, Stadium. How you may support these efforts: Attendance, provide toys or donations to purchase them & turkeys. Donations may be delivered to Carmen's office by Dec. 10 for turkeys and Jan. 4 for toys. Her office is located at the end of the main street circle, right at stop sign, one block on the left at the corner. Most days office is open from 9 a.m.- 1 p.m. Collection cans for toy donations may be found at OXXO, Amigos de El Pescadero office next to Marina's or Napoli's Pizza. - Carmen, subdelegacionel_pescadero [- at -] hotmail.com, www.pescaderolife.com, 612-151-9049, Pescadero
Asociación De Artes Art Show - Courtesy Baja Pony Express - The Asociación de Artes is having their art show, featuring local artists, at Colina Sol, Los Barriles this Sunday, Dec. 11 from 10 a.m. to 3 p.m. Food and beverages will be available and everyone attending gets a free raffle ticket for some art items. All proceeds are used to support the children's art programs. For more information contact Elizabeth Perkins at edesignsbaja [- at -] aol.com. Directions: Take the road north, go over both arroyos. Bear to the left and keep on the paved road. Turn left into the Colina del Sol development. I am guessing there will be signs. Go straight and you'll see the festivities. - Elizabeth Perkins, Los Barriles
Palapa Society Tianguis A Huge Success! - The Palapa Society of Todos Santos enthusiastically appreciates and thankfully acknowledges the fabulous efforts of over fifty community members who set-up donated items, worked the various sales areas and cleared the Ejido facility after the Tianguis on Saturday, November 26th. In addition, the quality and quantity of the donations made the day especially rewarding for the large numbers of people who attended and purchased goods. Special gratitude is given to the Ejido for providing the excellent Militar facility on behalf of the Palapa Tianguis.

Thanks to the large-scale community effort, at least 26 local students will receive books and materials (BECAS/scholarships) for this school year from the November 26th Palapa Society Tianguis net proceeds of 45,839 MP. Please note: All BECA students periodically provide community service to return value to Todos Santos. For example, many students cleaned the area at the south entrance to Todos Santos on the morning of the Palapa Society Tianguis and then aided in post-sales clearing and cleaning.

Again, thank you so much to everyone who gave time, funds, goods and facilities for this year's Palapa Society Tianguis. We are overwhelmed by your generosity!

¡El tianguis de La Sociedad de la Palapa fue un gran éxito! - La Sociedad de La Palapa de Todos Santos aprecia con gran entusiasmo y con sincero agradecimiento reconoce los fabulosos esfuerzos de los más de cincuenta miembros de la comunidad quienes acomodaron los artículos donados, trabajaron en varias áreas de venta y limpiaron la casa Ejidal después del tianguis que tuvo lugar el día sábado 26 de noviembre. Además, la calidad y la cantidad de las donaciones recibidas hicieron del día uno especialmente satisfactorio para la gran cantidad de personas que atendieron y compraron artículos. Damos un especial agradecimiento al Ejido por permitir el uso de su espacio para que el tianguis pudiera llevarse a cabo.

Gracias al esfuerzo a gran escala de la comunidad, por lo menos 26 estudiantes locales recibirán libros y materiales (BECAS) para el ciclo escolar actual gracias a los fondos recabados que suman la cantidad de $45,839 pesos. Nota: Todos los estudiantes con BECA proveen servicio comunitario de manera periódica devolviendo valor a la comunidad de Todos Santos. Por ejemplo, muchos estudiantes limpiaron el área a la entrada Sur del pueblo la mañana del tianguis de La Palapa y después ayudaron con la limpieza necesaria al terminar dicha vendimia.

Nuevamente muchas gracias a todos aquellos quienes donaron su tiempo, diversos artículos y facilidades para hacer posible el Tianguis de La Sociedad de la Palapa este año. ¡Estamos conmovidos por la magnitud de su generosidad! - The Palapa Society, vandhbutler [- at -] gmail.com, Todos Santos
ExpoFest at Instituto Tecnologico de La Paz in La Paz - To Community Foreign Friends: Please come to our ExpoFest on Saturday, December 17 between 10 - 12 noon at TEC (Instituto Tecnologico de La Paz)! We are celebrating the end of the semester with short presentations by all the English and French students from our school. We will have food, music, dance, and a lot of history and culture from 20 different English and French speaking countries represented.

We hope you and your friends or comunity will join us, so that our students can explain in English and French their learning to people who will understand them! The TEC (ITLP) is located at Forjadores and Colosio. Travel on Colosio away from the city toward the hills (Hwy to El Sargento Town), and make a right at the first stop sign onto La Paz St. It is a dirt road. Go to the end (one block) to enter the campus and make a left when you enter to go to the gym. We will be there.

You are very welcome and Happy Holidays. We are looking forward to seeing you! - Instituto Tecnologico de La Paz, capiitlp [- at -] gmail.com
Wine And Art - Monday, Dec. 12, 8 p.m. at Hotel Casa Tota in historic downtown Todos Santos. This celebration of the Virgen de Guadalupe will feature Wines from her Valley, Food from her Earth and Art from her Admirers.

Please join us for a rooftop celebration of Baja wines and wearable art from Baja-based artists. Gloria Santoyo Ruenitz will be showing vintage sea glass jewelry and Patricia Larsen will feature her handcrafted garments. Live music, great wine and food, too! - Christine sperber, hotelcasatota [- at -] gmail.com, www.HotelCasaTota.com, 145-0590, United States
Dog Transport On La Paz Ferry - I will be traveling from La Paz to Mazatlan with my standard poodle near the end of the month. I would appreciate hearing of first-hand experience by those recently traveling with their pet on the ferry. Just want to know what to actually expect. Thank you. - Daniel Hawe, danielthawe [- at -] gmail.com
Boogie Boards - Boogie boards wanted to buy, borrow or trade, just for a week in January for my grandchildren. Please e-mail Nicola cortesnic [- at -] hotmail.com (Todos Santos, I have no phone here). - Nicola, cortesnic [- at -] hotmail.com
Looking To Buy A Surf Board - I'm from Canada and I'm staying in Baja for a month and a half and am looking to buy (or rent for a reasonable price) a couple of cheap boards while here. Please contact me by email because I have no phone yet. Thanks! - Kirsty Sykes, kirstyrae [- at -] live.com, Pescadero
Do You Have Hay For Sale? - Looking for a steady source of good alfalfa hay for sale at a reasonable price suitable for a horse, from Cabo to Todos Santos. 612-140 7923 - Zarra, 612-140-7923, Pescadero
$299 Four-Night Hotel Stay and Dinner Cruise in Cabo San Lucas - Here's a tip for what looked to be a pretty good hotel/dinner cruise deal in our area sent to us from Groupon, www.groupon.com. This is a $750 value:
Get a four-night stay for two adults and up to two kids in deluxe marina-view room at the Club Tesoro at the Wyndham Cabo San Lucas resort, with dinner cruise for two for only $299. What you get:

Four-night stay for two adults and up to two kids in a deluxe marina-view room at Club Tesoro: www.clubtesoro.net/club-tesoro-resorts/los-cabos/
2.5-hour dinner cruise for two From Cabo Mar Cruises, cabo-mar.com/dinning_cruise.html
Daily breakfast for two
Airport transfer from airport to resort for two
Here are the offer details: www.groupon.com/deals/ga-m-club-tesoro. Might be good just to get away for a few days close by, or for guests coming into town? Enjoy - The Baja Western Onion, moderator [- at -] bajawesternonion.com -
BCS Surf Community Research - If you have surfed in Baja California Sur, Mexico, in the last year we need your input and ideas! This research will help us to better understand the social, environmental, and economic contributions of the surfing community to the Mexican state of B.C.S. The B.C.S. surf valuation and community participation survey is now online, in both English and Spanish.

The Save The Waves Coalition has successfully completed several Surfonomic Studies, including Mavericks in California and Mundaka, Spain. Both studies pointed to the significant environmental, social, and economic value of surf breaks based on the quantity of tourist visits per year. This information is crucial for decision makers to realize that surfing is not a fringe activity, and that the preservation of waves and coastal habitats actually has value, perhaps more than destructive coastal development schemes. - Aj Schneller, aj [- at -] wildcoast.net, wildcoast.net/media-center/news/3-if-you-have-surfed-in-baja-california-sur-mexico-in-the-last-year-we-need-your-input-and-ideas, 619-333-9087, Baja California Sur
---
Today's Exchange Rate - Mexican Pesos to 1 USD - Courtesy X-rates.com
---
Submit your News and Events, Questions and Answers articles here: http://www.bajawesternonion.com/submitad.asp


Return to Top
---
---
Featured Events This Week
Please Note: The "Featured Events This Week" section is limited to non-recurring community events (Sorry, no "Happy Hours," "Daily Specials," "Weekly Classes," or other recurring business activities or workshops.)
---
Wednesday, December 07
Drawing Classes Resume - 9:00 11:00, Drawing classes will resume on Wednesday, Nov. 23, and will continue on Wednesdays through December. Come enjoy drawing and painting in a positive learning environment. All levels are welcome. Contact: Tori Sepulveda oscarntori [- at -] yahoo.com, 612-136-6738

Thursday, December 08
Meet The Artist - Jennifer Power - 5:00 pm, Cafelix, Todos Santos. Meet the artist series features Jennifer Power sharing her art and talking about her life as an artist. The reception for the small works Christmas show will follow Jennifer's talk at 6:00. Contact: Tori Sepulveda oscarntori [- at -] yahoo.com, 612-136-6738

Rotary Christmas Tree - 10 am - 10 pm, From December 8 Thru the 24, Kiosk on the Malecon and 16 de Sept., La Paz. Bring a smile to a child this Christmas. Goal is 5,000 presents for the children of La Paz in vulnerable circumstances. Contact: Maureen Ryan morene4 [- at -] yahoo.com, 612-1577101

Small Works Christmas Art Show - 6 p.m., Cafelix, Todos Santos. Paintings no larger than 12 x 12 plus frame will be shown. The opening reception will be today after Jennifer Power's meet-the-artist talk. Contact: Tori Sepulveda oscarntori [- at -] yahoo.com, 612-136-6738


Sunset Cine Club Presents The Limits Of Control - 7PM, Restaurante Il Giardino, Todos Santos. The story of a mysterious loner, a stranger in the process of completing a criminal job. Dir. Jim Jarmusch, with Isaach de Bankolé. Contact: Carlos Navarro aortico_cang [- at -] hotmail.com, 612-145-1067, www.facebook.com/pages/Sunset-Cine-Club/174680779285589

Advertising Presentation For Concierge: Todos Santos & Pescadero - 6:00pm drinks, 6:30pm bilingual presentation, Perico Azul Café – Corner of Topete & Centenario, Todos Santos. Free cocktail, appetizer, and 15 minute presentation about this new publication. RSVP to reserve space and beverage. - Brenda Casillas, brendacasillas [- at -] hotmail.com, 612-141-6297, Todos Santos
Friday, December 09
Feldenkrais Classes Begin - 9.30 - 11am, La Arca, Todos Santos. Come join us for Awareness Through Movement lessons every Wednesday and Friday. First class free. Contact: Dinah Hornung dinahbyron [- at -] gmail.com, 612 136 9075
Saturday, December 10
Ninth Annual World-class Garage Sale - 9 a.m., La Cañada del Diablo, Todos Santos - Call Barbara Perkins to reserve your space. Contact: Barbara Perkins bperkins0403 [- at -] gmail.com, 612-140-0069, www.lacanadadeldiablo.com

Annual Rummage Sale/Tianguis to Benefit the Cats at Kitty Heaven - Part of the 9th Annual Garage sale at La Canada del Diablo. Please donate household goods, working electronics or any other items to our sale (and our cause). Kitty Heaven is the only cat refuge in Todos Santos and is funded solely through donation. Contact: Angelique, bajakitties [- at -] yahoo.com

Benefit Concert For The Kids of Hogar de Los Niños - 5 p.m., La Esquina in Todos Santos. Music provided by Forest & Friends, Jay Nash, Tim Lang & AK-47. Ben & the Men perform at 10:30 p.m. Beer, wine and margaritas available. Limited tickets at La Esquina or San Pedrito Surf Hotel for 70 pesos. A silent auction will be held. Please bring donations of shoes and clothing. - Andres Keller, ak4pgh [- at -] yahoo.com, 612-133-9602, Todos Santos


Free Body Composition Analysis - 9 to 11 a.m., Office of Dr. Bill Sniechowski, La Canada del Diablo. Will analyse % body fat, lean mass and total weight. - Dr. Bill Sniechowski, DrBill.Baja [- at -] yahoo.com, 624-118-1603

Live Salsa Rhythm - Guaycura hosts this music event from 6 to 9 p.m. on the Sky Deck. Appetizers and exotic drinks. Reservations can be made by calling 612-175-0800. reservation [- at -] guaycura.com.mx, www.guaycura.com.mx, 612-175-0800, Todos Santos

Street Photography Workshop Begins - Todos Santos. Two-day workshop thru Sunday, Dec. 11. Improve "how to see" photographically, going from snap shots to fine art. Led by Judith Farber. Open to all photo enthusiasts and all cameras. Private critiquing sessions also available. Level 1 and level 2 (for those who've taken the class before). $50 US (700MXN – email for pesos payment). Info and registration: SundaysInNY.com/todos/ - Judith Farber, jf [- at -] SundaysInNY.com, Baja California Sur

Sunday, December 11
Asociación De Artes Art Show - 10 a.m. to 3 p.m., Colina Del Sol, Los Barriles. Local artists, food and beverages. All proceeds support children's art programs. Take road north over both arroyos. Bear to left on paved road. Turn left at Colina del Sol development. Go straight to the festivities. Information: - Elizabeth Perkins, edesignsbaja [- at -] aol.com
Monday, December 12
Nomad Chic - Trunk Show Begins - 9 a.m. to 5 p.m., Dec. 12 to 31, 2011 (Mon.-Sat.), Casa Dracula, Todos Santos. An evolving collection of apparel, jewelry, and accessories from around the globe. Contact: Linda Hamilton linda [- at -] lindahamiltondesigns.com, 612.105.2857 , https://www.facebook.com/pages/Nomad-Chic/184057581646858

Wine And Art - 8PM, Hotel Casa Tota, Todos Santos. Wearable Art, Drinkable Art! Handcrafted local jewelry from Gloria Santoyo Ruenitz, clothing from Patricia Larsen and wine from La Bodega presented on our beautiful roof deck. Live Music, too! Contact: Christine sperber hotelcasatota [- at -] gmail.com, 612-145-0590, www.hotelcasatota.com
---

---
Community Events and Workshops Notification Page - Submit event notices for The Community Calendar or Workshops and Meetings pages.

Anyone planning an event should check the Online Community Calendar before choosing a date to see if something else is already planned and avoid conflicts. Check the Online Community Calendar here: www.bajawesternonion.com/community-calendar.asp -
Return to Top
---

---
Stepping Out - Food, Music, Workshops and Entertainment
---
Winter Solstice Celebration Of One - 12.21.11 - Join us Wednesday December 21, on the Winter Solstice, as we combine our creative expressions of Music, Storytelling, Sound, Harmony, Dance and more. People around the world will be making celebrations to raise unity consciousness and dream a new world. Come and celebrate the return of the light within each of us, and share in the spirit of love, oneness, peace and harmony. Wednesday, Dec. 21, Teatro Luna Azul in Todos Santos; Event 7:00 – 9:00 pm.; Doors open 6:30 pm. Drum circle 6:30 to 7:00 pm. Bring drums and rattles if you would like to participate in the drum circle. Info & Directions at tsbmp.blogspot.com.

Unetenos este Miercoles 21 de Diciembre, en el Solsticio de Invierno, mientras combinamos nuestras expreciones creativas de Musica, Narrador de Cuentos, Sonido, Harmonia, Danza y mas. Gente alrededor del mundo estara celebrando para levantar conciencia de unidad, mientras sonamos un nuevo mundo. Ven y celebra con nosotros el regreso de la luz dentro de cada uno, y comparte en el espiritu de amor unidad, paz y harmonia. Miercoles, 21 de Diciembre, Teatro Luna Azul en Todos Santos.; Evento 7:00 – 9:00 pm.; Puertas habiertas apartir de las 6:30 pm.; Circulo de tambores 6:30 – 7:00 pm. Trae tu tambor o sonaja si deseas participar en el circulo de tambores. Informacion y direcciones: tsbmp.blogspot.com. - Lynn & Daniel, tuneintuit [- at -] gmail.com, Todos Santos
Live Salsa Rhythm - Guaycura is pleased to invite you to our great music event Saturday, Dec. 10, from 6 to 9 p.m. Come and dance salsa while your are watching the stars and the best view in town on Sky Deck. Great ambience, delicious appetizers and exotic drinks just in Guaycura! - Reservations Guaycura, reservation [- at -] guaycura.com.mx, www.guaycura.com.mx, 612-175-0800, Todos Santos
Botanical Garden Tours - Come tour the garden of eden at Buena Fortuna Botanical Gardens guided by world renowned botanist, ecologist, anthropologist, and social activist...Gabriel Howearth. Explore Baja Sur's most diverse organic botanical gardens,with over 3,000 plant species here at Buena Fortuna located at the entrance of La Ribera 12km east from Las Cuevas. Gabriel Howearth, founder of Seeds of Change- the largest organic seed company in North America, will be giving guided tours every Saturday starting at 10 a.m. Tours include refreshments and fruits for $150 pesos per person. Buena Fortuna's famous organic restaurant will also be serving a delicious all organic lunch by reservation for $150 pesos. Landscape design consultations, exotic nursery plants, soil and compost, and rare organic seeds also available. To make reservations please contact Gabriel at 624-168-3225 or by email at buenafortunagardens [- at -] gmail.com. Special tours, lunches, and events can also be arranged anytime given prior notice. Seedfully sprouting diversity! - Gabriel Howearth, Baja California Sur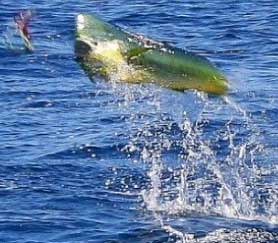 Todos Santos Fishing Charters - Why deal with a middleman? Come direct to the owner/operator
Fully Registered Sportsfishing Company



Bilingual Crew



Top Quality Tackle and Gear
Whether game fishing or whale watching, contact us for your ocean adventures. Visit our website for full details: www.fishingtodossantos.com or www.todossantosfishingcharters.com.

Package deals available when booking fishing and our casita for your complete holiday - www.bajasurtodossantos.com, or call 612-119-7880 or 624-114-1351
The Feldenkrais Method - Group Classes and Private Sessions - The Feldenkrais Method is named after its originator, Dr. Moshe Feldenkrais, D.Sc. (1904-1984), a Russian born physicist, judo expert, mechanical engineer and educator. The Feldenkrais Method is a form of somatic education that uses gentle movement and directed attention to improve movement and enhance human functioning. Through this Method, you can increase your ease and range of motion, improve your flexibility and coordination, and rediscover your innate capacity for graceful, efficient movement. 

Feldenkrais work is done in two formats. In group classes, called Awareness Through Movement, the Feldenkrais teacher verbally leads you through a sequence of slow, gentle, easy movements. Private Feldenkrais lessons, called Functional Integration is a hands-on form of tactile, kinesthetic communication which is tailored to each student's individual needs.

Awareness Through Movement classes will be offered beginning Dec. 9 from 9.30 - 11 a.m. at La ARCA. Meeting schedule is listed on the Baja Western Onion Workshops and Meetings page at: www.bajawesternonion.com/workshops-meetings.asp. First class is free. For private, hands-on sessions and all other inquiries contact Dinah. - Dinah Hornung, dinahbyron [- at -] gmail.com, 612-136-9075, Todos Santos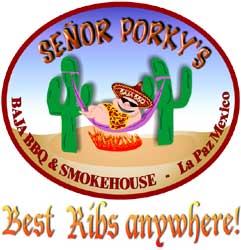 Señor Porky's Baja BBQ and Smoke House! The Best Ribs Anywhere!



New Restaurant in La Paz - Featuring Kansas City slow-smoked meats not found anywhere in Mexico. Now open 7 days a week from 7:30 AM with full breakfast menu and Cappuccino, to 10 p.m., and weekends until midnight. Watch the sunset from our spectacular ocean view! Located on the Malecon in La Paz at Alvaro Obregon #670, on the corner of Allende and Rosales (next to the Arco Hotel).

To ensure the best quality for Porky's Smokehouse Meats, we start with the best meats available. Then we dry-rub the meats with a combination of 20 spices, then slow-smoke for up to 18 hours at low temperature to obtain maximum flavor and tenderness while sealing in the natural juices and smoke flavor that is unmatched anywhere! We know you'll agree that Señor Porky's Baja BBQ and Smoke House are the best you have ever tasted. Menu highlights include:

• Slow Smoked Ribs • Pulled Pork • Beef Brisket • BBQ Chicken • Smoked Bratwurst •

Plus fantastic side orders include Pasta Salad, BBQ beans, Coleslaw, Sweet Potato fries, New Mexico Green Chile with Pork, Caesar Salad and Homemade Deserts. Dine in, or carry out from our "Pig Out" Meats to Go Menu. Download our entire Menu here: files.me.com/richards771/1wclv6

For more information, call 612-129-3667. - Richard Stubbs, richards77 [- at -] pcisys.net, La Paz
2012 Cuba Trips With Guillermo Bueron - Get your bags ready to visit Cuba in 2012. First tour Jan. 24, returning on the 31. Second tour Feb. 22-29.Package tour includes round trip airfare, 7 nights at the Palacio O'Farrill Hotel, breakfast buffet, medical insurance, visa and transfers airport hotel in Havana. Call or email me for complete information. Guillermo Bueron Travel/Instruction. - Guillermo Bueron Prieto, g_bueron [- at -] yahoo.com, 612-161-4165, Todos Santos
Reiki Treatments - at the Healing Arts Center of Todos Santos. Reiki is a stress-reduction technique that promotes balancing of the mind, body and spirit. During a Reiki Treatment, the client lies fully clothed on the massage table, while the practitioner directs life force energy in concentrated form through the hands. Reiki is a gentle and non-invasive form of holistic health that works to dissolve the roots of physical and emotional discomfort, returning us to our true nature of peace, love and joy. Benefits include a clear and calm mind, reduction of physical pain and inflammation, increased vitality, enhanced personal awareness and meditation practice.

$50 US or pesos equivalent, includes a Chakra Balancing. 2-for-1 Introductory Price until December 30. Inquire now to take advantage of this limited time offer. For an appointment or for more information on Reiki and what it can do for you, call Allison Eaton at 612-152-3896 or email info [- at -] allisoneaton.com, www.allisoneaton.com.

Reiki Level 1 and 2 Certification With Relaxing Yoga Retreat - Learn to heal with the hands while enjoying daily yoga, meditation and breath exercises. All levels are welcome and accommodated. Dec. 18 to 20, 7:30 am to 6 pm, Yandara Yoga Institute, $290 Commuter. $640 Residential (those sleeping on premise). Meals included. Allison Eaton, info [- at -] allisoneaton.com, www.allisoneaton.com, 612-152-3896.
Wanted: Creative Chef Or Cook - Gemini Deli is looking for a chef/cook to help in the creation of an exciting new seasonal menu. If you are interested, please come by the restaurant to discuss further! - Michael, info [- at -] TheGeminiDeli.com, thegeminideli.com/, 612.14.77.300, Todos Santos
Noche De Moda Runway Show
Dec. 27 at 5 p.m. at La Esquina/Casa Dracula
Presented by Joella Corado, Linda Hamilton and La Esquina
Featuring: Belazul Swimwear, Nomad Chic, Mixtica/Noda Concept & More
Tickets: 80 mn per person in advance/100 mn per person at the door
Tickets on sale Dec. 6 at Pura Vida, La Esquina & Casa Dracula
An event you won't want to miss!

- Linda Hamilton, linda [- at -] lindahamiltondesigns.com, www.LaEsquinaTS.com, 612.105.2857, Todos Santos

Zumba Fest - A la Mutualista. Saturday December 10th at 4 pm. Doctora Oliva and all teachers from Baja Sur for a big extravaganza. Dance with different teachers, food for sale to benefit Mutualista. 20 pesos charge for the evening.Don't miss it! - Luci Oliva Oliva, homeopathdroliva [- at -] hotmail.com, 612 13 444 58
Hotel California - Bistro Santo Vino & Wine Bar is now open for lunch.
Hours Noon to 10 p.m. Daily, Closed on Sunday. Reservations Recommended

Hotel California presents The Todos Santos Music Festival, featuring Peter Buck of REM a benefit for the Palapa Society of Todos Santos, A.C. January 5-21. For more event information and band schedule click here.

Click Here to view our Online Store
Keep up with the latest Hotel California info by joining our facebook fan page
Follow us on facebook

- Debbie Stewart, info [- at -] hotelcaliforniabaja.com, www.hotelcaliforniabaja.com, (011-52) 612-145-0525, Todos Santos
Christmas Specials At Que Rico - We will be offering delicious Organic Turkeys again for Christmas, as well as, Organic Capons and USDA Prime Rib. We are taking orders now through December 17th.
Organic Turkeys for 56 pesos/kilo (+/- 8 kilos)
Organic Capons for 60 pesos/kilo (+/- 4 kilos)
Standing Prime Rib Roast (12-14 ribs) - 350 (USDA Prime) or 275 (USDA Choice) pesos/kilo (+/- 8 kilos)
We are now carrying Free Range Ranch Eggs. - Andrea Park, quericofoods [- at -] gmail.com, 612-118-6031
---
Submit your Stepping Out - Food, Music and Entertainment announcements here: http://www.bajawesternonion.com/submitad.asp



Return to Top
---
---
Misc. Sales and Services Available
---
Crazy Christmas Sales Party - Come on out and shop with BajaPeaceWear - Unique Handmade Creations. Friday, Dec. 9, 2-5 p.m. You can enjoy appetizers and wine while selecting gifts from over 400 items -- Most of which are 20-50% off. We have purses, evening bags, belts, all kinds and styles of jewelry, crocheted goods including ponchos, wraps, hats, wristlets, vests, scarfs, shawls, bags, afghans, slippers, and more.

Directions: On the highway to Pescadero go past the Pemex and past the turnoff into town. Drive 2/10 of a mile and you will see a small store "Mini Super Cristal" and a Pizza Place on the left. Directly across from the store turn right (there's a sign for Baja Beans at the turn). Drive approximately 1 mile and you will see a large walled community (The Tequila Factory) with a gate and guard house. Turn right just before the guard house. Then turn left almost immediately. Follow the big wall toward the beach. At the beach take a right. We are the first house on the right. The house is large, white, has blue and green trim, lots of palms out front. If you need to, call us at 612-134-0141. Peace, Love, & Handmade Stuff, - Shawn & Bonnie O'Neill, bajapeacewear [- at -] hotmail.com, Pescadero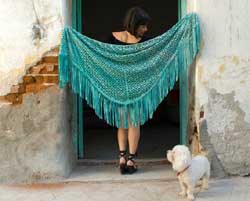 Nomad Chic At Casa Dracula - ...
- an evolving collection of apparel, jewelry, and accessories from around the globe.

- Coming to Casa Dracula Dec. 12 thru 31

- Monday to Saturday - 9 a.m. to 5 p.m. (or by appointment)
- Linda Hamilton, linda [- at -] lindahamiltondesigns.com, 612-105-2857, Todos Santos


Holiday Sale! - Linda Hamilton Designs will have items marked down even further on Saturday, Dec. 10, during the Annual Garage Sale at La Cañada del Diablo. Coffee tables marked down to $150 USD! Headboards marked down to $95 USD! Consoles marked down to $40 USD! Many more items marked down over 75%. Look for me on the back patio on Saturday... - Linda Hamilton, linda [- at -] lindahamiltondesigns.com, www.lindahamiltondesigns.com, 612.105.2857 or 415.381.9087, Todos Santos
News From La Canada Del Diablo -

Christmas Party for the 80 children living at the Agriculture Camp. Donations are be collected to fill their pinatas. Candy, oranges, small toys etc. As well as small stocking stuffers (toothbrushes, toothpaste, shampoo, soap, etc.).
Donations are being collected here at La Canada Del DIablo, and will be delivered to the day care center Dec. 13. Thank you for helping the children have a Merry Christmas.

Spring Air Pre-Holiday Mattress Sale Sale ends soon. We can beat Costco's prices. Stop by or write for details.

Charles Stewart lives on in La Canada. The last remaining works of Todos Santos' founding foreign artist are on exhibition here at La Canada Del Diablo. All sales go to help his widow, Mary Lu Stewart, who is residing in New Mexico.

Ninth Annual World Class Garage Sale Saturday, Dec. 10, starting at 9 a.m.

Remember us when you are doing your holiday shopping. Something for everyone. Gift certificates available. - Barbara Perkins, bperkins0403 [- at -] gmail.com, www.lacanadadeldiablo.com, 612-140-0069

Caeli Casa Holística The Best Choice In Todos Santos. Spa Treatments & Natural Healing Therapies. - Enjoy a first class service in a beautiful ocean view cozy terrace. Facials, massages, body wraps, harmonization therapies. Season´s Special: hot stone therapy or holistic masaje therapy & organic facial (hydrating, purifyng, sensitive skin, antiage). save 25%. All our treatments are made by certified professionals with natural and organic products. Appointments: - caelicasaholistica [- at -] gmail.com, 612 145 03 81, Todos Santos
Casa Decor, La Paz, Indoor and Outdoor Furniture - Large 12,000 SQ. FT. Warehouse in La Paz at 560 Marquez de Leon, between Altamirano and Ramirez, Tel: 612-129-3364.

Take a Virtual Tour of our selection online: http://www.youtube.com/watch?v=YJK_MCrzZ3E:

• Largest Inventory In The Baja • Patio Furniture • Wicker, Rattan and Marble
• Rustic Hand Painted Furniture • Lighting • Metal Furniture • Copper Furniture
• Kitchen Cabinets • Doors • Floor and Wall Covering • Art • Accessories
• Fountains and Urns • Mexican Furniture • Imports From Around The World
• Very Unique Selection Of Furniture and Accessories • Furniture Packages




>>> Special! Bring In This Ad For A 10% Discount! <<<


The Best In-stock selection in the Baja of affordable Indoor and Outdoor Furniture at Casa Decor. Three Locations: Casa Decor La Paz, Casa Decor Cabo San Lucas on the Four lane at KM 3.5 next to Artisanos and Natural Marble and Stone, Tel: 888 557 6533 or 624-178-8146, and NOW in Loreto! - Mary Aguirre, Chief Designer, richards77 [- at -] pcisys.net, USA Tel 303 777 5157, http://www.antiquerowmarket.com, Baja California Sur
Truck Camper For Sale - Ford f250 1992 xlt 5.8, a/c. cruise control, double tank, runs great, new strter, new filters (oil, air, gas) recent change engine oil. Cabover vintage and very nice camper with: fridge electric/propane, heater, 4 burners stove, oven, 2 sink, queen size bed, sleep 4-5, all works great, winterized, all camping equipment included ( 2 sleeping bags, cups, pots etc). It's ready to use.

1992 ford f250 xlt 5.8, a/c. cruise control, doble tanque, nuevo motor de arranque, nuevos filtros (aceite, aire, gasolina) aceite recien del motor cambiado. Camper vintage: nevera eléctrica / propano, calefacción, cuatro hornillas de la estufa, horno, 2 fregadero, cama grande, mas otras 2 cama, caben 4-5 persona, todo funcione perfectamente, preparado por invierno, todo el equipo camping incluido (2 sacos de dormir). Es listo para usar. - Serafina Schittino, gazzigrow [- at -] hotmail.com, 39-347-552-9402, Todos Santos
Pacific Window Washing - Professional Home Window Washing. Now servicing:

• San Jose del Cabo • Cabo San Lucas • Rancho Migrino • Elias Calles • Pescadero • Todos Santos
• and Anywhere In Between...


Free estimates. - Mark 612-143-3316, pacificwindowwashing [- at -] gmail.com


2007 Polaris 800 ATV - For Sale: Sportsman X2. Blk & Silver. 2 seat. Immaculate. 90 hrs. Cover. Fuel injected. Drop dumpbox. Receiver hitch. Street ready, US plated/titled. Always garaged. $6,900 USD. - Ross Strand, Rwestranded [- at -] gmail.com, 624-131-5009

Golden Palace Potentials - Learn more about your amazing Macpro, iPad, & iPhone--unleash the full potential of these operating systems, learn the super tricks. Beginning/intermediate music lessons on guitar, mando, djembe, flute. Life coaching-tired of the same-o thing, debrief your life with new enthusiasm and step into the rainbow, your birth rite–using astrology/enneagram/good common sense/the Anastasia principles. Grow your own vegies, make cuttings, specific medicinals–all in the backyard–getting grounded has serious health benefits, free of charge (no pun intended). Learn the benefits of acid/alkaline balance in diet, feel better and get the full benefit of the food that you eat. Maybe the Master Cleanse? And, finally, been looking for something you can't find? Don't spin your wheels any longer--let me help you find it! know-it-all/one-stop-shopping at electricshadow [- at -] mail.com. You never felt so good! - TM, electricshadow [- at -] mail.com, Pescadero
Motorized Vehicle Sale - Have 1993 Suburban with less than 60K original miles, garaged since new, $2500 USD. Also, Sea-doo wave-runner with trailer, $1700. And 4 wheeler in good shape, runs fine, $1700. All located near KM 106, migrino area. Call for viewing. - Doug, 624-147-5516
---
Submit your Misc. Sales and Services Available/Wanted articles here: http://www.bajawesternonion.com/submitad.asp



Return to Top
---
---
Real Estate, Rentals, and House Sitting - Available/Wanted
---
Casita Rental - Casita in Las Tunas, nice clean and only one block from the beach on Calle Los Mangos. Available now until Jan. 30. Rates based on time of stay. Great location for a romantic stay and quite walks to the beach. - Dan, danbinetti [- at -] yahoo.com, 044-612-117-0298
Rental Casita For Holidays - Casa Sirena II has one casita unit available for Dec. 15-Jan. 30. This is a newer construction, one bedroom casita with queen bed, full kitchen, all appliances, breakfast bar, futon/couch in livingroom, shower tub, walk in closet, shared courtyard patio, private roof deck with ocean and mountain view. Located in Las Brisas neighborhood, ocean side, 1 mile to town, 15 min. walk to the beach, grocery store on the corner. For more pics and information please call or email. Web site also has additional pics. - Maureen, bajasirena [- at -] hotmail.com, www.bajacasasirena.com, 562-253-1492, Todos Santos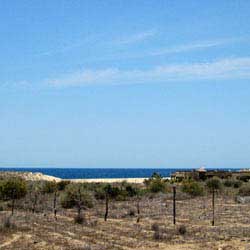 Quality Land, Dirt Cheap, Still Available - A few pieces are still left, and prices have been reduced again. On the list to move in Las Tunas are 2 adjacent lots, 1416 m2 each, ocean views, on a direct access to the beach with underground services at $25,000 USD each or under $18 per m2.

Pescadero features two super special deals: A commercial parcel on Highway 19 just south of the Sandbar with 91 meters of frontage on the highway and a total of 3913 square meters at only $59,000 USD; or only $15/m2 and also a beautiful 3 hectare farm (7.5 acres) subdivided into 20 lots for a total price of $325,000 USD.

These are fire-sale prices for the sellers, but they need to sell these properties quickly. The current offering prices are way below cost and around the same as prices in 2003 or so. Please call or email for more information or tours. - Roc Fleishman, roc [- at -] pescadero-properties.com, www.realestatetodossantos.com/, 612-348-5468
Couple Looking to House Sit In Pescadero And Todo Santos - We are a couple looking to house sit in the Todo Santos and Pescadero area. For 3 years now we have been living in San Jose del Cabo and would like to change location. I am from Hawaii, 28 years old and an artist with my work shown in several galleries in San Jose. My husband is from Mexico, 34 years old and is a surf instructor. We have been together for 6 years. We have a few references as well in the area. - Osta Lange, langeosta [- at -] hotmail.com, 624- 174-6953
---
Submit your Real Estate/Rentals/House Sitting/Property Management Services articles here: http://www.bajawesternonion.com/submitad.asp



Return to Top
---
Rides or Caravans Available/Wanted
Note: Ads will run for two weeks unless dated. Please list the date in the title, and specify which airport. Goes without saying, everyone shares expenses for beer, gas, food, etc

To remove your ad if you find a ride or caravan, let us know here: www.bajawesternonion.com/submitad.asp -
---



Need a Ride to or From the Airport? Or Someone to Assist You With Errands? - I am a young, bilingual Christian man and I can provide you with rides to or from the La Paz or San Jose Del Cabo airports. I can also help you with courier services, errands, or navigating the intricacies of dealing with Mexican businesses and the government; Car Registrations, TelCel and TelMex, CFE, Seguro Social, etc.

Reasonable Rates - Contact: Ernesto, Cel. 612-117-7497, ernie_net [- at -] hotmail.com

I Can Drive Your Car to San Diego - I'm a reliable person and well-known native of Baja. I went to college part-time in the States and speak fluent English, I can drive almost any vehicle for free or travel as a compannion. Ready to head North any time. I live in downtown La Paz. Best regards, Jorge. Call (cell) 044-612-118-7898. - Jorge Pozo Aviles, jorge_lap222 [- at -] hot mail.com, westewrn onion, 044-612-118-7898, La Paz

Ride Share To La Paz - Need to get to TelCel office in la Paz to get a sim card. Will pay for round trip in gas and buy u lunch for a ride. Please write me at electricshadow [- at -] mail.com - Tall Man, electricshadow [- at -] mail.com, Pescadero

Caravan Wanted to Todos Santos in December - Want to caravan to Todos Santos area in early December, could meet with you anywhere from Santa Rosa, CA, to San Diego. Please email Debra at goodthym [- at -] mcn.org - Debra Dawson, goodthym [- at -] mcn.org

Looking For Vehicle To Drive - Looking to drive someone's vehicle down to Baja for the Winter. I will be leaving early December to Todos Santos from Santa Cruz. Thank you. - Angie Young, mpyogi1 [- at -] gmail.com, Todos Santos

Driving the Baja Northbound! - Leaving Cabo on the 7th or 8th of December, looking for one or more passengers to chip in for gas and drive. Drop off can be San Diego or Phoenix. Lots of room in Yukon going north. Will be heading south around the 19th, limited room southbound. Call Roger at 624-129-2179, or write mach231 [- at -] gmail.com - Roger Anthony, mach231 [- at -] gmail.com, 624-129-2179

Caravan To Todos Santos - Looking to caravan to Todos Santos. We need flexible dates. Earliest we can meet in San Diego, San Ysidro or Tecate to cross is Sunday, Dec. 11, but more likely the first part of that next week. We have done the drive four times. Have two dogs and cat (super nice). We will push to get there in two and a half days. If you are flexible send me an email! - khpescado [- at -] gmail.com

Caravan Phoenix-Nogales-Guaymas-Ferry To Santa Rosalia-Loreto - Am planning to drive above route sometime between Thanksgiving and Dec. 10, within that period my dates are flexible. Would like to caravan all or part if possible. Contact: - Roberta, rhintransit [- at -] yahoo.com

Ride Sought Dec. 13 - I need a ride from the San Jose del Cabo airport to Todos Santos at noon on Dec. 13, 2011. I'll also need a ride back to the airport and back on Dec. 23 and Jan. 1. Anyone who goes in frequently with whom I can ride along and pay for the gas or who does driving back and forth as a service, please feel free to contact me. I am coming from Victoria, BC. Canada. Thanks, Judy. - Judy Lightwater, jlightwater [- at -] shaw.ca, 250-598-6034, Todos Santos

Baja Via Baja Ferries Mid-December - Traveling through Nogales, around Dec. 17. Plan on taking the Baja Ferry to La Paz on or around Dec. 19. Is anyone traveling that route and would want to convoy together? Safety in numbers. I speak fluent Spanish and can help with translating. Let me know, Sylvia, treaturfeet [- at -] yahoo.com or phone 928-282-5969 - treaturfeet [- at -] yahoo.com, Los Barriles


---
Submit your Rides or Caravans Needed/Available articles here: http://www.bajawesternonion.com/submitad.asp



Return to Top
---
Pet Corner (Lost and Found pet articles will run for two weeks)
Let us know if you find or place your pet so we can remove your ad -
---

Dog Needs a New Home and Love - Lovely puppy is looking for a new home. She is very friendly and loves children, and needs a home with more space (a yard she can play). I can send pictures if anyone is interested. Thanks. - Gelacio Orozco, gelacio_tds [- at -] hotmail.com, Todos Santos

Gorgeous Siamese Cat - Blond, blue-eyed, long-haired outside cat with a star on her forehead needs needs new home to watch over. She hunts, she is spayed. Call 612-178-0070 or email karlamfreeman [- at -] gmail.com - Karla Freeman, karlamfreemn [- at -] gmail.com, 612-178-0070, Todos Santos

Missing Great Dane - Missing dog, answers to the name of Apollo. It is a male Great Dane, short hair, gray with black spots, it has a yellow chain. It got lost arround Las Flores, last seen on Wednesday, Nov. 23. Please contact us if you`ve seen it. - Julio Rodriguez, julio_01diaz [- at -] hotmail.com, 612-154-6284, Baja California Sur

Good Info On What To Do If You Lose Your Dog In Baja (or Anywhere) - This excellent article courtesy of Baja Insider: www.bajainsider.com/baja-life/pet-care/findinglostdogs.htm -
Impossible to Resist! - New arrivals at Kitty Heaven despite all of our efforts to spay and neuter (but without the help of the community, there would be even more!).

All colors, all very young and playful. For more information, call Angelique at 612-145-0250 or write her at BajaKitties [- at -] Yahoo.com

Kitty Heaven is the only all-cat refuge in Baja California Sur. Visit us on the web athttp://bajarescue.org/#KittyHeaven.

We survive via your kind donations. To send your support, please click the "Donate" button below:


---
Submit your Pet Corner articles here: http://www.bajawesternonion.com/submitad.asp (and remember to Spay and Neuter your pets)



Return to Top
---
Quote of the Day: " The only courage that matters is the kind that gets you from one moment to the next. " ~ Mignon McLaughlin


---
Looking for the complete Community Events Calendar? Click Here!


---
Return to Top
---
---
Help Support The Baja Western Onion!

We can accept donations by Credit Card, PayPal, cash, check or direct deposit.

For more information, please visit our web site at http://www.BajaWesternOnion.com/donate.asp.
Copyright © 2006 - 2011. The Baja Western Onion. All Rights Reserved. Published Using 100% Recycled Electrons :)
Return to Top
---