On The Web Site:
---
Today's Weather Click for Extended Forecast

---
Community Access
Policia Preventiva
Todos Santos Police
612 145-1052
Commandante Navarro

Ministero Publico
State Police
612 145 0198
Commandante Erigoyen

Bomberos
Fire Department
Cel. 612-142-6387
Commandante Cadena


---






---
Baja Western Onion
Alan Thompson - Publisher
Debra Webster - Advertising
e-mail For General Feedback
---
---
News and Events, Questions and Answers
---
Sea Turtle Benefit at La Esquina - The Premier Viewing of Turtles in Todos: this Saturday, Nov. 19, at La Esquina at 7 p.m. Don't miss this Ira Nevius production presented by Tortugueros Las Playitas. Delicious La Esquina burritos and beverages will be available as well as sea turtle garb. See you Saturday night! - Tortugueros Las Playitas, tortugueroslasplayitas [- at -] gmail.com, www.todostortugueros.org, 145-0353, Todos Santos
Food and Wine Pairing to Benefit Hogar Del Nino - Get your tickets now for the Dec. 19 event at Villa Santa Cruz. This special evening, limited to 60 guests, will offer five delectable food courses each paired with a specially selected Baja wine. Come enjoy yourself and help the children of Hogar del Nino at the same time. The evening will include music and a small silent auction of select items. All net proceeds go directly to the Hogar for support of basic needs such as food, clothing, transportation and utilities. New cash raffle! All ticket purchases include a ticket for a 50/50 cash raffle. 50/50 raffle tickets are available to those not attending the event, as well. Event tickets are $75 US (or 1,000 pesos) and raffle tickets are 50 pesos each. Event, raffle tickets and information available from Nancy Serfas Nancyserfas [- at -] com, Lisa Welsch lwelsch [- at -] cbriveras.com, Sylvia St Clair sylviainbaja [- at -] gmail.com, and El Tecolote Bookstore. - Nancy Naigle, nnaigle [- at -] att.net, 612-178-0040
Bandidos Still Available - My short story collection "Bandidos" got a generous write-up by Camilla Ford in the latest Gringo Gazette. It's a thoughtful and well-written review, though uncertain about where to find the book, published in 2004. In Todos Santos, the Hotel California Emporio still has a few copies; in San Jose and on-line, Baja Books And Maps, www.bajabooksandmaps.com. - Michael Mercer, barkingdogbooks [- at -] yahoo.com, www.michaelmercer.com/index-old.htm
Annual Spay/Neuter Clinic Starts Tomorrow - The three-day event will start Thursday and continue thru Saturday at La Canada del Diablo, Todos Santos. Four vets from the U.S. along with several vet techs are joining our local vets in a volunteer effort to reduce the overpopulation of dogs and cats in our neighborhoods. This service is provided at greatly reduced or free of charge to those in the local community who could not otherwise afford to have their animals neutered.

This is a reminder that this special, volunteer Clinic is Not Intended for the general community who can and should pay for their own spay and neuter services (which most likely includes all of the readers of the Baja Western Onion). If you show up in your Chevy Surburban with your own pets intending to get free services meant for others less fortunate, you will be turned away. However, if you know of a truly needy household that cannot afford these sevices then please refer or even help transport them to this event.

While the vets, both local and U.S. donate their services, there are still many expenses involved. The funds raised at the Fur Ball help offset these costs. For more information, please contact Angelique at bajakitties [- at -] yahoo.com. Thank you. - Amigos de los Animales de Todos Santos A.C. -
Vote for the "Best Of Baja 2011" - Vote for the "Best of Baja 2011." If you have a favorite restaurant, tour, business, activity, or one of 42 other categories. Vote one, vote all, vote for all your BEST today. Simply tell us what your BEST is in which category and how much you love it! It's that simply. Baja Good Life Club Annual Best of Baja! Vote now! - Rachel Pack, bajagoodlifeclub [- at -] gmail.com, bajagoodlifeclub.com/Community/TheBestofBaja.aspx, 686-230-9933, United States
Mobility Scooter - Does anyone have information as to where to purchase a mobility, 3-wheeled scooter in BCS (La Paz to Cabo) area. If so, please contact Don at derwasser [- at -] yahoo.com Thanks - , derwasser [- at -] yahoo.com
Richard and Deb Scott's New Phone Numbers. - Please note our new phone numbers: Richard house = 178-0119, Richard cell = 612-120-7031, Deb cell = 612-147-1689. We will move our original house phone next door and set up an answering machine which we will check daily, but if you need to contact us sooner or in person, please use the above phone numbers. Thank you, Deb - Deborah Scott, debrichscott [- at -] hotmail.com, 612-147-1689
Looking For Vehicle To Drive - Looking to drive someone's vehicle down to Baja for the Winter. I will be leaving early December to Todos Santos from Santa Cruz. Thank you. - Angie Young, mpyogi1 [- at -] gmail.com, Todos Santos
Letter To USA - Anyone going north in the coming weeks? I have a letter I would like to send with you to post north of the border. Thanks - Jane, jasi57 [- at -] juno.com, 612-151-7026
A Reminder of the "Open Reading" - Sunday, Nov.20, 4 p.m. at Galeria de Todos Santos. Writing group members, we look forward to hearing your work and new writers also. - Scotty Mclemore, scottybcs [- at -] hotmail.com, 612-100-5872
Event Organizers and Good Works Organizations Heads-up! - Concierge: Todos Santos ~ Pescadero is coming to town – January 2012! OK, all you event organizers, festival managers, good works organizations – help us so we can help you! This new publication will have an Annual Calendar of Events and we want you're event information, so we can publicize all that is happening throughout the year of 2012! We request public annual events only, please. Email the following, as specified, by the deadline of November 30, 2011, and you're event will be listed, for free!

1. Organization Name, website, any and all contact information
2. Mission Statement/Purpose/Programs – 55 word maximum
3. Logo in JPEG, PSD or PNG format, 150 dpi resolution minimum
4. Send an email with Concierge Non-Profit in the subject line to Brenda Casillas at brendacasillas [- at -] hotmail.com. Include #1 and #2 in the body of an email, with the logo (#3) as an attachment.

Send an email with Concierge Event in the subject line to Jennifer Rosen at jenniferleighrosen [- at -] yahoo.com. Include the event name, full date and contact person's info in the body of the email. And there you have it! Firm Deadline – November 30, 2011 - Jennifer Rosen, 6121450349
Need Land For Animal Sanctuary - We would like to establish a farm animal sanctuary to rescue several animals being held in deplorable conditions in Pescadero. In order to do this, we first need a piece of land nearby where these animals can be taken. Any unused property ~1/3 acre and up in Pescadero would be ideal.
Do you have land that you are not planning to use for a couple of years? Maybe 2 or 3?
Would you be willing to let us care for some animals there?
If your property is already fenced, that would be excellent, otherwise, we will make that improvement ourselves. By lending your property, you will enable us to move quickly forward with our planned rescue. We hope not only to create a sanctuary to rescue farm animals being abused, but eventually to open up the sanctuary to the public for educational purposes, a place where people can come and meet the animals and get to know them, not as commodities but as the special creatures they really are.

Eventually, we hope to build a kiosk to prepare and sell vegan hot dogs, hamburgers, ensaladas, soy and coconut milk ice creams and sodas at the same location so that when tourists come to meet the animals, they can also enjoy a cruelty free picnic. (Who wants to eat pork sausage while bonding with a pig?)

Any revenue we obtain will pay for food and water for the animals and the other expenses of running the sanctuary. We will start small: A journey of a thousand miles begins with the first step. ... But ultimately become an important part of the cultural, tourist and educational offerings of the area. If you can help with land or want to get involved in other ways, please contact me. - Cheryl Hugle, allinharmony [- at -] gmail.com, allinharmony.org, Todos Santos
---
Today's Exchange Rate - Mexican Pesos to 1 USD - Courtesy X-rates.com
---
Submit your News and Events, Questions and Answers articles here: http://www.bajawesternonion.com/submitad.asp


Return to Top
---

---
Featured Events This Week
Anyone planning an event should check the Online Community Calendar before choosing a date to see if something else is already planned and avoid conflicts. Check the Online Community Calendar here: www.bajawesternonion.com/community-calendar.asp -
---
Wednesday, November 16
Tai Chi and Qi Gong Classes Begin - Tai Chi Classes, Wednesdays and Frdays, 9:30-10:45, Qi Gong Classes, Wednesdays. 4:30pm -5:45 pm. At the Harmony Healing Arts Center, entrance to LaPoza (Jane Sipe's). - Rhoda Jacobs, barakabaja [ -at- ] gmail.com, www.taichifoundation.org, 612 157 6088 cell, Todos Santos

The New Todos Santos Philosophical Society - Lectures, discussions and field trips pertaining to natural science and ecology of this part of the world. 7 p.m., overview of the aquifer and water systems of the Todos Santos river valley. Casa Bentley - Calle Pilar, around the corner from La Arca. - Eileen Brophy, eileen_brophy [- at -] yahoo.com, 612- 143-9245

"May I Be Frank" - True story about a guy who agrees to let three young people take him on a journey of transformation. Some coarse language and nudity. Teatro Luna Azul. Doors open at 6:30 p.m. By Donation. Popcorn, snacks and drinks available. Info: http://TSBMP.blogspot.com - , Bluemooninbaja [- at -] yahoo.com

"Big Red Wednesdays" Debut - 5 - 8pm, at La Bodega. Vino Tinto and Doña Guillermina's Tamales, Tostadas, Sopes y mas. - La Bodega, labodegadetodossantos [- at -] gmail.com, 612 152 0181, Todos Santos
Thursday, November 17
Annual Todos Santos Spay and Neuter Clinic - La Canada del Diablo, Todos Santos. Volunteers and Donations Needed. Contact Angelique at bajakitties [- at -] yahoo.com. - Amigos de los Animales de Todos Santos A.C.

Free Intro To Ayurveda Seminar - 10:00 until noon. "An Ayurvedic Journey to Life, Health and Longevity," based on the laws of nature, Ayurveda is the ancient holistic medical science and the art of living. Come and learn about Ayurveda and practical ways to improve your lifestyle with ancient secrets. Pura Vida Health Food Store in Todos Santos. Free Admission. - Valma Brenton, vbrenton [ -at- ] island.net, 612 131 6387, Baja California Sur

Club Cruceros Flu And Pnumonia Inoculations - 10:00 to 11:00 a.m. at the Vista Room at Marina de La Paz. Deadline for signups is Nov. 14th to allow Dr. Tuchmann time to receive the serum from the Public Health Department. There is a $50 peso donation per inoculation. Besides donating his time, Dr. Tuchmann uses the donations received to purchase blankets, sheets and towels for DIF, the Department of Family Development, to give to needy families in Club Cruceros' name. There is a signup sheet in the Club Cruceros clubhouse. Contact Susan Ross at yachtmanagement [ -at- ] bluewaterketch.com or call "Two Can Play" on VHF Channel 22A. - Dennis and Susan Ross, La Paz

Sunset Cine Club Presents Fun In Acapulco, With Elvis Presley And Ursula Andress - 7PM, Restaurante Il Giardino, Todos Santos. Come enjoy a movie after the sunset. Minimum charge of $30 pesos. - Sunset Cine Club is a group of Film lovers who advocate for more pleasant Thursday Evenings in Todos Santos. For more information, Contact: Carlos Navarro aortico_cang [ -at- ] hotmail.com, 6121451067, www.facebook.com/pages/Sunset-Cine-Club/174680779285589

Friday, November 18
Annual Todos Santos Spay and Neuter Clinic Continues - La Canada del Diablo, Todos Santos. Volunteers and Donations Needed. Contact Angelique at bajakitties [- at -] yahoo.com. - Amigos de los Animales de Todos Santos A.C.
Saturday, November 19
Annual Todos Santos Spay and Neuter Clinic Continues - La Canada del Diablo, Todos Santos. Volunteers and Donations Needed. Contact Angelique at bajakitties [- at -] yahoo.com. - Amigos de los Animales de Todos Santos A.C.

Used Clothing Sale Benefits Baja Dogs - 10 a.m. to 2 p.m., Pelicanos Restaurante and Bar, Carr, Norte, KM. 14, El Centenario near La Paz. Contact Cindy at 612-141-9903. Registration Fee: $50 pesos. Admision Fee: Any donation to Baja Dogs. Pelicano's has a nice lunch and drink menu, so you can have lunch and shop. - Cindy Crane, cindycrane2000 [- at -] yahoo.ca, 612-141-9903, La Paz

Rancho Pescadero 2nd Anniversary Celebration - 4pm. Come and celebrate with us in our Garden Restaurant. $100 pesos per person. Great food, live music, games and prizes, and margaritas. - Karla Caro, rancho1 [ -at- ] ranchopescadero.com, www.ranchopescadero,com, 6121571257, Pescadero


Sea Turtle Benefit - The Premier of Turtles in Todos at La Esquina at 7 p.m. Ira Nevius production presented by Tortugueros Las Playitas. Burritos and beverages will be available as well as sea turtle garb. - Tortugueros Las Playitas, tortugueroslasplayitas [- at -] gmail.com, www.todostortugueros.org, 145-0353, Todos Santos

Jazz Night at Guaycura Hotel - The Jazz Band Ensemble will perform in the Sky Bar, 7 to 9 p.m. - reservation [- at -] guaycura.com.mx, www.guaycura.com.mx, 612-175-0800, Todos Santos
Sunday, November 20
Philosophical Society Fieldtrip - The group's first field trip will be to view the pumping system at Punto Lobos and various reserviour sites. Meet at Casa Bentley today at 1:30 p.m. - Eileen Brophy, eileen_brophy [- at -] yahoo.com, 612- 143-9245

"Open Reading" - At 4 p.m. at Galeria de Todos Santos. Writing group members, we look forward to hearing your work and new writers also. - Scotty Mclemore, scottybcs [- at -] hotmail.com, 612-100-5872
---
New Community Events and Workshops Notification Page - You can submit event notices for The Community Calendar or Workshops and Meetings pages. The Community Events calendar is limited to non-recurring community events (Sorry, no "Happy Hours," "Daily Specials," or other recurring business activities :). Submit your Community Events and Workshops notices here: http://www.bajawesternonion.com/submit-event.asp



Return to Top
---
---
Stepping Out - Food, Music, Workshops and Entertainment
---
Hotel California
Bistro Santo Vino & Wine Bar has reopened
Hours are 5 to 10:30 p.m.Daily (Closed on Sunday). Reservations Recommended

Thanksgiving at Hotel California
Make your reservations for Thanksgiving Dinner. All you can eat.. Menu includes Cream of asparagus soup, Turkey, Homemade gravy, Mashed potatoes, Baked yams w/pecans, Brussel sprouts, Roasted vegetables, Cranberry sauce, and Pumpkin and Chocolate pies. $250 pesos (plus 11% tax) *discount cards do not apply.

Click Here to view our Online Store
Keep up with the latest Hotel California info by joining our facebook fan page Follow us on facebook

- Debbie Stewart, info [- at -] hotelcaliforniabaja.com, www.hotelcaliforniabaja.com, 612.145.0525, Todos Santos

Big Red Wednesdays At La Bodega: Tonight! - And now, the debut of Big Red Wednesdays Tonight and every Wednesday! Premium, structured Vino Tinto by the glass combined with the one and only Doña Guillermina's Tamales, Tostadas, Sopes y mas... Come on down and enjoy quality local grub with quality local wine. 5-8pm. - La Bodega, labodegadetodossantos [- at -] gmail.com, 612 152 0181, Todos Santos

Michael's At The Gallery Restaurant - Sorry we were closed last week. We couldn't miss Erick's wedding and son's baptism. Now we're back on schedule on Friday and Saturday nights from 6 - 9 p.m. We have opened other parts of the gallery for those of you that would like just drinks and appetizers. Some of the items featured on the bar menu are - Mu Shu Pork, Shrimp Fritters and Vietnamese Crab Cakes. Hope to see you soon! - Michael Cope, mplcope [- at -] yahoo.com, 145-0500, Todos Santos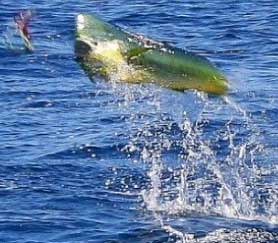 Todos Santos Fishing Charters - Why deal with a middleman? Come direct to the owner/operator
Fully Registered Sportsfishing Company



Bilingual Crew



Top Quality Tackle and Gear
Whether game fishing or whale watching, contact us for your ocean adventures. Visit our website for full details: www.fishingtodossantos.com or www.todossantosfishingcharters.com.

Package deals available when booking fishing and our casita for your complete holiday - www.bajasurtodossantos.com, or call 612-119-7880 or 624-114-1351
Il Giardino Restaurant - We are fortunate to have Chef Jose of Il Giardino who can take our local fresh fish and create delicious masterpieces grounded in his Basque experience. Each dish has an original touch that can take a fish dish to a new level. Not in the mood for fish? The crisp crust pizzas are a treat. - Kathleen Froese

November News At The Sandbar - Enjoy our happy hours 'til sunset with 15 pesos tap beer and 2x1's well drinks and bottle beers. The Sandbar menu is always expanding and now we offer real meat ball subs and fish burgers.

Thanksgiving Deep Fried Turkeys are back this year! Thursday, November 24. We are serving the usual yummy sides and pumpkin pie for dessert for 170p. Kids eat for 50p. Live Blues Band will back up the holiday fun. Dinner service begins at 4:30. Come on down to The Sandbar for some homestyle fun.

Big parties can reserve a table by leaving a message at 612-102-9135 - we will take care of you. - helenbaysandbar [- at -] gmail.com, http://www.sandbarbaja.com/Sandbar/Home.htmlPescadero
Thanksgiving At Rancho Pescadero - Please come and join us for Thanksgiving day! This is what our Great Chef Bueno will be pampering you with. To Start: Organic Mex Green Lettuce, Toasted "Green Pepitas", Plantain and Warm Goat Cheese Croutons, Chipotle & Cranberry Vinaigrette. Entree: Roasted Free Range Turkey, "Epazote" & Thyme Salt, Sauteed Organic Vegetables, Corn & Crystalized Mexican Fruit Stuffing & Damiana Gravy. Fresh Corn & Serrano Pepper Bread. Dessert: Pumpkin Pie and Mexican Hot Chocolate with Vanilla de Papantla Scent.

Are you Vegetarian? Don't worry, we got you covered! Besides our tasty menu, we will have live music & Mariachi playing. Reservations only. 2 Sittings at 5pm and 7pm and the cost is $400 pesos per person and includes 1 drink. Come and enjoy a lovely evening with us! - Karla Caro, rancho1 [- at -] ranchopescadero.com, www.ranchopescadero.com, 612.135.58.49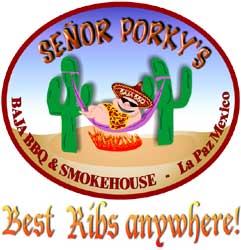 Señor Porky's Baja BBQ and Smoke House! The Best Ribs Anywhere!



New Restaurant in La Paz - Featuring Kansas City slow-smoked meats not found anywhere in Mexico. Now open 7 days a week from 7:30 AM with full breakfast menu and Cappuccino, to 10 p.m., and weekends until midnight. Watch the sunset from our spectacular ocean view! Located on the Malecon in La Paz at Alvaro Obregon #670, on the corner of Allende and Rosales (next to the Arco Hotel).

To ensure the best quality for Porky's Smokehouse Meats, we start with the best meats available. Then we dry-rub the meats with a combination of 20 spices, then slow-smoke for up to 18 hours at low temperature to obtain maximum flavor and tenderness while sealing in the natural juices and smoke flavor that is unmatched anywhere! We know you'll agree that Señor Porky's Baja BBQ and Smoke House are the best you have ever tasted. Menu highlights include:

• Slow Smoked Ribs • Pulled Pork • Beef Brisket • BBQ Chicken • Smoked Bratwurst •

Plus fantastic side orders include Pasta Salad, BBQ beans, Coleslaw, Sweet Potato fries, New Mexico Green Chile with Pork, Caesar Salad and Homemade Deserts. Dine in, or carry out from our "Pig Out" Meats to Go Menu. Download our entire Menu here: files.me.com/richards771/1wclv6

For more information, call 612-129-3667. - Richard Stubbs, richards77 [- at -] pcisys.net, La Paz
"May I Be Frank" - The Movie - A true story about a guy named Frank Ferrante from NYC who agrees to let three young people take him on a 42-day journey of transformation from being overweight, addicted to pills, estranged from his family, to ... Well, you have to come see the movie to believe it is possible. A beautiful film! Some coarse language and nudity. Wednesday, Nov.16. Teatro Luna Azul. Doors open at 6:30 p.m. By Donation. Popcorn, snacks and drinks. Info: http://TSBMP.blogspot.com - , Bluemooninbaja [- at -] yahoo.com
Sushi Chef Chopin Is Now At Ana San - Sushi Chef Chopin previously at El Hotelito in now preparing his yummy Sushi, Nigiris & Sashimis at Ana San; along with Sashimi Salads and Ana San's delicious Tempuras & Teriyaki. Located across the street from the downtown OXXO. We will be open Monday through Saturday, from 1 - 9 p.m. Serving Beer, Wine & Sake, and a variety of Sodas. - Ana Orozco, 612-136-4804, Todos Santos
Yoga at Tortugas - We invite all our friends to our new Yoga classes starting Friday, Nov. 18. Mondays and Fridays from 8:30 to 9:30 a.m. under the palapa by the swimming pool at Villas de Cerritos Beach better known as "Tortugas." Hava a Namaste Day! - Juan Carlos Adib, villasdecerritosbeach [- at -] gmail.com, www.villasdecerritosbeach.com, 612-151-3728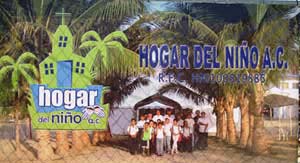 Benefit Concert For the Kids of Hogar Del Niño - Saturday, Dec. 10, at 5 p.m., La Esquina in Todos Santos invites you to the first annual Concert for the Kids, a festival of music benefitting el Hogar del Niño. Enjoy the musical stylings of fine local artists, Hosted by Guitar Dave, featuring:
Forest & Friends
Jay Nash
Tim Lang
AK-47
Get ready to get down with Ben & the Men at 10:30 p.m. Ice cold beer, fine wine and delicious Margaritas are 2 for 1 during Happy Hour, 5 p.m. - 6 p.m.!

Limited tickets are available at La Esquina or San Pedrito Surf Hotel for 80 pesos, get 'em while they last. Don't forget to bring pesos for a silent auction, and your donations of shoes and clothing! - Andres Keller, ak47pgh [- at -] yahoo.com - Andres Keller, 612-133-9602, Todos Santos

Reiki Energy Healing - Level 1 and 2 Certification With Relaxing Yoga Retreat - Learn to heal with the hands while enjoying daily yoga, meditation and breath exercises. All levels welcome and accommodated. Dec. 18-20, 7:30 a.m. - 6 p.m., Yandara Yoga Institute, located between Pescadero and Elias Calles.

$290 Commuter. $640 Residential. Meals included. Reiki is an energy healing technique, easily learned by anyone, to promote relaxation and stress-reduction.

Reiki is a stress-reduction and relaxation technique that promotes healing and balancing of the physical, emotional, mental and spiritual body. With its origins in Tibetan Buddhism, Reiki is a popular form of holistic health today that works to dissolve the roots of discomfort, returning us to our true nature of peace, compassion and joy. - Allison Eaton, info [- at -] allisoneaton.com, www.allisoneaton.com, 612-152-3896.
Order Your Pies For Thanksgiving At Pura Vida Health Food Store! - Place your order at Pura Vida by Saturday Nov. 19th for your homemade pies for Thanksgiving: We have healthy and delicious pies available; Crust: Dates, Almonds & Coconut. Filling Choices: Chocolate Avocado ($250 Pesos), Keylime Avocado ($250 Pesos) & Just Like Cheesecake ($300 Pesos). We also have the classic pies available; Choices: Pumpkin Pie & Apple Pie ($200 Pesos). We also have Carrot Cake ($250 Pesos). We can make adjustments to any strict dietary needs. - Joella & Kurtis, puravidahealthfood [- at -] gmail.com, 612-145-0471 or 612-169-2095
Sunday Brunch La Casita Tapas & Wine Bar - La Casita Tapas & Wine Bar. Now serving Sunday Brunch starting November 27, 2011. Make plans to join us on Sundays from 9 am to 1 pm. Sunday Yummy Sunday: 300 pesos adults, 150 pesos children. Reservations only, please call 612 145 9102. Degollado y Colegio Militar, Todos Santos, BCS. Mexico - Sergio Rivera, sergemaz [- at -] yahoo.com, www.lacasitatapasandwinebar.com, Todos Santos
---
Submit your Stepping Out - Food, Music and Entertainment announcements here: http://www.bajawesternonion.com/submitad.asp



Return to Top
---
---
Misc. Sales and Services Available
---
Longboard For Sale - 9'6" Southpoint longboard for sale in La Paz, see craigslist ad http://bajasur.en.craigslist.com.mx/boa/2703728758.html - , bajasur.en.craigslist.com.mx/boa/2703728758.html, La Paz
Healing Arts Center Seeking Chiropractor - To work after Jan. 15. The option may also be open for work prior to that date. Call or email for more information on the newly forming Healing Arts Center of Todos Santos. Please pass this along to anyone you know who might be interested! Thanks. - Jane Sipe, L. Ac., jasi57 [- at -] juno.com, 612-151-7026
Casa Decor, La Paz, Indoor and Outdoor Furniture - Large 12,000 SQ. FT. Warehouse in La Paz at 560 Marquez de Leon, between Altamirano and Ramirez, Tel: 612-129-3364.

Take a Virtual Tour of our selection online: http://www.youtube.com/watch?v=YJK_MCrzZ3E:

• Largest Inventory In The Baja • Patio Furniture • Wicker, Rattan and Marble
• Rustic Hand Painted Furniture • Lighting • Metal Furniture • Copper Furniture
• Kitchen Cabinets • Doors • Floor and Wall Covering • Art • Accessories
• Fountains and Urns • Mexican Furniture • Imports From Around The World
• Very Unique Selection Of Furniture and Accessories • Furniture Packages




>>> SPECIAL! Bring In This Ad For A 10% Discount! <<<


The Best In-stock selection in the Baja of affordable Indoor and Outdoor Furniture at Casa Decor. Three Locations: Casa Decor La Paz, Casa Decor Cabo San Lucas on the Four lane at KM 3.5 next to Artisanos and Natural Marble and Stone, Tel: 888 557 6533 or 624-178-8146, and NOW in Loreto! - Mary Aguirre, Chief Designer, richards77 [- at -] pcisys.net, USA Tel 303 777 5157, http://www.antiquerowmarket.com, Baja California Sur

Pacific Window Washing - Professional Home Window Washing. Now servicing:

• San Jose del Cabo • Cabo San Lucas • Rancho Migrino • Elias Calles • Pescadero • Todos Santos
• and Anywhere In Between...


Free estimates. - Mark 612 143 3316, pacificwindowwashing [- at -] gmail.com
Palm Leaves For Sale - I have 26 cargas (200 leaves per carga) of prime, top-grade large palm leaves. All were dried on the trees, no green leaves, and are virtually bug resistant. I never need to fumigate my palm roofs, bedroom or porch. $450 a carga (you pick them up) or $500 (delivered). If you need a roof done but don't know who to work with leaves, I can connect you with the best crew in town. Los Perros are the top dogs in the palapa trade. - Steve Merrill, cruz [- at -] seatosierra.org, 612- 152-7881
Needed: Double Bed/"Matrimonial" Frame and Mattress - For my friend's new casita, I'm looking for a second hand double or "matrimonial" bed frame and mattress. Bed frame alone is okay, too. - Leirion, leirion2 [- at -] gmail.com, 612-131-3334, United States
Generator For Sale - 13,000 Watt Tri /Fuel (Propane/Gasoline/Natural Gas) Generator For Sale. Honda Twin Cylinder 20HP Motor. 137 total hours. Electric Start. Free Delivery (Todos Santos Area Only). $1,750.00. - Jimmy Herrick, jimherrick81321 [- at -] gmail.com, 612-134-8367
Shipping Furniture Or Goods To Mexico? - Customs clearance, Freight forwarding, warehousing, staging, Voted "BEST in the BAJA" by readers of Baja Traveler Magazine, 25+ years experience. Because we have a thorough understanding of the complex import laws governing shipping goods into Mexico, we know how to save you your precious dollars. No job too big or too small. Friendly, helpful. - Monica Page, mpage [- at -] lopezpage.com, 619-666-4529
Solar Water Heating Systems - Solar Water Heating Systems for home or pool locally designed and built for the latitudes of Baja Sur. Eliminate water heating costs. Solar is non-polluting and renewable; tap into the free power of the sun. - Susan Ackerman, ackerman1952 [- at -] gmail.com, www.solsticesolarofbaja.com, 624-142-8002 or 970-963-0846
Searching For a Used Generator - I am looking for a used generator. I need a fairly large one, one which can run a medium-sized house on occasion. It needs to put out at least 3500 watts. It must be run on propane and have a key start. - Jeanne Durban, caboqt [- at -] hotmail.com, Rancho Migriño
18' Ocean Fishing Boat For Sale - Comes with a new 60 HP, 4-stroke Mercury motor with only 93 hours on it:
Easy Pull Trailer With Excellent Tires
2 New Batteries
Center Fiberglass Console
Ready To Go Fishing!
Price $8700 USD. This is a great price -- it's like buying a motor and getting the boat and trailer for free! - Kent Hansen, kenthansen [- at -] shaw.ca, La Paz


1750 Watt Inverter - Brand new (2 years old), never used 1750 watt Delco Remy inverter for 250 clams. I can send pics with any questions you may have. I'm near Todos Santos for the winter - , k2extremedog [- at -] yahoo.ca
Earthbag/Superadobe Construction Kit - If somebody is building with the superadobe/earthbag technique, we have available a construction kit for sale. Kit contains: A huge roll of propylene tube - 150 kgs/330 punds; 2 rolls of barbed wire -reinforced; 1 dozen constructions tools (shovels, picks, maker of holes, hoe, tamping, metal rake, etc.); 1 bucket full of mason tools: (trowel, chisel, mallet, hammer, level, plumb, metal brushes). Everything for $600 USD. It is a perfect all-inclusive kit for a earth bag builder. Goods are located in Los Cabos, BCS. write to dotcamposATgmail.com - Diana Campos, dotcampos [- at -] gmail.com, 624-122-5429, San Jose Del Cabo
Farmacia California Pescadero - Farmacia California pescadero ofrece servicio de emergencia horario 9 a.m. a 0:00 a.m.; emergencia 0:00 a.m. a 8 a.m. Servicios: atención medica; llamada de larga distancia; Internet. - Johnnattan Mojica Johnnattan Mojica, www.bawesteronion.com, 612-130-3152
Babysitting Services/Private Yoga Instruction - Offering private yoga lessons in your place of residence, or mine in Todos Santos December 20 - April 20. Five years of teaching experience, and 15 years as a yoga practitioner. Also offering child care. I am an experienced child care provider with my CPR/first aid certificate. - Angie Young, mpyogi1 [- at -] gmail.com, Todos Santos
For Sale: Fishing/diving/touring Kayak - Perfect Baja kayak for sale, see craigslist ad http://bajasur.en.craigslist.com.mx/boa/2703728758.html - Jonny Gleed, bajasur.en.craigslist.com.mx/boa/2703728758.html, La Paz

Propane Refrigerator Sought - I am looking for a used, but in good condition, propane refrigerator. If you have one you'd like to sell, please email me with info and cost. Thanks! - Cathy Stewart, mtstew54 [- at -] yahoo.com
Translation Services - Do you need a translation? Fideicomisos, Buy-sell agreements, Birth certificates, Marriage certificates, Death certificates, or any other type of document. I am a Spanish-English translator with over 13 years of proven translation experience. With me, your documents are translated and reviewed carefully providing a personalized attention. Competitive prices and short turnaround times. Just email me your proposal and find out how easy is to work with me. I look forward to helping you. Paulina Aguilar. spbaja [- at -] hotmail.com. - Paulina Aguilar, spbaja [- at -] hotmail.com, Los Barriles
Gringos in Paradise Website - Whether you're new to Baja and Mexico or just want to keep up with new happenings that effect all of us living or visiting here, please check out Gringos in Paradise website. It's FREE and we publish daily with our newsletter every Saturday morning so you can catch up on what you might have missed during the week. We post new articles daily about life here in Mexico with loads of tips on how to preserve your retirement dollars and even earn an income while living or visiting Mexico. If it's news worthy, we will have it.

We alos post articles written by local folks just like you, people love to read what real expats have to say whether its fiction or real stories like George Bergin of La Ribera on East Cape a wonderful local writer.

We also have the finest Insurance products available with all A credit rated companies offering auto, Home, RV, etc. Health Insurance that works just like your back in the states except you can save over 50% in many cases and the hospitals in Baja love our plans and you can keep your credit card in your wallet. These are American companies who understand Mexico and your needs here. www.expatinsuranceplans.com see how much you might save today. I have own property in Todos Santos since 2006 and you will always be able to reach me by email or phone. We live here in Mexico full time. - Larry Crowson, larry [- at -] gringosinparadise.com.mx, www.gringosinparadise.com.mx, 888-300-4368 Toll Free US Vonage, United States - Larry Crowson, larrycrowson2010 [- at -] gmail.com, www.gringosinparadise.com.mx, (888)300-4386, Todos Santos
Servicios Computadoras, Todos Santos - Ofrece servicios de Internet y Computadoras. Venta, instalacion y soporte de redes cableadas e inalámbricas, anti-virus, Voice Over IP (Vonage, Net2phone), computadoras. Computer Services, Todos Santos - Offering internet and computer services. WiFi / VoIP / Computers - Sales, installation, service and support: wired and wireless networks, virus removal, Voice Over IP (Vonage, Net2Phone), computers. - Josue Castillo Mayoral, Cellular: 612 159 2699, jocama85 [- at -] hotmail.com, Todos Santos


Swimming Pools - Looking to build a swimming pool? No need to pay outrageous prices. I have 20 years experience building pools in the Baja area, resorts and residential. English spoken, references available. All contracts are legal and binding a with Public Notario. Contact us for a free estimate.
You wont be disappointed. - Santiago, bajapools [- at -] hotmail.com, 624-191-2831
TelePresence In Todos Santos Opens In 2012 - Reno TelePresence in T.S. allows you to meet others around the globe and feel as though they are really across the room - surprisingly on low bandwidth and low budget. We aim to replace one of the most revolutionary inventions ever: the Telephone. Transform the way you connect with your clients by replacing everyday calls with face-to-face interactions in true high definition quality. The convenience of HD quality conferencing with eye contact, life-like images, and distortion free sound are just a few of our strengths.

In 2012 we'll open a TelePresence Point in Northern Todos Santos (Agua Blanca) connecting with Reno NV. You can interact in real-time from Todos Santos to Reno NV using TelePresence. Reno TelePresence has the ability to display presentations, documents, browsers, and any application. It also provides an excellent platform for events or large numbers of participants in a Web conference. Reno TelePresence is an ideal tool to move away from technologies that distract you from doing business. www.RenoTelePresence.com - Reno Telepresence, info [- at -] renotelepresence.com, www.RenoTelePresence.com, Todos Santos
Need a Ride to or From the Airport? Or Someone to Assist You With Errands? - I am a young, bilingual Christian man and I can provide you with rides to or from the La Paz or San Jose Del Cabo airports. I can also help you with courier services, errands, or navigating the intricacies of dealing with Mexican businesses and the government; Car Registrations, TelCel and TelMex, CFE, Seguro Social, etc.

Reasonable Rates - Contact: Ernesto, Cel. 612-117-7497, ernie_net [- at -] hotmail.com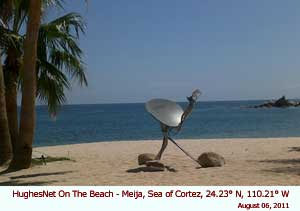 Now, Get Internet No Matter Where You Live:
Always-On Connection
Available Where DSL and Cellular Won't Reach
PC, Mac, Wireless Compatible
Multiple Computers Can Share the Same Internet Connection Full-Time
Vacation Holds Available
Professional Installation Available
0.74 Meter Dish with 1 Watt Transmitter - Was $499.99 Now $299 US! 1 0.98 Meter Dish with 2 Watt Transmitter - Was $899.99 Now $699 US! 1
Available Service Plans:

| | | |
| --- | --- | --- |
| Plan - Max. Speed - Down/Up 2 | Daily Data Transfer Allowance | Monthly Service Fee |
| Home - 700 Kbps/128 Kbps | 200 MB | $59.99/mo. NOW $49.99/mo.! |
| Pro - 1.0 Mbps/200 Kbps | 300 MB | $69.99/mo. |
| Pro Plus - 1.5 Mbps/200 Kbps | 350 MB | $79.99/mo. |
| Small Office 3 - 1.5 Mbps/300 Kbps | 425 MB | $99.99/mo. |
Baja Satellite is an Authorized HughesNet® Reseller. For more information Contact Us today: alan [- at -] BajaSatellite.com, www.bajasatellite.com, (530) 903-4257 (US), (01) 555 351 0882 (Mexico), Baja California Sur


1 Equipment prices shown are after $199.99 HughesNet mail-in rebate, and do not include Mexican shipping, importation or installation. 2 Absolute maximum speeds as stated by Hughesnet. Actual speeds will be less. 3 Small Office Plan requires 0.98m. dish with 2-watt transmitter.

Baja Western Onion Private-party Ad Special! Get More Coverage! Two Weeks - Four Issues - Only $10.00 US:
- Yard Sales, Vehicles, Misc. For Sale or Wanted - Reach 3,200 Baja Western Onion Readers - Your Ad Featured In a Red, Highlighted Box - Available Only For Private-Party, Non-Commercial, Text-Based Ads (Please Note: not available for commercial ads, real estate for sale or rentals available)
Payment: All Private-party Special Ads must be prepaid in advance of initial run date. You can make your payment online via PayPal at https://www.paypal.com/cgi-bin/webscr?cmd=_xclick&business=advertising [- at -] BajaWesternOnion.com, or call us at 001 530 903 4257 or 01 33 8421 1142 (From Mexico) to make payment directly by VISA, MasterCard, American Express, or Discover Card.

Free Ads: As always, you can place a Free text-based ad in the Baja Western Onion once every 14 days. Submit your Free Ad or Article here: www.bajawesternonion.com/submitad.asp. -


For more details on our commercial advertising opportunities, please visit www.bajawesternonion.com/advertising.asp or send an Email to: advertising [- at -] BajaWesternOnion.com


---
Submit your Misc. Sales and Services Available/Wanted articles here: http://www.bajawesternonion.com/submitad.asp



Return to Top
---

---
Real Estate, Rentals, and House Sitting - Available/Wanted
---
Great House For Sale: Casa Feliz - Brand new house located in Pescadero with dual master bedroom suites with walk-in closets. Large covered patio with ocean views outside both bedrooms. Spacious living area with open floor plan upstairs with 11 ft. ceilings, maximizing panoramic farmland and ocean views. Huge kitchen with open living/dining areas and buffet bar.

1868 sq.ft. interior space + 3 decks with 2170 sq.ft. on 1/4 acre hillside lot. Great deal at $285,000usd Please call to arrange appointment. - Rich Friend, richie [- at -] ricardoamigo.com, ricardoamigo.com/Properties-CasaFeliz.asp, 612.145.0551, Pescadero
Casita Rental - Nice Clean Casita located on Calle Los Mangos in Las Tunas available for rental from Nov. 18 to Jan. 30. One week minimum and all holiday´s currently available. Also available long term beginning mid April to end of October of 2012. Prices are based on time of your stay. - Dan, danbinetti [- at -] yahoo.com, 044-612-117-0298
Ocean View Home For Sale By Owner - Beautiful 2 bed/2 bath home located in the Las Tunas area of Todos Santos on an elevated 1/2 acre lot. Featuring ocean/mountain views from every room, spacious patios, terraces, master bedroom suite, mature landscaping, both city and agricultural water and underground electricity $259,000 USD. Photos and info at www.bajawildheart.com. - Leslie Lambert, lslambert [- at -] gmail.com, bajawildheart.com, 707-696-9064 or 503-954-3504, Todos Santos
Limited RV Sites Available - New RV Park within walking distance to to beach. Pool, laundry, full hook ups, gated park with excellent security record. Beautiful location in Pescadero. We have a limited number of full hook up sites available for the season and a limited number of permanent resident sites. No other place like this in the area. Very reasonable rates and great people. Call for more details or check out our website at www.mountainshadowsrv.com. Mexican cell: 52 (612) 139-2713; USA Phone: (619) 780-8048; Canada Phone: (604) 210-0564 - Kenny Sewell, mountainshadowrv [- at -] gmail.com, www.mountainshadowrv.com/, 604-628-9532
Property in Elias Calles - Get out of the traffic: New highway from Cabo to to Todos/La Paz will make trip a breeze. Ocean, river and sierra views. Buy my property in up-and-coming Elias Calles. New cell tower on hilltop, new families and artists moving to the area. Business or residential, 1,500+/- meters squared, +2 small buildings, +water meter and contract with city, +fenced, dirt road access. Bathroom with black-water purification system, kitchen palapa over 10,000 gallon water pila. Unique. Needs TLC, reduced price: $65k USD. Title, taxes paid up to date. - Silvia P, SSPADIS [- at -] HOTMAIL.com, 624-198-5695, Elias Calles
RV Spaces At Cerritos Beach - We have space available at The Great Escape; km.66.5. 100 mtrs. from the dune includes water and septic hookup. Daily, weekly, monthly. - Jordon Cameron, two40jordi [- at -] hotmail.com, 612-149-5066
Seeking House For Rent - 26-year resident of San Jose del Cabo looking for rental in Pescadero. One person, very responsible, retired. Local references. Long term. - Richard Roberts, rajroberts66 [- at -] gmail.comloine
House Sitting - hey denise diaque here.. i be working all season in baja beans cafe more than welcome to come for a nice cup of coffee everyone! i am looking for place to stay and i would really like to find a house sitting agreement. it is only me, no animals. im from guadalajara jalisco, been in baja for a while. please any questions let me know :D - Denise Diaque, denise.diaque [- at -] gmail.com, 624 147 6306, Pescadero
---
Submit your Real Estate/Rentals/House Sitting/Property Management Services articles here: http://www.bajawesternonion.com/submitad.asp



Return to Top
---
Rides or Caravans Available/Wanted
Note: Ads will run for two weeks unless dated. Please list the date in the title, and specify which airport. Goes without saying, everyone shares expenses for beer, gas, food, etc

To remove your ad if you find a ride or caravan, let us know here: www.bajawesternonion.com/submitad.asp -
---
Rider Wanted From New Mexico - Driving down to Baja mid/late November from Taos, NM, Nogales-Los Mochas-Ferry- La Paz - Rosario Carelli, wearethedrum [- at -] yahoo.com, 828-380-0122

Date Change On Drive To Cabo - Previously, I was leaving San Diego for Cabo on Nov 22. Have pushed this date up. Can now leave Nov. 18, 19, or 20 -- your choice. Can caravan or have room for passenger with luggage. Share gas. I'll do all the driving. This is my 26th drive. Comfortable SUV. - Ina Yank, inayank [- at -] ix.netcom.com, 949-200-7727



Ride Needed From TS to SJD Airport Nov. 22 - Looking to arrive at San Jose Del Cabo Airport anytime before 1:30 p.m. Tuesday, Nov. 22. Will share gas. - Wendy, wseskind [- at -] gmail.com, 612-147-0448

Caravaning to TS Late November - I'm driving to Todos Santos over Thanksgiving weekend, leaving San Diego on Saturday morning. I plan to take three days for the trip. Caravan partners welcome. - Alex, azecha [- at -] gmail.com

Caravan in Late November - I would like to caravan down Baja to Los Cabos area from Tecate on Nov. 26 or 27. Contact Pandora at 702-236-0778 or write pahlstrom2 [- at -] embarqmail.com - pahlstrom2 [- at -] embarqmail.com

Package Needs Ride To TS - Will you be in Todos Santos by December 4th? I have a package from the San Francisco Bay area that must be delivered to Todos Santos by December 4th. Gracias. - rogerholman [- at -] att.net

Caravan Wanted in December - Want to caravan to Todos Santos area in early December, could meet with you anywhere from Santa Rosa, CA, to San Diego. Please email Debra at goodthym [- at -] mcn.org - Debra Dawson, goodthym [- at -] mcn.org

Caravan Phoenix-Nogales-Guaymas-Ferry To Santa Rosalia-loreto - am planning to drive above route sometime between Thanksgiving and December 10, within that period my dates are flexible. would like to caravan all or part if possible.
contact: - Roberta, rhintransit [- at -] yahoo.com

Baja Via Baja Ferries Mid-December - Traveling through Nogales, around Dec. 17. Plan on taking the Baja Ferry to La Paz on or around Dec. 19. Is anyone traveling that route and would want to convoy together? Safety in numbers. I speak fluent Spanish and can help with translating. Let me know, Sylvia, treaturfeet [- at -] yahoo.com or phone 928-282-5969 - treaturfeet [- at -] yahoo.com, Los Barriles


---
Submit your Rides or Caravans Needed/Available articles here: http://www.bajawesternonion.com/submitad.asp



Return to Top
---
Pet Corner (Lost and Found pet articles will run for two weeks)
Let us know if you find or place your pet so we can remove your ad -
---
Found Puppy - I found a small, tan, female puppy with a green collar Saturday afternoon in front of Caffe Todos Santos. She seems to be 2-4 months old perhaps, very clean, and very healthy. I assumed her owner was close by but nobody knew anything about her. We later believed she may have gone missing the night prior because our dogs were barking at a small animal that night. She's being taken care of at the Old Charles Stewart home (Obregon & Centenario, next to Caffe Todos Santos) if the owner happens to find this ad. - Janine Wall, coneyislandgreen [- at -] yahoo.com, 612-152-4499, Todos Santos

Sweetheart Cat Needs Home - Lovable, affectionate, friendly and well mannered. This "street cat" has been spayed, is young but not too, probably around a year old. She's been given flea treatment, fed well for a few weeks and in good shape now. But we are leaving for the states at the end of November and she needs to find a permanent home. - Colleen Ray, 805-712-1664, Todos Santos

Baja Dogs needs Transporters - Baja Dogs needs transporters from Cabo to Calgary and Cabo to Vancouver. We have adopted dogs awaiting their new homes. Please email Dhorea bdlp [- at -] bajadogslapaz.org or call 612-140-2575 for details. Thank you for helping. - Dhorea Ryon, bdlp [- at -] bajadogslapaz.org, www.bajadogslapaz.org/, 612-140-2575, La Paz

Good Info On What To Do If You Lose Your Dog In Baja (or Anywhere) - This excellent article courtesy of Baja Insider: www.bajainsider.com/baja-life/pet-care/findinglostdogs.htm -
Dachshund Dog Looking For A Girlfriend - hi my name is wiskee dachshund dog, and i´m looking for a girlfriend im black color and I enjoy good health if you know Please contact my owner gelacio. - Gelacio Orozco, gelacio_tds [- at -] hotmail.com
---
Submit your Pet Corner articles here: http://www.bajawesternonion.com/submitad.asp (and remember to Spay and Neuter your pets)



Return to Top
---
Quote of the Day: " We all know that it is women who make the decisions, but we have to let men think that the decisions are theirs. It is an act of kindness on the part of women. " ~ Alexander McCall Smith


---
Looking for the complete Community Events Calendar? Click Here!


---
Return to Top
---
---
Help Support The Baja Western Onion!

We can accept donations by Credit Card, PayPal, cash, check or direct deposit.

For more information, please visit our web site at http://www.BajaWesternOnion.com/donate.asp.
Copyright © 2006 - 2011. The Baja Western Onion. All Rights Reserved. Published Using 100% Recycled Electrons :)
Return to Top
---