On The Web Site:
---
Today's Weather Click for Extended Forecast

---
Community Access
Policia Preventiva
Todos Santos Police
612 145-1052
Commandante Navarro

Ministero Publico
State Police
612 145 0198
Commandante Erigoyen

Bomberos
Fire Department
Cel. 612-142-6387
Commandante Cadena


---






---
Baja Western Onion
Alan Thompson - Publisher
Debra Webster - Advertising
e-mail For General Feedback
---
---
News and Events, Questions and Answers
---
Sea Turtle Hatchling Releases - There will be Sea Turtle hatchling releases every day at 5 p.m. throughout the months of November and December. The releases are open to the public, and there is no charge. Bring your family or send your guests without making reservations. If you would like to bring a large school group, please contact us for scheduling. Maps and directions are available on the website. Hope to see you there! - Tortugueros Las Playitas, tortugueroslasplayitas [- at -] gmail.com, www.todostortugueros.org, 145-0353, Todos Santos

Local Happening Narco/Trafico - From Yahoo News: Cabo San Lucas, Mexico (AP) — Mexican officials say hundreds of people cowered for more than an hour at a shopping center in the resort town of Cabo San Lucas while security forces traded fire with gunmen outside and then searched for them in stores.

No injuries have been reported from Saturday afternoon's gunbattle, which did damage some cars and entrance doors. Police say they arrested two men suspected of being involved in an overnight attack near the center that killed a Mexican marine. Authorities say the shooting at the Plaza Sendero shopping center erupted when marines, soldiers and police found armed men in the parking lot. Police ordered shoppers to stay inside during the shooting and later search. People were allowed to leave an hour later. - Janel, janelb3 [- at -] yahoo.com, Todos Santos

Red Autismo Fashion Show - Red Autismo for the 4th year presents a benefit Fashion Show, friday 25th, november at the Shoppes at Palmilla from 10 am to 1 pm. $35.00 usd donation. Hope you can join us! Tickets available at Pez Gordo Gallery, Mex Sun Day Spa and Tienda 17. contact information: 624-12-06328 or redautismo [- at -] hotmail.com - Red Autismo, www.redautismo.org, 524-12-06328

Lifeguard Fundraiser - Mil Gracias to everyone who helped with the Hotel California Lifeguard Fundraiser and to all businesses in the community who made this event a success. We will use the proceeds for continuing the training of our lifeguards in California, and move toward the goal of establishing our own local training academy. The mission of Proplayas AC is to keep our beaches safe. - Oscar Rosales, oscar5682 [- at -] gmail.com, Todos Santos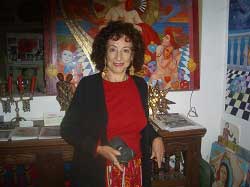 Conchita Amata Vesco - Conchita Amata Vesco died in her home Sunday, Oct. 30, 2011, at 3 p.m. Conchita was a member of our community for the last 4 years and graced us and inspired us with her artistic talents. Conchita had her formal training at the Accademia delle Belle Artes in Venice, Italy and the Otis Art Institute in Los Angeles, California. She has exhibited her work in Venice, Florence, Rome, San Diego, and currently in downtown Cabo San Lucas at the Maurer Gallery.

She taught art at Union College in San Diego and in private workshops, helping students unlock and get in touch with their Creative Self. She is survived by a sister in Australia, a brother in Italy, 2 daughters, a granddaughter, nieces, nephews and their children. She was buried Tuesday at the Todos Santos cemetery. May she rest in peace. - Deborah Horn, deborahhorn [- at -] hotmail.com, www.maurergallerycabo.com/artist-conchitaamanta.html

Flu and Pneumonia Immunization Clinic Offered - Courtesy La Paz Gringos - Club Cruceros is sponsoring the annual Immunization Clinic on Thursday, Nov. 17, from 10 until 11 a.m. in the Vista Room located at Marina de La Paz. The sign up sheet is on the closet door inside the Club Cruceros Clubhouse. Please sign up before Nov. 14 to allow Dr. Tuchmann time to receive the serum from the Public Health Department. There is a $50 peso donation per inoculation. Besides donating his time, Dr. Tuchmann uses the donations received to purchase blankets, sheets and towels for DIF, the Department of Family Development, to give to needy families in Club Cruceros' name. Any questions? Contact Susan Ross at yachtmanagement [- at -] bluewaterketch.com - , moderator [- at -] bajawesternonion.com

Volaris Shuttle From Tijuana Airport To San Diego Airport? - Can anyone confirm if Volaris Airlines is still providing a shuttle bus between the Tijuana Airport and the San Diego Airport? If not, can anyone suggest another method to get from one airport to the other? - Alan, alan [- at -] bajasatellite.com, Todos Santos



Need Land For Animal Sanctuary - We would like to establish a farm animal sanctuary to rescue several animals being held in deplorable conditions in Pescadero. In order to do this, we first need a piece of land nearby where these animals can be taken. Any unused property ~1/3 acre and up in Pescadero would be ideal.
Do you have land that you are not planning to use for a couple of years? Maybe 2 or 3?
Would you be willing to let us care for some animals there?
If your property is already fenced, that would be excellent, otherwise, we will make that improvement ourselves. By lending your property, you will enable us to move quickly forward with our planned rescue. We hope not only to create a sanctuary to rescue farm animals being abused, but eventually to open up the sanctuary to the public for educational purposes, a place where people can come and meet the animals and get to know them, not as commodities but as the special creatures they really are.

Eventually, we hope to build a kiosk to prepare and sell vegan hot dogs, hamburgers, ensaladas, soy and coconut milk ice creams and sodas at the same location so that when tourists come to meet the animals, they can also enjoy a cruelty free picnic. (Who wants to eat pork sausage while bonding with a pig?)

Any revenue we obtain will pay for food and water for the animals and the other expenses of running the sanctuary. We will start small: A journey of a thousand miles begins with the first step. ... But ultimately become an important part of the cultural, tourist and educational offerings of the area. If you can help with land or want to get involved in other ways, please contact me. - Cheryl Hugle, allinharmony [- at -] gmail.com, allinharmony.org, Todos Santos




Volunteers Get Hungry Too - There are a number of vets and vet techs coming from the U.S. to give us the gift of their time and expertise to help control our animal population. Our local vets and other community members will also volunteer their time. This is hard work and everyone gets hungry. We will have at least 20 hungry people each day of the clinic. Could you make a few sandwiches? Maybe some cookies? Fruit and vegetables or other snacks; water and soda very welcome. The clinic will take place at La Canada del Diablo on Thursday, Friday and Saturday, November 17, 18 and 19. Please call or email if you are able to help. - Maryann, maryanndoug [- at -] gmail.com, 145-0791

Heaven on Earth 2012 in Todos Santos - "Heaven on Earth 2012" will feature an Aztec calendar to be built by the community during a workshop held from Jan. 2-6 . Three "dream team" artists will show how to work cement, casting, carving and staining as well as ceramic sculpting and mosaic techniques. This is an amazing opportunity to enjoy the beautiful town of Todos Santos, and develop a 12' diameter mural--a legacy artwork. For more information, contact Donna at rockartus [- at -] aol.com - Donna Billick, rockartus [- at -] aol.com, 530-219-5918

Math Tutor Wanted - Looking for a math tutuor for my third-grade daughter. She is in a bilingual school but the math is taught in Spanish so Spanish language skills are preferred but not entirely necessary. Professional experience is very important. If you are interested, call or write. - Steve Merrill, cruz [- at -] seatosierra.org, 612- 152-7881, Baja California Sur

Nia Classes - I am wondering if we have a nia teacher in the community. Would like to participate in some nia classes. If you have information, please write me at susie [- at -] osei.ca - Susie Bradford, susie [- at -] osei.ca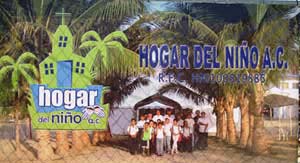 Benefit Concert For the Kids of Hogar De Los Niños - Saturday, Dec. 10, at 5 p.m., La Esquina in Todos Santos invites you to the first annual Concert for the Kids, a festival of music benefitting el Hogar de los Niños. Enjoy the musical stylings of fine local artists, featuring
Forest & Friends
Jay Nash
Tim Lang
AK-47
Get ready to get down with Ben & the Men at 10:30 p.m. Ice cold beer, fine wine and delicious Margaritas are 2 for 1!

Limited tickets are available at La Esquina or San Pedrito Surf Hotel for 80 pesos, get 'em while they last. Don't forget to bring pesos for a silent auction, and your donations of shoes and clothing! - Andres Keller, ak47pgh [- at -] yahoo.com - Andres Keller, 612-133-9602, Todos Santos


Today's Exchange Rate - Mexican Pesos to 1 USD - Courtesy X-rates.com
---
Submit your News and Events, Questions and Answers articles here: http://www.bajawesternonion.com/submitad.asp



Return to Top
---

---
Featured Events This Week
Anyone planning an event should check the Online Community Calendar before choosing a date to see if something else is already planned and avoid conflicts. Check the Online Community Calendar here: www.bajawesternonion.com/community-calendar.asp -
---
Saturday, November 5
Baja Dogs, La Paz Refuge Tour Offered - 8:30 a.m. Baja Dogs, La Paz, will begin their monthly refuge tours. Tour begins 9 a.m. If you have never seen the refuge and would like to be included, please contact Cindy Crane, cindycrane2000 [- at -] yahoo.ca, www.bajadogslapaz.org/, 612-141-9903, La Paz

Asociación de Artes Second Annual Music Festival - Los Barriles. International recording artists. For more information, call 877-777-TUNA (8862) or 624-141-0044, www.eastcapearts.com, Walter S. Zapotoczny Jr., www.wzaponline.com


---
New Community Events and Workshops Notification Page - You can submit event notices for The Community Calendar or Workshops and Meetings pages. The Community Events calendar is limited to non-recurring community events (Sorry, no "Happy Hours," "Daily Specials," or other recurring business activities :). Submit your Community Events and Workshops notices here: http://www.bajawesternonion.com/submit-event.asp



Return to Top
---
---
Stepping Out - Food, Music and Entertainment
---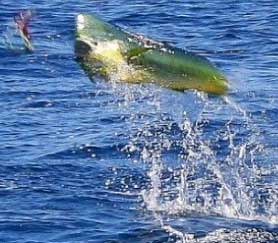 Todos Santos Fishing Charters - Why deal with a middleman? Come direct to the owner/operator
- Fully Registered Sportsfishing Company - Bilingual Crew - Top Quality Tackle And Gear.
Whether game fishing or whale watching, contact us for your ocean adventures. Visit our website for full details: www.fishingtodossantos.com or www.todossantosfishingcharters.com.

Package deals available when booking fishing and our casita for your complete holiday - www.bajasurtodossantos.com, or call 612-119-7880 or 624-114-1351




Baja Beans at the Beach! - Baja Beans will be serving coffee and pastries at San Pedrito for the Baja Sur Tour surf contest Saturday, Nov. 5, 2011. Come join us for coffee and watch the local surf pros of Baja California Sur. - Sandra Wohlers, info [- at -] bajabeans.com, www.bajabeans.com, 612-143-7138, Pescadero



It's Open Reading Time - Once again! Sunday, Nov. 20, at 4 p.m. at the Galleria de Todos Santos. Everyone is welcome to read an original piece of work that is under five minutes. New readers and writing group members are especially welcomed. Sun glasses or hats are recommended. Let's start the season off with a bang. - Scotty Mclemore, scottybcs [- at -] hotmail.com, 612-100-5872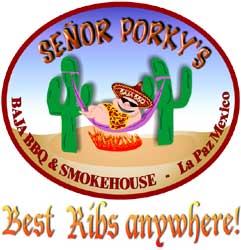 Señor Porky's Baja BBQ and Smoke House! The Best Ribs Anywhere!



New Restaurant in La Paz - Featuring Kansas City slow-smoked meats not found anywhere in Mexico. Now open 7 days a week from 7:30 AM with full breakfast menu and Cappuccino, to 10 p.m., and weekends until midnight. Watch the sunset from our spectacular ocean view! Located on the Malecon in La Paz at Alvaro Obregon #670, on the corner of Allende and Rosales (next to the Arco Hotel).

To ensure the best quality for Porky's Smokehouse Meats, we start with the best meats available. Then we dry-rub the meats with a combination of 20 spices, then slow-smoke for up to 18 hours at low temperature to obtain maximum flavor and tenderness while sealing in the natural juices and smoke flavor that is unmatched anywhere! We know you'll agree that Señor Porky's Baja BBQ and Smoke House are the best you have ever tasted. Menu highlights include:

• Slow Smoked Ribs • Pulled Pork • Beef Brisket • BBQ Chicken • Smoked Bratwurst •

Plus fantastic side orders include Pasta Salad, BBQ beans, Coleslaw, Sweet Potato fries, New Mexico Green Chile with Pork, Caesar Salad and Homemade Deserts. Dine in, or carry out from our "Pig Out" Meats to Go Menu. Download our entire Menu here: files.me.com/richards771/1wclv6

For more information, call 612-129-3667. - Richard Stubbs, richards77 [- at -] pcisys.net, La Paz




100 Peso Sunday Morning Buffet - Miguel's Restaurante, Todos Santos, is celebrating the start of Season with an incredible Breakfast Buffet. Offered from 9 a.m. to noon. This is a wonderful way to start a Sunday! See you there this Sunday, Nov. 6, before the beach... - Miguel, Be [- at -] TodosSantos.me, 145-0733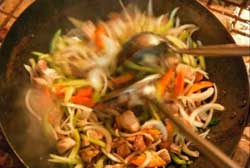 New Lunch Special at Zen Garden - Zen Garden is now offering a fantastic lunch special daily, Monday thru Friday, from noon until 4 p.m. Six different choices come with 4 items each for only $80 pesos.

Outstanding taste, great price! Don't miss out! Best deal in Baja! Very clean, wonderful ambience and fresh food cooked with love and care. - Nina Chun, yanggum [- at -] zengardencafe.com, www.zengardencafe.com, 612-145-1088




Raise Your Consciousness! - After spending my first month in Baja Sur, CA, I discovered Zen Garden Café in Todos Santos. I read the excellent review of Zen Garden in the NY Times and wanted to experience it for myself. It definitely stands out as a one of a kind, not to be missed experience. Not only is the cuisine fresh and delicious, it is also beautifully displayed and you can choose from Organic to Vegetarian. We enjoyed the owner Nina's unique perspective on consciousness and her hands on friendly style. The walls have beautifully painted sayings that are uplifting and empowering, showcasing her philosophy and vision for a co-creative future. Clean, great ambience at a reasonable price and the best taste of the Orient anywhere! We loved it! You will too. - Enara Healy, 805-320-5925


La Paz Author and Allende Books Hold Ebook Release Party - Mark your calendars: Sat., Nov. 26, from 3-6 p.m. Print and Kindle readers alike will be able to meet La Paz author R.J. Archer at the release party for his fourth novel, "The Scientists," first in a new series titled Parallel Ops. Allende Books in La Paz will host the event and the author will be signing eBook covers to celebrate its release as a Kindle title. Allende Books will also carry print versions of the first series for those who haven't read "Tractrix," "Tsubute," or "Triangle."

In Parallel Ops, Archer's new sci-fi adventure series, characters from his first trilogy star in their own individual novels and work independently to solve the cliff-hanger from the conclusion of the Seeds of Civilization series. On November 26, the Kindle eBook will be made available to all who have a Kindle reader or have downloaded the free pc-based or MAC-based software from the Amazon.com website. Those who pre-purchase "The Scientists" earlier in the day and bring a copy of their Amazon receipt to the release party will receive a dedicated, signed cover of the new thriller.

Allende Books is located at Independencia #518, between Serdán and Guillermo Prieto, next to El Angel Azul Bed & Breakfast. A wide range of English-language favorites are available on their shelves and credit cards are accepted. For more information please visit www.ParallelOps.com/events or contact allendebooks [- at -] gmail.com. - Marty Olver Archer, 612-124-2998 local, La Paz


San Jose Del Cabo Mercado Organico: Occupy! - San Jose del Cabo Mercado Organico: OCCUPY SJMO! Opening Day is Saturday, Nov. 5, from 9 a.m. to 3 p.m. Located at Huerta Maria To see map, visit: http://www.sanjomo.com/aspx/m/Map__Localizacion.

In addition starting the year with roughly 100 farmers, chefs and artist vendors, we have the following events planned:
9:00 AM: Robin Clements - Opening Ceremony
9:00 to 10:00: Victor's Spectacularly Awesome Yoga Class
10:00 to 11:00: Jazmin Sanchez Sanchez – African Dance Class for Children
11:00 to 12:00: Inbal Levy – Numerology Workshop
12:30 to 1:30: Roberto Bringas: Juggling Workshop
1:00: Luna Itzel will provide live music
2:00: The Carports will provide live music
For more information, visit www.sanjomo.com or write info [- at -] sanjomo.com. You can also call us at 044-624-108-4235 - Sanjomo Organizing Committee, info [- at -] sanjomo.com, www.sanjomo.com, 044-624-108-4235, San Jose Del Cabo


Pearl Farm In La Paz - Courtesy Baja Pony Express - Have you ever wondered about the famous La Paz pearls, prized world wide and included in the crown jewels of the royalty of Spain, England and France? Last spring, twelve of us from Los Barriles had a wonderful weekend adventure and got the full story on a very interesting and informative tour (in English) conducted by Dr. Carlos Cáceres, the founder of Perlas del Cortez www.perlasdelcortez.com, a pearl farm in La Paz.

Dr. Cáceres is a professor at the Universidad Autonoma de Baja California Sur, conducting research on aquaculture and sustainably reviving pearl farming in in Baja. Dr. Cáceres met us at our hotel on Sunday morning. Our first stop was at the Museum of Anthropology for the history and importance of pearling in Baja. Then we drove to his pearl farm in Pichilingue where he explained and demonstrated, step-by-step, the process of collecting and growing oysters, seeding the oysters and ultimately harvesting the beautiful black pearls.

It was fascinating. Dr. Cáceres enthusiasm and passion for not only pearls, but our wonderful natural environment is contagious. Thumbs up from all twelve of us for Dr Cáceres and the tour. I was recently in contact with Dr. Carlos Cáceres ccaceres [- at -] uabcs.mx, and he is conducting tours again the fall. Contact him directly to make arrangements. To make it a really special weekend, go to La Paz on Saturday, spend the night and have dinner at Restaurante Las Tres Virgenes (Calle Madero #1130, between Constitution and Hildalgo). - Holly Burgin, www.perlasdelcortez.com

Que Rico Has Organic Turkeys! - I went by Que Rico today and picked up some of Andrea's wonderful chicken and apple sausage. I also order my organic turkey for Thanksgiving. The turkeys are 50 pesos a kilo and should be about 6 to 8 kilos in weight. Que Rico has lots of great local products to choose from. The shop is located on Militar across from La Paloma Ice cream shop. Stop by and check it out. - Reyes Fam, Todos Santos


---
Submit your Stepping Out - Food, Music and Entertainment announcements here: http://www.bajawesternonion.com/submitad.asp



Return to Top
---
---
Misc. Sales and Services Available
---
Farmer's Market Now Includes Sundays at La Esquina - The Farmer's Market is back at La Esquina starting today from 9 a.m. until noon. Also, due to our customers' request, we are now open Sundays from 9 a.m.-3 p.m., until April. And a special thanks to all our kind customers who supported us during the off-season. We appreciate you! - La Esquina, hola [- at -] laesquinats.com, www.laesquinats.com, 612-145-0851, Todos Santos

Spanish Lessons! - Learn and practice Spanish at Antonio Estamates Gavarain´s classes in Cabo San Lucas. We are on Janet Wilson Street between Felix Ortega and Ildefonso Green, next to Mariscos "El Torito." Enjoy with mates also our conversation club held every Friday from 6 to 8 p.m. ¡"Puchi mano"! - Joel Antonio Estamates, caballito_b [- at -] hotmail.com, www.inglesamerica.blogspot.com, 624-143-9643, Cabo San Lucas


Casa Decor, La Paz, Indoor And Outdoor Furniture - Large 12,000 SQ. FT. Warehouse in La Paz at 560 Marquez de Leon, between Altamirano and Ramirez, Tel: 612-129-3364.

Take a Virtual Tour of our selection online: http://www.youtube.com/watch?v=YJK_MCrzZ3E:

• Largest Inventory In The Baja • Patio Furniture • Wicker, Rattan And Marble
• Rustic Hand Painted Furniture • Lighting • Metal Furniture • Copper Furniture
• Kitchen Cabinets • Doors • Floor and Wall Covering • Art • Accessories
• Fountains And Urns • Mexican Furniture • Imports From Around The World
• Very Unique Selection Of Furniture And Accessories • Furniture Packages




>>> SPECIAL! Bring In This Ad For A 10% Discount! <<<


The Best In-stock selection in the Baja of affordable Indoor and Outdoor Furniture at Casa Decor. Three Locations: Casa Decor La Paz, Casa Decor Cabo San Lucas on the Four lane at KM 3.5 next to Artisanos and Natural Marble and Stone, Tel: 888 557 6533 or 624-178-8146, and NOW in Loreto! - Mary Aguirre, Chief Designer, richards77 [- at -] pcisys.net, USA Tel 303 777 5157, http://www.antiquerowmarket.com, Baja California Sur




The New Harmony Healing Arts Center - The Center, located in Todos Santos, has space available for one or two practitioners, 1/2 - 1 day/week. We already have represented: acupuncture, chiropractic (starting mid-November), massage, breathwork, tai chi and qi gong, yoga, body-based psychotherapy. We are still looking to confirm someone to do reiki and possible an additional massage therapist. Email for more info! - Jane Sipe, L. Ac., jasi57 [- at -] juno.com, 612-151-7026


18' Ocean Fishing Boat For Sale - Comes with a new 60 HP, 4-stroke Mercury motor with only 93 hours on it:
Easy Pull Trailer With Excellent Tires
2 New Batteries
Center Fiberglass Console
Ready To Go Fishing!
Price $8700 USD. This is a great price -- it's like buying a motor and getting the boat and trailer for free! - Kent Hansen, kenthansen [- at -] shaw.ca, La Paz




White Leather Sofa - Needs a new home. This is a smaller sofa (it doesn't need a big space) but will seat 3 humans. Asking 800 cocos. - Jane Sipe, jasi57 [- at -] juno.com, 612-151-7026

Inflatable Boat - For sale: 2009 14' Mercury Inflatable boat with 25hp Mercury two-stroke outboard. As new. Only 30 hrs. Complete with 2009 Highliner trailer. Paid new: $7,000 USD. Selling price: $4,200. Please email for photos and information. - , davidinbaja [- at -] gmail.com



Panga and Trailer for Sale - For Sale By Owner: "Captain Morgan II", a 23-ft., center console panga with trailer. 115 horsepower, 4-stroke Yamaha outboard. Manufactured 2008 by Embarcaciones Van Diaz in Los Barriles, BCS. Featuring an onboard Furuno GPS unit, VHF radio, retractable bimini top, bait tank, outriggers, and toilet. $25,000 USD or best offer. - Dax Morgan, ssmorgan5 [- at -] aol.com, 612-140-3070, La Paz

Solar Water Heating Systems - Solar Water Heating Systems for home or pool, locally designed and built for the latitudes of Baja Sur. Eliminate water heating costs. Solar is non-polluting and renewable; tap into the free power of the sun. - Skip Ackerman, skip [- at -] solsticesolarofbaja.com, www.solsticesolarofbaja.com, 624-142-8002, Baja California Sur



Servicios Computadoras, Todos Santos - Ofrece servicios de Internet y Computadoras. Venta, instalacion y soporte de redes cableadas e inalámbricas, anti-virus, Voice Over IP (Vonage, Net2phone), computadoras. Computer Services, Todos Santos - Offering internet and computer services. WiFi / VoIP / Computers - Sales, installation, service and support: wired and wireless networks, virus removal, Voice Over IP (Vonage, Net2Phone), computers. - Josue Castillo Mayoral, Cellular: 612 159 2699, jocama85 [- at -] hotmail.com, Todos Santos




Auto Mechanic Available - Auto mechanic in Todos Santos with 30+ years of experience on all types of vehicles and problems, including electrical, mechanical, injectors, etc. Local references, some English, translator available. Reliable and fast with attention to detail and customer satisfaction a priority. House calls or at shop, near Lazarraga. Calle Obregon (near Militar) between the tortilleria and the Chinese Restaurant. - Rene "black", 612-145-0860

Electrical and Solar Design, Installation and Maintenance - Specializing in LED lighting (save 40% on your CFE bill). My designs and systems will also save you hundreds to thousands of pesos over standard commercial pricing on the parts. Four years warranty on ALL parts and labor. I have 25 years experience with electricity, 10 years with LED lighting, and 4 years with solar and wind power generators. Local references available upon request. Call or email if you have questions or to discuss your lighting or solar/wind projects. Estoy a sus ordenes! - Marco Edmundo Castro, marcoecastro [- at -] hotmail.com, 612-139-5517

Exterior Doors For Sale - Two pine exterior doors for sale. Exterior has been painted, interior has sealant on it. $15.00 each.. Pescadero. 82 inches x 32 1/2 inches and 80 3/4 inches x 32 1/4 inches. - Sandy, sandytelgren [- at -] yahoo.com, 612-147-0434

Shakespeare for Free - The complete works of William Shakespeare; the 1921/revised 1957 edition printed by the Yale University Press. This is a "take one, take all" offer. - Scotty Mclemore, scottybcs [- at -] hotmail.com



Need a Ride to or From the Airport? Or Someone to Assist You With Errands? - I am a young, bilingual Christian man and I can provide you with rides to or from the La Paz or San Jose Del Cabo airports. I can also help you with courier services, errands, or navigating the intricacies of dealing with Mexican businesses and the government; Car Registrations, TelCel and TelMex, CFE, Seguro Social, etc.

Reasonable Rates - Contact: Ernesto, Cel. 612-117-7497, ernie_net [- at -] hotmail.com




House Keeper Sought in Pescadero - Looking for a responsable, hard working woman to clean my house in La Argentina area of Pescadero. Anyone know of someone with a car who is looking for work? Please email me at tiotomasbcs [- at -] hotmail. Mil gracias - , tiotomasbcs [- at -] hotmail.com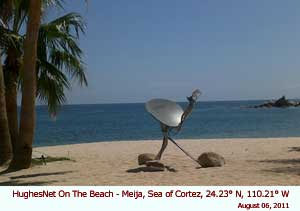 Now, Get Internet No Matter Where You Live:
Always-On Connection
Available Where DSL and Cellular Won't Reach
PC, Mac, Wireless Compatible
Multiple Computers Can Share the Same Internet Connection Full-Time
Vacation Holds Available
Professional Installation Available
0.74 Meter Dish with 1 Watt Transmitter - Was $499.99 Now $299 US! 1 0.98 Meter Dish with 2 Watt Transmitter - Was $899.99 Now $699 US! 1
Available Service Plans:

| | | |
| --- | --- | --- |
| Plan - Max. Speed - Down/Up 2 | Daily Data Transfer Allowance | Monthly Service Fee |
| Home - 700 Kbps/128 Kbps | 200 MB | $59.99/mo. NOW $49.99/mo.! |
| Pro - 1.0 Mbps/200 Kbps | 300 MB | $69.99/mo. |
| Pro Plus - 1.5 Mbps/200 Kbps | 350 MB | $79.99/mo. |
| Small Office 3 - 1.5 Mbps/300 Kbps | 425 MB | $99.99/mo. |



Baja Satellite is an Authorized HughesNet® Reseller. For more information Contact Us today: alan [- at -] BajaSatellite.com, www.bajasatellite.com, (530) 903-4257 (US), (01) 555 351 0882 (Mexico), Baja California Sur


1 Equipment prices shown are after $199.99 HughesNet mail-in rebate, and do not include Mexican shipping, importation or installation. 2 Absolute maximum speeds as stated by Hughesnet. Actual speeds will be less. 3 Small Office Plan requires 0.98m. dish with 2-watt transmitter.

Health Insurance - Whether you are already here or planning your trip down, remember to put health insurance on your 'Things to Do' list. Medicare provides no coverage, and domestic plans are not designated for international travel or living abroad. U.S. and Canadian Plans. Coverage is inexpensive and effective immediately. Toll Free from Mexico land line 01-800-681-6530; Toll Free from US 1-877-237-2025 ext 5502 - , Rudy [- at -] BrokersAssistance.com, www.americaninsuranceinmexico.com

Great Furniture and Accessories - Great Furniture gently used but in PERFECT condition... just the ticket for your new home on the Baja - Sandra Scandiber, scandiber [- at -] yahoo.com, masmilagros.weebly.com/index.html, 624-129-8691

Internet Domain Names For Sale - I reserved a few domain names that I don't need. Would be interested in selling them to an interested Baja Western Onion reader rather than letting them go abandoned:
BajaComputer.com - BajaH2O.com - BCSSolar.com
$250.00 dlls. each - Alan, alan [- at -] baja1.com


Baja Western Onion Private-party Ad Special! Get More Coverage! Two Weeks - Four Issues - Only $10.00 US:
- Yard Sales, Vehicles, Misc. For Sale or Wanted - Reach 3,200 Baja Western Onion Readers - Your Ad Featured In a Red, Highlighted Box - Available Only For Private-Party, Non-Commercial, Text-Based Ads (Please Note: not available for commercial ads, real estate for sale or rentals available)
Payment: All Private-party Special Ads must be prepaid in advance of initial run date. You can make your payment online via PayPal at https://www.paypal.com/cgi-bin/webscr?cmd=_xclick&business=advertising [- at -] BajaWesternOnion.com, or call us at 001 530 903 4257 or 01 33 8421 1142 (From Mexico) to make payment directly by VISA, MasterCard, American Express, or Discover Card.

Free Ads: As always, you can place a Free text-based ad in the Baja Western Onion once every 14 days. Submit your Free Ad or Article here: www.bajawesternonion.com/submitad.asp. -


For more details on our commercial advertising opportunities, please visit www.bajawesternonion.com/advertising.asp or send an Email to: advertising [- at -] BajaWesternOnion.com


---
Submit your Misc. Sales and Services Available/Wanted articles here: http://www.bajawesternonion.com/submitad.asp



Return to Top
---

---
Real Estate, Rentals, and House Sitting - Available/Wanted
---

Hotel Room Paraiso Del Mar - Bayfront Hotel Style room for rent in beautiful Paraiso del Mar resort on island across bay from La Paz. Surrounded by endless open beaches. World class golf, fishing, kayak. Two-night minimium, $200 per night - , RCRCA [- at -] cox.net

Home For Sale in Cabo San Lucas Mexico - Beautiful Baja Property For Sale! Casa Fair is a private Mexican villa located between the one and only Palmilla resort and San Jose del Cabo. 5 bedrooms, 5 bathrooms, 2 half-baths, 3-car garage, entertainment room, pool, hot tub, laundry room, rooftop deck, etc. Watch the whales, and the sunset from your terrace in one of the most beautiful luxury homes for sale in Cabo San Lucas, Mexico. Suitable for a single-family home, corporate retreat, income-producing rental property, exotic vacation home and more! Visit our website for more information. - , info [- at -] casafair.com, www.casafair.com/, Cabo San Lucas

Lovely Home for Sale in Cabo - For Sale By Owner: Never-lived-in home in Cabo San Lucas. Located in the private gated community of Paraiso Iguana. Includes underground backup cistern and custom-built balcony. Minutes away from downtown Cabo with easy access to the new Todos Santos highway. Offers views of both the Sea of Cortés and Pacific Ocean. 2 bedroom, 2 bath, approx. 1,000 sq. feet. Huge Rental Income Potential. Price Reduced - $85,000 USD OBO. - Dax Morgan , ssmorgan5 [- at -] aol.com, 612-140-3070, La Paz


Lot For Sale in Palmira Bellaterra - For Sale by Owner: 287 m2 residential lot in beautiful La Paz. Clear Title. Includes documents and approved plans for custom, multi-story home with 3-car garage. Located in the tranquil community of Palmira Bellaterra in Lomas del Palmira. Minutes away from downtown with easy access to the Malecón. Breathtaking views of the city and bay! A million-dollar opportunity for only $100,000 USD. Photos and more available upon request. - Dax Morgan, ssmorgan5 [- at -] aol.com, 612- 140-3070, La Paz

Moving to Pescadero and Looking to Rent or Homesit - Hi there amigos! I'm currently living in La Paz but planning to move to Pescadero and I'm looking for a place to rent. Nothing fancy or expensive, just a nice place to live and rest. I'm cool with sharing a place. I'm friendly, tidy, well organized, with hands-on attitude and love to learn to cook. I'm planning to move down in the following weeks. I know it's a hard time to ask for a house to home sit, but I'm also open to do that if there's a chance. So, if someone is renting or willing to share a place, please be so kind to let me know and contact me. - Hector Jaime, hectorjf [- at -] gmail.com, 612-152-1770


---
Submit your Real Estate/Rentals/House Sitting/Property Management Services articles here: http://www.bajawesternonion.com/submitad.asp



Return to Top
---
Rides or Caravans Available/Wanted
Note: Ads will run for two weeks unless dated. Please list the date in the title, and specify which airport. Goes without saying, everyone shares expenses for beer, gas, food, etc

To remove your ad if you find a ride or caravan, let us know here: www.bajawesternonion.com/submitad.asp -
---
Ride Needed From SJD Airport To TS Nov. 3 - I'm arriving on Flight 1225 out of Dallas, landing at 10:10 A.M. with a modest amount of luggage and I'm hoping someone might be picking up or dropping off at the airport and could bring me back to TS in exchange for a very generous contribution of gas money. Please email or, on Nov. 3, call or text my MEX cell: 612.143.7561. Thanks! - Ward Whitehead - , wardwhitehead [- at -] hotmail.com

Nov. 4 - Ride Needed From SJD Airport To Todos Santos - Will anybody be at the SJD airport at about 7:00 PM? I need a ride to Todos Santos. Thanks, Jamie Stephens - Jamie Stephens, cliffnjamies [- at -] hotmail.com, 612-134-0482

Looking For a Ride Share in November - I'm driving from Kelowna, British Columbia to Cabo first week of November. Will be traveling via I-5 through Oregon and California. Won't have much spare room for extra luggage, so if you travel light, are willing to share expenses and want to have a heck of a road trip, get back to me. I did this drive last year so I'm familiar with the route and the process. Will be crossing at TJ. I prefer to do the driving myself, but the company and second set of eyes are a plus. Thanks, Mirek - Mirek Hrabanek, canczech26 [- at -] hotmail.com, Cabo San Lucas

Driver Needed For Small Truck in November - I need someone to drive my Nissan Frontier truck from San Diego to Todos Santos in early November. Bonded and insured, references required. My email is jennylindberg [- at -] earthlink.net. - Jennifer Lindberg, 505-466-0976, Todos Santos

Ride Needed To Ensenada around Nov. 15 - Need a ride north to Ensenada. Can help with driving - Gary, 612-134-0498

Caravan Or Rider For Mid November - Leaving from Phoenix, AZ around the 17th of November (but I hail from Vancouver, BC) and driving to Todos Santos/Pescadero. Can pick you up on route in AZ or California. Hoping to have someone along familiar with the route and who is possibly bi-lingual, or to caravan with other driver(s). Will be driving a pick-up and pulling an RV trailer. Camping on the way. - Craig, Canada

Rider Wanted From New Mexico - Driving down to Baja mid/late November from Taos, NM, Nogales-Los Mochas-Ferry- La Paz - Rosario Carelli, wearethedrum [- at -] yahoo.com, 828-380-0122

Date Change On Drive To Cabo - Previously, I was leaving San Diego for Cabo on Nov 22. Have pushed this date up. Can now leave Nov. 18, 19, or 20 -- your choice. Can caravan or have room for passenger with luggage. Share gas. I'll do all the driving. This is my 26th drive. Comfortable SUV. - Ina Yank, inayank [- at -] ix.netcom.com, 949-200-7727

Caravan Wanted in December - Want to caravan to Todos Santos area in early December, could meet with you anywhere from Santa Rosa, CA, to San Diego. Please email Debra at goodthym [- at -] mcn.org - Debra Dawson, goodthym [- at -] mcn.org

Baja Via Baja Ferries Mid-December - Traveling through Nogales, around Dec. 17. Plan on taking the Baja Ferry to La Paz on or around Dec. 19. Is anyone traveling that route and would want to convoy together? Safety in numbers. I speak fluent Spanish and can help with translating. Let me know, Sylvia, treaturfeet [- at -] yahoo.com or phone 928-282-5969 - , treaturfeet [- at -] yahoo.com, Los Barriles


---
Submit your Rides or Caravans Needed/Available articles here: http://www.bajawesternonion.com/submitad.asp



Return to Top
---
Pet Corner (Lost and Found pet articles will run for two weeks)
Let us know if you find or place your pet so we can remove your ad -
---
Found Puppy - I found a small, tan, female puppy with a green collar Saturday afternoon in front of Caffe Todos Santos. She seems to be 2-4 months old perhaps, very clean, and very healthy. I assumed her owner was close by but nobody knew anything about her. We later believed she may have gone missing the night prior because our dogs were barking at a small animal that night. She's being taken care of at the Old Charles Stewart home (Obregon & Centenario, next to Caffe Todos Santos) if the owner happens to find this ad. - Janine Wall, coneyislandgreen [- at -] yahoo.com, 612-152-4499, Todos Santos

Sweetheart Cat Needs Home - Lovable, affectionate, friendly and well mannered. This "street cat" has been spayed, is young but not too, probably around a year old. She's been given flea treatment, fed well for a few weeks and in good shape now. But we are leaving for the states at the end of November and she needs to find a permanent home. - Colleen Ray, 805-712-1664, Todos Santos

Dogs and Cabo Airport - Courtesy Baja Pony Express - Just returned with our dog and discovered a new procedure upon arrival regarding dogs. You must take your dog to the Agricultural office, show the official the Original rabies and health certificate and have the dog inspected. They give you two inspection certificates with official stamps. You need one stamped certificate to leave with the dog if you plan to return by air to the US. Our delay getting out of the airport: one hour! - Bob And Karen Porter

Can You Adopt Alex's Dog? - The late Alejandro "Alex" Manjarrez Zuniga leaves behind a beautiful 2-year-old male pointer-mix. Very well behaved, street wise and great with kids. Those interested please contact. - Rick Plaia, rickplaia [- at -] hotmail.com, 612-178-0000, Todos Santos

Baja Dogs needs Transporters - Baja Dogs needs transporters from Cabo to Calgary and Cabo to Vancouver. We have adopted dogs awaiting their new homes. Please email Dhorea bdlp [- at -] bajadogslapaz.org or call 612-140-2575 for details. Thank you for helping. - Dhorea Ryon, bdlp [- at -] bajadogslapaz.org, www.bajadogslapaz.org/, 612-140-2575, La Paz

Good Info On What To Do If You Lose Your Dog In Baja (or Anywhere) - This excellent article courtesy of Baja Insider: www.bajainsider.com/baja-life/pet-care/findinglostdogs.htm -
Impossible to Resist! - New arrivals at Kitty Heaven despite all of our efforts to spay and neuter (but without the help of the community, there would be even more!).

All colors, all very young and playful. For more information, call Angelique at 612-145-0250 or write her at BajaKitties [- at -] Yahoo.com

Kitty Heaven is the only all-cat refuge in Baja California Sur. Visit us on the web athttp://bajarescue.org/#KittyHeaven.

We survive via your kind donations. To send your support, please click the "Donate" button below:


---
Submit your Pet Corner articles here: http://www.bajawesternonion.com/submitad.asp (and remember to Spay and Neuter your pets)



Return to Top
---
Quote of the Day: " If you would be loved, love, and be loveable. " ~ Benjamin Franklin


---
Looking for the complete Community Events Calendar? Click Here!


---
Return to Top
---
---
Help Support The Baja Western Onion!

We can accept donations by Credit Card, PayPal, cash, check or direct deposit.

For more information, please visit our web site at http://www.BajaWesternOnion.com/donate.asp.
Copyright © 2006 - 2011. The Baja Western Onion. All Rights Reserved. Published Using 100% Recycled Electrons :)
Return to Top
---