On The Web Site:
---
Today's Weather
Click for Extended Forecast

---
Community Access
Policia Preventiva
Todos Santos Police
612 145-1052
Commandante Navarro

Ministero Publico
State Police
612 145 0198
Commandante Erigoyen

Bomberos
Fire Department
Cel. 612-142-6387
Commandante Cadena


---






---
Baja Western Onion
Alan Thompson - Publisher
Debra Webster - Advertising
e-mail For General Feedback
---
---
News and Events, Questions and Answers
---
Benefit Concert For The Kids of Hogar de Los Niños - Saturday, December 10th at 5pm, La Esquina in Todos Santos invites you to the first annual Concert for the Kids, a festival of music benefitting el Hogar de los Niños. Enjoy the musical stylings of fine local artists, featuring Forest & Friends, Jay Nash, Tim Lang & AK-47. Get ready to get down with Ben & the Men at 10:30pm. Ice cold beer, fine wine and delicious Margaritas are 2 for 1! Limited tickets are available at La Esquina or San Pedrito Surf Hotel for 70 pesos, get 'em while they last. Don't forget to bring pesos for a silent auction, and your donations of shoes and clothing! - Andres Keller, ak4pgh [ - a t - ] yahoo.com, 612.133. 9602, Todos Santos
Rancho El Camino Tour - Crossroads Christian Church is hosting a tour to Rancho el Camino Sat., Nov. 12, at 10 a.m. If you haven't been out to see this incredible ranch and the amazing work they are doing for the children, please plan to join us. The ranch is a horse ministry that is reaching out to wounded children who need emotional and spiritual healing. These kids come from poverty stricken homes, and are often mentally or emotionally troubled in some way, have disabilities of some type, and/or have some type of an illness such as cancer.

We will be meeting at Crossroads Christian Church (located on Abasolo between Sonora and Sinoloa) at 9 a.m. Sat., Nov. 12, and leaving at 9:15 prompt in order to be there in time for 10 a.m. Please let me know if you plan to attend so I have a head count and don't leave anyone behind. Contact Cindy are cindycrane2000 [ - a t - ] yahoo.ca or call 612-141-9903 - Cindy Crane, cindycrane2000 [ - a t - ] yahoo.ca, www.espirituyverdad.com/Rancho/, 612-141-9903, La Paz
East Cape Arts Association Abandons Art Center Project - October 19, 2011 – The East Cape Arts Association announced today that they are abandoning the Colina del Sol art center project. After careful consideration of the current global economic situation, the Association's board of directors has determined that sufficient fund cannot be raised to move forward with the project. The board would like to thank all those who contributed and worked on this project. Carlos Estrada from Colina del Sol deserves a special thanks for his willingness to donate the land for the art center and for his continued support.

Any monies raised for the art center project will be returned. All monies received by the Association in future will be used for the children's art programs. For more information about the East Cape Art Association projects and how to help, visit their website at: www. eastcapearts.com, - Walter S. Zapotoczny Jr., mail [ - a t - ] wzaponline.com, Los Barriles
Used Clothing Sale Benefits Baja Dogs - Our sale will be held in La Paz Sat., Nov. 19, from 10 a.m. to 2 p.m. at Pelicanos Restaurante & Bar, Carr, Norte, KM. 14, El Centenario. Take this opportunity to Sell, Shop, or Donate your used items to the Baja Dogs table! To register or donate, please contact Cindy at 612-141-9903 or write her at cindycrane2000 [ - a t - ] yahoo.ca Registration Fee: $50 pesos donated to Baja Dogs. Admision Fee: Any donation to Baja Dogs

Go through your closet and pull out that stuff that is too big, too small, you don't like any longer, or you love but haven't had it on for over a year. Also bring along your clothing, hats, scarves, shoes, purses, under garments and jewelry. Please be sure that clothing and other items are clean and in good condition. Pelicano's has a nice lunch and drink menu, so you can have lunch and shop! If you don't have anything to sell, then bring a friend and come to shop! - Cindy Crane, cindycrane2000 [ - a t - ] yahoo.ca, 612-141-9903, La Paz
Water Shortage Or What? - Since September our road has been having problems with city water. It seems that they are turning the valve on and off, and when it is open, it is not open all the way which means that the pressure is too low to fill Tanques on the roofs. The water has been off almost all the time for the last 9 days. Is this happening in any other areas of Todos Santos? Please let us know. - Sylvia St.clair, Todos Santos
Travelling South - Just want to let people know that there is construction south of Ensenada and also north of Guerrero Negro that makes for slow going - be patient! Stayed at the Paraiso Colonet hotel, just south of Colonet. Lovely room, great food and nice Mexican owner who speaks English! Had some really bad back pain and found a CA retired but newly established chiropractor in San Quintin, MX 616-107-3124. If you need an adjustment, I highly recommend him. - , cmyviews [ - a t - ] yahoo.com
Where Can You Rent Mountain Bikes? - People always ask where they can rent a Mountain Bike and I don't have an answer for them. Might be a good opportunity for somebody? Anybody know where they are available? - Aldo, tropic.aldo [ - a t - ] yahoo.com, Todos Santos
Dogs and Cabo Airport - Courtesy Baja Pony Express - Just returned with our dog and discovered a new procedure upon arrival regarding dogs. You must take your dog to the Agricultural office, show the official the Original rabies and health certificate and have the dog inspected. They give you two inspection certificates with official stamps. You need one stamped certificate to leave with the dog if you plan to return by air to the US. Our delay getting out of the airport: one hour! - Bob And Karen Porter
Information For Boaters - Courtesy Ventana View - We were boarded on Sunday by the Mexican navy. They were very polite and helpful, and this is what we learned... They check for fishing licenses, you must carry them as well as the original of your vessel license from your home Province / State. They also want to see your original immigration document and a Temporary Import Permit for the vessel if it is OVER 4 Meters
The Temporary Import Permit may be obtained at Pichilingue, Port Authority ( Banjercito ) Take originals and copies of Passport, Immigration document, Vessel Permit, Trailer Registration and Outboard motor registration or Bill of Sale. The cost is $ 50.00 USD for 10 years. Thank you to Yolanda at the the Marina for the information on how to get the Importation Permit! - Ivan and Marilyn
La Paz Tope Note - Courtesy Ventana View - Yesterday Dan and I went into La Paz for groceries. On the way back just past the new Casino are a series of white lines and bumps to slow you down before an intersection. We looked for a stop sign that usually follows bumps like that - none existed. We stopped at the light one block after the previous intersection. Dan looked back and saw a motorcycle cop following us, not unusual in La Paz. But then he pulled up alongside us and waved us over. He said we failed to stop at the stop sign back there where the bumps were. We said no, we didn't see any stop sign and wanted to go back and look. The cop then asked us to follow him and pull over further than what seemed necessary - he took us further down the road so any possibility of looking at the "stop sign" would be difficult. Both of us stated there was no stop sign by the bumps and we wanted to walk back and look (it was about 91 degrees and humid). We were going back and forth with this guy and finally he said OK just go and be careful next time. Today, we went back into La Paz and basically followed the same route back. There is no Stop Sign anywhere around the bumps. We stopped anyway at the last white line/ bump. Some things just don't change. Be aware and don't ask how much do I owe. - Michelle Koff
Small House Owner Sought - I am currently looking for the owner of the small home on the corner of Las Playitas and Los Caballos. Please email me if you know the owner or have any contact info. - Eva, anothergreatday [ - a t - ] live.com, Todos Santos
Baja Dogs, La Paz Refuge Tour Offered - Baja Dogs, La Paz, will begin their monthly refuge tours Sat., Nov. 5. We will meet at 8:30 a.m. and the tour will begin at 9 a.m. If you have never seen the refuge and would like to be included, please contact Cindy at cindycrane2000 [ - a t - ] yahoo.ca. Thanks! Cindy - Cindy Crane, cindycrane2000 [ - a t - ] yahoo.ca, www.bajadogslapaz.org/, 612-141-9903, La Paz
Baja Western Onion Community Workshops And Meetings Page - This is a reminder that we have a page on the Baja Western Onion website where you can look up recurring community workshops and meetings. The page can be found at: www.bajawesternonion.com/workshops-meetings.asp

We rely upon our readers to send us the dates and times for these listings, and also to notify us if a workshop or meeting time has changed or is no longer available. Please let us know if any information on this page needs to be updated and we'll take care of it. - Alan And Debra, moderator [ - a t - ] bajawesternonion.com,
Today's Exchange Rate - Mexican Pesos to 1 USD - Courtesy X-rates.com
---
Submit your News and Events, Questions and Answers articles here: http://www.bajawesternonion.com/submitad.asp
Return to Top
---

---
Featured Events This Week
Anyone planning an event should check the Online Community Calendar before choosing a date to see if something else is already planned and avoid conflicts. Check the Online Community Calendar here: www.bajawesternonion.com/community-calendar.asp -
---
Sunday, October 23
Dharma Talks By Robert Hall - 10-11:30 a.m, La A.R.C.A., Calle Topete and Pilar, Todos Santos. 10th year of talks offered by Robert K. Hall, M.D., psychiatrist and lay Buddhist priest. Contact: Alvaro Colindres elhdarma [ - a t - ] mac.com, 612-145-0676, www.eldharma.com
Friday, October 28
The Sandbar's Halloween Party - Doors open at 6 p.m. Halloween fun from 6-8 p.m. Music by K-L Reggae Band starts at 9 p.m. with a $50 peso cover charge. Kids games, costume prizes, chili and hot dogs. - Helen Bay, helenbay [ - a t - ] me.com, www.sandbarbaja.com, 612-102-9135, The SandBar, Pescadero BCS
Saturday, October 29
Third Annual Costume Halloween Party/Fundraiser - 8:00 pm, Hotel California, Todos Santos. To benefit the Lifeguards-Proplayas program. Live music, raffle, silent auction and prizes for best costumes. Free admission. www.hotelcaliforniabaja.com
---
New Community Events and Workshops Notification Page - You can submit event notices for The Community Calendar or Workshops and Meetings pages. The Community Events calendar is limited to non-recurring community events (Sorry, no "Happy Hours," "Daily Specials," or other recurring business activities :). Submit your Community Events and Workshops notices here: http://www.bajawesternonion.com/submit-event.asp
Return to Top
---
---
Stepping Out - Food, Music and Entertainment
---
New Restaurant in Las Tunas - Antojitos Mexicanos in Las Tunas has opened! Right next to Supermercado Juanita. Breakfast, lunch, and dinner served. Fabulous Mexican food, American favorites, and Dinner specials! 7 a.m. - 8 p.m. Free WiFi! - Caroline Benzel, caroline.benzel [ - a t - ] gmail.com, Todos Santos
The Sandbar's Halloween Party is Coming!
Come join us Friday, Oct. 28, at The Sandbar
• Doors open at 6 p.m. • Halloween fun from 6-8 p.m. • Music by K-L Reggae Band starts at 9 p.m. with a $50 peso cover charge • Kids Games • Costume Prizes • Chili and hot dogs •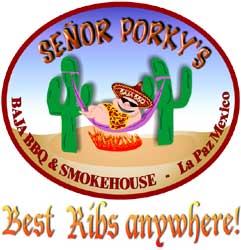 Señor Porky's Baja BBQ and Smoke House!
The Best Ribs Anywhere!

New Restaurant in La Paz - Featuring Kansas City slow-smoked meats not found anywhere in Mexico. Open 7 days a week from 9 a.m. to 10 p.m., and weekends until midnight. Watch the sunset from our spectacular ocean view! Located on the Malecon in La Paz at Alvaro Obregon #670, on the corner of Allende and Rosales (next to the Arco Hotel).

To ensure the best quality for Porky's Smokehouse Meats, we start with the best meats available. Then we dry-rub the meats with a combination of 20 spices, then slow-smoke for up to 18 hours at low temperature to obtain maximum flavor and tenderness while sealing in the natural juices and smoke flavor that is unmatched anywhere! We know you'll agree that Señor Porky's Baja BBQ and Smoke House are the best you have ever tasted. Menu highlights include:

• Slow Smoked Ribs • Pulled Pork • Beef Brisket • BBQ Chicken • Smoked Bratwurst •


Plus fantastic side orders include Pasta Salad, BBQ beans, Coleslaw, Sweet Potato fries, New Mexico Green Chile with Pork, Caesar Salad and Homemade Deserts. Dine in, or carry out from our "Pig Out" Meats to Go Menu. Download our entire Menu here: files.me.com/richards771/1wclv6

Special! - Mention you saw our ad in The Baja Western Onion and get a free Margarita or Pina Colada with dinner
OR
Buy one dinner and get the second dinner at half off!

Special offer good until Nov. 1, 2011. For more information, call 612-129-3667. - Richard Stubbs, richards77 [ - a t - ] pcisys.net, La Paz
Tim Lang Live - Marina's in Pescadero presents Tim Lang on Saturday nights. Music from 6-9. Come out and join the fun with happy hour and dinner specials! - Tim, tim [ - a t - ] timlang.net, www.timlang.net, Pescadero
Baja Boar Organic Meats - We are again at the Farmers Market at Cañada del diabolo this coming Saturday. We will have our famous sausage (Baja's best, guaranteed!)as well as extra thick cut pork chops, dry-aged veal ribs and roasts. We will also take orders for our lamb which can be delivered the following week. Looking forward to seeing you there - Ben and the Men!! - Baja Boar, benjaminrube [ - a t - ] yahoo.com, 612-134-7820, Pescadero
---
Submit your Stepping Out - Food, Music and Entertainment announcements here: http://www.bajawesternonion.com/submitad.asp
Return to Top
---
---
Misc. Sales and Services Available
---
Fall Furniture Sale! - La Cañada del Diablo is having their Fall Furniture Sale! Barstools starting at $45 USD, dining chairs starting at $75 USD, club chairs starting at $100 USD, ottomans starting at $50 USD. Limited quantities. Call or email for further information or individual pricing and photos. - Linda Hamilton, linda [ - a t - ] lindahamiltondesigns.com, www.lindahamiltondesigns.com, www.facebook.com/event.php?eid=230711643643372, 612.105.2857 -OR- 612.140.0069, Todos Santos
For Sale: Baja Bug - 1965 Baja Bug features full tube frame through full body pan, 1968cc VW engine, weber 40 carb, Bus 002 trans, oil cooler, power steering, disc brakes, fully guaged, suspension seats, front winch, fiberglass nose and more. Professionally built. Come see. Could be a Baja Pre Runner. Ready for test drive! TodosSantos/Pescadero. Asking $8,000 (USD) OBO - Rick Flood, oldflood [ - a t - ] hotmail.com, NA, Pescadero

18' Ocean Fishing Boat For Sale - Comes with a new 60 HP, 4-stroke Mercury motor with only 93 hours on it:
Easy Pull Trailer With Excellent Tires
2 New Batteries
Center Fiberglass Console
Ready To Go Fishing!
Price $8700 USD. This is a great price -- it's like buying a motor and getting the boat and trailer for free! - Kent Hansen, kenthansen [ - a t - ] shaw.ca, La Paz
For Sale: Toyota Corolla S 2003 - Toyota Corolla S '03, automatic, a/c, 4 cylinder gas, front wheel drive, 4 door, am/fm stereo, cd player, cassete player, adjustable steering wheel, child safety locks, daytime running lights, fog lamps, front disc/rear drum brakes, power door locks, electric windows and mirrors, power steering, aluminium wheels, dual front airbags, imported. Like new. Asking $8,250 USD. vin car:1NXBR32E93Z056004 - Rodolfo Estrada, rodolfo.estradam [ - a t - ] yahoo.com.mx, cell: 612-189-0155, La Paz
Spanish Lessons With Guillermo Bueron In Pescadero. - Berlitz Total Immersion Method for all levels. Great for sales and business people, foreign residents or anyone who wants to speak Spanish. Small groups, one hour per day, Tuesday, Wednesday and Thursday. Individual classes may also be available. New classes starting Oct. 18 at 1 p.m. Workshop held at Baja Beans Pescadero across the Sandbar. - Guillermo Bueron Prieto, g_bueron [ - a t - ] yahoo.com, 612-161-4165, Todos Santos
Acupuncture/Traditional Chinese Medicine - Clinic to re-open Nov. 7. Many people think of acupuncture as the remedy-of-choice for pain, but did you know that Chinese Medicine is also very effective for treating digestive issues, emotional imbalance, and for maintaining optimally vibrant good health? Not fond of needles? There are many non-needle protocols within the scope of Chinese Medicine, and I would be happy to discuss options with you. Email now to arrange an appointment or ask questions about this ancient and effective system of achieving and maintaining your well-being on many levels. - Jane Sipe, L. Ac., jasi57 [ - a t - ] juno.com
Halloween Outfits Are Here - I went to visit Tesoro Escondido today and found Halloween outfits and decorations in every size. Nancy also has a great variety of gently used clothing for men, women and children. Stop by and see all of her cool stuff. She is located just behind La Esquina and open Monday - Saturday. - Eva, anothergreatday [ - a t - ] live.com, 612-143-3565, Todos Santos
Surf Community Research - Support the Surf! Please take the BCS online surf community survey and help us better understand the social, environmental, and economic contributions of the surfing community to the Mexican state of B.C.S. As a result, we will be better represented when proposed coastal development projects threaten marine and coastal ecosystems, and our favorite surf breaks. Additionally, we're working to better understand your preference for the location of a national or regional Mexican Surfing Reserve in B.C.S. Take the survey in Spanish or English! - AJ Schneller, aj [ - a t - ] wildcoast.net, www.wildcoast.net/media-center/news/3-if-you-have-surfed-in-baja-california-sur-mexico-in-the-last-year-we-need-your-input-and-ideas, 619-333-9087, Baja California Sur
Dunlop Like-New Tires - Five Dunlop used tires for sale, like new. # AT22/26575R16. $3,000 pesos, firm. - Erick Ochoa, erickthe8a [ - a t - ] yahoo.com, 612-145-0500
Servicios Computadoras, Todos Santos - Ofrece servicios de Internet y Computadoras. Venta, instalacion y soporte de redes cableadas e inalámbricas, anti-virus, Voice Over IP (Vonage, Net2phone), computadoras.
Computer Services, Todos Santos - Offering internet and computer services. WiFi / VoIP / Computers - Sales, installation, service and support: wired and wireless networks, virus removal, Voice Over IP (Vonage, Net2Phone), computers. - Josue Castillo Mayoral, Cellular: 612 159 2699, jocama85 [ - a t - ] hotmail.com, Todos Santos
The Finest Real Wood Furniture - At Caoba our furniture is created from solid hardwoods, joined together with strong wood joints and high quality hardware. Interior and exterior solid wood furniture, House planning and extension, Kitchen, Bathroom, Bedroom, Entertainment Centers, Home Bar, Doors and more. We are located in Todos Santos in Rafael M. Pedrajo Street, between Santos Degollado and Verduzco, with personal attention in La Paz, Todos Santos, Los Cabos, San José de Los Cabos and Los Barriles. - Israel Mejia, caoba_emadera [ - a t - ] yahoo.com.mx, 612-105-2481, 612-103-8395, La Paz
Oscar's Plumbing Services - Plumbing, electrical and concrete services for both new and repair work. Best references available, over 20 years experience in the Todos Santos area. For more information, please call my cell, 612-117-9685 - Oscar Parra, oscarcesar52 [ - a t - ] hotmail.com, 612- 117-9685, Todos Santos

Airport Transportation- 10% Discount On Round Trips - We offer private car transportation to the Airport. Safe Ride in Baja Sur is offering a 10% discount on round trip transport to and from San Jose or the La Paz airport. Please contact us for a quote at saferideinbajasur [ - a t - ] gmail.com - Safe Ride, saferideinbajasur [ - a t - ] gmail.com, Pescadero
Need a Ride to or From the Airport? Or Someone to Assist You With Errands? - I am a young, bilingual Christian man and I can provide you with rides to or from the La Paz or San Jose Del Cabo airports. I can also help you with courier services, errands, or navigating the intricacies of dealing with Mexican businesses and the government; Car Registrations, TelCel and TelMex, CFE, Seguro Social, etc.

Reasonable Rates - Contact: Ernesto, Cel. 612-117-7497, ernie_net [ - a t - ] hotmail.com
Wanted: Used Furniture - We are looking for used furniture of any kind and condition you might want to get rid of. We will haul it away and put to good use what might be in your way. Also, if you have refrigerators, freezers or washers, we might be interested. - Ben Rube, bajaboar [ - a t - ] yahoo.com, 612-154-8118, Pescadero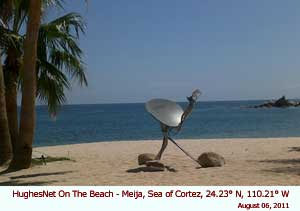 Now, Get Internet No Matter Where You Live:
Always-On Connection
Available Where DSL and Cellular Won't Reach
PC, Mac, Wireless Compatible
Multiple Computers Can Share the Same Internet Connection Full-Time
Vacation Holds Available
Professional Installation Available
0.74 Meter Dish with 1 Watt Transmitter - $499.99 Now $299 US After HughesNet rebate!1.
0.98 Meter Dish with 2 Watt Transmitter - $899.99 Now $699 US After HughesNet rebate!1
Available Service Plans:

| | | |
| --- | --- | --- |
| Plan - Max. Speed - Down/Up 2 | Daily Data Transfer Allowance | Monthly Service Fee |
| Home - 700 Kbps/128 Kbps | 200 MB | $59.99/mo. NOW $49.99/mo.! |
| Pro - 1.0 Mbps/200 Kbps | 300 MB | $69.99/mo. |
| Pro Plus - 1.5 Mbps/200 Kbps | 350 MB | $79.99/mo. |
| Small Office 3 - 1.5 Mbps/300 Kbps | 425 MB | $99.99/mo. |
Baja Satellite is an Authorized HughesNet® Reseller. For more information Contact Us today: alan [ - a t - ] BajaSatellite.com, www.bajasatellite.com, (530) 903-4257 (US), (01) 555 351 0882 (Mexico), Baja California Sur
1 Equipment prices shown are after $199.99 HughesNet mail-in rebate, and do not include Mexican shipping, importation or installation.
2 Absolute maximum speeds as stated by Hughesnet. Actual speeds will be less.
3 Small Office Plan requires 0.98m. dish with 2-watt transmitter.

Baja Western Onion Private-party Ad Special!
Get More Coverage! Two Weeks - Four Issues - Only $10.00 US:
- Yard Sales, Vehicles, Misc. For Sale or Wanted
- Reach 3,200 Baja Western Onion Readers
- Your Ad Featured In a Red, Highlighted Box
- Available Only For Private-Party, Non-Commercial, Text-Based Ads.
Payment: All Private-party Special Ads must be prepaid in advance of initial run date. You can make your payment online via PayPal athttps://www.paypal.com/cgi-bin/webscr?cmd=_xclick&business=advertising [ - a t - ] BajaWesternOnion.com, or call us at 001 530 903 4257 or 01 33 8421 1142 (From Mexico) to make payment directly by VISA, MasterCard, American Express, or Discover Card.
Free Ads: As always, you can place a Free text-based ad in the Baja Western Onion once every 14 days. Submit your Free Ad or Article here: www.bajawesternonion.com/submitad.asp. -
For more details on our commercial advertising opportunities, please visit www.bajawesternonion.com/advertising.asp or send an Email to: advertising [ - a t - ] BajaWesternOnion.com
---
Submit your Misc. Sales and Services Available/Wanted articles here: http://www.bajawesternonion.com/submitad.asp
Return to Top
---

---
Real Estate, Rentals, and House Sitting - Available/Wanted
---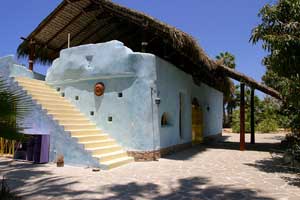 Todos Santos Beach House on a Tranquille Lush 5, 206.22 Sqmt Property - For Sale by Owner: - Two (2) separate driveway entries give the 5, 206.22 sq meter (1.25 acre) property privacy from both the front and back, giving flexibility to build additional homes or to split in the future. Soil on the property is rich organic black soil, ideal for other organic gardening.

* Property is an enclosed oasis and has unlimited access to farm water that nourishes the over 85 mature mango trees, 80 lush palm trees over 5 feet, passion fruit trees, citrus fruit trees and avocado trees, all of which give the property its cool shade that is coveted in the region and frequently not available on other properties of comparable or more value in the desert landscape.
* Property has power, water (both municipal and farm water), gas and Internet.
* A 6-minute walk takes you to the secluded beach, and a 5-minute drive finds you in the heart of TS.

If you have questions or would like to make an offer after viewing the property on YouTube (www.youtube.com/watch?v=krg9FEeiRtk), feel free to contact us. Save on the fee and make us a good offer. - Anh Walch, anhwalch [ - a t - ] yahoo.com, 212-692-0912, Todos Santos
Great Summer Deals: 2 Hectares In Pescadero With Structure - Two parcels that are a little under 5 acres set back five minutes from downtown Pescadero. Great stone cabin with a palapa and water storage unit. Incredible cactus. Only $50,000 USD. An incredible deal at $2.76m2 for 18,092m2. Nothing like it. Please call for apointment to see this incredible deal... it will NOT last! - Richard Friend, Richie [ - a t - ] RicardoAmigo.com, ricardoamigo.com/Properties-2HectaresInPescaderoWithStructure.asp, 612-145-0551 , Pescadero
---
Submit your Real Estate/Rentals/House Sitting/Property Management Services articles here: http://www.bajawesternonion.com/submitad.asp
Return to Top
---
Rides or Caravans Available/Wanted
Note: Ads will run for two weeks unless dated. Please list the date in the title, and specify which airport. Goes without saying, everyone shares expenses for beer, gas, food, etc

To remove your ad if you find a ride or caravan, let us know here: www.bajawesternonion.com/submitad.asp -
---
Rider Or Caravan Loreto-Santa Rosalia-ferry-Guaymas To Phoenix - Leaving Oct. 23 from Loreto, catching Oct. 23 ferry from Santa Rosalia to Guaymas, then on to Phoenix, AZ. Have room for one person in my small car and/or caravan. Know it's last minute and wrong way for the season, but if it fits your schedule, email me at: rhintransit [ - a t - ] yahoo.com - rhintransit [ - a t - ] yahoo.com, Loreto
Ride Needed From Airport Oct. 25 - I'm looking for a ride from the airport to Todos Santos on the afternoon of Oct. 25. Please email me with price and availability. Thank you! - Esther, info [ - a t - ] estherarce.com
Seeking Passenger, Co-pilot, Or Caravan - from Northern California around Oct. 25. (no space to bring anything except one person and luggage) - Jane Sipe, jasi57 [ - a t - ] juno.com, 707 321 6823 USA
Ride to TS From SJD Airport Oct. 28 - I will be needing a ride from SJD airport to Todos Santos Oct. 28. Please write or call. - Rhoda Jacobs, barakabaja [ - a t - ] gmail.com, 612-157-6088 (cell)
Baja Caravan South After Nov. 1 - Looking to caravan with some folks thru Tecate to Ensenada after the first of November. Can meet in park on the California side the night before. Please contact me at gypszcaravan [ - a t - ] gmail.com - Tall Man, gypszcaravan [ - a t - ] gmail.com, 541-840-0392, United States
Looking For a Ride Share in November - I'm driving from Kelowna, British Columbia to Cabo first week of November. Will be traveling via I-5 through Oregon and California. Won't have much spare room for extra luggage, so if you travel light, are willing to share expenses and want to have a heck of a road trip, get back to me. I did this drive last year so I'm familiar with the route and the process. Will be crossing at TJ. I prefer to do the driving myself, but the company and second set of eyes are a plus. Thanks, Mirek - Mirek Hrabanek, canczech26 [ - a t - ] hotmail.com, Cabo San Lucas
Driver Needed For Small Truck in November - I need someone to drive my Nissan Frontier truck from San Diego to Todos Santos in early November. Bonded and insured, references required. My email is jennylindberg [ - a t - ] earthlink.net. - Jennifer Lindberg, 505-466-0976, Todos Santos
Rider Wanted From New Mexico - Driving down to Baja mid/late November from Taos, NM, Nogales-Los Mochas-Ferry- La Paz - Rosario Carelli, wearethedrum [ - a t - ] yahoo.com, 828-380-0122
Driving From San Diego In November - Driving from San Diego, through Tijuana, to Cabo on November 22-24 (am flexible on departure date). Would like a passsenger or caravan option. Comfortable SUV with room for your "stuff." I've made this trip about 25 times and I'll do all the driving. - Ina Yank, inayank [ - a t - ] ix.netcom.com, 949- 200-7727
Caravan Wanted in December - Want to caravan to Todos Santos area in early December, could meet with you anywhere from Santa Rosa, CA, to San Diego. Please email Debra at goodthym [ - a t - ] mcn.org - Debra Dawson, goodthym [ - a t - ] mcn.org
To Baja On Baja Ferries Mid-December - Hoping to find someone to convoy to La Paz/Los Barriles in mid December via the Baja Ferry. Speak fluent Spanish and can help with translating along the way. Would like to leave around Dec. 17, cross over the Nogales border Dec. 18, with an overnight in San Carlos and then on to Toplobampo and the ferry Dec. 19, flexible on dates, let me know if you are interested in traveling. Have two dogs that ride well and stay in truck during crossing to La Paz. Sylvia, treaturfeet [ - a t - ] yahoo.com - Sylvia L. Ossa, treaturfeet [ - a t - ] yahoo.com, 928-202-4926, Los Barriles
---
Submit your Rides or Caravans Needed/Available articles here: http://www.bajawesternonion.com/submitad.asp
Return to Top
---
Pet Corner (Lost and Found pet articles will run for two weeks)
Let us know if you find or place your pet so we can remove your ad -
---
Can You Adopt Alex's Dog? - The late Alejandro "Alex" Manjarrez Zuniga leaves behind a beautiful 2-year-old male pointer-mix. Very well behaved, street wise and great with kids. Those interested please contact. - Rick Plaia, rickplaia [ - a t - ] hotmail.com, 612-178-0000, Todos Santos
Found a Lost Dog in Los Cerritos - Community: if someone lost a white dog with a pink collar on the way to Los Cerritos, we have found her and are keeping her at the Minisuper Los Arcos in Pescadero. - Mayra Torres, mayra_pithaya [ - a t - ] yahoo.com.mx, 612-131-7564
Good Info On What To Do If You Lose Your Dog In Baja (or Anywhere) - This excellent article courtesy of Baja Insider: www.bajainsider.com/baja-life/pet-care/findinglostdogs.htm -
Dog Lost? Check with Baja Dogs - If you have lost a dog, please check with Baja Dogs La Paz at 612-155-8948 or email lostdog [ - a t - ] bajadogs.org. We quite often have dogs at the refuge that we hope owners will claim.

Dogs for Adoption: We have many wonderful dogs for adoption. Please come out and visit the refuge in El Centenario or call 612-155-8948. All of our dogs are vaccinated, spayed or neutered and healthy.

How to Donate: To donate to Baja Dogs La Paz, you can do so through Pay Pal, donate directly through our bank: Bancomer, Account #164033159; donate directly at the refuge or email bdlp [ - a t - ] bajadogslapaz.org and we will make arrangements to pick up your donation. We also are very grateful for any donations of any type of dog food. Please call 612-140-2575 for pick up. Thank you!

All donations are used for general operating and maintenance of the refuge, our spay and neuter campaign and education programs. You may choose where you want your money spent. 100% of all donations to Baja Dogs La Paz, AC are used to help rescue street dogs in La Paz or to reduce their numbers. Donations pay for food, medication, veterinary care, utilities and water, cleaning supplies, etc., and 1 full-time and 2 part-time staff members who care for the dogs 7 days a week. No Board Member receives compensation. - Mario, info [ - a t - ] bajadogslapaz.org, www.bajadogslapaz.org/, 612-155-8948, La Paz
Impossible to Resist! - New arrivals at Kitty Heaven despite all of our efforts to spay and neuter (but without the help of the community, there would be even more!).

All colors, all very young and playful. For more information, call Angelique at 612-145-0250 or write her at BajaKitties [ - a t - ] Yahoo.com

Kitty Heaven is the only all-cat refuge in Baja California Sur. Visit us on the web athttp://bajarescue.org/#KittyHeaven. We survive via your kind donations. To send your support, please click the "Donate" button below:
---
Submit your Pet Corner articles here: http://www.bajawesternonion.com/submitad.asp (and remember to Spay and Neuter your pets)
Return to Top
---
Quote of the Day: " Life itself is the proper binge. " ~ Julia Child
---
Looking for the complete Community Events Calendar? Click Here!
---
Return to Top
---
---
Help Support The Baja Western Onion!

We can accept donations by Credit Card, PayPal, cash, check or direct deposit.

For more information, please visit our web site at http://www.BajaWesternOnion.com/donate.asp.
Copyright © 2006 - 2011. The Baja Western Onion. All Rights Reserved. Published Using 100% Recycled Electrons :)
Return to Top
---