On The Web Site:
---
Today's Weather
Click for Extended Forecast

---
Community Access
Policia Preventiva
Todos Santos Police
612 145-1052
Commandante Navarro

Ministero Publico
State Police
612 145 0198
Commandante Erigoyen

Bomberos
Fire Department
Cel. 612-142-6387
Commandante Cadena


---






---
Baja Western Onion
Alan Thompson - Publisher
Debra Webster - Advertising
e-mail For General Feedback
---
---
News and Events, Questions and Answers
---
Please Help Keep Unwanted Dogs and Cats Off Our Streets - The annual Spay/Neuter Clinic will take place Nov. 17, 18, and 19 at La Canada del Diablo. Four vets from the U.S. along with several vet techs will join our local vets in a volunteer effort to reduce the overpopulation of dogs and cats in our neighborhoods. This service is provided at greatly reduced or free of charge to those in the local Mexican community who could not afford otherwise to have their animals neutered.

This is a reminder that this special, volunteer Clinic is NOT INTENDED for the general community who can and should pay for their own spay and neuter services, which most likely includes all of the readers of the Baja Western Onion. If you show up with your own pets intending to get free services meant for others less fortunate, you will be turned away. However, if you know of a truly needy Mexican household that cannot afford these sevices then please refer them to this event.

While the vets, both local and U.S. donate their services, there are still many expenses involved. The funds raised at the Fur Ball help offset these costs but there is never quite enough. If you have a shopping trip coming up and could help with a few purchases, the following items are essential:
paper towels
syringes 3 ml
alcohol
trash bags
rubber gloves
And let's not forget those hungry, thirsty vets and volunteers who so appreciate drinking water, sodas and snacks. Please mark the dates on your calendar! For more information or to volunteer please contact Angelique at BajaKitties [ - a t - ] Yahoo.com. Thank you. - Amigos de los Animales de Todos Santos A.C. - bajakitties [ - a t - ] yahoo.com

Makeup Artist Sought - Looking for a creative makeup artist here in Todos Santos to collaborate on a stylized editorial wedding photo shoot this Saturday, Oct. 22. Please call Lynn at 612-119-4494 - thank you! - Lynn, chrispluslynn [ - a t - ] gmail.com, 612-119-4494, Todos Santos

Lord Of The Wind - Courtesy Baja Pony Express - What started out as a personal rivalry has turned into the richest purse event for windsurfing, kiting and stand up paddle boarding in North America. As the event founders and owners we, Chris Rogers and Dan Holbrook were inspired to make this a world class competition. The International Lord of the Wind Showdown is on for its second year. Our mission is to promote the sports of windsurfing, kiteboarding and stand up paddling while showcasing the beautiful town of Los Barriles, Baja, Mexico.

We will share the profits from this event with the needs of our local school systems. Our goal is to make this an annual event coveted by athletes and spectators from all walks of life. We are proud to offer media exposure in print and televised entities. TELEVISA aired a half hour specials on our 2011 event twice throughout all Mexico. Justin Wolff Productions has produced a one hour special which airs 17 times through Comcast Sports Network. Please see our website for airtimes. The LOW 2012 media distribution strategy is specific and targeted bringing in teams of award winning professional photographers, videographers and writers. Led by Erin Calmes of Keta Films, this coverage will include increased TV production and international print distribution.

The only tri-sport event to be streamed live, Epic Sessions TV worked their cameras diligently and are back for 2012 in HD format with live interviews. We have partnered with the following magazines which continue to run advertisements and editorials in both their print and on line outlets: Kiteworld Magazine which distributes to kite destinations across the entire world, Kiteboarding and Windsurfing, Windsport, and Kitesurfing magazines are found all across North America, and covering Europe our advertisements are found in Kitesurf and Windsurf magazines. We are offering partnership opportunities ranging from title sponsorship to a variety of other donations. Fully detailed sponsorship packets are available for your review at www.lordofthewindbaja.com. Thank you. - Chris Rogers and Dan Holbrook, Founders and owners of Lord of the Wind Showdown, , Facebook www.facebook.com/#!/pages/Lord-of-the-Wind-Showdown/142026572492055, sponsorinfo [ - a t - ] lordofthewindbaja.com, Los Barriles

Picture Framing? - Does anyone have any recommendations for places to get pictures framed in the Todos Santos, Cabo or La Paz areas? I have a few art prints that I'd like to get framed and would love to go someplace recommended. Let me know. Many thanks! - Dana Harkrider, blondedana [ - a t - ] earthlink.net

Annual Rummage Sale/Tianguis - The annual rummage sale for the cats at Kitty Heaven will be held on Saturday, Dec. 10 at the 9th annual World Class Garage Sale at La Canada del Diablo. If you would like to donate household goods, working electronics or any other items to our sale (and our cause) please contact Angelique.

Kitty Heaven is the only cat refuge in Todos Santos and is funded solely through donation. No proceeds from the Fur Ball are ever allocated to Kitty Heaven. (All Fur Ball proceeds are directed solely to spay and neuter of animals belonging to our Mexican hosts that otherwise would not receive this surgery.) - Angelique, bajakitties [ - a t - ] yahoo.com
To Baja On Baja Ferries Mid-December - Hoping to find someone to convoy to La Paz/Los Barriles in mid December via the Baja Ferry. Speak fluent Spanish and can help with translating along the way. Would like to leave around Dec. 17, cross over the Nogales border Dec. 18, with an overnight in San Carlos and then on to Toplobampo and the ferry Dec. 19, flexible on dates, let me know if you are interested in traveling. Have two dogs that ride well and stay in truck during crossing to La Paz. Sylvia, treaturfeet [ - a t - ] yahoo.com - Sylvia L. Ossa, treaturfeet [ - a t - ] yahoo.com, 928-202-4926, Los Barriles
Baja Western Onion Community Workshops And Meetings Page - This is a reminder that we have a page on the Baja Western Onion website where you can look up recurring community workshops and meetings. The page can be found at: www.bajawesternonion.com/workshops-meetings.asp

We rely upon our readers to send us the dates and times for these listings, and also to notify us if a workshop or meeting time has changed or is no longer available. Please let us know if any information on this page needs to be updated and we'll take care of it. - Alan And Debra, moderator [ - a t - ] bajawesternonion.com,
Today's Exchange Rate - Mexican Pesos to 1 USD - Courtesy X-rates.com
---
Submit your News and Events, Questions and Answers articles here: http://www.bajawesternonion.com/submitad.asp
Return to Top
---
---
Featured Events This Week
Anyone planning an event should check the Online Community Calendar before choosing a date to see if something else is already planned and avoid conflicts. Check the Online Community Calendar here: www.bajawesternonion.com/community-calendar.asp -
---
Thursday, October 20
Casa Tota Grand Opening - 7 p.m., Calle Álvaro Obregon, Todos Santos. Grand opening celebration for the Casa Tota Hotel, Restaurant and La Santeña bar.Contact: 612-157-9431, www.hotelcasatota.com
Friday, October 21
Travels Around the World - Off The Beaten Tracks Slideshow - Presentation by Robert and Martine of Kookynet Expedition. Doors open at 6:30 p.m., photo presentation at Sunset. Held at Teatro Luna Azul, Todos Santos. By Donation. Info and directions at http://tsbmp.blogspot.com - Martine Kookynet, www.kookynet.net, Todos Santos

Live Music At Cafe Felix - Greg Kitchel and Cowboy, 5:00 to 8:00, Cafelix, Todos Santos. Contact: Greg Kitchel g.kitchel [ - a t - ] montereybay.com, 6121193705, greg [ - a t - ] gregkitchel.com
Saturday, October 22
22-mile Swim Through The Sea Of Cortes Fund Raiser - All Day, Sea Of Cortez, La Paz. Azul Marino swim team will swim 22 miles to raise money to help women affected by breast cancer. Contact: Margarita Kiewek nmkiewek [ - a t - ] hotmail.com, 612-106-7009, www.azulmarinorestaurante.com
Sunday, October 23
Dharma Talks By Robert Hall - 10-11:30 a.m, La A.R.C.A., Calle Topete and Pilar, Todos Santos. 10th year of talks offered by Robert K. Hall, M.D., psychiatrist and lay Buddhist priest. Contact: Alvaro Colindres elhdarma [ - a t - ] mac.com, 612-145-0676, www.eldharma.com
---

---
New Community Events and Workshops Notification Page - You can submit event notices for The Community Calendar or Workshops and Meetings pages. The Community Events calendar is limited to non-recurring community events (Sorry, no "Happy Hours," "Daily Specials," or other recurring business activities :). Submit your Community Events and Workshops notices here: http://www.bajawesternonion.com/submit-event.asp
Return to Top
---
---
Stepping Out - Food, Music and Entertainment
---
The Sandbar's Halloween Party is Coming!
Come join us Friday, Oct. 28, at The Sandbar
• Doors open at 6 p.m. • Halloween fun from 6-8 p.m. • Music by K-L Reggae Band starts at 9 p.m. with a $50 peso cover charge • Kids Games • Costume Prizes • Chili and hot dogs •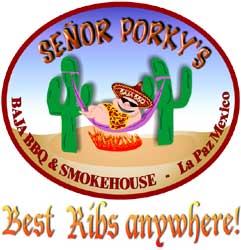 Señor Porky's Baja BBQ and Smoke House!
The Best Ribs Anywhere!

New Restaurant in La Paz - Featuring Kansas City slow-smoked meats not found anywhere in Mexico. Open 7 days a week from 9 a.m. to 10 p.m., and weekends until midnight. Watch the sunset from our spectacular ocean view! Located on the Malecon in La Paz at Alvaro Obregon #670, on the corner of Allende and Rosales (next to the Arco Hotel).

To ensure the best quality for Porky's Smokehouse Meats, we start with the best meats available. Then we dry-rub the meats with a combination of 20 spices, then slow-smoke for up to 18 hours at low temperature to obtain maximum flavor and tenderness while sealing in the natural juices and smoke flavor that is unmatched anywhere! We know you'll agree that Señor Porky's Baja BBQ and Smoke House are the best you have ever tasted. Menu highlights include:

• Slow Smoked Ribs • Pulled Pork • Beef Brisket • BBQ Chicken • Smoked Bratwurst •


Plus fantastic side orders include Pasta Salad, BBQ beans, Coleslaw, Sweet Potato fries, New Mexico Green Chile with Pork, Caesar Salad and Homemade Deserts. Dine in, or carry out from our "Pig Out" Meats to Go Menu. Download our entire Menu here: files.me.com/richards771/1wclv6

Special! - Mention you saw our ad in The Baja Western Onion and get a free Margarita or Pina Colada with dinner
OR
Buy one dinner and get the second dinner at half off!

Special offer good until Nov. 1, 2011. For more information, call 612-129-3667. - Richard Stubbs, richards77 [ - a t - ] pcisys.net, La Paz
Carlito's Place In Pescadero Opens For Lunch And Dinner Today!, Tuesday to Sunday. - 2 pm to 10 pm, Pescadero, in front Romex., carlitos and brianda will be there!. Asian Fusion Cuisine and sushi Rolls, For reservations call 612 13 79419.. Contact: Brianda Aguilar brianda-aguilar [ - a t - ] live.com.mx, 6121379419
Live Music And A New Wood Fired Pizza Oven, Oct. 21, 2011 - 5:00 to 8:00, Cafelix, Todos Santos. Enjoy the tunes of Greg Kitchel and Cowboy Greg and the brand mew wood fired pizza oven at Cafelix. Dinner, live music, and home by Baja Midnite. Free parking, no cover and never a minimum!. Contact: Greg Kitchel g.kitchel [ - a t - ] montereybay.com, 6121193705, greg [ - a t - ] gregkitchel.com
---
Submit your Stepping Out - Food, Music and Entertainment announcements here: http://www.bajawesternonion.com/submitad.asp
Return to Top
---
---
Misc. Sales and Services Available
---
Pacific Window Washing - Professional home window washing and screen repair. Serving San Jose, Cabo, Ellias Calles, Pescadero, Todos Santos and anywhere in between. Free Estimates. - Mark, pacificwindowwashing [ - a t - ] gmail.com, 612-143-3316, Pescadero

26-foot Box Truck For Sale: 8500 Coconuts - This Ford L-7000 turbo diesel, 26-foot box truck is ideal for moving and storage. The interior dimensions of the box are approx 26 feet long, 7 ft 8 in wide, and 8 ft high. It has a roll-up rear door. The truck was a former DHL vehicle and received regular fleet maintenance. FEATURES: 168,xxx miles, Automatic transmission, power steering, air brakes, all 6 tires in excellent condition, dual fuel tanks, 2 new batteries and cables, recent service including oil and air filters. The box interior has two floodlights with timers. We bought this easy-to-drive truck to move our furniture to Mexico; it has also served us well as weatherproof, dustproof storage for 18 months. - Mike Brozda, mike.brozda [ - a t - ] yahoo.com, bajasur.es.craigslist.com.mx/cto/2656257570.html, 612-134-7359 or 612-147-7550, Todos Santos
18' Ocean Fishing Boat For Sale - Comes with a new 60 HP, 4-stroke Mercury motor with only 93 hours on it. Easy pull trailer with excellent tires. 2 New batteries,center fiberglass console. Ready to go fishing! Price $8700 USD. This is a great price -- it's like buying a motor and getting the boat and trailer for free! - Kent Hansen, kenthansen [ - a t - ] shaw.ca, La Paz
Trailer Or Motor Home Wanted - Looking to buy or rent a trailer or motorhome for the upcoming season. If you have one that you would like to part with or know of one, please send me an email at sceniccharms [ - a t - ] gmail.com. Thanks! - Charmaine, sceniccharms [ - a t - ] gmail.com
Spanish Lessons With Guillermo Bueron In Pescadero. - Berlitz Total Immersion Method for all levels. Great for sales and business people, foreign residents or anyone who wants to speak Spanish. Small groups, one hour per day, Tuesday, Wednesday and Thursday. Individual classes may also be available. New classes starting Oct. 18 at 1 p.m. Workshop held at Baja Beans Pescadero across the Sandbar. - Guillermo Bueron Prieto, g_bueron [ - a t - ] yahoo.com, 612-161-4165, Todos Santos
Solar Water Systems - Solstice Solar of Baja offers Solar Water Heating Systems for home, business or pool locally designed and built for the latitudes of Baja Sur. Eliminate water heating costs. Solar is non-polluting and renewable; tap into the free power of the sun. - Skip Ackerman, skipackerman [ - a t - ] me.com, www.solsticesolarofbaja.com, 624-142-8002, Baja California Sur
Servicios Computadoras, Todos Santos - Ofrece servicios de Internet y Computadoras. Venta, instalacion y soporte de redes cableadas e inalámbricas, anti-virus, Voice Over IP (Vonage, Net2phone), computadoras.
Computer Services, Todos Santos - Offering internet and computer services. WiFi / VoIP / Computers - Sales, installation, service and support: wired and wireless networks, virus removal, Voice Over IP (Vonage, Net2Phone), computers. - Josue Castillo Mayoral, Cellular: 612 159 2699, jocama85 [ - a t - ] hotmail.com, Todos Santos

Moto For Sale - 1976 Honda Trail 90. Engine running good, but needs a little TLC. Fun for getting around town, and a good gas saver. $300 USD. - jaimi.davie [ - a t - ] gmail.com, 612-100-8466
Need a Ride to or From the Airport? Or Someone to Assist You With Errands? - I am a young, bilingual Christian man and I can provide you with rides to or from the La Paz or San Jose Del Cabo airports. I can also help you with courier services, errands, or navigating the intricacies of dealing with Mexican businesses and the government; Car Registrations, TelCel and TelMex, CFE, Seguro Social, etc.

Reasonable Rates - Contact: Ernesto, Cel. 612-117-7497, ernie_net [ - a t - ] hotmail.com
4x4 For Sale - 1988 V6 Toyota 4runner. 226,000 miles. Imported. Recent work done: Transmission, power steering, pump, timing belt, battery, radiator. Air-con works great. This is a great truck to discover Baja, will take you anywhere. $1700 USD. - jaimi.davie [ - a t - ] gmail.com, 612-100-8455
Clay Tiles For Sale - 400 +/- Mexican/Saltillo clay tiles unsealed in boxes, 15" x 15", 84 boxes: $10 a box (5 tiles per box); Dayton submersible pump and control box never used $450 - Mary Dwight Olson, mdwightbaja [ - a t - ] gmail.com, 612-118-3646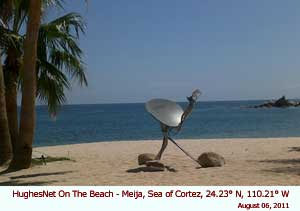 Now, Get Internet No Matter Where You Live:
Always-On Connection
Available Where DSL and Cellular Won't Reach
PC, Mac, Wireless Compatible
Multiple Computers Can Share the Same Internet Connection Full-Time
Vacation Holds Available
Professional Installation Available
Special Offers Extended Thru September 30:
1. $199.99 Mail-In Rebate:

0.74 Meter Dish with 1 Watt Transmitter - $499.99 $299 US After Rebate!1.
0.98 Meter Dish with 2 Watt Transmitter - $899.99 $699 US After Rebate!1

| | | | |
| --- | --- | --- | --- |
| Data Plan | Down/Up Speed | Daily Data Allowance | Monthly Service |
| Basic | 1.0 Mbps/200 Kbps | 250 MB | $59.99 NOW $49.99/mo.! |
| Power 150 | 1.5 Mbps/250 Kbps | 350 MB | $79.99/mo. |
| Power 150+ | 1.5 Mbps/250 Kbps | 400 MB | $89.99/mo. |
Baja Satellite is an Authorized HughesNet® Reseller. For more information Contact Us today: alan [ - a t - ] BajaSatellite.com, www.bajasatellite.com, (530) 903-4257 (US), (01) 555 351 0882 (Mexico), Baja California Sur
1 Equipment prices shown are after $199.99 HughesNet mail-in rebate, and do not include Mexican shipping, importation or installation.
Translation Services - Do you need a translator? I can translate the following: Fideicomisos, Buy-sell agreements, Birth certificates, Marriage certificates, Death certificates, and any other type of document. I am a Spanish-English translator with over 13 years of proven translation experience. With me, your documents are translated and reviewed carefully, providing a personalized attention. Competitive prices and short turnaround times. Just email me your proposal and find out how easy is to work with me. I look forward to helping you. - Paulina Aguilar, spbaja [ - a t - ] hotmail.com, Baja California Sur

Baja Western Onion Private-party Ad Special!
Get More Coverage! Two Weeks - Four Issues - Only $10.00 US:
- Yard Sales, Vehicles, Misc. For Sale or Wanted
- Reach 3,200 Baja Western Onion Readers
- Your Ad Featured In a Red, Highlighted Box
- Available Only For Private-Party, Non-Commercial, Text-Based Ads.
Payment: All Private-party Special Ads must be prepaid in advance of initial run date. You can make your payment online via PayPal athttps://www.paypal.com/cgi-bin/webscr?cmd=_xclick&business=advertising [ - a t - ] BajaWesternOnion.com, or call us at 001 530 903 4257 or 01 33 8421 1142 (From Mexico) to make payment directly by VISA, MasterCard, American Express, or Discover Card.
Free Ads: As always, you can place a Free text-based ad in the Baja Western Onion once every 14 days. Submit your Free Ad or Article here: www.bajawesternonion.com/submitad.asp. -
For more details on our commercial advertising opportunities, please visit www.bajawesternonion.com/advertising.asp or send an Email to: advertising [ - a t - ] BajaWesternOnion.com
---
Submit your Misc. Sales and Services Available/Wanted articles here: http://www.bajawesternonion.com/submitad.asp
Return to Top
---

---
Real Estate, Rentals, and House Sitting - Available/Wanted
---
$2000 Down Lots - Baja Green Builder is selling low-cost, owner financed lots near Los Planes, BCS, to continue our quest of helping the homeless help themselves. $2000 USD down, 1998m parcels, no beach or water views, water & power close by, 15 minutes to beach by highway. Fertile land, good investment, underpriced, easy terms. Help a good cause. - Randy Echter, rke1951 [ - a t - ] gmail.com, www.bajagreenbuilder.com, 612-154-0485, La Paz
Great Summer Deals: Casa Johanna 2 - Brand-new house with spectacular views of the Pacific Ocean, San Pedritos surf break and Sierra de la Laguna mountain range. This is a 2BE, 2BA house that sits on 887 m2 (almost 1/4 acre) with full services and located in the most desirable neighborhood of Pescadero.

A great layout, quality finishes and multiple viewing decks with a carport make this house an excellent deal. Only $249,000 USD (reduced down from $299,000). Please call to arrange an appointment to view! - Richard Friend, Richie [ - a t - ] RicardoAmigo.com, ricardoamigo.com/Properties-CasaJohannaII.asp, 612-145-0551, Pescadero
Cerritos Beach Estate For Lease - 5 acre estate with 2 houses available for lease. The Great Escape is a 3000 sq.ft.house, 3 bdrm, 2 bath, large pool/jacuzzi, palapa bar, huge oversized garage, state of the art solar. Fully walled along with private drive. Over 100 palms and flowers. $2000 monthly,covers all utilities and fulltime caretaker onsite. 2nd house is a 3bdrm, 2 full bath, rooftop privacy deck and palapa with ocean view. $1000 monthly, includes all utilities. - Jordon Cameron, two40jordi [ - a t - ] hotmail.com, 612-140-5835, Pescadero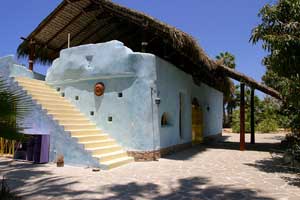 Todos Santos Beach House on a Tranquille Lush 5, 206.22 Sqmt Property - For Sale by Owner: - Two (2) separate driveway entries give the 5, 206.22 sq meter (1.25 acre) property privacy from both the front and back, giving flexibility to build additional homes or to split in the future. Soil on the property is rich organic black soil, ideal for other organic gardening.

* Property is an enclosed oasis and has unlimited access to farm water that nourishes the over 85 mature mango trees, 80 lush palm trees over 5 feet, passion fruit trees, citrus fruit trees and avocado trees, all of which give the property its cool shade that is coveted in the region and frequently not available on other properties of comparable or more value in the desert landscape.
* Property has power, water (both municipal and farm water), gas and Internet.
* A 6-minute walk takes you to the secluded beach, and a 5-minute drive finds you in the heart of TS.

If you have questions or would like to make an offer after viewing the property on YouTube (www.youtube.com/watch?v=krg9FEeiRtk), feel free to contact us. Save on the fee and make us a good offer. - Anh Walch, anhwalch [ - a t - ] yahoo.com, 212-692-0912, Todos Santos
House For Rent, Sale Or Lease - Beautiful 3 bedroom, 3 bath home with bodega and covered carport. Fully fenced and gated yard great for pets. Located in the quite secluded San Sebastian neighborhood of Todos Santos. Just a few hundred yards from the ocean. All the doors and windows are screened, and all the doors have thresholds. Available for long or short-term rent or sale. - Mike Lund, mikeandmirinbaja [ - a t - ] gmail.com, 612-134-5347
---
Submit your Real Estate/Rentals/House Sitting/Property Management Services articles here: http://www.bajawesternonion.com/submitad.asp
Return to Top
---
Rides or Caravans Available/Wanted
Note: Ads will run for two weeks unless dated. Please list the date in the title, and specify which airport. Goes without saying, everyone shares expenses for beer, gas, food, etc

To remove your ad if you find a ride or caravan, let us know here: www.bajawesternonion.com/submitad.asp -
---
Rider Or Caravan Loreto-Santa Rosalia-ferry-Guaymas To Phoenix - Leaving Oct. 23 from Loreto, catching Oct. 23 ferry from Santa Rosalia to Guaymas, then on to Phoenix, AZ. Have room for one person in my small car and/or caravan. Know it's last minute and wrong way for the season, but if it fits your schedule, email me at: rhintransit [ - a t - ] yahoo.com - rhintransit [ - a t - ] yahoo.com, Loreto
Seeking Passenger, Co-pilot, Or Caravan - from Northern California around 10/25. (no space to bring anything except one person and luggage) - Jane Sipe, jasi57 [ - a t - ] juno.com, 707 321 6823 USA
Ride To TS From SJD Airport Oct. 28 - I will be needing a ride from SJD airport to Todos Santos Oct. 28. Please write or call. - Rhoda Jacobs, barakabaja [ - a t - ] gmail.com, 612-157-6088 (cell)
Baja Caravan South After Nov. 1 - Looking to caravan with some folks thru Tecate to Ensenada after the first of November. Can meet in park on the California side the night before. Please contact me at gypszcaravan [ - a t - ] gmail.com - Tall Man, gypszcaravan [ - a t - ] gmail.com, 541-840-0392, United States
Ride Share Early November - Looking for a good companion "co-pilot" from SF Bay Area to Todos Santos in early November. Share driving and gas. Leaving from San Rafael, California. Please email if interested. - Laurie, lauriecpb [ - a t - ] gmail.com, Baja California Sur
Looking For a Ride Share in November - I'm driving from Kelowna, British Columbia to Cabo first week of November. Will be traveling via I-5 through Oregon and California. Won't have much spare room for extra luggage, so if you travel light, are willing to share expenses and want to have a heck of a road trip, get back to me. I did this drive last year so I'm familiar with the route and the process. Will be crossing at TJ. I prefer to do the driving myself, but the company and second set of eyes are a plus. Thanks, Mirek - Mirek Hrabanek, canczech26 [ - a t - ] hotmail.com, Cabo San Lucas
Driver Needed For Small Truck in November - I need someone to drive my Nissan Frontier truck from San Diego to Todos Santos in early November. Bonded and insured, references required. My email is jennylindberg [ - a t - ] earthlink.net. - Jennifer Lindberg, 505-466-0976, Todos Santos
Rider Wanted From New Mexico - Driving down to Baja mid/late November from Taos, NM, Nogales-Los Mochas-Ferry- La Paz - Rosario Carelli, wearethedrum [ - a t - ] yahoo.com, 828-380-0122
Driving From San Diego In November - Driving from San Diego, through Tijuana, to Cabo on November 22-24 (am flexible on departure date). Would like a passsenger or caravan option. Comfortable SUV with room for your "stuff." I've made this trip about 25 times and I'll do all the driving. - Ina Yank, inayank [ - a t - ] ix.netcom.com, 949- 200-7727
Caravan Wanted in December - Want to caravan to Todos Santos area in early December, could meet with you anywhere from Santa Rosa, CA, to San Diego. Please email Debra at goodthym [ - a t - ] mcn.org - Debra Dawson, goodthym [ - a t - ] mcn.org
---
Submit your Rides or Caravans Needed/Available articles here: http://www.bajawesternonion.com/submitad.asp
Return to Top
---
Pet Corner (Lost and Found pet articles will run for two weeks)
Let us know if you find or place your pet so we can remove your ad -
---
Can You Adopt Alex's Dog? - The late Alejandro "Alex" Manjarrez Zuniga leaves behind a beautiful 2-year-old male pointer-mix. Very well behaved, street wise and great with kids. Those interested please contact. - Rick Plaia, rickplaia [ - a t - ] hotmail.com, 612-178-0000, Todos Santos
Found a Lost Dog in Los Cerritos - Community: if someone lost a white dog with a pink collar on the way to Los Cerritos, we have found her and are keeping her at the Minisuper Los Arcos in Pescadero. - Mayra Torres, mayra_pithaya [ - a t - ] yahoo.com.mx, 612-131-7564
Good Info On What To Do If You Lose Your Dog In Baja (or Anywhere) - This excellent article courtesy of Baja Insider: www.bajainsider.com/baja-life/pet-care/findinglostdogs.htm -
Dog Lost? Check with Baja Dogs - If you have lost a dog, please check with Baja Dogs La Paz at 612-155-8948 or email lostdog [ - a t - ] bajadogs.org. We quite often have dogs at the refuge that we hope owners will claim.

Dogs for Adoption: We have many wonderful dogs for adoption. Please come out and visit the refuge in El Centenario or call 612-155-8948. All of our dogs are vaccinated, spayed or neutered and healthy.

How to Donate: To donate to Baja Dogs La Paz, you can do so through Pay Pal, donate directly through our bank: Bancomer, Account #164033159; donate directly at the refuge or email bdlp [ - a t - ] bajadogslapaz.org and we will make arrangements to pick up your donation. We also are very grateful for any donations of any type of dog food. Please call 612-140-2575 for pick up. Thank you!

All donations are used for general operating and maintenance of the refuge, our spay and neuter campaign and education programs. You may choose where you want your money spent. 100% of all donations to Baja Dogs La Paz, AC are used to help rescue street dogs in La Paz or to reduce their numbers. Donations pay for food, medication, veterinary care, utilities and water, cleaning supplies, etc., and 1 full-time and 2 part-time staff members who care for the dogs 7 days a week. No Board Member receives compensation. - Mario, info [ - a t - ] bajadogslapaz.org, www.bajadogslapaz.org/, 612-155-8948, La Paz
---
Submit your Pet Corner articles here: http://www.bajawesternonion.com/submitad.asp (and remember to Spay and Neuter your pets)
Return to Top
---
Quote of the Day: " As a student I learned from wonderful teachers and ever since then I've thought everyone is a teacher. " ~ Bill Moyers
---
Looking for the complete Community Events Calendar? Click Here!
---
Return to Top
---
---
Help Support The Baja Western Onion!

We can accept donations by Credit Card, PayPal, cash, check or direct deposit.

For more information, please visit our web site at http://www.BajaWesternOnion.com/donate.asp.
Copyright © 2006 - 2011. The Baja Western Onion. All Rights Reserved. Published Using 100% Recycled Electrons :)
Return to Top
---