On The Web Site:
---
Today's Weather
Click for Extended Forecast

---
Community Access
Policia Preventiva
Todos Santos Police
612 145-1052
Commandante Navarro

Ministero Publico
State Police
612 145 0198
Commandante Erigoyen

Bomberos
Fire Department
Cel. 612-142-6387
Commandante Cadena


---





---
Baja Western Onion
Alan Thompson - Publisher
Debra Webster - Advertising
e-mail For General Feedback
---
---
News and Events, Questions and Answers
---
Adios Alex, Our Amigo - With much sadness, we wish to notify the Todos Santos community of the tragic passing of Alejandro "Alex" Manjarrez Zuniga, on Sunday evening, Oct. 9. Alex was fatally injured in a one-car accident on the La Paz road, just north of Todos Santos. Alex worked as a Jardinero for many people in Todos Santos and Pescadero, and was a wonderful friend to many more. He will be greatly missed. Although Alex was originally from Culiacan, he lived and worked in British Columbia,as well as Todos Santos. He has family in both Sinaloa and British Columbia. For more information please contact either of the e-mail addresses below. - carrollemail [ - a t - ] aol.com, daddydn [ - a t - ] att.net
Can You Adopt Alex's Dog? - Alex leaves behind a beautiful 2-year-old male pointer-mix. Very well behaved, street wise and great with kids. Those interested please contact. - Rick Plaia, rickplaia [ - a t - ] hotmail.com, 612-178-0000, Todos Santos
Pescadero Announcement - The sub-delegado for Pescadero was appointed last week by the Presidente de Municipal. Sub-Delegado Sra. Carmen Higuera Perez, (the past Presidente de Ejido Pescadero) has been an active leader in community activities and has made in-roads to integrate extranjeros. She is ready to serve and available in her office located 1 block to the right from the central circle stop sign. The building is on the left up a few stairs. You can usually catch her at 9 a.m. If you could donate a few chairs or any other office-related furnishings, it would be a great show of support. She does have a desk, one chair, a small table for the computer and printer but that's it. I know your donation will be greatly appreciated and your introduction warmly reciprocated. - Grupo Pescadero, pesccom [ - a t - ] hotmail.com, 612-108-0436, Pescadero
Pescadero Community Information Session - Individuals, expats, businesses and corporate entities interested in bettering this community, are invited to attend a bi-lingual presentation that will explain an effective vehicle to accomplish this: the formation of a non-profit, legal entity, citizen's group or an Asociacion Civil (A.C.). Friday, Oct 14, 7 p.m., Pescadero (central) Ejido Hall. - Grupo Pescadero, pesccom [ - a t - ] hotmail.com, 612-108-0436, Pescadero
Large Print Books Available - In order to make room for the recent, generous donation of several hundred new books, the library is discontinuing the large print section. These books are free to anyone who would like one or several. Please stop by the library Monday, Wednesday or Friday between 10 a.m. and 1 p.m. and help yourself. And while there, check out some of the new books we have just received. The Todos Santos library is located in the Palapa Center on Calle Obregon. - info [ - a t - ] palapasociety.org, 145-0299
Taste Of The Baja / Con Sabor De La Baja Chef Competition - Mark your calendars for Dec. 3 (time TBD) for a major fund raising event on behalf of Mujeres Ayudando a Mujeres, A.C. The Shelter for Women and Children is being created by La Universidad Intercontinental Noroueste (The Northwest Intercontinental University - The Bachelor in Culinary Science University)
What: Taste of the Baja/Con Sabor de La Baja Chef Competition
Where: The Park in front of the Government Buildings (Isabela Católica)
When: Dec. 3, 2011 (time to be determined later)
Cost: $200 pesos per ticket to members of the general public
Tickets go on sale Monday, October 31, 2011
Who is competing: 60 participants (20 professional chefs from the cities of Mulege, Santa Rosalia, Loreto, La Paz, Todos Santos and Los Cabos; 20 students from the University and other Culinary Schools in Baja California Sur; and 20 members of the general public who love to cook). There will be 27 winners. A panel of judges will determine the first, second, third prize for appetizer, main dish and dessert submitted by each group of participants.

These 27 winners will then prepare their winning dishes in sufficient quantities to feed an expected 600 people at the Gala event on Dec. 3, 2011. Please nnote: The students at the University will be creating a Mujeres Ayudando a Mujeres Cook Book which will be available on DVD the night of the event for $250 pesos per copy. - Luiza Lanoy, Founder, Mujeres Ayudando a Mujeres, A.C., luizalanoy [ - a t - ] yahoo.com , www.facebook.com/tasteofthebaja, www.tasteofthebaja.com, 612-348-3852 (best to e-mail me), La Paz

22-Mile Swim Through the Sea of Cortes Fund Raiser - As some of you already know, next Oct. 22 the Azul Marino swimming team, which is integrated by 8 swimmers and a Capitan, are going to swim 22 miles through the Sea of Cortes. Azul Marino's team is integrated by some people that live in la Paz, Cancun and Mexico City. All of us swim with the heart, in couples and because we love the ocean, the challenges, team work and our goal is to help women that have been affected by breast cancer. All funds will be used to reconstruct women in need that have lost their breast and need reconstruction.

Every swimming stroke that we give is for them and we need you to help us help them. That is why we are selling swimming strokes! Donations Banorte to Culinaria Mar Cris SA de CV , account no. 0548997099, Clabe 072040005489970993. Please notify Margarita Kiewek at nmkiewek [ - a t - ] hotmail.com. with your name, and to which swimmer you donate. You can also send us a check or contact me to see the way we can do it.The best way to treat breast cancer is prevention. Please feel free to forward this email to anyone that wants to collaborate with us. The "Azul Marino" team thanks you; Margarita Kiewek, La Paz, BC Cristina Kiewek, La Paz, BC Marcela Kiewek, Cancún,Q.Roo Maite Marques, DF, Lorena Tassier, DF Sergio Pérez, DF Andrea Fernández de Castro,DF Valeria Rivera, La Paz Antonio Colmenares, La Paz. - Marga, Azul Marino Marina Costa Baja, www.azulmarinorestaurante.com, 612-106-7009, La Paz

Computers Needed! - Bring us your old, your tired, your weary, laptops and desktop computers. Our primario (elementary school) in Los Barriles can use any donations of computer equipment that you have lying around or have forgotten about. For those of you driving down, why not throw that old paperweight/laptop thing in the car and bring it down for a donation? We will wipe your hard drive clean and take off any personal files for you BEFORE it gets to the school. Do something really special for the kids this year and remember that computer system. Call or email Janel and David at 624-175-9102 (MX) or 310-592-0139 (US) or write janelinmex [ - a t - ] yahoo.com Muchas Gracias! - Janel Faraci, 624-1175-9102, Los Barriles

Seeking VCR, Cassette Player - Escuela Pacifica, Todos Santos' not-for-profit bilingual primary school, is seeking a VCR and any sort of cassette player. We have a lot of video and cassette tapes that people have donated, but no way to play them. Donations are great, or as cheap as possible. Thank you, - Serena S, brentserena [ - a t - ] gmail.com, escuelapacifica.org/Escuela_Pacifica/Welcome.html, 612-132-8913, Todos Santos

Help! - We need to get a 1/2-inch by 1-inch pump part down to our house south of Santa Rosalia ASAP. Please contact us if you would be willing to drop it off on your way down. Thank you so much. - Karen Alvarado, tootsiebiggirl [ - a t - ] hotmail.com, U.S. phone: 1-541-345-8263
Dharma Talks By Robert Hall - Dharma talks resume Sunday morning Oct. 23, 10-11:30 a.m. , at La A.R.C.A. This season marks the 10th year of talks offered by Robert K. Hall, M.D., psychiatrist and lay Buddhist priest. The talks are preceded by a period of guided meditation, with instructions in the Vipassana tradition. All are invited and everyone is welcome. Located in downtown Todos Santos on Calle Topete and Pilar. One block down from The Todos Santos Inn. Contact elhdarma [ - a t - ] mac.com; 612-145-0676; www.eldharma.com. - Alvaro Colindres, eldharma [ - a t - ] mac.com, www.eldharma.com, 612-145-0676, Todos Santos
Immigration Update - Today I bring you two friendly reminders: if you are an FM2 holder or plan on applying for or renewing a working visa please read the following:
FM2 Holder I would assume that all FM2 holders are aiming at upgrading to an inmigrado status (permanent resident) after four consecutive renewals, so you never have to renew anything again. If that's your case, then do not submit any of your renewals late, not even one day late. If you submit your FM2 renewal paperwork after the expiration date on the back of the card, immigration will take away any accumulated years thus far and your four year count starts all over again.

Working Visas If you're currently outside of Mexico and will be traveling this upcoming season and plan on possibly applying for a working visa, then this is for you: If you plan on working as an independent contractor, such as an artist, musician, English teacher, massage therapist, kite surfer instructor, real estate agent etc. you need to prove to immigration that you are certified in that specific field. You don's necessarily need to have a BS degree; a certificate of completion is fine. Just for the record, immigration likes any document that resembles a diploma /certificate (w/ the fancy margins around) rather than a pocket size license card. So before coming to Mexico, if you're in the USA, take your diploma style-document to your nearest notary get it notarized then take it to the Secretary of State and get it apostille (this step is very important). If you're in Canada, take your document to the nearest Mexican consulate office and get the document rectified, in other words, have them put a stamp on it.
I thought I would bring this up because this is a major problem that I see constantly when helping people with their working visas as independent contractors. They forget or didn't know they needed this requirement and they end up having someone back-home do all the leg-work for them after they get here, so I wrote this to avoid that. All the other requirements needed are done here in Mexico.

There are other ways of getting working visas. For example, people that have their own Mexican corporations don't need diplomas. However if you're going to be sponsored/hired by a corporation or an private individual and the job-role requires an expertise, then you'll need it. If the job-role does not require you to be an expert in the field, e.g. manager, you don't need any certificate. - Francisco Gonzalez , info [ - a t - ] southernbajalegalservices.com, www.southernbajalegalservices.com, 612-158-5776, La Paz

Baja Western Onion Community Workshops And Meetings Page - This is a reminder that we have a page on the Baja Western Onion website where you can look up recurring community workshops and meetings. The page can be found at: www.bajawesternonion.com/workshops-meetings.asp

We rely upon our readers to send us the dates and times for these listings, and also to notify us if a workshop or meeting time has changed or is no longer available. Please let us know if any information on this page needs to be updated and we'll take care of it. - Alan And Debra, moderator [ - a t - ] bajawesternonion.com,
Today's Exchange Rate - Mexican Pesos to 1 USD - Courtesy X-rates.com
---
Submit your News and Events, Questions and Answers articles here: http://www.bajawesternonion.com/submitad.asp
Return to Top
---
---
Featured Events This Week
Anyone planning an event should check the Online Community Calendar before choosing a date to see if something else is already planned and avoid conflicts. Check the Online Community Calendar here: www.bajawesternonion.com/community-calendar.asp -
---
Friday, October 14
Pescadero Group A.C. Presentation - 7 PM, Pescadero Ejido Hall, Pescadaero. Presentation guidelines & responsbilities for formation of citizen's group for Pescadero community. Contact: Grupo Pescadero pesccom [ - a t - ] hotmail.com, 612 108 0436
Saturday, October 15
Farmer's Market At La Cañada Del Diablo - 9 AM, La Cañada del Diablo, Todos Santos - 2011 Grand Reopening. Contact: Barbara Perkins bperkins0403 [ - a t - ] gmail.com, 612.140.0069, www.lacanadadeldiablo.com
Monday, October 17
Palapa Society After-school English Classes Begin - Palapa Center/Todos Santos Library, The Puente Program. Classes held Mon., Tues., and Thurs. afternoons. Volunteers needed. To volunteer or for more information, contact - Donna Viglione, info [ - a t - ] palapasociety.org, www.palapasociety.org, 1450-299
---
---

---
New Community Events and Workshops Notification Page - You can submit event notices for The Community Calendar or Workshops and Meetings pages. The Community Events calendar is limited to non-recurring community events (Sorry, no "Happy Hours," "Daily Specials," or other recurring business activities :). Submit your Community Events and Workshops notices here: http://www.bajawesternonion.com/submit-event.asp
Return to Top
---
---
Stepping Out - Food, Music and Entertainment
---
The Sandbar's Halloween Party is Coming!
Come join us Friday, Oct. 28, at The Sandbar
• Doors open at 6 p.m. • Halloween fun from 6-8 p.m. • Music by K-L Reggae Band starts at 9 p.m. with a $50 peso cover charge • Kids Games • Costume Prizes • Chili and hot dogs •
Halloween At Hotel California - Saturday, Oct. 29, 8 p.m. at the Hotel California. Prizes for cool costumes, raffle prizes and silent auction to support PROPLAYAS, the non-profit organization that maintains lifeguards at Cerritos Beach. Music provided by Curvas Peligrosas. - Oscar Rosales, oscarnotori [ - a t - ] yahoo.com, 612-157-2017, Todos Santos
Michael's at the Gallery Restaurant - We will be reopening on Friday, Oct. 14. We will then be open Fridays and Saturdays from 6:30 - ? Hope to see you! - Michael Cope, mplcope [ - a t - ] yahoo.com, 145-0500, Todos Santos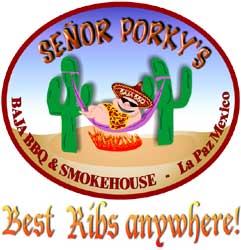 Señor Porky's Baja BBQ and Smoke House!
The Best Ribs Anywhere!

New Restaurant in La Paz - Featuring Kansas City slow-smoked meats not found anywhere in Mexico. Open 7 days a week from 9 a.m. to 10 p.m., and weekends until midnight. Watch the sunset from our spectacular ocean view! Located on the Malecon in La Paz at Alvaro Obregon #670, on the corner of Allende and Rosales (next to the Arco Hotel).

To ensure the best quality for Porky's Smokehouse Meats, we start with the best meats available. Then we dry-rub the meats with a combination of 20 spices, then slow-smoke for up to 18 hours at low temperature to obtain maximum flavor and tenderness while sealing in the natural juices and smoke flavor that is unmatched anywhere! We know you'll agree that Señor Porky's Baja BBQ and Smoke House are the best you have ever tasted. Menu highlights include:

• Slow Smoked Ribs • Pulled Pork • Beef Brisket • BBQ Chicken • Smoked Bratwurst •


Plus fantastic side orders include Pasta Salad, BBQ beans, Coleslaw, Sweet Potato fries, New Mexico Green Chile with Pork, Caesar Salad and Homemade Deserts. Dine in, or carry out from our "Pig Out" Meats to Go Menu. Download our entire Menu here: files.me.com/richards771/1wclv6

Special! - Mention you saw our ad in The Baja Western Onion and get a free Margarita or Pina Colada with dinner
OR
Buy one dinner and get the second dinner at half off!

Special offer good until Nov. 1, 2011. For more information, call 612-129-3667. - Richard Stubbs, richards77 [ - a t - ] pcisys.net, La Paz
Guitar Dave - Plays all your favorites and more. Come and dance under the Autumn Moon at the New Marina's in Pescadero this Friday, Oct. 14. Happy hour specials available fro 6-8 p.m. - davidballard [ - a t - ] yahoo.com

Zen Garden Now Open - We have many exciting new events for this season to look forward to and delicious food prepared by our 5-star quality chef. Come in and enjoy all the Asian Fusion, Thai, Japanese, Chinese and Vietnamese cuisine that you've been missing, all at great prices!


$100 Pesos Special When You Mention
You Saw Our Ad In The Baja Western Onion!


Open 12-9 PM, closed Tuesdays. Looking forward to seeing ALL of you! - Zen Garden, yanggum [ - a t - ] zengardencafe.com, www.zengardencafe.com, 612-145-1088, Todos Santos
Travels Around the World - Off The Beaten Tracks Slideshow - Presentation by Robert and Martine of Kookynet Expedition : We will be showing the best photos from our first 3 years spent on the less traveled roads of the world from Norway, Sweden, Finland - and Lapland - through Turkey, Syria, Jordan, Saudi Arabia, Oman and Emirates, all the way to Indonesia, Australia and New Zealand. So come and join us! Friday, Oct. 21. Doors open at 6:30 p.m., photo presentation at Sunset. Held at Teatro Luna Azul, Todos Santos. By Donation. Info and directions at http://tsbmp.blogspot.com - Martine Kookynet, www.kookynet.net, Todos Santos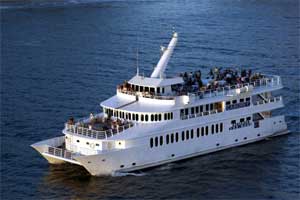 Caborey Dinner Cruise - With over 40 years offering tours in Mexico, Caborey has firmly established its reputation for quality, safety and fun. Reserving tours in advance through our website assures that you are purchasing tours from a reputable source and that the date and time of your reservation will be respected. Allow us the pleasure of providing these services for you.

Experience the natural wonder of Cabo San Lucas from aboard our luxurious 144' triple deck catamaran, From the moment you board the Caborey prepare yourself for an exhilarating experience. The majesty of the Land's End rock formations including Cabo's iconic "Arch" will spread out before you as the Caborey slips away from the marina and into Medano Bay. Live music and limitless cocktails accompany the breathtaking view from the upper deck of the Caborey as it follows its route along the tip of the Baja.

As the sun sinks into the horizon, tempt your palate with one of our 6 delectable entrees. Then as you take your last bite of scrumptious dessert, sit back and enjoy a Las Vegas-style show that will delight you with the sounds and rhythms of Latin America. - Caborey Cabo, reserv [ - a t - ] caborey.com, www.caborey.com, 143 8060, Cabo San Lucas
Delicious Smoked Fish - Sweet brine Dorado and spicey/sweet smoked fish for sale at Cabo Extreme in Pescadero. You'll love the flavor! Come on by or call: 612-142-5511 - Jimmy Jordan
---
Submit your Stepping Out - Food, Music and Entertainment announcements here: http://www.bajawesternonion.com/submitad.asp
Return to Top
---
---
Misc. Sales and Services Available
---

Water Lily's And Gold Fish - beautiful white and yellow water lily's and various size gold fish for sale, decorate your pond,fountain or even your canal just put them in the water and they will do the rest, watch them bloom all year round! - , parratownsend [ - a t - ] hotmail.com
18' Ocean Fishing Boat For Sale - Comes with a new 60 HP, 4-stroke Mercury motor with only 93 hours on it. Easy pull trailer with excellent tires. 2 New batteries,center fiberglass console. Ready to go fishing! Price $8700 USD. This is a great price -- it's like buying a motor and getting the boat and trailer for free! - Kent Hansen, kenthansen [ - a t - ] shaw.ca, La Paz
Need Your Iphone Unlocked? - I can unlock your iPhone to work with local carriers. $50. Please email: tao1gahad [ - a t - ] gmail.com for more information - tao1gahad [ - a t - ] gmail.com, Pescadero
Spanish Lessons With Guillermo Bueron In Pescadero. - Berlitz Total Immersion Method for all levels. Great for sales and business people, foreign residents or anyone who wants to speak Spanish. Small groups, one hour per day, Tuesday, Wednesday and Thursday. Individual classes may also be available. New classes starting Oct. 18 at 1 p.m. Workshop held at Baja Beans Pescadero across the Sandbar. - Guillermo Bueron Prieto, g_bueron [ - a t - ] yahoo.com, 612-161-4165, Todos Santos
Immigration Services, Title Research, Certified Translations and More - For more information on anything related with immigration please feel free to contact me. Southern Baja Legal Services, Efficient and Affordable Paperwork Support: Immigration, Title Research, Certified Translations and more. - Francisco Gonzalez, info [ - a t - ] southernbajalegalservices.com, www.southernbajalegalservices.com, 612-158-5776, La Paz
Servicios Computadoras, Todos Santos - Ofrece servicios de Internet y Computadoras. Venta, instalacion y soporte de redes cableadas e inalámbricas, anti-virus, Voice Over IP (Vonage, Net2phone), computadoras.
Computer Services, Todos Santos - Offering internet and computer services. WiFi / VoIP / Computers - Sales, installation, service and support: wired and wireless networks, virus removal, Voice Over IP (Vonage, Net2Phone), computers. - Josue Castillo Mayoral, Cellular: 612 159 2699, jocama85 [ - a t - ] hotmail.com, Todos Santos

www.todosbusinessdirectory.info - New, online business directory for Todos Santos and surrounding areas. Please take a look and inform us if you want your business listed without charge plus bookmark us for your online phone book. - TodosBusinessDirectory [ - a t - ] hotmail.com, www.todosbusinessdirectory.info
Need a Ride to or From the Airport? Or Someone to Assist You With Errands? - I am a young, bilingual Christian man and I can provide you with rides to or from the La Paz or San Jose Del Cabo airports. I can also help you with courier services, errands, or navigating the intricacies of dealing with Mexican businesses and the government; Car Registrations, TelCel and TelMex, CFE, Seguro Social, etc.

Reasonable Rates - Contact: Ernesto, Cel. 612-117-7497, ernie_net [ - a t - ] hotmail.com
"48 Special" - Spear gun with new rubbers. Excellent condition, $100 USD. Staying in Todos Santos December through April - Spear Gun, k2extremedog [ - a t - ] yahoo.ca, Todos Santos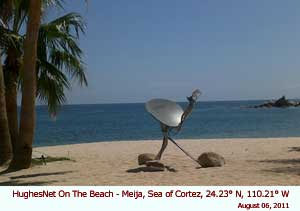 Now, Get Internet No Matter Where You Live:
Always-On Connection
Available Where DSL and Cellular Won't Reach
PC, Mac, Wireless Compatible
Multiple Computers Can Share the Same Internet Connection Full-Time
Vacation Holds Available
Professional Installation Available
Special Offers Extended Thru September 30:
1. $199.99 Mail-In Rebate:

0.74 Meter Dish with 1 Watt Transmitter - $499.99 $299 US After Rebate!1.
0.98 Meter Dish with 2 Watt Transmitter - $899.99 $699 US After Rebate!1

2. $60.00 Mail-In Rebate for $20 off Your First Three Months of Service! 2

| | | | |
| --- | --- | --- | --- |
| Data Plan | Down/Up Speed3 | Daily Data Allowance4 | Monthly Service |
| Basic | 1.0 Mbps/200 Kbps | 200 MB | $59.99 $39.99/mo. 1st 3 mos.! |
| Power 150 | 1.5 Mbps/250 Kbps | 300 MB | $79.99 $59.99/mo. 1st 3 mos.! |
| Power 150+ | 1.5 Mbps/250 Kbps | 350 MB | $89.99 $69.99/mo. 1st 3 mos.! |
Baja Satellite is an Authorized HughesNet Reseller. For more information Contact Us today: alan [ - a t - ] BajaSatellite.com, www.bajasatellite.com, (530) 903-4257 (From US), (01) 555 351 0882 (From Within Mexico), Baja California Sur
1 Equipment prices shown are after $199.99 mail-in rebate, and do not include Mexican shipping, importation or installation. System must be purchased before October 31.
2 $20 off per month for 1st. three months, after $60 mail-in rebate. System must be purchased before October 31. All plans require 24-month contract.
3 Absolute maximum speeds stated by HughesNet. Actual speeds will be less, and speeds will vary throughout the day and week depending upon total number of HughesNet subscribers sharing your satellite channel.
4 If daily allowance is exceeded, speeds may be reduced for up to 24 hours.

Baja Western Onion Private-party Ad Special!
Get More Coverage! Two Weeks - Four Issues - Only $10.00 US:
- Yard Sales, Vehicles, Misc. For Sale or Wanted
- Reach 3,200 Baja Western Onion Readers
- Your Ad Featured In a Red, Highlighted Box
- Available Only For Private-Party, Non-Commercial, Text-Based Ads.
Payment: All Private-party Special Ads must be prepaid in advance of initial run date. You can make your payment online via PayPal athttps://www.paypal.com/cgi-bin/webscr?cmd=_xclick&business=advertising [ - a t - ] BajaWesternOnion.com, or call us at 001 530 903 4257 or 01 33 8421 1142 (From Mexico) to make payment directly by VISA, MasterCard, American Express, or Discover Card.
Free Ads: As always, you can place a Free text-based ad in the Baja Western Onion once every 14 days. Submit your Free Ad or Article here: www.bajawesternonion.com/submitad.asp. -
For more details on our commercial advertising opportunities, please visit www.bajawesternonion.com/advertising.asp or send an Email to: advertising [ - a t - ] BajaWesternOnion.com
---
Submit your Misc. Sales and Services Available/Wanted articles here: http://www.bajawesternonion.com/submitad.asp
Return to Top
---

---
Real Estate, Rentals, and House Sitting - Available/Wanted
---
Room For Rent - It is beautiful and tranquil out here by the beach. It is a gated community but very rustic. Two-minute walk to the beach plus a sweeping view. The bedroom is large with its own deluxe bathroom and big walk in closet. I would like a mature, non-smoking roommate for a minimum of one month. Longer would be even better. Located between Todos Santos and Cabo San Lucas in Rancho Migrino. That new highway will be a big plus soon. All utilities are included. Internet is available and we have Dish TV in the living room. Lots of parking, washer/dryer and a large beautiful kitchen to share. Everything is furnished except your food. $600 USD per month. You will never want to leave. Write soon. Jeanne Durban, caboqt [ - a t - ] hotmail.com - Jeanne Durban, caboqt [ - a t - ] hotmail.com, Rancho Migriño
"House Sit" Needed - Responsible couple currently house sitting in Todos Santos (Las Tunas), in need of house sit for November and December. Willing to pay maintenance fees. Smoke-free, alcohol-free, drug-free. Excellent local references. - Lynn & Daniel, tuneintuit [ - a t - ] gmail.com, 612-139-6987
Great Summer Deals: Casa Johanna 2 - Brand-new house with spectacular views of the Pacific Ocean, San Pedritos surf break and Sierra de la Laguna mountain range. This is a 2BE, 2BA house that sits on 887 m2 (almost 1/4 acre) with full services and located in the most desirable neighborhood of Pescadero.

A great layout, quality finishes and multiple viewing decks with a carport make this house an excellent deal. Only $249,000 USD (reduced down from $299,000). Please call to arrange an appointment to view! - Richard Friend, Richie [ - a t - ] RicardoAmigo.com, ricardoamigo.com/Properties-CasaJohannaII.asp, 612-145-0551, Pescadero
Want To Spend the Week in Cabo? - You can have a junior suite at the Pueblo Bonito Rose Nov. 19-26 for only $500 for that week this year. My husband and I are not able to use our timeshare and would like someone else to enjoy all the amenities at http://www.pueblobonito-rose.com/ - Denise, cmyviews [ - a t - ] yahoo.com, www.pueblobonito-rose.com/, 541-350-5133
Need a Place To Live! - My daughter and I are needing a place to live for the middle of November. She is 8 years old and attends the Montessori school here in T.D. We have a small, very well behaved Yorkie named "Pippin." We don't want to pay much and will also love to house sit. We have great references. Please email me at T1atthelagoon [ - a t - ] gmail.com if you can help us out. Thank you - Tracey Smith, Todos Santos
Free Beach Camping - Do you have a small or medium-sized motor-home, trailer, camper or van that you live in? Will supply shade, water and periodic recharge of your electrical system. No drugs or excess use of alcohol. - Frank Pedley, fpedley [ - a t - ] hotmail.com, 612-140-4627, Pescadero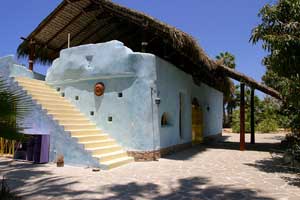 Todos Santos Beach House on a Tranquille Lush 5, 206.22 Sqmt Property - For Sale by Owner: - Two (2) separate driveway entries give the 5, 206.22 sq meter (1.25 acre) property privacy from both the front and back, giving flexibility to build additional homes or to split in the future. Soil on the property is rich organic black soil, ideal for other organic gardening.

* Property is an enclosed oasis and has unlimited access to farm water that nourishes the over 85 mature mango trees, 80 lush palm trees over 5 feet, passion fruit trees, citrus fruit trees and avocado trees, all of which give the property its cool shade that is coveted in the region and frequently not available on other properties of comparable or more value in the desert landscape.
* Property has power, water (both municipal and farm water), gas and Internet.
* A 6-minute walk takes you to the secluded beach, and a 5-minute drive finds you in the heart of TS.

If you have questions or would like to make an offer after viewing the property on YouTube (www.youtube.com/watch?v=krg9FEeiRtk), feel free to contact us. Save on the fee and make us a good offer. - Anh Walch, anhwalch [ - a t - ] yahoo.com, 212-692-0912, Todos Santos
Beautiful Casita For Rent - Amazing Ocean Views - This unique casita is a 2-bedroom home located 6 miles south of Todos Santos, neighboring the Pescadero Huertas, inbetween Cerritos and San Pedrito surf breaks. The house sits around a mile from the beach, in a peaceful and contemplative desert landscape with outstanding ocean and orchard views. The architecture shows minimalist style in a unique way, providing simple but sophisticated comfort in a tasteful fashion. Special rates for November - Rodrigo Menendez, rmenende [ - a t - ] gmail.com, casitaoasispescadero.blogspot.com/, Pescadero
Reliable House Sitters - Responsable couple, non smokers/drinkers/drugs, no parties We'll keep your home, pets, plants alive and secure. Available for December. Long-term preferably, references. - Mike Maguire, mickinmexico [ - a t - ] gmail.com, Todos Santos
Beautiful Casita For Rent Long Term - Located on a hillside, this unit has spectacular views of the ocean, mountains and town. Accommodates two people very comfortably, also room for a third. 20-minute walk to the center of town. On-site manager. Fully furnished. Superb reviews. Wheelchair accessible. Will consider pets. Willing to negotiate excellent rate for full-season rental. - janethowey [ - a t - ] yahoo.com, www.homeaway.com/vacation-rental/p281622
---
Submit your Real Estate/Rentals/House Sitting/Property Management Services articles here: http://www.bajawesternonion.com/submitad.asp
Return to Top
---
Rides or Caravans Available/Wanted
Note: Ads will run for two weeks unless dated. Please list the date in the title, and specify which airport. Goes without saying, everyone shares expenses for beer, gas, food, etc

To remove your ad if you find a ride or caravan, let us know here: www.bajawesternonion.com/submitad.asp -
---
Want To Transport Small Kiln To Todos Santos - Todos Santos wants a ceramic kiln brought from Northern California. I will pay for the space and have support lined up for the unloading of kiln sections. My dream is to have it there for the Heaven on Earth 2012 workshop, Jan. 2, 2012. Please send me an email or call Donna Billick 530-219-5918 - Donna Billick, rockartus [ - a t - ] aol.com, 530-219-5918, Todos Santos
Passenger Wanted mid-October - Leaving San Diego, CA, Oct. 15 or 16 for La Paz/Todos Santos, BCS. Write for details. - Sylvia St.Clair, sasinbaja [ - a t - ] yahoo.com, Baja California Sur
From Mulege to La Jolla mid-October - Leaving Mulege for La Jolla, CA, on Saturday or Sunday, Oct. 15 or 16. Can carry boxes, etc., plus two people. Returning to Mulege later that next week. Bus to Mulege and I'll pick you up. Gas money is required. For more information, email phonebillmulege [ - a t - ] gmail.com. Thanks. - Bill Enos, phonebillmulege [ - a t - ] gmail.com, 521-615-101-4773, Mulege
Ride To SJD Airport Oct. 18 - I need a ride to SJD on Oct 18. - Rhoda Jacobs, barakabaja [ - a t - ] gmail.com, 612-157-6088 (cell)
Rider Or Caravan Loreto-Santa Rosalia-ferry-Guaymas To Phoenix - Leaving Oct. 23 from Loreto, catching Oct. 23 ferry from Santa Rosalia to Guaymas, then on to Phoenix, AZ. Have room for one person in my small car and/or caravan. Know it's last minute and wrong way for the season, but if it fits your schedule, email me at: rhintransit [ - a t - ] yahoo.com - rhintransit [ - a t - ] yahoo.com, Loreto
Seeking Passenger, Co-pilot, Or Caravan - from Northern California around 10/25. (no space to bring anything except one person and luggage) - Jane Sipe, jasi57 [ - a t - ] juno.com, 707 321 6823 USA
Ride To TS From SJD Airport Oct. 28 - I will be needing a ride from SJD airport to Todos Santos Oct. 28. Please write or call. - Rhoda Jacobs, barakabaja [ - a t - ] gmail.com, 612-157-6088 (cell)
Baja Caravan South After Nov. 1 - Looking to caravan with some folks thru Tecate to Ensenada after the first of November. Can meet in park on the California side the night before. Please contact me at gypszcaravan [ - a t - ] gmail.com - Tall Man, gypszcaravan [ - a t - ] gmail.com, 541-840-0392, United States
Ride Share Early November - Looking for a good companion "co-pilot" from SF Bay Area to Todos Santos in early November. Share driving and gas. Leaving from San Rafael, California. Please email if interested. - Laurie, lauriecpb [ - a t - ] gmail.com, Baja California Sur
Looking For a Ride Share in November - I'm driving from Kelowna, British Columbia to Cabo first week of November. Will be traveling via I-5 through Oregon and California. Won't have much spare room for extra luggage, so if you travel light, are willing to share expenses and want to have a heck of a road trip, get back to me. I did this drive last year so I'm familiar with the route and the process. Will be crossing at TJ. I prefer to do the driving myself, but the company and second set of eyes are a plus. Thanks, Mirek - Mirek Hrabanek, canczech26 [ - a t - ] hotmail.com, Cabo San Lucas
Driver Needed For Small Truck in November - I need someone to drive my Nissan Frontier truck from San Diego to Todos Santos in early November. Bonded and insured, references required. My email is jennylindberg [ - a t - ] earthlink.net. - Jennifer Lindberg, 505-466-0976, Todos Santos
Driving From San Diego In November - Driving from San Diego, through Tijuana, to Cabo on November 22-24 (am flexible on departure date). Would like a passsenger or caravan option. Comfortable SUV with room for your "stuff." I've made this trip about 25 times and I'll do all the driving. - Ina Yank, inayank [ - a t - ] ix.netcom.com, 949- 200-7727
Caravan Wanted in December - Want to caravan to Todos Santos area in early December, could meet with you anywhere from Santa Rosa, CA, to San Diego. Please email Debra at goodthym [ - a t - ] mcn.org - Debra Dawson, goodthym [ - a t - ] mcn.org
---
Submit your Rides or Caravans Needed/Available articles here: http://www.bajawesternonion.com/submitad.asp
Return to Top
---
Pet Corner (Lost and Found pet articles will run for two weeks)
Let us know if you find or place your pet so we can remove your ad -
---
Found a Lost Dog in Los Cerritos - Community: if someone lost a white dog with a pink collar on the way to Los Cerritos, we have found her and are keeping her at the Minisuper Los Arcos in Pescadero. - Mayra Torres, mayra_pithaya [ - a t - ] yahoo.com.mx, 6121317564
Dr. Tomás to Visit - I've invited Dr. Tomás to my house Sunday, Nov. 6, at 9 a.m. to treat pets in the carport. But before we confirm this, we need to know how many people (with how many pets) would like a Todos Santos appointment that morning. E-mail me so I can collect names, last name, too, & the pet name(s). You can call me, but it's better to email so I can gather all the specifics in one document for him. Dr. Tomas will have all vaccines, medications/certificates, etc. if he knows what is needed. I will reply to all with a confirmation and appointment time. Location: One block North of El Sol 2. - Jan Piere, jans [ - a t - ] janimagine.com, 145-0685, Todos Santos
Good Info On What To Do If You Lose Your Dog In Baja (or Anywhere) - This excellent article courtesy of Baja Insider: www.bajainsider.com/baja-life/pet-care/findinglostdogs.htm -
Please Help Keep Unwanted Dogs and Cats Off Our Streets - The annual Spay/Neuter Clinic will take place Nov. 17, 18, and 19 at La Canada del Diablo. Four vets from the U.S. along with several vet techs will join our local vets in an effort to reduce the overpopulation of dogs and cats in our neighborhoods. This service is provided at greatly reduced or free of charge to those in the local Mexican community who could not afford otherwise to have their animals neutered.

While the vets, both local and U.S. donate their services, there are still many expenses involved. The funds raised at the Fur Ball help offset these costs but there is never quite enough. If you have a shopping trip coming up and could help with a few purchases, the following items are essential:
paper towels
syringes 3 ml
alcohol
trash bags
rubber gloves
And let's not forget those hungry, thirsty vets and volunteers who so appreciate drinking water, sodas and snacks. Please mark the dates on your calendar! For more information or to volunteer please contact Angelique at BajaKitties [ - a t - ] Yahoo.com. Thank you. - Amigos de los Animales de Todos Santos A.C. - bajakitties [ - a t - ] yahoo.com

Dog Lost? Check with Baja Dogs - If you have lost a dog, please check with Baja Dogs La Paz at 612-155-8948 or email lostdog [ - a t - ] bajadogs.org. We quite often have dogs at the refuge that we hope owners will claim.

Dogs for Adoption: We have many wonderful dogs for adoption. Please come out and visit the refuge in El Centenario or call 612-155-8948. All of our dogs are vaccinated, spayed or neutered and healthy.

How to Donate: To donate to Baja Dogs La Paz, you can do so through Pay Pal, donate directly through our bank: Bancomer, Account #164033159; donate directly at the refuge or email bdlp [ - a t - ] bajadogslapaz.org and we will make arrangements to pick up your donation. We also are very grateful for any donations of any type of dog food. Please call 612-140-2575 for pick up. Thank you!

All donations are used for general operating and maintenance of the refuge, our spay and neuter campaign and education programs. You may choose where you want your money spent. 100% of all donations to Baja Dogs La Paz, AC are used to help rescue street dogs in La Paz or to reduce their numbers. Donations pay for food, medication, veterinary care, utilities and water, cleaning supplies, etc., and 1 full-time and 2 part-time staff members who care for the dogs 7 days a week. No Board Member receives compensation. - Mario, info [ - a t - ] bajadogslapaz.org, www.bajadogslapaz.org/, 612-155-8948, La Paz
---
Submit your Pet Corner articles here: http://www.bajawesternonion.com/submitad.asp (and remember to Spay and Neuter your pets)
Return to Top
---
Quote of the Day: " Namely, if one fails to include the women in the revolution and the new democracies, there will be no democracy. " ~ Thorbojern Jagland, chairman of the Nobel Peace Prize committee, putting into context the committee's choice of three women to share the most recent prize
---
Looking for the complete Community Events Calendar? Click Here!
---
Return to Top
---
---
Help Support The Baja Western Onion!

We can accept donations by Credit Card, PayPal, cash, check or direct deposit.

For more information, please visit our web site at http://www.BajaWesternOnion.com/donate.asp.
Copyright © 2006 - 2011. The Baja Western Onion. All Rights Reserved. Published Using 100% Recycled Electrons :)
Return to Top
---