On The Web Site:
---
Today's Weather
Click for Extended Forecast

---
Community Access
Policia Preventiva
Todos Santos Police
612 145-1052
Commandante Navarro

Ministero Publico
State Police
612 145 0198
Commandante Erigoyen

Bomberos
Fire Department
Cel. 612-142-6387
Commandante Cadena


---





---
Baja Western Onion
Alan Thompson - Publisher
Debra Webster - Advertising
e-mail For General Feedback
---
---
News and Events, Questions and Answers
---
Help Needed For Mujeres Ayudando A Mujeres / Women Helping Women Shelter - Courtesy La Paz Gringos - Hola Todos, Thank you so much for your support for the Shelter for Women and Children over this past year. Thanks to a very generous soul, the Shelter now has a baby crib to house the one-month old baby. Another baby is due on November 3rd.

The Shelter badly needs single/twin sheets pillow cases and at least 6 pillows for the dorm. You can well imagine the condition of the bedding with so many women and children, some using the Shelter like a revolving door. Three of the colour coordinated bedspreads, bought at the end of Feb., were ruined by a pair of 3 and 4 yr. old sisters who got into one of the older muchachas drawers and decided to give themselves manicures. The result was nail polish all over three of the matching spreads. If you have a stash of cotton fabrics in your cupboards, we have 2 sewing machines - mine and one donated to the Shelter. We can at least sew up duvet covers to cover the ruined spreads. Lessons learned: lock up the dorm during the day to keep the kids out of there.

Also the Shelter is looking for a good used refrigerator. They had two, one for their use in the kitchen and one for the jam samples in the office. The frigde in the kitchen died a few weeks ago. Is there a generous soul out there who is upgrading their fridge who can donate their used one to the Shelter? The Shelter has a pick up truck so transportation can be easily arranged.

I'm sorry to say that the Shelter has also "lost" all of their brand new electric tools needed to convert the sheets of plastic (they receive in payment for doing the sorting at the recycling plant) to usable and salable products. A police report was made, but it is 99.9% sure that it was an "inside" job by a drug addict who knew where the tools were kept. Benita, the owner of the Shelter, is heart broken because this theft has greatly reduced the Shelter's ability to earn income by making salable products. Of course she can't believe that "one of their own" turned on her and literally stabbed her in the back by his theft.

If you can help with a used fridge, electrical tools, bedding and/or cotton fabrics, please e-mail me privately at luizalanoy [- a t -] yahoo.ca We can arrange pick up for any and all donations including clothes and shoes too. - Luiza, www.tasteofthebaja.com/WomenHelpingWomen/, La Paz
ATM Problem For Visitors - Todos Santos Residents: Please advise visitors to Todos Santos that there are problems with some of the ATMs in town. As has been widely reported, sometimes when a visitor inserts a foreign debit card or credit card into a local ATM to obtain cash, there is a communication problem between the Mexican bank and the foreign bank. This results in the visitor receiving no cash, but the amount s/he was trying to withdraw being deducted from his/her account. To resolve the problem, they must report the transaction to the Mexican bank. The Mexican bank will give them a report of the transaction 24 hours later (apparently unable to do so earlier). The visitor then must call their home bank to report the incident and have the funds reinstated into their account.

Many visitors have had this problem and have successfully resolved it as outlined above. This is clearly a great inconvenience for everyone involved: the visitors and those who cater to them in our town. Managers of our local banks are fully aware of the problem. Please advise your guests that the local English-speaking bank employees are happy to assist them to the best of their ability but do not have any authority in the matter. Visitors and locals should speak to bank branch managers directly to pursue a permanent solution. - Bryan Batson, Baja California Sur
Fiestas Tradicionales Todos Santos 2011 / 2011 Todos Santos Annual Traditional Festival - Todos Santos will come alive this week with traditional annual festivities in honor of the founding of Todos Santos and its patron saint, Nuestra Señora del Pilar / Our Lady of Pilar. Nuestra Señora del Pilar is the name given to the Virgin Mary for her reported appearance at the start of Christianity in Spain (http://en.wikipedia.org/wiki/Our_Lady_of_the_Pillar). The Festivities will begin this Friday, October 07 at 7:00 PM and conclude late Wednesday evening, October 12. Events will include religious activities, arts and cultural programs, sports, community exhibits, amusement rides, horse back riding and races, music and dancing exhibitions, contests, a car show, presentations and conferences. A key event is the nominations and coronation ceremony for this year's Queen of The Festival.

Events will be held at the Main Plaza, and other locations in Todos Santos. Look for a special edition of the Baja Western Onion later this week highlighting the Festival's activities. -
Commedia dell'Ego: The Unmasking of the Ego - Comedy? The Buddha said that the Ego is Suffering! What can be so funny about that? The unexamined Ego keeps us in the state of suffering and believing that we know who we are. But look again! Through theatre, movement, dance, meditation, relaxation, Qi Gong, to name a few things ... we can get relief from the relentless chatter of our relative mind/ego and its absurdity - since it has no existence of its own - realizing that it is just a pestering clown - amusing rather than tragic.

We will learn its antics and tricks ... and see through to the other side ... the Essential you. Once seen, there is no going back ... and you will be different. No matter if you are a novice or have a long standing spiritual practice, you will leave with more tools in your pocket to connect to your True Being. Join us and have fun for five days. Details coming soon. April 4-8, 2012, Wednesday thru Sunday, Yandara Yoga Institute - Rhoda Jacobs, barakabaja [- a t -] gmail.com, 612-157- 6088 (cell), Rancho Nuevo
Looking For a Dermatologist - Has anyone been to a good dermatologist? Does there happen to be one in Todos Santos? If not, La Paz or Cabo will do. Need to find one ASAP. Please email me. Thanks for your help :-) - Shawn O'Neill, bajapeacewear [- a t -] hotmail.com, Pescadero
Guitar Teacher Wanted! - I am looking for a guitar teacher in Pescadero area for my eight year old daughter in our home.We will arrive in early November . - Shannon Dayley, Info [- a t -] bearcovecottages.ca, 1-877-949-7939
Please Help Keep Unwanted Dogs and Cats Off Our Streets - The annual Spay/Neuter Clinic will take place Nov. 17, 18, and 19 at La Canada del Diablo. Four vets from the U.S. along with several vet techs will join our local vets in an effort to reduce the overpopulation of dogs and cats in our neighborhoods. This service is provided at greatly reduced or free of charge to those in the local Mexican community who could not afford otherwise to have their animals neutered.

While the vets, both local and U.S. donate their services , there are still many expenses involved. The funds raised at the Fur Ball help offset these costs but there is never quite enough. If you have a shopping trip coming up and could help with a few purchases, the following items are essential:
paper towels
syringes 3 ml
alcohol
trash bags
rubber gloves
And let's not forget those hungry, thirsty vets and volunteers who so appreciate drinking water, sodas and snacks. Please mark the dates on your calendar! For more information or to volunteer please contact Angelique at BajaKitties [- a t -] Yahoo.com. Thank you. - Amigos de los Animales de Todos Santos A.C. - bajakitties [- a t -] yahoo.com

AT&T Viva Mexico Plan Info - Courtesy Baja Pony Express - This is a link to the ATT site for their Viva Mexico plan: www.wireless.att.com/learn/international/viva-mexico.jsp. The good news is that with Viva Mexico you can call for free to and from Mexico with your ATT cell phone. The caveat is that somewhere at ATT there's some small print that states that "Calls made from or received in Mexico cannot exceed your monthly usage allowance (the lesser of 750 minutes or 40% of your anytime minutes/mo) in any two consecutive months."

Translated, this means that in any two month period, the usage for one of those months can be only 40% of your anytime minutes. The following month, you can use all of your anytime minutes. We've been breaking that rule for years, but last year they nabbed us. Not only that, the warning letter, stating that we would be cut off form ATT, was sent to our home while we were still in Mexico. AV

Today's Exchange Rate - Mexican Pesos to 1 USD - Courtesy X-rates.com
Baja Western Onion Community Workshops And Meetings Page - This is a reminder that we have a page on the Baja Western Onion website where you can look up recurring community workshops and meetings. The page can be found at: www.bajawesternonion.com/workshops-meetings.asp

We rely upon our readers to send us the dates and times for these listings, and also to notify us if a workshop or meeting time has changed or is no longer available. Please let us know if any information on this page needs to be updated and we'll take care of it. - Alan And Debra, moderator [- a t -] bajawesternonion.com,
---
Submit your News and Events, Questions and Answers articles here: http://www.bajawesternonion.com/submitad.asp
Return to Top
---
---
Featured Events This Week
---
Online Community Calendar - Just a reminder to anyone planning an event for the coming year to check the Online Community Calendar before choosing a date to see if something else is already planned. If everyone will use this resource, we can avoid conflicts. Check the Online Community Calendar here: www.bajawesternonion.com/community-calendar.asp -
---
Friday, Oct. 7 Thru Wednesday October 12
Fiestas Tradicionales Todos Santos 2011 - 2011 Todos Santos Annual Traditional Festival, Music, Sports, Arts Programs, Dancing, Films, Horseback Riding, Car Show, Presentations and Conferences, Annual Queen of The Festival Coronation. Main Plaza, other locations, Todos Santos
---
---

---
New Community Events and Workshops Notification Page - You can submit event notices for The Community Calendar or Workshops and Meetings pages. The Community Events calendar is limited to non-recurring community events (Sorry, no "Happy Hours," "Daily Specials," or other recurring business activities :). Submit your Community Events and Workshops notices here: http://www.bajawesternonion.com/submit-event.asp
Return to Top
---
---
Stepping Out - Food, Music and Entertainment
---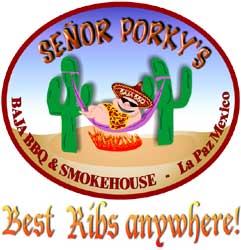 New Restaurant in La Paz - Señor Porky's Baja BBQ and Smoke House! - The best ribs anywhere! Featuring Kansas City slow-smoked meats not found anywhere in Mexico. Open 7 days a week from 9 a.m. to 10 p.m., and weekends until midnight. Watch the sunset from our spectacular ocean view! Located on the Malecon in La Paz at Alvaro Obregon #670, on the corner of Allende and Rosales (next to the Arco Hotel).

To ensure the best quality for Porky's Smokehouse Meats, we start with the best meats available. Then we dry-rub the meats with a combination of 20 spices, then slow-smoke for up to 18 hours at low temperature to obtain maximum flavor and tenderness while sealing in the natural juices and smoke flavor that is unmatched anywhere! We know you'll agree that Señor Porky's Baja BBQ and Smoke House are the best you have ever tasted. Menu highlights include:
• Slow Smoked Ribs • Pulled Pork • Beef Brisket • BBQ Chicken • Smoked Bratwurst •
Plus fantastic side orders include Pasta Salad, BBQ beans, Coleslaw, Sweet Potato fries, New Mexico Green Chile with Pork, Caesar Salad and Homemade Deserts. Dine in, or carry out from our "Pig Out" Meats to Go Menu. Download our entire Menu here: files.me.com/richards771/1wclv6
Special!! - Mention you saw our ad in The Baja Western Onion
and get a free Margarita or Pina Colada with dinner
OR
Buy one dinner and get the second dinner at half off!
(offer good until Nov. 1, 2011)
For more information, call 612-129-3667. - Richard Stubbs, richards77 [- a t -] pcisys.net, La Paz

Worth A Detour To Rancho Pescadero - To try the food prepared by the new Chef, Richardo. He is using fresh and innovative approaches to prepare traditional dishes that is just delicious. - Name Withheld By Request
Zen Garden Now Open - We have many exciting new events for this season to look forward to and delicious food prepared by our 5-star quality chef. Come in and enjoy all the Asian Fusion, Thai, Japanese, Chinese and Vietnamese cuisine that you've been missing, all at great prices!


$100 Pesos Special When You Mention
You Saw Our Ad In The Baja Western Onion!


Open 12-9 PM, closed Tuesdays. Looking forward to seeing ALL of you! - Zen Garden, yanggum [- a t -] zengardencafe.com, www.zengardencafe.com, 612-145-1088, Todos Santos
Pericu Azul Cafe Y Mas Now Open! - Todos Santos' newest cafe is serving up amazing home cooked Mexican food, fresh juices and aguas in a beautiful historic building. Lots of interesting items for sale as well. Come see us on the corner of Topete and Centenario- look for the bright tables and large umbrellas. We open at 8 a.m. and close at 6 p.m. Except for Wednesdays - Coco needs to rest and refresh! - , miguel_ochoac [- a t -] yahoo.com, Todos Santos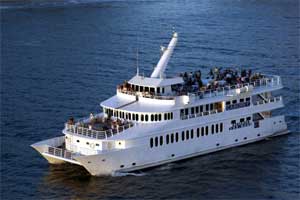 Caborey Dinner Cruise - With over 40 years offering tours in Mexico, Caborey has firmly established its reputation for quality, safety and fun. Reserving tours in advance through our website assures that you are purchasing tours from a reputable source and that the date and time of your reservation will be respected. Allow us the pleasure of providing these services for you.

Experience the natural wonder of Cabo San Lucas from aboard our luxurious 144' triple deck catamaran, From the moment you board the Caborey prepare yourself for an exhilarating experience. The majesty of the Land's End rock formations including Cabo's iconic "Arch" will spread out before you as the Caborey slips away from the marina and into Medano Bay. Live music and limitless cocktails accompany the breathtaking view from the upper deck of the Caborey as it follows its route along the tip of the Baja.

As the sun sinks into the horizon, tempt your palate with one of our 6 delectable entrees. Then as you take your last bite of scrumptious dessert, sit back and enjoy a Las Vegas-style show that will delight you with the sounds and rhythms of Latin America. - Caborey Cabo, reserv [- a t -] caborey.com, www.caborey.com, 143 8060, Cabo San Lucas
El Zaguan Is Open Again - I hope everybody had a great summer. El Zaguan has re-opened for the season and we hope to see you there! - Erik Castellanos, esturemark [- a t -] gmail.com, Todos Santos
Tim Lang Live - Come down and see Tim Lang this Saturday at Marina's in Pescadero from 5-8! Dinner specials and happy hour from 5-8 as well. Hope to see you there! Thanks to all that came last week and made for such a fun show. - , tim [- a t -] timlang.net, Pescadero
Roadhouse Offers Beer and Burgers - The Latitude 22 Roadhouse in Cabo San Lucas now offers ice cold beer in the bar $15 pesos (no exceptions!). We also offer nachos for $50 pesos, an all-new George Snyder, Big Mike Football Burger with chips for $55, a bowl of chili for $50 pesos, a chili football burger for $75 pesos and a meatloaf sandwich for $55 pesos. You can also order grilled fish football swiss melt w/chips for $65 pesos and cheap booze for $25 pesos. Mention this ad, buy the owner a drink! For more information, call 624-143-1516
---
Submit your Stepping Out - Food, Music and Entertainment announcements here: http://www.bajawesternonion.com/submitad.asp
Return to Top
---
Misc. Sales and Services Available
---
Solar Water Heating Systems - Solar Water Heating Systems for home or pool locally designed and built for the latitudes of Baja Sur. Eliminate water heating costs. Solar is non-polluting and renewable; tap into the free power of the sun. - Skip Ackerman, skip [- a t -] solsticesolarofbaja.com, www.solsticesolarofbaja.com, 624-142-8002, Baja California Sur
Dog Carrier Needed For a Month - Looking for a large 'Dog Carrier' (Airline approved and approx. size: 34"x23"x25" high) to borrow for about one month. Needed to fly our dog Dec. 13 to Canada and back in TS by Jan. 15. plse. E-mail mabuijs [- a t -] yahoo.ca - Marianne Buijs, mabuijs [- a t -] yahoo.ca, Todos Santos

Acupuncture Clinic To Re-open Early November - I look forward to facilitating your search for natural solutions to your health issues. Watch the BWO for more details. - Jane Sipe, L. Ac., jasi57 [- a t -] juno.com, 612 151 7026 - after 11/1/11
Servicios Computadoras, Todos Santos - Ofrece servicios de Internet y Computadoras. Venta, instalacion y soporte de redes cableadas e inalámbricas, anti-virus, Voice Over IP (Vonage, Net2phone), computadoras.
Computer Services, Todos Santos - Offering internet and computer services. WiFi / VoIP / Computers - Sales, installation, service and support: wired and wireless networks, virus removal, Voice Over IP (Vonage, Net2Phone), computers. - Josue Castillo Mayoral, Cellular: 612-148-3786, jocama85 [- a t -] hotmail.com, Todos Santos

Need a Ride to or From the Airport? Or Someone to Assist You With Errands? - I am a young, bilingual Christian man and I can provide you with rides to or from the La Paz or San Jose Del Cabo airports. I can also help you with courier services, errands, or navigating the intricacies of dealing with Mexican businesses and the government; Car Registrations, TelCel and TelMex, CFE, Seguro Social, etc.

Reasonable Rates - Contact: Ernesto, Cel. 612-117-7497, ernie_net [- a t -] hotmail.com
Fall Furniture Sale! - La Cañada del Diablo is having their Fall Furniture Sale! Barstools starting at $45 USD, dining chairs starting at $75 USD, club chairs starting at $100 USD, ottomans starting at $50 USD. Limited quantities. Call or email for further information or individual pricing and photos. - Linda Hamilton, linda [- a t -] lindahamiltondesigns.com, www.lindahamiltondesigns.com, 612-105-2857 -OR- 612-140-0069, Todos Santos
Potter's Wheel For Sale - Skutt Potter's wheel for sale $250 USD. Excellent condition, includes tools and pottery instruction book. - Rebecca Mccallie, casasuenos2000 [- a t -] yahoo.com, 624-143-2728
19' Travel Trailer For Sale - 19' Travel Trailer in very good condition. Photos and info on website link below. - Robert Quirk, www.todossantosrentals.net/TravelTrailer.html, 624-147-0326
Looking For a Car - I am looking for a car that I can use while I am in Todos Santos and Pescadero for a month or two. Wondering if anyone has an old beater that I could use part time in exchange for work trade or rent at a good price. I am available for everything from personal assistant work, cooking and cleaning to Professional Massage and Energy Therapy. I have my own car insurance and I am very responsible with a clean driving record. Please contact me at enaraheals [- a t -] yahoo.com. Thanks! - Carol Lynn, enaraheals [- a t -] yahoo.com, NPEojai.com, 805-320-5925, Todos Santos
Airport Transportation- 10% Discount On Round Trips - Book your round trip from Cabo to Todos Santos with Safe Ride before Nov 1st and get a 10% discount on your fare. Please email for a quote and mention this add. saferideinbajasur [- a t -] gmail.com - Safe Ride, saferideinbajasur [- a t -] gmail.com, Pescadero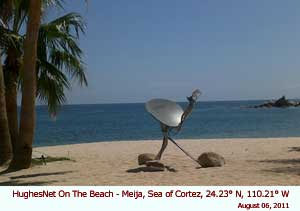 Now, Get Internet No Matter Where You Live:
Always-On Connection
Available Where DSL and Cellular Won't Reach
PC, Mac, Wireless Compatible
Multiple Computers Can Share the Same Internet Connection Full-Time
Vacation Holds Available
Professional Installation Available
Special Offers Extended Thru September 30:
1. $199.99 Mail-In Rebate:

0.74 Meter Dish with 1 Watt Transmitter - $499.99 $299 US After Rebate!1.
0.98 Meter Dish with 2 Watt Transmitter - $899.99 $699 US After Rebate!1

2. $60.00 Mail-In Rebate for $20 off Your First Three Months of Service! 2

| | | | |
| --- | --- | --- | --- |
| Data Plan | Down/Up Speed3 | Daily Data Allowance4 | Monthly Service |
| Basic | 1.0 Mbps/200 Kbps | 200 MB | $59.99 $39.99/mo. 1st 3 mos.! |
| Power 150 | 1.5 Mbps/250 Kbps | 300 MB | $79.99 $59.99/mo. 1st 3 mos.! |
| Power 150+ | 1.5 Mbps/250 Kbps | 350 MB | $89.99 $69.99/mo. 1st 3 mos.! |
Baja Satellite is an Authorized HughesNet Reseller. For more information Contact Us today: alan [- a t -] BajaSatellite.com, www.bajasatellite.com, (530) 903-4257 (From US), (01) 555 351 0882 (From Within Mexico), Baja California Sur
1 Equipment prices shown are after $199.99 mail-in rebate, and do not include Mexican shipping, importation or installation. System must be purchased before September 30.
2 $20 off per month for 1st. three months, after $60 mail-in rebate. System must be purchased before September 30. All plans require 24-month contract.
3 Absolute maximum speeds stated by HughesNet. Actual speeds will be less, and speeds will vary throughout the day and week depending upon total number of HughesNet subscribers sharing your satellite channel.
4 If daily allowance is exceeded, speeds may be reduced for up to 24 hours.

Baja Western Onion Private-party Ad Special!
Get More Coverage! Two Weeks - Four Issues - Only $10.00 US:
- Yard Sales, Vehicles, Misc. For Sale or Wanted
- Reach 3,200 Baja Western Onion Readers
- Your Ad Featured In a Red, Highlighted Box
- Available Only For Private-Party, Non-Commercial, Text-Based Ads.
Payment: All Private-party Special Ads must be prepaid in advance of initial run date. You can make your payment online via PayPal athttps://www.paypal.com/cgi-bin/webscr?cmd=_xclick&business=advertising [- a t -] BajaWesternOnion.com, or call us at 001 530 903 4257 or 01 33 8421 1142 (From Mexico) to make payment directly by VISA, MasterCard, American Express, or Discover Card.
Free Ads: As always, you can place a Free text-based ad in the Baja Western Onion once every 14 days. Submit your Free Ad or Article here: www.bajawesternonion.com/submitad.asp. -
For more details on our commercial advertising opportunities, please visit www.bajawesternonion.com/advertising.asp or send an Email to: advertising [- a t -] BajaWesternOnion.com
---
Submit your Misc. Sales and Services Available/Wanted articles here: http://www.bajawesternonion.com/submitad.asp
Return to Top
---

---
Real Estate, Rentals, and House Sitting - Available/Wanted
---
House Sitting Sought - We are a Canadian couple looking to house sit in any area in Baja, from December to April. Very flexible, honest, clean, responsables. Hard workers. References. Speak English and Spanish - George Lorenzo, olivermoney [- a t -] hotmail.com, 250-498-3495, Canada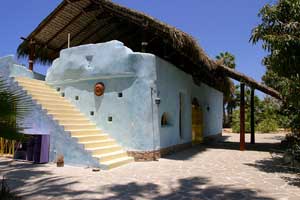 Todos Santos Beach House on a Tranquille Lush 5, 206.22 Sqmt Property - For Sale by Owner: - Two (2) separate driveway entries give the 5, 206.22 sq meter (1.25 acre) property privacy from both the front and back, giving flexibility to build additional homes or to split in the future. Soil on the property is rich organic black soil, ideal for other organic gardening.

* Property is an enclosed oasis and has unlimited access to farm water that nourishes the over 85 mature mango trees, 80 lush palm trees over 5 feet, passion fruit trees, citrus fruit trees and avocado trees, all of which give the property its cool shade that is coveted in the region and frequently not available on other properties of comparable or more value in the desert landscape.
* Property has power, water (both municipal and farm water), gas and Internet.
* A 6-minute walk takes you to the secluded beach, and a 5-minute drive finds you in the heart of TS.

If you have questions or would like to make an offer after viewing the property on YouTube (www.youtube.com/watch?v=krg9FEeiRtk), feel free to contact us. Save on the fee and make us a good offer. - Anh Walch, anhwalch [- a t -] yahoo.com, 212-692-0912, Todos Santos
Long-Term Housesitting - Reliable barista at Baja Beans looking for a long-term housesitting position in Todos Santos or Pescadero - Hesed Najera, hesedn [- a t -] gmail.com

Beautiful Casita For Rent Long Term - Located on a hillside, this unit has spectacular views of the ocean, mountains and town. Accommodates two people very comfortably, also room for a third. 20-minute walk to the center of town. On-site manager. Fully furnished. Superb reviews. Wheelchair accessible. Will consider pets. Willing to negotiate excellent rate for full-season rental. - janethowey [- a t -] yahoo.com, www.homeaway.com/vacation-rental/p281622
---
Submit your Real Estate/Rentals/House Sitting/Property Management Services articles here: http://www.bajawesternonion.com/submitad.asp
Return to Top
---
Rides or Caravans Available/Wanted
Note: Ads will run for two weeks unless dated. Please list the date in the title, and specify which airport. Goes without saying, everyone shares expenses for beer, gas, food, etc

To remove your ad if you find a ride or caravan, let us know here: www.bajawesternonion.com/submitad.asp -
---
Co-pilot or Convoy Oct. 5-7 San Diego-Los Cabos - Looking for a second car driving the Baja Wednesday (today) to Friday. Alternatively, can offer a ride to a reliable person who doesn't have much luggage. My car is quite full already, but the front seat is currently open! Currently in San Diego area. - Jane Lillico, janelillico [- a t -] gmail.com
Need Ride to the Airport Tomorrow - Looking for a ride to SJD in Cabo from Todos Santos tomorrow, Thursday, Oct. 6. I need to be there by about 11:30 a.m. at the latest- willing to go earlier. Happy to pay for gas and lattes! - Christine Sperber, c.sperber [- a t -] yahoo.com, 612-157-9431, Todos Santos
Want To Transport Small Kiln To Todos Santos >From Northern California - Todos Santos wants a ceramic kiln brought from Northern California. I will pay for the space and have support lined up for the unloading of kiln sections. My dream is to have it there for the Heaven on Earth 2012 workshop, Jan. 2, 2012. Please send me an email or call Donna Billick 530-219-5918 - Donna Billick, rockartus [- a t -] aol.com, 530-219-5918, Todos Santos
Passenger Wanted mid-October - Leaving San Diego, CA, Oct. 15 or 16 for La Paz/Todos Santos, BCS. Write for details. - Sylvia St.Clair, sasinbaja [- a t -] yahoo.com, Baja California Sur
From Mulege to La Jolla mid-October - Leaving Mulege for La Jolla, CA, on Saturday or Sunday, Oct. 15 or 16. Can carry boxes, etc., plus two people. Returning to Mulege later that next week. Bus to Mulege and I'll pick you up. Gas money is required. For more information, email phonebillmulege [- a t -] gmail.com. Thanks. - Bill Enos, phonebillmulege [- a t -] gmail.com, 521-615-101-4773, Mulege
Seeking Passenger, Co-pilot, Or Caravan - from Northern California around 10/25. (no space to bring anything except one person and luggage) - Jane Sipe, jasi57 [- a t -] juno.com, 707 321 6823 USA
Baja Caravan South After Nov 1 - Looking to caravan with some folks thru tecate to ensenada after the first of november...can meet in park on the california side the night before...please contact me at gypszcaravan [- a t -] gmail.com - Tall Man, gypszcaravan [- a t -] gmail.com, 541-840-0392, United States
Ride Share Early November - Looking for a good companion "co-pilot" from SF Bay Area to Todos Santos in early November. Share driving and gas. Leaving from San Rafael, California. Please email if interested. - Laurie, lauriecpb [- a t -] gmail.com, Baja California Sur
Looking For a Ride Share in November - I'm driving from Kelowna, British Columbia to Cabo first week of November. Will be traveling via I-5 through Oregon and California. Won't have much spare room for extra luggage, so if you travel light, are willing to share expenses and want to have a heck of a road trip, get back to me. I did this drive last year so I'm familiar with the route and the process. Will be crossing at TJ. I prefer to do the driving myself, but the company and second set of eyes are a plus. Thanks, Mirek - Mirek Hrabanek, canczech26 [- a t -] hotmail.com, Cabo San Lucas
Driver Needed For Small Truck in November - I need someone to drive my Nissan Frontier truck from San Diego to Todos Santos in early November. Bonded and insured, references required. My email is jennylindberg [- a t -] earthlink.net. - Jennifer Lindberg, 505-466-0976, Todos Santos
Caravan Wanted in December - Want to caravan to Todos Santos area in early December, could meet with you anywhere from Santa Rosa, CA, to San Diego. Please email Debra at goodthym [- a t -] mcn.org - Debra Dawson, goodthym [- a t -] mcn.org
---
Submit your Rides or Caravans Needed/Available articles here: http://www.bajawesternonion.com/submitad.asp
Return to Top
---
Pet Corner (Lost and Found pet articles will run for two weeks)
Let us know if you find or place your pet so we can remove your ad -
---
Chaco Needs Home - Chaco, 8 months old, seeks home. Chaco is an affectionate, healthy and playful dog who seeks his long-term owner. He arrived at my door in bad shape a few months back, and now he's ready to go. He has his shots, and is about to be neutered. Please drop a line or call to meet him. Thanks, - Serena S, brentserena [- a t -] gmail.com, www.facebook.com/media/set/?set=a.2460630043929.142988.1497523713&l=e9c563d882&type=1, 612-132-8913, Todos Santos
Good Info On What To Do If You Lose Your Dog In Baja (or Anywhere) - This excellent article courtesy of Baja Insider: www.bajainsider.com/baja-life/pet-care/findinglostdogs.htm -
Missing Friend - Our friend went missing Thursday night (Sept. 8) We miss him and so does his buddy. He was last seen around the Sandbar. He is brown, short hair and has two scars (a large scar on his left flank and a thin white scar around his neck which was caused by a string he was tied up with when we rescued him). He has (had) a red collar. Instead of him moping around, feeling sad and lonely, why not bring him back and let him come home? He is not a stray and we would like him back home sleeping in his favorite spot. If anyone has seen him, please get in touch. email jimiykaren [- a t -] yahoo.com, phone 130-3022 - jimiykaren [- a t -] yahoo.com, Pescadero
Dog Lost? Check with Baja Dogs - If you have lost a dog, please check with Baja Dogs La Paz at 612-155-8948 or email lostdog [- a t -] bajadogs.org. We quite often have dogs at the refuge that we hope owners will claim.

Dogs for Adoption: We have many wonderful dogs for adoption. Please come out and visit the refuge in El Centenario or call 612-155-8948. All of our dogs are vaccinated, spayed or neutered and healthy.

How to Donate: To donate to Baja Dogs La Paz, you can do so through Pay Pal, donate directly through our bank: Bancomer, Account #164033159; donate directly at the refuge or email bdlp [- a t -] bajadogslapaz.org and we will make arrangements to pick up your donation. We also are very grateful for any donations of any type of dog food. Please call 612-140-2575 for pick up. Thank you!

All donations are used for general operating and maintenance of the refuge, our spay and neuter campaign and education programs. You may choose where you want your money spent. 100% of all donations to Baja Dogs La Paz, AC are used to help rescue street dogs in La Paz or to reduce their numbers. Donations pay for food, medication, veterinary care, utilities and water, cleaning supplies, etc., and 1 full-time and 2 part-time staff members who care for the dogs 7 days a week. No Board Member receives compensation. - Mario, info [- a t -] bajadogslapaz.org, www.bajadogslapaz.org/, 612-155-8948, La Paz
Impossible to Resist! - New arrivals at Kitty Heaven despite all of our efforts to spay and neuter (but without the help of the community, there would be even more!).

All colors, all very young and playful. For more information, call Angelique at 612-145-0250 or write her at BajaKitties [- a t -] Yahoo.com

Kitty Heaven is the only all-cat refuge in Baja California Sur. Visit us on the web athttp://bajarescue.org/#KittyHeaven. We survive via your kind donations. To send your support, please click the "Donate" button below:
---
Submit your Pet Corner articles here: http://www.bajawesternonion.com/submitad.asp (and remember to Spay and Neuter your pets)
Return to Top
---
Quote of the Day: " Adopt the pace of nature: her secret is patience. " ~ Ralph Waldo Emerson
---
Looking for the complete Community Events Calendar? Click Here!
---
Return to Top
---
---
Help Support The Baja Western Onion!

We can accept donations by Credit Card, PayPal, cash, check or direct deposit.

For more information, please visit our web site at http://www.BajaWesternOnion.com/donate.asp.
Copyright © 2006 - 2011. The Baja Western Onion. All Rights Reserved. Published Using 100% Recycled Electrons :)
Return to Top
---