On The Web Site:
---
Today's Weather
Click for Extended Forecast

---
Community Access
Policia Preventiva
Todos Santos Police
612 145-1052
Commandante Navarro

Ministero Publico
State Police
612 145 0198
Commandante Erigoyen

Bomberos
Fire Department
Cel. 612-142-6387
Commandante Cadena


---





---
Baja Western Onion
Alan Thompson - Publisher
Debra Webster - Advertising
e-mail For General Feedback
---
---
News and Events, Questions and Answers
---
Heaven On Earth 2012 - Heaven on Earth 2012, is the creation of an Aztec Calendar with clay, cement and mosiac, scheduled on Jan 2-6 2012,in the town of Todoa Santos. Come learn hands on at the Todos Artes Studio, how to design, fabricate and install a community build mural that will be a large scale public art legacy artwork. It is going to be amazing. Contact Donna Billick for flyer, and more information at rockartus [- a t -] aol.com. - Donna Billick, rockartus [- a t -] aol.com, 530 2195918 in US and Todos Santos
The Tianguis Is Coming! The Tianguis Is Coming! - The Palapa Society's Fifth Annual Tianguis (Garage Sale) will be held Sat., Nov 26. Your donations of clothes, furniture, household goods or toys truly help to make the Tianguis a big success every year. Please start checking your closets and bodegas for saleable items that you no longer need. If you are from out of town, remember to bring your donations for Tianguis when you return to Todos Santos this fall.

Garage Sale donations should be brought to the Ejidal grounds on Militar the afternoon of Friday, Nov. 25. If you would like to deliver donations sooner, please call 612-145-0299 to arrange a time for drop-offs at the Palapa Society building, #35 Calle Juarez. All money raised by the Tianguis will be used to fund BECAS (scholarships) for Todos Santos high school and college students. Last year over sixty students were helped by these scholarships! - The Palapa Society, 612-145-0299, Todos Santos
Good Info On What To Do If You Lose Your Dog In Baja (or Anywhere) - This excellent article courtesy of Baja Insider: www.bajainsider.com/baja-life/pet-care/findinglostdogs.htm -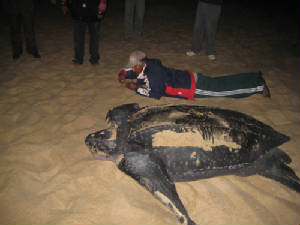 Leatherback Nesting Season Is Here! - Our local beaches have been identified as an important nesting site of the critically endangered Pacific Leatherback. Contact us to plan your family camp out, school field trip or group conservation activity. There will be Olive Ridley hatchling releases almost daily at sunset in Las Playitas now through January, and Leatherback hatchling releases will follow...HOPEFULLY!! - Tortugueros Las Playitas A.c., tortugueroslasplayitas [- a t -] gmail.com, www.todostortugueros.org, 145.0353, Todos Santos
Dog Trainer - A smart, young street dog has adopted us and we need help training her. One-on-one or group okay. Will pay well for good results. Todos Santos - David Yager, david [- a t -] alderwood.com, Todos Santos
Want To Transport Small Kiln To Todos Santos From Northern California - Todos Santos wants a ceramic kiln brought from Northern California. I will pay for the space and have support lined up for the unloading of kiln sections. My dream is to have it there for the Heaven on Earth 2012 workshop, Jan 2 2012. Please send me an email or call Donna Billick 530 2195918 - Donna Billick, rockartus [- a t -] aol.com, 530 2195918, Todos Santos
Library Book Additions - The Palapa Library has just received about 500 new titles, thanks to two generous donors cleaning their shelves. Please come by any MWF from 10 a.m.-1 p.m. and have a look. Library membership is $250 pesos per year for your immediate family. Your volunteer team is anxious to show off our new additions! - jfwarner [- a t -] hotmail.com
Want To Buy A Sofa Bed - Good condition and clean. In Todos Santos. Gracias! - sfrascella [- a t -] aol.com
"Birds We See" (Courtesy Baja Pony Express) - Chris Llewellyn of Los Barriles would like to announce the release of his new book "Birds We See" in Baja California Sur, MX. It is an amazing photographic journey of many of the birds seen in Baja California Sur and is a premium personal coffee table book or gift. This publication contains more than 185 original color photos taken by Chris and Debbie Llewellyn in Baja Sur. A portion of sales is dedicated to ovarian cancer research at M.D. Anderson. Go to BirdsWeSee.com for a video book trailer and ordering information - Chris and Debbie Llewellyn www.BirdsWeSee.com
Baja Western Onion Community Workshops And Meetings Page - This is a reminder that we have a page on the Baja Western Onion website where you can look up recurring community workshops and meetings. The page can be found at: www.bajawesternonion.com/workshops-meetings.asp

We rely upon our readers to send us the dates and times for these listings, and also to notify us if a workshop or meeting time has changed or is no longer available. Please let us know if any information on this page needs to be updated and we'll take care of it. - Alan And Debra, moderator [- a t -] bajawesternonion.com,
---
Submit your News and Events, Questions and Answers articles here: http://www.bajawesternonion.com/submitad.asp
Return to Top
---
---
Featured Events This Week
---
Online Community Calendar - Just a reminder to anyone planning an event for the coming year to check the Online Community Calendar before choosing a date to see if something else is already planned. If everyone will use this resource, we can avoid conflicts. Check the Online Community Calendar here: www.bajawesternonion.com/community-calendar.asp -
---
Saturday, Oct. 1
Probaja Desert Series 2011 - Saturday thru Sunday, Oct. 2, Volaris Grand Prix – Pista, La Paz, www.probajaonline.com
Friday, Oct. 7 Thru Wednesday October 12
Fiestas Tradicionales Todos Santos 2011 - 2011 Todos Santos Annual Traditional Festival, Music, Sports, Arts Programs, Dancing, Films, Horseback Riding, Car Show, Presentations and Conferences, Annual Queen of The Festival Coronation. Main Plaza, other locations, Todos Santos
---

---

---
New Community Events and Workshops Notification Page - You can submit event notices for The Community Calender or Workshops and Meetings pages. The Community Events calendar is limited to non-recurring community events (Sorry, no "Happy Hours," "Daily Specials," or other recurring business activities :). Submit your Community Events and Workshops notices here: http://www.bajawesternonion.com/submit-event.asp
Return to Top
---
---
Stepping Out - Food, Music and Entertainment
---
Re-opening of Restaurant and Hotel - After almost a month of easy going, Hotel Posada La Poza and Restaurante El Gusto! are re-opening Sat., Oct. 1, 11:30 onwards. As a welcome back surprise, we have a special offer of our famous margarita plus tapas at only 50 pesos. Join us to celebrate the beginning of Fall on our sunset deck. Dinner reservation is appreciated. Juerg and Libusche are looking forward to welcoming you at Posada La Poza. - Juerg Wiesendanger, lapoza [- a t -] prodigy.net.mx, www.lapoza.com, 612-145-0400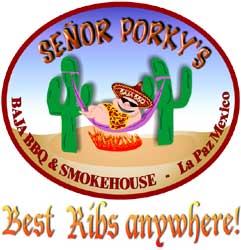 "Pig Out" at Señor Porky's Baja BBQ and Smoke House! - Featuring Kansas City slow-smoked meats not found anywhere in Mexico. Open 7 days a week from 9 a.m. to 10 p.m., and weekends until midnight. Watch the sunset from our spectacular ocean view! Located on the Malecon in La Paz at Alvaro Obregon #670, on the corner of Allende and Rosales (next to the Arco Hotel).

To ensure the best quality for Porky's Smokehouse Meats, we start with the best meats available. Then we dry-rub the meats with a combination of 20 spices, then slow-smoke for up to 18 hours at low temperature to obtain maximum flavor and tenderness while sealing in the natural juices and smoke flavor that is unmatched anywhere! We know you'll agree that Señor Porky's Baja BBQ and Smoke House are the best you have ever tasted. Menu highlights include:
• Slow Smoked Ribs • Pulled Pork • Beef Brisket • BBQ Chicken • Smoked Bratwurst •
Fantastic side orders include Pasta Salad, BBQ beans, Coleslaw, Sweet Potato fries, New Mexico Green Chile with Pork, Caesar Salad and Homemade Deserts. Dine in, or carry out from our "Pig Out" Meats to Go Menu. Download our entire Menu here: files.me.com/richards771/1wclv6
Special!! - Mention you saw our ad in The Baja Western Onion
and get a free Margarita or Pina Colada with dinner
OR
Buy one dinner and get the second dinner at half off!
(offer good until Nov. 1, 2011)
For more information, call 612-129-3667. - Richard Stubbs, richards77 [- a t -] pcisys.net, La Paz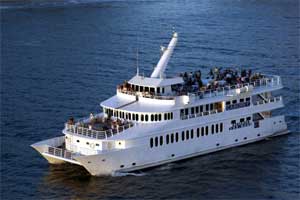 Caborey Dinner Cruise - With over 40 years offering tours in Mexico, Caborey has firmly established its reputation for quality, safety and fun. Reserving tours in advance through our website assures that you are purchasing tours from a reputable source and that the date and time of your reservation will be respected. Allow us the pleasure of providing these services for you.

Experience the natural wonder of Cabo San Lucas from aboard our luxurious 144' triple deck catamaran, From the moment you board the Caborey prepare yourself for an exhilarating experience. The majesty of the Land's End rock formations including Cabo's iconic "Arch" will spread out before you as the Caborey slips away from the marina and into Medano Bay. Live music and limitless cocktails accompany the breathtaking view from the upper deck of the Caborey as it follows its route along the tip of the Baja.

As the sun sinks into the horizon, tempt your palate with one of our 6 delectable entrees. Then as you take your last bite of scrumptious dessert, sit back and enjoy a Las Vegas-style show that will delight you with the sounds and rhythms of Latin America. - Caborey Cabo, reserv [- a t -] caborey.com, www.caborey.com, 143 8060, Cabo San Lucas
"Magic on the Beach" Annual Music Festival - The East Cape Arts Association announced they will hold their annual music festival "Magic on the Beach" on November 5, 2011. The festival will take place on the Playa del Sol Resort beach in Los Barriles. Music starts at 1:00 p.m. and will end about 10:30 p.m. This year's festival offers the strongest lineup yet with an amazing variety in music styles:
Jim Gray's Revolving Door will present a mixture of Blue Grass and Country to get the festival off to a good start.
Howie Clifton and Norma Sanchez have performed the music of Latin America with Sexto Sentido over the years and are sure to please the crowd.
Pura Vida brings Reggae with the sounds of Bob Marley to the stage. Their blend of tight vocal harmonies and solid grooves will be well received.
Todd Clouser and A Love Electric will always bring a surprise or two. You can count on Todd to have a "secret" guest artist when he shows up to perform a combination of groove jazz, rock standards and jazz standards.
Cambio de Corazon performs high energy Latin Jazz. Playing jazz standards and Latin rock in a contemporary Latin style, Cambio de Corazon presents a fresh concept borrowing very little from the original.
Mark Walters and Randy Leach of Skeleton Key bring their extensive tune list from Bob Dylan, the Beatles, Stones, Grateful Dead, Clapton and Santana to the stage for listening and dancing.
Plácido Arce from Los Barriles will play six and twelve string guitar while singing soft Spanish ballads during dinner.
After dark, Fire Dancers from Cabo Shows will interpret the music with their dynamic and innovative performances. A large bonfire on the beach will illuminate the stage and a pig roast dinner in the evening.

The Playa de Sol gate opens at 12 noon. The event is "festival seating." Chairs are limited, so bring your lawn chair or blanket. Light food, soft drinks, and alcoholic beverages will be available for purchase all day. A pig roast dinner will be ready at 5:30 p.m. Coolers and pets are not permitted on the grounds or beach. Playa del Sol Resort has put together packages for those wishing to stay overnight. Packages include festival admission, hotel room, dinner ticket and drinks. Call 877-777-TUNA (8862) or 624-141-0044 for package information and reservations. Ask for "Music Festival Package."

Tickets at the door are $30.00 USD ($370 Pesos) for admission and $15.00 USD ($180 Pesos) for the pig roast dinner. Combined tickets will not be sold the day of the event. A limited number of advanced tickets available at $25.00 USD ($310 Pesos) for admission only and $35.00 USD ($430 Pesos) for admission and the pig roast dinner. Advanced tickets on sale from October 3 through November 3 at:
Baja Beach Company, Plaza del Pueblo, Los Barriles.
Baja Books and Maps, San Jose del Cabo - just across the arroyo from Centro San Jose accessed by the new bridge to La Playita and Puerto Los Cabos.
Attorney Gisela Talamentas's office - Ignacio Allende 895, Esq. con Josefa Ortiz de Dominguez, Colonia Centro, La Paz.
Visit www.eastcapearts.com and click on "Music Festival" for more information. All proceeds help the East Cape Arts Association bring the arts to the local community and the schools.
---
Submit your Stepping Out - Food, Music and Entertainment announcements here: http://www.bajawesternonion.com/submitad.asp
Return to Top
---
Misc. Sales and Services Available
---
Great Furniture and Accessories - We have some GREAT deals on new and slightly used furniture and accessories here in Cabo San Lucas - Sandra S, www.blurb.com/mobile/show/02ce40b5a, 624-129-8691, Cabo San Lucas

Ram Truck For Sale - Good Baja truck for sale. Dodge Ram 1996, 2-door, 130,000 miles on engine, Force camper shell, good paing, good engine and automatic trans. Mexican National plates. Details: Power steering needs work, need to replace a couple of worn tires, minor seat rips, otherwise everything clean. I'll let you have it for $3,000 USD. A deal!Call 624.154.2971 or Email: garcia350zx [- a t -] hotmail.com - Gus Garcia, garcia350zx [- a t -] hotmail.com, 624-154-2971
Servicios Computadoras, Todos Santos - Ofrece servicios de Internet y Computadoras. Venta, instalacion y soporte de redes cableadas e inalámbricas, anti-virus, Voice Over IP (Vonage, Net2phone), computadoras.
Computer Services, Todos Santos - Offering internet and computer services. WiFi / VoIP / Computers - Sales, installation, service and support: wired and wireless networks, virus removal, Voice Over IP (Vonage, Net2Phone), computers. - Josue Castillo Mayoral, Cellular: 612-148-3786, jocama85 [- a t -] hotmail.com, Todos Santos
Looking For Wood Works? We Can Help! - Interior and exterior solid wood furniture and works, house planning and extension. Anything you can imagine, we can do it. Kitchen, Bathroom, Bedroom, Entertainment Centers, Home Bar, Doors, House Extension and more. We are located in Todos Santos in Rafael M. Pedrajo Street, between Santos Degollado and Verduzco, with personal attention in La Paz, Todos Santos, Los Cabos, San José de Los Cabos and Los Barriles. - Israel Mejia, caoba_emadera [- a t -] yahoo.com.mx, 612-105-2481, 612-103-8395, Todos Santos
Need a Ride to or From the Airport? Or Someone to Assist You With Errands? - I am a young, bilingual Christian man and I can provide you with rides to or from the La Paz or San Jose Del Cabo airports. I can also help you with courier services, errands, or navigating the intricacies of dealing with Mexican businesses and the government; Car Registrations, TelCel and TelMex, CFE, Seguro Social, etc.

Reasonable Rates - Contact: Ernesto, Cel. 612-117-7497, ernie_net [- a t -] hotmail.com
Restaurant/Bar Liquor License For Sale - Have you been thinking about opening up a business in Todos Santos? Maybe not now but in the future? Maybe a restaurant, lounge or bar? Well you're in luck! There is a full Restaurant/Bar Liquor License for sale. Even if you are not interested in opening your own business, the license itself is a great investment as there are very few license in Todos Santos. I also have an Insider tip! The beer companies have over distributed their allotted licenses to their clients and many are having them pulled out from under them so this is a very hot item right now. Inquire for details. Its priced to sell!

**This license is limited to Todos Santos and Pescadero and there will be additional fees for location/name changes that you will be responsible for as we were when we purchased it.

Gracias! - Richard Rutowski, dorjemex [- a t -] yahoo.com, 612-127-3503, Baja California Sur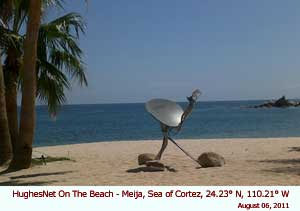 Now, Get Internet No Matter Where You Live:
Always-On Connection
Available Where DSL and Cellular Won't Reach
PC, Mac, Wireless Compatible
Multiple Computers Can Share the Same Internet Connection Full-Time
Vacation Holds Available
Professional Installation Available
Special Offers Extended Thru September 30:
1. $199.99 Mail-In Rebate:

0.74 Meter Dish with 1 Watt Transmitter - $499.99 $299 US After Rebate!1.
0.98 Meter Dish with 2 Watt Transmitter - $899.99 $699 US After Rebate!1

2. $60.00 Mail-In Rebate for $20 off Your First Three Months of Service! 2

| | | | |
| --- | --- | --- | --- |
| Data Plan | Down/Up Speed3 | Daily Data Allowance4 | Monthly Service |
| Basic | 1.0 Mbps/200 Kbps | 200 MB | $59.99 $39.99/mo. 1st 3 mos.! |
| Power 150 | 1.5 Mbps/250 Kbps | 300 MB | $79.99 $59.99/mo. 1st 3 mos.! |
| Power 150+ | 1.5 Mbps/250 Kbps | 350 MB | $89.99 $69.99/mo. 1st 3 mos.! |
Baja Satellite is an Authorized HughesNet Reseller. For more information Contact Us today: alan [- a t -] BajaSatellite.com, www.bajasatellite.com, (530) 903-4257 (From US), (01) 555 351 0882 (From Within Mexico), Baja California Sur
1 Equipment prices shown are after $199.99 mail-in rebate, and do not include Mexican shipping, importation or installation. System must be purchased before September 30.
2 $20 off per month for 1st. three months, after $60 mail-in rebate. System must be purchased before September 30. All plans require 24-month contract.
3 Absolute maximum speeds stated by HughesNet. Actual speeds will be less, and speeds will vary throughout the day and week depending upon total number of HughesNet subscribers sharing your satellite channel.
4 If daily allowance is exceeded, speeds may be reduced for up to 24 hours.

Baja Western Onion Private-party Ad Special!
Get More Coverage! Two Weeks - Four Issues - Only $10.00 US:
- Yard Sales, Vehicles, Misc. For Sale or Wanted
- Reach 3,200 Baja Western Onion Readers
- Your Ad Featured In a Red, Highlighted Box
- Available Only For Private-Party, Non-Commercial, Text-Based Ads.
Payment: All Private-party Special Ads must be prepaid in advance of initial run date. You can make your payment online via PayPal athttps://www.paypal.com/cgi-bin/webscr?cmd=_xclick&business=advertising [- a t -] BajaWesternOnion.com, or call us at 001 530 903 4257 or 01 33 8421 1142 (From Mexico) to make payment directly by VISA, MasterCard, American Express, or Discover Card.
Free Ads: As always, you can place a Free text-based ad in the Baja Western Onion once every 14 days. Submit your Free Ad or Article here: www.bajawesternonion.com/submitad.asp. -
For more details on our commercial advertising opportunities, please visit www.bajawesternonion.com/advertising.asp or send an Email to: advertising [- a t -] BajaWesternOnion.com
---
Submit your Misc. Sales and Services Available/Wanted articles here: http://www.bajawesternonion.com/submitad.asp
Return to Top
---

---
Real Estate, Rentals, and House Sitting - Available/Wanted
---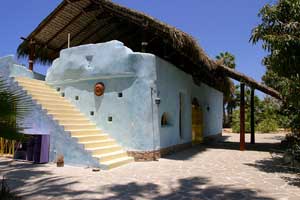 Todos Santos Beach House on a Tranquille Lush 5, 206.22 Sqmt Property - For Sale by Owner: - Two (2) separate driveway entries give the 5, 206.22 sq meter (1.25 acre) property privacy from both the front and back, giving flexibility to build additional homes or to split in the future. Soil on the property is rich organic black soil, ideal for other organic gardening.

* Property is an enclosed oasis and has unlimited access to farm water that nourishes the over 85 mature mango trees, 80 lush palm trees over 5 feet, passion fruit trees, citrus fruit trees and avocado trees, all of which give the property its cool shade that is coveted in the region and frequently not available on other properties of comparable or more value in the desert landscape.
* Property has power, water (both municipal and farm water), gas and Internet.
* A 6-minute walk takes you to the secluded beach, and a 5-minute drive finds you in the heart of TS.

If you have questions or would like to make an offer after viewing the property on YouTube (www.youtube.com/watch?v=krg9FEeiRtk), feel free to contact us. Save on the fee and make us a good offer. - Anh Walch, anhwalch [- a t -] yahoo.com, 212-692-0912, Todos Santos

Vacation Rental Discounts - We have studios, condos, two-bedroom and three-bedroom homes in Todos Santos and Pescadero available October-February. We are currently offering 40-50% off published rates (two week minimum, please.) See our Availability Calenders or contact us for reservations. - German and Francesca, lasirena.ts [- a t -] gmail.com, www.lasirenakayaksurf.com, 145-0353
Elias Calles Lot For Sale - Ocean, river and sierra views; new cell tower on hilltop north of town, area projected as future town, get in first; 1,500 meters, +2 small constructions, +water meter and contract with city, +fenced, good access. +outdoor bathroom with black-water purification system built underground beneath it, kitchen palapa built over 10,000 gallon water pila, unique. reduced price at $65k USD. Title, current on taxes. - Silvia P., sspadis [- a t -] hotmail.com, 624-137-7004, Elias Calles
Beautiful Casita For Rent Long Term - Located on a hillside, this unit has spectacular views of the ocean, mountains and town. Accommodates two people very comfortably, also room for a third. 20-minute walk to the center of town. On-site manager. Fully furnished. Superb reviews. Wheelchair accessible. Will consider pets. Willing to negotiate excellent rate for full-season rental. - janethowey [- a t -] yahoo.com, www.homeaway.com/vacation-rental/p281622
---
Submit your Real Estate/Rentals/House Sitting/Property Management Services articles here: http://www.bajawesternonion.com/submitad.asp
Return to Top
---
Rides or Caravans Available/Wanted
Note: Ads will run for two weeks unless dated. Please list the date in the title, and specify which airport. Goes without saying, everyone shares expenses for beer, gas, food, etc

To remove your ad if you find a ride or caravan, let us know here: www.bajawesternonion.com/submitad.asp -
---
Passenger Wanted mid-October - Leaving San Diego, CA, Oct. 15 or 16 for La Paz/Todos Santos, BCS. Write for details. - Sylvia St.Clair, sasinbaja [- a t -] yahoo.com, Baja California Sur
From Mulege to La Jolla mid-October - Leaving Mulege for La Jolla, CA, on Saturday or Sunday, Oct. 15 or 16. Can carry boxes, etc., plus two people. Returning to Mulege later that next week. Bus to Mulege and I'll pick you up. Gas money is required. For more information, email phonebillmulege [- a t -] gmail.com. Thanks. - Bill Enos, phonebillmulege [- a t -] gmail.com, 521-615-101-4773, Mulege
Looking For a Ride Share in November - I'm driving from Kelowna, British Columbia to Cabo first week of November. Will be traveling via I-5 through Oregon and California. Won't have much spare room for extra luggage, so if you travel light, are willing to share expenses and want to have a heck of a road trip, get back to me. I did this drive last year so I'm familiar with the route and the process. Will be crossing at TJ. I prefer to do the driving myself, but the company and second set of eyes are a plus. Thanks, Mirek - Mirek Hrabanek, canczech26 [- a t -] hotmail.com, Cabo San Lucas
Driver Needed For Small Truck in November - I need someone to drive my Nissan Frontier truck from San Diego to Todos Santos in early November. Bonded and insured, references required. My email is jennylindberg [- a t -] earthlink.net. - Jennifer Lindberg, 505-466-0976, Todos Santos
Caravan Wanted in December - Want to caravan to Todos Santos area in early December, could meet with you anywhere from Santa Rosa, CA, to San Diego. Please email Debra at goodthym [- a t -] mcn.org - Debra Dawson, goodthym [- a t -] mcn.org
---
Submit your Rides or Caravans Needed/Available articles here: http://www.bajawesternonion.com/submitad.asp
Return to Top
---
Pet Corner (Lost and Found pet articles will run for two weeks)
Let us know if you find or place your pet so we can remove your ad -
---
Missing Friend - Our friend went missing Thursday night (Sept. 8) We miss him and so does his buddy. He was last seen around the Sandbar. He is brown, short hair and has two scars (a large scar on his left flank and a thin white scar around his neck which was caused by a string he was tied up with when we rescued him). He has (had) a red collar. Instead of him moping around, feeling sad and lonely, why not bring him back and let him come home? He is not a stray and we would like him back home sleeping in his favorite spot. If anyone has seen him, please get in touch. email jimiykaren [- a t -] yahoo.com, phone 130-3022 - jimiykaren [- a t -] yahoo.com, Pescadero
Dog Lost? Check with Baja Dogs - If you have lost a dog, please check with Baja Dogs La Paz at 612-155-8948 or email lostdog [- a t -] bajadogs.org. We quite often have dogs at the refuge that we hope owners will claim.

Dogs for Adoption: We have many wonderful dogs for adoption. Please come out and visit the refuge in El Centenario or call 612-155-8948. All of our dogs are vaccinated, spayed or neutered and healthy.

How to Donate: To donate to Baja Dogs La Paz, you can do so through Pay Pal, donate directly through our bank: Bancomer, Account #164033159; donate directly at the refuge or email bdlp [- a t -] bajadogslapaz.org and we will make arrangements to pick up your donation. We also are very grateful for any donations of any type of dog food. Please call 612-140-2575 for pick up. Thank you!

All donations are used for general operating and maintenance of the refuge, our spay and neuter campaign and education programs. You may choose where you want your money spent. 100% of all donations to Baja Dogs La Paz, AC are used to help rescue street dogs in La Paz or to reduce their numbers. Donations pay for food, medication, veterinary care, utilities and water, cleaning supplies, etc., and 1 full-time and 2 part-time staff members who care for the dogs 7 days a week. No Board Member receives compensation. - Mario, info [- a t -] bajadogslapaz.org, www.bajadogslapaz.org/, 612-155-8948, La Paz
Impossible to Resist! - New arrivals at Kitty Heaven despite all of our efforts to spay and neuter (but without the help of the community, there would be even more!).

All colors, all very young and playful. For more information, call Angelique at 612-145-0250 or write her at BajaKitties [- a t -] Yahoo.com

Kitty Heaven is the only all-cat refuge in Baja California Sur. Visit us on the web athttp://bajarescue.org/#KittyHeaven. We survive via your kind donations. To send your support, please click the "Donate" button below:
---
Submit your Pet Corner articles here: http://www.bajawesternonion.com/submitad.asp (and remember to Spay and Neuter your pets)
Return to Top
---
Quote of the Day: " Anxiety is the dizziness of freedom. " ~ Soren Kierkegaard
---
Looking for the complete Community Events Calendar? Click Here!
---
Return to Top
---
---
Help Support The Baja Western Onion!

We can accept donations by Credit Card, PayPal, cash, check or direct deposit.

For more information, please visit our web site at http://www.BajaWesternOnion.com/donate.asp.
Copyright © 2006 - 2011. The Baja Western Onion. All Rights Reserved. Published Using 100% Recycled Electrons :)
Return to Top
---