On The Web Site:
---
Today's Weather
---
Community Access
Policia Preventiva
Todos Santos Police
612 145-1052
Commandante Navarro

Ministero Publico
State Police
612 145 0198
Commandante Erigoyen

Bomberos
Fire Department
Cel. 612-142-6387
Commandante Cadena


---






---
Baja Western Onion
Alan Thompson - Publisher
Debra Webster - Advertising
e-mail For General Feedback
---
---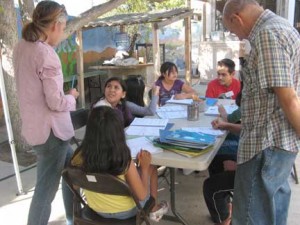 News and Events, Questions and Answers
---
Palapa Society of Todos Santos, A.C. Volunteer Opportunity - The Puente Program, Palapa's after-school English classes, will mark its 5th anniversary with the start of the Fall 2011 semester. This important English language program for community children needs volunteer teachers beginning Monday, Oct. 17. Classes are held at the Palapa Center/Todos Santos Library on Mon., Tues., and Thurs. afternoons. To volunteer or for more information, please contact - Donna Viglione, info [ - a t - ] palapasociety.org, www.palapasociety.org, 1450-299
A Special Story - Courtesy La Paz Gringos - Posted by: "Luiza Lanoy" -- Hola Todos, Today, while making jam, I taught una muchacha, a 15 year old street survivor since 12, how to use a calculator. We calculated oz. per jar, price per oz. and a whole bunch more. She is attending the Adult Education classes we have provided the Shelter for Women and Children. Within the last month, she has written her name, for the first time ever. On our way for our "jam session" we stopped for lunch at Birriria Rafa at the corner of Jalisco and Ramirez. Much to my surprise, she read out the items on the menu. Then we calculated "la cuenta". From a mental calculation, she told me how much change I would get from a $200 pesos bill. I can't help it!! I'm just bursting with pride for this very special young lady. - Luiza Lanoy, Fundadora, Mujeres Ayudando a Mujeres, A.C., luizalanoy [ - a t - ] yahoo.com
Learn more about the Palapa Society's programs to benefit the local community here: www.palapasociety.org/programs,. More information about Mujeres Ayudando a Mujeres, A.C., La Paz, can be found at: www.tasteofthebaja.com/WomenHelpingWomen/.
Volunteer - You can make a difference in a young person's life. -
Dust Off That Costume! - The Third Annual Costume Halloween Party/fundraiser for the Todos Santos Lifeguards-Proplayas will be held Saturday, Oct. 29. Admission is free and the event will feature live music, a raffle, a silent auction and prizes for best costumes. Begins at 8 p.m. at the Hotel California. For more information, contact oscarntori [ - a t - ] yahoo.com, www.hotelcaliforniabaja.com
Friend In Need - Looking for the loan of an elongated toilet seat riser (used to raise the height of the toilet seat.) Preferably the kind that inserts into the toilet bowl rather than clamps on. Needed temporarily for hip surgery recovery. Will pick-up. Please call Nancy at 145-1042 or Deborah at 145-0857. Email pokeynan [ - a t - ] hotmail.com or deborahhorn [ - a t - ] hotmail.com - Nancy Mills, 145-1042, Todos Santos
Twice-yearly Satellite Sun Outage Cycle Begins Next Thursday - Beginning this next week, residents in Baja will begin to experience short periods of satellite TV interference and Internet service disruptions as the sun passes behind the belt of communications satellites on its journey south for the winter. These outages will affect satellite-based services in Mexico, Canada, and the US, including Dish Network, DirecTV, Shaw Direct, HushesNet, Starband, SKY, and also many cable TV channels. No need to call your service provider; the outage will pass.

For Baja California Sur, these outage periods will occur each day for about 8 days, beginning Sept. 29 in the Los Cabos region and October 03 in Tijuana. Depending upon which satellite you are using, these interruptions may begin anywhere from 9 AM to 3 PM, and last from 5 to 12 minutes per satellite. This twice-yearly outage cycle will be repeated in March 2012 when the sun once again returns northward. - Alan, alan [ - a t - ] BajaSatellite.com
Seeking "Lost" Seasons - Looking for Seasons 4, 5 and 6 of "LOST." Willing to beg, borrow or buy. - Mary Olson, mdwightbaja [ - a t - ] gmail.com, 612-118-3646, Todos Santos
News From La Canada Del Diablo - A few things to look forward to for at La Canada Del Diablo this Fall 2011:
Dog and Cat Spay and Neuter Clinic. Nov 17th, 18th and 19th. We need your help. No experience necessary.
Clothing drive to help the farm families, returning to the camps. Anything you can share, will help families who have so little.
We have good soil, lots of water, how about a community garden? Sound interesting?
Farmer's Market is in its 3rd year. Bigger and better then ever. Scheduled to open October 15th. Come join us.
Coming soon ... Furniture Consignment Depot. When it is just too good to give away. Let's talk.
9th Annual World Class Garage Sale: Dec. 10, 9 a.m. Reserve your space.
Stay tuned for more updates. We are looking forward your visit. See you soon. Many thanks from Linda Hamilton Designs, Doctor Gabriel Hernandez, Mail Station, Chica's Salon, AF Construction, Coronado and Asociados, and of course, Pedro, Barbara and the kids. - Barbara Perkins, bperkins0403 [ - a t - ] gmail.com, www.lacanadadeldiablo.com, 612-140-0069, Baja California Sur

Got 15 Minutes? - If you do, please take the Wildcoast Surf Community Research Survey. This research will help us to better understand the social, environmental, and economic contributions of the surfing community to the Mexican state of B.C.S. The B.C.S. surf valuation and community participation survey is now online, in both English and Spanish.

This research will provide us with information that will allow us to be better represented when proposed coastal development projects threaten marine and coastal ecosystems, and our favorite surf breaks. The research also identifies surfer preferences for the creation of a Mexican National or Regional "Surfing Reserve" established in B.C.S. We hope to work with the Mexican National Commission of Natural Protected Areas (CONANP) to create the reserve based on environmental preservation and surfing as an amenity.

The Save the Waves Coalition has successfully completed several Surfonomic Studies, including Mavericks in California and Mundaka, Spain. Both studies pointed to the significant environmental, social, and economic value of surf breaks based on the quantity of tourist visits per year. This information is crucial for decision makers to realize that surfing is not a fringe activity, and that the preservation of waves and coastal habitats actually has value, perhaps more than destructive coastal development schemes. - AJ Schneller, aj [ - a t - ] wildcoast.net, www.wildcoast.net/media-center/news/3-if-you-have-surfed-in-baja-california-sur-mexico-in-the-last-year-we-need-your-input-and-ideas, 619-423-8665, ext. 210, Baja California Sur
Baja Western Onion Community Workshops And Meetings Page - This is a reminder that we have a page on the Baja Western Onion website where you can look up recurring community workshops and meetings. The page can be found at: www.bajawesternonion.com/workshops-meetings.asp

We rely upon our readers to send us the dates and times for these listings, and also to notify us if a workshop or meeting time has changed or is no longer available. Please let us know if any information on this page needs to be updated and we'll take care of it. - Alan And Debra, moderator [ - a t - ] bajawesternonion.com,
---
Submit your News and Events, Questions and Answers articles here: http://www.bajawesternonion.com/submitad.asp
Return to Top
---
---
Featured Events This Week
---
Online Community Calendar - Just a reminder to anyone planning an event for the coming year to check the Online Community Calendar before choosing a date to see if something else is already planned. If everyone will use this resource, we can avoid conflicts. Check the Online Community Calendar here: www.bajawesternonion.com/community-calendar.asp -
---
Saturday, Sept. 24
8th Annual Loggerhead Sea Turtle Festival - Day trip or overnight in López Mateos. Day and evening activities. Agenda: www.grupotortuguero.org. Accommodations at Hotel Refugio, tel. 613-131-5064, Dueño: Don Cuco. - Grupo Tortuguero

Live Music At Marina's in Pescadero - Tim Lang, 4 to 8. Happy hour from 4 to 6 and dinner specials. - Tim, tim [ - a t - ] timlang.net, www.timlang.net

Movie Night - 'Paul,' Teatro Luna Azul. Doors open 7:30 p.m. By Donation. Info: http://TSBMP.blogspot.com. Bluemooninbaja [ - a t - ] yahoo.com
Sunday, Sept. 25
International Beach Clean Up - Observed at 10 a.m. at the Balanddra Beach in La Paz. - Alonzo Stell alonzo.stell [ - a t - ] paradiseofthesea.com, 612-131-0170
---

---

---
New Community Events and Workshops Notification Page - You can submit event notices for The Community Calender or Workshops and Meetings pages. The Community Events calendar is limited to non-recurring community events (Sorry, no "Happy Hours," "Daily Specials," or other recurring business activities :). Submit your Community Events and Workshops notices here: http://www.bajawesternonion.com/submit-event.asp
Return to Top
---
---
Stepping Out - Food, Music and Entertainment
---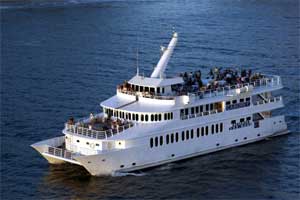 Caborey Dinner Cruise - With over 40 years offering tours in Mexico, Caborey has firmly established its reputation for quality, safety and fun. Reserving tours in advance through our website assures that you are purchasing tours from a reputable source and that the date and time of your reservation will be respected. Allow us the pleasure of providing these services for you.

Experience the natural wonder of Cabo San Lucas from aboard our luxurious 144' triple deck catamaran, From the moment you board the Caborey prepare yourself for an exhilarating experience. The majesty of the Land's End rock formations including Cabo's iconic "Arch" will spread out before you as the Caborey slips away from the marina and into Medano Bay. Live music and limitless cocktails accompany the breathtaking view from the upper deck of the Caborey as it follows its route along the tip of the Baja.

As the sun sinks into the horizon, tempt your palate with one of our 6 delectable entrees. Then as you take your last bite of scrumptious dessert, sit back and enjoy a Las Vegas-style show that will delight you with the sounds and rhythms of Latin America. - Caborey Cabo, reserv [ - a t - ] caborey.com, www.caborey.com, 143 8060, Cabo San Lucas

---
Submit your Stepping Out - Food, Music and Entertainment announcements here: http://www.bajawesternonion.com/submitad.asp
Return to Top
---
Misc. Sales and Services Available/Wanted
---
Daystar Lift Kit for 4runner - 2.5 Inch Spacer lift kit for a 3rd Generation Toyota 4Runner 2 or 4WD. For Years 1996-2002. Easy to install. Works with stock height shocks and springs. Raising your front end and rear 2.5 inches. Brand New. $160 USD. Call or email for questions. - Avi Rush, Avirush [ - a t - ] mac.com, www.daystarweb.com/productdetail.php?productID=537, 612-157-8448, Pescadero
HP Printer Cable - All you HP printer owners who have saved those cords when you had to replace the printer, I'm looking for a 32V DC power supply with the funny little 3-wire connector to the printer. Mine seems to have stayed in the US when I returned here with the fairly new (1 1/2 years old) printer. Thanks - Janel, janelb3 [ - a t - ] yahoo.com

Want to Buy Digital Camera - Looking to buy a used digital camera, living in Todos Santos/Pescadero area. Thank You! - Brianna Esperanza Berban, BriannaBerban [ - a t - ] Hotmail.com, 612-167-4151
Servicios Computadoras, Todos Santos - Ofrece servicios de Internet y Computadoras. Venta, instalacion y soporte de redes cableadas e inalámbricas, anti-virus, Voice Over IP (Vonage, Net2phone), computadoras.
Computer Services, Todos Santos - Offering internet and computer services. WiFi / VoIP / Computers - Sales, installation, service and support: wired and wireless networks, virus removal, Voice Over IP (Vonage, Net2Phone), computers. - Josue Castillo Mayoral, Cellular: 612-148-3786, jocama85 [ - a t - ] hotmail.com, Todos Santos
For Sale: Guest Beds - In Cabo San Lucas, three light-weight "fold-up" cots with canvas and mattress. 100 pesos each - , cabonana [ - a t - ] hotmail.com, 044-624-160-6435 (cell)
Need a Ride to or From the Airport? Or Someone to Assist You With Errands? - I am a young, bilingual Christian man and I can provide you with rides to or from the La Paz or San Jose Del Cabo airports. I can also help you with courier services, errands, or navigating the intricacies of dealing with Mexican businesses and the government; Car Registrations, TelCel and TelMex, CFE, Seguro Social, etc.

Reasonable Rates - Contact: Ernesto, Cel. 612-117-7497, ernie_net [ - a t - ] hotmail.com
Learn To Quilt - If interested Call me in Cabo San Lucas 624 1436165. - Juanita, cabonana [ - a t - ] hotmail.com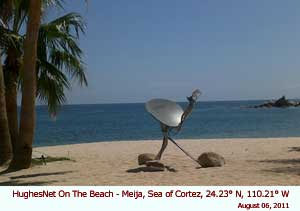 Now, Get Internet No Matter Where You Live:
Always-On Connection
Available Where DSL and Cellular Won't Reach
PC, Mac, Wireless Compatible
Multiple Computers Can Share the Same Internet Connection Full-Time
Vacation Holds Available
Professional Installation Available
Special Offers Extended Thru September 30:
1. $199.99 Mail-In Rebate:

0.74 Meter Dish with 1 Watt Transmitter - $499.99 $299 US After Rebate!1.
0.98 Meter Dish with 2 Watt Transmitter - $899.99 $699 US After Rebate!1

2. $60.00 Mail-In Rebate for $20 off Your First Three Months of Service! 2

| | | | |
| --- | --- | --- | --- |
| Data Plan | Down/Up Speed3 | Daily Data Allowance4 | Monthly Service |
| Basic | 1.0 Mbps/200 Kbps | 200 MB | $59.99 $39.99/mo. 1st 3 mos.! |
| Power 150 | 1.5 Mbps/250 Kbps | 300 MB | $79.99 $59.99/mo. 1st 3 mos.! |
| Power 150+ | 1.5 Mbps/250 Kbps | 350 MB | $89.99 $69.99/mo. 1st 3 mos.! |
Baja Satellite is an Authorized HughesNet Reseller. For more information Contact Us today: alan [ - a t - ] BajaSatellite.com, www.bajasatellite.com, (530) 903-4257 (From US), (01) 555 351 0882 (From Within Mexico), Baja California Sur
1 Equipment prices shown are after $199.99 mail-in rebate, and do not include Mexican shipping, importation or installation. System must be purchased before September 30.
2 $20 off per month for 1st. three months, after $60 mail-in rebate. System must be purchased before September 30. All plans require 24-month contract.
3 Absolute maximum speeds stated by HughesNet. Actual speeds will be less, and speeds will vary throughout the day and week depending upon total number of HughesNet subscribers sharing your satellite channel.
4 If daily allowance is exceeded, speeds may be reduced for up to 24 hours.
Custom Surfboards - From here you can build your dream custom surfboard online, have it shaped by Ross Armenta, and then have it shipped to your front door. From modifying critical dimensions according to your needs to choosing the options that best fit your surfing style. - Ross Armenta, armentasurf [ - a t - ] gmail.com, www.armentasurf.com, 646-126-2289

Best Boat Ownership in Baja - Looking for last partner for a fully loaded Sportfisher, tournament ready and super clean. Based in Cabo. Equity ownership. - P. Orr, cabophil [ - a t - ] gmail.com, 624-151-5560, Cabo San Lucas
Internet Domain Names For Sale - I reserved a few domain names that I don't need. Would be interested in selling them to an interested Baja Western Onion reader rather than letting them go abandoned:
BajaComputer.com - BajaH2O.com - BCSSolar.com
$250.00 dlls. each - Alan, alan [ - a t - ] baja1.com
Baja Western Onion Private-party Ad Special!
Get More Coverage! Two Weeks - Four Issues - Only $10.00 US:
- Yard Sales, Vehicles, Misc. For Sale or Wanted
- Reach 3,200 Baja Western Onion Readers
- Your Ad Featured In a Red, Highlighted Box
- Available Only For Private-Party, Non-Commercial, Text-Based Ads.
Payment: All Private-party Special Ads must be prepaid in advance of initial run date. You can make your payment online via PayPal athttps://www.paypal.com/cgi-bin/webscr?cmd=_xclick&business=advertising [ - a t - ] BajaWesternOnion.com, or call us at 001 530 903 4257 or 01 33 8421 1142 (From Mexico) to make payment directly by VISA, MasterCard, American Express, or Discover Card.
Free Ads: As always, you can place a Free text-based ad in the Baja Western Onion once every 14 days. Submit your Free Ad or Article here: www.bajawesternonion.com/submitad.asp. -
For more details on our commercial advertising opportunities, please visit www.bajawesternonion.com/advertising.asp or send an Email to: advertising [ - a t - ] BajaWesternOnion.com
---
Submit your Misc. Sales and Services Available/Wanted articles here: http://www.bajawesternonion.com/submitad.asp
Return to Top
---

---
Real Estate, Rentals, and House Sitting - Available/Wanted
---
House Sitter Wanted Starting mid-November - Reliable, mature individual or couple for extended stay situation to care for house South of Todos Santos starting Nov. 15/16. Home has lovely vista in a quiet neighborhood and modern conveniences. We wish to exchange the use of our beloved home for your respectful and attentive presence to stave off theft and monitor property for service issues. Home ownership and/or local (Baja California Sur) living experience preferred. Desire person(s) with good communication, respectful nature, and attention to detail. Please inquire for more information. - Karina, k-lawler [ - a t - ] sbcglobal.net

Available to Housesit - Mature, responsible couple will housesit/caretake your Todos Santos property, animals, garden, anytime from early December to late March. We are working on our place in Los Brisas and don't want to live in the dust. We are tidy, have local references and maintenance skills. - Debra Dawson, goodthym [ - a t - ] mcn.org, (707) 964-0509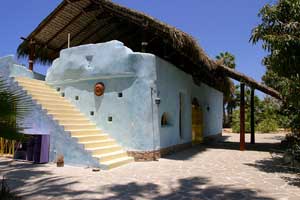 Todos Santos Beach House on a Tranquille Lush 5, 206.22 Sqmt Property - For Sale by Owner: - Two (2) separate driveway entries give the 5, 206.22 sq meter (1.25 acre) property privacy from both the front and back, giving flexibility to build additional homes or to split in the future. Soil on the property is rich organic black soil, ideal for other organic gardening.

* Property is an enclosed oasis and has unlimited access to farm water that nourishes the over 85 mature mango trees, 80 lush palm trees over 5 feet, passion fruit trees, citrus fruit trees and avocado trees, all of which give the property its cool shade that is coveted in the region and frequently not available on other properties of comparable or more value in the desert landscape.
* Property has power, water (both municipal and farm water), gas and Internet.
* A 6-minute walk takes you to the secluded beach, and a 5-minute drive finds you in the heart of TS.

If you have questions or would like to make an offer after viewing the property on YouTube (www.youtube.com/watch?v=krg9FEeiRtk), feel free to contact us. Save on the fee and make us a good offer. - Anh Walch, anhwalch [ - a t - ] yahoo.com, 212-692-0912, Todos Santos
Beautiful Casita For Rent Long Term - Located on a hillside, this unit has spectacular views of the ocean, mountains and town. Accommodates two people very comfortably, also room for a third. 20-minute walk to the center of town. On-site manager. Fully furnished. Superb reviews. Wheelchair accessible. Will consider pets. Willing to negotiate excellent rate for full-season rental. - janethowey [ - a t - ] yahoo.com, www.homeaway.com/vacation-rental/p281622
---
Submit your Real Estate/Rentals/House Sitting/Property Management Services articles here: http://www.bajawesternonion.com/submitad.asp
Return to Top
---
Rides or Caravans Available/Wanted
Note: Ads will run for two weeks unless dated. Please list the date in the title, and specify which airport. Goes without saying, everyone shares expenses for beer, gas, food, etc

To remove your ad if you find a ride or caravan, let us know here: www.bajawesternonion.com/submitad.asp -
---
Ride Need From La Paz Airport Oct. 1 - I need a ride from La Paz Airport to Todos Santos Coming in on a 1:45 flight from TJ. Email or call. Thanks (US cell 541-350-0930) - Kathy Gasper, kathygasper [ - a t - ] msn.com, 612-133-2321, Todos Santos
Around Oct. 6 - Seeking Co-pilot for the Drive South - Northern California to Todos Santos. Need to arrive T.S. no later than Oct 14. Only good drivers need apply. - Jane Sipe, jasi57 [ - a t - ] juno.com, Baja California Sur
Passenger Wanted mid-October - Leaving San Diego, CA, Oct. 15 or 16 for La Paz/Todos Santos, BCS. Write for details. - Sylvia St.Clair, sasinbaja [ - a t - ] yahoo.com, Baja California Sur
From Mulege to La Jolla mid-October - Leaving Mulege for La Jolla, CA, on Saturday or Sunday, Oct. 15 or 16. Can carry boxes, etc., plus two people. Returning to Mulege later that next week. Bus to Mulege and I'll pick you up. Gas money is required. For more information, email phonebillmulege [ - a t - ] gmail.com. Thanks. - Bill Enos, phonebillmulege [ - a t - ] gmail.com, 521-615-101-4773, Mulege
Looking For A Ride Share First Week in November. - I'm driving from Kelowna, British Columbia to Cabo first week of November. Will be traveling via I-5 through Oregon and California. Won't have much spare room for extra luggage, so if you travel light, are willing to share expenses and want to have a heck of a road trip, get back to me. I did this drive last year so I'm familiar with the route and the process. Will be crossing at TJ. I prefer to do the driving myself, but the company and second set of eyes are a plus. Thanks, Mirek - Mirek Hrabanek, canczech26 [ - a t - ] hotmail.com, Cabo San Lucas
Driver Needed For Small Truck in November - I need someone to drive my Nissan Frontier truck from San Diego to Todos Santos in early November. Bonded and insured, references required. My email is jennylindberg [ - a t - ] earthlink.net. - Jennifer Lindberg, 505-466-0976, Todos Santos
Caravan Wanted in December - Want to caravan to Todos Santos area in early December, could meet with you anywhere from Santa Rosa, CA, to San Diego. Please email Debra at goodthym [ - a t - ] mcn.org - Debra Dawson, goodthym [ - a t - ] mcn.org
---
Submit your Rides or Caravans Needed/Available articles here: http://www.bajawesternonion.com/submitad.asp
Return to Top
---
Pet Corner (Lost and Found pet articles will run for two weeks)
Let us know if you find or place your pet so we can remove your ad -
---
Dog Found in La Poza >>>> - This dog has come to my home in La Poza. Appears to be well taken care of and may have run away with fireworks going off last night. He is a large dog, part Shepherd and Rottweiler in appearance. - Ruth Asercion, REAsercion [ - a t - ] hotmail.com, 612-145-1051
Missing Friend - Our friend went missing Thursday night (Sept. 8) We miss him and so does his buddy. He was last seen around the Sandbar. He is brown, short hair and has two scars (a large scar on his left flank and a thin white scar around his neck which was caused by a string he was tied up with when we rescued him). He has (had) a red collar. Instead of him moping around, feeling sad and lonely, why not bring him back and let him come home? He is not a stray and we would like him back home sleeping in his favorite spot. If anyone has seen him, please get in touch. email jimiykaren [ - a t - ] yahoo.com, phone 130-3022 - jimiykaren [ - a t - ] yahoo.com, Pescadero
<<<< Missing Dog!!! - Zoë is a white cocker spaniel with light tan spots, and she has been missing since Sunday, Sept. 11, in Colonia Olivos (not too far from Padre Kino and 5 de Febrero, La Paz). We were out of town and had some friends taking care of her. Not sure what happened exactly, but she got out of their gate when they were gone Sunday morning. She has a grey collar, but no tags, unfortunately. She's eight years old, and has always been an inside dog. If you have seen her, or have any idea where she might be, please give us a call! We desperately want her back, and miss her! Thank you! - Stephanie Arteaga, 612-155-5555 or 612-117-3295
Dog Lost? Check with Baja Dogs - If you have lost a dog, please check with Baja Dogs La Paz at 612-155-8948 or email lostdog [ - a t - ] bajadogs.org. We quite often have dogs at the refuge that we hope owners will claim.

Dogs for Adoption: We have many wonderful dogs for adoption. Please come out and visit the refuge in El Centenario or call 612-155-8948. All of our dogs are vaccinated, spayed or neutered and healthy.

How to Donate: To donate to Baja Dogs La Paz, you can do so through Pay Pal, donate directly through our bank: Bancomer, Account #164033159; donate directly at the refuge or email bdlp [ - a t - ] bajadogslapaz.org and we will make arrangements to pick up your donation. We also are very grateful for any donations of any type of dog food. Please call 612-140-2575 for pick up. Thank you!

All donations are used for general operating and maintenance of the refuge, our spay and neuter campaign and education programs. You may choose where you want your money spent. 100% of all donations to Baja Dogs La Paz, AC are used to help rescue street dogs in La Paz or to reduce their numbers. Donations pay for food, medication, veterinary care, utilities and water, cleaning supplies, etc., and 1 full-time and 2 part-time staff members who care for the dogs 7 days a week. No Board Member receives compensation. - Mario, info [ - a t - ] bajadogslapaz.org, www.bajadogslapaz.org/, 612-155-8948, La Paz
Dog Ready for a Home - I have a dog available for adoption who is pretty friendly. If you are interested, please contact me and I will send photos. Just write me at gelacio_tds [ - a t - ] hotmail.com - Gelacio Orozco, Todos Santos
---
Submit your Pet Corner articles here: http://www.bajawesternonion.com/submitad.asp (and remember to Spay and Neuter your pets)
Return to Top
---
Quote of the Day: " A man wrapped up in himself makes a very small bundle. " ~ Benjamin Franklin
---
Looking for the complete Community Events Calendar? Click Here!
---
Return to Top
---
---
Help Support The Baja Western Onion!

We can accept donations by Credit Card, PayPal, cash, check or direct deposit.

For more information, please visit our web site at http://www.BajaWesternOnion.com/donate.asp.
Copyright © 2006 - 2011. The Baja Western Onion. All Rights Reserved. Published Using 100% Recycled Electrons :)
Return to Top
---