On The Web Site:
---
Today's Weather
---
Community Access
Policia Preventiva
Todos Santos Police
612 145-1052
Commandante Navarro

Ministero Publico
State Police
612 145 0198
Commandante Erigoyen

Bomberos
Fire Department
Cel. 612-142-6387
Commandante Cadena


---






---
Baja Western Onion
Alan Thompson - Publisher
Debra Webster - Advertising
e-mail For General Feedback
---
---
News and Events, Questions and Answers
---
Radio Pescadero - Seeking a task force for a non-profit, community radio station. Interested persons with bi-lingual oral/written skills, radio broadcasting, communication experience, program development and production, architectural/design, facility rehab assessment, business plan or grant writing talents, fund-raising organizational skills or simply want to contribute donations, time and enthusiasm to the many facets of start-up and on-going radio broadcasting for our area. Weekly meetings are held Wednesdays at 1:15 p.m., above and behind the Catholic church in Pescadero. Bring your own chair. - Radio Taskforce, radiopescadero [ - a t - ] hotmail.com, 612-119-4138, Pescadero
US Consular Agency Has New Location (Courtesy Baja Pony Express) - The US Consular Agency in Los Cabos was scheduled to open at its new location Monday, Sept. 12. The agency is now located at Tiendas de Palmilla, Carretera Transpeninsular Km. 27.5, Local B221, San Jose del Cabo, BCS. Hours are 9 a.m. to 2 p.m., Monday through Friday. The telephone number remains the same, 624-143-3566. The agency's general email address is usconsulcabo [ - a t - ] yahoo.com.

If possible, please write or call beforehand to notify the Agency that you will be arriving. The office is located on the lower level of the Palmilla shopping center, next to the business center. The usual services will be available: US passport applications, Consular Reports of Birth Abroad, US notary services, emergency services for US citizens. For emergencies after 5 p.m. and on weekends, please call the answering service in San Diego, CA: 619-692-2154.
Attention All Animal Lovers! - The annual Spay/Neuter Clinic will be Nov. 17, 18, and 19. We are expecting four vets from the States, as well as our local vets to be joining in our efforts to reduce the overpopulation of dogs and cats in our neighborhoods. If any of you have contacts in the surrounding ranchos, where animals need spaying/neutering, we'd love to hear from you.

Please mark the dates on your calendar! For more information please contact Angelique at BajaKitties [ - a t - ] Yahoo.com. Thank you. - Amigos de los Animales de Todos Santos A.C.
Plumber Sought - Any references for a good plumber in Todos Santos near the middle school? The good plumber I've had for 15 years isn't showing up anymore and I haven't figured out how to take the base of the toilet off and clean out the pipes underneath. Hope I don't have to. I've got more plumbing issues, too. Thanks. Janel janelb3 [ - a t - ] yahoo.com - Janel Beeman, janelb3 [ - a t - ] yahoo.com
Similar Bancomer ATM Problems - I placed an ad last February to collect incidents for failed ATM transactions with no public response. To the couple asking in the last issue and others who experience this problem, please know that this happens all of the time and it is my belief it is the internet/online connection to the States that gets interrupted during these transactions.

I was told upper management doesn't deem it a big problem. Vivian in the office asked me to compile documentation so she could forward to management. I personally have experienced this twice, the last being in February when one of my guests experienced this problem while on vacation. The incident left them without funds for a least that day last March. My neighbor experienced the same issue prior. This is what happens: The transaction transmission is interrupted and if you go to the bank the next day, they then have their records which will show the card number with a debit amount and a credit amount just below. This means the money never reached Bancomer. What I had to do is contact my bank in the States, give them the day, amount, location of ATM attempt so a live person could research (which can take up to 2 weeks) to find the transaction in their records and credit back my account.

It is a real bummer if you don't have an alternative cash source to tap and freaks out our visitors/tourists in a foreign country. Suggestion: Document your incident and drop off or email to the bank's English-speaking representative, Vivian. - Debora, Pescadero
Update: ATM Complaint at Bancomer - Thank you all for your support, advice and words of encouragement. I tried to email everyone individually, and I apologize if I missed anyone. I received so many emails telling the same story at Bancomer and also many from Banorte, Banoro and others. Seems to me that this is very rampant and unexceptable. I spoke with my bank, CIBC, and insisted that they reopen my complaint file and also that I posted an article in the BWO. I then called CIBC bank on Saturday to tell them I was flooded with emails from people who have had the same experience. I would like to bundle all these emails together and present them to both my bank and Bancomer when I return to Todos Santos in either December or January -- that is unless anyone would like to stay anonymous (just let me know). So, again, thanks to all who wrote. I hope to have this resolved and have money back in my account in time for our return - Doris Deutschmann, dorisdmg [ - a t - ] telus.net, Todos Santos
Important Mail To United States - If someone is going to the U.S. soon and can mail a first class letter for me, that would be greatly appreciated. Will bring the letter to you. Please contact Jaime at 612-132-8893 or 145-0857. Mil gracias. - Jaime Wood, deborahhorn [ - a t - ] hotmail.com, 612-132-8893, Todos Santos
Baja Western Onion Community Workshops And Meetings Page - This is a reminder that we have a page on the Baja Western Onion website where you can look up recurring community workshops and meetings. The page can be found at: www.bajawesternonion.com/workshops-meetings.asp

We rely upon our readers to send us the dates and times for these listings, and also to notify us if a workshop or meeting time has changed or is no longer available. Please let us know if any information on this page needs to be updated and we'll take care of it.

We're planning on doing some housekeeping to remove some older listings on this page soon, so also let us know if your workshop is still available! - Alan And Debra, moderator [ - a t - ] bajawesternonion.com,
---
Submit your News and Events, Questions and Answers articles here: http://www.bajawesternonion.com/submitad.asp
Return to Top
---
---
Featured Events This Week
---
Online Community Calendar - Just a reminder to anyone planning an event for the coming year to check the Online Community Calendar before choosing a date to see if something else is already planned. If everyone will use this resource, we can avoid conflicts. Check the Online Community Calendar here: www.bajawesternonion.com/community-calendar.asp -
---
Thursday, Sept. 15
Script Reading - For "And Then There Was Nun" 3 p.m.; Teatro Luna Azul, Todos Santos, Bluemooninbaja [ - a t - ] yahoo.ca

Mexican Night - From 7 to 9 p.m. at the Instituto de Inglés América with Prof. Antonio Estamates in Cabo San Lucas. Located on Janet Wilson Street between Félix Ortega and Ildefonso Green. - Joel Antonio Estamates, caballito_b [ - a t - ] hotmail.com, www.inglesamericablogspot.com, 624-143-9643, Cabo San Lucas
Friday, Sept. 16
Mexican Independence Day Celebration - Location: Throughout Mexico. Details: The day before Mexican Independence Day will be celebrated with fireworks, folk dancing and mariachi bands. Festivities will be followed the next day with parades, speeches, family picnics and more. en.wikipedia.org/wiki/Grito_de_Dolores
---

---

---
New Community Events and Workshops Notification Page - You can submit event notices for The Community Calender or Workshops and Meetings pages. The Community Events calendar is limited to non-recurring community events (Sorry, no "Happy Hours," "Daily Specials," or other recurring business activities :). Submit your Community Events and Workshops notices here: http://www.bajawesternonion.com/submit-event.asp
Return to Top
---
---
Stepping Out - Food, Music and Entertainment
---
Mexican Independence Day at Rancho Pescadero! - Come and celebrate Independencia de Mexico with a great dinner at our Garden Restaurant. Starting at 6 p.m. this Thursday, Sept. 15. Games, entertainment, margaritas for $50 pesos, Beer 2x1 and our "Tasty Mexican Menu" created by Chef Bueno:
Chicken Tinga "Huarachito", Guacamole, Salsa Mexicana & Hibiscus Margarita Shot
White corn, Shrimp soup "Pozole"
Fresh Fish Fillet with black bean stew and green tomatillo sauce served with Jasmine rice
Rib Eye taquitos, with caramelized onion, avocado and molcajete sauce
Mexican Chocolate & Vanilla Ice cream
All this for $400 pesos per person. Includes 1 drink. For reservations call 612-135-5849. We'll be waiting for you! Thank you! Rancho Pescadero. - Karla Caro, rancho1 [ - a t - ] ranchopescadero.com, www.ranchopescadero.com, 612-135-5849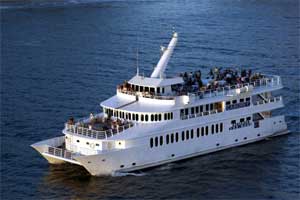 Caborey Dinner Cruise - With over 40 years offering tours in Mexico, Caborey has firmly established its reputation for quality, safety and fun. Reserving tours in advance through our website assures that you are purchasing tours from a reputable source and that the date and time of your reservation will be respected. Allow us the pleasure of providing these services for you.

Experience the natural wonder of Cabo San Lucas from aboard our luxurious 144' triple deck catamaran... From the moment you board the Caborey prepare yourself for an exhilarating experience. The majesty of the Land's End rock formations including Cabo's iconic "Arch" will spread out before you as the Caborey slips away from the marina and into Medano Bay. Live music and limitless cocktails accompany the breathtaking view from the upper deck of the Caborey as it follows its route along the tip of the Baja.

As the sun sinks into the horizon, tempt your palate with one of our 6 delectable entrees. Then as you take your last bite of scrumptious dessert, sit back and enjoy a Las Vegas-style show that will delight you with the sounds and rhythms of Latin America. - Caborey Cabo, reserv [ - a t - ] caborey.com, www.caborey.com, 143 8060, Cabo San Lucas
---
Submit your Stepping Out - Food, Music and Entertainment announcements here: http://www.bajawesternonion.com/submitad.asp
Return to Top
---

---
Misc. Sales and Services Available/Wanted
---

Looking for a Gardener? - Land cleaning, landscape design and labor. Available are palms, all kind of plants and rocks, and dirt. If you need help, just give me a call. - César Martínez, jardínvistabaja [ - a t - ] gmail.com , 612-141-6947, Baja California Sur
10% Discount On Airport Transportation - Safe Ride in Baja Sur is offering a 10% discount on any round trip. Good for any travel date this year. Please contact us at saferideinbajasur [ - a t - ] gmail.com - Safe Ride, saferideinbajasur [ - a t - ] gmail.com, La Paz
Instituto De Inglés Y Español "América" - - Basic Spanish lessons for foreigners. Two hours each week for a period of 15-18 months is enough time to know how to understand, write, read and speak Basic Spanish. First lesson at no cost. Fair fares. Welcome at our facilities in Barrio de San Juan El Pescadero. Gracias.

Aprenda el Inglés Básico Americano con 2hs/semana, durante 1.5 años como máximo. Horarios diversos. Precios accesibles. Estamos en El Pescadero. Bienvenidos. - Pablo Ramirez, inst.america.elpescadero [ - a t - ] hotmail.com, 1303270 / cel 612-151-2385

Fishing Marine for Sale - 18-foot panga-style fibreglass boat, center console, bait tank. New 60 hp Mercury 4 stoke motor (lesss 100 hrs.). Good conditions/trailer. For more information, call 612-124-8480. kenthansen [ - a t - ] shaw.ca - Kent Hansen, kenthansen [ - a t - ] shaw.ca, kenthansen [ - a t - ] shaw.ca, 612-124-8480
Servicios Computadoras, Todos Santos - Ofrece servicios de Internet y Computadoras. Venta, instalacion y soporte de redes cableadas e inalámbricas, anti-virus, Voice Over IP (Vonage, Net2phone), computadoras.
Computer Services, Todos Santos - Offering internet and computer services. WiFi / VoIP / Computers - Sales, installation, service and support: wired and wireless networks, virus removal, Voice Over IP (Vonage, Net2Phone), computers. - Josue Castillo Mayoral, Cellular: 612-148-3786, jocama85 [ - a t - ] hotmail.com, Todos Santos
Leather Sofa Set for Sale - Leather sofa set. Teal green. 2 loveseats and 1 single. Very comfortable. Located in San Jose del Cabo. Photo can be emailed. $2,000 pesos. - Karin, karin-marie [ - a t - ] msn.com, 624-130-7543
Need a Ride to or From the Airport? Or Someone to Assist You With Errands? - I am a young, bilingual Christian man and I can provide you with rides to or from the La Paz or San Jose Del Cabo airports. I can also help you with courier services, errands, or navigating the intricacies of dealing with Mexican businesses and the government; Car Registrations, TelCel and TelMex, CFE, Seguro Social, etc.

Reasonable Rates - Contact: Ernesto, Cel. 612-117-7497, ernie_net [ - a t - ] hotmail.com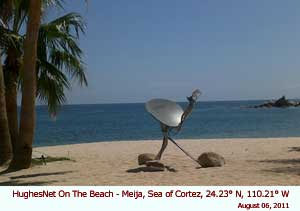 Now, Get Internet No Matter Where You Live:
Always-On Connection
Available Where DSL and Cellular Won't Reach
PC, Mac, Wireless Compatible
Multiple Computers Can Share the Same Internet Connection Full-Time
Vacation Holds Available
Professional Installation Available
Special Offers Extended Thru September 30:
1. $199.99 Mail-In Rebate:

0.74 Meter Dish with 1 Watt Transmitter - $499.99 $299 US After Rebate!1.
0.98 Meter Dish with 2 Watt Transmitter - $899.99 $699 US After Rebate!1

2. $60.00 Mail-In Rebate for $20 off Your First Three Months of Service! 2

| | | | |
| --- | --- | --- | --- |
| Data Plan | Down/Up Speed3 | Daily Data Allowance4 | Monthly Service |
| Basic | 1.0 Mbps/200 Kbps | 200 MB | $59.99 $39.99/mo. 1st 3 mos.! |
| Power 150 | 1.5 Mbps/250 Kbps | 300 MB | $79.99 $59.99/mo. 1st 3 mos.! |
| Power 150+ | 1.5 Mbps/250 Kbps | 350 MB | $89.99 $69.99/mo. 1st 3 mos.! |
Baja Satellite is an Authorized HughesNet Reseller. For more information Contact Us today: alan [ - a t - ] BajaSatellite.com, www.bajasatellite.com, (530) 903-4257 (From US), (01) 555 351 0882 (From Within Mexico), Baja California Sur
1 Equipment prices shown are after $199.99 mail-in rebate, and do not include Mexican shipping, importation or installation. System must be purchased before September 30.
2 $20 off per month for 1st. three months, after $60 mail-in rebate. System must be purchased before September 30. All plans require 24-month contract.
3 Absolute maximum speeds stated by HughesNet. Actual speeds will be less, and speeds will vary throughout the day and week depending upon total number of HughesNet subscribers sharing your satellite channel.
4 If daily allowance is exceeded, speeds may be reduced for up to 24 hours.
Want to Buy Sofa Bed or Futon - Hi, I'm looking to create extra sleeping space in my small house with a sofa bed or futon. Clean, good condition. Good looking would be nice, but isn't that always true? - , msvoltaire [ - a t - ] aol.com

Baja Western Onion Private-party Ad Special!
Get More Coverage! Two Weeks - Four Issues - Only $10.00 US:
- Yard Sales, Vehicles, Misc. For Sale or Wanted
- Reach 3,200 Baja Western Onion Readers
- Your Ad Featured In a Red, Highlighted Box
- Available Only For Private-Party, Non-Commercial, Text-Based Ads.
Payment: All Private-party Special Ads must be prepaid in advance of initial run date. You can make your payment online via PayPal athttps://www.paypal.com/cgi-bin/webscr?cmd=_xclick&business=advertising [ - a t - ] BajaWesternOnion.com, or call us at 001 530 903 4257 or 01 33 8421 1142 (From Mexico) to make payment directly by VISA, MasterCard, American Express, or Discover Card.
Free Ads: As always, you can place a Free text-based ad in the Baja Western Onion once every 14 days. Submit your Free Ad or Article here: www.bajawesternonion.com/submitad.asp. -
For more details on our commercial advertising opportunities, please visit www.bajawesternonion.com/advertising.asp or send an Email to: advertising [ - a t - ] BajaWesternOnion.com
---
Submit your Misc. Sales and Services Available/Wanted articles here: http://www.bajawesternonion.com/submitad.asp
Return to Top
---

---
Real Estate, Rentals, and House Sitting - Available/Wanted
---
Summer Special: Casa Jardineros - This affordable vacation home or rental with 3BR plus office/den, 1.5 BA, outdoor shower, spacious garage/bodega and stack washer & dryer. This property also offers great Ocean, Mountain, and Palm tree views, nice upstairs terrace. All services and sits on almost 1/2 acre lot (1,999.95 m2). USD $129,000 (reduced down from $165,000)

Contact for an appointment to see this wonderful home! - Richard Friend, Richie [ - a t - ] RicardoAmigo.com, ricardoamigo.com/Properties-CasaJardineros.asp, 612-145-0551, Pescadero
Roomate Wanted - The nice weather is coming. Are you planning to be in our area soon? Do you need a great room to rent? Actually, it is a great house with a large extra bedroom with its own bathroom. Queen bed, view of the ocean, 2 minute walk to the beach, a tranquil and lovely area. The house is almost new, big and spacious with a big kitchen, washer/dryer, satellite TV, big fireplace, internet (with limited use), lots of parking, water and power included. All you need is your food and clothes. We have everything else and are ready to meet you. 30 minutes south of Todos Santos and by the ocean. It is lovely here. $550 US/month is a deal. - Jeanne Durban, caboqt [ - a t - ] hotmail.com, no phone, Rancho Migriño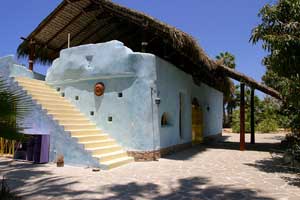 Todos Santos Beach House on a Tranquille Lush 5, 206.22 Sqmt Property - For Sale by Owner: - Two (2) separate driveway entries give the 5, 206.22 sq meter (1.25 acre) property privacy from both the front and back, giving flexibility to build additional homes or to split in the future. Soil on the property is rich organic black soil, ideal for other organic gardening.

* Property is an enclosed oasis and has unlimited access to farm water that nourishes the over 85 mature mango trees, 80 lush palm trees over 5 feet, passion fruit trees, citrus fruit trees and avocado trees, all of which give the property its cool shade that is coveted in the region and frequently not available on other properties of comparable or more value in the desert landscape.
* Property has power, water (both municipal and farm water), gas and Internet.
* A 6-minute walk takes you to the secluded beach, and a 5-minute drive finds you in the heart of TS.

If you have questions or would like to make an offer after viewing the property on YouTube (www.youtube.com/watch?v=krg9FEeiRtk), feel free to contact us. Save on the fee and make us a good offer. - Anh Walch, anhwalch [ - a t - ] yahoo.com, 212-692-0912, Todos Santos
Todos Santos View Lots For Sale - Three adjoining lots located just east of Las Tunas. 6ooo sq. mt. Titles 20,000 USD. Conact: todossantosmarine [ - a t - ] hotmail.com - Russell Skedd, todossantosmarine [ - a t - ] hotmail.com, todossantosmarine [ - a t - ] hotmail.com
House For Rent In La Paz - Clean 3 bedroom, 3 bathroom spacious house for rent in the Fidepaz neighborhood. Newly furnished. Available for long-term or weekly. $800 USD/month long-term; or $500 USD/weekly. - , shadysacre [ - a t - ] yahoo.com, 612-134-0480
Garage Needed - Garage needed to store our car when we are not in Todos Santos. This would be a long-term rental. Ideal location would be near Camino Del Pacifico or near the bus station. Garage must be secure. - Vincent Giarratana, vjgfrost [ - a t - ] yahoo.com, United States
Beautiful Casita For Rent Long Term - Located on a hillside, this unit has spectacular views of the ocean, mountains and town. Accommodates two people very comfortably, also room for a third. 20-minute walk to the center of town. On-site manager. Fully furnished. Superb reviews. Wheelchair accessible. Will consider pets. Willing to negotiate excellent rate for full-season rental. - janethowey [ - a t - ] yahoo.com, www.homeaway.com/vacation-rental/p281622
House Sitter Available - Young family available to take care of your home. Available Oct 1. Five years experience in Baja. References available. Offering security, yard and home care some minor repairs if needed. Please email at anothergreatday [ - a t - ] live.com - Eva, anothergreatday [ - a t - ] live.com, Baja California Sur
Warehouse / Workshop / Storage Space For Rent In Todos Santos - Available immediately, 30' X 16' (480 sqf) building. Ideal for storage or workshop. Convenient, secure location 2 blocks south of downtown Todos Santos with side entrance. Landlord lives next door. 240 volt electrical supply. $120 dlls / month + electricity. Please contact Ernesto (Spanish) 612 104 2000 or Alan (001) 805 598 7908 or send an Email: alan [ - a t - ] baja1.com.

--------------------

Almacén / Taller / Espacio de Almacenamiento Por Renta en Todos Santos - Disponible ahora, 9 m X 5 m (45 M2). Ideal para el almacenamiento o el taller. Cómoda y segura ubicación a 2 cuadras al sur de Todos Santos en el centro con entrada lateral. El Dueño vive al lado. 240 voltios de corriente. $ 120 dlls / mes + electricidad. Favor de contactar a Ernesto (Español) 612 104 2000 o Alan (001) 805 598 7908 o enviar un correo electronico. - Alan, alan [ - a t - ] baja1.com, Todos Santos
Seek Caretaker Position - Mature, responsible couple will caretake your Todos Santos home any time from December to March while we work on our property in Las Brisas. We are gardeners, love animals, have maintenance skills and local references. - Debra Dawson, goodthym [ - a t - ] mcn.org, (707) 964-0509, Todos Santos
Want To Buy - Quiero Comprar !! - Want to buy any parcel next to parcel #1560 in Los Cerritos, cash buyer. On the other side of the coin... do you want to buy a parcel in Los Cerritos at a Bargain Price ...? Then send info to SELL your parcel next to #1560, or inquire to buy that Dirt Cheap parcel to....

Quiero Comprar cualquier parcela al lado de la parcela #1560 en Los Cerritos, pago en efectivo. O si usted quiere comprar una parcela al precio Mas Bajo en todo Los Cerritos comuniquese con... - Bill, info [ - a t - ] bajabell.com, www.bajabell.com, 044-612-132-4710, Pescadero
---
Submit your Real Estate/Rentals/House Sitting/Property Management Services articles here: http://www.bajawesternonion.com/submitad.asp
Return to Top
---
Rides or Caravans Available/Wanted
Note: Ads will run for two weeks unless dated. Please list the date in the title, and specify which airport. Goes without saying, everyone shares expenses for beer, gas, food, etc

To remove your ad if you find a ride or caravan, let us know here: www.bajawesternonion.com/submitad.asp -
---
Around Oct. 6 - Seeking Co-pilot for the Drive South - Northern California to Todos Santos. Need to arrive T.S. no later than Oct 14. Only good drivers need apply. - Jane Sipe, jasi57 [ - a t - ] juno.com, Baja California Sur
From Mulege to La Jolla mid-October - Leaving Mulege for La Jolla, CA, on Saturday or Sunday, Oct. 15 or 16. Can carry boxes, etc., plus two people. Returning to Mulege later that next week. Bus to Mulege and I'll pick you up. Gas money is required. For more information, email phonebillmulege [ - a t - ] gmail.com. Thanks. - Bill Enos, phonebillmulege [ - a t - ] gmail.com, 521-615-101-4773, Mulege
Looking For A Ride Share First Week in November. - I'm driving from Kelowna, British Columbia to Cabo first week of November. Will be traveling via I-5 through Oregon and California. Won't have much spare room for extra luggage, so if you travel light, are willing to share expenses and want to have a heck of a road trip, get back to me. I did this drive last year so I'm familiar with the route and the process. Will be crossing at TJ. I prefer to do the driving myself, but the company and second set of eyes are a plus. Thanks, Mirek - Mirek Hrabanek, canczech26 [ - a t - ] hotmail.com, Cabo San Lucas
Driver Needed For Small Truck in November - I need someone to drive my Nissan Frontier truck from San Diego to Todos Santos in early November. Bonded and insured, references required. My email is jennylindberg [ - a t - ] earthlink.net. - Jennifer Lindberg, 505-466-0976, Todos Santos
From Northern California Early November - Looking to share the drive from Northern California, around Nov. 1 or soon after to Todos Santos. - Laurie, lauriecpb [ - a t - ] gmail.com, Baja California Sur
Caravan Wanted in December - Want to caravan to Todos Santos area in early December, could meet with you anywhere from Santa Rosa, CA, to San Diego. Please email Debra at goodthym [ - a t - ] mcn.org - Debra Dawson, goodthym [ - a t - ] mcn.org
---
Submit your Rides or Caravans Needed/Available articles here: http://www.bajawesternonion.com/submitad.asp
Return to Top
---
Pet Corner (Lost and Found pet articles will run for two weeks)
Let us know if you find or place your pet so we can remove your ad -
---
Missing Friend - Our friend went missing Thurs. night (Sept. 8) We miss him and so does his buddy. He was last seen around the Sandbar. He is brown ,short hair and has two scars...a large scar on his left flank and a thin white scar around his neck which was caused by a string he was tied up with when we rescued him. He has (had) a red collar. Instead of him moping around, feeling sad and lonely, why not bring him back and let him come home? He is not a stray and we would like him back home sleeping in his favorite spot. If anyone has seen him, please get in touch. email jimiykaren [ - a t - ] yahoo.com, phone 130-3022 - , jimiykaren [ - a t - ] yahoo.com, Pescadero
Dog Lost? Check with Baja Dogs - If you have lost a dog, please check with Baja Dogs La Paz at 612-155-8948 or email lostdog [ - a t - ] bajadogs.org. We quite often have dogs at the refuge that we hope owners will claim.

Dogs for Adoption: We have many wonderful dogs for adoption. Please come out and visit the refuge in El Centenario or call 612-155-8948. All of our dogs are vaccinated, spayed or neutered and healthy.

How to Donate: To donate to Baja Dogs La Paz, you can do so through Pay Pal, donate directly through our bank: Bancomer, Account #164033159; donate directly at the refuge or email bdlp [ - a t - ] bajadogslapaz.org and we will make arrangements to pick up your donation. We also are very grateful for any donations of any type of dog food. Please call 612-140-2575 for pick up. Thank you!

All donations are used for general operating and maintenance of the refuge, our spay and neuter campaign and education programs. You may choose where you want your money spent. 100% of all donations to Baja Dogs La Paz, AC are used to help rescue street dogs in La Paz or to reduce their numbers. Donations pay for food, medication, veterinary care, utilities and water, cleaning supplies, etc., and 1 full-time and 2 part-time staff members who care for the dogs 7 days a week. No Board Member receives compensation. - Mario, info [ - a t - ] bajadogslapaz.org, www.bajadogslapaz.org/, 612-155-8948, La Paz
Dog Ready for a Home - I have a dog available for adoption who is pretty friendly. If you are interested, please contact me and I will send photos. Just write me at gelacio_tds [ - a t - ] hotmail.com - Gelacio Orozco, gelacio_tds [ - a t - ] hotmail.com, Todos Santos
Free Puppies (3) - Cool black puppies, between 2 and 3 months, ready for new homes. Healthy, smart, with white markings on chest. Please help -- too many animals. Call 612-140-7923 - Mary, 612-140-7923
Impossible to Resist! - New arrivals at Kitty Heaven despite all of our efforts to spay and neuter (but without the help of the community, there would be even more!).

All colors, all very young and playful. For more information, call Angelique at 612-145-0250 or write her at BajaKitties [ - a t - ] Yahoo.com

Kitty Heaven is the only all-cat refuge in Baja California Sur. Visit us on the web athttp://bajarescue.org/#KittyHeaven. We survive via your kind donations. To send your support, please click the "Donate" button below:
---
Submit your Pet Corner articles here: http://www.bajawesternonion.com/submitad.asp (and remember to Spay and Neuter your pets)
Return to Top
---
Quote of the Day: " Bob Barker reminding you to help control the pet population. Have your pet spayed or neutered. Bye-bye. " ~ Bob Barker at the close of each and every "The Price Is Right" show
---
Looking for the complete Community Events Calendar? Click Here!
---
Return to Top
---
---
Help Support The Baja Western Onion!

We can accept donations by Credit Card, PayPal, cash, check or direct deposit.

For more information, please visit our web site at http://www.BajaWesternOnion.com/donate.asp.
Copyright © 2006 - 2011. The Baja Western Onion. All Rights Reserved. Published Using 100% Recycled Electrons :)
Return to Top
---