On The Web Site:
---
Today's Weather
---
Community Access
Policia Preventiva
Todos Santos Police
612 145-1052
Commandante Navarro

Ministero Publico
State Police
612 145 0198
Commandante Erigoyen

Bomberos
Fire Department
Cel. 612-142-6387
Commandante Cadena


---





---
Baja Western Onion
Alan Thompson - Publisher
Debra Webster - Advertising
e-mail For General Feedback
---
---
News and Events, Questions and Answers
---
Cabo Pulmo National Park Study - A new study led by researchers at Scripps Institution of Oceanography at UC San Diego (USA) has found that the thriving undersea wildlife park at Cabo Pulmo has proven to be the world's most robust marine reserve in the world. http://scrippsnews.ucsd.edu/Releases/?releaseID=1180

The no-fishing park was established in 1995 to restore the area's heavily overfished waters. Between 1999 and 2009, Cabo Pulmo saw a 460 percent increase in its total amount of fish—or biomass, here gauged by weight and length estimates, researchers say.

More pictures here at National Geographic: news.nationalgeographic.com/news/2011/08/pictures/110815-worlds-most-robust-marine-park-cabo-pulmo-science-mexico-baja-california-public/

Cabo Pulmo Marine Park: www.cabopulmopark.com/ -
Ehrlichiosis (Ehrlichia) Alert For Dog Owners - Courtesy Baja Pony Express - The test for Ehrlichiosis is not expensive if you go to Felipe Martinez in San Jose. I don't recall the price, but it's not so much. The tick problem is terrible again this year and anyone who has any influence on the local ranchers would do well to inform them that if they dipped their livestock this problem could be controlled somewhat. That is what is done all over the US and Mexico...just not here.

The very first sign that my dogs exhibited when they got this disease was that they refused to eat and began to lose weight and became listless. If your dog is not eating, it is sick, take it to the vet. That is the best way to catch the illness early. One of our dogs had to be force fed a mixture of raw egg and milk or she would have died. Vet prescribed injections of potassium as well as antibiotics. She is alive and doing okay several years later. Good luck. Sincerely, - Dawn Pier
Friend In Need - Looking for the loan or rent of a walker and/or wheelchair for a friend. Immediate need. Will pick up. Please call Deborah at 612-145-0857 or 612-167-6881 - Deborah Horn, deborahhorn [ - a t - ] hotmail.com, Todos Santos
La Ventana Classic 2012 - Courtesy The VentanaView - Game on for Jan 19-22 - not much bigger but better - clinics Jan 16-18. Kite and windsurf events plus SUP island crossing, downwinder and more. plus some new surprises. Looking for new sponsors who would like to help in the 7th year of this community fundraiser - hotels, realtors, rental properties, and individuals - anyone who would like to contribute $ or prizes to this event -- would love some windsurfing sponsors to step up - email me for sponsor packages and benefits - get your logo on the shirt, poster and website, get your property listed on the event website under accommodations- support our schools!! pass it on. - tim [ - a t - ] palapasventana.com
Need Car To Rent - I'm going to be in Todos Santos for November & December and will be staying in Las Brisas neighborhood. I need a car and am really hoping to make it a win-win. A baja vehicle... even a four wheel wranger/ATV thingie.... :0) I really appreciate your consideration! please email me! - , aimeenewlander [ - a t - ] hotmail.com
BCS Fishing Reports - Courtesy Baja Pony Express - The Baja Fisherman fishing reports are now posted at http://www.bajafisherman.com/forum/forumdisplay.php?1-SOUTHERN-BAJA-Fishing including the season's first cow-sized tuna at Gordo Banks
Looking for Collapsible Laundry Line - We have been to all the usual spots in La Paz (WalMart, Home Depot, City Club, etc.) You know the type: They look like a big umbrella but made to dry your laundry. You can see them in just about every yard, but impossible to find in a store! I would love to buy a new one but, hey, second-hand would also work. - Claude, cc13cc [ - a t - ] gmail.com, La Paz
ATV Rental Request - I am looking to rent a 4-wheeler 250cc or more, does not need to be 4-wheel drive, for the month of March 2012. I'm a female senior citizen and will be staying in El Pescadero. Only want it for cruising and sightseeing in your wonderful area. Will take care of same. Traveling from north midwest by air and renting a car. Please, nothing that will need maintenance. - Joann Beekel, beekel [ - a t - ] tc3net.com, Pescadero
---
Submit your News and Events, Questions and Answers articles here: http://www.bajawesternonion.com/submitad.asp
Return to Top
---
---
Featured Events This Week
---
Online Community Calendar - Just a reminder to anyone planning an event for the coming year to check the Online Community Calendar before choosing a date to see if something else is already planned. If everyone will use this resource, we can avoid conflicts. Check the Online Community Calendar here: www.bajawesternonion.com/community-calendar.asp -
---
Saturday, Sept. 3
"Ollin Calpulli Tonantzin" Sacred Knowledge Seminars - Four Saturday sessions, beginning this Saturday, Sept 3, 10:30am to 12:00 pm, $150 pesos per class, El Arca Cultural Center, Todos Santos. Contact Daniel Camargo, daniel [ - a t - ] ancestralmessenger.com, www.ancestralmessenger.com, 612-139-6987, Baja California Sur

Exposicion De Arte - Featuring the work of Tori Sepulveda and Hector Estrada in the Paraiso Mall in Cabo San Lucas during September. The public is invited to the reception at 5 p.m. in the Japanese Garden of the Paraiso Mall. - Oscar Rosales, oscarnotori [ - a t - ] yahoo.com, 612-145-0609, Todos Santos

'Midnight in Paris' - Woody Allen's latest and greatest. Teatro Luna Azul, 7:30 p.m. http://tsbmp.blogspot.com

Poolside Live Music - Cowboy and Tim Lang, 5-8, Tortugas located near Cerritos Beach. - Tim, tim [ - a t - ] timlang.net, www.timlang.net, Pescadero
---

---

---
New Community Events and Workshops Notification Page - You can submit event notices for The Community Calender or Workshops and Meetings pages. The Community Events calendar is limited to non-recurring community events (Sorry, no "Happy Hours," "Daily Specials," or other recurring business activities :). Submit your Community Events and Workshops notices here: http://www.bajawesternonion.com/submit-event.asp
Return to Top
---
---
Stepping Out - Food, Music and Entertainment
---

Posada La Poza on Vacation - Dear Guests, this is to inform you that we will be closed for Sept. 1-28, 2011. This is true for both the hotel and restaurant. We are looking forward to spoiling you again in the new season with some new plates on our menu. Have a great September and thank you for your business. Juerg and Libusche Wiesendanger, www.lapoza.com - Jurg Wiesendanger, reservations [ - a t - ] lapoza.com, www.lapoza.com, 612-145-0400, Todos Santos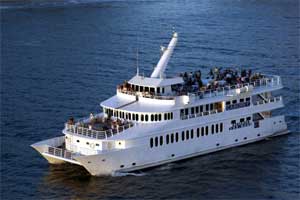 Caborey Dinner Cruise - With over 40 years offering tours in Mexico, Caborey has firmly established its reputation for quality, safety and fun. Reserving tours in advance through our website assures that you are purchasing tours from a reputable source and that the date and time of your reservation will be respected. Allow us the pleasure of providing these services for you.

Experience the natural wonder of Cabo San Lucas from aboard our luxurious 144' triple deck catamaran... From the moment you board the Caborey prepare yourself for an exhilarating experience. The majesty of the Land's End rock formations including Cabo's iconic "Arch" will spread out before you as the Caborey slips away from the marina and into Medano Bay. Live music and limitless cocktails accompany the breathtaking view from the upper deck of the Caborey as it follows its route along the tip of the Baja.

As the sun sinks into the horizon, tempt your palate with one of our 6 delectable entrees. Then as you take your last bite of scrumptious dessert, sit back and enjoy a Las Vegas-style show that will delight you with the sounds and rhythms of Latin America. - Caborey Cabo, reserv [ - a t - ] caborey.com, www.caborey.com, 143 8060, Cabo San Lucas
Mexican Night! - Get ready for our "Mexican Night," Sept. 15 from 7 to 9 p.m. at the Instituto de Inglés América with Prof. Antonio Estamates in Cabo San Lucas. We´re located on Janet Wilson Street between Félix Ortega and Ildefonso Green. Practice your Spanish! Put on your boots and hat and shout, "¡Viva México!" (long live México). "La práctica hace al maestro" - Joel Antonio Estamates, caballito_b [ - a t - ] hotmail.com, www.inglesamericablogspot.com, 624-143-9643, Cabo San Lucas
Poolside Live Music - Come see Cowboy and Tim Lang Saturday from 5-8 at Tortugas located near Cerritos Beach. Order a delicious meal or beverage and take a dip in the pool! - Tim, tim [ - a t - ] timlang.net, www.timlang.net, Pescadero
---
Submit your Stepping Out - Food, Music and Entertainment announcements here: http://www.bajawesternonion.com/submitad.asp
Return to Top
---

---
Misc. Sales and Services Available/Wanted
---

Satellite Finder Meter Bird Dog - Find any satellite you want to point your dish or re-point it for TV or internet. This meter will give you a audible and visual scales for finding any satellite. The Bird Dog Meter is most popular used by installers. $150 USD - Richard Witkay , rwitkay [ - a t - ] gmail.com, 624-113-6384
Shipping Anything to Mexico - "Voted Best in the Baja" by Baja Traveler Magazine. We know how to save you money. Over 20 years experience. Family owned and operated. No job too big or too small. Save this ad for future use, mpage [ - a t - ] lopezpage.com - Monica Page, mpage [ - a t - ] lopezpage.com, 619-666-4529

Servicios Computadoras, Todos Santos - Ofrece servicios de Internet y Computadoras. Venta, instalacion y soporte de redes cableadas e inalámbricas, anti-virus, Voice Over IP (Vonage, Net2phone), computadoras.
Computer Services, Todos Santos - Offering internet and computer services. WiFi / VoIP / Computers - Sales, installation, service and support: wired and wireless networks, virus removal, Voice Over IP (Vonage, Net2Phone), computers. - Josue Castillo Mayoral, Cellular: 612-148-3786, jocama85 [ - a t - ] hotmail.com, Todos Santos
September Spanish School Discounts - Summer school discounts continue thru the month of September for Baja residents at Se Habla...La Paz Spanish Language School in La Paz. Please contact us for availability and discounts. Also, the SKYPE available times are filling up as distant language learners prepare to come back to the Baja. If you are interested, contact us for more information and a free 30-minute trial lesson. ¡Bienvenidos todos! - Juli Goff, info [ - a t - ] sehablalapaz.com, www.sehablalapaz.com, 612-122-7763, La Paz
Need a Ride to or From the Airport? Or Someone to Assist You With Errands? - I am a young, bilingual Christian man and I can provide you with rides to or from the La Paz or San Jose Del Cabo airports. I can also help you with courier services, errands, or navigating the intricacies of dealing with Mexican businesses and the government; Car Registrations, TelCel and TelMex, CFE, Seguro Social, etc.

Reasonable Rates - Contact: Ernesto, Cel. 612-117-7497, ernie_net [ - a t - ] hotmail.com
Somebody Need A Bilingual Driver???'' - hola im a responsable and honest guy,i drive since 1995,i dont drink or smog,so if somebody need a car driver from Todos Santos to Tijuana i can do it,i can't go to usa cause i dont have a visa.you can call me anytime,i m gustavo,and this is my cel phone number : 612 142 0297. - Gustavo , panda_8_1 [ - a t - ] hotmail.com, 612 142 0297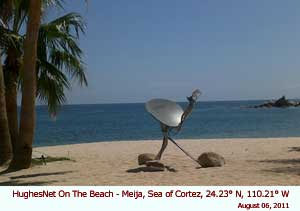 Now, Get Internet No Matter Where You Live:
Always-On Connection
Available Where DSL and Cellular Won't Reach
PC, Mac, Wireless Compatible
Multiple Computers Can Share the Same Internet Connection Full-Time
Vacation Holds Available
Professional Installation Available
Special Offers Extended Thru September 30:
1. $199.99 Mail-In Rebate:

0.74 Meter Dish with 1 Watt Transmitter - $499.99 $299 US After Rebate!1.
0.98 Meter Dish with 2 Watt Transmitter - $899.99 $699 US After Rebate!1

2. $60.00 Mail-In Rebate for $20 off Your First Three Months of Service! 2

| | | | |
| --- | --- | --- | --- |
| Data Plan | Down/Up Speed3 | Daily Data Allowance4 | Monthly Service |
| Basic | 1.0 Mbps/200 Kbps | 200 MB | $59.99 $39.99/mo. 1st 3 mos.! |
| Power 150 | 1.5 Mbps/250 Kbps | 300 MB | $79.99 $59.99/mo. 1st 3 mos.! |
| Power 150+ | 1.5 Mbps/250 Kbps | 350 MB | $89.99 $69.99/mo. 1st 3 mos.! |
Baja Satellite is an Authorized HughesNet Reseller. For more information Contact Us today: alan [ - a t - ] BajaSatellite.com, www.bajasatellite.com, (530) 903-4257 (From US), (01) 555 351 0882 (From Within Mexico), Baja California Sur
1 Equipment prices shown are after $199.99 mail-in rebate, and do not include Mexican shipping, importation or installation. System must be purchased before September 30.
2 $20 off per month for 1st. three months, after $60 mail-in rebate. System must be purchased before September 30. All plans require 24-month contract.
3 Absolute maximum speeds stated by HughesNet. Actual speeds will be less, and speeds will vary throughout the day and week depending upon total number of HughesNet subscribers sharing your satellite channel.
4 If daily allowance is exceeded, speeds may be reduced for up to 24 hours.

Baja Western Onion Private-party Ad Special!
Get More Coverage! Two Weeks - Four Issues - Only $10.00 US:
- Yard Sales, Vehicles, Misc. For Sale or Wanted
- Reach 3,200 Baja Western Onion Readers
- Your Ad Featured In a Red, Highlighted Box
- Available Only For Private-Party, Non-Commercial, Text-Based Ads.
Payment: All Private-party Special Ads must be prepaid in advance of initial run date. You can make your payment online via PayPal athttps://www.paypal.com/cgi-bin/webscr?cmd=_xclick&business=advertising [ - a t - ] BajaWesternOnion.com, or call us at 001 530 903 4257 or 01 33 8421 1142 (From Mexico) to make payment directly by VISA, MasterCard, American Express, or Discover Card.
Free Ads: As always, you can place a Free text-based ad in the Baja Western Onion once every 14 days. Submit your Free Ad or Article here: www.bajawesternonion.com/submitad.asp. -
For more details on our commercial advertising opportunities, please visit www.bajawesternonion.com/advertising.asp or send an Email to: advertising [ - a t - ] BajaWesternOnion.com
---
Submit your Misc. Sales and Services Available/Wanted articles here: http://www.bajawesternonion.com/submitad.asp
Return to Top
---

---
Real Estate, Rentals, and House Sitting - Available/Wanted
---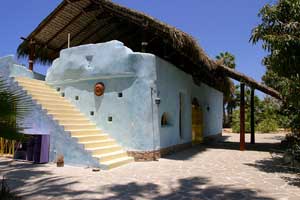 Todos Santos Beach House on a Tranquille Lush 5, 206.22 Sqmt Property - For Sale by Owner: - Two (2) separate driveway entries give the 5, 206.22 sq meter (1.25 acre) property privacy from both the front and back, giving flexibility to build additional homes or to split in the future. Soil on the property is rich organic black soil, ideal for other organic gardening.

* Property is an enclosed oasis and has unlimited access to farm water that nourishes the over 85 mature mango trees, 80 lush palm trees over 5 feet, passion fruit trees, citrus fruit trees and avocado trees, all of which give the property its cool shade that is coveted in the region and frequently not available on other properties of comparable or more value in the desert landscape.
* Property has power, water (both municipal and farm water), gas and Internet.
* A 6-minute walk takes you to the secluded beach, and a 5-minute drive finds you in the heart of TS.

If you have questions or would like to make an offer after viewing the property on YouTube (www.youtube.com/watch?v=krg9FEeiRtk), feel free to contact us. Save on the fee and make us a good offer. - Anh Walch, anhwalch [ - a t - ] yahoo.com, 212-692-0912, Todos Santos
Photo Snowbirds - Two brothers, freelance journalists in Seattle, looking for a month housesit/affordable rental for December to mid-January. We stayed on a Pescadero property for a month last winter, but it's not available this year. Ideally, 3-4 bedrooms, as we want our parents to visit for part of the time. Ideally, in the Pescadero-Todos corridor. We're clean and normal enough :: www.davidhanson3.com, www.michaelhansonphotography.com - David Hanson, dhanson11 [ - a t - ] gmail.com, Pescadero
House For Rent, Sale or Lease - Casa Chocolate, 3 bedroom/3 bath home with fully fenced yard. A half acre with a Bodega and plenty of storage space in the beautiful, quiet, secure neighborhood of San Sabestian. Screens and thresholds on all the doors and windows, mature gardens. Available for sale or long- or short-term rent. - Mike Lund, mikeandmirinbaja [ - a t - ] gmail.com, 612-1345-347
Beautiful Casita For Rent Long Term - Located on a hillside, this unit has spectacular views of the ocean, mountains and town. Accommodates two people very comfortably, also room for a third. 20-minute walk to the center of town. On-site manager. Fully furnished. Superb reviews. Wheelchair accessible. Will consider pets. Willing to negotiate excellent rate for full-season rental. - janethowey [ - a t - ] yahoo.com, www.homeaway.com/vacation-rental/p281622
Oceanfront Home for Rent-long Term - 4 bedroom/2 bath, 4500 sq.ft. home for rent in front of the surf break at San Pedrito in Pescadero. Fully furnished, cable tv, wi-fi available, breathtaking views, huge master bedroom, custom palapa roof (no leaks or bugs), large kitchen and all appliances. Also features wireless professional alarm system, surrounded by privacy wall, large yard, new viewing-palapa overlooking the surf. Dates are flexable. Email for details and photos. - Wendy, tropicalcasitas [ - a t - ] hotmail.com, 624-191-2831
Somebody Need A Mexican House Keeper?? - we are a mexican family and we are looking for a place to take care very well,we are responsable and honest peopple!!!!!!!!!!!! coulb be in todos santos or pescadero,i speak,read,i write a little bit english but i try to do it.you can call me any time to my cel phone!!! this is my number : 612 142 0297 with gustavo. - Gustavo , panda_8_1 [ - a t - ] hotmail.com, 612 142 0297, Todos Santos
---
Submit your Real Estate/Rentals/House Sitting/Property Management Services articles here: http://www.bajawesternonion.com/submitad.asp
Return to Top
---
Rides or Caravans Available/Wanted
Note: Ads will run for two weeks unless dated. Please list the date in the title, and specify which airport. Goes without saying, everyone shares expenses for beer, gas, food, etc

To remove your ad if you find a ride or caravan, let us know here: www.bajawesternonion.com/submitad.asp -
---
Around Oct. 6 - Seeking Co-pilot For The Drive South - Northern California to Todos Santos. Need to arrive T.S. no later than Oct 14. Only good drivers need apply. - Jane Sipe, jasi57 [ - a t - ] juno.com, Baja California Sur
Driver Needed For Small Truck in November - I need someone to drive my Nissan Frontier truck from San Diego to Todos Santos in early November. Bonded and insured, references required. My email is jennylindberg [ - a t - ] earthlink.net. - Jennifer Lindberg, 505-466-0976, Todos Santos
---
Submit your Rides or Caravans Needed/Available articles here: http://www.bajawesternonion.com/submitad.asp
Return to Top
---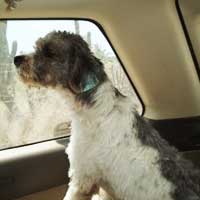 Pet Corner (Lost and Found pet articles will run for two weeks)
Let us know if you find or place your pet so we can remove your ad -
---
Scruffy Needs to Rent a Room - She doesn't have much to spend but she will bring her own food and only needs a place for three and a half weeks. She would be happy to be outside - actually she prefers to be outside as long as there is a sturdy fence. The people who feed her and her friends at Punto Lobos want to find her a home because she is pretty special. The problem is no one can keep her for the next few weeks. After that we have a foster home ready. She is about one year old, will have been spayed and weighs maybe 20 pounds - sweet disposition and certainly is accustomed to other dogs. - Maryann, maryanndoug [ - a t - ] gmail.com, 612-145-0791
Missing: Black Lab - Ocho - Our 75-pound black lab named "Ocho" has been missing for 2 days. Our house is located off of Hwy 19 at KM 82.5. He's wearing a New Orleans Saint collar but unfortunately his tag has fallen off. Ocho is 11 1/2 years old with a white muzzle. He's a kind, loving dog. Please email Susan Smith [ - a t - ] susamckeensmith [ - a t - ] hotmail.com or call Mona Tellessen at 612-161-0435 if you have information. - Susan Smith, susanmckeensmith [ - a t - ] hotmail.com, 612-161-0435, Elias Calles
Missing: Black and White Terrier - I have lost my dog, a small b/w terrier with a very short tail. His name is Panda and he lives at the Sandbar. He never strays but is very friendly and has no collar. If you see him, please call me at 612-102-9135. Reward! - Helen Bay, helenbaysandbar [ - a t - ] gmail.com, 612-102-9135, Pescadero
Free Puppies (3) - Cool black puppies, between 2 and 3 months, ready for new homes. Healthy, smart, with white markings on chest. Please help -- too many animals. Call 612-140-7923 - Mary, 612-140-7923
Impossible to Resist! - New arrivals at Kitty Heaven despite all of our efforts to spay and neuter (but without the help of the community, there would be even more!).

All colors, all very young and playful. For more information, call Angelique at 612-145-0250 or write her at BajaKitties [ - a t - ] Yahoo.com

Kitty Heaven is the only all-cat refuge in Baja California Sur. Visit us on the web athttp://bajarescue.org/#KittyHeaven. We survive via your kind donations. To send your support, please click the "Donate" button below:
---
Submit your Pet Corner articles here: http://www.bajawesternonion.com/submitad.asp (and remember to Spay and Neuter your pets)
Return to Top
---
Quote of the Day: " If the person you are talking to doesn't appear to be listening, be patient. It may simply be that he has a small piece of fluff in his ear. " ~ Winnie the Pooh
---
Looking for the complete Community Events Calendar? Click Here!
---
Return to Top
---
---
Help Support The Baja Western Onion!

We can accept donations by Credit Card, PayPal, cash, check or direct deposit.

For more information, please visit our web site at http://www.BajaWesternOnion.com/donate.asp.
Copyright © 2006 - 2011. The Baja Western Onion. All Rights Reserved. Published Using 100% Recycled Electrons :)
Return to Top
---