On The Web Site:
---
Today's Weather
---
Community Access
Policia Preventiva
Todos Santos Police
612 145-1052
Commandante Navarro

Ministero Publico
State Police
612 145 0198
Commandante Erigoyen

Bomberos
Fire Department
Cel. 612-142-6387
Commandante Cadena


---







---
Baja Western Onion
Alan Thompson - Publisher
Debra Webster - Advertising
e-mail For General Feedback
---
---
Five-year Anniversary of The Baja Western Onion - Tomorrow, September 1, marks the beginning of our sixth year of publication of the Baja Western Onion. It was on September 1, 2006, with the arrival of Hurricane John that we started sending storm updates by Email and then followed up with reports of storm damage and relief efforts up and down Baja. What began as an effort to keep a few friends and family informed became the publication you receive today with over 3,200 subscribers.

Thank you to all of our friends, family, supporters, readers and advertisers for making the Baja Western Onion the success it has become. This is your publication, and it would not have been succesful without your active interest and support. -
---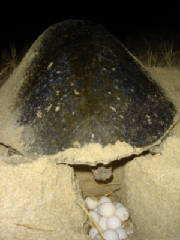 News and Events, Questions and Answers
---
Help Keep Our Oceans Balanced - Please consider a small donation to help restore local sea turtle populations and keep our oceans balanced. Tortugueros Las Playitas Small Charity Internet Fundraiser has raised enough $ to purchase gasoline for two months of patrols, but we still need your help. We plan to patrol through April 2012, but the government does not provide help for the purchase gasoline. Donations can be made at BBVA Bancomer in Mexico to account # 0179861866 (account name: Tortugueros Las Playitas A.C.) or through Paypal Muchas Gracias! - Tortugueros Las Playitas, tortugueroslasplayitas [ - a t - ] gmail.com, www.todostortugueros.org, 145.0353, Todos Santos
Exposicion De Arte - Puerto Paraiso and Galeria Maurer are hosting an exposicion of art featuring the work of Tori Sepulveda and Hector Estrada in the Paraiso Mall in Cabo San Lucas during the month of September. The public is invited to the reception at 5 p.m. on Saturday, Sept. 3, in the Japanese Garden of the Paraiso Mall. - Oscar Rosales, oscarnotori [ - a t - ] yahoo.com, 612-145-0609, Todos Santos
Free Internet Inspiration - Lying mostly on my back gagging with the heat this summer and having long ago chosen no TV, I am thrilled to find the following on the Internet: "Open Culture," the best free cultural and educational media on the web. You can find it at: http://www.openculture.com/freeaudiobooks. They offer a long list of great books, free audio, 400 free on-line courses from top universities, free courses, free audio books, free language lessons, free movies! I thought you might want to know. Check it out. - Janel, janelb3 [ - a t - ] yahoo.com, Todos Santos
Fishing Gear Needs a Ride - Are you going/returning to BCS from the US or Canada in September? Would you have some spare room for a couple of fishing rods (max: 6 foot long), two reels and some tackle? I broke my rods and can't find in La Paz what I need. I can have my "toys" ordered ASAP and shipped to your US or Canada address. Thank you. I'll organize something nice to celebrate your arrival! - Bob, bob2008kooky [ - a t - ] gmail.com, Todos Santos
Local Woman In Desperate Need Of Assistance! - Hard working local honest woman seeking immediate employment/small jobs. Veronica has a teenage son who needs repeated surgeries and basic needs met. Great local references are available.Please call for more details. - , azalia.love [ - a t - ] gmail.com, (612)-145-0471
---
Submit your News and Events, Questions and Answers articles here: http://www.bajawesternonion.com/submitad.asp
Return to Top
---
---
Featured Events This Week
---
Online Community Calendar - Just a reminder to anyone planning an event for the coming year to check the Online Community Calendar before choosing a date to see if something else is already planned. If everyone will use this resource, we can avoid conflicts. Check the Online Community Calendar here: www.bajawesternonion.com/community-calendar.asp -
---
Saturday, Sept. 3
Exposicion De Arte - Featuring the work of Tori Sepulveda and Hector Estrada in the Paraiso Mall in Cabo San Lucas during September. The public is invited to the reception at 5 p.m. in the Japanese Garden of the Paraiso Mall. - Oscar Rosales, oscarnotori [ - a t - ] yahoo.com, 612-145-0609, Todos Santos

'Midnight in Paris' - Woody Allen's latest and greatest. Teatro Luna Azul, 7:30 p.m. http://tsbmp.blogspot.com

"Ollin Calpulli Tonantzin" Sacred Knowledge Seminars - Four Saturday sessions, beginning this Saturday, Sept 3, 10:30am to 12:00 pm, $150 pesos per class, El Arca Cultural Center, Todos Santos. Contact Daniel Camargo, daniel [ - a t - ] ancestralmessenger.com, www.ancestralmessenger.com, 612-139-6987, Baja California Sur
---

---

---
New Community Events and Workshops Notification Page - You can submit event notices for The Community Calender or Workshops and Meetings pages. The Community Events calendar is limited to non-recurring community events (Sorry, no "Happy Hours," "Daily Specials," or other recurring business activities :). Submit your Community Events and Workshops notices here: http://www.bajawesternonion.com/submit-event.asp
Return to Top
---
---
Stepping Out - Food, Music and Entertainment
---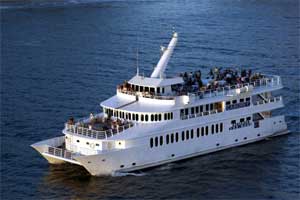 Caborey Dinner Cruise - With over 40 years offering tours in Mexico, Caborey has firmly established its reputation for quality, safety and fun. Reserving tours in advance through our website assures that you are purchasing tours from a reputable source and that the date and time of your reservation will be respected. Allow us the pleasure of providing these services for you.

Experience the natural wonder of Cabo San Lucas from aboard our luxurious 144' triple deck catamaran... From the moment you board the Caborey prepare yourself for an exhilarating experience. The majesty of the Land's End rock formations including Cabo's iconic "Arch" will spread out before you as the Caborey slips away from the marina and into Medano Bay. Live music and limitless cocktails accompany the breathtaking view from the upper deck of the Caborey as it follows its route along the tip of the Baja.

As the sun sinks into the horizon, tempt your palate with one of our 6 delectable entrees. Then as you take your last bite of scrumptious dessert, sit back and enjoy a Las Vegas-style show that will delight you with the sounds and rhythms of Latin America. - Caborey Cabo, reserv [ - a t - ] caborey.com, www.caborey.com, 143 8060, Cabo San Lucas

El Zaguan News - Hello to all of you. We will be closing this Saturday September 3 and re-opening the first week of October. Thanks for making this a great season and stay cool! - Erik Castellanos, esturemark [ - a t - ] gmail.com, Todos Santos
Summer Special at Ana-san - Stay cool, come and enjoy all our Sushi Rolls Happy Hour for only $70 pesos per roll, from 1 p.m. to 6 p.m., Monday through Saturday. Also check out our new Chicken, and Sea Food Salads on our "Daily Special" board. - Ana Orozco, 612-136-4804, Todos Santos
Baja Beans Roasting Company News - Now closed for September. We will no longer be open on Saturdays. If you have a wholesale order or a special request, please contact us by phone or email. Thank you and see you in October! - Sandra Wohlers, info [ - a t - ] bajabeans.com, www.bajabeans.com, 612-143-7138, Pescadero
---
Submit your Stepping Out - Food, Music and Entertainment announcements here: http://www.bajawesternonion.com/submitad.asp
Return to Top
---

---
Misc. Sales and Services Available/Wanted
---

Wanted: Timely, Reliable Woodwork Shop - A timely, reliable person is critical for me. Have you worked with someone who says what he'll do and when, and does what he says, and of course, on time? And would call if anything might go wrong or be delayed? Work needs to be done on custom furniture, doors, windows, shelves, bookshelves, kitchen and bathroom cabinets, closets, etc. Thank you. (if you can direct me to a good guy in Todos Santos area, I'll owe you a beer ... or soda) - Bob, bob2008kooky [ - a t - ] gmail.com, Todos Santos
Sandblaster for Rent - We have a sandblaster for rent. You will need a compressor. Contact jimiykaren [ - a t - ] yahoo.com - , jimiykaren [ - a t - ] yahoo.com, Pescadero

Oportunidad Lancha En Venta - Vendo lancha de 18 pies, con radio sonar, vivero, 2 baterias, remolque y motor mercury de cuatro tiempos con menos de 100 horas de uso, informes en 044-612-137-8524 todo por solo $8,500 dlls. - , bambima [ - a t - ] hotmail.com
Servicios Computadoras, Todos Santos - Ofrece servicios de Internet y Computadoras. Venta, instalacion y soporte de redes cableadas e inalámbricas, anti-virus, Voice Over IP (Vonage, Net2phone), computadoras.
Computer Services, Todos Santos - Offering internet and computer services. WiFi / VoIP / Computers - Sales, installation, service and support: wired and wireless networks, virus removal, Voice Over IP (Vonage, Net2Phone), computers. - Josue Castillo Mayoral, Cellular: 612-148-3786, jocama85 [ - a t - ] hotmail.com, Todos Santos
Free: Sliding Glass Doors - I have removed a bunch of aluminum framed sliding glass doors. they would need quite a bit of work to install but the glass is good. clear, single pane, non tempered. BUT, they're free and are available now. I also have a large wood desk, a wood closet and various construction supplies. My US cell is 707-287-3210. - John Mcintosh, john [ - a t - ] mcintoshco.com, 612-132-4731
Need a Ride to or From the Airport? Or Someone to Assist You With Errands? - I am a young, bilingual Christian man and I can provide you with rides to or from the La Paz or San Jose Del Cabo airports. I can also help you with courier services, errands, or navigating the intricacies of dealing with Mexican businesses and the government; Car Registrations, TelCel and TelMex, CFE, Seguro Social, etc.

Reasonable Rates - Contact: Ernesto, Cel. 612-117-7497, ernie_net [ - a t - ] hotmail.com
New Water Well Drilling Service - Baja Water Wells and Services is offering water well drilling,desalination,waste water management and all your plumbing needs .large to small projects welcome.we have an attorney in place to help you with the permitting process.please feel free to check out our website at www.bajawaterwellsandservices.com
or contact us at drilling [ - a t - ] bajawaterwellsandservices.com
208-661-5334 - Toby Schnuerle, drilling [ - a t - ] bajawaterwellsandservices.com, www.bajawaterwellsandservices.com, 208 661 5334, Baja California Sur
Liquidation: Solar Lights - Liquidation: Overstock Solar Lights for decorative garden, pathways and flash lights. All New and Available Now. Call 624-105-9478 - Francisco Vargas, fvargas [ - a t - ] innovacionsolar.com, www.innovacionsolar.com, 624-105-9478
News From La Canada Del Diablo - We are back from a wonderful vacation, and shopping trip in Cholula, Puebla. The trailers will soon be rolling in, and we are taking a chance to reorganize the entire store. Lots of great bargains. If you are in town, stop by and say hello.

Sadly, our e- mail address, barbara_perkins [ - a t - ] hotmail.com, had an invader, and had to be retired. Our new address is; bperkins0403 [ - a t - ] gmail.com. If you have been trying to contact us by e mail, and have not received a response, that is why.

We look forward to your visit. Thank you, Barbara and Pedro. - Barbara Perkins, bperkins0403 [ - a t - ] gmail.com, www.lacanadadeldiablo.com, 612-140-0069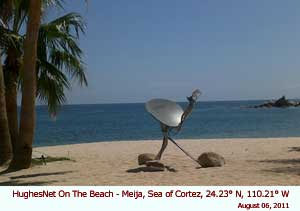 Now, Get Internet No Matter Where You Live:
Always-On Connection
Available Where DSL and Cellular Won't Reach
PC, Mac, Wireless Compatible
Multiple Computers Can Share the Same Internet Connection Full-Time
Vacation Holds Available
Professional Installation Available
Purchase Your System From Baja Satellite Before August 31 and Get:
1. Mail-In Rebate for $199.99 off Equipment Purchase! 1

0.74 Meter Dish with 1 Watt Transmitter - Only $299 US After Rebate!.
0.98 Meter Dish with 2 Watt Transmitter - Only $699 US After Rebate!

2. Mail-In Rebate for $20 off Your First Three Months of Monthly Service ($60.00 Value)! 2

| | | | |
| --- | --- | --- | --- |
| Data Plan | Down/Up Speed3 | Daily Data Allowance4 | Monthly Service |
| Basic | 1.0 Mbps/200 Kbps | 200 MB | $59.99 $39.99/mo. 1st 3 mos.! |
| Power 150 | 1.5 Mbps/250 Kbps | 300 MB | $79.99 $59.99/mo. 1st 3 mos.! |
| Power 150+ | 1.5 Mbps/250 Kbps | 350 MB | $89.99 $69.99/mo. 1st 3 mos.! |
Baja Satellite is an Authorized HughesNet Reseller. For more information Contact Us today: alan [ - a t - ] BajaSatellite.com, www.bajasatellite.com, (530) 903-4257 (From US), (01) 555 351 0882 (From Within Mexico), Baja California Sur
1 Prices shown are after $199 mail-in rebate, and do not include Mexican shipping, importation or installation. System must be purchased before August 31.
2 $20 off per month for 1st. three months, after $60 mail-in rebate. System must be purchased from Baja Satellite before August 31. All plans require 24-month contract.
3 Absolute maximum speeds stated by HughesNet. Actual speeds will be less, and speeds will vary throughout the day and week depending upon total number of HughesNet subscribers sharing your satellite channel.
4 If daily allowance is exceeded, speeds may be reduced for up to 24 hours.

Baja Western Onion Private-party Ad Special!
Get More Coverage! Two Weeks - Four Issues - Only $10.00 US:
- Yard Sales, Vehicles, Misc. For Sale or Wanted
- Reach 3,200 Baja Western Onion Readers
- Your Ad Featured In a Red, Highlighted Box
- Available Only For Private-Party, Non-Commercial, Text-Based Ads.
Payment: All Private-party Special Ads must be prepaid in advance of initial run date. You can make your payment online via PayPal athttps://www.paypal.com/cgi-bin/webscr?cmd=_xclick&business=advertising [ - a t - ] BajaWesternOnion.com, or call us at 001 530 903 4257 or 01 33 8421 1142 (From Mexico) to make payment directly by VISA, MasterCard, American Express, or Discover Card.
Free Ads: As always, you can place a Free text-based ad in the Baja Western Onion once every 14 days. Submit your Free Ad or Article here: www.bajawesternonion.com/submitad.asp. -
For more details on our commercial advertising opportunities, please visit www.bajawesternonion.com/advertising.asp or send an Email to: advertising [ - a t - ] BajaWesternOnion.com
---
Submit your Misc. Sales and Services Available/Wanted articles here: http://www.bajawesternonion.com/submitad.asp
Return to Top
---

---
Real Estate, Rentals, and House Sitting - Available/Wanted
---
Green Builder in Crisis - Baja green builder is in desperation mode and needs to sell one or more 1998 meter lots to keep going, to help people help themselves. Nice land near beach, priced at 60% of value. Help!! Contact me for more specific details. - Randy Echter, rke1951 [ - a t - ] gmail.com, www.bajagreenbuilder.com, 612-154-0485, La Paz
Beautiful Casita For Rent Long Term - Located on a hillside, this unit has spectacular views of the ocean, mountains and town. Accommodates two people very comfortably, also room for a third. 20-minute walk to the center of town. On-site manager. Fully furnished. Superb reviews. Wheelchair accessible. Will consider pets. Willing to negotiate excellent rate for full-season rental. - janethowey [ - a t - ] yahoo.com, www.homeaway.com/vacation-rental/p281622

3br/2bath Casita in Los Barriles - Available 1/8 share. Not a time share. This is a U.S.-based LLC, minimum use per 1/8 share is 4 weeks per year. Rental income covers most expenses. Fully furnished. Asking $25,000 USD. For virtual tour go to http://www.wolf-pm-rentals.com/Listing/VirtualTour.ashx?listingid=38059155. Contact chicodreff [ - a t - ] yahoo.com - , chicodreff [ - a t - ] yahoo.com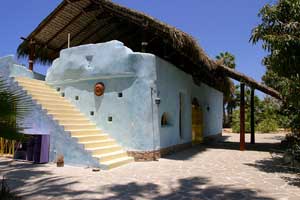 Todos Santos Beach House on a Tranquille Lush 5, 206.22 Sqmt Property - For Sale by Owner: - Two (2) separate driveway entries give the 5, 206.22 sq meter (1.25 acre) property privacy from both the front and back, giving flexibility to build additional homes or to split in the future. Soil on the property is rich organic black soil, ideal for other organic gardening.

* Property is an enclosed oasis and has unlimited access to farm water that nourishes the over 85 mature mango trees, 80 lush palm trees over 5 feet, passion fruit trees, citrus fruit trees and avocado trees, all of which give the property its cool shade that is coveted in the region and frequently not available on other properties of comparable or more value in the desert landscape.
* Property has power, water (both municipal and farm water), gas and Internet.
* A 6-minute walk takes you to the secluded beach, and a 5-minute drive finds you in the heart of TS.

If you have questions or would like to make an offer after viewing the property on YouTube (www.youtube.com/watch?v=krg9FEeiRtk), feel free to contact us. Save on the fee and make us a good offer. - Anh Walch, anhwalch [ - a t - ] yahoo.com, 212-692-0912, Todos Santos
One Night Get-Away in Cabo - Great pool, A/C, two bedroom/2 bath, 60' deck, condo fully furnished, located a block from the beach, harbor and mall. Marina Sol Condos. Stay a night or more. $120 per night. Call 624- 144-4684; clairabells [ - a t - ] aol.com or janmiketurner [ - a t - ] hotmail.com - Claire, clairabells [ - a t - ] aol.com, 624- 144-4684
Rancho-type Property For Sale - Rancho-type rustic lot with some construction for sale; new highway from Cabo to Todos Santos/La Paz will make trip to and from Elias Calles a breeze; Ocean, river and sierra views, buy my property in up-and-coming Elias Calles to enjoy what you are missing living in a city: tranquility and stars a plenty: new cell tower on hilltop, new families and artists moving to the area, business or residential. Just shy of 1,500 meters squared, +2 small buildings, +water meter and contract with city, +fenced, dirt road access. Separate bathroom with black-water purification system beneath it, kitchen palapa built over 10,000 gallon(+/-) water pila/cistern. Small bodega and caretaker room with varnished thatched leaf roof roof above it. Unique. Needs TLC, reduced price: $65K USD. Title, tax number. - Silvia. P., SSPADIS [ - a t - ] HOTMAIL.COM, 624-198-5695 , Elias Calles
Long-Term Rental Available - Beautifully constructed large brick and block house in quiet neighborhood on Ocampo across from Vivero Heriberto Castro. Three bedrooms, two baths, large kitchen, spacious sala. Large fenced yard, fruit trees, secure parking for four vehicles. Unfurnished for $450/month. Contact: Maty Tuchmann (cell) (612) 149-8285 (in Spanish), or Agustin Limon (612) 137-0536 (English or Spanish) or email: Agustin Limon at: encinaslimonagus [ - a t - ] live.com.mx. - Sara Gay Dammann, (231) 657-5264, Todos Santos
Casitas For Rent - Book now for your winter vacation. One and two bedroom casitas for rent from October through June 2012. 10 minute walk to the centre of town; swimming pool. Write me at trinityglobalgroup [ - a t - ] hotmail.com or visit www.holidaybaja.com - Lu Pearson, trinityglobalgroup [ - a t - ] hotmail.com, www.holidaybaja.com, 778-991-4848, Todos Santos
Winter House Rental Wanted - Snow bird and snow dog are wanting to rent house in Cabo area for 6 months this winter season. Walking distance to shops or possibly on bus route. 2 to 3 bedrooms with private yard. Reasonable rent up to $800.00 USD. Please contact me at caboserenity [ - a t - ] hotmail.com - , Caboserenity [ - a t - ] hotmail.com, Cabo San Lucas
House Sitter - The original house sitter has a few dates avaliable for this year. I have a week in November and a week in January. December is booked. I know the people, animals, and the police!. I trade for Petrol. I talk to the Goats? I will come to you take care of your pets or loved ones and get you out of Baja. You had the rest now get the best. - Ted Lemanowicz, tlemanowic [ - a t - ] sbcglobal.net, 760-727-5063, Los Barriles
---
Submit your Real Estate/Rentals/House Sitting/Property Management Services articles here: http://www.bajawesternonion.com/submitad.asp
Return to Top
---
Rides or Caravans Available/Wanted
Note: Ads will run for two weeks unless dated. Please list the date in the title, and specify which airport. Goes without saying, everyone shares expenses for beer, gas, food, etc

To remove your ad if you find a ride or caravan, let us know here: www.bajawesternonion.com/submitad.asp -
---
Around Oct. 6 - Seeking Co-pilot For The Drive South - Northern California to Todos Santos. Need to arrive T.S. no later than Oct 14. Only good drivers need apply. - Jane Sipe, jasi57 [ - a t - ] juno.com, Baja California Sur
Driver Needed For Small Truck in November - I need someone to drive my Nissan Frontier truck from San Diego to Todos Santos in early November. Bonded and insured, references required. My email is jennylindberg [ - a t - ] earthlink.net. - Jennifer Lindberg, 505-466-0976, Todos Santos
---
Submit your Rides or Caravans Needed/Available articles here: http://www.bajawesternonion.com/submitad.asp
Return to Top
---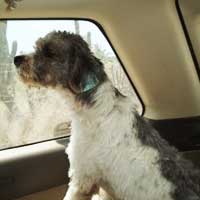 Pet Corner (Lost and Found pet articles will run for two weeks)
Let us know if you find or place your pet so we can remove your ad -
---
Scruffy Needs to Rent a Room - She doesn't have much to spend but she will bring her own food and only needs a place for three and a half weeks. She would be happy to be outside - actually she prefers to be outside as long as there is a sturdy fence. The people who feed her and her friends at Punto Lobos want to find her a home because she is pretty special. The problem is no one can keep her for the next few weeks. After that we have a foster home ready. She is about one year old, will have been spayed and weighs maybe 20 pounds - sweet disposition and certainly is accustomed to other dogs. - Maryann, maryanndoug [ - a t - ] gmail.com, 612-145-0791
Missing: Black Lab - Ocho - Our 75-pound black lab named "Ocho" has been missing for 2 days. Our house is located off of Hwy 19 at KM 82.5. He's wearing a New Orleans Saint collar but unfortunately his tag has fallen off. Ocho is 11 1/2 years old with a white muzzle. He's a kind, loving dog. Please email Susan Smith [ - a t - ] susamckeensmith [ - a t - ] hotmail.com or call Mona Tellessen at 612-161-0435 if you have information. - Susan Smith, susanmckeensmith [ - a t - ] hotmail.com, 612-161-0435, Elias Calles
Missing: Black and White Terrier - I have lost my dog, a small b/w terrier with a very short tail. His name is Panda and he lives at the Sandbar. He never strays but is very friendly and has no collar. If you see him, please call me at 612-102-9135. Reward! - Helen Bay, helenbaysandbar [ - a t - ] gmail.com, 612-102-9135, Pescadero
Free Puppys (3) - Cool black puppys, between 2 and 3 months, ready for new homes...healthy, smart, with white markings on chest.....please help, too many animals. Call 612 140 7923 - Mary, 612 140 7923
Impossible to Resist! - New arrivals at Kitty Heaven despite all of our efforts to spay and neuter (but without the help of the community, there would be even more!).

All colors, all very young and playful. For more information, call Angelique at 612-145-0250 or write her at BajaKitties [ - a t - ] Yahoo.com

Kitty Heaven is the only all-cat refuge in Baja California Sur. Visit us on the web athttp://bajarescue.org/#KittyHeaven. We survive via your kind donations. To send your support, please click the "Donate" button below:
---
Submit your Pet Corner articles here: http://www.bajawesternonion.com/submitad.asp (and remember to Spay and Neuter your pets)
Return to Top
---
Quote of the Day: " Darkness cannot drive out darkness; only light can do that. Hate cannot drive out hate; only love can do that. " ~ Martin Luther King, Jr.
---
Looking for the complete Community Events Calendar? Click Here!
---
Return to Top
---
---
Help Support The Baja Western Onion!

We can accept donations by Credit Card, PayPal, cash, check or direct deposit.

For more information, please visit our web site at http://www.BajaWesternOnion.com/donate.asp.
Copyright © 2006 - 2011. The Baja Western Onion. All Rights Reserved. Published Using 100% Recycled Electrons :)
Return to Top
---