On The Web Site:
---
Today's Weather
---
Community Access
Policia Preventiva
Todos Santos Police
612 145-1052
Commandante Navarro

Ministero Publico
State Police
612 145 0198
Commandante Erigoyen

Bomberos
Fire Department
Cel. 612-142-6387
Commandante Cadena


---







---
Baja Western Onion
Alan Thompson - Publisher
Debra Webster - Advertising
e-mail For General Feedback
---
---
News and Events, Questions and Answers
---
Feeny Lipscomb - Former resident of Todos Santos, Spanish teacher and "Minister of Fun," Feeny Lipscomb died Monday, Aug. 22 in Taos, New Mexico, after a fierce and brave battle with cancer. Feeny lived by the credo "If it isn't fun, don't do it, and if you MUST do it, make it FUN!" -


Some of you in the lower loop of Baja California may have known Feeny, Spanish teacher, Minister of Fun, and Priestess of Joy. She passed away Monday morning after an intense year of trying to heal herself of Stage 4 Breast Cancer. We, her friends in Todos Santos, would like you to join us in a ceremony of Letting Go to ease our hearts and release her from our grief. Afterwards there will be a wake to remember and celebrate her magnificent spirit, Wednesday, August 24, 2011, 6:30 p.m. at the home of Isabel Smyth which is Teatro Luna Azul, Todos Santos. - Moonstone Mazzetti moonstonenow [ - a t - ] yahoo.com, 612-119-4098
Memories of Feeny:
www.feenylipscomb.com

www.youtube.com/watch?v=47BSHivmNt0

www.feenysfriends.com

www.facebook.com/feenylipscomb

originalblessing.ning.com/profile/ARFeenyLipscomb
-
Small Package to Be Brought Here From SoCal - If you are flying or driving to Baja and willing to bring a small package containing a cell modem for a pacemaker, please contact me. I can have it FedEx'ed to you before leaving. Thanks - Gaar Edwards, gwedmd7360 [ - a t - ] earthlink.net, 624-161-5148
---
Submit your News and Events, Questions and Answers articles here: http://www.bajawesternonion.com/submitad.asp
Return to Top
---
---
Featured Events This Week
---
Online Community Calendar - Just a reminder to anyone planning an event for the coming year to check the Online Community Calendar before choosing a date to see if something else is already planned. If everyone will use this resource, we can avoid conflicts. Check the Online Community Calendar here: www.bajawesternonion.com/community-calendar.asp -
---
Wednesday, Aug. 24
Garbage Clean Up Day - We will meet at the corner of Camino del Cielo (ex Maquina) at 8 a.m. Gloves and garbage bags provided. Volunteers welcome. - Emanuela, emagard [ - a t - ] mac.com, 612-178-0108, Todos Santos

Ceremony Of Letting Go For Feeny Lipscomb - August 24, 2011, 6:30 p.m., Home of Isabel Smyth - Teatro Luna Azul, Todos Santos - Moonstone Mazzetti moonstonenow [ - a t - ] yahoo.com, 612-119-4098
Thursday, Aug. 25
'Sunset Blvd' - Starring Gloria Swanson, William Holden. Movie night, Teatro Luna Azul. 7:30 p.m. http://tsbmp.blogspot.com

---

---
New Community Events and Workshops Notification Page - You can submit event notices for The Community Calender or Workshops and Meetings pages. The Community Events calendar is limited to non-recurring community events (Sorry, no "Happy Hours," "Daily Specials," or other recurring business activities :). Submit your Community Events and Workshops notices here: http://www.bajawesternonion.com/submit-event.asp
Return to Top
---
---
Stepping Out - Food, Music and Entertainment
---

New Hours at Boyitacos - New hour at Boyitacos located by Cafélix. We are open from 12 p.m. to 8:30 p.m., Monday thru Sunday. Cafélix is open everyday from 8 a.m. to 9 p.m. - Felix Vazquez, salesboy_vagu [ - a t - ] hotmail.com, 612-145-0568, Todos Santos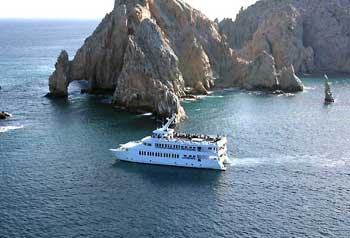 Caborey Dinner Cruise - With over 40 years offering tours in Mexico, Caborey has firmly established its reputation for quality, safety and fun. Reserving tours in advance through our website assures that you are purchasing tours from a reputable source and that the date and time of your reservation will be respected. Allow us the pleasure of providing these services for you.

Experience the natural wonder of Cabo San Lucas from aboard our luxurious 144' triple deck catamaran... From the moment you board the Caborey prepare yourself for an exhilarating experience. The majesty of the Land's End rock formations including Cabo's iconic "Arch" will spread out before you as the Caborey slips away from the marina and into Medano Bay. Live music and limitless cocktails accompany the breathtaking view from the upper deck of the Caborey as it follows its route along the tip of the Baja.

As the sun sinks into the horizon, tempt your palate with one of our 6 delectable entrees. Then as you take your last bite of scrumptious dessert, sit back and enjoy a Las Vegas-style show that will delight you with the sounds and rhythms of Latin America. - Caborey Cabo, reserv [ - a t - ] caborey.com, www.caborey.com, 143 8060, Cabo San Lucas
CJ's Will Close For Two Weeks - CJ'S Courtyard Deli would like to thank everyone who has supported us over the past few months, and we want to let everyone know that we will be closing for two weeks in September, from Sept. 19 thru Oct. 4. We will re-open Oct. 5 with our new and improved menu. We will be keeping all the old favorites like the Rueben and Philly Cheesesteak, but we will be adding some new and exciting sandwiches to the menu, such as the NY Club, The Dagwood and the New Orleans Muffuletta. (If you don't know what a Muffuletta is, then you will have to come by and try one -- they're delicious!) Come by and check out all our new menu items. We are located in Local #35 at the new Plaza Artesanos in San Jose Del Cabo on Blvd. Antonio Mijares. Go Down Valerio Gonzalez past WalMart, at the bottom of the street turn right towards the hotels. We are approx. 200 feet from the corner on the right-hand side (next to University Mundial). Come in the entrance by the Bomberos Parking. We are second on the left. We look forward to seeing you! You can visit our website at www.cjscourtyarddeli.com. - - Christine Johnson, www.cjscourtyarddeli.com, 624-105-2566, San Jose Del Cabo

Movie Nights at Luna Azul - This Thursday, Aug. 25, will we be showing 'Sunset Blvd,' the 1950 American Film Noir Classic starring Gloria Swanson & William Holden. Saturday, Sept. 3, will be 'Midnight in Paris,' Woody Allen's latest and possibly his best. Billed as a romantic/comedy/fantasy. And Thursday, Sept. 8, will be 'She Done Him Wrong,' starring Mae West and Cary Grant, a 1933 comedy/romance. Doors open at 7:30, shows start at sunset. More info can be found at http://tsbmp.blogspot.com - , bluemooninbaja [ - a t - ] yahoo.com
---
Submit your Stepping Out - Food, Music and Entertainment announcements here: http://www.bajawesternonion.com/submitad.asp
Return to Top
---

---
Misc. Sales and Services Available/Wanted
---
Brand New Generator - 1200 Watt Surge/1000 Watt Continuous gas generator with 1.5 gallon gas tank. Still in the box. Excellent condition. $2900 pesos. Doug 612-154-3393 - Doug Baumann, extranheros [ - a t - ] hotmail.com, 612-154-3393, Pescadero

Airstream Wanted - Looking for an Airstream. Any interior condition considered, a good condition exterior preferred. Thank you! - , beardedjosh [ - a t - ] yahoo.com, 612-157-9332, Baja California Sur
Coca Cola Cooler Wanted - We are looking for an old Coca Cola cooler and and a vintage vending machine. If you happen to have these items taking up space in your bodega, drop us a line. We can help make them go away. - , hotelcasatota [ - a t - ] gmail.com, 612-157-9431, Baja California Sur
Instituto De Ingles Y Espanol "America" - Basic Spanish lessons for foreigners. 2 hours/week for a period of 15 months is enough time to know how to understand, write, read and speak Basic Spanish. First lesson at no cost. Fair fares. Welcome at our facilities in Barrio de San Juan El Pescadero. Contact Pablo, Spanish and English instructor. Gracias - Instituto De Ingles Y Espanol "America", inst.america.elpescadero [ - a t - ] hotmail.com, 130-3270 and Cel 612-151-2385, Pescadero
Otolaryngology Head and Neck Surgery - Ears, Nose and Throat specialist in practice at the Amerimed Medical Office in both Cabo San Lucas and San Jose del Cabo. We treat ear, nose, throat and neck diseases; and perform functional and aesthetic nasal surgery. Botox treatment is also available. We perform nasal endoscopy, pharyngeal and laryngeal endoscopy. Bilingual medical attention available. - Dr. Luis Landeros, luislanderos [ - a t - ] gmail.com, 624-128-9655, San Jose Del Cabo

Servicios Computadoras, Todos Santos - Ofrece servicios de Internet y Computadoras. Venta, instalacion y soporte de redes cableadas e inalámbricas, anti-virus, Voice Over IP (Vonage, Net2phone), computadoras.
Computer Services, Todos Santos - Offering internet and computer services. WiFi / VoIP / Computers - Sales, installation, service and support: wired and wireless networks, virus removal, Voice Over IP (Vonage, Net2Phone), computers. - Josue Castillo Mayoral, Cellular: 612-148-3786, jocama85 [ - a t - ] hotmail.com, Todos Santos
Ford Ranger '93 4WD - Ford Ranger has Canadian papers, new clutch, new starter motor. In excellent running condition, never overheats, holds all fluids, no leaks, clean oil. Has 200,000 miles. Forced to sell as I am flying back to Australia. Features two levels in the rear cab, and also built-in electronic locking vault to keep passports, etc., safe when traveling. Comes with big box of tools, socket sets, etc. $1,500 USD, or best offer. - Saxon Scott, saxonscott [ - a t - ] hotmail.com, 612-139-6812, Pescadero
Need a Ride to or From the Airport? Or Someone to Assist You With Errands? - I am a young, bilingual Christian man and I can provide you with rides to or from the La Paz or San Jose Del Cabo airports. I can also help you with courier services, errands, or navigating the intricacies of dealing with Mexican businesses and the government; Car Registrations, TelCel and TelMex, CFE, Seguro Social, etc.

Reasonable Rates - Contact: Ernesto, Cel. 612-117-7497, ernie_net [ - a t - ] hotmail.com
Worried About Break-ins? - There is a new product on the market that when attached to your door, makes it impossible to kick it in. The product is called "Kick Back" and has endorsements from several police agencies in the U.S. and Canada. Installs easily in 2 minutes, and the cost with shipping is $89.99 USD. You can email Dave for more info at: ddoyle_esp [ - a t - ] hotmail.com; or see more product info at: www.ikickback2.com - ddoyle_esp [ - a t - ] hotmail.com, Baja California Sur
Need A Car - Nov & Dec.... - I just rented a house in the Las Brisas neighborhood and now in need of a car to borrow (pay for insurance) or rent. I have great insurance in the U.S. I'm looking to use a car for local trips to shop, produce, yoga - little errands. Would be happy to do some type of a trade or bring something from the States.. anything to show good gesture and hopefully be a win-win. Thank you!!! email is best. - Aimee, aimeenewlander [ - a t - ] hotmail.com, 510-816-2271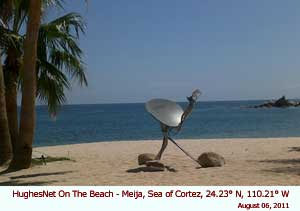 Now, Get Internet No Matter Where You Live:
Always-On Connection, Available Where DSL and Cellular Won't Reach
PC, Mac, Wireless Compatible
Multiple Computers Can Share the Same Internet Connection Full-Time
Vacation Holds Available on All Plans
No Phone Line Needed, No Busy Signals, No Missed Calls
Professional Installation Available Anywhere in Southern BCS
Purchase Your System From Baja Satellite Before August 31 and Get:
1. Mail-In Rebate for $199.99 off Equipment Purchase! 1

0.74 Meter Dish with 1 Watt Transmitter - Only $299 US After Rebate!.
0.98 Meter Dish with 2 Watt Transmitter - Only $699 US After Rebate!

2. Mail-In Rebate for $20 off Your First Three Months of Monthly Service ($60.00 Value)! 2

| | | | |
| --- | --- | --- | --- |
| Data Plan | Download / Upload Speed3 | Daily Data Allowance4 | Monthly Service |
| Basic | 1.0 Mbps/200 Kbps | 200 MB Daily Download Allowance | $59.99 $39.99/mo. 1st 3 months! |
| Power 150 | 1.5 Mbps/250 Kbps | 300 MB Daily Download Allowance | $79.99 $59.99/mo. 1st 3 months! |
| Power 150+ | 1.5 Mbps/250 Kbps | 350 MB Daily Download Allowance | $89.99 $69.99/mo. 1st 3 months! |
Baja Satellite is an Authorized HughesNet Reseller. For more information Contact Us today: alan [ - a t - ] BajaSatellite.com, www.bajasatellite.com, (530) 903-4257 (From US), (01) 555 351 0882 (From Within Mexico), Baja California Sur
1 Prices shown are after $199 mail-in rebate, and do not include Mexican shipping, importation or installation. System must be purchased before August 31.
2 $20 off per month for 1st. three months, after $60 mail-in rebate. System must be purchased from Baja Satellite before August 31. All plans require 24-month contract.
3 Absolute maximum speeds stated by HughesNet. Actual speeds will be less, and speeds will vary throughout the day and week depending upon total number of HughesNet subscribers sharing your satellite channel.
4 If daily allowance is exceeded, speeds may be reduced for up to 24 hours.

Private-party Ad Special! - Put your ad in front of over 3,200 Baja Western Onion subscribers twice a week, in Four consecutive issues for only $10 dlls ($120 pesos), allowing your ad to appear in each issue for two weeks. Also, we'll feature your ad within a red, highlighted box. Get more coverage for your next Yard Sale, Vehicle, Misc. Wanted or For Sale ad.

This special offer applies only to privaty-party, non-commercial, text-based ads. Sorry, this offer not available for display banner graphics ads, or ads for businesses, real estate or rentals available.
Payment: All Summer Special ads must be prepaid in advance of initial run date. You can make your payment online via PayPal athttps://www.paypal.com/cgi-bin/webscr?cmd=_xclick&business=advertising [ - a t - ] BajaWesternOnion.com, or call us at 001 530 903 4257 or 01 33 8421 1142 (From Mexico) to make payment directly by VISA, MasterCard, American Express, or Discover Card.
Free Ads: As always, you can place a Free text-based ad in the Baja Western Onion once every 14 days. Submit your Free Ad or Article here: www.bajawesternonion.com/submitad.asp. -
For more details on our commercial advertising opportunities, please visit www.bajawesternonion.com/advertising.asp or send an Email to: advertising [ - a t - ] BajaWesternOnion.com
---
Submit your Misc. Sales and Services Available/Wanted articles here: http://www.bajawesternonion.com/submitad.asp
Return to Top
---

---
Real Estate, Rentals, and House Sitting - Available/Wanted
---
Seeking Rental Resources - We are looking for available rental properties in the Todos Santos area. Full-time, year-round, furnished or unfurnished, suitable for individuals to small families. We prefer furnished but will consider any suitable place. Access to individual or shared gardening of particular interest. Good Internet service required. - James Summers, jhsmexico [ - a t - ] gmail.com, www.jhs.mx, 624-172-2159, Todos Santos

House Sitter Available - The original House Sitter/Pet Sitter, retired and living in San Diego, has a few dates avalable for 2011/2012. Avaliable from October until May. My minimum assignment is three weeks. This is a no fee service! Will travel to Cabo/East Cape. I require Internet and TV. Will rent a car or you can pick me up and I take you to the airport the next day. I love to take care of pets and fish on the beach. Sorry, already booked for December. - Ted Lemanowicz, tlemanowic [ - a t - ] sbcglobal.net, 760-727-5063, Cabo Pulmo-East Cape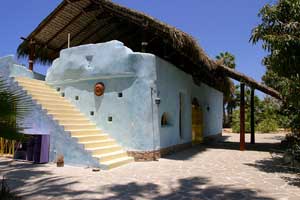 Todos Santos Beach House on a Tranquille Lush 5, 206.22 Sqmt Property - For Sale by Owner: - Two (2) separate driveway entries give the 5, 206.22 sq meter (1.25 acre) property privacy from both the front and back, giving flexibility to build additional homes or to split in the future. Soil on the property is rich organic black soil, ideal for other organic gardening.

* Property is an enclosed oasis and has unlimited access to farm water that nourishes the over 85 mature mango trees, 80 lush palm trees over 5 feet, passion fruit trees, citrus fruit trees and avocado trees, all of which give the property its cool shade that is coveted in the region and frequently not available on other properties of comparable or more value in the desert landscape.
* Property has power, water (both municipal and farm water), gas and Internet.
* A 6-minute walk takes you to the secluded beach, and a 5-minute drive finds you in the heart of TS.

If you have questions or would like to make an offer after viewing the property on YouTube (www.youtube.com/watch?v=krg9FEeiRtk), feel free to contact us. Save on the fee and make us a good offer. - Anh Walch, anhwalch [ - a t - ] yahoo.com, 212-692-0912, Todos Santos
---
Submit your Real Estate/Rentals/House Sitting/Property Management Services articles here: http://www.bajawesternonion.com/submitad.asp
Return to Top
---
Rides or Caravans Available/Wanted
Note: Ads will run for two weeks unless dated. Please list the date in the title, and specify which airport. Goes without saying, everyone shares expenses for beer, gas, food, etc

To remove your ad if you find a ride or caravan, let us know here: www.bajawesternonion.com/submitad.asp -
---
North Then South After August 15 - I am flexible, will be heading North sometime around the middle to end of August with a F350 4 door truck and possibly with a large dual axle 23 foot enclosed trailer, or a small open 8 foot trailer. I can haul things and people both directions. Will be heading to San Diego, possibly LA and southern UT. And returning to baja in September. Have made the trip about 30 times. - Dean Devolpi, dean [ - a t - ] la-ventana.com, 612-114-0202, La Paz
---
Submit your Rides or Caravans Needed/Available articles here: http://www.bajawesternonion.com/submitad.asp
Return to Top
---
Pet Corner (Lost and Found pet articles will run for two weeks)
Let us know if you find or place your pet so we can remove your ad -
---
Missing: Black Lab - Ocho - Our 75-pound black lab named "Ocho" has been missing for 2 days. Our house is located off of Hwy 19 at KM 82.5. He's wearing a New Orleans Saint collar but unfortunately his tag has fallen off. Ocho is 11 1/2 years old with a white muzzle. He's a kind, loving dog. Please email Susan Smith [ - a t - ] susamckeensmith [ - a t - ] hotmail.com or call Mona Tellessen at 612-161-0435 if you have information. - Susan Smith, susanmckeensmith [ - a t - ] hotmail.com, 612-161-0435, Elias Calles
Missing: Black and White Terrier - I have lost my dog, a small b/w terrier with a very short tail. His name is Panda and he lives at the Sandbar. He never strays but is very friendly and has no collar. If you see him, please call me at 612-102-9135. Reward! - Helen Bay, helenbaysandbar [ - a t - ] gmail.com, 612-102-9135, Pescadero
Baja Dogs, La Paz - If you have lost or found a dog, Please send identifying information and photo to lostdogs [ - a t - ] bajadogslapaz.org Please remind your friends to check the refuge if they have lost their dog. For information on adopting our dogs, call 612-155-8946 or go to www.bajadogslapaz.org. Baja Dogs La Paz AC runs entirely on donations and no board member receives compensation of any type. To donate to Baja Dogs, La Paz, Inc., you can do so through PayPal and receive a US tax receipt or donate in La Paz through our bank: Bancomer, Account #164033159; or visit and donate directly at the refuge.

We also are very grateful for any donations of any type of dog food. You can drop it off at the refuge or we can make arrangements for pick up! Please call 612-155-8946 or email bdlp [ - a t - ] bajadogslapaz.org. Thank you!

To the world you are just one more rescue person. To a rescued pet, you are the world.

- Cindy Crane, lostdogs [ - a t - ] bajadogslapaz.org, 612-155-8946, La Paz
Impossible to Resist! - New arrivals at Kitty Heaven despite all of our efforts to spay and neuter (but without the help of the community, there would be even more!).

All colors, all very young and playful. For more information, call Angelique at 612-145-0250 or write her at BajaKitties [ - a t - ] Yahoo.com

Kitty Heaven is the only all-cat refuge in Baja California Sur. Visit us on the web athttp://bajarescue.org/#KittyHeaven. We survive via your kind donations. To send your support, please click the "Donate" button below:
---
Submit your Pet Corner articles here: http://www.bajawesternonion.com/submitad.asp (and remember to Spay and Neuter your pets)
Return to Top
---
Quote of the Day: " Having two bathrooms ruined the capacity to co-operate. " ~ Margaret Mead
---
Looking for the complete Community Events Calendar? Click Here!
---
Return to Top
---
---
Help Support The Baja Western Onion!

We can accept donations by Credit Card, PayPal, cash, check or direct deposit.

For more information, please visit our web site at http://www.BajaWesternOnion.com/donate.asp.
Copyright © 2006 - 2011. The Baja Western Onion. All Rights Reserved. Published Using 100% Recycled Electrons :)
Return to Top
---