On The Web Site:
---
Today's Weather
---
Community Access
Policia Preventiva
Todos Santos Police
612 145-1052
Commandante Navarro

Ministero Publico
State Police
612 145 0198
Commandante Erigoyen

Bomberos
Fire Department
Cel. 612-142-6387
Commandante Cadena


---







---
Baja Western Onion
Alan Thompson - Publisher
Debra Webster - Advertising
e-mail For General Feedback
---
---
News and Events, Questions and Answers
---
E-waste Collection and Processing - Tienda Verd & Multiservicios Miró - e-waste management (for electronic and electrical components). To the communities of Todos Santos and Pescadero: We are pleased to inform that we have initiated our electronic waste collection program. If you have an old electronic component that no longer works, don't throw it in the trash - it pollutes! Contact us or bring it to Multiservicios Miró in Todos Santos. We collect: computer equipment, peripherals and accessories, communication devices, electronic and cable equipment, regulators, etc. (no batteries, please.)

Bring it to us on Saturdays from 10 a.m. to 3 p.m. Pick-up service available by appointment. Pick-up service fees are $15 pesos for up to 25 kg, $1 peso per additional kg. Maximum pick-up amount: 200 kg.No processing fee. We are located at Rangel # 5 esq. Degollado, Todos Santos. You can call us at 612-145-0702; or write tiendaverd [ - a t - ] hotmail.es or msm_ts [ - a t - ] hotmail.com

"Tienda Verd" y "Multiservicios Miró" - desechos electrónicos, eléctricos y componentes. A toda la comunidad de Todos santos y Pescadero.- se les comunica que ya iniciamos el programa de recolección y acopio de desechos electrónicos. Si tienes algún aparato electrónico que no funcione, no lo tires a la basura, ya que contamina; comunicate con nosotros o traelo a Multiservicios Miró en Todos Santos.

Recibimos: equipos de cómputo y periféricos, aparatos de comunicación, equipos electrónicos, cable, reguladores etc. (pilas no.) Dias de recepción: Sábados de 10 a.m. a 3 p.m. Recoleccion: bajo previa cita. Cuota de recuperacion por recolección: $ 15.00 pesos hasta 25kgs y $ 1.00 peso x kilo adicional. Maxima cantidad por recolección: 200 kgs. Equipos y componentes recibidos en nuestra dirección: sin costo. Rangel # 5 esq. Degollado, Todos Santos; 612-145-0702; tiendaverd [ - a t - ] hotmail.es - Juan Alex Miró, msm_ts [ - a t - ] hotmail.com, 612-145-0702, Todos Santos
FUBAR Powerboat Rally From San Diego to La Paz - Courtesy La Paz Gringos - The bi-annual FUBAR (that's Fleet Underway to Baja Rally--not the other FUBAR!) is scheduled to arrive in La Paz Tues., Nov. 22. There were about 50 participants in 2009. Information for the event, sponsored by Long Beach Yacht Club and others including Costa Baja, is available online at www.lbyc.org/fubar/. - Ross, Marina Palmira, La Paz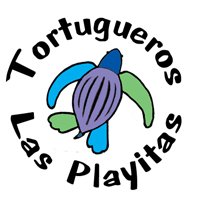 Small Charity Internet Fundraiser - From Saturday, August 20 to August 30. Endangered Sea Turtles need your Help. Today begins our "Small Charity Internet Fundraising" event. Our goal is to raise enough $ in ten days to cover the cost of gas needed for this season through small internet donations of $20 or less.

Please consider a small donation payable through PayPal on our website: todostortugueros.org/id66.html. Gracias! - Tortugueros Las Playitas A.C., Baja California Sur
Mango Chutney - Manos Magicas have been cooking! They received a lot of mangoes this year and a new batch of mango chutney is waiting for you, starting at 60 pesos for a jar. Come to Mutualista every Tuesday from 4 to 6 p.m., or contact Scotty at scottybcs [ - a t - ] gmail.com, or Cat at chambaretcat [ - a t - ] mac.com.They also need to find a stove and refrigerator to start their own kitchen, as well as tables and chairs for the sewing room. Thanks for your generosity and your valuable support for more than 3 years. - Scotty Mac Lemore, scottybcs [ - a t - ] gmail.com, 612-100-5872
East Capers August Issue Available - The August/September issue of East Capers is out on the street in the usual bins. If you are unable to pick up a copy, you can read it on-line by going to www.eastcapearts.com, Los Barriles

Spanish Speaking Mama's Helper - My 2 1/2 year old daughter and I are coming down to Todo Santos this November and December. She understands Spanish and it is my intention for her to play with children speaking Spanish as well as have a Spanish Nanny Share of some kind. I am hoping to find some families who also have kids her age that want to include us in their Nanny Share OR start a childcare swap with me. I am happy to watch other folks kids! Contacts of care shares in the Yoga and or Buddhist community is greatly appreciated. My husband and I are both chiropractors and live an organic holistic life. chiroei [ - a t - ] yahoo.com - Eileen K, chiroei [ - a t - ] yahoo.com, Todos Santos
Interesting Story, Canadian Pavel Kulisek Released From Mexican Prison - Courtesy Baja Pony Express - A Canadian businessman returned to Canada Thursday after a three-and-a-half-year stay in a Mexican jail with no trial, after a judge finally cleared him of all charges. news.sympatico.ctv.ca/home/canadian_set_free_after_3_years_in_mexican_jail/09e9fa31, pavelkulisek.wordpress.com, search.aol.com/aol/search?&query=Pavel+Kulisek&invocationType=tb50-ff-aim-ab-en-us. The third link is AOL.com where they list more links. Cheryl, Los Barriles
---
Submit your News and Events, Questions and Answers articles here: http://www.bajawesternonion.com/submitad.asp
Return to Top
---
---
Featured Events This Week
---
Online Community Calendar - Just a reminder to anyone planning an event for the coming year to check the Online Community Calendar before choosing a date to see if something else is already planned. If everyone will use this resource, we can avoid conflicts. Check the Online Community Calendar here: www.bajawesternonion.com/community-calendar.asp -
---
Saturday, Aug. 20
Live Music Pool Side - At Tortugas by Cerritos Beach. Cowboy and Tim Lang play live from 5 to 8. - Tim, tim [ - a t - ] timlang.net, www.timlang.net, Pescadero
Wednesday, Aug. 24
Garbage Clean Up Day - We will meet at the corner of Camino del Cielo (ex Maquina) at 8 a.m. Gloves and garbage bags provided. Volunteers welcome. - Emanuela, emagard [ - a t - ] mac.com, 612-178-0108, Todos Santos
---

---
New Community Events and Workshops Notification Page - You can submit event notices for The Community Calender or Workshops and Meetings pages. The Community Events calendar is limited to non-recurring community events (Sorry, no "Happy Hours," "Daily Specials," or other recurring business activities :). Submit your Community Events and Workshops notices here: http://www.bajawesternonion.com/submit-event.asp
Return to Top
---
---
Stepping Out - Food, Music and Entertainment
---

Il Giardino Restaurant Under New Ownership - Jose Uribe and Carmen Diner have assumed ownership of Il Giardino with great results. Jose is an exceptional chef from Spain and specializes in Basque cuisine. Jose and Carmen retained much of Il Giardino's pizza-based menu but have added several new and exciting dishes. I tried the recommended evening's special, a delicate white fish that had been pan grilled with the skin on, then finished in their wood-fired oven with olive oil and crispy garlic. Accompanied by a Ceaser salad and a rich risotto, it turned out to be an excellent recommendation.

As a welcome rain fell on the palapa roof above, Carmen also introduced a special Anise-based liquor she holds in reserve. Although I'm generally not a fan of anise-based liquors, this was excellent with some unique fruit flavors added. Try it! Excellent service, English and Spanish spoken. They deserve a visit. - 612 145 0199, 612 134 9946, ilgiardino.ts [ - a t - ] gmail.com Todos Santos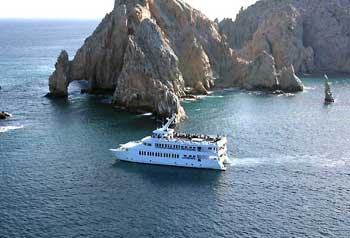 Caborey Dinner Cruise - With over 40 years offering tours in Mexico, Caborey has firmly established its reputation for quality, safety and fun. Reserving tours in advance through our website assures that you are purchasing tours from a reputable source and that the date and time of your reservation will be respected. Allow us the pleasure of providing these services for you.

Experience the natural wonder of Cabo San Lucas from aboard our luxurious 144' triple deck catamaran... From the moment you board the Caborey prepare yourself for an exhilarating experience. The majesty of the Land's End rock formations including Cabo's iconic "Arch" will spread out before you as the Caborey slips away from the marina and into Medano Bay. Live music and limitless cocktails accompany the breathtaking view from the upper deck of the Caborey as it follows its route along the tip of the Baja.

As the sun sinks into the horizon, tempt your palate with one of our 6 delectable entrees. Then as you take your last bite of scrumptious dessert, sit back and enjoy a Las Vegas-style show that will delight you with the sounds and rhythms of Latin America. - Caborey Cabo, reserv [ - a t - ] caborey.com, www.caborey.com, 143 8060, Cabo San Lucas
---
Submit your Stepping Out - Food, Music and Entertainment announcements here: http://www.bajawesternonion.com/submitad.asp
Return to Top
---

---
Misc. Sales and Services Available/Wanted
---

Surfboard Bags Custom Made - Custom made for your board(s). Strong, water-resistant fabric, zipperless closure, fin protection and padded nose. Order it now, prices according to sizes. Manos Magicas. Contact Cat at chambaretcat [ - a t - ] mac.com, or Scotty at scottybcs [ - a t - ] gmail.com. To see photos, visit www.facebook.com/media/set/?set=a.201837479876008.51143.100001492733200&l=db901550f5&type=1 - Scotty Mac Lemore, scottybcs [ - a t - ] gmail.com, 612- 100-5872
Shipping Your Furniture to Mexico? - Freight forwarding, Customs clearance, Voted "Best in Baja" by Baja Traveler Magazine. We will save you money, no job too big or too small - Monica Page, mpage [ - a t - ] lopezpage.com, 619-666-4529, Baja California Sur
Instituto De Ingles Y Espanol "America" - Basic Spanish lessons for foreigners. 2 hours/week for a period of 15 months is enough time to know how to understand, write, read and speak Basic Spanish. First lesson at no cost. Fair fares. Welcome at our facilities in Barrio de San Juan El Pescadero. Contact Pablo, Spanish and English instructor. Gracias - Instituto De Ingles Y Espanol "America", inst.america.elpescadero [ - a t - ] hotmail.com, 130-3270 and Cel 612-151-2385, Pescadero
IT Support Offered - My name is César Augusto Jiménez Ocampo and I'm a Computer Systems Engineer. I'm Mexican, almost 27 years old, and have been in the computer repair business for more than 6 years. I've provided support to a small group of English-speaking people the past 3 years now.

Today (Aug. 20) I'm going to be in La Esquina Cafe from 4 to 6 p.m. (approximately)to diagnose your computer and offer advice free of charge. If minor tweaks or configurations are needed, I'll charge $150 pesos per hour (or part of it) or per program installed. For various other services, such as laptop cleaning/dust off, windows format/re-installation and program installation, I will need to take the computer back with me to La Paz and I will return it next day or later (depending upon the amount of work needed). If you have a desktop computer, I'll have to take it with me to diagnose it in case I can't do it with your description of the problem. Or, if needed, I can go to your house and use your facilities to check it.

I can help with desktop PC's, laptops, printers, keyboards, mice and LCD screens. I'm also a Windows and web developer. All the software I install is in English and I have almost any program you need. I'm going there with a friend who is an architect and he also wants to promote his services. - Cesar Jimenez, jimenez_69 [ - a t - ] hotmail.com, 612-108-9826, La Paz

Servicios Computadoras, Todos Santos - Ofrece servicios de Internet y Computadoras. Venta, instalacion y soporte de redes cableadas e inalámbricas, anti-virus, Voice Over IP (Vonage, Net2phone), computadoras.
Computer Services, Todos Santos - Offering internet and computer services. WiFi / VoIP / Computers - Sales, installation, service and support: wired and wireless networks, virus removal, Voice Over IP (Vonage, Net2Phone), computers. - Josue Castillo Mayoral, Cellular: 612-148-3786, jocama85 [ - a t - ] hotmail.com, Todos Santos
Need a Ride to or From the Airport? Or Someone to Assist You With Errands? - I am a young, bilingual Christian man and I can provide you with rides to or from the La Paz or San Jose Del Cabo airports. I can also help you with courier services, errands, or navigating the intricacies of dealing with Mexican businesses and the government; Car Registrations, TelCel and TelMex, CFE, Seguro Social, etc.

Reasonable Rates - Contact: Ernesto, Cel. 612-117-7497, ernie_net [ - a t - ] hotmail.com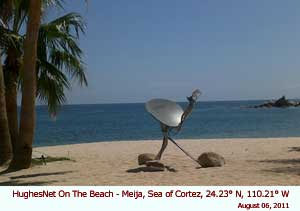 Now, Get Internet No Matter Where You Live:
Always-On Connection, Available Where DSL and Cellular Won't Reach
PC, Mac, Wireless Compatible
Multiple Computers Can Share the Same Internet Connection Full-Time
Vacation Holds Available on All Plans
No Phone Line Needed, No Busy Signals, No Missed Calls
Professional Installation Available Anywhere in Southern BCS
Purchase Your System From Baja Satellite Before August 31 and Get:
1. Mail-In Rebate for $199.99 off Equipment Purchase! 1

0.74 Meter Dish with 1 Watt Transmitter - Only $299 US After Rebate!.
0.98 Meter Dish with 2 Watt Transmitter - Only $699 US After Rebate!

2. Mail-In Rebate for $20 off Your First Three Months of Monthly Service ($60.00 Value)! 2

| | | | |
| --- | --- | --- | --- |
| Data Plan | Download / Upload Speed3 | Daily Data Allowance4 | Monthly Service |
| Basic | 1.0 Mbps/200 Kbps | 200 MB Daily Download Allowance | $59.99 $39.99/mo. 1st 3 months! |
| Power 150 | 1.5 Mbps/250 Kbps | 300 MB Daily Download Allowance | $79.99 $59.99/mo. 1st 3 months! |
| Power 150+ | 1.5 Mbps/250 Kbps | 350 MB Daily Download Allowance | $89.99 $69.99/mo. 1st 3 months! |
Baja Satellite is an Authorized HughesNet Reseller. For more information Contact Us today: alan [ - a t - ] BajaSatellite.com, www.bajasatellite.com, (530) 903-4257 (From US), (01) 555 351 0882 (From Within Mexico), Baja California Sur
1 Prices shown are after $199 mail-in rebate, and do not include Mexican shipping, importation or installation. System must be purchased before August 31.
2 $20 off per month for 1st. three months, after $60 mail-in rebate. System must be purchased from Baja Satellite before August 31. All plans require 24-month contract.
3 Absolute maximum speeds stated by HughesNet. Actual speeds will be less, and speeds will vary throughout the day and week depending upon total number of HughesNet subscribers sharing your satellite channel.
4 If daily allowance is exceeded, speeds may be reduced for up to 24 hours.

Private-party Ad Special! - Put your ad in front of over 3,200 Baja Western Onion subscribers twice a week, in Four consecutive issues for only $10 dlls ($120 pesos), allowing your ad to appear in each issue for two weeks. Also, we'll feature your ad within a red, highlighted box. Get more coverage for your next Yard Sale, Vehicle, Misc. Wanted or For Sale ad.

This special offer applies only to privaty-party, non-commercial, text-based ads. Sorry, this offer not available for display banner graphics ads, or ads for businesses, real estate or rentals available.
Payment: All Summer Special ads must be prepaid in advance of initial run date. You can make your payment online via PayPal athttps://www.paypal.com/cgi-bin/webscr?cmd=_xclick&business=advertising [ - a t - ] BajaWesternOnion.com, or call us at 001 530 903 4257 or 01 33 8421 1142 (From Mexico) to make payment directly by VISA, MasterCard, American Express, or Discover Card.
Free Ads: As always, you can place a Free text-based ad in the Baja Western Onion once every 14 days. Submit your Free Ad or Article here: www.bajawesternonion.com/submitad.asp. -
For more details on our commercial advertising opportunities, please visit www.bajawesternonion.com/advertising.asp or send an Email to: advertising [ - a t - ] BajaWesternOnion.com
---
Submit your Misc. Sales and Services Available/Wanted articles here: http://www.bajawesternonion.com/submitad.asp
Return to Top
---

---
Real Estate, Rentals, and House Sitting - Available/Wanted
---

Home Rentals in El Molino - Palapa homes for rent in El Molino, Todos Santos. Go to www.holidaybaja.com for more information and then Email Lu at trinityglobalgroup [ - a t - ] hotmail.com. - Lu Switzer, trinityglobalgroup [ - a t - ] hotmail.com, www.holidaybaja.com, Todos Santos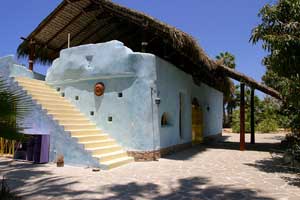 Todos Santos Beach House on a Tranquille Lush 5, 206.22 Sqmt Property - For Sale by Owner: - Two (2) separate driveway entries give the 5, 206.22 sq meter (1.25 acre) property privacy from both the front and back, giving flexibility to build additional homes or to split in the future. Soil on the property is rich organic black soil, ideal for other organic gardening.

* Property is an enclosed oasis and has unlimited access to farm water that nourishes the over 85 mature mango trees, 80 lush palm trees over 5 feet, passion fruit trees, citrus fruit trees and avocado trees, all of which give the property its cool shade that is coveted in the region and frequently not available on other properties of comparable or more value in the desert landscape.
* Property has power, water (both municipal and farm water), gas and Internet.
* A 6-minute walk takes you to the secluded beach, and a 5-minute drive finds you in the heart of TS.

If you have questions or would like to make an offer after viewing the property on YouTube (www.youtube.com/watch?v=krg9FEeiRtk), feel free to contact us. Save on the fee and make us a good offer. - Anh Walch, anhwalch [ - a t - ] yahoo.com, 212-692-0912, Todos Santos
---
Submit your Real Estate/Rentals/House Sitting/Property Management Services articles here: http://www.bajawesternonion.com/submitad.asp
Return to Top
---
Rides or Caravans Available/Wanted
Note: Ads will run for two weeks unless dated. Please list the date in the title, and specify which airport. Goes without saying, everyone shares expenses for beer, gas, food, etc

To remove your ad if you find a ride or caravan, let us know here: www.bajawesternonion.com/submitad.asp -
---
North Then South After August 15 - I am flexible, will be heading North sometime around the middle to end of August with a F350 4 door truck and possibly with a large dual axle 23 foot enclosed trailer, or a small open 8 foot trailer. I can haul things and people both directions. Will be heading to San Diego, possibly LA and southern UT. And returning to baja in September. Have made the trip about 30 times. - Dean Devolpi, dean [ - a t - ] la-ventana.com, 612-114-0202, La Paz
---
Submit your Rides or Caravans Needed/Available articles here: http://www.bajawesternonion.com/submitad.asp
Return to Top
---
Pet Corner (Lost and Found pet articles will run for two weeks)
Let us know if you find or place your pet so we can remove your ad -
---
Missing: Black and White Terrier - I have lost my dog, a small b/w terrier with a very short tail. His name is Panda and he lives at the Sandbar. He never strays but is very friendly and has no collar. If you see him, please call me at 612-102-9135. Reward! - Helen Bay, helenbaysandbar [ - a t - ] gmail.com, 612-102-9135, Pescadero
Baja Dogs, La Paz - If you have lost or found a dog, Please send identifying information and photo to lostdogs [ - a t - ] bajadogslapaz.org Please remind your friends to check the refuge if they have lost their dog. For information on adopting our dogs, call 612-155-8946 or go to www.bajadogslapaz.org. Baja Dogs La Paz AC runs entirely on donations and no board member receives compensation of any type. To donate to Baja Dogs, La Paz, Inc., you can do so through PayPal and receive a US tax receipt or donate in La Paz through our bank: Bancomer, Account #164033159; or visit and donate directly at the refuge.

We also are very grateful for any donations of any type of dog food. You can drop it off at the refuge or we can make arrangements for pick up! Please call 612-155-8946 or email bdlp [ - a t - ] bajadogslapaz.org. Thank you!

To the world you are just one more rescue person. To a rescued pet, you are the world.

- Cindy Crane, lostdogs [ - a t - ] bajadogslapaz.org, 612-155-8946, La Paz
Impossible to Resist! - New arrivals at Kitty Heaven despite all of our efforts to spay and neuter (but without the help of the community, there would be even more!).

All colors, all very young and playful. For more information, call Angelique at 612-145-0250 or write her at BajaKitties [ - a t - ] Yahoo.com

Kitty Heaven is the only all-cat refuge in Baja California Sur. Visit us on the web athttp://bajarescue.org/#KittyHeaven. We survive via your kind donations. To send your support, please click the "Donate" button below:
---
Submit your Pet Corner articles here: http://www.bajawesternonion.com/submitad.asp (and remember to Spay and Neuter your pets)
Return to Top
---
Quote of the Day: " Every man is surrounded by a neighborhood of voluntary spies. " ~ Jane Austen
---
Looking for the complete Community Events Calendar? Click Here!
---
Return to Top
---
---
Help Support The Baja Western Onion!

We can accept donations by Credit Card, PayPal, cash, check or direct deposit.

For more information, please visit our web site at http://www.BajaWesternOnion.com/donate.asp.
Copyright © 2006 - 2011. The Baja Western Onion. All Rights Reserved. Published Using 100% Recycled Electrons :)
Return to Top
---