On The Web Site:
---
Today's Weather
---
Community Access
Policia Preventiva
Todos Santos Police
612 145-1052
Commandante Navarro

Ministero Publico
State Police
612 145 0198
Commandante Erigoyen

Bomberos
Fire Department
Cel. 612-142-6387
Commandante Cadena


---







---
Baja Western Onion
Alan Thompson - Publisher
Debra Webster - Advertising
e-mail For General Feedback
---
---
News and Events, Questions and Answers
---
Todos Recycling Summer Hours - The Todos Recycling Summer Hours are 11 a.m.-1 p.m. every Wednesday. Separation is greatly appreciated. Last month two trips of a half ton of plastic each went directly to San Lucas to be processed, packed and shipped to Mainland. Another trip of half a ton of cardboard went direct to San Lucas and was packed and readied for shipment to Tijuana. About half a ton of tin cans were also recycled. Last week, even in slow season, we took back about 100 pounds of plastic and 80 pounds of cardboard that was brought in in one day! The center is still across from Super Pollo. Thanks for all the support -- we could not do it with out the believers! - Todd Massey, info [ - a t - ] enviromass.com, enviromass.com, 624-174-1960
Garbage Clean Up Day - We will meet Wed., Aug. 24, at the corner of Camino del Cielo (ex Maquina) at 8 a.m. Gloves and garbage bags will be provided. All volunteers are more than welcome. - Emanuela, emagard [ - a t - ] mac.com, 612-178-0108, Todos Santos
FBAR Debate Rages On - I have to disagree with the discussion in the last issue of the BWO about FBAR. I spoke to Mr. Cochran at the IRS (after speaking to four other people), and he told me that if you have a bank account in a foreign country and you have had at any time a balance of more than $10,000.00 USD (even for a minute), you must file an FBAR - Form TDF 90-22.1 - every year.

Until the end of August, seems like you can do it with no consequences -- as long as you didn't have any unreported income in this account. If you have unreported income in the account, there could be a penalty. If you don't file before the end of August and they find out, the penalty is worse. The voluntary disclosure program is something you can opt into or not. He said he couldn't give me an opinion on which way was best (huh?). I guess it depends on your situation. If you go to this website and look at #17 and #18, it seems pretty clear: http://www.irs.gov/businesses/international/article/0,,id=235699,00.html

If you own a home in a foreign country - with a fideicomiso, you must file IRS form 3520 and 3520A (that is the one the Mexican bank is supposed to file) - every year. And every year back to 2003! Also, a grace period until the end of August 2011. Big brother is watching! - , nancyserfas [ - a t - ] aol.com

Something Fun to Do in TS? - I will be visiting TS with two children under the age of 10 and would love some suggestions on what to do that would be fun for them too. Thanks, please email tracy.ernst [ - a t - ] mac.com - Tracy Ernst, tracy.ernst [ - a t - ] mac.com, Baja California Sur
B+ Blood Needed - A friend has Leukemia and is in the hospital in La Paz needing B+ blood for a transfusion Friday. If you can help, please call Diane at 615-159-0464 or - Ramiro, 615-159-3453
The Tea Party Has Taken Our Dog Allowance. - - This is affecting our care of three wonderful, homeless dogs living at Punta Lobos. Twice a week Maryann and I have taken food and water to Carlos who cares for these dogs. Carlos became ill several weeks ago and is in a hospital in La Paz, perhaps not to return. This means almost daily trips for us to the beach and, of course, the continued expense of feeding the dogs.

We need bags of dog food, volunteers to make an occasional trip to the beach, or foster homes for three sweet, healthy adult dogs. As of today there is a new dog there, pink and raw with mange. We can fix that, but we are feeling overwhelmed and hope for some support from other Tiny Towners. Any suggestions are welcome (except euthanasia, which we hope to avoid).

We are having as very short meeting at 1:00 Friday at the Library - please come if you can. Gracias. Pam Cobb 612-102-7983 and Maryann Douglas 145-0791. - Pam, senoracobb [ - a t - ] yahoo.com - Maryann, maryanndoug [ - a t - ] gmail.com
---
Submit your News and Events, Questions and Answers articles here: http://www.bajawesternonion.com/submitad.asp
Return to Top
---
---
Featured Events This Week
---
Online Community Calendar - Just a reminder to anyone planning an event for the coming year to check the Online Community Calendar before choosing a date to see if something else is already planned. If everyone will use this resource, we can avoid conflicts. Check the Online Community Calendar here: www.bajawesternonion.com/community-calendar.asp -
---
Friday, Aug. 19
Meeting To Discuss Ongoing Care For Punto Lobos Dogs - 1:00 Friday at the Library. Please come if you can. Gracias. Pam Cobb 612-102-7983 and Maryann Douglas 145-0791. - Pam, senoracobb [ - a t - ] yahoo.com - Maryann, maryanndoug [ - a t - ] gmail.com
Wednesday, Aug. 24
Garbage Clean Up Day - We will meet at the corner of Camino del Cielo (ex Maquina) at 8 a.m. Gloves and garbage bags provided. Volunteers welcome. - Emanuela, emagard [ - a t - ] mac.com, 612-178-0108, Todos Santos
Saturday, Sept. 10
Day-long Vipassana Meditation With Robert Hall - From 10 a.m. until 5 p.m. in Todos Santos at Nanette's palapa. Cost is $150 pesos. Silent meditation, dharma talk and discussion with Robert Hall, plus shared practice with friends. Teas, coffee, lemonade, waters and snacks provided. Bring a bag lunch. - Robert K Hall, eldharma [ - a t - ] mac.com, roberthalldharmatalks.wordpress.com/, 612-145-0676, Todos Santos
---

---
New Community Events and Workshops Notification Page - You can submit event notices for The Community Calender or Workshops and Meetings pages. The Community Events calendar is limited to non-recurring community events (Sorry, no "Happy Hours," "Daily Specials," or other recurring business activities :). Submit your Community Events and Workshops notices here: http://www.bajawesternonion.com/submit-event.asp
Return to Top
---
---
Stepping Out - Food, Music and Entertainment
---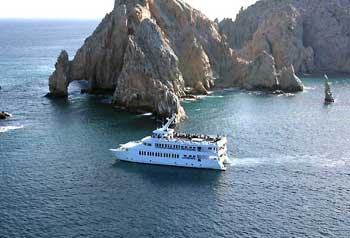 Caborey Dinner Cruise - With over 40 years offering tours in Mexico, Caborey has firmly established its reputation for quality, safety and fun. Reserving tours in advance through our website assures that you are purchasing tours from a reputable source and that the date and time of your reservation will be respected. Allow us the pleasure of providing these services for you.

Experience the natural wonder of Cabo San Lucas from aboard our luxurious 144' triple deck catamaran... From the moment you board the Caborey prepare yourself for an exhilarating experience. The majesty of the Land's End rock formations including Cabo's iconic "Arch" will spread out before you as the Caborey slips away from the marina and into Medano Bay. Live music and limitless cocktails accompany the breathtaking view from the upper deck of the Caborey as it follows its route along the tip of the Baja.

As the sun sinks into the horizon, tempt your palate with one of our 6 delectable entrees. Then as you take your last bite of scrumptious dessert, sit back and enjoy a Las Vegas-style show that will delight you with the sounds and rhythms of Latin America. - Caborey Cabo, reserv [ - a t - ] caborey.com, www.caborey.com, 143 8060, Cabo San Lucas

Live Music Pool Side - Come on down to Tortugas by Cerritos Beach and see Cowboy and Tim Lang play live Saturdays from 5 to 8. Enjoy a Mojito, Margarita, or any other beverage and enjoy a dip in the pool! - Tim, tim [ - a t - ] timlang.net, www.timlang.net, Pescadero
---
Submit your Stepping Out - Food, Music and Entertainment announcements here: http://www.bajawesternonion.com/submitad.asp
Return to Top
---

---
Misc. Sales and Services Available/Wanted
---
Typist Needed - I am looking for someone to transfer a typed manuscript onto a format I can use in my computer. I need it done by August 24. I will pay by the hour. - Barbara Barnett, 612-154-0678, Pescadero

Weed Eater - Looking for a weed eater to borrow or rent for a couple of hours. - Dave, theranchkidz [ - a t - ] yahoo.com, 612-142-1998, Todos Santos
Instituto De Ingles Y Espanol "America" - Basic Spanish lessons for foreigners. 2 hours/week for a period of 15 months is enough time to know how to understand, write, read and speak Basic Spanish. First lesson at no cost. Fair fares. Welcome at our facilities in Barrio de San Juan El Pescadero. Contact Pablo, Spanish and English instructor. Gracias - Instituto De Ingles Y Espanol "America", inst.america.elpescadero [ - a t - ] hotmail.com, 130-3270 and Cel 612-151-2385, Pescadero

Moving Van For Sale - 1998 Isuzu Turbo Diesel Auto w OD. A/C. Oversized 5 door super size box. Hyd lift gate. Very economic. $10k - Bill Goben, billnls [ - a t - ] aol.com, 612-153-9142, La Paz
Wanted: Used Hughesnet Internet System - A Mexican schoolteacher who is relocating to the Sierra needs an economical HughesNet satellite Internet system in order to have some connectivity. If you have a used system (dish, transmitter, and modem), please let us know. I believe he would prefer the larger dish and 2-watt transmitter, but will probably accept what is available. If you email me, I will pass it along to him. Many thanks! - Erik, doublespiral [ - a t - ] hotmail.com, Baja California Sur
Servicios Computadoras, Todos Santos - Ofrece servicios de Internet y Computadoras. Venta, instalacion y soporte de redes cableadas e inalámbricas, anti-virus, Voice Over IP (Vonage, Net2phone), computadoras.
Computer Services, Todos Santos - Offering internet and computer services. WiFi / VoIP / Computers - Sales, installation, service and support: wired and wireless networks, virus removal, Voice Over IP (Vonage, Net2Phone), computers. - Josue Castillo Mayoral, Cellular: 612-148-3786, jocama85 [ - a t - ] hotmail.com, Todos Santos
Nice Little Shop - I entered a shop here at Todos Santos for the first time and found the owner and items to be fantastic. Lady makes drapes and curtins for homes and design cloth material. Plus there was gift and party items and packaging. Must see go the corner of Militar and Rangel, shop is down Rangel. Name of shop is: Merci-Todo - , lowerbaja [ - a t - ] gmail.com, 612-161-4728, Todos Santos
Need a Ride to or From the Airport? Or Someone to Assist You With Errands? - I am a young, bilingual Christian man and I can provide you with rides to or from the La Paz or San Jose Del Cabo airports. I can also help you with courier services, errands, or navigating the intricacies of dealing with Mexican businesses and the government; Car Registrations, TelCel and TelMex, CFE, Seguro Social, etc.

Reasonable Rates - Contact: Ernesto, Cel. 612-117-7497, ernie_net [ - a t - ] hotmail.com
Honda XR 100 Motocicleta - 88 XR 100. Llantas buenas. Perfecto. 6,000 pesos. Telephono: 612-118-4306 - Rey Mysterio, 612-118-4306, Todos Santos
1960's Vintage Longboard - Classic 1960's Longboard - For sale: A pre-serial numbered 10' 6" Jacobs longboard from the mid-1960's available in great condition. This is your chance to own a piece of surfing history! Wood block tail, glassed in fin, and amazing craftsmanship. Will be on display at Shut Up Franks in Todos Santos. Please call me with any questions or email for photos. $1000 USD OBO. - Cowboy Greg, 612-132-7761, 612-134-0489 Todos Santos - Greg, stealbluemusic [ - a t - ] yahoo.com, bajasur.en.craigslist.com.mx/spo/2515420250.html, Todos Santos
Cabinet Hardware - I have a variety of high quality cabinet door handles available. 30 pesos each. Email me for photos. - Rachel, babyflechtner [ - a t - ] yahoo.com, Pescadero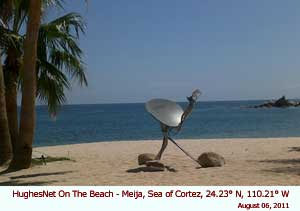 Now, Get Internet No Matter Where You Live:
Always-On Connection, Available Where DSL and Cellular Won't Reach
PC, Mac, Wireless Compatible
Multiple Computers Can Share the Same Internet Connection Full-Time
Vacation Holds Available on All Plans
No Phone Line Needed, No Busy Signals, No Missed Calls
Professional Installation Available Anywhere in Southern BCS
Purchase Your System From Baja Satellite Before August 31 and Get:
1. Mail-In Rebate for $199.99 off Equipment Purchase! 1

0.74 Meter Dish with 1 Watt Transmitter - Only $299 US After Rebate!.
0.98 Meter Dish with 2 Watt Transmitter - Only $699 US After Rebate!

2. Mail-In Rebate for $20 off Your First Three Months of Monthly Service ($60.00 Value)! 2

| | | | |
| --- | --- | --- | --- |
| Data Plan | Download / Upload Speed3 | Daily Data Allowance4 | Monthly Service |
| Basic | 1.0 Mbps/200 Kbps | 200 MB Daily Download Allowance | $59.99 $39.99/mo. 1st 3 months! |
| Power 150 | 1.5 Mbps/250 Kbps | 300 MB Daily Download Allowance | $79.99 $59.99/mo. 1st 3 months! |
| Power 150+ | 1.5 Mbps/250 Kbps | 350 MB Daily Download Allowance | $89.99 $69.99/mo. 1st 3 months! |
Baja Satellite is an Authorized HughesNet Reseller. For more information Contact Us today: alan [ - a t - ] BajaSatellite.com, www.bajasatellite.com, (530) 903-4257 (From US), (01) 555 351 0882 (From Within Mexico), Baja California Sur
1 Prices shown are after $199 mail-in rebate, and do not include Mexican shipping, importation or installation. System must be purchased before August 31.
2 $20 off per month for 1st. three months, after $60 mail-in rebate. System must be purchased from Baja Satellite before August 31. All plans require 24-month contract.
3 Absolute maximum speeds stated by HughesNet. Actual speeds will be less, and speeds will vary throughout the day and week depending upon total number of HughesNet subscribers sharing your satellite channel.
4 If daily allowance is exceeded, speeds may be reduced for up to 24 hours.

Summer Ad Special! - Put your ad in front of over 3,200 Baja Western Onion subscribers twice a week, in Four consecutive issues for only $10 dlls ($120 pesos). Get more coverage for your next Yard Sale, Vehicle, Misc. Wanted or For Sale ad.

For only $10 dlls US, we'll run your ad for a total of Four consecutive issues, allowing your ad to appear in each issue for two weeks. Also, we'll feature your ad within a red, highlighted box. This special offer applies only to text-based ads submitted by non-commercial, private parties, and is subject to our editorial policy. Sorry, this offer not available for display banner graphics ads, or ads for businesses, real estate or rentals available.
Payment: All Summer Special ads must be prepaid in advance of initial run date. You can make your payment online via PayPal athttps://www.paypal.com/cgi-bin/webscr?cmd=_xclick&business=advertising [ - a t - ] BajaWesternOnion.com, or call us at 001 530 903 4257 or 01 33 8421 1142 (From Mexico) to make payment directly by VISA, MasterCard, American Express or Discover Credit or Debit Card.
Free Ads: As always, you can place a Free text-based ad in the Baja Western Onion once every 14 days. Submit your Free Ad or Article here: www.bajawesternonion.com/submitad.asp. -
For more details on our advertising opportunities, please visit www.bajawesternonion.com/advertising.asp or send an Email to: advertising [ - a t - ] BajaWesternOnion.com
---
Submit your Misc. Sales and Services Available/Wanted articles here: http://www.bajawesternonion.com/submitad.asp
Return to Top
---

---
Real Estate, Rentals, and House Sitting - Available/Wanted
---

Romantic Beachfront Estate - For Sale Now at Huge Loss: 2 acres, 77 meters beachfront, well water, 150+ palms, 3 BR house, Guest house, 7 garage stalls, caretakers quarters. Valued at $1.6 Mil; Priced at $885,000. Owners heartache moving on after 20+ years = Your lucky day. Only those willing to drive one mile of good dirt road and to live on solar/generator power need apply. 624-147-5516 - Doug Christensen, dooglaspi [ - a t - ] yahoo.com, www.caperealtyassociates.com, 624-147-5516, Rancho Migriño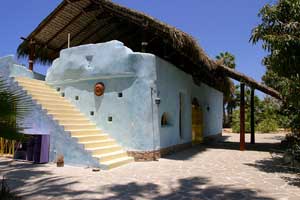 Todos Santos Beach House on a Tranquille Lush 5, 206.22 Sqmt Property - For Sale by Owner: - Two (2) separate driveway entries give the 5, 206.22 sq meter (1.25 acre) property privacy from both the front and back, giving flexibility to build additional homes or to split in the future. Soil on the property is rich organic black soil, ideal for other organic gardening.

* Property is an enclosed oasis and has unlimited access to farm water that nourishes the over 85 mature mango trees, 80 lush palm trees over 5 feet, passion fruit trees, citrus fruit trees and avocado trees, all of which give the property its cool shade that is coveted in the region and frequently not available on other properties of comparable or more value in the desert landscape.
* Property has power, water (both municipal and farm water), gas and Internet.
* A 6-minute walk takes you to the secluded beach, and a 5-minute drive finds you in the heart of TS.

If you have questions or would like to make an offer after viewing the property on YouTube (www.youtube.com/watch?v=krg9FEeiRtk), feel free to contact us. Save on the fee and make us a good offer. - Anh Walch, anhwalch [ - a t - ] yahoo.com, 212-692-0912, Todos Santos
---
Submit your Real Estate/Rentals/House Sitting/Property Management Services articles here: http://www.bajawesternonion.com/submitad.asp
Return to Top
---
Rides or Caravans Available/Wanted
Note: Ads will run for two weeks unless dated. Please list the date in the title, and specify which airport. Goes without saying, everyone shares expenses for beer, gas, food, etc

To remove your ad if you find a ride or caravan, let us know here: www.bajawesternonion.com/submitad.asp -
---
Companion Available - Companion available for the States or drive you car or truck North. - Jorge Pozo, jorge_lap222 [ - a t - ] hot mail.com, 612-118-7898, La Paz
North Then South After August 15 - I am flexible, will be heading North sometime around the middle to end of August with a F350 4 door truck and possibly with a large dual axle 23 foot enclosed trailer, or a small open 8 foot trailer. I can haul things and people both directions. Will be heading to San Diego, possibly LA and southern UT. And returning to baja in September. Have made the trip about 30 times. - Dean Devolpi, dean [ - a t - ] la-ventana.com, 612-114-0202, La Paz
---
Submit your Rides or Caravans Needed/Available articles here: http://www.bajawesternonion.com/submitad.asp
Return to Top
---
Pet Corner (Lost and Found pet articles will run for two weeks)
Let us know if you find or place your pet so we can remove your ad -
---
Missing: Black and White Terrier - I have lost my dog, a small b/w terrier with a very short tail. His name is Panda and he lives at the Sandbar. He never strays but is very friendly and has no collar. If you see him, please call me at 612-102-9135. Reward! - Helen Bay, helenbaysandbar [ - a t - ] gmail.com, 612-102-9135, Pescadero
<<<<- Dog Lost In Pescadero - A very friendly dog called Maya was lost in San Pedrito beach in Pescadero. It happened during fireworks on the beach on July 27th in the late evening. Unfortunately, she didn't have her collar with a tag on, only a white anti-flea collar. She looks like a pit bull-ridgeback mix, light brown color with a white spot on her chest and has a black muzzle. She is one of two dogs (sisters) who have never been separated before. We all miss her a lot. If you seen her or adopted her by mistake, please contact us as soon as possible. - Lee And Lesia lpc_loki [ - a t - ] yahoo.co.uk, 612-157-2533, Pescadero
Baja Dogs, La Paz - If you have lost or found a dog, Please send identifying information and photo to lostdogs [ - a t - ] bajadogslapaz.org Please remind your friends to check the refuge if they have lost their dog. For information on adopting our dogs, call 612-155-8946 or go to www.bajadogslapaz.org. Baja Dogs La Paz AC runs entirely on donations and no board member receives compensation of any type. To donate to Baja Dogs, La Paz, Inc., you can do so through PayPal and receive a US tax receipt or donate in La Paz through our bank: Bancomer, Account #164033159; or visit and donate directly at the refuge.

We also are very grateful for any donations of any type of dog food. You can drop it off at the refuge or we can make arrangements for pick up! Please call 612-155-8946 or email bdlp [ - a t - ] bajadogslapaz.org. Thank you!

To the world you are just one more rescue person. To a rescued pet, you are the world.

- Cindy Crane, lostdogs [ - a t - ] bajadogslapaz.org, 612-155-8946, La Paz
Impossible to Resist! - New arrivals at Kitty Heaven despite all of our efforts to spay and neuter (but without the help of the community, there would be even more!).

All colors, all very young and playful. For more information, call Angelique at 612-145-0250 or write her at BajaKitties [ - a t - ] Yahoo.com

Kitty Heaven is the only all-cat refuge in Baja California Sur. Visit us on the web athttp://bajarescue.org/#KittyHeaven. We survive via your kind donations. To send your support, please click the "Donate" button below:
---
Submit your Pet Corner articles here: http://www.bajawesternonion.com/submitad.asp (and remember to Spay and Neuter your pets)
Return to Top
---
Quote of the Day: " The years between fifty and seventy are the hardest. You are always being asked to do more, and you are not yet decrepit enough to turn them down. " ~ T.S. ELIOT, Time Magazine, Oct. 23, 1950
---
Looking for the complete Community Events Calendar? Click Here!
---
Return to Top
---
---
Help Support The Baja Western Onion!

We can accept donations by Credit Card, PayPal, cash, check or direct deposit.

For more information, please visit our web site at http://www.BajaWesternOnion.com/donate.asp.
Copyright © 2006 - 2011. The Baja Western Onion. All Rights Reserved. Published Using 100% Recycled Electrons :)
Return to Top
---