On The Web Site:
---
Today's Weather
---
Community Access
Policia Preventiva
Todos Santos Police
612 145-1052
Commandante Navarro

Ministero Publico
State Police
612 145 0198
Commandante Erigoyen

Bomberos
Fire Department
Cel. 612-142-6387
Commandante Cadena


---






---
Baja Western Onion
Alan Thompson - Publisher
Debra Webster - Advertising
e-mail For General Feedback
---
---
News and Events, Questions and Answers
---
Heaven on Earth 2012 - A workshop designed to create a 12' diameter Aztec Calendar out of clay and mosaic materials wil be held Jan 2-6, 2012, in Todos Santos. This year, the "Dream Team" of Donna Billick, Mark Rivera, and Tom Arie Donch will instruct participants on how to create this exciting community project. The event is designed for teachers, artists who think big, and want to create a leagacy to be proud of. Contact Donna Billick for details and information. - Donna Billlick, rockartus [ - a t - ] aol.com, 530-219-5918 in US and Todos Santos, Todos Santos
Google Street View - I not sure all of you are aware that Google Street View is available in La Paz, Cabo San Lucas, and even Todos Santos. It seems though that the 'views' are confined to paved streets only in most all towns. Easy access is from Google Seach page and then click on 'maps' and zoom down to the area you want to see.
Tom - , carrollemail [ - a t - ] aol.com
Ascension Meditation Invitation Extended - Two bilingual teachers will come from the mainland to teach ascension meditation when we have sufficient people interested. The sessions will be held in Los Barriles and/or San Jose/Todos Santos. An introduction to ascension meditation is available on their website, www.thebrightpath.com. For more information, please contact tessabarriles [ - a t - ] gmail or call 141-0427. The following is written by one of the teachers, Gayatri, who lives with her husband Sanatana in San Miguel Allende:

Meditation is all about slowing down the mental activity so we can be present ... outside our skulls. It's about learning to see the difference between reality and what we think about it. Of course, this takes practice, which is why it's called the practice of meditating, or we talk about having a meditation practice. The vast majority of people go through life believing that what they think about reality is reality. This particular and very powerful confusion has not done the world a whole lot of good. It is for this reason that I think meditating is a hugely political act – the strongest action we can take on behalf of world peace – that idea of being part of the solution rather than the problem. So when someone comes into a course and says, "My mind is making me crazy, I want to stop it," I often feel like sweeping off my plumed chapeau, bowing deeply and saying, "On behalf of the Planet, I thank you."

Gayatri is a teacher of The Bright Path Ishayas' Ascension, the meditation practice affiliated with LifePath - a powerful yet simple and comfortable meditation technique. You can also email Gayatri [ - a t - ] thebrightpath.com or Sanatana [ - a t - ] thebrightpath.com with any questions and/or go to the website: http://www.thebrightpath.com. - Tessa Nisbet, tessabarriles [ - a t - ] gmail.com, 624-141-0427, Los Barriles

The Tea Party Has Taken Our Dog Allowance. - This is affecting our care of three wonderful, homeless dogs living at Punta Lobos. Twice a week Maryann and I have taken food and water to Carlos who cares for these dogs. Carlos became ill several weeks ago and is in a hospital in La Paz, perhaps not to return. This means almost daily trips for us to the beach and, of course, the continued expense of feeding the dogs. We need bags of dog food, volunteers to make an occasional trip to the beach, or foster homes for three sweet, healthy adult dogs. As of today there is a new dog there, pink and raw with mange. We can fix that, but we are feeling overwhelmed and hope for some support from other Tiny Towners. Any suggestions are welcome (except euthanasia, which we hope to avoid). Gracias. Pam Cobb 612-102-7983 and Maryann Douglas 145-0791. - Pam, senoracobb [ - a t - ] yahoo.com
Mechanic Wanted - Looking for mechanic that can work on a 1994 Mazda MPV Van's cooling system and do a tune up. - Mary, 612 140 7923
---
Submit your News and Events, Questions and Answers articles here: http://www.bajawesternonion.com/submitad.asp
Return to Top
---
---
Featured Events This Week
---
Online Community Calendar - Just a reminder to anyone planning an event for the coming year to check the Online Community Calendar before choosing a date to see if something else is already planned. If everyone will use this resource, we can avoid conflicts. Check the Online Community Calendar here: www.bajawesternonion.com/community-calendar.asp -
---
Saturday, August 13
- "Some Like It Hot" Movie night at Teatro Luna Azul. Doors open 7:30, by donation. Directions: http://tsbmp.blogspot.com
---

---
New Community Events and Workshops Notification Page - You can submit event notices for The Community Calender or Workshops and Meetings pages. The Community Events calendar is limited to non-recurring community events (Sorry, no "Happy Hours," "Daily Specials," or other recurring business activities :). Submit your Community Events and Workshops notices here: http://www.bajawesternonion.com/submit-event.asp
Return to Top
---
---
Stepping Out - Food, Music and Entertainment
---
Cabo Or Loreto Sailing Charters Half Price - Onion readers Get sailing for half price. Half day or overnight. cruise the islands of loreto or the bays of Cabo. all inclusive. great catamarans and sailboats. great crew. great times. Prices start at 350usd (half price of 695) for half day tours up to 8 guests. - Justin Benham, justinbenham [ - a t - ] hotmail.com, www.wildcabotours.com, 6241286120, Baja California Sur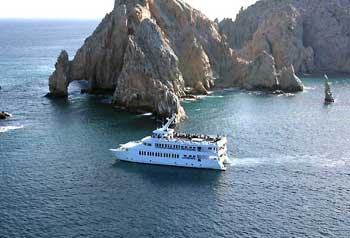 Caborey Dinner Cruise - With over 40 years offering tours in Mexico, Caborey has firmly established its reputation for quality, safety and fun. Reserving tours in advance through our website assures that you are purchasing tours from a reputable source and that the date and time of your reservation will be respected. Allow us the pleasure of providing these services for you.

Experience the natural wonder of Cabo San Lucas from aboard our luxurious 144' triple deck catamaran... From the moment you board the Caborey prepare yourself for an exhilarating experience. The majesty of the Land's End rock formations including Cabo's iconic "Arch" will spread out before you as the Caborey slips away from the marina and into Medano Bay. Live music and limitless cocktails accompany the breathtaking view from the upper deck of the Caborey as it follows its route along the tip of the Baja.

As the sun sinks into the horizon, tempt your palate with one of our 6 delectable entrees. Then as you take your last bite of scrumptious dessert, sit back and enjoy a Las Vegas-style show that will delight you with the sounds and rhythms of Latin America. - Caborey Cabo, reserv [ - a t - ] caborey.com, www.caborey.com, 143 8060, Cabo San Lucas

Shut Up Franks! - All-u-can-eat spaghetti on Tuesdays from 6-9 p.m. Open mic and free pool too! Live music practically every Friday evening, usually beginning at 7'ish. Friday, Aug 12, "Big Chiuahua" will rock the house. When everyone else is closing up, we are still here for ya, with an awesome happy hour special. Monday thru Saturday from 3-6 p.m., 1/4 lb burger, fries and a draft beer for $50p. Football season starts this week with the preseason and we will always have a killer food special during games. The internet is up and running, meaning free wi-fi for all our customers - and it's fast! - Steve Fidnick, cabofiddy [ - a t - ] yahoo.com, 612-143-2179, Todos Santos
Some Like It Hot - Starring Marilyn Monroe, Tony Curtis and Jack Lemmon. Playing this Saturday, Aug. 13, at Teatro Luna Azul. This is the start of a series of famous old movies that will run weekly and tie in with next year's play, "And Then There Was Nun." Watch the calendar for updates. Doors open at 7:30, by donation. Hot buttered popcorn and cold drinks. http://tsbmp.blogspot.com - , bluemooninbaja [ - a t - ] yahoo.com
Let the Games Begin at The Sandbar! - Football is back starting tomorrow, Aug. 11. It also happens to be Steak/Rib night! The Charger game starts at 6 p.m. And tonight, aka "pizza night," watch the USA vs. Mexico soccer game at 6:30. We have loads of fans and 2x1 drinks 'til sunset. See ya there! - Helen Bay, helenbaysandbar [ - a t - ] gmail.com, sandbarbaja.com, 612-102-9135
---
Submit your Stepping Out - Food, Music and Entertainment announcements here: http://www.bajawesternonion.com/submitad.asp
Return to Top
---

---
Misc. Sales and Services Available/Wanted
---
Moving Sale - For Sale: Pair of brand-new, never-used, top-quiality fishing rods, reels, and all else necessary ($150 USD); 9'1" longboard in good condition ($100); 1985 Honda 125 ATC, perfect for in town ($500 USD); first- generation iPad 64GB, 3G+Wifi, new in box, $500 USD; used iPhone 4g 32GB, $300 USD.

Also for sale, a Specialized P3 mountain bike with Shimano Brakes and Shimano LX Deore shifters with a Bomber Front Shock. This is a way heavy duty frame made for some serious mountain biking. I haven't ridden it much since I purchased it so I'll pass it on to someone who will. This bike deserves to ride. I had it tuned up in Mount Shasta (California) at the Base Camp when I purchased it and they gave it good marks so I will say it's in excellent condition. $600 USD (retailed for $1,800). Email me any questions or phone number if interested. Thanks and be well! - Cameron, ctorabi [ - a t - ] gmail.com, Baja California Sur
For Sale: 1971 Toyota Landcruiser - Fj40, great condition, $8,400. All original, only upgrades: 2.5 inch shackle lift Ranch 9000xl adjustable shocks 38/38 Weber Carb Just Line-X coated interior, and exterior. Which is same as Rhino Lining, just more heavy duty. 4x5 Cargo Rack on Roof, Large Front Brush Guard New Finish with 2 Extra Front Mounted Fog Lights Marine Grade Sony Audio System & Speakers w/ Remote Control 5 Point Harness (Lap belt can be worn separate for ease of daily travel) Custom Roll Cage Spare Tire Mount Truck runs 100% perfect. Everything works, daily driver, perfect for the beach or mountain, and all under the sun. Please email for more pictures and info. - Cameron Torabi, Ctorabi [ - a t - ] gmail.com, 612-132-0538, Baja California Sur

For Sale - Ford Ranger XLT, 4wd from Canada, beautiful condition, hasn't skipped a beat in 11000 kms, new starter motor, new leaf springs, clean oil, immaculate interior, 1 previous owner, new tires. Comes with tons of tools, socket sets, spares tire, oil, coolant, etc. Great on gas, perfect road trip material, clutch is only 11000 kms old, drives like a dream, all previous work done in canada. Also looking to sell end of August: tons of camping gear, 2 man kayak/paddles, 2 colman millitary cots, 2 x coolers, sleeping bags, coleman gas stove with tons of propane refills, pots pans, cutlery, etc, surfboards, and fishing gear. Email me for pictures, etc. - Saxon Scott, saxonscott [ - a t - ] hotmail.com, Pescadero
Servicios Computadoras, Todos Santos - Ofrece servicios de Internet y Computadoras. Venta, instalacion y soporte de redes cableadas e inalámbricas, anti-virus, Voice Over IP (Vonage, Net2phone), computadoras.
Computer Services, Todos Santos - Offering internet and computer services. WiFi / VoIP / Computers - Sales, installation, service and support: wired and wireless networks, virus removal, Voice Over IP (Vonage, Net2Phone), computers. - Josue Castillo Mayoral, Cellular: 612-148-3786, jocama85 [ - a t - ] hotmail.com, Todos Santos
Wanted: Fishing Rod, Reel - Looking to replace my just-broken rod! 9- to 11-foot, carbon. Lures weight 2 to 3-1/2 oz. I am in Todos Santos. I'm also interested in: salt water reel (type 4000 or 5000, that is around 240 yards in 12 lb. mono line spool capacity), with one or two extra spool(s). Braided line 15 or 20 lb. Thank you. - Bob Kook, bob2008kooky [ - a t - ] gmail.com, Todos Santos

13-foot Sailboat for Sale - Centerboard, seaworthy, comfortable, easy to sail, seats 4 to 6, needs some cosmetic work and minor sail repair but ready to sail. Can haul on car rack. $875 OBO - Beau Bryan, Beaubryan77 [ - a t - ] gmail.com, 624-358-0511, La Paz
Need a Ride to or From the Airport? Or Someone to Assist You With Errands? - I am a young, bilingual Christian man and I can provide you with rides to or from the La Paz or San Jose Del Cabo airports. I can also help you with courier services, errands, or navigating the intricacies of dealing with Mexican businesses and the government; Car Registrations, TelCel and TelMex, CFE, Seguro Social, etc.

Reasonable Rates - Contact: Ernesto, Cel. 612-117-7497, ernie_net [ - a t - ] hotmail.com
For Sale: 2011 Wells Cargo Enclosed 6x10 Trailer - I bought this in May, 2011, to haul my stuff from BC Canada to La Paz. It is basically brand new with only 2400 miles. Tiled floor, painted interior with E-Tracks and floor tie downs. Cargo Straps. As "new," paid $3500 CAD, will sell for $2800 OBO. Located in La Paz. - Keith Diller, kdiller51 [ - a t - ] gmail.com, 612-124-1899, La Paz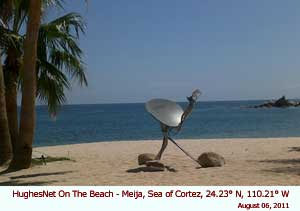 Now, Get Internet No Matter Where You Live:
Always-On Connection, Available Where DSL and Cellular Won't Reach
PC, Mac, Wireless Compatible
Multiple Computers Can Share the Same Internet Connection Full-Time
Vacation Holds Available on All Plans
No Phone Line Needed, No Busy Signals, No Missed Calls
Professional Installation Available Anywhere in Southern BCS
Purchase Your System From Baja Satellite Before August 31 and Get:
1. Mail-In Rebate for $199.99 off Equipment Purchase! 1

0.74 Meter Dish with 1 Watt Transmitter - Only $299 US After Rebate!.
0.98 Meter Dish with 2 Watt Transmitter - Only $699 US After Rebate!

2. Mail-In Rebate for $20 off Your First Three Months of Monthly Service ($60.00 Value)! 2

| | | | |
| --- | --- | --- | --- |
| Data Plan | Download / Upload Speed3 | Daily Data Allowance4 | Monthly Service |
| Basic | 1.0 Mbps/200 Kbps | 200 MB Daily Download Allowance | $59.99 $39.99/mo. 1st 3 months! |
| Power 150 | 1.5 Mbps/200 Kbps | 300 MB Daily Download Allowance | $79.99 $59.99/mo. 1st 3 months! |
| Power 150+ | 1.5 Mbps/200 Kbps | 350 MB Daily Download Allowance | $89.99 $69.99/mo. 1st 3 months! |
Baja Satellite is an Authorized HughesNet Reseller. For more information Contact Us today: alan [ - a t - ] BajaSatellite.com, www.bajasatellite.com, (530) 903-4257 (From US), (01) 555 351 0882 (From Within Mexico), Baja California Sur
1 Prices shown are after $199 mail-in rebate, and do not include Mexican shipping, importation or installation. System must be purchased before August 31.
2 $20 off per month for 1st. three months, after $60 mail-in rebate. System must be purchased from Baja Satellite before August 31. All plans require 24-month contract.
3 Absolute maximum speeds stated by HughesNet. Actual speeds will be less, and speeds will vary throughout the day and week depending upon total number of HughesNet subscribers sharing your satellite channel.
4 If daily allowance is exceeded, speeds may be reduced for up to 24 hours.
Ceramic Water Filters - Now for sale in Los Cabos. We sell and install the best Ceramic Royal Doulton Berkshire water filters, made in England, filtering out pathogenic bacteria and fungus, mold and mildew from even lake water. Washable up to 20 times. This company makes those hiking water filters. Our success rate speaks for itself. Installation by appointment only. - Ann Perkins, ann_ecosmarttechnologies [ - a t - ] hotmail.com, 624-166-9473, Baja California Sur

Wanted: 2 twin Beds - Looking for these beds with or without matresses and two bedside tables. I am also selling a 5'long x about 4' high cabinet. Glass on sides and 2-front glass doors-mirrored back panel. Firm at $200 USD - Chuck Cimino, carlosylina [ - a t - ] hotmail.com, 612- 145-0562, Todos Santos
Hp Photo Smart Printer 130 - HP Photo Smart Printer 130. Includes paper ink cartridges and black frames. Rarely used. Excellent condition. $50USD - Lisa Welsch, lwelsch [ - a t - ] cbriveras.com, search.hp.com/query.html?charset=iso-8859-1&lk=1&la=en&nh=10&st=1&rf=0&qs=&tridion=0&hpvc=sitewide&uf=1&qt=HP+Photosmart+130+Printer&ocoldqt=hp+photosmart+130&oc=72897, 612-140-1414
Summer Ad Special! - Put your ad in front of over 3,200 Baja Western Onion subscribers twice a week, in Four consecutive issues for only $10 dlls ($120 pesos). Get more coverage for your next Yard Sale, Vehicle, Misc. Wanted or For Sale ad.

For only $10 dlls US, we'll run your ad for a total of Four consecutive issues, allowing your ad to appear in each issue for two weeks. Also, we'll feature your ad within a red, highlighted box. This special offer applies only to text-based ads submitted by non-commercial, private parties, and is subject to our editorial policy. Sorry, this offer not available for display banner graphics ads, or ads for businesses, real estate or rentals available.
Payment: All Summer Special ads must be prepaid in advance of initial run date. You can make your payment online via PayPal athttps://www.paypal.com/cgi-bin/webscr?cmd=_xclick&business=advertising [ - a t - ] BajaWesternOnion.com, or call us at 001 530 903 4257 or 01 33 8421 1142 (From Mexico) to make payment directly by VISA, MasterCard, American Express or Discover Credit or Debit Card.
Free Ads: As always, you can place a Free text-based ad in the Baja Western Onion once every 14 days. Submit your Free Ad or Article here: www.bajawesternonion.com/submitad.asp. -
For more details on our advertising opportunities, please visit www.bajawesternonion.com/advertising.asp or send an Email to: advertising [ - a t - ] BajaWesternOnion.com
---
Submit your Misc. Sales and Services Available/Wanted articles here: http://www.bajawesternonion.com/submitad.asp
Return to Top
---

---
Real Estate, Rentals, and House Sitting - Available/Wanted
---
Looking to Rent in Todos Santos - I'm interested in renting a 2-3 bedroom house in Todos Santos. Dates are flexible. I'm a professional in California (Santa Cruz) who had the flexibility to work abroad a couple months/year. Last year I rented a wonderful unit and this year I am hoping to come back and experience the beautiful serene lifestyle I loved! I have local references. I'm looking to rent a 2+ bedroom home with internet capability. I do not have a car so, if you have a car, I'd love the opportunity to rent it. I am very happy about coming back! I hope to find another match and look forward to hearing back. Thank you! - Aimee , aimeenewlander [ - a t - ] hotmail.com, 510-816-2271
Summer Special: Paradise In Rancho Nuevo - This large 2BR, 2BA home sits on almost 3/4 of an acre and looks straight down the arroyo with unobstructed ocean and mountain views. It also has an upstairs studio/office that can be converted into another master bedroom. The sliding doors also lead you straight out to the outdoor pool and jacuzzi. Covered deck with a wet bar and outside dining area. Eloquent landscaping put some great finishing touches to the outdoor area.

Walled house with a garage that can hold an RV and two other cars. This property has a full powered solar system with a backup generator. Incredible deal being offered at a summer special of $405,000 USD (reduced down from $495,000). Contact for an appointment to see this wonderful home! - Rich Friend, Rich [ - a t - ] RicardoAmigo.com, ricardoamigo.com/Properties-ParadiseInRanchoNuevo.asp, 612-145-0551, Todos Santos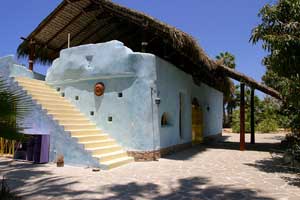 Todos Santos Beach House on a Tranquille Lush 5, 206.22 Sqmt Property - For Sale by Owner: - Two (2) separate driveway entries give the 5, 206.22 sq meter (1.25 acre) property privacy from both the front and back, giving flexibility to build additional homes or to split in the future. Soil on the property is rich organic black soil, ideal for other organic gardening.

* Property is an enclosed oasis and has unlimited access to farm water that nourishes the over 85 mature mango trees, 80 lush palm trees over 5 feet, passion fruit trees, citrus fruit trees and avocado trees, all of which give the property its cool shade that is coveted in the region and frequently not available on other properties of comparable or more value in the desert landscape.
* Property has power, water (both municipal and farm water), gas and Internet.
* A 6-minute walk takes you to the secluded beach, and a 5-minute drive finds you in the heart of TS.

If you have questions or would like to make an offer after viewing the property on YouTube (www.youtube.com/watch?v=krg9FEeiRtk), feel free to contact us. Save on the fee and make us a good offer. - Anh Walch, anhwalch [ - a t - ] yahoo.com, 212-692-0912, Todos Santos
House Sitting - I will soon arriving to Pescadero starting a new chapter on my life. I will like to take care of a house. - , chefbueno [ - a t - ] gmail.com, 6241570301
---
Submit your Real Estate/Rentals/House Sitting/Property Management Services articles here: http://www.bajawesternonion.com/submitad.asp
Return to Top
---
Rides or Caravans Available/Wanted
Note: Ads will run for two weeks unless dated. Please list the date in the title, and specify which airport. Goes without saying, everyone shares expenses for beer, gas, food, etc

To remove your ad if you find a ride or caravan, let us know here: www.bajawesternonion.com/submitad.asp -
---
Cabo To San Diego/las Vegas Area Within 2 Weeks - Am leaving Cabo within 2 weeks (ad first appeared Aug. 3) with 36' motorhome. If you need ride and/or can help drive and/or have something to send there, contact me a.s.a.p. If you can help with gas that would be great. Also, if you have anything to send, must not have to worry about check points or crossing border with it. One-way trip only. - Jeff /lvtarzan [ - a t - ] yahoo.com, 624-154-1128/702-722-3766, Baja California Sur
Ride Wanted - Need ride north for woman and well-behaved, mid-sized dog. Will share gas and driving. Ready to leave next week (ad first appeared Aug. 3). Flexible. Call 624-130-2008 or e-mail sue-kiwi [ - a t - ] hotmail.com - sue-kiwi [ - a t - ] hotmail.com, 624-130-2008
Companion Available - Companion available for the States or drive you car or truck North. - Jorge Pozo, jorge_lap222 [ - a t - ] hot mail.com, 612-118-7898, La Paz
Need a Rider Back To the La Paz Area Around August 15 - I am driving back from the San Diego area and would like to find someone to share expenses going back south to the Loreto or La Paz area. Will be leaving around Aug. 15 or so. Please email me at Becky10449 [ - a t - ] yahoo.com - Becky Andersen, Becky10449 [ - a t - ] yahoo.com, 760-295-9155
North Then South After August 15 - I am flexible, will be heading North sometime around the middle to end of August with a F350 4 door truck and possibly with a large dual axle 23 foot enclosed trailer, or a small open 8 foot trailer. I can haul things and people both directions. Will be heading to San Diego, possibly LA and southern UT. And returning to baja in September. Have made the trip about 30 times. - Dean Devolpi, dean [ - a t - ] la-ventana.com, 612-114-0202, La Paz
---
Submit your Rides or Caravans Needed/Available articles here: http://www.bajawesternonion.com/submitad.asp
Return to Top
---
Pet Corner (Lost and Found pet articles will run for two weeks)
Let us know if you find or place your pet so we can remove your ad -
---
Still Looking For Jack ->>>> - Jack, the human-friendly, tannish/reddish, fixed male, non-cut eared pit has been missing since January. He was last seen in Rancho Nuevo wearing his black and silver collar. Please, any info is greatly appreciated. Thank you. - Todd, toddgerson [ - a t - ] ymail.com, 612-152-4494, Elias Calles
Missing: Black and White Terrier - I have lost my dog, a small b/w terrier with a very short tail. His name is Panda and he lives at the Sandbar. He never strays but is very friendly and has no collar. If you see him, please call me at 612-102-9135. Reward! - Helen Bay, helenbaysandbar [ - a t - ] gmail.com, sandbarbaja.com, 612-102-9135, Pescadero
Puppy Needs a Home ->>>> - Small black puppy (female) with white underside between front paws needs a home. She has been hanging around my place for over a week and was getting very skinny 'til I started feeding her. She is very timid but looks in good health. I can not keep her and need to find her a home. Please help. - Dan Binetti, danbinetti [ - a t - ] yahoo.com, 044-612-11-70298
Free Tuxedo Kittens! - My rescue cat came with a surprise! And now I have 3 black and white kittens that need a home. They're very smart! - Nancy, pokeynan [ - a t - ] hotmail.com, 612-143-7963
<<<<- Dog Lost In Pescadero - A very friendly dog called Maya was lost in San Pedrito beach in Pescadero. It happened during fireworks on the beach on July 27th in the late evening. Unfortunately, she didn't have her collar with a tag on, only a white anti-flea collar. She looks like a pit bull-ridgeback mix, light brown color with a white spot on her chest and has a black muzzle. She is one of two dogs (sisters) who have never been separated before. We all miss her a lot. If you seen her or adopted her by mistake, please contact us as soon as possible. - Lee And Lesia lpc_loki [ - a t - ] yahoo.co.uk, 612-157-2533, Pescadero
Impossible to Resist! - New arrivals at Kitty Heaven despite all of our efforts to spay and neuter (but without the help of the community, there would be even more!).

All colors, all very young and playful. For more information, call Angelique at 612-145-0250 or write her at BajaKitties [ - a t - ] Yahoo.com

Kitty Heaven is the only all-cat refuge in Baja California Sur. Visit us on the web athttp://bajarescue.org/#KittyHeaven. We survive via your kind donations. To send your support, please click the "Donate" button below:
---
Submit your Pet Corner articles here: http://www.bajawesternonion.com/submitad.asp (and remember to Spay and Neuter your pets)
Return to Top
---
Quote of the Day: " Somewhere, something incredible is waiting to be known. " ~ Carl Sagan
---
Looking for the complete Community Events Calendar? Click Here!
---
Return to Top
---
---
Help Support The Baja Western Onion!

We can accept donations by Credit Card, PayPal, cash, check or direct deposit.

For more information, please visit our web site at http://www.BajaWesternOnion.com/donate.asp.
Copyright © 2006 - 2011. The Baja Western Onion. All Rights Reserved. Published Using 100% Recycled Electrons :)
Return to Top
---