On The Web Site:
---
Today's Weather
---
Community Access
Policia Preventiva
Todos Santos Police
612 145-1052
Commandante Navarro

Ministero Publico
State Police
612 145 0198
Commandante Erigoyen

Bomberos
Fire Department
Cel. 612-142-6387
Commandante Cadena


---






---
Baja Western Onion
Alan Thompson - Publisher
Debra Webster - Advertising
e-mail For General Feedback
---
---
News and Events, Questions and Answers
---
Sharing Info From The US Consulate Meetings - I had car trouble and was unable to attend either meeting in La Paz nor the Cabo meeting. Would someone who went please share the information either here on the Baja Western Onion, or email me. - Rhoda Jacobs, barakabaja [ - a t - ] gmail.com, 612-157-6088 (cell)
Information on Report of Foreign Bank and Financial Accounts (FBAR) - Courtesy La Paz Gringos - Hola todos: Just got this note from my accountant (a CA, or Chartered Accountant, which is the highest accounting designation in Canada) in Ottawa, On. He has US Citizens as clients. This does not affect me or other Canadians, but it sure affects US Citizens. Please, don't shoot the messenger nor write to me for clarification. Just Google it yourselves and do your due dilligence and ask your accountant. My accountant specifically asked me not to give out his e-mail address, for obvious reasons. He is just a great accountant who hates to see people pay more taxes than they have to pay. His message to me is below:
If you want to see something spectacular (and Verrry Scary), Google the US FBAR rules and read a few US tax lawyers' websites + the IRS website.

Just look at the info that US citizens must file re their non-US bank, brokerage, RRSP, TFSA, RESP and other bank accounts....And the Penalties......up to 50% of the highest balance in the account! I anonymously called the IRS's FBAR hotline: The balances even include transfers. So, if you have a $400,000 RRSP with CIBC and switch it in the middle of the year to TD Bank, then you Must Report Both $400,000 Balances That Year, And Face A Potential Penalty Of Up To 50% On The $800,000! Another Example: If you had $650,000 in your bank account for a day or two because you bought a house and the financing proceeds went thru your chequing account: You Must Report the $650k on the FBAR, and the late filing penalties will be applied to that balance!

FBARs must be filed for every year back to 2003. All foreign accounts must be reported. The penalty is based on the HIGHEST balance during those years. Going forward, the FBAR must be filed annually by June 30. The US has an amnesty program, IF all conditions are met, there will be no penalties. But the fbar reports must be received in Detroit (not merely delivered BY AUG 31)

I am just finishing up bailing out 2 US citizens before the Aug 31 deadline....The "midnight oil" hasn't stopped!

Most US ex-pats have no clue about this. And the US is imposing laws that, by 2014, will require all foreign financial institutions to report the bank accounts of US citizens to the IRS. So, better to file the FBARs under the amnesty program, than face the severe penalties that the IRS may impose if THEY catch "YOU". This won't affect you (Louise), but you probably have lots of friends in Mexico and Vancouver who are US citizens...Scream this at them Now!. On his website, one US tax lawyer refers to this a "imposing the death penalty for jaywalking".
I wrote back to him to ask whether this applies only to US citizens living in Canada or to all US citizens, regardless of where they live. Here is what he said:
It applies to US citizens Anywhere in the world. Canada was not specifically singled out. After the amnesty expires, the IRS will be applying the SAME rules and penalties to US citizens who have long ago established their lives in another country, with bank a/cs, investments, RRSPs, etc AND who properly report all their foreign and US income on their 1040s, as to Resident Americans who stash $ millions offshore and don't report the income.
I don't pretend to know anything about US taxes nor Canadian taxes, but my accountant sure does. My accountant thought that since Max and I have many US friends and acquaintances in Mexico and Vancouver, I should let them all know about FBAR and the need to file by August 31st.

For your information the acronymns RRSP (Registered Retirement Fund) is the Canadian Retirement Savings Plan (where the government allows you to put money into this account tax free then taxes you when you pull it out. There is an equavilent in the US); RESP (Registered Education Fund) is the savings plan for education; TSFA??? I haven't a clue. - Luiza, La Paz

Anyone Flying to the States Soon? - I have 3 stamped letters I would really appreciate someone mailing for me. Gracias. - Pam Cobb, senoracobb [ - a t - ] yahoo.com, 612-102-7982

La Paz English-Speaking Alcoholics Anonymous - Sundays at 6 p.m. (men's meeting); Mondays at 6 p.m. (open meeting); Thursdays at 9:30 a.m. (open meeting). Meetings open to anyone affected by alcoholism and are held at Crossroads Christian Fellowship, 3124 Abasolo between Sonora and Sinaloa (next to the DISH TV store across the street from Norteña restaurant/Coca Cola sign and the car rental office). For more information, contact: Susan at 125-4649, susaninlapaz [ - a t - ] gmail.com; Leo at 129-3293, leo.eklund [ - a t - ] gmail.com; or Frank at 612-154-1050 (cell), zorba1360 [ - a t - ] yahoo.com

Package Shipping Services - Courtesy La Paz Gringos - (Summarized): Hi everyone, I have just moved to the area and need to get an important item from the states asap. Does anyone have info on expedited services such as Fed ex? - Rocky
Redpack is cheaper than dhl and is good ... states asap. Does anyone have info on expedited services such as FEDeX and UPS? - Tanya

I have had good luck with UPS. Not cheap but the package does get here in about 3-5 days. If you are shipping up to the states be sure and take your package to the customs office before sealing it up and taking it to UPS. The customs office is just around the corner from the UPS store. No charge for the customs inspection but it must be done before UPS will ship. - John

On abasolo if you are driving towards Walmart, between Sonora and Sinaloa street you will see DHL on the left side. Redpack is around the corner to the left on the right side. - Tanya

Rocky, I just signed up with a service out of San Diego, and am having some stuff sent to me here, they were highly recommended by good friends. Go to www.ACV.com.mx. They responded right away and the cost for delivery is very fair, I think. - Gary

Here is a google map showing the location of the Aduana (customs) office on 5th of Feb. Prepare & address your package but leave it open so it can be inspected. The Customs officer will seal it and supply a slip for you to take to DHL, UPS or whatever courier company you choose. - Sheryl
- La Paz

Road From Cabo To TS - I drive from Cabo to TS several times a week for business. Of course, the road is under construction and one expects tough conditions, however, I believe a little bit of preventive work would vastly improve driving conditions. Alert for main contractor: Dragging a fence section with some weight on it behind one of your trucks would even out the ripples on the dirt roads that are threatening to shake all vehicles from whole entities to separate parts. Thanks for any consideration of the driving public. - Name Withheld By Request, Cabo San Lucas

Twin Mattress Needed - I've got this great tiny room set up with A/C now to help make it through the summer. All I need is a good twin mattress. With no truck, I can't meet the need at CostCo. If you have a mattress or a truck that will be going to CostCo and back, please, please, please... I'd pay, I'd make you cookies, I'd be really grateful. Thanks, Janel 145-0073 - Janel Beeman, janelb3 [ - a t - ] yahoo.com, 145-0073
---
Submit your News and Events, Questions and Answers articles here: http://www.bajawesternonion.com/submitad.asp
Return to Top
---
---
Featured Events This Week
---
Online Community Calendar - Just a reminder to anyone planning an event for the coming year to check the Online Community Calendar before choosing a date to see if something else is already planned. If everyone will use this resource, we can avoid conflicts. Check the Online Community Calendar here: www.bajawesternonion.com/community-calendar.asp -
---
Saturday, August 6
Live Music at Tortugas - Cowboy and Tim Lang perform poolside at Tortugas starting at 5 p.m. Tortugas is located near Cerritos Beach. - Tim Lang, tim [ - a t - ] timlang.net, www.timlang.net, Pescadero
Saturday, Aug. 6 thru Sunday, Aug. 7
Probaja Desert Series 2011 - San José Short Course – Pista, San José del Cabo, www.probajaonline.com
---

---
New Community Events and Workshops Notification Page - You can submit event notices for The Community Calender or Workshops and Meetings pages. The Community Events calendar is limited to non-recurring community events (Sorry, no "Happy Hours," "Daily Specials," or other recurring business activities :). Submit your Community Events and Workshops notices here: http://www.bajawesternonion.com/submit-event.asp
Return to Top
---
---
Stepping Out - Food, Music and Entertainment
---
Santo Vino at Hotel California - We'd like to remind everyone of Santo Vino's summer hours. We are open from 5:30 p.m. to 10:30 p.m., and closed on Sundays and Mondays.

Reservations suggested but not required.

In addition to the great food, we have air-conditioning. - info [ - a t - ] hotelcaliforniabaja.com, www.hotelcaliforniabaja.com, 612-145-0525, Todos Santos
Meet The Chef, Jose Uribe of Il Giardino. - Jose is from San Sebastian, Spain, but is a graduate of the New York Culinary Academy. In San Sebastian, the undisputed gourmet capital of Europe, he worked as a chef in Arzak which has three Michaeline stars and Zuberoa, which has two. In Mexico City he taught at the Ambrosia Culinary Academy. From there he was invited to Todos Santos to be a guest chef at a local hotel.

He and his wife, Carmen Diner, also a chef, fell in love with the tranquility of opportunities of Todos Santos. Jose, while keeping the favorite pastas and pizzas of Il Giardino, has added his touch as well his Basque specialties. He does magic with the abundance of or local fish, lightly cooked with surprising sauces. Always ask about the specialty of the day and never, never turn down dessert. In the fall, every two weeks, he and Carmen will again serve the five course tasting menus that put them on the map of where to eat in TS. - 145-0199
Cabo Or Loreto Sailing Charters Half Price - Onion readers Get sailing for half price. Half day or overnight. cruise the islands of loreto or the bays of Cabo. all inclusive. great catamarans and sailboats. great crew. great times. Prices start at 350usd (half price of 695) for half day tours up to 8 guests. - Justin Benham, justinbenham [ - a t - ] hotmail.com, www.wildcabotours.com, 6241286120, Baja California Sur

Buena Vida New August Hours and Specials - Hey Everyone! I just wanted to remind you all of the new things that we are cooking up at Buena Vida Pizzeria. We have many new specials through out the week:
Slow Roasted Baby Back Ribs w/Green beans and a cilantro potato salad
Flank Steaks with Green Beans and roasted garlic potatoes
Teriyaki Short Ribs with a Green Mango Salad
Barro de Mariscos which is the fresh seafood of the day cooked up a in a clay pot with butter and wine with lots of bolillo bread. **Not always available
So things have been selling out fast but I will be sure to have an endless amount from now. Everything is reasonably priced and absolutely delicious. So many people have been wanting to come and dine through out the week so I am happily going back to my normal days of operation which are as follows:
Hours 5-Closed (no earlier than 9:30)
Closed Wednesdays
For all of you coming from out of town. I am located on Calle Hildago and Militar (the same street as the CFE building). Todos Santos. Also THANK YOU ALL so much for all your support so far this summer. DONT FORGET! We Deliver! Believe it or not, it's true! - Jessie, jessierutowski [ - a t - ] gmail.com, 612-151-1431, Baja California Sur
La Garra Restaurant Sports Bar Is Back! - We are back to our regular hours, 1-10 p.m., Sunday-Thursday; and 1 p.m.-3 a.m., Friday & Saturday; closed Tuesdays. We are making some changes to our menu so come in a and check it out! One of our biggest change is that we now have beer on tap: Modelo Especial and Negra Modelo. Only $15 pesos a mug all day. Perfect during these Summer months of heat. If you are looking to watch your favorite baseball team play, come on in and ask for your game. - Happy and Chuy Cota, lagarrarsb [ - a t - ] gmail.com, 145-0004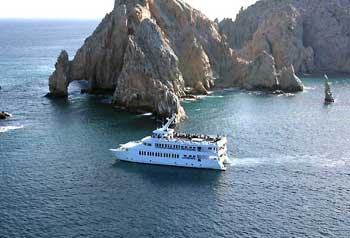 Caborey Dinner Cruise - With over 40 years offering tours in Mexico, Caborey has firmly established its reputation for quality, safety and fun. Reserving tours in advance through our website assures that you are purchasing tours from a reputable source and that the date and time of your reservation will be respected. Allow us the pleasure of providing these services for you.

Experience the natural wonder of Cabo San Lucas from aboard our luxurious 144' triple deck catamaran... From the moment you board the Caborey prepare yourself for an exhilarating experience. The majesty of the Land's End rock formations including Cabo's iconic "Arch" will spread out before you as the Caborey slips away from the marina and into Medano Bay. Live music and limitless cocktails accompany the breathtaking view from the upper deck of the Caborey as it follows its route along the tip of the Baja.

As the sun sinks into the horizon, tempt your palate with one of our 6 delectable entrees. Then as you take your last bite of scrumptious dessert, sit back and enjoy a Las Vegas-style show that will delight you with the sounds and rhythms of Latin America. - Caborey Cabo, reserv [ - a t - ] caborey.com, www.caborey.com, 143 8060, Cabo San Lucas
---
Submit your Stepping Out - Food, Music and Entertainment announcements here: http://www.bajawesternonion.com/submitad.asp
Return to Top
---

---
Misc. Sales and Services Available/Wanted
---
Messaging Service - Baja Messaging Service is now available. Receive telephone or email messages through our service for only $100 pesos per month. - Kathy Gordon, bajamessage [ - a t - ] gmail.com, 612-132-1586
Panga With Trailer For Sale - "Captain Morgan II", 23-foot centre console panga with trailer. Features 115 horsepower Yamaha outboard, Furuno GPS unit, live bait tank, outriggers, VHF radio with antenna, retractable bimini top, and built-in-bow toilet. Built 2008 by Embarcaciones Van Diaz. $25,000 or best offer. In excellent condition - like new! - Dax Morgan, ssmorgan5 [ - a t - ] aol.com, 612-140-3070, La Paz
For Sale: GMC Yukon '93 - 4X4, automatic, AC, U.S. plates. $2,900 USD or $33,000 pesos OBO. Visit the link below for photos. If interested, please email. - Francisco Gonzalez, covertcode [ - a t - ] gmail.com, www.facebook.com/media/set/?set=a.1897129359005.2088235.1564744855&l=a64c\ eff708&type=1, La Paz

Great Furniture and Accessories - Great Furniture and great accessories at totally reasonable prices. Call for an appointment. We are located in the heart of Cabo San Lucas - Sandra Scandiber, scandiber [ - a t - ] yahoo.com, masmilagros.weebly.com/index.html, 624-129-8691
Servicios Computadoras, Todos Santos - Ofrece servicios de Internet y Computadoras. Venta, instalacion y soporte de redes cableadas e inalámbricas, anti-virus, Voice Over IP (Vonage, Net2phone), computadoras.
Computer Services, Todos Santos - Offering internet and computer services. WiFi / VoIP / Computers - Sales, installation, service and support: wired and wireless networks, virus removal, Voice Over IP (Vonage, Net2Phone), computers. - Josue Castillo Mayoral, Cellular: 612-148-3786, jocama85 [ - a t - ] hotmail.com, Todos Santos

Need a Ride to or From the Airport? Or Someone to Assist You With Errands? - I am a young, bilingual Christian man and I can provide you with rides to or from the La Paz or San Jose Del Cabo airports. I can also help you with courier services, errands, or navigating the intricacies of dealing with Mexican businesses and the government; Car Registrations, TelCel and TelMex, CFE, Seguro Social, etc.

Reasonable Rates - Contact: Ernesto, Cel. 612-117-7497, ernie_net [ - a t - ] hotmail.com
Instituto De Ingles Y Espanol "America" - Basic Spanish lessons for foreigners. 2 hours/week for a period of 15 months is enough time to know how to understand, write, read and speak Basic Spanish. First lesson at no cost. Fair fares. Welcome at our facilities in Barrio de San Juan El Pescadero. Contact Pablo, Spanish and English instructor. Gracias - Instituto De Ingles Y Espanol "America", inst.america.elpescadero [ - a t - ] hotmail.com, 130-3270 and Cell: 612-151-2385, Pescadero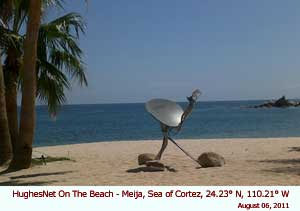 Now, Get Internet No Matter Where You Live:
Always-On Connection, Available Where DSL and Cellular Won't Reach
PC, Mac, Wireless Compatible
Multiple Computers Can Share the Same Internet Connection Full-Time
Vacation Holds Available on All Plans
No Phone Line Needed, No Busy Signals, No Missed Calls
Professional Installation Available Anywhere in Southern BCS
Purchase Your System From Baja Satellite Before August 31 and Get:
1. Mail-In Rebate for $199.99 off Equipment Purchase! 1

0.74 Meter Dish with 1 Watt Transmitter - Only $299 US After Rebate!.
0.98 Meter Dish with 2 Watt Transmitter - Only $699 US After Rebate!

2. Mail-In Rebate for $20 off Your First Three Months of Monthly Service ($60.00 Value)! 2

| | | | |
| --- | --- | --- | --- |
| Data Plan | Download / Upload Speed3 | Daily Data Allowance4 | Monthly Service |
| Basic | 1.0 Mbps/200 Kbps | 200 MB Daily Download Allowance | $59.99 $39.99/mo. 1st 3 months! |
| Power 150 | 1.5 Mbps/200 Kbps | 300 MB Daily Download Allowance | $79.99 $59.99/mo. 1st 3 months! |
| Power 150+ | 1.5 Mbps/200 Kbps | 350 MB Daily Download Allowance | $89.99 $69.99/mo. 1st 3 months! |
Baja Satellite is an Authorized HughesNet Reseller. For more information Contact Us today: alan [ - a t - ] BajaSatellite.com, www.bajasatellite.com, (530) 903-4257 (From US), (01) 555 351 0882 (From Within Mexico), Baja California Sur
1 Prices shown are after $199 mail-in rebate, and do not include Mexican shipping, importation or installation. System must be purchased before August 31.
2 $20 off per month for 1st. three months, after $60 mail-in rebate. System must be purchased from Baja Satellite before August 31. All plans require 24-month contract.
3 Absolute maximum speeds stated by HughesNet. Actual speeds will be less, and speeds will vary throughout the day and week depending upon total number of HughesNet subscribers sharing your satellite channel.
4 If daily allowance is exceeded, speeds may be reduced for up to 24 hours.

All-in-one Inkjet Printer/copier/scanner - I have a Canon PIXMA MP250 Photo All-in-One Inkjet Printer/Copier/Scanner. Comes with software CD and printer cable. Is low on black ink but good on color cartridges. 420 pesos. OBO - Tim, stealbluemusic [ - a t - ] yahoo.com, 612-153-0760, Pescadero
Portable Air Conditioner - I have available an Edgestar portable air conditioner. 12000 BTU. Remote controlled. Used only one season then stored. 2750 pesos OBO. - Rachel , babyflechtner [ - a t - ] yahoo.com, Pescadero
Brother Printer/Fax/Scanner/Copier - Brother MFC 3240C Printer/Scanner/Fax/Copier, Plus +++ 8 Color Inkjet Cartridges
3 - LC41M
2 - LC41BK
1 - LC41Y
2 - LC41C
Total Price For All: $150USD - Lisa Welsch, LWelsch [ - a t - ] CBRiveras.com, 612-140-1414, Todos Santos
Summer Ad Special! - Put your ad in front of over 3,200 Baja Western Onion subscribers twice a week, in Four consecutive issues for only $10 dlls ($120 pesos). Get more coverage for your next Yard Sale, Vehicle, Misc. Wanted or For Sale ad.

For only $10 dlls US, we'll run your ad for a total of Four consecutive issues, allowing your ad to appear in each issue for two weeks. Also, we'll feature your ad within a red, highlighted box. This special offer applies only to text-based ads submitted by non-commercial, private parties, and is subject to our editorial policy. Sorry, this offer not available for display banner graphics ads, or ads for businesses, real estate or rentals available.
Payment: All Summer Special ads must be prepaid in advance of initial run date. You can make your payment online via PayPal athttps://www.paypal.com/cgi-bin/webscr?cmd=_xclick&business=advertising [ - a t - ] BajaWesternOnion.com, or call us at 001 530 903 4257 or 01 33 8421 1142 (From Mexico) to make payment directly by VISA, MasterCard, American Express or Discover Credit or Debit Card.
Free Ads: As always, you can place a Free text-based ad in the Baja Western Onion once every 14 days. Submit your Free Ad or Article here: www.bajawesternonion.com/submitad.asp. -
For more details on our advertising opportunities, please visit www.bajawesternonion.com/advertising.asp or send an Email to: advertising [ - a t - ] BajaWesternOnion.com
---
Submit your Misc. Sales and Services Available/Wanted articles here: http://www.bajawesternonion.com/submitad.asp
Return to Top
---

---
Real Estate, Rentals, and House Sitting - Available/Wanted
---
Summer Special: Paradise In Rancho Nuevo - This large 2BR, 2BA home sits on almost 3/4 of an acre and looks straight down the arroyo with unobstructed ocean and mountain views. It also has an upstairs studio/office that can be converted into another master bedroom. The sliding doors also lead you straight out to the outdoor pool and jacuzzi. Covered deck with a wet bar and outside dining area. Eloquent landscaping put some great finishing touches to the outdoor area.

Walled house with a garage that can hold an RV and two other cars. This property has a full powered solar system with a backup generator. Incredible deal being offered at a summer special of $405,000 USD (reduced down from $495,000). Contact for an appointment to see this wonderful home! - Rich Friend, Rich [ - a t - ] RicardoAmigo.com, ricardoamigo.com/Properties-ParadiseInRanchoNuevo.asp, 612-145-0551, Todos Santos
Lot For Sale In La Paz - For Sale by Owner: Breathtaking views of the city and bay! 287 m2 residential lot in beautiful La Paz. Clear Title. Includes documents and approved plans for custom, multi-story home with 3-car garage. Located in the tranquil community of Palmira Bellaterra in Lomas del Palmira. Minutes away from downtown with easy access to the Malecón. A million-dollar opportunity for only $100,000 USD. Photos and more available upon request - Dax Morgan, ssmorgan5 [ - a t - ] aol.com, 612-140-3070, La Paz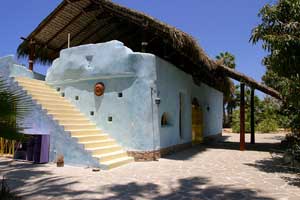 Todos Santos Beach House on a Tranquille Lush 5, 206.22 Sqmt Property - For Sale by Owner: - Two (2) separate driveway entries give the 5, 206.22 sq meter (1.25 acre) property privacy from both the front and back, giving flexibility to build additional homes or to split in the future. Soil on the property is rich organic black soil, ideal for other organic gardening.

* Property is an enclosed oasis and has unlimited access to farm water that nourishes the over 85 mature mango trees, 80 lush palm trees over 5 feet, passion fruit trees, citrus fruit trees and avocado trees, all of which give the property its cool shade that is coveted in the region and frequently not available on other properties of comparable or more value in the desert landscape.
* Property has power, water (both municipal and farm water), gas and Internet.
* A 6-minute walk takes you to the secluded beach, and a 5-minute drive finds you in the heart of TS.

If you have questions or would like to make an offer after viewing the property on YouTube (www.youtube.com/watch?v=krg9FEeiRtk), feel free to contact us. Save on the fee and make us a good offer. - Anh Walch, anhwalch [ - a t - ] yahoo.com, 212-692-0912, Todos Santos
Bayfront Condo For Rent La Paz - 2 bdrm, 3 bath located in beautiful resort Paraiso del Mar. Surrounded by endless miles of deserted beaches, world-class golf course, fishing, kayak. Truly is paradise. Fully furnished, stainless kitchen, wifi, washer and dryer in unit. Monthly, season, or long-term. Rental price negotable - R. Allen, RCRCA [ - a t - ] cox.net, 619-429-6446 US
2 Bed, 2 Bath Home In Cabo - For Sale By Owner: Never-lived-in home in Cabo San Lucas. Located in the private gated community of Paraiso Iguana. Includes underground backup cistern and custom-built balcony. Minutes away from downtown Cabo with easy access to the new Todos Santos highway. Offers views of both the Sea of Cortés and Pacific Ocean. 2 bedroom, 2 bath, approx. 1,000 sq. feet. Huge rental income potential. Price reduced - $85,000 USD OBO - Dax Morgan, ssmorgan5 [ - a t - ] aol.com, 612-140-3070, La Paz
---
Submit your Real Estate/Rentals/House Sitting/Property Management Services articles here: http://www.bajawesternonion.com/submitad.asp
Return to Top
---
Rides or Caravans Available/Wanted
Note: Ads will run for two weeks unless dated. Please list the date in the title, and specify which airport. Goes without saying, everyone shares expenses for beer, gas, food, etc

To remove your ad if you find a ride or caravan, let us know here: www.bajawesternonion.com/submitad.asp -
---
Cabo To San Diego/las Vegas Area Within 2 Weeks - Am leaving Cabo within 2 weeks (ad first appeared Aug. 3) with 36' motorhome. If you need ride and/or can help drive and/or have something to send there, contact me a.s.a.p. If you can help with gas that would be great. Also, if you have anything to send, must not have to worry about check points or crossing border with it. One-way trip only. - Jeff /lvtarzan [ - a t - ] yahoo.com, 624-154-1128/702-722-3766, Baja California Sur
Ride Wanted - Need ride north for woman and well-behaved, mid-sized dog. Will share gas and driving. Ready to leave next week (ad first appeared Aug. 3). Flexible. Call 624-130-2008 or e-mail sue-kiwi [ - a t - ] hotmail.com - sue-kiwi [ - a t - ] hotmail.com, 624-130-2008
Companion Available - Companion available for the States or drive you car or truck North. - Jorge Pozo, jorge_lap222 [ - a t - ] hot mail.com, 612-118-7898, La Paz
Need a Rider Back To the La Paz Area Around August 15 - I am driving back from the San Diego area and would like to find someone to share expenses going back south to the Loreto or La Paz area. Will be leaving around Aug. 15 or so. Please email me at Becky10449 [ - a t - ] yahoo.com - Becky Andersen, Becky10449 [ - a t - ] yahoo.com, 760-295-9155
North Then South After August 15 - I am flexible, will be heading North sometime around the middle to end of August with a F350 4 door truck and possibly with a large dual axle 23 foot enclosed trailer, or a small open 8 foot trailer. I can haul things and people both directions. Will be heading to San Diego, possibly LA and southern UT. And returning to baja in September. Have made the trip about 30 times. - Dean Devolpi, dean [ - a t - ] la-ventana.com, 612-114-0202, La Paz
---
Submit your Rides or Caravans Needed/Available articles here: http://www.bajawesternonion.com/submitad.asp
Return to Top
---
Pet Corner (Lost and Found pet articles will run for two weeks)
Let us know if you find or place your pet so we can remove your ad -
---
Still Looking For Jack ->>>> - Jack, the human-friendly, tannish/reddish, fixed male, non-cut eared pit has been missing since January. He was last seen in Rancho Nuevo wearing his black and silver collar. Please, any info is greatly appreciated. Thank you. - Todd, toddgerson [ - a t - ] ymail.com, 612-152-4494, Elias Calles
Free Tuxedo Kittens! - My rescue cat came with a surprise! And now I have 3 black and white kittens that need a home. They're very smart! - Nancy, pokeynan [ - a t - ] hotmail.com, 612-143-7963
<<<<- Dog Lost In Pescadero - A very friendly dog called Maya was lost in San Pedrito beach in Pescadero. It happened during fireworks on the beach on July 27th in the late evening. Unfortunately, she didn't have her collar with a tag on, only a white anti-flea collar. She looks like a pit bull-ridgeback mix, light brown color with a white spot on her chest and has a black muzzle. She is one of two dogs (sisters) who have never been separated before. We all miss her a lot. If you seen her or adopted her by mistake, please contact us as soon as possible. - Lee And Lesia lpc_loki [ - a t - ] yahoo.co.uk, 612-157-2533, Pescadero
Puppy Needs a Home ->>>> - Small black puppy (female) with white underside between front paws needs a home. She has been hanging around my place for over a week and was getting very skinny 'til I started feeding her. She is very timid but looks in good health. I can not keep her and need to find her a home. Please help. - Dan Binetti, danbinetti [ - a t - ] yahoo.com, 044-612-11-70298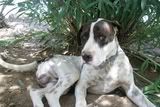 <<<<- Have You Lost This Dog? - A beautiful Pointer has appeared on our street corner in the last week and is clearly lost. (Please see photo.) He is mature, wearing a pale blue "Coastal" collar with no ID on it. He may be purebred Pointer, or a Boxer cross. He's being fed and watered where he is but he's distressed and frightened on the street, and is clearly a lost or stolen/abandoned pet. He's currently hanging out - not going too far from the water supply - on the corner of Calle Insurgentes and Agua Dulce, in La Posada colonia in La Paz (behind the VW agency, towards the water). He's very friendly, doesn't look like he's been on the street long, and is in great condition. It would be fab to find his owners - I imagine someone is missing him very much. - Penny Cottee, pennycottee [ - a t - ] ymail.com, La Paz
Impossible to Resist! - New arrivals at Kitty Heaven despite all of our efforts to spay and neuter (but without the help of the community, there would be even more!).

All colors, all very young and playful. For more information, call Angelique at 612-145-0250 or write her at BajaKitties [ - a t - ] Yahoo.com

Kitty Heaven is the only all-cat refuge in Baja California Sur. Visit us on the web athttp://bajarescue.org/#KittyHeaven. We survive via your kind donations. To send your support, please click the "Donate" button below:
---
Submit your Pet Corner articles here: http://www.bajawesternonion.com/submitad.asp (and remember to Spay and Neuter your pets)
Return to Top
---
Quote of the Day: " My barn having burned to the ground, I can now see the moon. " ~ Chinese Proverb
---
Looking for the complete Community Events Calendar? Click Here!
---
Return to Top
---
---
Help Support The Baja Western Onion!

We can accept donations by Credit Card, PayPal, cash, check or direct deposit.

For more information, please visit our web site at http://www.BajaWesternOnion.com/donate.asp.
Copyright © 2006 - 2011. The Baja Western Onion. All Rights Reserved. Published Using 100% Recycled Electrons :)
Return to Top
---