On The Web Site:
---
Today's Weather
---
Community Access
Policia Preventiva
Todos Santos Police
612 145-1052
Commandante Navarro

Ministero Publico
State Police
612 145 0198
Commandante Erigoyen

Bomberos
Fire Department
Cel. 612-142-6387
Commandante Cadena


---






---
Baja Western Onion
Alan Thompson - Publisher
Debra Webster - Advertising
e-mail For General Feedback
---
---
Spam Mail Sent To Our Readers - We have received a number of complaints from Baja Western Onion readers who received unsolicited commercial Emails from a few businesses and Email marketing companies in the Los Cabos region. This is a reminder that we strongly disapprove of anyone harvesting Email addresses from the Baja Western Onion for the purpose of sending unslolicited commercial Email to our readers. From our Terms and Conditions:
Spamming - Do not "Harvest" E mail Addresses from the Baja Western Onion with the intent to send our readers unsolicited bulk mailings, AKA "Spam." This is specifically against our Terms and Conditions of use, and is also downright rude. Most of us receive enough unsolicited junk mail as it is. Violators may be permanently removed from our subscription list.
If you think you have received any unsolicited commercial Email as a result of your Email address appearing in the Baja Western Onion, please report it to the attention of moderator [ - a t - ] bajawesternonion.com, and we will attempt to track down the sender.

Also, we modified our Article Submission Form at www.bajawesternonion.com/submitad.asp so that you can choose not to include your Email address with your ad or article. You still need to submit your ad or article using a valid Email address but it will not be included if you don't want it to appear in your ad or article. -
---
News and Events, Questions and Answers
---
Attention Fine Artists & Artisans - The Third Annual La Paz Festival D'Arte is now accepting reservations for exhibitors. This year's Festival will be held Sunday, November 27 at the Marina Palmira. Like last year's event, the 2011 Festival is timed to give the attendees the fun of holiday shopping for just the right creative gift. Space will be limited to approximately 80 booths and the best locations will be first come, first served. The reservation process is the same as last year. Exhibitors must register at The Art Shop in La Paz, Guillermo Prieto #189 between Rosales and Independencia. Early bird pricing is $300 pesos, until Oct. 31, $350 after. Reserve early!

Once again the beneficiaries are Baja Dogs and FANLAP. This year the Festival theme will also celebrate nature by featuring an awareness of the beauty and fragility of the Sierra de La Laguna Biosphere. All art forms will be represented and complimented with music, dance, and culinary delights.

For more information check out the website at . The contact person in La Paz is Rafael Chávez González (Spanish), 612-122-9243, rafc9 [ - a t - ] yahoo.com; or Maureen Ryan (bi-lingual), 612-122-9277, morene4 [ - a t - ] yahoo.com; or Pat Solem (English), 612-12-5478, patencasa117 [ - a t - ] yahoo.com. - Kathy Bezy, Baja California Sur
The Todos Santos Library Open During Summer Months - Our very own Todos Santos library, located in the Palapa Society bulding on Calle Obregon, remains open through the summer. We are open Monday, Wednesday and Friday from 10 a.m. to 1 p.m. Our extensive collection of fiction, mystery. biography and non-fiction books has continued to grow as more donations have arrived. Come by and check us out and check some books out. We also have several shelves of DVDs as well as some audio books. - info [ - a t - ] palapasociety.org, www.palapasociety.org, 145-0299
Summer Recycling Hours - The Summer Recycling hours are Wednesdays from 11 a.m. to 1 p.m. This month we moved two, half-ton loads of plastic directly to be recycled in mainland, and a half ton of cardboard. May marked a year the program has been running. Thanks for all the support. - Todd Mass, info [ - a t - ] enviromass.com, 624-174-9260

Sunday Morning Meditation - Will be available at 10 a.m. during the month of August at the home of Emanuela next to Serendipidy. There will be an appropriate reading from the book Dhammapada, The Saying of the Buddha, to initiate each session. Everyone is welcome. - Emanuela, emagard [ - a t - ] mac.com, 612-161-2907, Todos Santos
Todos Santos Beach Blog - Check out the new Todos Santos Beach Blog. Report sea turtle nests, injured marine animals, extreme weather conditions, or any beach-related issue in Todos Santos. Looking forward to hearing from you! - Tortugueros Las Playitas, tortugueroslasplayitas [ - a t - ] gmail.com, tortugueroslasplayitas.weebly.com/beach-blog.html, 145-0353, Todos Santos
---
Submit your News and Events, Questions and Answers articles here: http://www.bajawesternonion.com/submitad.asp
Return to Top
---
---
Featured Events This Week
---
Online Community Calendar - Just a reminder to anyone planning an event for the coming year to check the Online Community Calendar before choosing a date to see if something else is already planned. If everyone will use this resource, we can avoid conflicts. Check the Online Community Calendar here: www.bajawesternonion.com/community-calendar.asp -
---
Wednesday, August 3
U.S. Consulate Meeting - At 10 a.m. and 2 p.m. The U.S. Consul Agent, Trina Brown, from Cabo San Lucas and representatives from the U.S. Consulate in Guadalajara will meet U.S. citizens to discuss various federal benefits. In the Vista Room at Marina de La Paz, La Paz. For info, call 624-143-3566 - yachtmanagement [ - a t - ] bluewaterketch.com, Baja California Sur
Saturday, August 6
Live Music at Tortugas - Cowboy and Tim Lang perform poolside at Tortugas starting at 5 p.m. Tortugas is located near Cerritos Beach. - Tim Lang, tim [ - a t - ] timlang.net, www.timlang.net, Pescadero
Saturday, Aug. 6 thru Sunday, Aug. 7
Probaja Desert Series 2011 - San José Short Course – Pista, San José del Cabo, www.probajaonline.com
---

---
New Community Events and Workshops Notification Page - You can submit event notices for The Community Calender or Workshops and Meetings pages. The Community Events calendar is limited to non-recurring community events (Sorry, no "Happy Hours," "Daily Specials," or other recurring business activities :). Submit your Community Events and Workshops notices here: http://www.bajawesternonion.com/submit-event.asp
Return to Top
---
---
Stepping Out - Food, Music and Entertainment
---

Buena Vida New August Hours and Specials - Hey Everyone! I just wanted to remind you all of the new things that we are cooking up at Buena Vida Pizzeria. We have many new specials through out the week:
Slow Roasted Baby Back Ribs w/Green beans and a cilantro potato salad
Flank Steaks with Green Beans and roasted garlic potatoes
Teriyaki Short Ribs with a Green Mango Salad
Barro de Mariscos which is the fresh seafood of the day cooked up a in a clay pot with butter and wine with lots of bolillo bread. **Not always available
So things have been selling out fast but I will be sure to have an endless amount from now. Everything is reasonably priced and absolutely delicious. So many people have been wanting to come and dine through out the week so I am happily going back to my normal days of operation which are as follows:
Hours 5-Closed (no earlier than 9:30)
Closed Wednesdays
For all of you coming from out of town. I am located on Calle Hildago and Militar (the same street as the CFE building). Todos Santos. Also THANK YOU ALL so much for all your support so far this summer. DONT FORGET! We Deliver! Believe it or not, it's true! - Jessie, jessierutowski [ - a t - ] gmail.com, 612-151-1431, Baja California Sur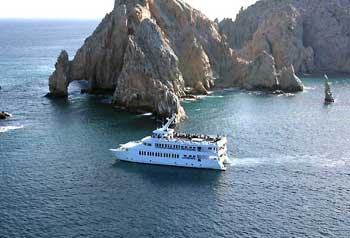 Caborey Dinner Cruise - With over 40 years offering tours in Mexico, Caborey has firmly established its reputation for quality, safety and fun. Reserving tours in advance through our website assures that you are purchasing tours from a reputable source and that the date and time of your reservation will be respected. Allow us the pleasure of providing these services for you.

Experience the natural wonder of Cabo San Lucas from aboard our luxurious 144' triple deck catamaran... From the moment you board the Caborey prepare yourself for an exhilarating experience. The majesty of the Land's End rock formations including Cabo's iconic "Arch" will spread out before you as the Caborey slips away from the marina and into Medano Bay. Live music and limitless cocktails accompany the breathtaking view from the upper deck of the Caborey as it follows its route along the tip of the Baja.

As the sun sinks into the horizon, tempt your palate with one of our 6 delectable entrees. Then as you take your last bite of scrumptious dessert, sit back and enjoy a Las Vegas-style show that will delight you with the sounds and rhythms of Latin America. - Caborey Cabo, reserv [ - a t - ] caborey.com, www.caborey.com, 143 8060, Cabo San Lucas
Baja Beans at Pura Vida - Baja Beans Roasting Co. is now closed for August and September. However, we will be roasting fresh coffee at the cafe on Saturdays between 9 a.m. and noon if you would like to join us for a coffee and pick up a bag to enjoy at home. You can also pick up Baja Beans at Pura Vida in Todos Santos. Thank you to everyone for coming to visit us and we look forward to serving you great coffee and more tasty treats in October! - Sandra Wohlers, info [ - a t - ] bajabeans.com, www.bajabeans.com, 612-167-3139, Pescadero
Live Music At Tortugas This Saturday! - Come on out and hear Cowboy and Tim Lang poolside at Tortugas Saturday, Aug. 6. Order one of their delicious margaritas or mojitos and you can enjoy a dip in the pool. They have great specials on drinks and food. Show starts at 5 p.m. Tortugas is located near Cerritos Beach. See you there! - Tim Lang, tim [ - a t - ] timlang.net, www.timlang.net, Pescadero
Katie's Jams - Katie's Mango and Mango-Chile jams are now ready and available for purchase at Gemini Deli in Todos Santos along with all the other delicious flavors, including Mint Jelly, Papaya-Lime, Tomato, and her famous Chile Jam in both mild and hot. Or e-mail Katie directly for special orders. Support local businesses buying homemade and organic. Enjoy the summer! - Katie Lopez, pab_lopez [ - a t - ] yahoo.com, 612-151-2399
New Bagel Shop in La Paz - The Bagel Shop and the gallery finally opened its doors last Saturday. Bagels are made fresh everyday, nice variety of flavors -- poppy, sesame, onion, garlic and plain -- are accompanied by cream cheese made with either olives, red pepper, natural, veggie and mighty chipotle (an old time favorite!).

Bagel Shop and the gallery are located on Beisario Dominguez between Cinco de Mayo and Constitucion in La Paz; hours of operation are Tuesday through Friday, 7:30 a.m. - 2 p.m. and 6 p.m. - 9 p.m.; and Saturday through Sunday, 7:30 a.m. - 2:30 p.m. Phone: 612-125-5878 - Patricia Del Valle, pdevalle2001 [ - a t - ] msn.com;fcosas [ - a t - ] yahoo.com, facebook BAGEL SHOP y la galeria, 612-125-5878, La Paz
Shut Up Franks, Sportsbar and Grill Is Back - All-You-Can-Eat Spaghetti Con Carne Si Quieres! Every Tuesday from 6-9 p.m., all-you-can-eat spaghetti ($75 pesos) in conjunction with open mic nite and free pool with three ball games all night. Yes, the open mic is back! And you never know who will play. ... Shut Up Franks is back -- and better than ever! - Steve Fidnick, Cabofiddy [ - a t - ] yahoo.com, 612-143-2179
Zen Garden Cafe Closed For The Summer - Thanks to everyone for making our first year a success. We'll be closing for a much-needed break during the summer and re-opening in October. See you all Zen! - Zen Garden Cafe, yanggum [ - a t - ] zengardencafe.com, www.zengardencafe.com, 612-145-1088, Todos Santos
---
Submit your Stepping Out - Food, Music and Entertainment announcements here: http://www.bajawesternonion.com/submitad.asp
Return to Top
---

---
Misc. Sales and Services Available/Wanted
---
Dentist in Todos Santos - Hello everyone, I´m announcing my dental services in Todos Santos: cleaning teeth, fillings, porcelain crowns, dental implants, x-ray, partial and complet dentures. My dental office is located on the corner of Juarez Street and Topete Street (Plaza Antigua). I´m working Monday and Tuesday of each week. For an appointment, please contact me by either email or my cell phone, 612-183-1734. - Dr. Angel Hernandez, dentistabajasur [ - a t - ] gmail.com, 612-183-1734

Pacific Window Washing - Professional home window washing now providing screen repair and re-screening services. Free estimates. Servicing Todos Santos to San Jose. - Mark pacificwindowwashing [ - a t - ] gmail.com, 612-143-3316, Pescadero
Multiservicios Ryjos, Todos Santos - ofrece suministros de oficina y servicio de fotocopias, Internet y servicios informáticos. Ubicación: El Otro Lado, Calle Horizonte esq Nicolas Bravo, Colonia el Rio, frente a Café La Esquina, Todos Santos:
Papeleria - Venta de artículos escolares-oficina, Copias, Enmicados, Engargolados, Servicio de impresión negro y color. Copías CD/DVD.

Internet / Juegos - Servicio de mensajería instantánea, Skype, E-mail, descargas de musica y fotos, Xbox 360, servicio de Scanner. Wireless

WiFi / VoIP / Computadoras - Venta, instalacion y soporte de redes cableadas e inalámbricas, Voice Over IP (Vonage, Net2phone), computadoras.
Horarios: Lunes, Martes, Jueves, Viernes: 8:00 A.M - 9:30 P.M., Miercoles Y Sabados: 8.00 A.M - 4:00 P.M. Domingo: Cerrado
Ryjos Multi-services, Todos Santos - offering office supplies and copy services, internet and computer services. Location: "El Otro Lado, " Calle Horizonte at the corner of Nicolas Bravo, Colonia el Rio, in front of Café La Esquina, Todos Santos:
Stationary Store - Sales of School and office Supplies, Copies, Laminating, Binding, Black and While and Color Printing Service, Scanner service, CD/DVD Copies.

Internet / Games - Instant Messaging Service, Skype, E-mail, downloading music and photos, Xbox 360, Wireless Access

WiFi / VoIP / Computers - Sales, installation, service and support: wired and wireless networks, Voice Over IP (Vonage, Net2Phone), computers.
Hours: Monday, Tuesday, Thursday, Friday: 8 a.m. - 9:30 p.m., Wednesday and Saturday: 8 a.m. - 4 p.m. Sunday: Closed. Propietario/Owner: Josue Castillo Mayoral, Business Telephone: 612-178-0039, Cellular: 612-148-3786, jocama85 [ - a t - ] hotmail.com, Todos Santos
Moving Goods To Mexico? - Voted "Best in Baja" by Baja Traveler Magazine, Customs clearance, Freight forwarding, mpage [ - a t - ] lopezpage.com. No job too big or too small - Monica Page, mpage [ - a t - ] lopezpage.com, 619-666-4529, Baja California Sur
Looking For DMSO - The horse linament. Will, of course, come pick it up. From a pint to a gallon. Cash.- David E., mexbungalows [ - a t - ] gmail.com, Pescadero

Looking For A Moving Truck - I'm looking to rent a truck (and driver) to move a bunch of furniture to storage. A flat-bed truck with side walls would be perfect. Please e-mail me if you know someone who has something like that. - Jon Perkins, ravemind [ - a t - ] gmail.com, 612-141-7291
Computer Help Offered - Do you need a website or graphic design services? Then look no further! The services we offer are: Website Design & Development; Logo Design; Graphic Design; Brochure Design; E-commerce Website Design; and Website Maintenance Services. You can e-mail tao1gahad [ - a t - ] gmail.com for a preliminary meeting.

Typical repair and upgrade services for desktops or laptops include: Software and hardware troubleshooting; Speeding up a slow system; Upgrading an existing PC; Making a computer network ready; Virus Removal; Spyware Removal; System Crashes; Data Backup; Blue Screen; Home Networking Wireless/Wired; and more... Again, you can e-mail tao1gahad [ - a t - ] gmail.com to set up a appointment. Thanks and have a great day. - Fiona, Pescadero
Seeking Car To Rent - We are a nice couple visiting Todos Santos/Pescadero for 3 weeks and are looking to rent any car at 100 or 200 US dollars. Will be arriving August 9th and can't wait to enjoy the Baja area! Thanks - Olivia Ferucci, ZEQueenOFFrance [ - a t - ] yahoo.com, USA 415-297-7016
Need a Ride to or From the Airport? Or Someone to Assist You With Errands? - I am a young, bilingual Christian man and I can provide you with rides to or from the La Paz or San Jose Del Cabo airports. I can also help you with courier services, errands, or navigating the intricacies of dealing with Mexican businesses and the government; Car Registrations, TelCel and TelMex, CFE, Seguro Social, etc.

Reasonable Rates - Contact: Ernesto, Cel. 612-117-7497, ernie_net [ - a t - ] hotmail.com
Surf Tech Surfboard For Sale - Surf Tech époxy 6'4 RF Fish. Great Condition. $200 USD. - Mark pacificwindowwashing [ - a t - ] gmail.com, 612-143-3316, Pescadero
Total Gym For Sale - Used Total Gym in good condition, complete with all parts. Original price was $1800 USD, will sell for $500 USD or best offer. Call Walt at 612-169-0786 or e-mail woschultz [ - a t - ] msn.com. Unit is in house near art&beer - Walter Schultz, woschultz [ - a t - ] msn.com, 612-169-0786, Todos Santos
PC Repair / VHS --> DVD - Do you have any computer problems? I am an expert in many different areas of PC repair, including software / hardware / networking / and much more! Give me a call today for a free quote, I can come to you or drop-off is acceptable. Also, I can convert your VHS tapes to DVDs and other audio-video formats. I can also upload your photos and videos to YouTube and other websites. Free local pickup and delivery, turn-around time usually within 72 hours, reasonable prices. Call or email me for any questions you may have! - Alejandro, herrera.iso [ - a t - ] gmail.com, 044-612-147-6200, Pescadero
Hughesnet Satellite Internet No Matter Where You Live in Mexico!
1. Mail-In Rebate for $199.99 off Equipment Purchase! 1

0.74 Meter Dish with 1 Watt Transmitter - Only $299 US After Rebate!.
0.98 Meter Dish with 2 Watt Transmitter - Only $699 US After Rebate!

2. Mail-In Rebate for $20 off Your First Three Months of Monthly Service ($60.00 Value)! 2

| | | | |
| --- | --- | --- | --- |
| Data Plan | Download / Upload Speed3 | Daily Data Allowance4 | Monthly Service |
| Basic | 1.0 Mbps/200 Kbps | 200 MB Daily Download Allowance | $59.99 $39.99/mo. 1st 3 months! |
| Power 150 | 1.5 Mbps/200 Kbps | 300 MB Daily Download Allowance | $79.99 $59.99/mo. 1st 3 months! |
| Power 150+ | 1.5 Mbps/200 Kbps | 350 MB Daily Download Allowance | $89.99 $69.99/mo. 1st 3 months! |
Baja Satellite is an Authorized HughesNet Reseller. For more information Contact Us today: alan [ - a t - ] BajaSatellite.com, www.bajasatellite.com, (530) 903-4257 (From US), (01) 555 351 0882 (From Within Mexico), Baja California Sur
1 Prices shown are after $199 mail-in rebate, and do not include Mexican shipping, importation or installation. System must be purchased before August 31.
2 $20 off per month for 1st. three months, after $60 mail-in rebate. System must be purchased from Baja Satellite before August 31. All plans require 24-month contract.
3 Absolute maximum speeds stated by HughesNet. Actual speeds will be less, and speeds will vary throughout the day and week depending upon total number of HughesNet subscribers sharing your satellite channel.
4 If daily allowance is exceeded, speeds may be reduced for up to 24 hours.
Oscar's Plumbing - Specialist in plumbing, electrical and concrete work. More than 20 years working experience in Todos Santos. Free estimates, best references available. English and Espańol. Please call 612-117-9685 for more information. - Oscar Parra, daliaamper [ - a t - ] hotmail.com, 612-117 -9685, Todos Santos

Surf School - Surf Lessons and your pick of a 7-day or 2-day package deal including the surf camp, stay, food, twice daily massages, lessons and surf theory is now available! We are ready to take reservations and look forward to serving you. - Lucan Hirales, lucan [ - a t - ] lucansurfschool.com, www.lucansurfschool.com, 612-177-2461, Pescadero
Summer Ad Special! - Put your ad in front of over 3,100 Baja Western Onion subscribers in Four consecutive issues for only $10 dlls ($120 pesos). Get more coverage for your next Yard Sale, Vehicle, Misc. Wanted or For Sale ad.

For only $10 dlls US, we'll run your ad for a total of Four consecutive issues, allowing your ad to appear in each issue for two weeks. Also, we'll feature your ad within a red, highlighted box. This special offer applies only to text-based ads submitted by non-commercial, private parties, and is subject to our editorial policy. Sorry, this offer not available for display banner graphics ads, or ads for businesses, real estate or rentals available.
Payment: All Summer Special ads must be prepaid in advance of initial run date. You can make your payment online via PayPal athttps://www.paypal.com/cgi-bin/webscr?cmd=_xclick&business=advertising [ - a t - ] BajaWesternOnion.com, or call us at 001 530 903 4257 or 01 33 8421 1142 (From Mexico) to make payment directly by VISA, MasterCard, American Express or Discover Credit or Debit Card.
Free Ads: As always, you can place a Free text-based ad in the Baja Western Onion once every 14 days. Submit your Free Ad or Article here: www.bajawesternonion.com/submitad.asp. -
For more details on our advertising opportunities, please visit www.bajawesternonion.com/advertising.asp or send an Email to: advertising [ - a t - ] BajaWesternOnion.com
---
Submit your Misc. Sales and Services Available/Wanted articles here: http://www.bajawesternonion.com/submitad.asp
Return to Top
---

---
Real Estate, Rentals, and House Sitting - Available/Wanted
---
Lot For Sale - Here is great lot in the Las Tunas area with city water and power. Asking $35,000 OBO. The size is approximately 770 m/2 and it is one block from beach. Seller will finance with good down payment. - , arechiga66 [ - a t - ] yahoo.com, 612-161-4728, Todos Santos
Summer Special: Paradise In Rancho Nuevo - This large 2BR, 2BA home sits on almost 3/4 of an acre and looks straight down the arroyo with unobstructed ocean and mountain views. It also has an upstairs studio/office that can be converted into another master bedroom. The sliding doors also lead you straight out to the outdoor pool and jacuzzi. Covered deck with a wet bar and outside dining area. Eloquent landscaping put some great finishing touches to the outdoor area.

Walled house with a garage that can hold an RV and two other cars. This property has a full powered solar system with a backup generator. Incredible deal being offered at a summer special of $405,000 USD (reduced down from $495,000). Contact for an appointment to see this wonderful home! - Rich Friend, Rich [ - a t - ] RicardoAmigo.com, ricardoamigo.com/Properties-ParadiseInRanchoNuevo.asp, 612-145-0551, Todos Santos
Chili House For Sale And Rent - The Chili House is a 2 bed 2 bath 1500 sq ft home located in the Las Tunas/ Los Jardines area of Todos Santos with ocean and mountain views from every room and Mexican tiles and details throughout. Situated on an elevated ˝ acre lot with patios, terraces, mature landscaping-palms, cactus, bougainvillea, giant birds of paradise and both city and agricultural water. Truly a gardener's paradise. For Sale by Owner. $269,000.

For more photos and information please visit www.bajawildheart.com Available for rent now through Oct 1st 2011. - Leslie Lambert, llambert [ - a t - ] sonic.net, 707 696 9064 503 954 3504, Todos Santos
Long Term House Rental - House for rent in Las Tunas. Two bedroom, two bath house. Beautiful ocean view, vegetable garden, electricity, internet, water storage tank with pump. $500 USD/month. - Dominique Sawyer, dominiquesawyer [ - a t - ] hotmail.com, 612-102-3301, Todos Santos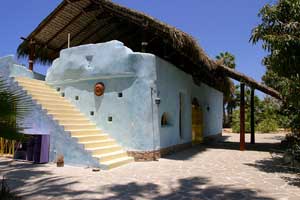 Todos Santos Beach House on a Tranquille Lush 5, 206.22 Sqmt Property - For Sale by Owner: - Two (2) separate driveway entries give the 5, 206.22 sq meter (1.25 acre) property privacy from both the front and back, giving flexibility to build additional homes or to split in the future. Soil on the property is rich organic black soil, ideal for other organic gardening.

* Property is an enclosed oasis and has unlimited access to farm water that nourishes the over 85 mature mango trees, 80 lush palm trees over 5 feet, passion fruit trees, citrus fruit trees and avocado trees, all of which give the property its cool shade that is coveted in the region and frequently not available on other properties of comparable or more value in the desert landscape.
* Property has power, water (both municipal and farm water), gas and Internet.
* A 6-minute walk takes you to the secluded beach, and a 5-minute drive finds you in the heart of TS.

If you have questions or would like to make an offer after viewing the property on YouTube (www.youtube.com/watch?v=krg9FEeiRtk), feel free to contact us. Save on the fee and make us a good offer. - Anh Walch, anhwalch [ - a t - ] yahoo.com, 212-692-0912, Todos Santos
Looking For Home To Rent - From the months of Oct./Nov. to Jan./Feb. (very flexible). This is my second trip down. I'm looking for a furnished 1,2+ bedroom to rent. I'd love to have a job while I'm there; painting, gardening, etc. I do not have any animals traveling with me, but if you have animals, I'd be happy to care for them! I have great local references. Last year I volunteered at a local school offering help with English class, health and fitness. I enjoyed my time very much and hope to find another great place to stay! - Aimee Newlander, aimeenewlander [ - a t - ] hotmail.com, Todos Santos
House for Lease in San Jose - Six-month lease, 3 master suites, salt-system pool, walking to downtown, great ocean views. $2,200 USD - Patricia Edge, pjedge [ - a t - ] hotmail.com, 541-318-405 US, San Jose Del Cabo
Roommate Wanted - Roommate wanted for beautiful home in Puerto Los Cabos beginning Nov. 1. Responsible and reliable people only apply please. Must love dogs! Sorry cannot take any other pets. Ocean views and golf course views. Beach Club available with additional membership fees. Please e-mail for more information. Month-to-month, no lease. $1,200 USD per month - Terry Terry, thelebsockteam [ - a t - ] yahoo.com, 951-926-4314
---
Submit your Real Estate/Rentals/House Sitting/Property Management Services articles here: http://www.bajawesternonion.com/submitad.asp
Return to Top
---
Rides or Caravans Available/Wanted
Note: Ads will run for two weeks unless dated. Please list the date in the title, and specify which airport. Goes without saying, everyone shares expenses for beer, gas, food, etc

To remove your ad if you find a ride or caravan, let us know here: www.bajawesternonion.com/submitad.asp -
---
Need Ride from Cabo Aiport to La Paz Aug. 3 - I am arriving Cabo at 12 noon on Aug. 3 and would like a ride to La Paz. Thanks, Claudia- - Claudia Voelker, cmvoelker [ - a t - ] comcast.net, La Paz
Cabo To San Diego/las Vegas Area Within 2 Weeks - Am leaving Cabo within 2 weeks (ad first appeared Aug. 3) with 36' motorhome. If you need ride and/or can help drive and/or have something to send there, contact me a.s.a.p. If you can help with gas that would be great. Also, if you have anything to send, must not have to worry about check points or crossing border with it. One-way trip only.
- Jeff /lvtarzan [ - a t - ] yahoo.com, 624-154-1128/702-722-3766, Baja California Sur
Ride Wanted - Need ride north for woman and well-behaved, mid-sized dog. Will share gas and driving. Ready to leave next week (ad first appeared Aug. 3). Flexible. Call 624-130-2008 or e-mail sue-kiwi [ - a t - ] hotmail.com - sue-kiwi [ - a t - ] hotmail.com, 624-130-2008
Companion Available - Companion available for the States or drive you car or truck North. - Jorge Pozo, jorge_lap222 [ - a t - ] hot mail.com, 612-118-7898, La Paz
North Then South After August 15 - I am flexible, will be heading North sometime around the middle to end of August with a F350 4 door truck and possibly with a large dual axle 23 foot enclosed trailer, or a small open 8 foot trailer. I can haul things and people both directions. Will be heading to San Diego, possibly LA and southern UT. And returning to baja in September. Have made the trip about 30 times. - Dean Devolpi, dean [ - a t - ] la-ventana.com, 612-114-0202, La Paz
---
Submit your Rides or Caravans Needed/Available articles here: http://www.bajawesternonion.com/submitad.asp
Return to Top
---
Pet Corner (Lost and Found pet articles will run for two weeks)
Let us know if you find or place your pet so we can remove your ad -
---
Still Looking For Jack ->>>> - Jack, the human-friendly, tannish/reddish, fixed male, non-cut eared pit has been missing since January. He was last seen in Rancho Nuevo wearing his black and silver collar. Please, any info is greatly appreciated. Thank you. - Todd, toddgerson [ - a t - ] ymail.com, 612-152-4494, Elias Calles
Free Tuxedo Kittens! - My rescue cat came with a surprise! And now I have 3 black and white kittens that need a home. They're very smart! - Nancy, pokeynan [ - a t - ] hotmail.com, 612-143-7963
<<<<- Dog Lost In Pescadero - A very friendly dog called Maya was lost in San Pedrito beach in Pescadero. It happened during fireworks on the beach on July 27th in the late evening. Unfortunately, she didn't have her collar with a tag on, only a white anti-flea collar. She looks like a pit bull-ridgeback mix, light brown color with a white spot on her chest and has a black muzzle. She is one of two dogs (sisters) who have never been separated before. We all miss her a lot. If you seen her or adopted her by mistake, please contact us as soon as possible. - Lee And Lesia lpc_loki [ - a t - ] yahoo.co.uk, 612-157-2533, Pescadero
Puppy Needs a Home ->>>> - Small black puppy (female) with white underside between front paws needs a home. She has been hanging around my place for over a week and was getting very skinny 'til I started feeding her. She is very timid but looks in good health. I can not keep her and need to find her a home. Please help. - Dan Binetti, danbinetti [ - a t - ] yahoo.com, 044-612-11-70298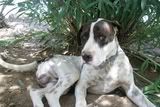 <<<<- Have You Lost This Dog? - A beautiful Pointer has appeared on our street corner in the last week and is clearly lost. (Please see photo.) He is mature, wearing a pale blue "Coastal" collar with no ID on it. He may be purebred Pointer, or a Boxer cross. He's being fed and watered where he is but he's distressed and frightened on the street, and is clearly a lost or stolen/abandoned pet. He's currently hanging out - not going too far from the water supply - on the corner of Calle Insurgentes and Agua Dulce, in La Posada colonia in La Paz (behind the VW agency, towards the water). He's very friendly, doesn't look like he's been on the street long, and is in great condition. It would be fab to find his owners - I imagine someone is missing him very much. - Penny Cottee, pennycottee [ - a t - ] ymail.com, La Paz
Impossible to Resist! - New arrivals at Kitty Heaven despite all of our efforts to spay and neuter (but without the help of the community, there would be even more!).

All colors, all very young and playful. For more information, call Angelique at 612-145-0250 or write her at BajaKitties [ - a t - ] Yahoo.com

Kitty Heaven is the only all-cat refuge in Baja California Sur. Visit us on the web athttp://bajarescue.org/#KittyHeaven. We survive via your kind donations. To send your support, please click the "Donate" button below:
---
Submit your Pet Corner articles here: http://www.bajawesternonion.com/submitad.asp (and remember to Spay and Neuter your pets)
Return to Top
---
Quote of the Day: " The cure for anything is salt water: sweat, tears, or the sea. " ~ Isak Dinesen
---
Looking for the complete Community Events Calendar? Click Here!
---
Return to Top
---
---
Help Support The Baja Western Onion!

We can accept donations by Credit Card, PayPal, cash, check or direct deposit.

For more information, please visit our web site at http://www.BajaWesternOnion.com/donate.asp.
Copyright © 2006 - 2011. The Baja Western Onion. All Rights Reserved. Published Using 100% Recycled Electrons :)
Return to Top
---