On The Web Site:
---
Today's Weather
---
Community Access
Policia Preventiva
Todos Santos Police
612 145-1052
Commandante Navarro

Ministero Publico
State Police
612 145 0198
Commandante Erigoyen

Bomberos
Fire Department
Cel. 612-142-6387
Commandante Cadena


---






---
Baja Western Onion
Alan Thompson - Publisher
Debra Webster - Advertising
e-mail For General Feedback
---
---
News and Events, Questions and Answers
---
Final Dharma Talk of the Season - Dharma Talks offered by Robert Hall, Sundays, 10-11:30 a.m. at La Arca located on Calle Topete corner of Pilar. The talks are preceded by a period of guided meditation with instructions in the Vipassana tradition. Everyone is welcome. Select talks are also available online for listening from the blog site. Sunday, July 31, will be the last talk for the summer. Dharma talks will resume the first weekend in October. - Alvaro Colindres, eldharma [ - a t - ] mac.om, roberthalldharmatalks.wordpress.com/, 612-145-0676
Bookstore Changes Hands - After 14 1/2 years of owning El Tecolote Bookstore, I am retiring from this particular phase of my life. It has been a very rich and rewarding experience, and I thank all the people who came by to browse, chat, plan, bring in their products, and buy merchandise, and who in doing so made the bookstore such a comfortable, relaxing and inviting place to be. Kate Lewis, a book lover and businesswoman from San Jose del Cabo, has moved to Todos Santos to take the helm, along with her mother Jan Lewis, from Lopez Island in the state of Washington. These two warm and down-to-earth women have the energy and vision to move the bookstore to its next incarnation. You will still Cruz's familiar face behind the counter. I hope you will stop by to welcome and introduce yourselves to Kate and Jan (who will be arriving in October), and to begin this new venture with them. - Janet Howey, janethowey [ - a t - ] yahoo.com
La Paz Immigration Office Update - The Immigration Office will no longer be located on the Malecon. Starting next week, the office will be located on 5 de Febrero Blvd. between Forjadores Blvd and Durango St., near McDonald's. If you've dealt with Immigration you probably known that it's very hard to get things done; lately, the main reason why they've taken so long is that their computer system is down all the time. So if you're planning on applying for or renewing a visa I recommend you do it as soon as you arrive. In mid-August I will launch an informative website to help you understand local Immigration practices (see Misc. Sales and Services section below) - Francisco Gonzalez (Pancho) covertcode [ - a t - ] gmail.com, www.southernbajalegalservices.com, (612) 155-8421 , La Paz

Keys Found - Bunch of keys with blue tag found on the beach. - Anita Harris, anitaharris2009 [ - a t - ] gmail.com, 612-167-4935
Looking for Robert Pearsall - We have some mail from South Dakota for you that was inadvertantly put in our Mailboxes Etc. box in Cabo. - nancyserfas [ - a t - ] aol.com
---
Submit your News and Events, Questions and Answers articles here: http://www.bajawesternonion.com/submitad.asp
Return to Top
---
---
Featured Events This Week
---
Online Community Calendar - Just a reminder to anyone planning an event for the coming year to check the Online Community Calendar before choosing a date to see if something else is already planned. If everyone will use this resource, we can avoid conflicts. Check the Online Community Calendar here: www.bajawesternonion.com/community-calendar.asp -
---
Saturday, July 30
Conclusion of Bisbee Sport Fishing Tournament - 714.393.6107, info [ - a t - ] bisbees.com, www.bisbees.com, Hotel Buena Vista, Los Barriles
Sunday, July 31
Final Dharma Talk of the Season - By Robert Hall, tomorrow, 10-11:30 a.m. at La Arca located on Calle Topete corner of Pilar. Talks are preceded by a period of guided meditation with instructions in the Vipassana tradition. Everyone is welcome. Dharma talks will resume the first weekend in October.
- Alvaro Colindres, eldharma [ - a t - ] mac.om, roberthalldharmatalks.wordpress.com/, 612-145-0676

Organized Bike Ride - Through the streets of La Paz. Escorted by police vehicles that control motor vehicle traffic. Most likely will start near Soriana in a parking lot at a public building. For more info, contact Gerardo and Ana at the Cafe la Flor near the corner of Guadelupe Victoria and Salvatierra.
Wednesday, August 3
U.S. Consulate Meeting - At 10 a.m. and 2 p.m. The U.S. Consul Agent, Trina Brown, from Cabo San Lucas and representatives from the U.S. Consulate in Guadalajara will meet U.S. citizens to discuss various federal benefits. In the Vista Room at Marina de La Paz, La Paz. For info, call 624-143-3566 - yachtmanagement [ - a t - ] bluewaterketch.com, Baja California Sur
Saturday, Aug. 6 thru Sunday, Aug. 7
Probaja Desert Series 2011 - San José Short Course – Pista, San José del Cabo, www.probajaonline.com
---

---
New Community Events and Workshops Notification Page - You can submit event notices for The Community Calender or Workshops and Meetings pages. The Community Events calendar is limited to non-recurring community events (Sorry, no "Happy Hours," "Daily Specials," or other recurring business activities :). Submit your Community Events and Workshops notices here: http://www.bajawesternonion.com/submit-event.asp
Return to Top
---
---
Stepping Out - Food, Music and Entertainment
---
Buena Vida Pizzeria's New Dishes And Hours - Hey Everyone! I just wanted to remind you all of the new things that we are cooking up at Buena Vida Pizzeria. We are now offering:
Slow Roasted Baby Back Ribs w/Green beans and a cilantro potato salad.

Flank Steaks with Green Beans and roasted garlic potatoes.

Teriyaki Short Ribs with a Green Mango Salad

Barro de Mariscos which is the fresh seafood of the day cooked up a in a clay pot with butter and wine with lots of bolillo bread.
So things have been selling out fast but I will be sure to have an endless amount from now. Everything is reasonably priced and absolutely delicious. My Summer hours are FRI-MON 5-10p. For all of you coming from out of town. I am located on Calle Hildago and Militar (the same street as the CFE building). Todos Santos.

I am also offering a 10% discount for all Baja Claifornia Sur residents. - Jessie, Jessierutowski [ - a t - ] gmail.com, 612-151-1431, Baja California Sur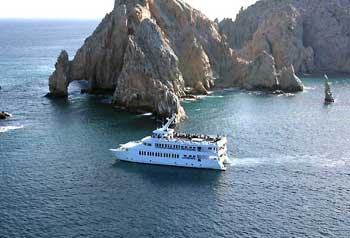 Caborey Dinner Cruise - With over 40 years offering tours in Mexico, Caborey has firmly established its reputation for quality, safety and fun. Reserving tours in advance through our website assures that you are purchasing tours from a reputable source and that the date and time of your reservation will be respected. Allow us the pleasure of providing these services for you.

Experience the natural wonder of Cabo San Lucas from aboard our luxurious 144' triple deck catamaran... From the moment you board the Caborey prepare yourself for an exhilarating experience. The majesty of the Land's End rock formations including Cabo's iconic "Arch" will spread out before you as the Caborey slips away from the marina and into Medano Bay. Live music and limitless cocktails accompany the breathtaking view from the upper deck of the Caborey as it follows its route along the tip of the Baja.

As the sun sinks into the horizon, tempt your palate with one of our 6 delectable entrees. Then as you take your last bite of scrumptious dessert, sit back and enjoy a Las Vegas-style show that will delight you with the sounds and rhythms of Latin America. - Caborey Cabo, reserv [ - a t - ] caborey.com, www.caborey.com, 143 8060, Cabo San Lucas
La Bodega De Todos Santos Summer Hours! - Hey you local Baja wine lovers! You can still get the best wine from Baja right here in Todos Santos. As you may have noticed, we've drastically changed our hours for the summer. We will now be open every Monday only from 5-7 p.m. However, if you have a special occasion and need quality wine, feel free to stop by Galería Indigo and ask Frieda Lamote and she will gladly escort you down the road to the shop for your purchase (2 bottles minimum please).

We have a summertime special for the month of August: 3 Del Viko for 900 pesos, one of Baja's truly great, structured ensembles from Dr. Victor Torres Alegre, a world renowned enologist! If you have questions, feel free to contact us. And we will be back with our regular hours and Monday Tastings beginning early November. Salud! - La Bodega labodegadetodossantos [ - a t - ] gmail.com, Baja California Sur
Zen Garden Cafe Will Close For The Summer - Thanks to everyone for making our first year a success. We'll be closing for a much-needed break during the summer and re-opening in October. See you all Zen! - Zen Garden Cafe, yanggum [ - a t - ] zengardencafe.com, www.zengardencafe.com, 612-145-1088, Todos Santos
---
Submit your Stepping Out - Food, Music and Entertainment announcements here: http://www.bajawesternonion.com/submitad.asp
Return to Top
---

---
Misc. Sales and Services Available/Wanted
---
Appliance Repair - I have a Sundanzer solar fridge that is on the fritz. It uses a Danfoss compressor. Does anyone know who can service these? - Jon Perkins, ravemind [ - a t - ] gmail.com, 612-141-7291, Elias Calles
Email Address Correction - Last week I ran an add for a Mity Lite 17' travel trailer for sale but posted an error in the email address for contact. - Wendy tropicalcasitas [ - a t - ] hotmail.com, 624-191-2831
Harmony Healing Arts Center - This November I will convert my home and office into a full time health/healing center with space for several practitioners: acupuncture, chiropractic, massage, talk therapy, reiki or other energy work, cranial-sacral, and more. The vision is to create an integrated alternative health care center where folks in BCS can access a variety of healing modalities in one location. Each practitioner will be an independent contractor – in other words, I am not offering employment, but simply a pleasant and nurturing space for healing work. The possibility exists, with client consent, for conferencing between practitioners.

If you have your working FM3 (or better) and are interested in having a space to work for as few as one day per week or as many as seven, contact me by email, and I will send you a more complete version of the vision. - Jane Sipe, L. Ac., jasi57 [ - a t - ] juno.com
For Sale: HP Photosmart 3300 All-in-One Printer - Print, Scan, Copy, Fax! Wireless connectivity. Excellent condition. Comes with installation CDs for both PC and Mac, extra ink cartridges (1 black, 2 blue, 2 pink) $75 or 900 pesos - Doug extranheros [ - a t - ] hotmail.com, 612-154-3393, Pescadero
Multiservicios Ryjos, Todos Santos - ofrece suministros de oficina y servicio de fotocopias, Internet y servicios informáticos. Ubicación: El Otro Lado, Calle Horizonte esq Nicolas Bravo, Colonia el Rio, frente a Café La Esquina, Todos Santos:
Papeleria - Venta de artículos escolares-oficina, Copias, Enmicados, Engargolados, Servicio de impresión negro y color. Copías CD/DVD.

Internet / Juegos - Servicio de mensajería instantánea, Skype, E-mail, descargas de musica y fotos, Xbox 360, servicio de Scanner. Wireless

WiFi / VoIP / Computadoras - Venta, instalacion y soporte de redes cableadas e inalámbricas, Voice Over IP (Vonage, Net2phone), computadoras.
Horarios: Lunes, Martes, Jueves, Viernes: 8:00 A.M - 9:30 P.M., Miercoles Y Sabados: 8.00 A.M - 4:00 P.M. Domingo: Cerrado
Ryjos Multi-services, Todos Santos - offering office supplies and copy services, internet and computer services. Location: "El Otro Lado, " Calle Horizonte at the corner of Nicolas Bravo, Colonia el Rio, in front of Café La Esquina, Todos Santos:
Stationary Store - Sales of School and office Supplies, Copies, Laminating, Binding, Black and While and Color Printing Service, Scanner service, CD/DVD Copies.

Internet / Games - Instant Messaging Service, Skype, E-mail, downloading music and photos, Xbox 360, Wireless Access

WiFi / VoIP / Computers - Sales, installation, service and support: wired and wireless networks, Voice Over IP (Vonage, Net2Phone), computers.
Hours: Monday, Tuesday, Thursday, Friday: 8 a.m. - 9:30 p.m., Wednesday and Saturday: 8 a.m. - 4 p.m. Sunday: Closed. Propietario/Owner: Josue Castillo Mayoral, Business Telephone: 612-178-0039, Cellular: 612-148-3786, jocama85 [ - a t - ] hotmail.com, Todos Santos
For Sale: Toyota Landcruiser FJ40 - Perfect offroad truck for Baja 4x4. Asking $9,400 USD. 1971, all original, only upgrades: 2.5 inch shackle lift Ranch 9000xl adjustable shocks 38/38 Weber Carb Just Line-X coated interior, and exterior. Which is same as Rhino Lining, just more heavy duty. 4x5 Cargo Rack on Roof, large front brush guard. New finish with 2 extra front mounted fog lights, Marine Grade. Sony Audio System & Speakers w/ Remote Control 5 Point Harness (Lap belt can be worn separate for ease of daily travel). Custom Roll Cage, Spare Tire Mount Truck runs 100% perfect. Everything works, daily driver, perfect for the beach or mountains, and all under the sun. If interested, please email for pictures and info. - Cameron ctorabi [ - a t - ] gmail.com, Todos Santos

Honda 3-wheeler 1985 $5,000p - Great for running around town! Just serviced and did maintnence so it's ready to go for summer! New battery, changed oil, etc. asking only $5,000 pesos, give me a call to check it out 612-312-0538. - Cameron, ctorabi [ - a t - ] gmail.com, 612-132-0538, Todos Santos
Need a Ride to or From the Airport? Or Someone to Assist You With Errands? - I am a young, bilingual Christian man and I can provide you with rides to or from the La Paz or San Jose Del Cabo airports. I can also help you with courier services, errands, or navigating the intricacies of dealing with Mexican businesses and the government; Car Registrations, TelCel and TelMex, CFE, Seguro Social, etc.

Reasonable Rates - Contact: Ernesto, Cel. 612-117-7497, ernie_net [ - a t - ] hotmail.com
Moving Service - Mini Storage - Looking for a reliable moving service company in Los Cabos? San Jose Storage offers moving services throughout the peninsula with our brand-new 18-ft moving truck complete with loading ramps, dolly's, tie straps, quilted moving blankets, plastic wrap, and cardboard boxes. Our trained movers have all the necessary training and expertise to ensure you goods arrive safely to their destination.

If you are remodeling your home or need some extra space, San Jose Storage also offers free pick-up for new clients renting a storage unit. Just call us and we will pick up your items at your house and bring them to the storage facility, it as simple as that! Call us today at 624-146-1390 for a quotation or visit www.sjstorage.com, info [ - a t - ] sjstorage.com. Our US Toll Free number is (855) SJS-Cabo - Nathan Visser, info [ - a t - ] sjstorage.com, www.sjstorage.com, US Toll Free (855) SJS-Cabo
Hughesnet Satellite Internet
Now, Connect to The Internet No Matter Where You Live:
Always-On Connection, Available Where DSL and Cellular Won't Reach
PC, Mac, Wireless Compatible
Multiple Computers Can Share the Same Internet Connection Full-Time
Vacation Holds Available on All Plans
Anti-Virus And Email Spam Filter
No Phone Line Needed, No Busy Signals, No Missed Calls
Professional Installation Available Anywhere in Southern BCS
Purchase Your System From Baja Satellite Before August 31 and Get:
1. Mail-In Rebate for $199.99 off Equipment Purchase! 1

0.74 Meter Dish with 1 Watt Transmitter - Only $299 US After Rebate!.
0.98 Meter Dish with 2 Watt Transmitter - Only $699 US After Rebate!

2. Mail-In Rebate for $20 off Your First Three Months of Monthly Service ($60.00 Value)! 2

| | | | |
| --- | --- | --- | --- |
| Data Plan | Download / Upload Speed3 | Daily Data Allowance4 | Monthly Service |
| Basic | 1.0 Mbps/200 Kbps | 200 MB Daily Download Allowance | $59.99 $39.99/mo. 1st 3 months! |
| Power 150 | 1.5 Mbps/200 Kbps | 300 MB Daily Download Allowance | $79.99 $59.99/mo. 1st 3 months! |
| Power 150+ | 1.5 Mbps/200 Kbps | 350 MB Daily Download Allowance | $89.99 $69.99/mo. 1st 3 months! |
Baja Satellite is an Authorized HughesNet Reseller. For more information Contact Us today: alan [ - a t - ] BajaSatellite.com, www.bajasatellite.com, (530) 903-4257 (From US), (01) 555 351 0882 (From Within Mexico), Baja California Sur
1 Prices shown are after $199 mail-in rebate, and do not include Mexican shipping, importation or installation. System must be purchased before August 31.
2 $20 off per month for 1st. three months, after $60 mail-in rebate. System must be purchased from Baja Satellite before August 31. All plans require 24-month contract.
3 Absolute maximum speeds stated by HughesNet. Actual speeds will be less, and speeds will vary throughout the day and week depending upon total number of HughesNet subscribers sharing your satellite channel.
4 If daily allowance is exceeded, speeds may be reduced for up to 24 hours.
Legal Translation/Immigration Services Offered - I am 27, born in Mexico City, but grew up in Orange County, CA, and in Baja. I am currently a part-time law student at the local Catholic University and a certified translator. My goal is to become a lawyer but for now I've been helping people with immigration visas and legal translation.

I can be contacted in a variety of ways: SouthernBajaLegalServices, "Efficient and Affordable Paperwork Support: Immigration - Real Estate Research - Legal Translation and more...". Mex Cell Phone: (612) 155-8421; From the US/CAN:(714) 983-8266; Email: info [ - a t - ] southernbajalegalservices.com; Website: www.southernbajalegalservices.com (Coming Soon); Skype & FB: covertcode [ - a t - ] gmail.com - Francisco Gonzalez (Pancho) covertcode [ - a t - ] gmail.com, www.southernbajalegalservices.com, 612-155-8421, La Paz

Truck For Sale - 1993 F-350 XLT dually truck, utility bed w/9 toolboxes and pipe rack, 2wd, V-8 460 c.i. gas motor, 3 spd w/od, AC (new compressor), dual gas tanks,4 door crew cab, 6 good matching tires, factory Alcoa aluminum rims, good condition overall,imported into Mexico and all legal, new battery,165,000 miles. $6,000 USD or best offer. - Randy Echter, rke1951 [ - a t - ] gmail.com, 612-154-0485, La Paz
Summer Ad Special! - Put your ad in front of over 3,100 Baja Western Onion subscribers in Four consecutive issues for only $10 dlls ($120 pesos). Get more coverage for your next Yard Sale, Vehicle, Misc. Wanted or For Sale ad.

For only $10 dlls US, we'll run your ad for a total of Four consecutive issues, allowing your ad to appear in each issue for two weeks. Also, we'll feature your ad within a red, highlighted box. This special offer applies only to text-based ads submitted by non-commercial, private parties, and is subject to our editorial policy. Sorry, this offer not available for display banner graphics ads, or ads for businesses, real estate or rentals available.
Payment: All Summer Special ads must be prepaid in advance of initial run date. You can make your payment online via PayPal athttps://www.paypal.com/cgi-bin/webscr?cmd=_xclick&business=advertising [ - a t - ] BajaWesternOnion.com, or call us at 001 530 903 4257 or 01 33 8421 1142 (From Mexico) to make payment directly by VISA, MasterCard, American Express or Discover Credit or Debit Card.
Free Ads: As always, you can place a Free text-based ad in the Baja Western Onion once every 14 days. Submit your Free Ad or Article here: www.bajawesternonion.com/submitad.asp. -
For more details on our advertising opportunities, please visit www.bajawesternonion.com/advertising.asp or send an Email to: advertising [ - a t - ] BajaWesternOnion.com
---
Submit your Misc. Sales and Services Available/Wanted articles here: http://www.bajawesternonion.com/submitad.asp
Return to Top
---

---
Real Estate, Rentals, and House Sitting - Available/Wanted
---
Unfurnished 2-Bedroom, 1-Bath House For Rent - Available for long-term rental, located across the avenue from Fidepaz Hospital in La Paz, 10 minutes from airport and downtown and the new Mega Comercial shopping center and Movie Teather. The house has a washer & dryer, refrigerator, stove, minisplit on master bedroom, A.C. system in living room. celing fans. Parking space for one car. For more information, please call or write me. - Claudia Beltran, claudiabeltranm [ - a t - ] gmail.com, 612-140-9194, La Paz
For Rent Near Vancouver B.C. - 1 bedroom apartment in N.Burnaby is available to share right away (1 person) and, while I am in La Paz for 3 months, it will be vacant for rental for 2. Fully furnished on bus and train line, well located Nr. Lougheed Mall. Excellent for English student or single working person. - Gillian Herbert, gillyndolly [ - a t - ] hotmail.com, 612-145-0359
Long-Term Rental in Los Barriles - 2-bedroom, 2-bath beachfront villa overlooking the Sea of Cortez. Swimming pool, WiFi, washer dryer, satellite TV, close to town, very private and secure. Incredible snorkling right out front. Available beginning Aug. 8. Just $1,200 per month plus utilities. Water is included. - Kimberly Ford, livethelifeinbaja [ - a t - ] gmail.com, www.vrbo.com # 108903, 624-132-2510 (cell) or 760-494-0188, Los Barriles
House Sitter - Retired banker living in San Diego is avalable to protect your home while you go visit the family back in the States/Canada. I will fly to Cabo rent a car and protect your home. I have been doing this since 1994. I know the people and the area. Working at Wells Fargo 23 years, you can trust me to only do the best. I can even pet sit along with watering the tomato's. Won't do the " The honey-do list" - Ted Lemanowicz, tlemanowic [ - a t - ] sbcglobal.net, 760-727-5063
Chili House For Sale And Rent - The Chili House is a 2 bed 2 bath 1500 sq ft home located in the Las Tunas/ Los Jardines area of Todos Santos with ocean and mountain views from every room and Mexican tiles and details throughout. Situated on an elevated ½ acre lot with patios, terraces, mature landscaping-palms, cactus, bougainvillea, giant birds of paradise and both city and agricultural water. Truly a gardener's paradise. For Sale by Owner. $269,000.

For more photos and information please visit www.bajawildheart.com Available for rent now through Oct 1st 2011. - Leslie Lambert, llambert [ - a t - ] sonic.net, 707 696 9064 503 954 3504, Todos Santos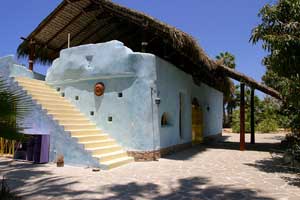 Todos Santos Beach House on a Tranquille Lush 5, 206.22 Sqmt Property - For Sale by Owner: - Two (2) separate driveway entries give the 5, 206.22 sq meter (1.25 acre) property privacy from both the front and back, giving flexibility to build additional homes or to split in the future. Soil on the property is rich organic black soil, ideal for other organic gardening.

* Property is an enclosed oasis and has unlimited access to farm water that nourishes the over 85 mature mango trees, 80 lush palm trees over 5 feet, passion fruit trees, citrus fruit trees and avocado trees, all of which give the property its cool shade that is coveted in the region and frequently not available on other properties of comparable or more value in the desert landscape.
* Property has power, water (both municipal and farm water), gas and Internet.
* A 6-minute walk takes you to the secluded beach, and a 5-minute drive finds you in the heart of TS.

If you have questions or would like to make an offer after viewing the property on YouTube (www.youtube.com/watch?v=krg9FEeiRtk), feel free to contact us. Save on the fee and make us a good offer. - Anh Walch, anhwalch [ - a t - ] yahoo.com, 212-692-0912, Todos Santos
For Rent - Quaint cottage on a lovely ranch in Pescadero: 1 Bedroom, furnished, utilities not included. Please, telephone calls only at 612-176-3119 (Pescadero). - Mariposa, mariposabcsmx [ - a t - ] live.com
---
Submit your Real Estate/Rentals/House Sitting/Property Management Services articles here: http://www.bajawesternonion.com/submitad.asp
Return to Top
---
Rides or Caravans Available/Wanted
Note: Ads will run for two weeks unless dated. Please list the date in the title, and specify which airport. Goes without saying, everyone shares expenses for beer, gas, food, etc

To remove your ad if you find a ride or caravan, let us know here: www.bajawesternonion.com/submitad.asp -
---
Need a Rider To the States - I need to drive to the States and want to leave around July 30 or so. Would like a rider to go with me to the San Diego area. Will be staying a couple weeks, then returning to La Paz. - Becky Andersen, Becky10449 [ - a t - ] yahoo.com, 612-105-1987
Companion Available - Companion available for the States or drive you car or truck North. - Jorge Pozo, jorge_lap222 [ - a t - ] hot mail.com, western onion, 612-118-7898, La Paz
North Then South After August 15 - I am flexible, will be heading North sometime around the middle to end of August with a F350 4 door truck and possibly with a large dual axle 23 foot enclosed trailer, or a small open 8 foot trailer. I can haul things and people both directions. Will be heading to San Diego, possibly LA and southern UT. And returning to baja in September. Have made the trip about 30 times. - Dean Devolpi, dean [ - a t - ] la-ventana.com, 612-114-0202, La Paz
---
Submit your Rides or Caravans Needed/Available articles here: http://www.bajawesternonion.com/submitad.asp
Return to Top
---
Pet Corner (Lost and Found pet articles will run for two weeks)
Let us know if you find or place your pet so we can remove your ad -
---
Still Looking For Jack ->>>> - Jack, the human-friendly, tannish/reddish, fixed male, non-cut eared pit has been missing since January. He was last seen in Rancho Nuevo wearing his black and silver collar. Please, any info is greatly appreciated. Thank you. - Todd, toddgerson [ - a t - ] ymail.com, 612-152-4494, Elias Calles
Free Tuxedo Kittens! - My rescue cat came with a surprise! And now I have 3 black and white kittens that need a home. They're very smart! - Nancy, pokeynan [ - a t - ] hotmail.com, 612-143-7963
<<<<- Dog Lost In Pescadero - A very friendly dog called Maya was lost in San Pedrito beach in Pescadero. It happened during fireworks on the beach on July 27th in the late evening. Unfortunately, she didn't have her collar with a tag on, only a white anti-flea collar. She looks like a pit bull-ridgeback mix, light brown color with a white spot on her chest and has a black muzzle. She is one of two dogs (sisters) who have never been separated before. We all miss her a lot. If you seen her or adopted her by mistake, please contact us as soon as possible. - Lee And Lesia lpc_loki [ - a t - ] yahoo.co.uk, 612-157-2533, Pescadero
Anyone Heading To Vancouver Or Portland? - A.L.M.A. desperately needs some help - if anyone is driving or flying Alaska Airlines to Portland or Vancouver, we need your help!! We have a couple of full grown dogs (not puppies) that have homes in waiting for them in Portland and Vancouver. The dogs have all their papers and health certificates and we can meet you at the airport or anywhere that is convenient for you. We will also have the new owners meet you at the airport or wherever is convenient for you. Please call or email Sheila or Janel at 624-137-7683 (Sheila's MX cell) or janelinmex [ - a t - ] yahoo.com. - Janel Faraci, www.almacares.com, Los Barriles
Puppy Needs a Home ->>>> - Small black puppy (female) with white underside between front paws needs a home. She has been hanging around my place for over a week and was getting very skinny 'til I started feeding her. She is very timid but looks in good health. I can not keep her and need to find her a home. Please help. - Dan Binetti, danbinetti [ - a t - ] yahoo.com, 044-612-11-70298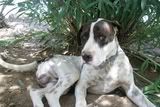 <<<<- Have You Lost This Dog? - A beautiful Pointer has appeared on our street corner in the last week and is clearly lost. (Please see photo.) He is mature, wearing a pale blue "Coastal" collar with no ID on it. He may be purebred Pointer, or a Boxer cross. He's being fed and watered where he is but he's distressed and frightened on the street, and is clearly a lost or stolen/abandoned pet. He's currently hanging out - not going too far from the water supply - on the corner of Calle Insurgentes and Agua Dulce, in La Posada colonia in La Paz (behind the VW agency, towards the water). He's very friendly, doesn't look like he's been on the street long, and is in great condition. It would be fab to find his owners - I imagine someone is missing him very much. - Penny Cottee, pennycottee [ - a t - ] ymail.com, La Paz
Impossible to Resist! - New arrivals at Kitty Heaven despite all of our efforts to spay and neuter (but without the help of the community, there would be even more!).

All colors, all very young and playful. For more information, call Angelique at 612-145-0250 or write her at BajaKitties [ - a t - ] Yahoo.com

Kitty Heaven is the only all-cat refuge in Baja California Sur. Visit us on the web athttp://bajarescue.org/#KittyHeaven. We survive via your kind donations. To send your support, please click the "Donate" button below:
5 Puppies Need 5 Homes - I found 5 black puppies dumped alongside a deserted dirt road, outside of Pescadero. All 5 needs a good home, and TLC. Please adopt one, or two, if you can. I can't keep them. Thank you. Please call 612-140-7923. - Mary donegalmoon [ - a t - ] gmail.com, Pescadero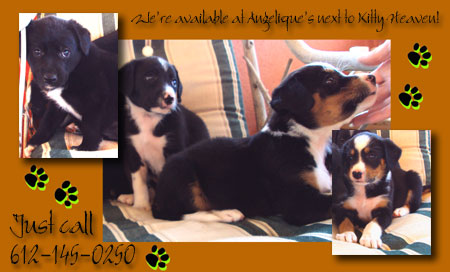 Three Dog Surprise Delivery -Three gorgeous puppies were dropped off at my house and there's no way I can keep them all.

The pups may be Australian Shepherd mix, though the biggest one (black & white in color) has fur more like a lab.

For more information, call me at 612-145-0250 or write me. - Angelique BajaKitties [ - a t - ] Yahoo.com
---
Submit your Pet Corner articles here: http://www.bajawesternonion.com/submitad.asp (and remember to Spay and Neuter your pets)
Return to Top
---
Quote of the Day: " Better to sleep with a sober cannibal than a drunken Christian. " ~ Herman Melville
---
Looking for the complete Community Events Calendar? Click Here!
---
Return to Top
---
---
Help Support The Baja Western Onion!

We can accept donations by Credit Card, PayPal, cash, check or direct deposit.

For more information, please visit our web site at http://www.BajaWesternOnion.com/donate.asp.
Copyright © 2006 - 2011. The Baja Western Onion. All Rights Reserved. Published Using 100% Recycled Electrons :)
Return to Top
---