On The Web Site:
---
Today's Weather
---
Community Access
Policia Preventiva
Todos Santos Police
612 145-1052
Commandante Navarro

Ministero Publico
State Police
612 145 0198
Commandante Erigoyen

Bomberos
Fire Department
Cel. 612-142-6387
Commandante Cadena


---






---
Baja Western Onion
Alan Thompson - Publisher
Debra Webster - Advertising
e-mail For General Feedback
---
---
News and Events, Questions and Answers
---
What If Local Students Had the Access to Better Internships? - I just met professor Jesús Zárate, the new Principal at the CECYT of Todos Santos. He expressed his concern about the future and aspirations of his students, and he showed a particular interest in expanding the reach of the existing High School Internship Program, currently known as "Prácticas Profesionales." He is of the mind that if young Todosanteños have more opportunities to develop their skills, greater social benefits will follow. He is willing to discuss this topic with managers and owners of small enterprises in Todos Santos; if you want to help or know more, give Professor Zárate a call (612-153-4751) or e-mail him (directorcecyt [ - a t - ] hotmail.com), he is really looking forward to get in touch with local businesses for the purpose of broadening the opportunities of local students. - Tlilcuauhtli telesantos [ - a t - ] cablemagico.com.mx

Good Samartan - Courtesy Baja Pony Express - As a full-timer down here, I have an anecdote that I do not think I could match up in the USA and I am sure we all have one. Time for me to thank this guy for this one.

Recently I was taking a friend to the Cabo airport from La Ventana and my car quit on me just past Los Barriles at Km 103.5. There was a business there (real-estate office Santa Amelia) so I asked if I could push my car into his lot. The owner, Martin Geraldo, said absolutely. A business real-estate finance associate of his, David Lucio, was there and saw my friend go to the side of the road to try to hitchhike to the airport. David, who I only met a minute ago, turned to me and said, "Why don't you take my car and take your friend to the airport? Just be back by 1 p.m. so I can pick up my daughter from school." And handed me his keys.

My friend made it to the airport with plenty of time to spare. I stopped La Rivera to find a mechanic on the way back and he determined he could not fix it so I tried to get my insurance to get a tow truck, but they left me stranded. So I hopped on the next bus back, and had time (two weeks) to negotiate a decent price for the tow because Martin was nice enough to tell me not to worry, that my car was fine and safe where it was. And it was.

I think this exemplifies what we see day-in and day-out in the locals in all of Mexico and why we all love the people here. So many thanks, Martin and David. - Dean (dean [ - a t - ] la-ventana.com) moderator [ - a t - ] bajawesternonion.com
Baja Message and News Forum - A Baja message and information forum for all of Baja is now available. - Don Humphrey, donhumphrey [ - a t - ] gmail.com, pub38.bravenet.com/forum/static/show.php?usernum=3260184674&frmid=44&msgid=0, Baja California Norte
Arm & Hammer Toothpaste - Anybody know where to buy Arm & Hammer brand toothpaste in the area? I used to buy it in Dax in La Paz, but they no longer carry it. - Dale Townsend, milagrodale [ - a t - ] gmail.com, 612- 141-0427
Mac OS X - 10.7 Lion Upgrade Problems - Courtesy Baja Pony Express - To all my Mac friends: Beware. If you are planning or thinking of upgrading to Lion, check again. Much of the software you use is not supported. Specifically Quicken 2007. Also other compatibility issues, so check before you upgrade. I did not and am paying the price. Lots of my stuff does not work. Martha - moderator [ - a t - ] bajawesternonion.com, Baja California Sur
Skycasters Satellite Internet Service Termination In BCS - If you are subscribed to Skycasters Satellite Internet service in Southern Baja, Skycasters announced Friday that next Tuesday, July 26, they will terminate their satellite internet service on satellite T14 at 63° West at 2PM. T14 will be replaced by T14R, which will have no coverage in Southern Baja.

If your satellite Internet system is currently commissioned on T14, you will lose service after this date. In a letter Skycasters sent to its BCS customers this last Friday, they stated they will be shifting their Mexican service from T14 to Amazonas2 at 61deg; West. However, this satellite has very little coverage in Baja and no coverage south of La Paz. I've posted a signal map for this satellite here: http:www.bajasatellite.com/images/amazonas2.jpg

Please contact me if you need more information about this issue. - Alan Thompson, Baja Satellite, alan [ - a t - ] BajaSatellite.com, (530) 903-4257/(01) 555 351 0882, Baja California Sur
Reef is Home! - Seven and a half months missing but home safe now thanks to Becky Deans! Becky Deans (Dr. Mark the Chiropractor's better half) called and emailed me Tuesday, July 19, that Reef was at the "Osprey" house at San Pedrito. Another friend, also named Mark, who is staying there had found her on the beach looking pretty bad with sores and really, really thin. He fed her and took her to the vet and was taking great care of her. It appears as though someone bred her for pups and then let her go. I want to publicly thank both Becky Deans and Mark at the Osprey for their help. Just goes to show that there are some really great people out there who are still willing to help their neighbors and friends, and the world is a better place for people like them! Reef and I both say, "Thank you!" from the heart. - Fidnick Steve, Cabofiddy [ - a t - ] yahoo.com, 612-143-2179, Pescadero
Editor's Note: See Baja Western Onion From January 12: http://www.bajawesternonion.com/issues/110112.asp#6 -
---
Submit your News and Events, Questions and Answers articles here: http://www.bajawesternonion.com/submitarticle.asp
Return to Top
---
---
Featured Events This Week
---
Monday, July 25
Festival Of Saint James In Cabo San Lucas - Downtown Cabo San Lucas. Parades begin at 2pm followed by closed shops and street parties, and a re-enactment of battlefield skirmishes at the town square near dusk. -
Tuesday, July 26 thru Saturday, July 30
Bisbee Sport Fishing Tournament - 714.393.6107, info [ - a t - ] bisbees.com, www.bisbees.com, Hotel Buena Vista, Los Barriles
---

---
New Community Events and Workshops Notification Page - You can submit event notices for The Community Calender or Workshops and Meetings pages. The Community Events calendar is limited to non-recurring community events (Sorry, no "Happy Hours," "Daily Specials," or other recurring business activities :). Submit your Community Events and Workshops notices here: http://www.bajawesternonion.com/SubmitEvent.asp
Return to Top
---
---
Stepping Out - Food, Music and Entertainment
---

Buena Vida Pizzeria's New Dishes And Hours - Hey Everyone! I just wanted to remind you all of the new things that we are cooking up at Buena Vida Pizzeria. We are now offering:
Slow Roasted Baby Back Ribs w/Green beans and a cilantro potato salad.

Flank Steaks with Green Beans and roasted garlic potatoes.

Teriyaki Short Ribs with a Green Mango Salad

Barro de Mariscos which is the fresh seafood of the day cooked up a in a clay pot with butter and wine with lots of bolillo bread.
So things have been selling out fast but I will be sure to have an endless amount from now. Everything is reasonably priced and absolutely delicious. My Summer hours are FRI-MON 5-10p. For all of you coming from out of town. I am located on Calle Hildago and Militar (the same street as the CFE building). Todos Santos.

I am also offering a 10% discount for all Baja Claifornia Sur residents. - Jessie, Jessierutowski [ - a t - ] gmail.com, 612-151-1431, Baja California Sur
And Then There Was Nun - will be Blue Moon's next enthralling theatrical production. A comedy who-dun-it with some favourite old movie icons as the characters: ie Joan Crawford, Bette Davis, Kathryn Hepburn, Mae West, Tallulah Bankhead, Viviean Leigh, Judy Garland, Gloria Swanson, Mammy (from Gone with the Wind) Marilyn Monroe and Alfred Hitchcock. If you would like to get involved either acting (and yes, men can play these parts) or behind the scenes, contact us at - bluemooninbaja [ - a t - ] yahoo.com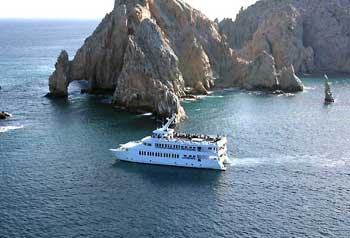 Caborey Dinner Cruise - With over 40 years offering tours in Mexico, Caborey has firmly established its reputation for quality, safety and fun. Reserving tours in advance through our website assures that you are purchasing tours from a reputable source and that the date and time of your reservation will be respected. Allow us the pleasure of providing these services for you.

Experience the natural wonder of Cabo San Lucas from aboard our luxurious 144' triple deck catamaran... From the moment you board the Caborey prepare yourself for an exhilarating experience. The majesty of the Land's End rock formations including Cabo's iconic "Arch" will spread out before you as the Caborey slips away from the marina and into Medano Bay. Live music and limitless cocktails accompany the breathtaking view from the upper deck of the Caborey as it follows its route along the tip of the Baja.

As the sun sinks into the horizon, tempt your palate with one of our 6 delectable entrees. Then as you take your last bite of scrumptious dessert, sit back and enjoy a Las Vegas-style show that will delight you with the sounds and rhythms of Latin America. - Caborey Cabo, reserv [ - a t - ] caborey.com, www.caborey.com, 143 8060, Cabo San Lucas

Zen Garden Cafe - We have a fabulous Chef from a 5-star restaurant in Cabo. He's one of the best Chefs I've ever worked with, and can prepare exotic Thai, modern Japanese, Chinese, and fresh Vietnamese. You can read our reviews online at: tripadvisor.com/Restaurant_Review-g150777-d1908070-Reviews-Zen_Garden_Cafe-Todos_Santos.

We serve organic dishes upon request and vegetarians will love our menu. Our Chef makes the best Homemade Dumplings anywhere. Please come in and try our delicious food and excellent prices, in a beautiful clean environment, prepared with Zen Garden's love and care. Just so you know, we have specials daily, and watch for our special food tastings in the future!

Lunch and Dinner 12-9 p.m., Closed Tuesdays. We'll be open all summer long, except closed for September, re-opening October 1st. So you'll have a place to enjoy Asian fusion in Todos Santos! - Zen Garden Cafe, yanggum [ - a t - ] zengardencafe.com, www.zengardencafe.com, 612-145-1088, Todos Santos
---
Submit your Stepping Out - Food, Music and Entertainment announcements here: http://www.bajawesternonion.com/submitarticle.asp
Return to Top
---

---
Misc. Sales and Services Available/Wanted
---
Cement Mixer - Brand New - I have a brand-new concrete mixer that was going to be used this summer, but I have changed my mind on the project. Has a plastic durable drum that you can not find down here. Also has solid, "no" flat tires. I bought it at Home Depot in the USA. It is now assembled and ready to go. The Kushlan Model WSB 1/2HP Electric Concrete Mixer features a 1/2 HP single-phase motor, steel blades, foam-filled pneumatic tires and a sturdy polyethylene drum that turns at 31 rpm and is capable of holding two, 80-pound bags of premixed concrete. See picture and more details on craigslist.
- Dean Devolpi, dean [ - a t - ] la-ventana.com , bajasur.es.craigslist.com.mx/for/2505862111.html, 612-114-0202, La Paz
Wanted: Satellite Dish - I am looking for a used dish for Dish Network TV. No LNB needed, just the dish. Please call 612-142-1998 - Dave, theranchkidz [ - a t - ] yahoo.com, 612-142-1998
Panga With Trailer For Sale - For Sale By Owner - "Captain Morgan II," a 23-foot Van Diaz centre console panga with trailer. Features 115 hp 4-stroke Yamaha outboard. Manufactured in 2008 - like new! Mexican Registration. Also features an onboard Furuno GPS Unit, bait tank, outriggers, retractable bimini top, built-in-bow toilet, and VHF radio w/antenna. Asking $25,000 US or best offer. - Dax Morgan, ssmorgan5 [ - a t - ] aol.com, 612-140-3070, La Paz
Multiservicios Ryjos, Todos Santos - ofrece suministros de oficina y servicio de fotocopias, Internet y servicios informáticos. Ubicación: El Otro Lado, Calle Horizonte esq Nicolas Bravo, Colonia el Rio, frente a Café La Esquina, Todos Santos:
Papeleria - Venta de artículos escolares-oficina, Copias, Enmicados, Engargolados, Servicio de impresión negro y color. Copías CD/DVD.

Internet / Juegos - Servicio de mensajería instantánea, Skype, E-mail, descargas de musica y fotos, Xbox 360, servicio de Scanner. Wireless

WiFi / VoIP / Computadoras - Venta, instalacion y soporte de redes cableadas e inalámbricas, Voice Over IP (Vonage, Net2phone), computadoras.
Horarios: Lunes, Martes, Jueves, Viernes: 8:00 A.M - 9:30 P.M., Miercoles Y Sabados: 8.00 A.M - 4:00 P.M. Domingo: Cerrado
Ryjos Multi-services, Todos Santos - offering office supplies and copy services, internet and computer services. Location: "El Otro Lado, " Calle Horizonte at the corner of Nicolas Bravo, Colonia el Rio, in front of Café La Esquina, Todos Santos:
Stationary Store - Sales of School and office Supplies, Copies, Laminating, Binding, Black and While and Color Printing Service, Scanner service, CD/DVD Copies.

Internet / Games - Instant Messaging Service, Skype, E-mail, downloading music and photos, Xbox 360, Wireless Access

WiFi / VoIP / Computers - Sales, installation, service and support: wired and wireless networks, Voice Over IP (Vonage, Net2Phone), computers.
Hours: Monday, Tuesday, Thursday, Friday: 8 a.m. - 9:30 p.m., Wednesday and Saturday: 8 a.m. - 4 p.m. Sunday: Closed. Propietario/Owner: Josue Castillo Mayoral, Business Telephone: 612-178-0039, Cellular: 612-148-3786, jocama85 [ - a t - ] hotmail.com, Todos Santos

Need a Ride to or From the Airport? Or Someone to Assist You With Errands? - I am a young, bilingual Christian man and I can provide you with rides to or from the La Paz or San Jose Del Cabo airports. I can also help you with courier services, errands, or navigating the intricacies of dealing with Mexican businesses and the government; Car Registrations, TelCel and TelMex, CFE, Seguro Social, etc.

Reasonable Rates - Contact: Ernesto, Cel. 612-117-7497, ernie_net [ - a t - ] hotmail.com
Hughesnet Satellite Internet
Now, Connect to The Internet No Matter Where You Live:
Always-On Connection, Available Where DSL and Cellular Won't Reach
PC, Mac, Wireless Compatible
Multiple Computers Can Share the Same Internet Connection Full-Time
Vacation Holds Available on All Plans
Anti-Virus And Email Spam Filter
No Phone Line Needed, No Busy Signals, No Missed Calls
Professional Installation Available Anywhere in Southern BCS
Purchase Your System From Baja Satellite Before August 31 and Get:
1. Mail-In Rebate for $199.99 off Equipment Purchase! 1

0.74 Meter Dish with 1 Watt Transmitter - Only $299 US After Rebate!.
0.98 Meter Dish with 2 Watt Transmitter - Only $699 US After Rebate!

2. Mail-In Rebate for $20 off Your First Three Months of Monthly Service ($60.00 Value)! 2

| | | | |
| --- | --- | --- | --- |
| Data Plan | Download / Upload Speed3 | Daily Data Allowance4 | Monthly Service |
| Basic | 1.0 Mbps/200 Kbps | 200 MB Daily Download Allowance | $59.99 $39.99/mo. 1st 3 months! |
| Power 150 | 1.5 Mbps/200 Kbps | 300 MB Daily Download Allowance | $79.99 $59.99/mo. 1st 3 months! |
| Power 150+ | 1.5 Mbps/200 Kbps | 350 MB Daily Download Allowance | $89.99 $69.99/mo. 1st 3 months! |
Baja Satellite is an Authorized HughesNet Reseller. For more information Contact Us today: alan [ - a t - ] BajaSatellite.com, www.bajasatellite.com, (530) 903-4257 (From US), (01) 555 351 0882 (From Within Mexico), Baja California Sur
1 Prices shown are after $199 mail-in rebate, and do not include Mexican shipping, importation or installation. System must be purchased before August 31.
2 $20 off per month for 1st. three months, after $60 mail-in rebate. System must be purchased from Baja Satellite before August 31. All plans require 24-month contract.
3 Absolute maximum speeds stated by HughesNet. Actual speeds will be less, and speeds will vary throughout the day and week depending upon total number of HughesNet subscribers sharing your satellite channel.
4 If daily allowance is exceeded, speeds may be reduced for up to 24 hours.

Summer Ad Special! - Put your ad in front of over 3, 100 Baja Western Onion subscribers in Four consecutive issues for only $10 dlls ($120 pesos). Get more coverage for your next Yard Sale, Vehicle, Misc. Wanted or For Sale ad.

For only $10 dlls US, we'll run your ad for a total of Four consecutive issues, allowing your ad to appear in each issue for two weeks. Also, we'll feature your ad within a red, highlighted box. This special offer applies only to text-based ads submitted by non-commercial, private parties, and is subject to our editorial policy. Sorry, this offer not available for display banner graphics ads, or ads for businesses, real estate or rentals available.
Payment: All Summer Special ads must be prepaid in advance of initial run date. You can make your payment online via PayPal athttps://www.paypal.com/cgi-bin/webscr?cmd=_xclick&business=advertising [ - a t - ] BajaWesternOnion.com, or call us at 001 530 903 4257 or 01 33 8421 1142 (From Mexico) to make payment directly by VISA, MasterCard, American Express or Discover Credit or Debit Card.
Free Ads: As always, you can place a Free text-based ad in the Baja Western Onion once every 14 days. Submit your Free Ad or Article here: www.bajawesternonion.com/submitarticle.asp. -
For more details on our advertising opportunities, please visit www.bajawesternonion.com/advertising.asp or send an Email to: advertising [ - a t - ] BajaWesternOnion.com
---
Submit your Misc. Sales and Services Available/Wanted articles here: http://www.bajawesternonion.com/submitarticle.asp
Return to Top
---

---
Real Estate, Rentals, and House Sitting - Available/Wanted
---
Lot For Sale - This lot is at the west end of Las Tunas in Todos Santos. It is one block away from the beach. There is both water and power at the street. Measures 1540 m/2. Asking $65,000 USD - lowerbaja [ - a t - ] yahoo.com, 612-161-4728, Todos Santos
Lot For Sale in La Paz - Incredible Views! - For Sale by Owner: 287 m2 residential lot in beautiful La Paz. Clear Title. Includes documents and approved plans for custom, multi-story home with 3-car garage. Located in the tranquil community of Palmira Bellaterra in Lomas del Palmira. Minutes away from downtown with easy access to the Malecón. Breathtaking views of the city and bay! A million-dollar opportunity for only $100,000 USD. Photos and more available upon request. - Dax Morgan, ssmorgan5 [ - a t - ] aol.com, 612-140-3070, La Paz
Chili House For Sale And Rent - The Chili House is a 2 bed 2 bath 1500 sq ft home located in the Las Tunas/ Los Jardines area of Todos Santos with ocean and mountain views from every room and Mexican tiles and details throughout. Situated on an elevated ½ acre lot with patios, terraces, mature landscaping-palms, cactus, bougainvillea, giant birds of paradise and both city and agricultural water. Truly a gardener's paradise. For Sale by Owner. $269,000.

For more photos and information please visit www.bajawildheart.com Available for rent now through Oct 1st 2011. - Leslie Lambert, llambert [ - a t - ] sonic.net, 707 696 9064 503 954 3504, Todos Santos
Beautiful Home In Cabo - For Sale By Owner: Never-lived-in home in Cabo San Lucas. Located in the private gated community of Paraiso Iguana. Includes underground backup cistern and custom-built balcony. Minutes away from downtown Cabo with easy access to the new Todos Santos highway. Offers views of both the Sea of Cortés and Pacific Ocean. 2 bedroom, 2 bath, approx. 1,000 sq. feet. Huge Rental Income Potential. Price Reduced - $85,000 USD OBO - Dax Morgan, ssmorgan5 [ - a t - ] aol.com, (612) 140 3070, La Paz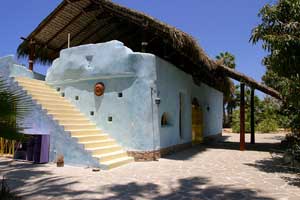 Todos Santos Beach House on a Tranquille Lush 5, 206.22 Sqmt Property - For Sale by Owner: - Two (2) separate driveway entries give the 5, 206.22 sq meter (1.25 acre) property privacy from both the front and back, giving flexibility to build additional homes or to split in the future. Soil on the property is rich organic black soil, ideal for other organic gardening.

* Property is an enclosed oasis and has unlimited access to farm water that nourishes the over 85 mature mango trees, 80 lush palm trees over 5 feet, passion fruit trees, citrus fruit trees and avocado trees, all of which give the property its cool shade that is coveted in the region and frequently not available on other properties of comparable or more value in the desert landscape.
* Property has power, water (both municipal and farm water), gas and Internet.
* A 6-minute walk takes you to the secluded beach, and a 5-minute drive finds you in the heart of TS.

If you have questions or would like to make an offer after viewing the property on YouTube (www.youtube.com/watch?v=krg9FEeiRtk), feel free to contact us. Save on the fee and make us a good offer. - Anh Walch, anhwalch [ - a t - ] yahoo.com, 212-692-0912, Todos Santos
For Rent - Quaint cottage on a lovely ranch in Pescadero: 1 Bedroom, furnished, utilities not included. Please, telephone calls only at 612-176-3119 (Pescadero). - Mariposa, mariposabcsmx [ - a t - ] live.com
---
Submit your Real Estate/Rentals/House Sitting/Property Management Services articles here: http://www.bajawesternonion.com/submitarticle.asp
Return to Top
---
Rides or Caravans Available/Wanted
Note: Ads will run for two weeks unless dated. Please list the date in the title, and specify which airport. Goes without saying, everyone shares expenses for beer, gas, food, etc

To remove your ad if you find a ride or caravan, let us know here: www.bajawesternonion.com/submitarticle.asp -
---
Need Ride to Airport - Thursday, July 28 - Need to be at SJD by 12 noon. Gladly will pay for gas. I live in Las Tunas. - Carol, cvsbiz [ - a t - ] gmail.com, Todos Santos
Ride Needed to San Diego before Aug. 1 - Need ride to San Diego before Aug. 1 or will drive your vehicle up the Baja. Call 624-148-6661 or 624-355-8134 - Leann Craggs, cabobcraggs [ - a t - ] gmail.com, 624-148-6661
Companion for the States or Drive Your Car or Truck North - Hi, my name is Jorge. I was born in La Paz and have my identification card from the States (part of my education was at UC Berkeley). I have driven the Baja 50 times. I am 49 years old and have driven in the States. If you need to take your car to San Diego, I can do it for you for no charge. Or, if you need company, I will be glad to be your companion and I can help pay for gas. Ready to leave the first week of August as a companion to the States both ways. Please call me on my cell, 612-118-7898 - jorge_lap222 [ - a t - ] hotmail.com
North Then South After August 15 - I am flexible, will be heading North sometime around the middle to end of August with a F350 4 door truck and possibly with a large dual axle 23 foot enclosed trailer, or a small open 8 foot trailer. I can haul things and people both directions. Will be heading to San Diego, possibly LA and southern UT. And returning to baja in September. Have made the trip about 30 times. - Dean Devolpi, dean [ - a t - ] la-ventana.com, 612-114-0202, La Paz
---
Submit your Rides or Caravans Needed/Available articles here: http://www.bajawesternonion.com/submitarticle.asp
Return to Top
---
Pet Corner (Lost and Found pet articles will run for two weeks)
Let us know if you find or place your pet so we can remove your ad -
---
Puppy Needs a Home - Small black puppy (female) with white underside between front paws needs a home. She has been hanging around my place for over a week and was getting very skinny 'til I started feeding her. She is very timid but looks in good health. I can not keep her and need to find her a home. Please help. - Dan Binetti, danbinetti [ - a t - ] yahoo.com, 044-612-11-70298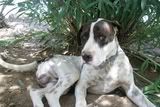 Have You Lost This Dog? - A beautiful Pointer has appeared on our street corner in the last week and is clearly lost. (Please see photo.) He is mature, wearing a pale blue "Coastal" collar with no ID on it. He may be purebred Pointer, or a Boxer cross. He's being fed and watered where he is but he's distressed and frightened on the street, and is clearly a lost or stolen/abandoned pet. He's currently hanging out - not going too far from the water supply - on the corner of Calle Insurgentes and Agua Dulce, in La Posada colonia in La Paz (behind the VW agency, towards the water). He's very friendly, doesn't look like he's been on the street long, and is in great condition. It would be fab to find his owners - I imagine someone is missing him very much. - Penny Cottee, pennycottee [ - a t - ] ymail.com, La Paz
Free Tuxedo Kittens! - My rescue cat came with a surprise! And now I have 3 black and white kittens that need a home. They're very smart! - Nancy, pokeynan [ - a t - ] hotmail.com, 612-143-7963
Impossible to Resist! - New arrivals at Kitty Heaven despite all of our efforts to spay and neuter (but without the help of the community, there would be even more!).

All colors, all very young and playful. For more information, call Angelique at 612-145-0250 or write her at BajaKitties [ - a t - ] Yahoo.com

Kitty Heaven is the only all-cat refuge in Baja California Sur. Visit us on the web athttp://bajarescue.org/#KittyHeaven. We survive via your kind donations. To send your support, please click the "Donate" button below:
Found Yellow Lab Near La Pastora - A beautiful male yellow lab with Vison Designs multi-colored striped collar (no tags) walked onto our property on Saturday. He is mid-size and has not been fixed. He looks very healthy, taken care of, and his family must miss him a lot! Please contact us soon to come pick him up. - Jessica & Matt Canepa, jessica [ - a t - ] villasantacruzbaja.com, 612-143-9230, Todos Santos.
Anyone Heading To Vancouver Or Portland? - A.L.M.A. desperately needs some help - if anyone is driving or flying Alaska Airlines to Portland or Vancouver, we need your help!! We have a couple of full grown dogs (not puppies) that have homes in waiting for them in Portland and Vancouver. The dogs have all their papers and health certificates and we can meet you at the airport or anywhere that is convenient for you. We will also have the new owners meet you at the airport or wherever is convenient for you. Please call or email Sheila or Janel at 624-137-7683 (Sheila's MX cell) or janelinmex [ - a t - ] yahoo.com. - Janel Faraci, www.almacares.com, Los Barriles
5 Puppies Need 5 Homes - I found 5 black puppies dumped alongside a deserted dirt road, outside of Pescadero. All 5 needs a good home, and TLC. Please adopt one, or two, if you can. I can't keep them. Thank you. Please call 612-140-7923. - Mary donegalmoon [ - a t - ] gmail.com, Pescadero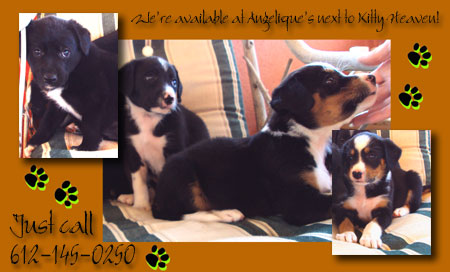 Three Dog Surprise Delivery -Three gorgeous puppies were dropped off at my house and there's no way I can keep them all.

The pups may be Australian Shepherd mix, though the biggest one (black & white in color) has fur more like a lab.

For more information, call me at 612-145-0250 or write me. - Angelique BajaKitties [ - a t - ] Yahoo.com
Hey, We Need A Home! - Good luck kittens 10 weeks old with shiny coats and fabulous personalities. Up to date vaccinations. We are 1 brother and 3 sisters. Very loving and playful. We love anything that moves. People and dogs are okay too. Please come visit and take us home with you! Call 612-145-0857 and ask for Jaime or Deb - Jaime Wood, deborahhorn [ - a t - ] hotmail.com, 612-132-8893, Todos Santos
Foster Homes Needed For Two Grown Dogs! - A.L.M.A. is short on fosters for the summer. We have two Beautiful grown dogs - one large and one small that need foster homes until we can get them to Vancouver or Portland. Hopefully that will be soon, but in the meantime, they need some love from a good home. Please call or email Sheila or Janel at 624-137-7683 (Sheila's MX cell) or janelinmex [ - a t - ] yahoo.com. - Janel Faraci, www.almacares.com, Los Barriles
---
Submit your Pet Corner articles here: http://www.bajawesternonion.com/submitarticle.asp (and remember to Spay and Neuter your pets)
Return to Top
---
Quote of the Day: " We must be willing to get rid of the life we've planned, so as to have the life that is waiting for us. The old skin has to be shed before the new one can come. " ~ Joseph Campbell
---
Looking for the complete Community Events Calendar? Click Here!
---
Return to Top
---
---
Help Support The Baja Western Onion!

We can accept donations by Credit Card, PayPal, cash, check or direct deposit.

For more information, please visit our web site at http://www.BajaWesternOnion.com/donate.asp.
Copyright © 2006 - 2011. The Baja Western Onion. All Rights Reserved. Published Using 100% Recycled Electrons :)
Return to Top
---