On The Web Site:
---
Today's Weather
---
Community Access
Policia Preventiva
Todos Santos Police
612 145-1052
Commandante Navarro

Ministero Publico
State Police
612 145 0198
Commandante Erigoyen

Bomberos
Fire Department
Cel. 612-142-6387
Commandante Cadena


---






---
Baja Western Onion
Alan Thompson - Publisher
Debra Webster - Advertising
e-mail For General Feedback
---
---
News and Events, Questions and Answers
---
Hurricane Dora - First Major Hurricane Of The 2011 Season - National Hurricane Center Miami Fl. 5:00 AM PDT Wed Jul 20 2011: The center of hurricane Dora was located near latitude 14.4 north...longitude 102.3 west. Dora is moving toward the west-northwest near 18 mph...30 km/h. A turn toward the northwest and a gradual decrease in forward are expected over the next 48 hours. On the forecast track, the center of Dora is expected to move nearly parallel to the coast of southwestern Mexico over the next couple of days. Dora could also threaten the southern Baja California peninsula in 60 to 72 hours.

Maximum sustained winds have increased to near 90 mph...140 km/h. with higher gusts. Dora is a category one hurricane on the Saffir-Simpson hurricane wind scale. Additional strengthening is forecast during the next 48 hours, and Dora could become a major hurricane by late tonight.

Hurricane force winds extend outward up to 35 miles / 55 km. from the center, and tropical storm force winds extend outward up to 140 miles / 220 km.

NOAA's Climate Prediction Center is predicting a below-normal hurricane season for the Eastern Pacific in 2011, with 9 to 15 named storms, five to eight becoming hurricanes, and one to three expected to become a major hurricane (category 3 or higher). An average Eastern Pacific hurricane season will have 15 to 16 named storms, with eight to nine becoming hurricanes and four becoming major hurricanes. The Eastern Pacific hurricane season runs from May 15 through November 30, with peak activity from July through September. Read the complete NOAA: 2011 Eastern Pacific Hurricane Season Outlook here: www.cpc.ncep.noaa.gov/products/Epac_hurr/Epac_hurricane.html -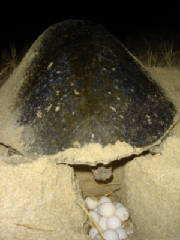 Olive Ridley Nesting Season - Olive Ridley Sea Turtles nest on the shores of Todos Santos every year beginning in July. They lay between 80 and 120 eggs per nest between the high-tide line and the dunes. Here in Todos, the major threat to these sea turtle eggs is coyote depredation, harvest by humans, and vehicular traffic on the beach. To protect the eggs from these threats, nests are relocated to an open-air corral for their 45-day incubation period. Join us this summer for this amazing conservation event. Contact us to plan your family camp-out, organize a school field trip or create a group conservation activity. - Tortugueros Las Playitas, tortugueroslasplayitas [ - a t - ] gmail.com, www.todostortugueros.org, 145-0353, Todos Santos
Pescadero Community - We are creating a Directory of Services related to Health, Security, Comunications, Public and Cultural Services, and Tourism (among others). Our goal is to provide the decision makers of the Municipio de La Paz an overview of the different talents willing to participate in the creation of a better Pescadero. We are scheduled to meet with seven directors on their areas of the new Esthela Ponce administration and we want to give them options so they can see WE want a better place to live, and we are ready to help and work for it. If you are now or have been involved in a profession related to these topics and are interested and willing to be in this directory, please send me your name, field of interest and, if possible, a short (three-line) biography. - Hesed Najera, hesedn [ - a t - ] hotmail.com, 612-151-2514
Volleyball Tournament in Pescadero - Carnitas "Puro" Michoacan (taco stand at "T" entrance to Pescadero and newly opened next to Shut-up Franks in Todos) came up with this idea and will put up tournament prize money. There is a volleyball net available for the Centro Parque in Pescadero where practices can be scheduled and the tournament could be held. If there is enough interest, a donation fund could be collected to provide a volleyball to each team who enters--a team signup being required for six players and two alternates. Volleyballs are about 100-150 pesos each and helps support of our local sporting goods/electronics store in Pescadero central, "Yovani."

We hope for a Summer Tourney if there is enough interest while kids are out of school. Perhaps mixed teams adults and kids, adults only and kids only. A Winter Tourney could also be a real possibility. This is another great opportunity to integrate into our community. If you have interest in forming a team or possess an individual interest to join a team, are interested in helping coordinate and determine the grounds rules, or would like to provide funds to purchase volleyballs or help sponsor any type of event-related activity behind the scenes or during the tournament, contact - Pescadero Activites, southbeachcom2010 [ - a t - ] yahoo.com, Pescadero
Eckhart Tolle, "A New Earth," Discussion Group - Thursday, July 21, 11 a.m. at the Baja Bean in Pescadero. Anyone interested in discussing or learning more about Eckhart Tolle's book, "A New Earth," is invited to come join other like -minded people. Extra copies of the book will be available to borrow if you don't have your own. - bajabeck [ - a t - ] gmail.com
American Bed Needed - Anyone know if there's a place in La Paz or Cabo to buy a new, queen size, American style bed? We'll need the box spring, mattress and frame with delivery to Pescadero. - Jolyn Wells-moran, jwmcounseling [ - a t - ] yahoo.com
Correction - The Festival of St. James in Cabo San Lucas - July 25 is a Monday, not Saturday as previously reprinted. -

---
Submit your News and Events, Questions and Answers articles here: http://www.bajawesternonion.com/submitarticle.asp
Return to Top
---
---
Featured Events This Week
---
Thursday, July 21
Eckhart Tolle, "A New Earth," Discussion Group - 11 a.m. at the Baja Bean in Pescadero. Extra copies available. - bajabeck [ - a t - ] gmail.com
Monday, July 25
Festival Of Saint James In Cabo San Lucas - Downtown Cabo San Lucas. Parades begin at 2pm followed by closed shops and street parties, and a re-enactment of battlefield skirmishes at the town square near dusk. -
Tuesday, July 26 thru Saturday, July 30
Bisbee Sport Fishing Tournament - 714.393.6107, info [ - a t - ] bisbees.com, www.bisbees.com, Hotel Buena Vista, Los Barriles
---

---
New Community Events and Workshops Notification Page - You can submit event notices for The Community Calender or Workshops and Meetings pages. The Community Events calendar is limited to non-recurring community events (Sorry, no "Happy Hours," "Daily Specials," or other recurring business activities :). Submit your Community Events and Workshops notices here: http://www.bajawesternonion.com/SubmitEvent.asp
Return to Top
---
---
Stepping Out - Food, Music and Entertainment
---

Buena Vida Pizzeria's New Dishes And Hours - Hey Everyone! I just wanted to remind you all of the new things that we are cooking up at Buena Vida Pizzeria. We are now offering:
Slow Roasted Baby Back Ribs w/Green beans and a cilantro potato salad.

Flank Steaks with Green Beans and roasted garlic potatoes.

Teriyaki Short Ribs with a Green Mango Salad

Barro de Mariscos which is the fresh seafood of the day cooked up a in a clay pot with butter and wine with lots of bolillo bread.
So things have been selling out fast but I will be sure to have an endless amount from now. Everything is reasonably priced and absolutely delicious. My Summer hours are FRI-MON 5-10p. For all of you coming from out of town. I am located on Calle Hildago and Militar (the same street as the CFE building). Todos Santos.

I am also offering a 10% discount for all Baja Claifornia Sur residents. - Jessie, Jessierutowski [ - a t - ] gmail.com, 612-151-1431, Baja California Sur
New Deli in San Jose - Come join us at CJ'S Courtyard Deli. We are located in Local # 35 at the new Plaza Artesanos in San Jose del Cabo. Go Down Valerio Gonzalez past WalMart, at bottom of hill turn right. We are approx 200 feet down from corner on the right side next to University Mundial. Come in the entrance by the Bomberos Parking.

We have great Hot and Cold Sandwiches, Salads, Hamburgers. All our dressings, salsas, potato salad, coleslaw, Ice Cream (12 Flavors), and pickles are home made. We have Turkey, Black Forest Ham, Corned Beef, Pastrami, Roast Beef. We make Rueben's, Philly Cheese Steak, French Dips and Grilled Chicken Pesto. We have fresh brewed Ice Tea that is bottomless and free chips and salsa to start. Everything on the menu is under $10. Say you read it in the BWO and get 10% off. - Christine Johnson, cj98230 [ - a t - ] msn.com, www.cjscourtyarddeli.com, 624-105-2566, San Jose Del Cabo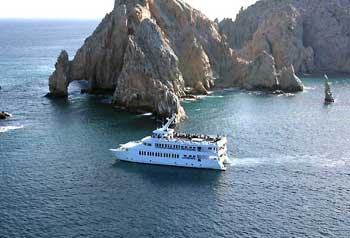 Caborey Dinner Cruise - With over 40 years offering tours in Mexico, Caborey has firmly established its reputation for quality, safety and fun. Reserving tours in advance through our website assures that you are purchasing tours from a reputable source and that the date and time of your reservation will be respected. Allow us the pleasure of providing these services for you.

Experience the natural wonder of Cabo San Lucas from aboard our luxurious 144' triple deck catamaran... From the moment you board the Caborey prepare yourself for an exhilarating experience. The majesty of the Land's End rock formations including Cabo's iconic "Arch" will spread out before you as the Caborey slips away from the marina and into Medano Bay. Live music and limitless cocktails accompany the breathtaking view from the upper deck of the Caborey as it follows its route along the tip of the Baja.

As the sun sinks into the horizon, tempt your palate with one of our 6 delectable entrees. Then as you take your last bite of scrumptious dessert, sit back and enjoy a Las Vegas-style show that will delight you with the sounds and rhythms of Latin America. - Caborey Cabo, reserv [ - a t - ] caborey.com, www.caborey.com, 143 8060, Cabo San Lucas

Zen Garden Cafe - We have a fabulous Chef from a 5-star restaurant in Cabo. He's one of the best Chefs I've ever worked with, and can prepare exotic Thai, modern Japanese, Chinese, and fresh Vietnamese. You can read our reviews online at: tripadvisor.com/Restaurant_Review-g150777-d1908070-Reviews-Zen_Garden_Cafe-Todos_Santos.

We serve organic dishes upon request and vegetarians will love our menu. Our Chef makes the best Homemade Dumplings anywhere. Please come in and try our delicious food and excellent prices, in a beautiful clean environment, prepared with Zen Garden's love and care. Just so you know, we have specials daily, and watch for our special food tastings in the future!

Lunch and Dinner 12-9 p.m., Closed Tuesdays. We'll be open all summer long, except closed for September, re-opening October 1st. So you'll have a place to enjoy Asian fusion in Todos Santos! - Zen Garden Cafe, yanggum [ - a t - ] zengardencafe.com, www.zengardencafe.com, 612-145-1088, Todos Santos
---
Submit your Stepping Out - Food, Music and Entertainment announcements here: http://www.bajawesternonion.com/submitarticle.asp
Return to Top
---

---
Misc. Sales and Services Available/Wanted
---
News From La Canada Del Diablo - Come by and visit La Canada Del Diablo. The store is full of marked-down prices. Everything is on sale. It is time to make room for our new inventory. Summer store hours are Tuesday thru Saturday, 10 a.m. - 5 p.m. Come by and meet Michella, Shauna, and Anita. They are ready to bargain.

We are in Puebla on our annual shopping trip. If you need anything, just let us know. We are working on all kinds of special orders. Send us your design ideas.

Please note below our new e-mail address. If you have been trying to contact us by e-mail, please try again with the new address. Thank you. - Barbara Perkins, bperkins0403 [ - a t - ] gmail.com, www.lacanadadeldiablo.com, 612-14-0-0069
Pacific Window Washing - Professional home window washing now servicing San Jose del Cabo, Cabo San Lucas, Rancho Migrino, Elias Calles, Rancho Nuevo, Pescadero, Todos Santos and anywhere in between. For free estimates, call Mark at 612-143-3316. www.pacificwindowwashing [ - a t - ] gmail.com
Cuban Cigars For Sale - I just returned from Cuba, and brought with me a 25-cigar box of original Romeo & Julieta, Churchills Habanos. If you are interested, call me or e-mail me. - Carlos Navarro, aortico_cang [ - a t - ] hotmail.com, 612-102-3801, Todos Santos
Ultra Lite Trailer For Sale - 17ft. trailer for sale. Great condition, double bed, overhead bunk and kitchen table folds out to single bed. Nice cabinets in kitchen and bathroom. Heat and AC works great. Stove only been used a few times. E-mail for photos and more info - Wendytropicalcsitas [ - a t - ] hotmail.com, 624-191-2831
Multiservicios Ryjos, Todos Santos - ofrece suministros de oficina y servicio de fotocopias, Internet y servicios informáticos. Ubicación: El Otro Lado, Calle Horizonte esq Nicolas Bravo, Colonia el Rio, frente a Café La Esquina, Todos Santos:
Papeleria - Venta de artículos escolares-oficina, Copias, Enmicados, Engargolados, Servicio de impresión negro y color. Copías CD/DVD.

Internet / Juegos - Servicio de mensajería instantánea, Skype, E-mail, descargas de musica y fotos, Xbox 360, servicio de Scanner. Wireless

WiFi / VoIP / Computadoras - Venta, instalacion y soporte de redes cableadas e inalámbricas, Voice Over IP (Vonage, Net2phone), computadoras.
Horarios: Lunes, Martes, Jueves, Viernes: 8:00 A.M - 9:30 P.M., Miercoles Y Sabados: 8.00 A.M - 4:00 P.M. Domingo: Cerrado
Ryjos Multi-services, Todos Santos - offering office supplies and copy services, internet and computer services. Location: "El Otro Lado, " Calle Horizonte at the corner of Nicolas Bravo, Colonia el Rio, in front of Café La Esquina, Todos Santos:
Stationary Store - Sales of School and office Supplies, Copies, Laminating, Binding, Black and While and Color Printing Service, Scanner service, CD/DVD Copies.

Internet / Games - Instant Messaging Service, Skype, E-mail, downloading music and photos, Xbox 360, Wireless Access

WiFi / VoIP / Computers - Sales, installation, service and support: wired and wireless networks, Voice Over IP (Vonage, Net2Phone), computers.
Hours: Monday, Tuesday, Thursday, Friday: 8 a.m. - 9:30 p.m., Wednesday and Saturday: 8 a.m. - 4 p.m. Sunday: Closed. Propietario/Owner: Josue Castillo Mayoral, Business Telephone: 612-178-0039, Cellular: 612-148-3786, jocama85 [ - a t - ] hotmail.com, Todos Santos

Shipping Goods to Mexico ? - Voted "Best in Baja" by Baja Traveler Magazine. No job too big or too small - Monica Page, mpage [ - a t - ] lopezpage.com, 619-429-6446
Need a Ride to or From the Airport? Or Someone to Assist You With Errands? - I am a young, bilingual Christian man and I can provide you with rides to or from the La Paz or San Jose Del Cabo airports. I can also help you with courier services, errands, or navigating the intricacies of dealing with Mexican businesses and the government; Car Registrations, TelCel and TelMex, CFE, Seguro Social, etc.

Reasonable Rates - Contact: Ernesto, Cel. 612-117-7497, ernie_net [ - a t - ] hotmail.com
1980 Jeep CJ7 for Sale - This CJ7 has the 258 cubic inch straight in-line 6 cyl. motor, automatic transmission and is totally stock. Runs great. First $2500.00 USD steals it. - Pat Light, patluz1 [ - a t - ] gmail.com, Elias Calles
Hughesnet Satellite Internet
Now, Connect to The Internet No Matter Where You Live:
Always-On Connection, Available Where DSL and Cellular Won't Reach
PC, Mac, Wireless Compatible
Multiple Computers Can Share the Same Internet Connection Full-Time
Vacation Holds Available on All Plans
Anti-Virus And Email Spam Filter
No Phone Line Needed, No Busy Signals, No Missed Calls
Professional Installation Available Anywhere in Southern BCS
Purchase Your System From Baja Satellite Before July 31 and Get:
1. Mail-In Rebate for $199.99 off Equipment Purchase! 1

0.74 Meter Dish with 1 Watt Transmitter - Only $299 US After Rebate!.
0.98 Meter Dish with 2 Watt Transmitter - Only $699 US After Rebate!

2. Mail-In Rebate for $20 off Your First Three Months of Monthly Service ($60.00 Value)! 2

Data Plan
Download / Upload Speed 3
Monthly Service
Home
1.0 Mbps/128 Kbps
$39.99/mo, first three months!
Pro
1.2 Mbps/200 Kbps
$49.99/mo, first three months!
ProPlus
1.6 Mbps/250 Kbps
$59.99/mo, first three months!
Baja Satellite is an Authorized HughesNet Reseller. For more information Contact Us today: alan [ - a t - ] BajaSatellite.com, www.bajasatellite.com, (530) 903-4257 (From US), (01) 555 351 0882 (From Within Mexico), Baja California Sur
1 Prices shown are after $199 mail-in rebate, and do not include Mexican shipping, importation or installation. System must be purchased before July 31. 2 $20 off per month for 1st. three months, after $60 mail-in rebate. System must be purchased from Baja Satellite before July 31. All plans require 24-month contract. . 3 Absolute maximum speeds stated by HughesNet. Actual speeds will be less, and speeds will vary throughout the day and week depending upon total number of HughesNet subscribers sharing your satellite channel.
My Loss Is Your Gain - Will do a cash sale, $21,OOO USD, for our 36-foot motorhome so we don't have to drive it back to the U.S. MSRP is $30,000 USD. Clear Nevada title in hand. This Class A Motorhome is a 1997 National, 36 ft., mileage: 29200. Has plenty of new items, as well as extras: 2 new AC units, new flat panel HD TV, new power converter. All new window coverings and upholstry has been redone in denim material. New batteries, all 8 tires new, a new Kenwood CD stereo with ipod docking station and a remote. Also features queen-size bed, new denim comforter and curtains in bedroom.

5500watt Generac air-cooled generator, 24 gallon propane, 100 gallon freshwater holding tank, 50 gallon gray holding tank, 50 gallon black holding tank. The 75 gallon gasoline tank can also fuel the generator. Toilet has new gaskets/etc. Has side-by-side fridge/freezer with ice maker, corian counter tops, washer/dryer combo unit, microwave/convection oven combo, 3 burner LP stove with oven, undercounter coffee pot, tub/shower with glass doors combo, rear viewing camera and monitor system, auto start generator from coach, auto hydraulic leveling system, single auto/electric step, propane/electric heater, water heater and fridge. Also has tag axle, satellite and TV antennas, 12-ft slide out contains dining and couch. Unique stained glass palm tree door window. Lots of photos available at photobucket.com listed as CaboTarzan. http://s1236.photobucket.com/albums/ff442/CaboTarzan/ - Jeff / Michael, michael.radde [ - a t - ] yahoo.com, 702-722-3766, Cabo San Lucas

Japanese Goldfish for Sale - Turns out I had one heck of a fertile female Goldfish last winter and now have 8 beautiful goldfish to sell. They have to go as I didn't build the pond for this many fish! Babies are about 3" long at the moment, fat and healthy. The brown ones are 100 pesos each, colored and multi-tailed 150 pesos each. Volume discount! The parents are about 8" long so figure the young 'uns will be that size too. They are in an outside, shaded pond - no need to heat the water. They really are quite "zen", graceful and peaceful to watch. - Mike Carter, mike [ - a t - ] todossantos.cc, cell: 612-108-1162
Summer Ad Special! - Put your ad in front of over 3, 100 Baja Western Onion subscribers in Four consecutive issues for only $10 dlls ($120 pesos). Get more coverage for your next Yard Sale, Vehicle, Misc. Wanted or For Sale ad.

For only $10 dlls US, we'll run your ad for a total of Four consecutive issues, allowing your ad to appear in each issue for two weeks. Also, we'll feature your ad within a red, highlighted box. This special offer applies only to text-based ads submitted by non-commercial, private parties, and is subject to our editorial policy. Sorry, this offer not available for display banner graphics ads, or ads for businesses, real estate or rentals available.
Payment: All Summer Special ads must be prepaid in advance of initial run date. You can make your payment online via PayPal athttps://www.paypal.com/cgi-bin/webscr?cmd=_xclick&business=advertising [ - a t - ] BajaWesternOnion.com, or call us at 001 530 903 4257 or 01 33 8421 1142 (From Mexico) to make payment directly by VISA, MasterCard, American Express or Discover Credit or Debit Card.
Free Ads: As always, you can place a Free text-based ad in the Baja Western Onion once every 14 days. Submit your Free Ad or Article here: www.bajawesternonion.com/submitarticle.asp. -
For more details on our advertising opportunities, please visit www.bajawesternonion.com/advertising.asp or send an Email to: advertising [ - a t - ] BajaWesternOnion.com
---
Submit your Misc. Sales and Services Available/Wanted articles here: http://www.bajawesternonion.com/submitarticle.asp
Return to Top
---

---
Real Estate, Rentals, and House Sitting - Available/Wanted
---
For Sale by Owner – Partial Ocean View Lot. - 800 Square Meters bordered on one side by small, scenic arroyo for additional privacy. Minutes away from Centro Cultural, Todos Santos, and very close to all municipal services. Motivated seller will seriously consider all reasonable offers. - Patricia Fernandez, brufermx [ - a t - ] gmail.com, 612-127-2860
Condo for Rent Pariso Del Mar La Paz - 2br/3bth or 1br/2bth bayfront located in beautiful resort. Surrounded by endless miles of deserted beaches, golf, kayak, world-class fishing. Truly paradise. Fully furnished, A/C, full stainless kitchen, wi/fi, washer/dryer in unit. Monthly, season or long-term rental. Price negotable - Russ Allen, RCRCA [ - a t - ] cox.net, (619) 429-6446 US
Chili House For Sale And Rent - The Chili House is a 2 bed 2 bath 1500 sq ft home located in the Las Tunas/ Los Jardines area of Todos Santos with ocean and mountain views from every room and Mexican tiles and details throughout. Situated on an elevated ½ acre lot with patios, terraces, mature landscaping-palms, cactus, bougainvillea, giant birds of paradise and both city and agricultural water. Truly a gardener's paradise. For Sale by Owner. $269,000.

For more photos and information please visit www.bajawildheart.com Available for rent now through Oct 1st 2011. - Leslie Lambert, llambert [ - a t - ] sonic.net, 707 696 9064 503 954 3504, Todos Santos
Longtime Resident Seeks House to Sit - Recently moved back to Todo Santos for work, and living and looking to house sit in Todo Santos or Pescadero. Am responsible, respectful, tri-lingual, locally connected and have property management and handyman (plumbing, electrical, etc.) experience. Rest assured that your home and its belongings will be well looked after. Look forward to hearing from anyone who might be interested. Thank you and have a nice day! - Marc A. Hayles-dunn, mahdunn [ - a t - ] gmail.com
Lot for Sale in La Paz - For Sale by Owner: Breathtaking views of the city and bay! 287 m2 residential lot in beautiful La Paz. Clear Title. Includes documents and approved plans for custom, multi-story home with 3-car garage. Located in the tranquil community of Palmira Bellaterra in Lomas del Palmira. Minutes away from downtown with easy access to the Malecón. A million-dollar opportunity for only $100,000 USD. Photos and more available upon request - Dax Morgan, ssmorgan5 [ - a t - ] aol.com, 612-140-3070, La Paz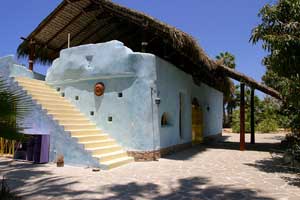 Todos Santos Beach House on a Tranquille Lush 5, 206.22 Sqmt Property - For Sale by Owner: - Two (2) separate driveway entries give the 5, 206.22 sq meter (1.25 acre) property privacy from both the front and back, giving flexibility to build additional homes or to split in the future. Soil on the property is rich organic black soil, ideal for other organic gardening.

* Property is an enclosed oasis and has unlimited access to farm water that nourishes the over 85 mature mango trees, 80 lush palm trees over 5 feet, passion fruit trees, citrus fruit trees and avocado trees, all of which give the property its cool shade that is coveted in the region and frequently not available on other properties of comparable or more value in the desert landscape.
* Property has power, water (both municipal and farm water), gas and Internet.
* A 6-minute walk takes you to the secluded beach, and a 5-minute drive finds you in the heart of TS.

If you have questions or would like to make an offer after viewing the property on YouTube (www.youtube.com/watch?v=krg9FEeiRtk), feel free to contact us. Save on the fee and make us a good offer. - Anh Walch, anhwalch [ - a t - ] yahoo.com, 212-692-0912, Todos Santos
2 Bed, 2 Bath Home in Cabo - For Sale By Owner: Never-lived-in home in Cabo San Lucas. Located in the private gated community of Paraiso Iguana. Includes underground backup cistern and custom-built balcony. Minutes away from downtown Cabo with easy access to the new Todos Santos highway. Offers views of both the Sea of Cortés and Pacific Ocean. 2 bedroom, 2 bath, approx. 1,000 sq. feet. Huge rental income potential. Price reduced - $85,000 USD OBO - Dax Morgan, ssmorgan5 [ - a t - ] aol.com, 612-140 -3070, La Paz
For Rent - Quaint cottage on a lovely ranch in Pescadero: 1 Bedroom, furnished, utilities not included. Please, telephone calls only at 612-176-3119 (Pescadero). - Mariposa, mariposabcsmx [ - a t - ] live.com
Dream Property Available at Cerritos Beach - We are looking to sell our dream. The Great Escape is offered at a steal! Consists of 4 1/2 acres, 4 titled properties, 2 houses, one awesome pointbreak view 2400 sq. mt. lot, one 6000 sq. mt. developer lot (study exempt, walled and ready to build!) Front lot with 20 RV slips; plumbed water and septic. Everything 200 mtrs. from dune. Main house is 4000 sq. ft., 3 bdrm, 2 bath, huge entertainer's area with pool, jacuzzi, bar, shower/bath. Huge garage with extended carport. State-of-the art solar. Fully landscaped and lighted grounds w/200 palms and flowers. Feels like paradise!

Second house is on private flag lot, 3 bdrm., 2 bath, rooftop oceanview terrace. Used as vacation rental business for the past 9 years.P riced to sell fast at $1.1 mil. Must sell so bring your offer. Endless possibilities for the savvy investor. Can be seen at Remax, Cabo, website: The Great Escape. 4% to buyers agent. - Judith Delatorre, two40jordi [ - a t - ] hotmail.com, 612-140-5835
---
Submit your Real Estate/Rentals/House Sitting/Property Management Services articles here: http://www.bajawesternonion.com/submitarticle.asp
Return to Top
---
Rides or Caravans Available/Wanted
Note: Ads will run for two weeks unless dated. Please list the date in the title, and specify which airport. Goes without saying, everyone shares expenses for beer, gas, food, etc

To remove your ad if you find a ride or caravan, let us know here: www.bajawesternonion.com/submitarticle.asp -
---
Companion for the States or Drive Your Car or Truck North - Hi, my name is Jorge. I was born in La Paz and have my identification card from the States (part of my education was at UC Berkeley). I have driven the Baja 50 times. I am 49 years old and have driven in the States. If you need to take your car to San Diego, I can do it for you for no charge. Or, if you need company, I will be glad to be your companion and I can help pay for gas. Ready to leave the first week of August as a companion to the States both ways. Please call me on my cell, 612-118-7898 - jorge_lap222 [ - a t - ] hotmail.com
North Then South After August 15 - I am flexible, will be heading North sometime around the middle to end of August with a F350 4 door truck and possibly with a large dual axle 23 foot enclosed trailer, or a small open 8 foot trailer. I can haul things and people both directions. Will be heading to San Diego, possibly LA and southern UT. And returning to baja in September. Have made the trip about 30 times. - Dean Devolpi, dean [ - a t - ] la-ventana.com, 612-114-0202, La Paz
---
Submit your Rides or Caravans Needed/Available articles here: http://www.bajawesternonion.com/submitarticle.asp
Return to Top
---
Pet Corner (Lost and Found pet articles will run for two weeks)
Let us know if you find or place your pet so we can remove your ad -
---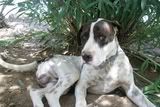 Have You Lost This Dog? - A beautiful Pointer has appeared on our street corner in the last week and is clearly lost. (Please see photo.) He is mature, wearing a pale blue "Coastal" collar with no ID on it. He may be purebred Pointer, or a Boxer cross. He's being fed and watered where he is but he's distressed and frightened on the street, and is clearly a lost or stolen/abandoned pet. He's currently hanging out - not going too far from the water supply - on the corner of Calle Insurgentes and Agua Dulce, in La Posada colonia in La Paz (behind the VW agency, towards the water). He's very friendly, doesn't look like he's been on the street long, and is in great condition. It would be fab to find his owners - I imagine someone is missing him very much. - Penny Cottee, pennycottee [ - a t - ] ymail.com, La Paz
Free Tuxedo Kittens! - My rescue cat came with a surprise! And now I have 3 black and white kittens that need a home. They're very smart! - Nancy, pokeynan [ - a t - ] hotmail.com, 612-143-7963
Impossible to Resist! - New arrivals at Kitty Heaven despite all of our efforts to spay and neuter (but without the help of the community, there would be even more!).

All colors, all very young and playful. For more information, call Angelique at 612-145-0250 or write her at BajaKitties [ - a t - ] Yahoo.com

Kitty Heaven is the only all-cat refuge in Baja California Sur. Visit us on the web athttp://bajarescue.org/#KittyHeaven. We survive via your kind donations. To send your support, please click the "Donate" button below:
Found Yellow Lab Near La Pastora - A beautiful male yellow lab with Vison Designs multi-colored striped collar (no tags) walked onto our property on Saturday. He is mid-size and has not been fixed. He looks very healthy, taken care of, and his family must miss him a lot! Please contact us soon to come pick him up. - Jessica & Matt Canepa, jessica [ - a t - ] villasantacruzbaja.com, 612-143-9230, Todos Santos.
Anyone Heading To Vancouver Or Portland? - A.L.M.A. desperately needs some help - if anyone is driving or flying Alaska Airlines to Portland or Vancouver, we need your help!! We have a couple of full grown dogs (not puppies) that have homes in waiting for them in Portland and Vancouver. The dogs have all their papers and health certificates and we can meet you at the airport or anywhere that is convenient for you. We will also have the new owners meet you at the airport or wherever is convenient for you. Please call or email Sheila or Janel at 624-137-7683 (Sheila's MX cell) or janelinmex [ - a t - ] yahoo.com. - Janel Faraci, www.almacares.com, Los Barriles
5 Puppies Need 5 Homes - I found 5 black puppies dumped alongside a deserted dirt road, outside of Pescadero. All 5 needs a good home, and TLC. Please adopt one, or two, if you can. I can't keep them. Thank you. Please call 612-140-7923. - Mary donegalmoon [ - a t - ] gmail.com, Pescadero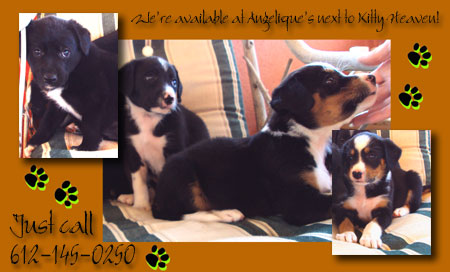 Three Dog Surprise Delivery -Three gorgeous puppies were dropped off at my house and there's no way I can keep them all.

The pups may be Australian Shepherd mix, though the biggest one (black & white in color) has fur more like a lab.

For more information, call me at 612-145-0250 or write me. - Angelique BajaKitties [ - a t - ] Yahoo.com
Hey, We Need A Home! - Good luck kittens 10 weeks old with shiny coats and fabulous personalities. Up to date vaccinations. We are 1 brother and 3 sisters. Very loving and playful. We love anything that moves. People and dogs are okay too. Please come visit and take us home with you! Call 612-145-0857 and ask for Jaime or Deb - Jaime Wood, deborahhorn [ - a t - ] hotmail.com, 612-132-8893, Todos Santos
Foster Homes Needed For Two Grown Dogs! - A.L.M.A. is short on fosters for the summer. We have two Beautiful grown dogs - one large and one small that need foster homes until we can get them to Vancouver or Portland. Hopefully that will be soon, but in the meantime, they need some love from a good home. Please call or email Sheila or Janel at 624-137-7683 (Sheila's MX cell) or janelinmex [ - a t - ] yahoo.com. - Janel Faraci, www.almacares.com, Los Barriles
---
Submit your Pet Corner articles here: http://www.bajawesternonion.com/submitarticle.asp (and remember to Spay and Neuter your pets)
Return to Top
---
Quote of the Day: " Somebody just back of you while you are fishing is as bad as someone looking over your shoulder while you write a letter to your girl. " ~ Ernest Hemingway
---
Looking for the complete Community Events Calendar? Click Here!
---
Return to Top
---
---
Help Support The Baja Western Onion!

We can accept donations by Credit Card, PayPal, cash, check or direct deposit.

For more information, please visit our web site at http://www.BajaWesternOnion.com/donate.asp.
Copyright © 2006 - 2011. The Baja Western Onion. All Rights Reserved. Published Using 100% Recycled Electrons :)
Return to Top
---