On The Web Site:
---
Today's Weather
---
Community Access
Policia Preventiva
Todos Santos Police
612 145-1052
Commandante Navarro


Ministero Publico
State Police
612 145 0198
Commandante Erigoyen


Bomberos
Fire Department
Cel. 612-142-6387
Commandante Cadena


---






---
Baja Western Onion
Alan Thompson - Publisher
Debra Webster - Advertising
e-mail For General Feedback
---
---
News and Events, Questions and Answers
---
Farewell to Father Sergio - Karaoke is an ideal Adios. Sunday, July 10, at 7:45 p.m. If you haven't heard Sergio sing, you have missed something swell, so come to the inner patio of the Church, Sunday evening. Watch tears become cheers. Get and give smiles and hugs. Share music and karaoke-flavored love. Father Sergio rocks. Aplausos Celestiales! - Jan Piere, Todos Santos
San Juan Barrio Carnival - The Carnival's Committee invites the English-speaking community to join in festivities this weekend. Proceeds go toward the improvement of public works in Pescadero. We encourage more ex-pats to attend. Please help support the community that believes cultural integration and understanding are important. Saturday, entertainment night and dance with burro races and games Sunday. You won't want to miss the children's greased pig and adult greased pole events. "Ben and the Men" will perform Sunday at 7 p.m. and I know they would appreciate your support introducing a new music venue to our Mexican counterparts. Monetary donations may be made directly. - Debora southbeachcom2010 [ - a t - ] yahoo.com, 612-118-3423, Pescadero
More Sea Turtle Nesting Tips - Courtesy Baja Pony Express - The sea turtles are back nesting for the next 9-10 months on our local beaches. Here are a few things you can do to help conserve this amazing centuries-old cycle that is vital to the health of our oceans:
1. Reduce outdoor lighting that shines on the beaches.
2. Don't allow dogs to dig up the nests.
3. Don't try to move nests.
4. Observe Mexican law by not driving on the beach.
5. Launch boats straight in from beach accesses.
6. Report locations and dates of nests to patronatocabodeleste [ - a t - ] gmail.com
7. Learn more about our local turtle conservation group by visiting www.bajaturtles.com
- Skip & Pepe

Netflix Expands To Mexico, South And Central America - Netflix has announced it will be expanding its streaming service to Mexico, South and Central America and the Caribbean later this year. The company will expand to 43 new countries with a staggered rollout.

Users in these countries will be able to watch global and local TV shows in English, Spanish or Portuguese. Just like in the U.S., the service will be viewable on computers, mobile devices and TVs. Says the company via its official blog:
Netflix members in the U.S. and Canada have really taken to watching instantly. We feel great about being able to offer the same combination of convenience, choice and value to people in Mexico, Central America, South America and the Caribbean.

Members in the region will be able to access Netflix.com in Spanish, Portuguese or English, depending on their preference, and will be able to enjoy entertainment on their TVs via a range of consumer electronics devices capable of streaming from Netflix, as well as on PCs, Macs and mobile devices.

We'll keep you posted on the dates when we plan to expand in the region and hope you'll spread the word that Netflix will soon be accessible throughout the Americas! Meantime, if you'd like to sign up for the Latin America service, go to www.netflix.com and leave your info; we'll send an email reminder when the service launches.
In 2010, Netflix expanded the streaming service to Canada, its first step to move internationally. It is unclear what the service will be priced at in the new nations. - moderator [ - a t - ] bajawesternonion.com

IRS 2011 Voluntary Offshore Disclosure - Courtesy Baja Pony Express - The IRS 2011 Voluntary Offshore Disclosure Program ends on 8/31/11. Any entry into the program must be made by that date. If you have not been filing your tax return, reporting your Mexican Bank Accounts and Financial Accounts, reporting your Mexican Corporation, Partnership or Fideicomiso this may be the last chance to eliminate or reduce potentially huge penalties, and avoid criminal prosecution.

The IRS has stated any taxpayer who does not come forward by the date, and who is later discovered or attempts to make up for past forms which have not been filed will be subject to the maximum possible penalties and possible criminal prosecution.

The IRS knows that in 2008 only about 100,000 US tax returns were filed by Gringos living in Mexico, but there are over One Million US Citizens living in Mexico. With these statistics in mind, there is little doubt that Mexico will become a big target for the IRS in the very near future. The statue of limitations never runs out on future IRS action if you have not filed a return for any particular year or if you fail to file certain foreign information returns such as those for Mexican Corporations, Fideicomisos, Mexican Financial accounts, etc. - Kauffman Nelson LLP, Certified Public Accountants, ustax [ - a t - ] hotmail.com

Anyone Heading To Vancouver Or Portland? - A.L.M.A. desperately needs some help - if anyone is driving or flying Alaska Airlines to Portland or Vancouver, we need your help!! We have a couple of full grown dogs (not puppies) that have homes in waiting for them in Portland and Vancouver. The dogs have all their papers and health certificates and we can meet you at the airport or anywhere that is convenient for you. We will also have the new owners meet you at the airport or wherever is convenient for you. Please call or email Sheila or Janel at 624-137-7683 (Sheila's MX cell) or janelinmex [ - a t - ] yahoo.com. - Janel Faraci, www.almacares.com, Los Barriles
Dentist Needed! - Anybody in San Jose del Cabo near the historic art district know of a English-speaking dentist for general maintanance, i.e. cavities, root canals, cleaning ect.? If so, please e-mail Linda at l.maurier [ - a t - ] yahoo.com thanks for any help you can give me. I need it -- ouch! - l.maurier [ - a t - ] yahoo.com
Foster Homes Needed For Two Grown Dogs! - A.L.M.A. is short on fosters for the summer. We have two Beautiful grown dogs - one large and one small that need foster homes until we can get them to Vancouver or Portland. Hopefully that will be soon, but in the meantime, they need some love from a good home. Please call or email Sheila or Janel at 624-137-7683 (Sheila's MX cell) or janelinmex [ - a t - ] yahoo.com. - Janel Faraci, www.almacares.com, Los Barriles
405 Construction Delays in Los Angeles - Courtesy Baja Pony Express - Any Bajaphiles traveling through Los Angeles: the San Diego Freeway ( 405 ) will be closed before midnight on Friday, July 15 until early Monday, July 18 between US 101 ( Ventura Freeway ) and Interstate 10.( Santa Monica Freeway ) so workers can remove half of the Mulholand Drive bridge. Please plan accordingly - James H
---
Submit your News and Events, Questions and Answers articles here: http://www.bajawesternonion.com/submitarticle.asp
Return to Top
---
---
Featured Events This Week
---
Saturday, July 9
String Quartet Music Concert, Todos Santos. - From The Youth Symphony Orchestra, Mexico City, at 8 P.M., Marquez de León Theater. Donations suggested. - Heriberto Parra Hake, Patronato del Teatro Manuel Márquez de León A.C., hparra [ - a t - ] prodigy.net.mx, 612-117-3945, Todos Santos
Saturday and Sunday, July 9 and 10
San Juan Barrio Carnival, Pescadero - San Juan Basketball Court, North side of Pescadero. Donations and more info, Contact: - Pesc Activities, southbeachcom2010 [ - a t - ] yahoo.com, 612-118-3423
Monday, July 11 - 14
Junior Lifeguards/ Salvavidas Junior - Ages 10 to 20. Instruction in basic water safety, injury prevention, lifeguard training techniques, kayaking, snorkeling, surfing, leadership, responsibility and first aide. 10 a.m.-3 p.m.. $800 pesos/week. Registration includes uniform, transportation, pool fees, equipment, instruction, and certificate. - Francesca, lasirena.ts [ - a t - ] gmail.com, www.todostortugueros.org or www.lasirenakayaksurf.com, 145-0353, Todos Santos
Tuesday, July 12
Dance Performance, La Paz - City Theatre, 8 p.m. Program includes Spanish Flamenco and Middle Eastern dance. Tickets 80 pesos advance at Centro Mujeres Marquez de Leon 480-B between Serdan y Revolucion (next to Agua Monarka), or 100 pesos at the door. - Pacenagirl, pacenagirl [ - a t - ] gmail.com
Saturday, July 16
Movie Night - "The Imaginarium of Doctor Parnassus," Teatro Luna Azul; 7:30 p.m.; Popcorn and drinks. Info: http://tsbmp.blogspot.com
---

---
New Community Events and Workshops Notification Page - You can submit event notices for The Community Calender or Workshops and Meetings pages. The Community Events calendar is limited to non-recurring community events (Sorry, no "Happy Hours," "Daily Specials," or other recurring business activities :). Submit your Community Events and Workshops notices here: http://www.bajawesternonion.com/SubmitEvent.asp
Return to Top
---
---
Stepping Out - Food, Music and Entertainment
---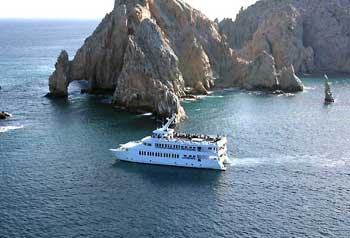 Caborey Dinner Cruise - With over 40 years offering tours in Mexico, Caborey has firmly established its reputation for quality, safety and fun. Reserving tours in advance through our website assures that you are purchasing tours from a reputable source and that the date and time of your reservation will be respected. Allow us the pleasure of providing these services for you.

Experience the natural wonder of Cabo San Lucas from aboard our luxurious 144' triple deck catamaran... From the moment you board the Caborey prepare yourself for an exhilarating experience. The majesty of the Land's End rock formations including Cabo's iconic "Arch" will spread out before you as the Caborey slips away from the marina and into Medano Bay. Live music and limitless cocktails accompany the breathtaking view from the upper deck of the Caborey as it follows its route along the tip of the Baja.

As the sun sinks into the horizon, tempt your palate with one of our 6 delectable entrees. Then as you take your last bite of scrumptious dessert, sit back and enjoy a Las Vegas-style show that will delight you with the sounds and rhythms of Latin America. - Caborey Cabo, reserv [ - a t - ] caborey.com, www.caborey.com, 143 8060, Cabo San Lucas

Tasting Menus Return - Tasting menus at Il Giardino are back. Come enjoy our innovative Basque food. Please make a reservation. Our new opening hours are: 1 to 10 p.m. Wednesdays we are closed - Jose Uribe, ilgiardinots. [ - a t - ] gmail.com, 612-145-0199, Todos Santos

Movie Night at Teatro Luna Azul - "The Imaginarium of Doctor Parnassus." A travelling theater show promises the audience a journey to the "Imaginarium," an imaginary world commanded by the mind of Doctor Parnassus, where dreams come true. Christopher Plummer, Tom Waitts as the Devil. Guest appearance by Johnny Depp. Nominated for 2 Oscars. Saturday, July 16, 7:30 p.m., Teatro Luna Azul. Popcorn and drinks. Visit http://tsbmp.blogspot.com - bluemooninbaja [ - a t - ] yahoo.com, Baja California Sur
Zen Garden Open All Summer - We have a fabulous chef from a 5-star restaurant in Cabo. I won't mention the name, but when you come in, I can tell you where. After working there for 8 years, he's decided to make a move to Todos Santos and settle down at Zen Garden Cafe, even though the restaurant in Cabo begged him to stay! He's one of the best chefs I've ever worked with in my life. He can prepare exotic Thai, modern Japanese, Chinese, and fresh Vietnamese. He makes the best homemade dumplings -- my favorite! Please come in and try his delicious food, at our excellent prices, prepared with Zen Garden's love and care! Just so you know, we have specials every day, and look out for food tastings in the future! We'll be open all summer long, so you'll have a place to enjoy Asian fusion in Todos Santos. - yanggum [ - a t - ] zengardencafe.com, www.zengardencafe.com, 612-145-1088, Todos Santos

Baja Biscuits at Cañada Del Diablo - Just to let everyone know, we will not be at Canada del Diablo today, July 9. Please watch for our next announcement on the Western Onion as to when we will be back. We thank you so much for your support, we enjoy seeing everyone. Hope to be back in a couple weeks. The Shawver Family - Ace Shawver, aceandlinda [ - a t - ] yahoo.com, 612-149-3572, Baja California Sur
Katie's Jams - Katie is still making her yummy jams all summer long and are available for purchase at the Gemini Deli in Todos Santos. Her popular chili jam now comes in mild and hot. New flavors include mint jelly, tomato jam, Suriname Cherry jam (a locally grown cherry), papaya-lime. Coming soon: Mango and mango-chile jams. Local ingredients, homemade, all natural! - Katie Lopez, pab_lopez [ - a t - ] yahoo.com, 612-151-2399
---
Submit your Stepping Out - Food, Music and Entertainment announcements here: http://www.bajawesternonion.com/submitarticle.asp
Return to Top
---

---
Misc. Sales and Services Available/Wanted
---
Gas Refrigerators - Wahoo RV has brand-new gas refrigerators, Consul brand, great for Ranchos or places with no power. Fridge and freezer features 8 cu. ft. capacity. $1,575 USD. Call 624-142-3792 or send e-mail to 1wahoorv [ - a t - ] prodigy.net.mx - Chuck Schmuck, 1wahoorv [ - a t - ] prodigy.net.mx, www.wahoorv.com

Ford Exployer for Sale - Want to sell 1995 Ford. It has many new parts and runs perfect. I have a local mechanic. All power with stero and A/C. Good tires and interior is good. Asking $3500. Car is in Todos Santos - lowerbaja [ - a t - ] yahoo.com, 612-161-4728, Todos Santos
Summer Sale! 20% Discount On All Outdoor Wicker Furniture And Selected Items, Casa Decor, La Paz - Indoor and outdoor furniture and interior design service. We custom make furniture:
* Largest Inventory In The Baja * Patio Furniture. * Wicker, Rattan And Marble * Lighting. * Rustic Hand Painted Furniture * Metal Furniture. * Copper Furniture * Kitchen Cabinets. * Doors * Floor and Wall Covering. * Art * Accessories * Fountains And Urns. * Imports From Around The World. * Unique Selection of Furniture And Accessories. * Mexican Furniture * Furniture Packages
Fine furniture made to order. Wholesale to the trade. The Best selection in the Baja at Casa Decor. Two Locations: Casa Decor La Paz, 560 Marquez de Leon, Tel: 612-129-3364. Casa Decor Cabo San Lucas: on 4 lane KM 3.5 next to Artisanos and Natural Marble and Stone, Tel: 624-178-8146. - richards77 [ - a t - ] pcisys.net, http://www.antiquerowmarket.com, Baja California Sur
Wanted: Battery Operated Fan - Any size will do. Willing to buy or trade for. - Kathleen ksfroese [ - a t - ] hotmail.com, 612- 154-5992
Wahoo RV Center - Wahoo RV Center has been serving Los Cabos for over 15 years for your RV parts, supplies and service. We are proud to announce that we now have a full line of appliances repair parts in stock to go along with our RV parts. We stock parts for all major brands: Whirlpool, Sub-Zero, Viking, GE, etc. Ff we don't have the part you need in stock, we can special order for you. (Most special orders take about 10 days to get here.) You can contact us with the brand, model number and part you need and we can let you know if we have in stock. Contact us at 1wahoorv [ - a t - ] prodigy.net.mx; and see a map at www.wahoorv.com or call 624-142-3792. We are fully bilingual. - Chuck Schmuck, 1wahoorv [ - a t - ] prodigy.net.mx, www.wahoorv.com, San Jose Del Cabo
Cleaning Out the Bodega! - Screws, bolts, nails, drawer pulls etc. Plumbing and Elec. parts. Wood shelving, molding, etc. Garden lights and other stuff. A few deco items, dart set, kitchen cart, dual fan exhaust hood, Ikea curtain rods, etc. email to see. - Sylvia St.clair, sasinbaja [ - a t - ] yahoo.com
Business and Living Quarters Priced To Sale - Hot Rocks massage may be the oldest and most established massage business in San Jose del Cabo, opened 15 years ago in 1996, located in the Plaza Costa Azul across from the beach with beautiful ocean views. It includes living quarters and features too long to list, and can be adjusted for any business. It's reduced to recession price, and is a great business. I ran it for 10 years, and if I still lived in Cabo, I'd be there now. Please visit the website below for details and photos. - Robert Quirk, rq [ - a t - ] todossantosrentals.net, www.todossantosrentals.net/hotrocksmassage.html, MX 624-147-0326 US 760-494-1113, San Jose Del Cabo
Truck for Sale - Ford Ranger for sale, starts every time, runs like brand new. '93 model, epic car, come check it out and make an offer. No rush to sell. E-mail me if you want a picture, or you would like to test drive. - Saxon Scott, saxonscott [ - a t - ] hotmail.com, Pescadero
Pacific Window Washing - Professional home window washing now servicing San Jose del Cabo, Cabo San Lucas, Rancho Migrino, Elias Calles, Rancho Nuevo, Pescadero, Todos Santos and anywhere in between. For free estimates, call Mark at 612-143-3316. www.pacificwindowwashing [ - a t - ] gmail.com
19" TV For Sale - The perfect TV for the bedroom or guest room. Used for 1 year; not a flat screen. $150 USD. - Barb Yost, byost127 [ - a t - ] yahoo.com, 612-143-0009, United States
Banda Ancha Internet Devices - Telcel Banda Ancha USB internet device available for rent. It has unlimited bandwidth and never gets shut off. Just plug it into any USB port for internet service. It works anywhere in Mexico where a TelCel signal is received. $40/month or $15 weekly plus deposit. - Robert Quirk, rq [ - a t - ] todossantosrentals.net, 624-147-02326 (Mexican cell)
Multiservicios Ryjos, Todos Santos - ofrece suministros de oficina y servicio de fotocopias, Internet y servicios informáticos. Ubicación: El Otro Lado, Calle Horizonte esq Nicolas Bravo, Colonia el Rio, frente a Café La Esquina, Todos Santos:
Papeleria - Venta de artículos escolares-oficina, Copias, Enmicados, Engargolados, Servicio de impresión negro y color. Copías CD/DVD.

Internet / Juegos - Servicio de mensajería instantánea, Skype, E-mail, descargas de musica y fotos, Xbox 360, servicio de Scanner. Wireless

WiFi / VoIP / Computadoras - Venta, instalacion y soporte de redes cableadas e inalámbricas, Voice Over IP (Vonage, Net2phone), computadoras.
Horarios: Lunes, Martes, Jueves, Viernes: 8:00 A.M - 9:30 P.M., Miercoles Y Sabados: 8.00 A.M - 4:00 P.M. Domingo: Cerrado
Ryjos Multi-services, Todos Santos - offering office supplies and copy services, internet and computer services. Location: "El Otro Lado, " Calle Horizonte at the corner of Nicolas Bravo, Colonia el Rio, in front of Café La Esquina, Todos Santos:
Stationary Store - Sales of School and office Supplies, Copies, Laminating, Binding, Black and While and Color Printing Service, Scanner service, CD/DVD Copies.

Internet / Games - Instant Messaging Service, Skype, E-mail, downloading music and photos, Xbox 360, Wireless Access

WiFi / VoIP / Computers - Sales, installation, service and support: wired and wireless networks, Voice Over IP (Vonage, Net2Phone), computers.
Hours: Monday, Tuesday, Thursday, Friday: 8 a.m. - 9:30 p.m., Wednesday and Saturday: 8 a.m. - 4 p.m. Sunday: Closed. Propietario/Owner: Josue Castillo Mayoral, Business Telephone: 612-178-0039, Cellular: 612-148-3786, jocama85 [ - a t - ] hotmail.com, Todos Santos
Basic Desktop PC With English OS And Microsoft Windows Needed For Disabled Senior Citizen - Hi Y'all. I am in El Pescadero for the summer and fall, and I am writing an e-book about purchasing prescription medicines in Mexico. I brought along a flat panel monitor, old fashioned keyboard and a hopeful AMD X-2 2-core CPU that would be a million to one shot at finding a desktop that needs one of those critters. An old Windows XP O.S. plus 2000 whatever Microsoft Word program would be enough. Hopefully the USB outlets will be on the front. DVD player would be OK.

Now here's the catch: We old codgers have to try and survive on Social (in)/security so that means forgetting about getting a platinum plated Starship Enterprise PC with a Warp Factor 10 speed. Actually I could rent a computer for four months for a fair price and when the Word Program is deleted then no new programs will have been added. I'll use an USB and migrate to an internet cafe and copy files to send then onward in my email.

I have a dinosaur PC and Neanderthal Toshiba (with a bad battery) in Michoacan which is too far away to even think about trying to ship here. No matter what my tiny car cannot haul the "new" PC away from El Pescadero, because the car arrived packed like a chinese jigsaw puzzle. Thank you for taking the time to read this. This is one beautiful area. - David E., mexbungalows [ - a t - ] gmail.com, Pescadero

1987 Toyota 4-runner for Sale - 4x4, 4-cyl. Clean Body, like-new BFG tires, imported, $2200 U.S. - Beau Bryan, delfindeliveries [ - a t - ] gmail.com, 624-155-0498, San Jose Del Cabo
Need a Ride to or From the Airport? Or Someone to Assist You With Errands? - I am a young, bilingual Christian man and I can provide you with rides to or from the La Paz or San Jose Del Cabo airports. I can also help you with courier services, errands, or navigating the intricacies of dealing with Mexican businesses and the government; Car Registrations, TelCel and TelMex, CFE, Seguro Social, etc.

Reasonable Rates - Contact: Ernesto, Cel. 612-117-7497, ernie_net [ - a t - ] hotmail.com
Used TV and Frig Wanted - Looking for some classics to furnish guestroom and fill with coldies and DVD Videos. Cleaning out your garage could put a little summer cash in your bolsa! Tell me what you want for them. Thanks. Tio. E-mail and please mention TV or Frig, TS and Pescadero - tiotomasbcs [ - a t - ] hotmail.com
Hemp Seed Oil - Hemp seed oil has been dubbed "Nature's most perfectly balanced oil" and has been recognized as one of the most versatile and beneficial substances known to man, due to the fact that it contains the perfectly balanced 3:1 ratio of Omega 6 (linolei/LA) to Omega 3 (alpha-linolenic/LNA) essential fatty acids, determined to be the optimum requirement for long-term healthy human nutrition.

Extensive studies have demonstrated that many common illnesses and symptoms are related to deficiencies or imbalances of this fatty acids and their derivatives, the prostaglandins, in the body. The difference hemp has made in people's lives is overwhelming ! - Jorge Treviño, info [ - a t - ] cabohemp.com, www.cabohemp.com, 624-175-2451, Cabo San Lucas
Hughesnet Satellite Internet
Now, Connect to The Internet No Matter Where You Live:
Always-On Connection, Available Where DSL and Cellular Won't Reach
PC, Mac, Wireless Compatible
Multiple Computers Can Share the Same Internet Connection Full-Time
Vacation Holds Available on All Plans
Anti-Virus And Email Spam Filter
No Phone Line Needed, No Busy Signals, No Missed Calls
Professional Installation Available Anywhere in Southern BCS
Purchase Your System From Baja Satellite Before June 30 and Get:
1. Mail-In Rebate for $199.99 off Equipment Purchase! 1

0.74 Meter Dish with 1 Watt Transmitter - Only $299 US After Rebate!. 0.98 Meter Dish with 2 Watt Transmitter - Only $699 US After Rebate!

2. Mail-In Rebate for $20 off Your First Three Months of Monthly Service ($60.00 Value)! 2

Data Plan
Download / Upload Speed 3
Monthly Service
Home
1.0 Mbps/128 Kbps
$39.99/mo, first three months!
Pro
1.2 Mbps/200 Kbps
$49.99/mo, first three months!
ProPlus
1.6 Mbps/250 Kbps
$59.99/mo, first three months!
Baja Satellite is an Authorized HughesNet Reseller. For more information Contact Us today: alan [ - a t - ] BajaSatellite.com, www.bajasatellite.com, (530) 903-4257 (From US), (01) 555 351 0882 (From Within Mexico), Baja California Sur
1 Prices shown are after $199 mail-in rebate, and do not include Mexican shipping, importation or installation. System must be purchased before June 30. 2 $20 off per month for 1st. three months, after $60 mail-in rebate. System must be purchased from Baja Satellite before June 30. All plans require 24-month contract. . 3 Absolute maximum speeds stated by HughesNet. Actual speeds will be less, and speeds will vary throughout the day and week depending upon total number of HughesNet subscribers sharing your satellite channel.
Worker's Beds for Sale - New, white-canvas worker's cots/beds for sale at 750 pesos each. Newly purchased only a week ago and used once, if at all. (We bought them new for 900 pesos each.) Great as traditional worker beds or as outdoor, poolside cots. - Jennifer Gregori, jennifergregori [ - a t - ] yahoo.com, Todos Santos

Summer Ad Special! - Put your ad in front of over 3, 100 Baja Western Onion subscribers in Four consecutive issues for only $10 dlls ($120 pesos). Get more coverage for your next Yard Sale, Vehicle, Misc. Wanted or For Sale ad.

For only $10 dlls US, we'll run your ad for a total of Four consecutive issues, allowing your ad to appear in each issue for two weeks. Also, we'll feature your ad within a red, highlighted box. This special offer applies only to text-based ads submitted by non-commercial, private parties, and is subject to our editorial policy. Sorry, this offer not available for display banner graphics ads, or ads for businesses, real estate or rentals available.
Payment: All Summer Special ads must be prepaid in advance of initial run date. You can make your payment online via PayPal athttps://www.paypal.com/cgi-bin/webscr?cmd=_xclick&business=advertising [ - a t - ] BajaWesternOnion.com, or call us at 001 530 903 4257 or 01 33 8421 1142 (From Mexico) to make payment directly by VISA, MasterCard, American Express or Discover Credit or Debit Card.
Free Ads: As always, you can place a Free text-based ad in the Baja Western Onion once every 14 days. Submit your Free Ad or Article here: www.bajawesternonion.com/submitarticle.asp. -
For more details on our advertising opportunities, please visit www.bajawesternonion.com/advertising.asp or send an Email to: advertising [ - a t - ] BajaWesternOnion.com
---
Submit your Misc. Sales and Services Available/Wanted articles here: http://www.bajawesternonion.com/submitarticle.asp
Return to Top
---

---
Real Estate, Rentals, and House Sitting - Available/Wanted
---
Chili House For Sale And Rent - The Chili House is a 2 bed 2 bath 1500 sq ft home located in the Las Tunas/ Los Jardines area of Todos Santos with ocean and mountain views from every room and Mexican tiles and details throughout. Situated on an elevated ½ acre lot with patios, terraces, mature landscaping-palms, cactus, bougainvillea, giant birds of paradise and both city and agricultural water. Truly a gardener's paradise. For Sale by Owner. $269,000.

For more photos and information please visit www.bajawildheart.com Available for rent now through Oct 1st 2011. - Leslie Lambert, llambert [ - a t - ] sonic.net, 707 696 9064 503 954 3504, Todos Santos
House Sitting Position Wanted - Single, professional bi-lingual female seeking summer house-sitting position in Todos Santos. I'm a homeowner in Dallas, TX, and San Jose del Cabo, Mexico, who is resourceful and responsible. - Deborah Wallendorf, dwallendorf [ - a t - ] aol.com, 001-972-489-9781, Todos Santos
Home for Sale on East Cape - Santiago home on large lot with canal, fruit trees, small vineyard and updated 1,000 sq. ft. home. This is an oasis town, very lush with a proper town center and Mexican ambience. Sacrifice at $120,000 - albertandkiwi [ - a t - ] gmail.com, Santiago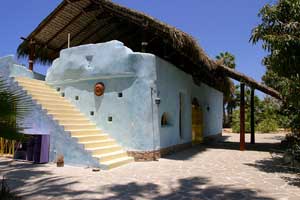 Todos Santos Beach House on a Tranquille Lush 5, 206.22 Sqmt Property - For Sale by Owner: - Two (2) separate driveway entries give the 5, 206.22 sq meter (1.25 acre) property privacy from both the front and back, giving flexibility to build additional homes or to split in the future. Soil on the property is rich organic black soil, ideal for other organic gardening.

* Property is an enclosed oasis and has unlimited access to farm water that nourishes the over 85 mature mango trees, 80 lush palm trees over 5 feet, passion fruit trees, citrus fruit trees and avocado trees, all of which give the property its cool shade that is coveted in the region and frequently not available on other properties of comparable or more value in the desert landscape.
* Property has power, water (both municipal and farm water), gas and Internet.
* A 6-minute walk takes you to the secluded beach, and a 5-minute drive finds you in the heart of TS.

If you have questions or would like to make an offer after viewing the property on YouTube (www.youtube.com/watch?v=krg9FEeiRtk), feel free to contact us. Save on the fee and make us a good offer. - Anh Walch, anhwalch [ - a t - ] yahoo.com, 212-692-0912, Todos Santos
For Rent - Quaint cottage on a lovely ranch in Pescadero: 1 Bedroom, furnished, utilities not included. Please, telephone calls only at 612-176-3119 (Pescadero). - Mariposa, mariposabcsmx [ - a t - ] live.com
---
Submit your Real Estate/Rentals/House Sitting/Property Management Services articles here: http://www.bajawesternonion.com/submitarticle.asp
Return to Top
---
Rides or Caravans Available/Wanted
Note: Ads will run for two weeks unless dated. Please list the date in the title, and specify which airport. Goes without saying, everyone shares expenses for beer, gas, food, etc

To remove your ad if you find a ride or caravan, let us know here: www.bajawesternonion.com/submitarticle.asp -
---
Anyone Wanna Come Surf Mainland Mexico? - Australian male surfer 26 looking for travel buddy, either male or female, to accompany me on a mellow journey down the coast of mainland Mexico. Surfing, fishing and exploring. Truck, cooking utensils, camping equipment, all provided. Currently residing in Pescadero, will be looking to catch ferry from La Paz within 2 weeks. Come and join the good-time train. Must provide own finances for food, etc., e-mail me ASAP for an experience of a lifetime, - Saxon Scott, saxonscott [ - a t - ] hotmail.com, Pescadero
North Bound After June 30 - Heading back to the states after June 30, departure date is flexible but would like to leave by the first week of July. Preferably looking for someone to help with driving but will join a caravan if you're already driving yourself. F150 with myself and a pretty rad dog - spenfoldbrown [ - a t - ] gmail.com
Back to the States July 10 - Heading back to the States (as far as San Francisco if that's your destination too) on July 10 and would love to not be doing it solo. You could help with driving or just rest easy as co-pilot, either one is fine so long as a little gas cash gets chipped in. Folk/funk/rock/reggae ... whatever, it's all good as long as it keeps the good driving energy going. My girlfriend is heading straight home from the Galapagos, while I have the fun luck of returning to La Paz and getting our car and things back up to California. Let's take on this drive together! - gabriel.holt (at) gmail.com, Baja California Sur
Room For Passenger - Driving the Baja within the next 7-10 days (ad submitted July 6). Date is flexible. Looking for companion to share drive. Destination Sacramento. Please contact if interested in sharing the drive.
Contact - sandytelgren [ - a t - ] yahoo.com
Nor Cal Dog Needs Ride - We need someone driving to Northern California this month to give our dog Luna a ride. She is a two year old, 40lb. boxer mix, very sweet and loving. She has driven the Baja twice and does fine. We are flying July 15 to San Francisco. We will pay someone who is driving north to take her for us. Please email us for more information. Thank you! - Brandy Moore, trandbrandy [ - a t - ] hotmail.com, 612-153-0779, Pescadero
North Then South After August 15 - I am flexible, will be heading North sometime around the middle to end of August with a F350 4 door truck and possibly with a large dual axle 23 foot enclosed trailer, or a small open 8 foot trailer. I can haul things and people both directions. Will be heading to San Diego, possibly LA and southern UT. And returning to baja in September. Have made the trip about 30 times. - Dean Devolpi, dean [ - a t - ] la-ventana.com, 612-114-0202, La Paz
---
Submit your Rides or Caravans Needed/Available articles here: http://www.bajawesternonion.com/submitarticle.asp
Return to Top
---
Pet Corner (Lost and Found pet articles will run for two weeks)
Let us know if you find or place your pet so we can remove your ad -
---
It Was A Dark And Stormy Night... - Okay, so that's a stretch - but it sure felt like it when all six of us got thrown away! We were so scared, so hungry and really missed our mom. After what seemed like forever, a really nice man named Joel came along and took us home. We all got a bath and some really good grub and life was good again.

But, here's the deal: Joel and Isela have a new baby boy and really need to find loving families for us because life is kind of hectic for them right now. Their great big dog and especially kitty have taught us to be respectful and we all get along just great. We are beautiful, in super good health and so anxious to meet our new family - we're waiting! For more info in English call Cindy at 145-0666 or in Spanish only call Joel 044-612-117-8381. - cindyfenix [ - a t - ] yahoo.com, Todos Santos
Nor Cal Dog Needs Ride - We need someone driving to Northern California this month to give our dog Luna a ride. She is a two year old, 40lb. boxer mix, very sweet and loving. She has driven the Baja twice and does fine. We are flying July 15t to San Francisco. We will pay someone who is driving north to take her for us. Please email us for more information. Thank you! - Brandy Moore, trandbrandy [ - a t - ] hotmail.com, 612-153-0779, Pescadero
5 Puppies Need 5 Homes - I found 5 black puppies dumped alongside a deserted dirt road, outside of Pescadero. All 5 needs a good home, and TLC. Please adopt one, or two, if you can. I can't keep them. Thank you. Please call 612-140-7923. - Mary donegalmoon [ - a t - ] gmail.com, Pescadero
Dog Urgently Needs Your Help. - A good-tempered, sweet dog needs temporary immediate assistance and adoption. Present needs: A contained enclosure to manage shampoo bath every 3 days for 2 weeks, Flea/tick preventive med application, renew rabies shot. She has had care for over a year to bring her to good health but she can no longer remain on our commercial property. If no one steps forward to assistance by June 30, I have no choice but the unspeakable. - Lady, macnmoli [ - a t - ] yahoo.com, 612-118-3423, Pescadero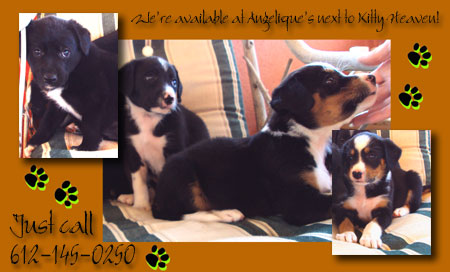 Three Dog Surprise Delivery -Three gorgeous puppies were dropped off at my house and there's no way I can keep them all.

The pups may be Australian Shepherd mix, though the biggest one (black & white in color) has fur more like a lab.

For more information, call me at 612-145-0250 or write me. - Angelique BajaKitties [ - a t - ] Yahoo.com
Have you lost your dog? - If you have Lost a dog please check with Baja Dogs La Paz, 612-155-8948. We do have some dogs currently at the refuge who are hoping their owners will claim them. - Dhorea Ryon, dhorearyon [ - a t - ] hotmail.com, www.bajadogslapaz.org/, La Paz
Hey, We Need A Home! - Good luck kittens 10 weeks old with shiny coats and fabulous personalities. Up to date vaccinations. We are 1 brother and 3 sisters. Very loving and playful. We love anything that moves. People and dogs are okay too. Please come visit and take us home with you! Call 612-145-0857 and ask for Jaime or Deb - Jaime Wood, deborahhorn [ - a t - ] hotmail.com, 612-132-8893, Todos Santos
Beautiful Dog Needs Home - We fostered a female dog named Onyx since she was 8 weeks old. She has been at a trainer for 3 weeks. She has a lot of energy and really needs a lot of property to run on. She has been fixed, has all her shots, weighs 45 lbs. and is absolutely beautiful. Unfortunately, we couldn't foster her any more and she is at the Los Cabos Humane Society. You can contact Everesto at the shelter for more information. - Everesto, evaristoah [ - a t - ] hotmail.com, www.loscaboshumanesociety.com, 624-129-8346, Cabo San Lucas
"Good Dog" Needs Ride Home to Rosarito From Guerrero Negro - Hola, It is a long story on how our dog (Einstein, he was named that from the shelter/rescue group) is still in Guerrero Negro after our car broke down 60 miles north of there almost four weeks ago. Actually, the story has a way in which the 'universe' can show a sense of humor on what one plans to do. LOL anyway - the car is still not fixed, however, it was towed to Rosarito and we are looking for the right and perfect motor (Subaru 2.5 liter engine) - if you know of one, please let me know.

The question is: Do you know anyone going north (Rosarito) from Baja Sur that can stop in Guerrero Negro and give our dog ' a ride home?' He's good natured, calm, and mostly obeys simple commands. He weighs about 65 pounds and will stay "in the back" when you tell him "stay." If you can 'bring him home,' we would gladly help out on your gas expenses. All he needs is a couple of times to go for a short walk to do his normal body functions. He will have his food and water bowls along with his bed - and, he is an experienced traveler. - Richard Herndon, richardofbaja [ - a t - ] yahoo.com
Impossible to Resist! - New arrivals at Kitty Heaven despite all of our efforts to spay and neuter (but without the help of the community, there would be even more!).

All colors, all very young and playful. For more information, call Angelique at 612-145-0250 or write her at BajaKitties [ - a t - ] Yahoo.com

Kitty Heaven is the only all-cat refuge in Baja California Sur. Visit us on the web athttp://bajarescue.org/#KittyHeaven. We survive via your kind donations. To send your support, please click the "Donate" button below:
---
Submit your Pet Corner articles here: http://www.bajawesternonion.com/submitarticle.asp (and remember to Spay and Neuter your pets)
Return to Top
---
Quote of the Day: " 'Freedom from fear' could be said to sum up the whole philosophy of human rights. " ~ Dag Hammarskjold
---
Looking for the complete Community Events Calendar? Click Here!
---
Return to Top
---
---
Help Support The Baja Western Onion!

We can accept donations by Credit Card, PayPal, cash, check or direct deposit.

For more information, please visit our web site at http://www.BajaWesternOnion.com/donate.asp.
Copyright © 2006 - 2011. The Baja Western Onion. All Rights Reserved. Published Using 100% Recycled Electrons :)
Return to Top
---