On The Web Site:
---
Today's Weather
---
Community Access
Policia Preventiva
Todos Santos Police
612 145-1052
Commandante Navarro


Ministero Publico
State Police
612 145 0198
Commandante Erigoyen


Bomberos
Fire Department
Cel. 612-142-6387
Commandante Cadena


---





---
Baja Western Onion
Alan Thompson - Publisher
Debra Webster - Advertising
e-mail For General Feedback
---
---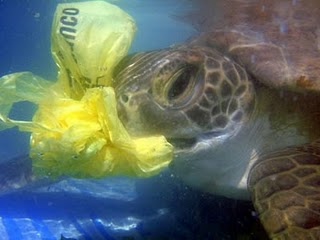 News and Events, Questions and Answers
---
Sea Turtle Nesting Season - This month marks the beginning of the ten month long, Sea Turtle nesting season in Todos Santos. Olive Ridleys begin nesting in July, Blacks in August, and the massive Leatherback arrives to nest October - April. Please help these endangered species by following the following guidelines:
-Reduce outdoor lighting in coastal homes
-Reuse & Recycle your Plactics
-Don't build bonfires on the beach
-Participate in Beach Clean-ups
-Never shine light on nesting turtles
-Support the local economy to eliminate the need for poaching (shop Pinos not Costco)
-Never drive on the beach
-Volunteer for conservation groups
-Make sure your construction debris is disposed of properly, not thrown in the arroyo.
-Never eat or buy turtle meat or eggs
-Promote sustainable fishing by consuming line-caught fish (nets kill turtles)
-Spread the word
Please report any turtle nests or tracks in the Todos Santos area. Muchas Gracias!! - Tortugueros Las Playitas, tortugueroslasplayitas [-a t-] gmail.com, www.todostortugueros.org, 145.0353

String Quartet Of The Youth Symphony Orchestra Carlos Chavez From Mexico City In Todos Santos. - The Patronato del Teatro Manuel Márquez de León A.C. presents a music concert with the String Quartet Of The Youth Symphony Orchestra Carlos Chavez From Mexico City, next Saturday July 9th, 8 P.M. at the Marquez de León Teather. Donations are suggested. - Heriberto Parra Hake, hparra [-a t-] prodigy.net.mx, 612 117 3945, Todos Santos

Dance Performance - Courtesy La Paz Gringos - There will be a dance performance at the City Theatre on July 12th at 8:00. It is a very impressive program with a bit of dance from Spain (flamenco rhythms) Middle Eastern dance, etc. I highly recommend it. Tickets are on sale at Centro Mujeres Marquez de Leon 480 - B Between Serdan y Revolucion (next to Agua Monarka. Tickets are 80 pesos advance purchase or 100 pesos at the door. Definitely worth the money. - Pacenagirl, pacenagirl [-a t-] gmail.com
Amber Alert For 3-Year Old Mariana Morales Idalia López, Missing From Tijuana - Tijuana, Baja California - La Subprocuraduría de Justicia zona Tijuana, solicita del apoyo de la ciudadanía para poder obtener datos que ayuden a la autoridad a dar con el paradero de una menor de edad que se encuentra extraviada y por la cual se ha activado la alerta Amber en la entidad.

La menor de 3 años, 8 meses de edad, responde al nombre de Mariana Idali Morales López. Se extravió en la colonia Anahuac, delegación La Mesa, de esta ciudad y se desconoce la vestimenta que llevaba. La niña tiene tez morena clara, mide un metro aproximadamente, pesa 30 kilogramos, y como seña particular tiene su barbilla partida.

El momento en que se extravió se encontraba en compañía de un sujeto identificado como César Guadalupe López Gómez, "El Martín" o "El Cuate", de 28 años de edad aproximadamente, y quien presuntamente pudiera tenerla consigo. A través de esta alerta se solicita la ayuda de la población para localizar al menor. Cualquier información relacionada con este caso, favor de comunicarlo al número telefónico 104-28-00 extensión 2956 ó 2957 del Centro de Apoyo a Personas Extraviadas o Ausentes (CAPEA), o bien los números de emergencia 066 o 089.

(Spanish to English translation:) Tijuana, Baja California - The Tijuana Deputy Attorney requests the support of citizens to obtain information that will help the authorities to determine the whereabouts of a missing minor, which has prompted an Amber Alert in the state.

The minor, 3 years and 8 months of age, responds to the name of Mariana Morales Idalia López. She went missing in Colony Anahuac, delegation La Mesa of this city. The clothing she was wearing is unknown. She has light brown skin, height of about one meter (39"), weighing 30 kilograms (66 pounds), as has a particular mark of a cleft chin.

At the moment of her disappearence, she was xin the company of a man identified as Cesar Guadalupe Gómez López, also known as "El Martin" or "The Cuate", approximately 28 years of age, and who presumably might have her. By this alert, the help of the public is requested to locate the child. If you have any information regarding this case, please call the telephone number 104-28-00, extension 2956 or 2957, of the Centro de Apoyo a Personas Extraviadas o Ausentes (CAPEA) (Support Center for Missing Persons), or the emergency numbers 066 or 089. -
Pescadero Community - The Community of Pescadero is in need of solutions to many of the situations related to Environment, Culture and Social Development, Commerce and Tourism, Health, Public Work and Safety. We know there are many talents in the Area so we are trying to put together a Directory of all the People with an actual or former profession related to any of the topics mentioned above. We can exchange ideas and probably work together towards a better life and environmental quality. We want all this information to be public and show transparency so if you think you could help to do this possible, write us an e-mail to hesedn [-a t-] hotmail.com

Put "Pescadero" as a topic in the mail and include your name, profession, contact information and the place where you reside. Please spread this information to your contacts, we are receiving good ideas and good energy from people. It doesn´t matter if you are from La Paz, Todos Santos, Pescadero or Cabo. Let´s make it happen! If you need further information please contact us to my mail or to southbeachcom2010 [-a t-] yahoo.com. - Hesed Najera, 6121512514, Baja California Sur
Discussion About Netzer / Santander Bank - Courtesy Baja Pony Express - Warning: In this letter, one of the readers inquired about a company called "Netzer" who has been sending letters to Americans with fideicamisos that are held by Santander Bank. The letter states that Netzer represents the bank in the U.S., that one's [fideicamiso] fees are in arrears, sometimes in the thousands of dollars, and instructs the recipient to send these supposedly "past due" fedeicamiso fees directly to Netzer at a U.S. address.

We went online and found out that Netzer has no business standing or legal filing in the U.S. Further, we traced the address to an office building and called the building's owner. They said they had never heard of Netzer but rented temporary offices by the month and someone probably used one for that purpose.

It is obvious that this company, and it's demand letters, is a sham and a fraud; they have obviously gotten into Santander Bank's fideicamiso files since they had our name, address and fideicamiso number. Whether someone in the bank in Los Barriles or La Paz is feeding them this information remains to be seen but anyone receiving a letter from Netzer should immediately turn it over to Santander Bank. Bob Angell, robertrangell [-a t-] gmail.com - moderator [-a t-] bajawesternonion.com, Baja California Sur
Todos Santos Recycling Program Summer Hours 11am-1pm - Hello All! Recycling collection will continue with new summer hours from 11-1pm every Wednesday. We had our first points program with the schools last month. We received and weighed all the plastic the kids could bring on one day. The results were great!

Also take a look at our website enviromass.com for photos of whats going on in the recycling world. Some of the loads are plastic we've moved from Todos. The last load of plastic that left Todos in June weighed approximately 700 pound (350 kilos). Thanks to all who recycle in Todos, without you there would be no us!

The drop off location is across from Super Pollo and Sol Mercado #1. - C Mihm, info [-a t-] enviromass.com, enviromass.com, 6241749260
BCS School Of Music Concert - Courtesy La Paz Gringos - July 5, symphony orchestra concert: The Sala de Conciertos La Paz presents the Orquesta Sinfónica de la Escuela de Música del Estado for a concert at 8 p.m. at the Sala de Conciertos La Paz, Morelos 1055, on the corner of Marcelo Rubio, next to the state music school. The performance is a benefit for Capacitación de Docentes. Admission is 100 pesos. - sehablalapaz, julesenlapaz [-a t-] gmail.com, La Paz
Salvavidas Todos Santos News - San Pedrito de las Palmas has lifeguards! We are now on duty at las Palmas every weekend from 11 am to 6pm. with this we are trying to get people to come and enjoy one of the most beautiful beaches in the west coast of suthern Baja.

For the hurricane season we are trying to get together a rescue boat for the strong currents on this season. its an 'achilles' 14' inflatable boat. we are now working on the deck because it needs to be a one piece deck. but we still need a gas tank and the hoses for its 30 h/p suzuki engine. if anyone can help with any of this please contact us. Thanks again, see you at the beach. - Carlos, retacarlos [-a t-] gmail.com, 612 1028701
Share A Mailbox - Jack Hall and Tim Doyle are looking for a third party to share a box at Mailboxes Etc. in Cabo. Receive dependable mail delivery for about 12usd per month. If you are interested, please call Tim at 612-145-0821. - Tim Doyle, timsudoyle [-a t-] hotmail.com, 612-145-0821, Todos Santos
Need To Rent A Car - Interested in renting a car or truck in Todos Santos or Pescadero area until the end of September or anytime available short or long term. No importance of style or beauty required, just something simple to get me around town during the summer. Able to pay between two or three hundred US dollars a month and any accidents or damage done would be paid in full. Brianna Esperanza 612-167-4151 - Esperanza B., BriannaBerban [-a t-] hotmail.com, 612.167.4151

Anyone Wanna Come Surf Mainland Mexico? - Australian male surfer 26 looking for travel buddy, either male or female, to accompany me on a mellow journey down the coast of mainland mexico. Surfing, fishing and exploring. Truck, cooking utencils, camping equipment, all provided. Currently residing in pescadero, will be looking to catch ferry from La Paz within 2 weeks, Come and join the good time train, Must provide own finances for food etc, email me asap for an experience of a lifetime, - Saxon Scott, saxonscott [-a t-] hotmail.com, Pescadero
---
Submit your News and Events, Questions and Answers articles here: http://www.bajawesternonion.com/submitad.asp
Return to Top
---
---
Featured Events This Week
---
Saturday, July 2
Raffle, Entertainment Night, Pescadero - Last event of the "Fiestas Patronales Cuasiparroquia del Sagrado Corazon de Jesus" Catholic Church fundraiser, 7PM, Plaza Publica (La Concha), Pescadero. Contact: - Pesc Activities, southbeachcom2010 [-a t-] yahoo.com, 612 118 3423
Monday, July 04
4th of July BBQ, Pescadero - Live music and drink specials, Sandbar, Pescadero. Doors open 1 p.m. Music starts 6 p.m. - Helen helenbaysandbar [-a t-] gmail.com, www.sandbarbaja.com/Sandbar/Home.html, 612-102-9135, Pescadero
Tuesday, July 05
BCS School Of Music Symphony Orchestra Concert, La Paz - Orquesta Sinfónica de la Escuela de Música del Estado, 8 p.m., Sala de Conciertos La Paz, Morelos 1055, corner of Marcelo Rubio, next to state music school. Benefit for Capacitación de Docentes. Admission 100 pesos. - sehablalapaz, julesenlapaz [-a t-] gmail.com, La Paz
Saturday, July 9
String Quartet Music Concert, Todos Santos. - From The Youth Symphony Orchestra, Mexico City, at 8 P.M., Marquez de León Theater. Donations suggested. - Heriberto Parra Hake, Patronato del Teatro Manuel Márquez de León A.C., hparra [-a t-] prodigy.net.mx, 612 117 3945, Todos Santos
Saturday and Sunday, July 9 and 10
San Juan Barrio Carnival, Pescadero - San Juan Basketball Court, North side of Pescadero. Details to be announced. Donations & more info, Contact: - Pesc Activities, southbeachcom2010 [-a t-] yahoo.com, 612 118 3423
Monday, July 11 - 14
Junior Lifeguards/ Salvavidas Junior - Ages 10 to 20. Instruction in basic water safety, injury prevention, lifeguard training techniques, kayaking, snorkeling, surfing, leadership, responsibility and first aide. 10 a.m.-3 p.m.. $800 pesos/week. Registration includes uniform, transportation, pool fees, equipment, instruction, and certificate. - Francesca, lasirena.ts [-a t-] gmail.com, www.todostortugueros.org or www.lasirenakayaksurf.com, 145-0353, Todos Santos
Tuesday, July 12
Dance Performance, La Paz - City Theatre, 8:00 PM. Program includes Spanish Flamenco and Middle Eastern dance. Tickets 80 pesos advance at Centro Mujeres Marquez de Leon 480-B between Serdan y Revolucion (next to Agua Monarka), or 100 pesos at the door. - Pacenagirl, pacenagirl [-a t-] gmail.com
---

---
New Community Events and Workshops Notification Page - You can submit event notices for The Community Calender or Workshops and Meetings pages. The Community Events calendar is limited to non-recurring community events (Sorry, no "Happy Hours," "Daily Specials," or other recurring business activities :). Submit your Community Events and Workshops notices here: http://www.bajawesternonion.com/submit-event.asp
Return to Top
---
---
Stepping Out - Food, Music and Entertainment
---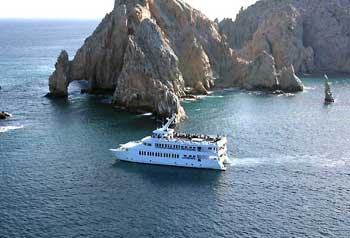 Caborey Dinner Cruise - With over 40 years offering tours in Mexico, Caborey has firmly established its reputation for quality, safety and fun. Reserving tours in advance through our website assures that you are purchasing tours from a reputable source and that the date and time of your reservation will be respected. Allow us the pleasure of providing these services for you.

Experience the natural wonder of Cabo San Lucas from aboard our luxurious 144' triple deck catamaran... From the moment you board the Caborey prepare yourself for an exhilarating experience. The majesty of the Land's End rock formations including Cabo's iconic "Arch" will spread out before you as the Caborey slips away from the marina and into Medano Bay. Live music and limitless cocktails accompany the breathtaking view from the upper deck of the Caborey as it follows its route along the tip of the Baja.

As the sun sinks into the horizon, tempt your palate with one of our 6 delectable entrees. Then as you take your last bite of scrumptious dessert, sit back and enjoy a Las Vegas-style show that will delight you with the sounds and rhythms of Latin America. - Caborey Cabo, reserv [-a t-] caborey.com, www.caborey.com, 143 8060, Cabo San Lucas

Zen Garden Open All Summer - We have a fabulous chef from a 5-star restaurant in Cabo. I won't mention the name, but when you come in, I can tell you where. After working there for 8 years, he's decided to make a move to Todos Santos and settle down at Zen Garden Cafe, even though the restaurant in Cabo begged him to stay! He's one of the best chefs I've ever worked with in my life. He can prepare exotic Thai, modern Japanese, Chinese, and fresh Vietnamese. He makes the best homemade dumplings -- my favorite! Please come in and try his delicious food, at our excellent prices, prepared with Zen Garden's love and care! Just so you know, we have specials every day, and look out for food tastings in the future! We'll be open all summer long, so you'll have a place to enjoy Asian fusion in Todos Santos. - yanggum [-a t-] zengardencafe.com, www.zengardencafe.com, 612-145-1088, Todos Santos

Baja Beans At Pura Vida - Baja Beans is still serving delcious hot and iced coffees and fresh baked goodies 8am-3pm wednesday through sunday until the end of July 2011. We welcome all visitors to come and share the tranquility, shade and tasty delights. Or you can find fresh bags of Baja Beans coffee for sale at Pura Vida Organic Health Food Store and Deli in Todos Santos to enjoy in the tranquility of your own home. Look forward to seeing you for your next cup. - Sandra Wohlers, info [-a t-] bajabeans.com, www.bajabeans.com, 6121673139, Pescadero

1er. Festival Del Asado Con Cuero Y Del Vino - Restaurant "Estancia Uruguaya" tiene el agrado de invitarlos al "1er. Festival Del Asado Con Cuero Y Del Vino" a realizarse el 17 de Julio en el Rancho "La Querencia" en el km.17 Carret. a Los Planes, La Paz. Es un evento familiar, cultural y turístico que se realizará por primera vez en La Paz y nos gustaría que lo difundieran. En resúmen el espectáculo es apreciar al chef Gerardo Doti el arte de asar durante 12 horas 600 kg. de carne, que incluye una res completa, 10 lechones y 10 borregos y varios cortes todo a las brasas.

El evento comenzará el sábado 16 de julio a la noche dónde se podrá disfrutar del paso a paso y el Domingo 17 durante todo el dia degustar las especialidades. Nos gustaría contar con su apoyo, quedo a sus órdenes y desde ya muy agradecido. Saludos cordiales -

Restaurant "Estancia Uruguaya" is pleased to invite you to the "1st Barbecue Festival With Leather And Wine" to be held July 17 at Rancho "La Querencia," km.17 Los Planes Highway. It's a family cultural and tourism event, to be held for the first time in La Paz and we would like to broadcast it. In short the show is to appreciate chef Gerardo Doti's art of grilling 600 kg. meat for 12 hours, including a whole beef, 10 pigs, 10 sheep and various cuts all barbequed over coals.
The event will begin on Saturday July 16 at night where you can enjoy the step by step and Sunday 17th all day to enjoy the specialties. We would like your support, I am at your service and already very grateful. Sincerely - Gerardo Vicente Doti Voituret, estancia.uruguaya [-a t-] hotmail.com, 612 141 9048 Cel. -
---
Submit your Stepping Out - Food, Music and Entertainment announcements here: http://www.bajawesternonion.com/submitad.asp
Return to Top
---

---
Misc. Sales and Services Available/Wanted
---

Summer Special - San Jose Storage is conveniently located next to the San Jose del Cabo International airport. We offer daily and monthly parking with outside, covered, or garages available with airport transportation and car wash / vehicle maintenance while you are gone.

San Jose Storage also offers mini storage units from 5x5 to 10x40.

Summer Special - this month we are renting 10x10's for $40 USD / month for all new clients. Call for details! - Nathan Visser, nathan [-a t-] sjstorage.com, www.sjstorage.com, 624-146-1390, San Jose Del Cabo
Summer Sale! 20% Discount On All Outdoor Wicker Furniture And Selected Items, Casa Decor, La Paz - Indoor and outdoor furniture and interior design service. We custom make furniture:
* Largest Inventory In The Baja * Patio Furniture. * Wicker, Rattan And Marble * Lighting. * Rustic Hand Painted Furniture * Metal Furniture. * Copper Furniture * Kitchen Cabinets. * Doors * Floor and Wall Covering. * Art * Accessories * Fountains And Urns. * Imports From Around The World. * Unique Selection of Furniture And Accessories. * Mexican Furniture * Furniture Packages
Fine furniture made to order. Wholesale to the trade. The Best selection in the Baja at Casa Decor. Two Locations: Casa Decor La Paz, 560 Marquez de Leon, Tel: 612-129-3364. Casa Decor Cabo San Lucas: on 4 lane KM 3.5 next to Artisanos and Natural Marble and Stone, Tel: 624-178-8146. - richards77 [-a t-] pcisys.net, http://www.antiquerowmarket.com, Baja California Sur
1998 Dodge Ram 1500 Dual Cab - 1998 Dodge Ram 1500 Dual Cab / with shell- 109,000 miles. Runs great, no dents clean inside -maintaned. looking for a smaller truck or SUV in trade plus 35,000 pesos - Bernadette Coyne, bernadettecoyne49 [-a t-] yahoo.com, 612 171 2062, Rancho Nuevo
Cleaning Out the Bodega! - Screws, bolts, nails, drawer pulls etc. Plumbing and Elec. parts. Wood shelving, molding, etc. Garden lights and other stuff. A few deco items, dart set, kitchen cart, dual fan exhaust hood, Ikea curtain rods, etc. email to see. - Sylvia St.clair, sasinbaja [-a t-] yahoo.com
Pacific Window Washing - Professional home window washing now servicing San Jose del Cabo, Cabo San Lucas, Rancho Migrino, Elias Calles, Rancho Nuevo, Pescadero, Todos Santos and anywhere in between. For free estimates, call Mark at 612-143-3316. www.pacificwindowwashing [-a t-] gmail.com
Multiservicios Ryjos, Todos Santos - ofrece suministros de oficina y servicio de fotocopias, Internet y servicios informáticos. Ubicación: El Otro Lado, Calle Horizonte esq Nicolas Bravo, Colonia el Rio, frente a Café La Esquina, Todos Santos:
Papeleria - Venta de artículos escolares-oficina, Copias, Enmicados, Engargolados, Servicio de impresión negro y color. Copías CD/DVD.

Internet / Juegos - Servicio de mensajería instantánea, Skype, E-mail, descargas de musica y fotos, Xbox 360, servicio de Scanner. Wireless

WiFi / VoIP / Computadoras - Venta, instalacion y soporte de redes cableadas e inalámbricas, Voice Over IP (Vonage, Net2phone), computadoras.
Horarios: Lunes, Martes, Jueves, Viernes: 8:00 A.M - 9:30 P.M., Miercoles Y Sabados: 8.00 A.M - 4:00 P.M. Domingo: Cerrado
Ryjos Multi-services, Todos Santos - offering office supplies and copy services, internet and computer services. Location: "El Otro Lado, " Calle Horizonte at the corner of Nicolas Bravo, Colonia el Rio, in front of Café La Esquina, Todos Santos:
Stationary Store - Sales of School and office Supplies, Copies, Laminating, Binding, Black and While and Color Printing Service, Scanner service, CD/DVD Copies.

Internet / Games - Instant Messaging Service, Skype, E-mail, downloading music and photos, Xbox 360, Wireless Access

WiFi / VoIP / Computers - Sales, installation, service and support: wired and wireless networks, Voice Over IP (Vonage, Net2Phone), computers.
Hours: Monday, Tuesday, Thursday, Friday: 8 a.m. - 9:30 p.m., Wednesday and Saturday: 8 a.m. - 4 p.m. Sunday: Closed. Propietario/Owner: Josue Castillo Mayoral, Business Telephone: 612-178-0039, Cellular: 612-148-3786, jocama85 [-a t-] hotmail.com, Todos Santos

Need a Ride to or From the Airport? Or Someone to Assist You With Errands? - I am a young, bilingual Christian man and I can provide you with rides to or from the La Paz or San Jose Del Cabo airports. I can also help you with courier services, errands, or navigating the intricacies of dealing with Mexican businesses and the government; Car Registrations, TelCel and TelMex, CFE, Seguro Social, etc.

Reasonable Rates - Contact: Ernesto, Cel. 612-117-7497, ernie_net [-a t-] hotmail.com
Small Bed/sleep Sofa Needed - In Todos Santos I need a bed not over 40" in good condition with a good price. 145-0073 Thanks, Janel - Janel Beeman, janelb3 [-a t-] yahoo.com, 145-0073
Hughesnet Satellite Internet
Now, Connect to The Internet No Matter Where You Live:
Always-On Connection, Available Where DSL and Cellular Won't Reach
PC, Mac, Wireless Compatible
Multiple Computers Can Share the Same Internet Connection Full-Time
Vacation Holds Available on All Plans
Anti-Virus And Email Spam Filter
No Phone Line Needed, No Busy Signals, No Missed Calls
Professional Installation Available Anywhere in Southern BCS
Purchase Your System From Baja Satellite Before June 30 and Get:
1. Mail-In Rebate for $199.99 off Equipment Purchase! 1

0.74 Meter Dish with 1 Watt Transmitter - Only $299 US After Rebate!. 0.98 Meter Dish with 2 Watt Transmitter - Only $699 US After Rebate!

2. Mail-In Rebate for $20 off Your First Three Months of Monthly Service ($60.00 Value)! 2

Data Plan
Download / Upload Speed 3
Monthly Service
Home
1.0 Mbps/128 Kbps
$39.99/mo, first three months!
Pro
1.2 Mbps/200 Kbps
$49.99/mo, first three months!
ProPlus
1.6 Mbps/250 Kbps
$59.99/mo, first three months!
Baja Satellite is an Authorized HughesNet Reseller. For more information Contact Us today: alan [-a t-] BajaSatellite.com, www.bajasatellite.com, (530) 903-4257 (From US), (01) 555 351 0882 (From Within Mexico), Baja California Sur
1 Prices shown are after $199 mail-in rebate, and do not include Mexican shipping, importation or installation. System must be purchased before June 30. 2 $20 off per month for 1st. three months, after $60 mail-in rebate. System must be purchased from Baja Satellite before June 30. All plans require 24-month contract. . 3 Absolute maximum speeds stated by HughesNet. Actual speeds will be less, and speeds will vary throughout the day and week depending upon total number of HughesNet subscribers sharing your satellite channel.


Summer Ad Special! - Put your ad in front of over 3, 100 Baja Western Onion subscribers in Four consecutive issues for only $10 dlls ($120 pesos). Get more coverage for your next Yard Sale, Vehicle, Misc. Wanted or For Sale ad.

For only $10 dlls US, we'll run your ad for a total of Four consecutive issues, allowing your ad to appear in each issue for two weeks. Also, we'll feature your ad within a red, highlighted box. This special offer applies only to text-based ads submitted by non-commercial, private parties, and is subject to our editorial policy. Sorry, this offer not available for display banner graphics ads, or ads for businesses, real estate or rentals available.
Payment: All Summer Special ads must be prepaid in advance of initial run date. You can make your payment online via PayPal athttps://www.paypal.com/cgi-bin/webscr?cmd=_xclick&business=advertising [-a t-] BajaWesternOnion.com, or call us at 001 530 903 4257 or 01 33 8421 1142 (From Mexico) to make payment directly by VISA, MasterCard, American Express or Discover Credit or Debit Card.
Free Ads: As always, you can place a Free text-based ad in the Baja Western Onion once every 14 days. Submit your Free Ad or Article here: www.bajawesternonion.com/submitad.asp. -
For more details on our advertising opportunities, please visit www.bajawesternonion.com/advertising.asp or send an Email to: advertising [-a t-] BajaWesternOnion.com
---
Submit your Misc. Sales and Services Available/Wanted articles here: http://www.bajawesternonion.com/submitad.asp
Return to Top
---

---
Real Estate, Rentals, and House Sitting - Available/Wanted
---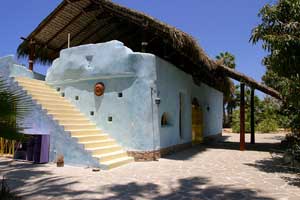 Todos Santos Beach House on a Tranquille Lush 5, 206.22 Sqmt Property - For Sale by Owner: - Two (2) separate driveway entries give the 5, 206.22 sq meter (1.25 acre) property privacy from both the front and back, giving flexibility to build additional homes or to split in the future. Soil on the property is rich organic black soil, ideal for other organic gardening.

* Property is an enclosed oasis and has unlimited access to farm water that nourishes the over 85 mature mango trees, 80 lush palm trees over 5 feet, passion fruit trees, citrus fruit trees and avocado trees, all of which give the property its cool shade that is coveted in the region and frequently not available on other properties of comparable or more value in the desert landscape.
* Property has power, water (both municipal and farm water), gas and Internet.
* A 6-minute walk takes you to the secluded beach, and a 5-minute drive finds you in the heart of TS.

If you have questions or would like to make an offer after viewing the property on YouTube (www.youtube.com/watch?v=krg9FEeiRtk), feel free to contact us. Save on the fee and make us a good offer. - Anh Walch, anhwalch [-a t-] yahoo.com, 212-692-0912, Todos Santos
For Rent - Quaint cottage on a lovely ranch in Pescadero: 1 Bedroom, furnished, utilities not included. Please, telephone calls only at 612-176-3119 (Pescadero). - Mariposa, mariposabcsmx [-a t-] live.com
Housesitter Needed/Todos Santos - Great house needs a responsible non smoking house sitter for two or three months. Only costs are electric and water. No internet or phone; perfect for someone wanting a retreat and quiet. Great location in La Cachora in Todos Santos. View of mountains and ocean. Two minute walk to beach. Down same road as Hotelito. Internet at Le'esquina. - Peter eda [-a t-] producersltd.com, 403 995 4686
House Sitter Needed For Month Of July - Need reliable house sitter for one month. 2 bdrm/2br home in VERY quiet neighborhood of TS . Pool. 4 blocks to beach. Not a paid position. - Dale Townsend, milagrodale [-a t-] gmail.com, cell 612 141-0427
House Sitter Avaliable - Retired Banker living in San Diego avaliable for house/pet sitting while you get out of the HOT Baja Sun.Come back an visit the Friends/Family. Minimum assignment 2weeks. I will fly to Cabo rent a car or you pick me up and I will protect your home and pets. Been there and done it for over 9 years. Simple must have TV, Internet, and Air Cond in bed room and good fishing near. - Ted Lemanowicz, tlemanowic [-a t-] sbcglobal.net, 760-727-5063
House For Sale In Los Barriles - This is a must see opportunity, great located house with commercial lots available for rent already built. Check out this website it has plenty of information and a contact form to be in direct communication with the owner. Just in downtown of LOS BARRILES more than 20000sq. ft. - Daniel Pelatos, danielpelatos [-a t-] hotmail.com, www.casadonaconcha.info
34 Lots For Sale In Los Barriles - 34 lots for sale, all paper work and amenities like water and underground electricity is done. Properties are ready to be sold, permits for construction, taxes, subdivisions, etc. This project is designed by owner, it has two entrances, a dedicated ramp for taking your boat to the ocean. 12,000 sq. ft. average lot size. - Daniel Pelatos, danielpelatos [-a t-] hotmail.com, www.bajalotsforsale.com, Baja California Sur
House Sitter Avaliable - Hi, mi name is Bastien, i am the new chef at Santo Vino, and i am looking for house sitting here in todos santos!!! if you are interested you can see me at the hotel california or call me: 612 140 3732. Thank you for helping me. - Bastien Boucard, bastien.boucard [-a t-] gmail.com, 612 140 3732, Todos Santos
1 Bedroom Casita For Rent - King Bed full Kitchen and hot shower. This cute casita is for Rent summer rate $50.00usd a night 3 night minimum. Gated fruit trees steps away from the beach. Check out the website - youreyesinmx [-a t-] yahoo.com, pescaderovilla.com/ , 612-142-6391
Apartment For Rent - Beautiful apartment for rent. This is a spacious and bright 3 bedroom 2 bath apartment with AC. Built in kitchen with six burner stove and garbage disposal. Fans throughout, In a Great Residential Neighborhood Close to Fidepaz Hospital. Asking price $600.00 US per month. For information or pictures please call my cell 612 137 9747 or E mail. - Mercedes Cole, colemercedes [-a t-] htomail.com, 612 137-9747
---
Submit your Real Estate/Rentals/House Sitting/Property Management Services articles here: http://www.bajawesternonion.com/submitad.asp
Return to Top
---
Rides or Caravans Available/Wanted
NOTE: Ads will run for two weeks unless dated. Please list the date in the title, and specify which airport. Goes without saying, everyone shares expenses for beer, gas, food, etc

To remove your ad if you find a ride or caravan, let us know here: www.bajawesternonion.com/submitad.asp -
---
Vehicle Delivery? - Anyone need a vehicle delivered from U.S. (mostly anywhere) to Baja Sur in the next 2 weeks? (ad first appeared Saturday, June 25) - Tom, carrollemail [-a t-] aol.com
North Bound After June 30 - Heading back to the states after June 30, departure date is flexible but would like to leave by the first week of July. Preferably looking for someone to help with driving but will join a caravan if you're already driving yourself. F150 with myself and a pretty rad dog - spenfoldbrown [-a t-] gmail.com
Room for Stuff Going South by July 01 - We are traveling to Arizona and returning July 1 (approx.). Have space on enclosed truck bed. If anyone needs anything brought down, let us know - will exchange space for gas money. Thanks - Doug, extranheros [-a t-] hotmail.com, Pescadero
Northbound 1st week of July - leaving for Oregon. No room for riders,but care to caravan...call me [-a t-] 624 174 3107 , Monte - Monte Danville, danvillesoregonreign [-a t-] hotmail.com, 624 174 3107
July 6: Need Ride From Cabo Airport To Todos Santos - I am arriving at the airport July 6 at 11:30 a.m. with some luggage and need a ride to Todos Santos. Will share expenses. - Thomas Garland, garlandtag [-a t-] gmail.com
Back to the States July 10 - Heading back to the States (as far as San Francisco if that's your destination too) on July 10 and would love to not be doing it solo. You could help with driving or just rest easy as co-pilot, either one is fine so long as a little gas cash gets chipped in. Folk/funk/rock/reggae ... whatever, it's all good as long as it keeps the good driving energy going. My girlfriend is heading straight home from the Galapagos, while I have the fun luck of returning to La Paz and getting our car and things back up to California. Let's take on this drive together! - gabriel.holt (at) gmail.com, Baja California Sur
North Then South After August 15 - I am flexible, will be heading North sometime around the middle to end of August with a F350 4 door truck and possibly with a large dual axle 23 foot enclosed trailer, or a small open 8 foot trailer. I can haul things and people both directions. Will be heading to San Diego, possibly LA and southern UT. And returning to baja in September. Have made the trip about 30 times. - Dean Devolpi, dean [-a t-] la-ventana.com, 612-114-0202, La Paz
---
Submit your Rides or Caravans Needed/Available articles here: http://www.bajawesternonion.com/submitad.asp
Return to Top
---
Pet Corner (Lost and Found pet articles will run for two weeks)
Let us know if you find or place your pet so we can remove your ad -
---
Adorable Kittens Seek Loving Home(s) - We were abandoned before our eyes were open (around 10 days) and a big brown dog found us. She is our rescue dog and her owner has given us a foster home to raise us up to be charming kittens. He spends lots of time with us and we love all the affection and give it right back. We are about 8 weeks old now and ready for our permanent homes! We are litter trained. We've had our first check-up at the vets and he proclaimed us healthy and ready for adoption. Won't you please adopt me or one of my sisters? Give Jaime a call or write Deborah an email if you'd like to meet us! That would be purrrrrrrrrrrfectly wonderful! - Jaime Wood, deborahhorn [-a t-] hotmail.com, 612-132-8893, Todos Santos
5 Puppies Need 5 Homes - I found 5 black puppies dumped alongside a deserted dirt road, outside of Pescadero. All 5 needs a good home, and TLC. Please adopt one, or two, if you can. I can't keep them. Thank you. Please call 612-140-7923. - Mary donegalmoon [-a t-] gmail.com, Pescadero
Dog Urgently Needs Your Help. - A good-tempered, sweet dog needs temporary immediate assistance and adoption. Present needs: A contained enclosure to manage shampoo bath every 3 days for 2 weeks, Flea/tick preventive med application, renew rabies shot. She has had care for over a year to bring her to good health but she can no longer remain on our commercial property. If no one steps forward to assistance by June 30, I have no choice but the unspeakable. - Lady, macnmoli [-a t-] yahoo.com, 612-118-3423, Pescadero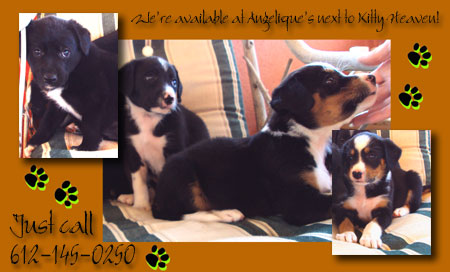 Three Dog Surprise Delivery -Three gorgeous puppies were dropped off at my house and there's no way I can keep them all.

The pups may be Australian Shepherd mix, though the biggest one (black & white in color) has fur more like a lab.

For more information, call me at 612-145-0250 or write me. - Angelique BajaKitties [-a t-] Yahoo.com
Lost Dog Seen At La Posa - A small white/cream-colored dog was seen running and hiding in the tall rushes at the north end of La Posa lagoon. It is similar to a poodle, with long floppy ears, wearing a pink and black dog-dress. Do you know of anyone who dresses their dog like that? Thanks - Serena S, brentserena [-a t-] gmail.com, 612-132-8913
Take Me! - I have a female dachshund with all her shots and I have her paper work. I really love her but I am having a baby this month; I can't take the risk of tripping over her and hurting my baby. Please, if you know of anybody who wants her, let me know. Thank you. - Taylor Daniels, taylor210210 [-a t-] hotmail.com, 612-104-8209
Beautiful Dog Needs Home - We fostered a female dog named Onyx since she was 8 weeks old. She has been at a trainer for 3 weeks. She has a lot of energy and really needs a lot of property to run on. She has been fixed, has all her shots, weighs 45 lbs. and is absolutely beautiful. Unfortunately, we couldn't foster her any more and she is at the Los Cabos Humane Society. You can contact Everesto at the shelter for more information. - Everesto, evaristoah [-a t-] hotmail.com, www.loscaboshumanesociety.com, 624-129-8346, Cabo San Lucas
Found Puppy - Monday, June 13: Female puppy approx. 4-8 weeks old in Pescadero/Los Cerritos. Black with tan boots and eyebrows. - Kelly Cline-sniechowski, kelbil2002 [-a t-] yahoo.com, 624- 118-1603, Pescadero
"Good Dog" Needs A Ride Home To Rosarito From Guerrero Negro - Hola, It is a long story on how our dog (Einstein, he was named that from the shelter/rescue group) is still in Guerrero Negro after our car broke down 60 miles north of there almost four weeks ago. Actually, the story has a way in which the 'universe' can show a sense of humor on what one plans to do. LOL anyway - the car is still not fixed, however, it was towed to Rosarito and we are looking for the right and perfect motor (Subaru 2.5 liter engine) - if you know of one, please let me know.

The question is: do you know anyone going north (Rosarito) from Baja Sur that can stop in Guerrero Negro and give our dog ' a ride home?' He's good natured, calm, and mostly obeys simple commands. He weighs about 65 pounds and will stay "in the back" when you tell him "stay" - If you can 'bring him home' - we would gladly help out on your gas expenses. All he needs is a couple of times to go for a short walk to do his normal body functions. He will have his food and water bowls along with his bed - and, he is an experienced traveler. - Richard Herndon, richardofbaja [-a t-] yahoo.com
Impossible to Resist! - New arrivals at Kitty Heaven despite all of our efforts to spay and netuer (but without the help of the community, there would be even more!).

All colors, all very young and playful. For more information, call Angelique at 612-145-0250 or write her at BajaKitties [-a t-] Yahoo.com

Kitty Heaven is the only all-cat refuge in Baja California Sur. Visit us on the web athttp://bajarescue.org/#KittyHeaven. We survive via your kind donations. To send your support, please click the "Donate" button below:
---
Submit your Pet Corner articles here: http://www.bajawesternonion.com/submitad.asp (and remember to Spay and Neuter your pets)
Return to Top
---
Quote of the Day: " There is a sufficiency in the world for man's need but not for man's greed. " ~ Mohandas K. Gandhi
---
Looking for the complete Community Events Calendar? Click Here!
---
Return to Top
---
---
Help Support The Baja Western Onion!

We can accept donations byCredit Card, PayPal, cash, check or direct deposit.

For more information, please visit our web site athttp://www.BajaWesternOnion.com/donate.asp.
Copyright © 2006 - 2011. The Baja Western Onion. All Rights Reserved. Published Using 100% Recycled Electrons :)
Return to Top
---