On The Web Site:
---
Today's Weather
---
Community Access
Policia Preventiva
Todos Santos Police
612 145-1052
Commandante Navarro


Ministero Publico
State Police
612 145 0198
Commandante Erigoyen


Bomberos
Fire Department
Cel. 612-142-6387
Commandante Cadena


---





---
Baja Western Onion
Alan Thompson - Publisher
Debra Webster - Advertising
e-mail For General Feedback
---
---
News and Events, Questions and Answers
---
Third Annual Festival D'Arte, La Paz - La Paz Six Begins Preparations for 3rd Annual Festival d' Arte to be held Nov. 27, 2011, at Marina Palmira. The Coordinating Committee for the La Paz Festival D'Arte recently met to plan the 2011 event. Led by the La Paz Six, a civic-minded local group of artists here in La Paz, the next Festival is beginning to take shape.

After two successful years, with help from the city of La Paz, local cultural organizations, as well some State Government officials, the Festival d'Arte has rapidly become a celebration of art and music for all to enjoy. The coordinating committee hopes to find ways to emphasize the beauty and fragility of the Sierra De La Laguna Biosphere as part of the fabric of this year's celebration.

Artists wishing to register for a booth, will follow the same procedure as last year. Registration Information will follow in subsequent announcements. Last year more than $3,000 USD was raised for local charities. - Kathy Bezy, Kathybezy [-a t-] goldrush.com, Baja California Sur
Upcoming Pescadero Events - Saturday, July 2nd, starting at 7PM is the last event of the week-long "Fiestas Patronales Cuasiparroquia del Sagrado Corazon de Jesus" or Catholic Church fundraiser featuring a raffle, entertainment night to be held in the Plaza Publica (La Concha) next to the school in Pescadero. You are invited to join the festivities, participate in the raffle drawings & enjoy a Mexican cultural event. You may also participate by providing a raffle item or direct monetary contribution to the Church.

Friday & Saturday, July 9 & 10: Come join the family festivities at the San Juan Barrio Carnival beginning 4PM at the San Juan basketball court on the North side of Pescadero. Details to be announced. For donations & more info about either function contact: - Pesc Activities, southbeachcom2010 [-a t-] yahoo.com, 612 118 3423, Pescadero
This Year's Mango Chuntey - Needs your glass jars to go in. Glass jars 6 oz. to 1 quart with lids, if possible. You will receive a discount on any you buy. Just call me an I will pick them up from your place. Remember to think of Mangos Magico when looking for a special gift. Tuesdays, 3:30 p.m., at the Mutualista Building. - Scotty Mclemore, scottybcs [-a t-] gmail.com, 612-10 0-5872
Hogar Del Niño Volunteers - We are looking for volunteers who would like to help with meal preparation for Hogar del Niño on a weekly or monthly basis. - Lisa Welsch, lwelsch [-a t-] cbriveras.com, www.hogardelnino.org.mx, 612-140-1414

Many Thanks to St. Luke's And Amerimed - In May, I rushed my husband to St. Luke's Clinic with major heart problems. (Many may not know it, but St. Luke's is well equipped with EKG, X-ray, blood lab, and full-time medical staff). Upon discovery the situation was serious, Dr. Toledo accompanied Harry in the ambulance to the AmeriMed Hospital in San Jose del Cabo. AmeriMed has the only Cath lab in southern Baja as well as a skilled cardiac team. This capability literally saved Harry's life when he went into heart failure and they were able to do an angioplasty on the spot. (American surgeons later commented on the expertise of the procedure).

After a week of complications, it was evident that more extensive surgery was needed and transport to the US was eminent. Again, the AmeriMed staff and Mario Trejo of St. Luke's provided excellent information and helped coordinate the air evacuation, and ensured that Harry's medical information was sent directly to our US hospital so they were ready when we arrived.

Additional thanks to Jacquie Schwoerke, a cardiac nurse from San Diego who happened to be in Todos Santos to do a presentation on health care and came with Mario to my home to discuss options, contacted the cardiac surgeon at our New Mexico hospital and also hand carried needed medical information to the states for us. Once we arrived in New Mexico, Mario called every few days to see how things were going and provided all the paperwork ready to submit to our US insurance company (in actual US insurance codes, no less). He even had someone meet me at the airport upon my return and drive me home to Todos Santos. This kind of service is way beyond anything we could ever expect.

Once Harry is allowed to return home, Mario and the doctors will set up a dialogue between the US doctors and the cardiac specialists here to help us continue his monitoring and exercise program. We are so grateful for not only the expertise and excellent facilities that were available to us, but for the amazing personal care and service that was so generously given on every level of our medical adventure! If anyone would like more information about our experience at St. Luke's or AmeriMed, please contact us. - Sharon Morris, serendipityventures [-a t-] yahoo.com, 612-178-0104 or 612-108-3502, Baja California Sur
Dogs Die In Hot Cars - Courtesy Baja Pony Express - Did you know that:
1. Even on a relatively mild 85º day, it only takes 10 minutes for the inside of your car to reach 102º - even when the windows have been left open an inch or two. Within 30 minutes a car's interior can actually reach a staggering 120º. Your car is now an oven.

2. Even if the temperature outside is a pleasant 70º, the inside of your car may be as much as 20 degrees hotter. Parking your car in shade does not offer protection on a hot day because the sun moves.

3. While humans have sweat glands all over our bodies that help regulate our body heat, dogs cool down mostly by panting, which is much less efficient than sweating. In only a short amount of time, a dog with a high body temperature can suffer critical damage to his nervous system, heart, liver and brain.

In short, if you can't keep Fluffy with you, it's better to leave her at home. Have a happy and healthy summer. Woof! - Amigos De Los Animales, www.amigosdeanimales.org, Baja California Sur

-----------------------------------------------

Additional resources on keeping your pets safe during the summer can be found here:
RSPCA Stay Cool Guide: www.bajawesternonion.com/images/ad/rspca-stay-cool-guide.pdf

Summer Pet Safety Tips - Houston SPCA: hspca.convio.net/site/News2?page=NewsArticle&id=18911
-
Recycling? - On Degollardo across from El Sol there is a recycling center. At that center is a block structure that is nearly full of trash that can't be recycled. Can someone please tell me what is going to happen to that trash, and the structure, once it is too full to put more trash in? - Max Kirk, maxiepad77 [-a t-] yahoo.com, 612- 118-3534
Adios Zumba Jan - I want to thank Jan the Zumba instructor at Rancho Pescadero for the great times, lots of laughs and the great cardio workout! Have a great trip and I look forward to seeing you in the fall. - The Ladies of Pescadero. - bajabeck [-a t-] gmail.com
Reliable Gardener/landscape Maintenance - It took me 7 years living in Mexico to find the right guy for the job. His name is Aaron. He has his own car, shows up on time, has an eye for detail, and a talent for creating landscape design. Aaron understands English better then he speeks it, so the comunication barrier is not an issue. I highly recommend Aaron. - Pat Light, patluz1 [-a t-] gmail.com
Zen Garden Revisited - New chef Carlos does dramatically different things to Lila's Asian cuisine. We could not have enjoyed our luncheon more. The 'pot stickers', carefully made from freshly minced vegetables, the beautifully prepared and served - piping hot - egg roll (Never a favorite with me because they are usually over-cooked). The three sauces we had were each very different and each had depth and character. Open daily from noon - 9 p.m., I think. Good food, spotless atmosphere and you can watch Carlos prepare your meal, if you like. - wsgps34 [-a t-] yahoo.com
"Good Dog" Needs A Ride Home To Rosarito From Guerrero Negro - Hola, It is a long story on how our dog (Einstein, he was named that from the shelter/rescue group) is still in Guerrero Negro after our car broke down 60 miles north of there almost four weeks ago. Actually, the story has a way in which the 'universe' can show a sense of humor on what one plans to do. LOL anyway - the car is still not fixed, however, it was towed to Rosarito and we are looking for the right and perfect motor (Subaru 2.5 liter engine) - if you know of one, please let me know.

The question is: do you know anyone going north (Rosarito) from Baja Sur that can stop in Guerrero Negro and give our dog ' a ride home?' He's good natured, calm, and mostly obeys simple commands. He weighs about 65 pounds and will stay "in the back" when you tell him "stay" - If you can 'bring him home' - we would gladly help out on your gas expenses. All he needs is a couple of times to go for a short walk to do his normal body functions. He will have his food and water bowls along with his bed - and, he is an experienced traveler. - Richard Herndon, richardofbaja [-a t-] yahoo.com
New Community Events and Workshops Notification Page - We've added a new form to the Baja Western Onion web site where you can submit event notices for inclusion in The Community Calender or Workshops and Meetings pages. This creates a shorter form of event announcement used in the Community Calendar and Wokrshops pages, and is not subject to our 14-day rule on repeating Free articles or ads in the Baja Western Onion.

Please note that the Community Events calendar is limited to non-recurring community events (Sorry, "Happy Hours," "Daily Specials," or other recurring business activities do not qualify as Community Events :). All event submissions subject to review. Submit your Community Events and Workshops notices here:http://www.bajawesternonion.com/submit-event.asp
---
Submit your News and Events, Questions and Answers articles here: http://www.bajawesternonion.com/submitad.asp
Return to Top
---
---
Featured Events This Week
---
Today, Wednesday, June 29
Salsa Lessons With Noralys Cantero - Guaycura Hotel, Todos Santos, 5:00 pm, $100 pesos per person, $ 150 pesos per couple. - reservation [-a t-] guaycura.com.mx, www.guaycura.com.mx, + 52 175 0800
Friday, July 1
Live Music at Shut Up Franks, Todos Santos - Ben & The Men, 6:30-9:30 p.m. - Steve Fidnick, Cabofiddy [-a t-] yahoo.com, 612-143-2179
Saturday, July 2
Raffle, Entertainment Night, Pescadero - Last event of the "Fiestas Patronales Cuasiparroquia del Sagrado Corazon de Jesus" Catholic Church fundraiser, 7PM, Plaza Publica (La Concha), Pescadero. Contact: - Pesc Activities, southbeachcom2010 [-a t-] yahoo.com, 612 118 3423
Monday, July 04
4th of July BBQ, Pescadero - Live music and drink specials, Sandbar, Pescadero. Doors open 1 p.m. Music starts 6 p.m. - Helen helenbaysandbar [-a t-] gmail.com, www.sandbarbaja.com/Sandbar/Home.html, 612-102-9135, Pescadero
Friday & Saturday, July 9 & 10
San Juan Barrio Carnival, Pescadero - San Juan Basketball Court, North side of Pescadero. Details to be announced. Donations & more info, Contact: - Pesc Activities, southbeachcom2010 [-a t-] yahoo.com, 612 118 3423, Pescadero
Monday, July 11 - 14
Junior Lifeguards/ Salvavidas Junior - Ages 10 to 20. Instruction in basic water safety, injury prevention, lifeguard training techniques, kayaking, snorkeling, surfing, leadership, responsibility and first aide. 10 a.m.-3 p.m.. $800 pesos/week. Registration includes uniform, transportation, pool fees, equipment, instruction, and certificate. - Francesca, lasirena.ts [-a t-] gmail.com, www.todostortugueros.org or www.lasirenakayaksurf.com, 145-0353, Todos Santos
---

---
Submit your Community Events and Workshops here: http://www.bajawesternonion.com/submit-event.asp
Return to Top
---
---
Stepping Out - Food, Music and Entertainment
---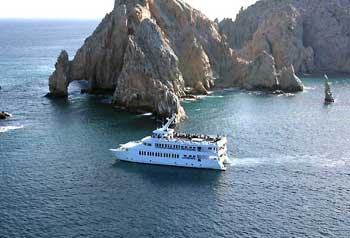 Caborey Dinner Cruise - With over 40 years offering tours in Mexico, Caborey has firmly established its reputation for quality, safety and fun. Reserving tours in advance through our website assures that you are purchasing tours from a reputable source and that the date and time of your reservation will be respected. Allow us the pleasure of providing these services for you.

Experience the natural wonder of Cabo San Lucas from aboard our luxurious 144' triple deck catamaran... From the moment you board the Caborey prepare yourself for an exhilarating experience. The majesty of the Land's End rock formations including Cabo's iconic "Arch" will spread out before you as the Caborey slips away from the marina and into Medano Bay. Live music and limitless cocktails accompany the breathtaking view from the upper deck of the Caborey as it follows its route along the tip of the Baja.

As the sun sinks into the horizon, tempt your palate with one of our 6 delectable entrees. Then as you take your last bite of scrumptious dessert, sit back and enjoy a Las Vegas-style show that will delight you with the sounds and rhythms of Latin America. - Caborey Cabo, reserv [ - a t - ] caborey.com, www.caborey.com, 143 8060, Cabo San Lucas

Salsa Lessons With Noralys Cantero - Guaycura is delighted to invite you to take salsa lessons with Noralys Cantero, this coming Wednesday June 29 at 05pm. $ 100 pesos per person, $ 150 pesos per couple. - Salsa Lessons With Noralys At Guaycura, reservation [-a t-] guaycura.com.mx, www.guaycura.com.mx, + 52 175 0800, Todos Santos

Zen Garden Open All Summer - We have a fabulous chef from a 5-star restaurant in Cabo. I won't mention the name, but when you come in, I can tell you where. After working there for 8 years, he's decided to make a move to Todos Santos and settle down at Zen Garden Cafe, even though the restaurant in Cabo begged him to stay! He's one of the best chefs I've ever worked with in my life. He can prepare exotic Thai, modern Japanese, Chinese, and fresh Vietnamese. He makes the best homemade dumplings -- my favorite! Please come in and try his delicious food, at our excellent prices, prepared with Zen Garden's love and care! Just so you know, we have specials every day, and look out for food tastings in the future! We'll be open all summer long, so you'll have a place to enjoy Asian fusion in Todos Santos. - yanggum [-a t-]zengardencafe.com, www.zengardencafe.com, 612-145-1088, Todos Santos

Michael's At The Gallery Restaurant - Michael's will be closed for 2 weeks starting July 1st. We will re-open Friday July 15th with our Summer menu featuring favorites such as Vietnamese Crab/Shrimp Summer Rolls and Cold Japanese Somen Noodle Soup. See you in July for a cold beer and a Summer Roll!
Open: Friday and Saturdays
Hours: 6:30PM - 9:00PM
The Galeria de Todos Santos will remain open for the month of July. - Michael Cope, mplcope [-a t-] yahoo.com, 612 - 145-0500, Todos Santos
---
Submit your Stepping Out - Food, Music and Entertainment announcements here: http://www.bajawesternonion.com/submitad.asp
Return to Top
---

---
Misc. Sales and Services Available/Wanted
---
Great Furniture and Accessories - Terrific reconditioned furniture and new accessories at a wonderful price - Sandra Scandiber, scandiber [-a t-] yahoo.com, masmilagros.weebly.com/index.html, 624-129-8691

A Unique Fishing Experience - Awaits you in a Ponte Lobos panga with Agustin and his captain. Together they have more than thirty years experience. Bait and gear are furnished and English spoken. Three persons max. Call 612-143-6725 very early or late evening. - Scotty Mclemore, scottybcs [-a t-] hotmail.com, 612-100-5872
Pacific Window Washing - Professional home window washing now servicing San Jose del Cabo, Cabo San Lucas, Rancho Migrino, Elias Calles, Rancho Nuevo, Pescadero, Todos Santos and anywhere in between. For free estimates, call Mark at 612-143-3316. www.pacificwindowwashing [-a t-] gmail.com
Cleaning Out the Bodega! - Screws, bolts, nails, drawer pulls etc. Plumbing and Elec. parts. Wood shelving, molding, etc. Garden lights and other stuff. A few deco items, dart set, kitchen cart, dual fan exhaust hood, Ikea curtain rods, etc. email to see. - Sylvia St.clair, sasinbaja [-a t-] yahoo.com
SUP Board Wanted - I'm looking for a used SUP board and paddle. Must be in relatively good condition with no major dings. Should be approximately 10' to 10'6" long, 28"-30" wide and 4.5"-5" thick. Tri-fin with slot for larger center fin. I want an all-around board that is buoyant and long enough for touring but also agile enough for surfing in small to medium waves. Carbon fiber or composite paddle preferred but will take aluminum. I'm located in Todos Santos but can pick up in Pescadero, Los Cabos and the East Cape up to Vinorama. I would like to be able to try it out once before buying. Can only pay in pesos. - Miguel, bvimiguel [-a t-] hotmail.com, 612-154-5102, Todos Santos
Haulmark Cargo Trailer ($2,250) - For sale is a barely used 12 ft. Haulmark cargo trailer. I bought it two years ago in Colorado in almost-new condition. Drove it to San Juanico where it has doubled as an expensive storage locker! Time to sell as we are moving back to the States but don´t need it for the return trip. Still in very good condition. Interior space is 6x10. Comes with spare tire and extra leaf spring. Can send photos to serious buyers. Maybe can deliver depending on location and timing. - Tony Moats, tonyraja106 [-a t-] gmail.com, Baja California Sur
Summer Sale! 20% Discount On All Outdoor Wicker Furniture And Selected Items, Casa Decor, La Paz - Indoor and outdoor furniture and interior design service. We custom make furniture:
* Largest Inventory In The Baja * Patio Furniture. * Wicker, Rattan And Marble * Lighting. * Rustic Hand Painted Furniture * Metal Furniture. * Copper Furniture * Kitchen Cabinets. * Doors * Floor and Wall Covering. * Art * Accessories * Fountains And Urns. * Imports From Around The World. * Unique Selection of Furniture And Accessories. * Mexican Furniture * Furniture Packages
Fine furniture made to order. Wholesale to the trade. The Best selection in the Baja at Casa Decor. Two Locations: Casa Decor La Paz, 560 Marquez de Leon, Tel: 612-129-3364. Casa Decor Cabo San Lucas: on 4 lane KM 3.5 next to Artisanos and Natural Marble and Stone, Tel: 624-178-8146. - richards77 [-a t-] pcisys.net, http://www.antiquerowmarket.com, Baja California Sur
Xantrex/Trace Sw4024 Inverter/Battery Charger - For sale for $1,250 USD: A used Xantrex (Trace Engineering) Inverter/Battery Charger. This is a true sine-wave inverter. I bought this unit barely used from a dealer/friend and used it for about a year. It has been recently serviced in San Diego and had a new circuit board installed. This model, though discontinued due to tech advances, is still considered one of the highest-quality workhorse inverters ever made. Has many additional features too extensive to list here. Still available new for upwards of $3,000 +/-. Email with questions. Pics available. Delivery possible, depending on location and timing. DC Input: 24V; AC Output: 4000 watts continuous, 33 amps. - Tony Moats, tonyraja106 [-a t-] gmail.com
Plasma TV For Sale - Almost brand-new 42-inch Panasonic Plasma Television for sale. Se vende Television Plasma de 42 pulgadas marca Panasonic, casi nuevo. 9000 pesos - Ryanpesci_sk8er [-a t-] hotmail.com612-132-3434, Todos Santos
Used Surfboard Sale! Buy, Sell, Trade, Barter! - 8,6 McCoy, Gun, 125; 7,2 Yater, Epoxy, 360; 6,10 Stretch, Swallow, 180; 6,10 McElroy, Round, 150; 6,9 Nectar, Pin, 100; 6,8 Olea, Squash, 180; 6,6 Merrick, Flyer, 150; 6,6 Pin tail, 75; 6,4 Epoxy, Fish, 225; 6,4 Apex, Pin, 180; 6,4 Swallow Tail, 150; 6,4 Olea, Fish, 160; 6,0 Evolution, Fish 200 w/ bag. Call or email to set up appointment, and get directions. Can make deals on most boards, or bring your boards for trade or to sell. - Aviel Rush, Pacific_Clean [-a t-] me.com, 612-167-8078, Pescadero
Multiservicios Ryjos, Todos Santos - ofrece suministros de oficina y servicio de fotocopias, Internet y servicios informáticos. Ubicación: El Otro Lado, Calle Horizonte esq Nicolas Bravo, Colonia el Rio, frente a Café La Esquina, Todos Santos:
Papeleria - Venta de artículos escolares-oficina, Copias, Enmicados, Engargolados, Servicio de impresión negro y color. Copías CD/DVD.

Internet / Juegos - Servicio de mensajería instantánea, Skype, E-mail, descargas de musica y fotos, Xbox 360, servicio de Scanner. Wireless

WiFi / VoIP / Computadoras - Venta, instalacion y soporte de redes cableadas e inalámbricas, Voice Over IP (Vonage, Net2phone), computadoras.
Horarios: Lunes, Martes, Jueves, Viernes: 8:00 A.M - 9:30 P.M., Miercoles Y Sabados: 8.00 A.M - 4:00 P.M. Domingo: Cerrado
Ryjos Multi-services, Todos Santos - offering office supplies and copy services, internet and computer services. Location: "El Otro Lado, " Calle Horizonte at the corner of Nicolas Bravo, Colonia el Rio, in front of Café La Esquina, Todos Santos:
Stationary Store - Sales of School and office Supplies, Copies, Laminating, Binding, Black and While and Color Printing Service, Scanner service, CD/DVD Copies.

Internet / Games - Instant Messaging Service, Skype, E-mail, downloading music and photos, Xbox 360, Wireless Access

WiFi / VoIP / Computers - Sales, installation, service and support: wired and wireless networks, Voice Over IP (Vonage, Net2Phone), computers.
Hours: Monday, Tuesday, Thursday, Friday: 8 a.m. - 9:30 p.m., Wednesday and Saturday: 8 a.m. - 4 p.m. Sunday: Closed. Propietario/Owner: Josue Castillo Mayoral, Business Telephone: 612-178-0039, Cellular: 612-148-3786, jocama85 [-a t-] hotmail.com, Todos Santos

Need a Ride to or From the Airport? Or Someone to Assist You With Errands? - I am a young, bilingual Christian man and I can provide you with rides to or from the La Paz or San Jose Del Cabo airports. I can also help you with courier services, errands, or navigating the intricacies of dealing with Mexican businesses and the government; Car Registrations, TelCel and TelMex, CFE, Seguro Social, etc.

Reasonable Rates - Contact: Ernesto, Cel. 612-117-7497, ernie_net [-a t-] hotmail.com
Protect You and Your Family - We now sell the most unique product in BCS. Protect your home/business and your well being by using the Kleancare Product. Guaranteed to prevent/kill bacteria, mould, mildew and algae on any surface. Kills on contact, lasts for months. From toilet seats to refrigerators, carpets to boat cushions, water tanks to kitchen sinks. Once applied to your pila, you will never have to worry about algae growth again. FDA approved, hypoallergenic safe. - Erwin Lapschies, erwinecosmart [-a t-] gmail.com, 521-624-166-9473, Baja California Sur
Hughesnet Satellite Internet
Now, Connect to The Internet No Matter Where You Live:
Always-On Connection, Available Where DSL and Cellular Won't Reach
PC, Mac, Wireless Compatible
Multiple Computers Can Share the Same Internet Connection Full-Time
Vacation Holds Available on All Plans
Anti-Virus And Email Spam Filter
No Phone Line Needed, No Busy Signals, No Missed Calls
Professional Installation Available Anywhere in Southern BCS
Purchase Your System From Baja Satellite Before June 30 and Get:
1. Mail-In Rebate for $199.99 off Equipment Purchase! 1

0.74 Meter Dish with 1 Watt Transmitter - Only $299 US After Rebate!. 0.98 Meter Dish with 2 Watt Transmitter - Only $699 US After Rebate!

2. Mail-In Rebate for $20 off Your First Three Months of Monthly Service ($60.00 Value)! 2

Data Plan
Download / Upload Speed 3
Monthly Service
Home
1.0 Mbps/128 Kbps
$39.99/mo, first three months!
Pro
1.2 Mbps/200 Kbps
$49.99/mo, first three months!
ProPlus
1.6 Mbps/250 Kbps
$59.99/mo, first three months!
Baja Satellite is an Authorized HughesNet Reseller. For more information Contact Us today: alan [-a t-] BajaSatellite.com, www.bajasatellite.com, (530) 903-4257 (From US), (01) 555 351 0882 (From Within Mexico), Baja California Sur
1 Prices shown are after $199 mail-in rebate, and do not include Mexican shipping, importation or installation. System must be purchased before June 30. 2 $20 off per month for 1st. three months, after $60 mail-in rebate. System must be purchased from Baja Satellite before June 30. All plans require 24-month contract. . 3 Absolute maximum speeds stated by HughesNet. Actual speeds will be less, and speeds will vary throughout the day and week depending upon total number of HughesNet subscribers sharing your satellite channel.

Pine Poles for Sale - 17 Pine Poles, sanded and treated in boiled linseed oil, for $450 USD. Sizes range in length from 10'2 to 14'9. Call or email to set up appointment and to get directions. - Aviel Rush, Pacific_Clean [-a t-] me.com, 612-167-8078, Pescadero

Summer Ad Special! - Put your ad in front of over 3, 100 Baja Western Onion subscribers in Four consecutive issues for only $10 dlls ($120 pesos). Get more coverage for your next Yard Sale, Vehicle, Misc. Wanted or For Sale ad.

For only $10 dlls US, we'll run your ad for a total of Four consecutive issues, allowing your ad to appear in each issue for two weeks. Also, we'll feature your ad within a red, highlighted box. This special offer applies only to text-based ads submitted by non-commercial, private parties, and is subject to our editorial policy. Sorry, this offer not available for display banner graphics ads, or ads for businesses, real estate or rentals available.
Payment: All Summer Special ads must be prepaid in advance of initial run date. You can make your payment online via PayPal athttps://www.paypal.com/cgi-bin/webscr?cmd=_xclick&business=advertising [-a t-] BajaWesternOnion.com, or call us at 001 530 903 4257 or 01 33 8421 1142 (From Mexico) to make payment directly by VISA, MasterCard, American Express or Discover Credit or Debit Card.
Free Ads: As always, you can place a Free text-based ad in the Baja Western Onion once every 14 days. Submit your Free Ad or Article here: www.bajawesternonion.com/submitad.asp. -
For more details on our advertising opportunities, please visit www.bajawesternonion.com/advertising.asp or send an Email to: advertising [-a t-] BajaWesternOnion.com
---
Submit your Misc. Sales and Services Available/Wanted articles here: http://www.bajawesternonion.com/submitad.asp
Return to Top
---

---
Real Estate, Rentals, and House Sitting - Available/Wanted
---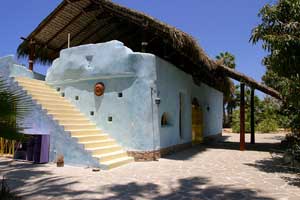 Todos Santos Beach House on a Tranquille Lush 5, 206.22 Sqmt Property - For Sale by Owner: - Two (2) separate driveway entries give the 5, 206.22 sq meter (1.25 acre) property privacy from both the front and back, giving flexibility to build additional homes or to split in the future. Soil on the property is rich organic black soil, ideal for other organic gardening.

* Property is an enclosed oasis and has unlimited access to farm water that nourishes the over 85 mature mango trees, 80 lush palm trees over 5 feet, passion fruit trees, citrus fruit trees and avocado trees, all of which give the property its cool shade that is coveted in the region and frequently not available on other properties of comparable or more value in the desert landscape.
* Property has power, water (both municipal and farm water), gas and Internet.
* A 6-minute walk takes you to the secluded beach, and a 5-minute drive finds you in the heart of TS.

If you have questions or would like to make an offer after viewing the property on YouTube (www.youtube.com/watch?v=krg9FEeiRtk), feel free to contact us. Save on the fee and make us a good offer. - Anh Walch, anhwalch [-a t-] yahoo.com, 212-692-0912, Todos Santos
Long-Term House Rental Available - 2BD/2BA House for rent in Las Tunas. $600 USD/Month. Beautiful ocean view, 5 min. walk to the beach. Rent does not include utilities. - Dominique Sawyer, dominiquesawyer [-a t-] hotmail.com, 612-102-3301, Todos Santos
Vendo Casa Nueva $465,000 - Use su credito INFONAVIT para comprar esta casa de 53 metros cuadrados a extrenar, 2 recamaras y 1 bano, terreno de 200 metros cuadrados ubicada en Colonia Las Fuentes en La Paz. Para mas informacion comuniquese con Sr. Herrera al cellular 612-132-4710. - Sr. Herrera, usa13 [-a t-] yahoo.com, www.bajabell.com, 044-612-132-4710
For Rent - Quaint cottage on a lovely ranch in Pescadero: 1 Bedroom, furnished, utilities not included. Please, telephone calls only at 612-176-3119 (Pescadero). - Mariposa, mariposabcsmx [-a t-] live.com
Long Term Rental: Studio Casita - Looking for 3- to 12-month rental? See our new "studio" casita, ready by Oct. 1. Think small ... kitchen/living room, bedroom, bathroom, covered front patio. Use of pool and secured parking. Single or couple only. (No pets or children) Price for 3-months: $500/month,; 6-months: $450/month; 12-months: $400/month. 10-minute walk to beach, 3-minute drive to town. Very quiet, private and beautiful. - Angie or Chuck Cimino, carlosylina [-a t-] hotmail.com, 612-145-0562, Todos Santos
Auction – 65 Feet Beachfront - Los Cerritos behind Art&Beer, bid opens at $235,000 USD per parcel or $700,000 USD for all 3 side-by-side parcels with a total surface of 1.27 acres and 196 feet of beachfront. Check www.bajabell.com for more information. Auction closes on July 17, submit your best bid right now by sending an email to info [-a t-] bajabell.com - Bill, info [-a t-] bajabell.com, 044-612-132-4710
---
Submit your Real Estate/Rentals/House Sitting/Property Management Services articles here: http://www.bajawesternonion.com/submitad.asp
Return to Top
---
Rides or Caravans Available/Wanted
NOTE: Ads will run for two weeks unless dated. Please list the date in the title, and specify which airport. Goes without saying, everyone shares expenses for beer, gas, food, etc

To remove your ad if you find a ride or caravan, let us know here: www.bajawesternonion.com/submitad.asp -
---
Vehicle Delivery? - Anyone need a vehicle delivered from U.S. (mostly anywhere) to Baja Sur in the next 2 weeks? (ad first appeared Saturday, June 25) - Tom, carrollemail [-a t-] aol.com
North Bound After June 30 - Heading back to the states after June 30, departure date is flexible but would like to leave by the first week of July. Preferably looking for someone to help with driving but will join a caravan if you're already driving yourself. F150 with myself and a pretty rad dog - spenfoldbrown [-a t-] gmail.com
Room for Stuff Going South by July 01 - We are traveling to Arizona and returning July 1 (approx.). Have space on enclosed truck bed. If anyone needs anything brought down, let us know - will exchange space for gas money. Thanks - Doug, extranheros [-a t-] hotmail.com, Pescadero
Northbound 1st week of July - leaving for Oregon. No room for riders,but care to caravan...call me [-a t-] 624 174 3107 , Monte - Monte Danville, danvillesoregonreign [-a t-] hotmail.com, 624 174 3107
July 6: Need Ride From Cabo Airport To Todos Santos - I am arriving at the airport July 6 at 11:30 a.m. with some luggage and need a ride to Todos Santos. Will share expenses. - Thomas Garland, garlandtag [-a t-] gmail.com
Back to the States July 10 - Heading back to the States (as far as San Francisco if that's your destination too) on July 10 and would love to not be doing it solo. You could help with driving or just rest easy as co-pilot, either one is fine so long as a little gas cash gets chipped in. Folk/funk/rock/reggae ... whatever, it's all good as long as it keeps the good driving energy going. My girlfriend is heading straight home from the Galapagos, while I have the fun luck of returning to La Paz and getting our car and things back up to California. Let's take on this drive together! - gabriel.holt (at) gmail.com, Baja California Sur
---
Submit your Rides or Caravans Needed/Available articles here: http://www.bajawesternonion.com/submitad.asp
Return to Top
---
Pet Corner (Lost and Found pet articles will run for two weeks)
Let us know if you find or place your pet so we can remove your ad -
---
Adorable Kittens Seek Loving Home(s) - We were abandoned before our eyes were open (around 10 days) and a big brown dog found us. She is our rescue dog and her owner has given us a foster home to raise us up to be charming kittens. He spends lots of time with us and we love all the affection and give it right back. We are about 8 weeks old now and ready for our permanent homes! We are litter trained. We've had our first check-up at the vets and he proclaimed us healthy and ready for adoption. Won't you please adopt me or one of my sisters? Give Jaime a call or write Deborah an email if you'd like to meet us! That would be purrrrrrrrrrrfectly wonderful! - Jaime Wood, deborahhorn [-a t-] hotmail.com, 612-132-8893, Todos Santos
5 Puppys Need 5 Homes - I found 5 black puppies dumped alongside a deserted dirt road, outside of Pescadero. All 5 needs a good home, and TLC. Please adopt one, or two, if you can. I can't keep them. Thank you. Please call 612-140-7923. - Mary donegalmoon [-a t-] gmail.com, Pescadero
Dog Urgently Needs Your Help. - A good-tempered, sweet dog needs temporary immediate assistance and adoption. Present needs: A contained enclosure to manage shampoo bath every 3 days for 2 weeks, Flea/tick preventive med application, renew rabies shot. She has had care for over a year to bring her to good health but she can no longer remain on our commercial property. If no one steps forward to assistance by June 30, I have no choice but the unspeakable. - Lady, macnmoli [-a t-] yahoo.com, 612-118-3423, Pescadero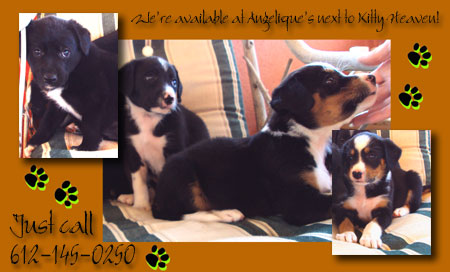 Three Dog Surprise Delivery -Three gorgeous puppies were dropped off at my house and there's no way I can keep them all.

The pups may be Australian Shepherd mix, though the biggest one (black & white in color) has fur more like a lab.

For more information, call me at 612-145-0250 or write me. - Angelique BajaKitties [-a t-] Yahoo.com
Lost Dog Seen At La Posa - A small white/cream-colored dog was seen running and hiding in the tall rushes at the north end of La Posa lagoon. It is similar to a poodle, with long floppy ears, wearing a pink and black dog-dress. Do you know of anyone who dresses their dog like that? Thanks - Serena S, brentserena [-a t-] gmail.com, 612-132-8913
Take Me! - I have a female dachshund with all her shots and I have her paper work. I really love her but I am having a baby this month; I can't take the risk of tripping over her and hurting my baby. Please, if you know of anybody who wants her, let me know. Thank you. - Taylor Daniels, taylor210210 [-a t-] hotmail.com, 612-104-8209
Beautiful Dog Needs Home - We fostered a female dog named Onyx since she was 8 weeks old. She has been at a trainer for 3 weeks. She has a lot of energy and really needs a lot of property to run on. She has been fixed, has all her shots, weighs 45 lbs. and is absolutely beautiful. Unfortunately, we couldn't foster her any more and she is at the Los Cabos Humane Society. You can contact Everesto at the shelter for more information. - Everesto, evaristoah [-a t-] hotmail.com, www.loscaboshumanesociety.com, 624-129-8346, Cabo San Lucas
Found Puppy - Monday, June 13: Female puppy approx. 4-8 weeks old in Pescadero/Los Cerritos. Black with tan boots and eyebrows. - Kelly Cline-sniechowski, kelbil2002 [-a t-] yahoo.com, 624- 118-1603, Pescadero
Impossible to Resist! - New arrivals at Kitty Heaven despite all of our efforts to spay and netuer (but without the help of the community, there would be even more!).

All colors, all very young and playful. For more information, call Angelique at 612-145-0250 or write her at BajaKitties [-a t-] Yahoo.com

Kitty Heaven is the only all-cat refuge in Baja California Sur. Visit us on the web athttp://bajarescue.org/#KittyHeaven. We survive via your kind donations. To send your support, please click the "Donate" button below:
---
Submit your Pet Corner articles here: http://www.bajawesternonion.com/submitad.asp (and remember to Spay and Neuter your pets)
Return to Top
---
Quote of the Day: " There is no psychiatrist in the world like a puppy licking your face. " ~ Bern Williams
---
Looking for the complete Community Events Calendar? Click Here!
---
Return to Top
---
---
Help Support The Baja Western Onion!

We can accept donations byCredit Card, PayPal, cash, check or direct deposit.

For more information, please visit our web site athttp://www.BajaWesternOnion.com/donate.asp.
Copyright © 2006 - 2011. The Baja Western Onion. All Rights Reserved. Published Using 100% Recycled Electrons :)
Return to Top
---