On The Web Site:
---
Today's Weather
---
Community Access
Policia Preventiva
Todos Santos Police
612 145-1052
Commandante Navarro


Ministero Publico
State Police
612 145 0198
Commandante Erigoyen


Bomberos
Fire Department
Cel. 612-142-6387
Commandante Cadena


---





---
Baja Western Onion
Alan Thompson - Publisher
Debra Webster - Advertising
e-mail For General Feedback
---
---
News and Events, Questions and Answers
---
The Festival X Por La Sierra is coming to La Paz - Conferences, Documentaries, Theater Works, Puppets, Juggling, Photography, Music, and more will be presented. Everyone can participate in this event, with your hands, hearts and talents. This event is planned to start July 8, at 5 p.m. and run thru July 10, 11 p.m., at the Centro Cultural La Paz, Parque Cuauhtémoc, La Paz. Want to volunteer? We need hands and hearts to build this festival.

El Festival X La Sierra está en marcha. Se presentarán conferencias en vivo, documentales, obras de teatro, títeres, fotografía, música. Todos pueden participar en este evento, con sus manos, sus corazones y sus talentos. Este evento está prevista para el 08 de Julio, a las 5 pm y durará hasta el 10 de Julio 11 pm, en el Centro Cultural La Paz, Parque Cuauhtémoc, La Paz. ¿Quieres ser voluntario? Necesitamos manos y corazones para armar este festival: www.facebook.com/event.php?eid=226116550750122 -
When Plants Attack! - Courtesy Baja Pony Express - I want to let everyone know about the dangers of a plant that is common in many yards...based on my first hand experience. Pencil Euphorbia, (Euphorbia tirucallii), known locally as Dados de Ninos, is highly toxic. E. tirucallii - the well known Pencil Euphorbia - A most dangerous Euphorbia and one of the most readily available plants, even in supermarkets. Latex from this plant has been the cause of death, blindness and severe illness. The latex produces excruciating pain and severe inflammation if it gets into a cut on the skin or on to the eyeball. It produces a more intense irritation of the eyeball than of the skin which may result in ulcerations on the eyeball.

I gingerly handled this plant, never even touching the sap (latex), and later touched my face and rubbed my eye. Even with the limited contact with the plant, I had a terrible reaction. The burning in my eye was so excruciating I thought I might lose my eyesight. My husband rushed me to the Amerimed Clinic in Los Barriles where they flushed my eye until they could identify the plant. With the help of Lynn Mirassou and Betsy O'Leary enough information was gathered so that Dr Rendon could contact an ophthalmologist in La Paz for the appropriate treatment. I am very grateful for this team effort. Thankfully the treatment was successful and I am recovering.

I had no idea that this plant is so toxic. If you have this plant in your garden, please handle it carefully, avoid the milky sap, wash your hands after contact, and make certain that children do not touch it. Many people place this plant in front of their home on the street. Now I know why the cows won't eat it. Holly Burgin -
Beautiful Rescued Dogs - Beautiful rescued dogs, need loving home, ... Very sad story, waiting for a happy ending....please contact us. Thank you!!! - Pet Supply, info [-a t-]todossantospetstore.com, 145-0625, Todos Santos
Border Crossing Information - Courtesy Baja Pony Express - San Ysidro (Tijuana) border crossing to under go extensive renovation. Click link for story: www.signonsandiego.com/news/2011/jun/20/san-ysidro-border-lose-lanes-during-peak-hours/

Otay Mesa border crossing information Courtesy Baja Good Life News. Click here for story: www.bajagoodlifenews.com/2011/06/news-otay-mesa-faster-border-crossing_14.html -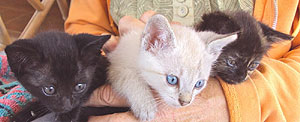 Impossible to Resist! - New arrivals at Kitty Heaven despite all of our efforts to spay and netuer (but without the help of the community, there would be even more!). All colors, all very young and playful. For more information, call Angelique at 612-145-0250 or write her at BajaKitties [-a t-]Yahoo.com

Kitty Heaven is the only all-cat refuge in Baja California Sur. Visit us on the web athttp://bajarescue.org/#KittyHeaven. We survive via your kind donations. To send your support, please click the "Donate" button below:
Immigration Changes - Courtesy Baja Pony Express - There was a new law signed into effect this May, 2011 that effect all of us. For the good. You can become a permanent resident without the need to renew ever again after four years as a resident. With the right to work and come and go as often as you like. Here is a link to the info. www.yucatanexpatriateservices.com/resident-services/new-immigration-law-may-2011.html#comment

Do a Google search for "new immigration law Mexico" and you will find more references. -
---
Submit your News and Events, Questions and Answers articles here: http://www.bajawesternonion.com/submitad.asp
Return to Top
---
---

---
Submit your Community Events and Workshops here: http://www.bajawesternonion.com/submitad.asp
Return to Top
---
---
Stepping Out - Food, Music and Entertainment
---

Zen Garden Open All Summer - We have a fabulous chef from a 5-star restaurant in Cabo. I won't mention the name, but when you come in, I can tell you where. After working there for 8 years, he's decided to make a move to Todos Santos and settle down at Zen Garden Cafe, even though the restaurant in Cabo begged him to stay! He's one of the best chefs I've ever worked with in my life. He can prepare exotic Thai, modern Japanese, Chinese, and fresh Vietnamese. He makes the best homemade dumplings -- my favorite! Please come in and try his delicious food, at our excellent prices, prepared with Zen Garden's love and care! Just so you know, we have specials every day, and look out for food tastings in the future! We'll be open all summer long, so you'll have a place to enjoy Asian fusion in Todos Santos. - yanggum [-a t-]zengardencafe.com, www.zengardencafe.com, 612-145-1088, Todos Santos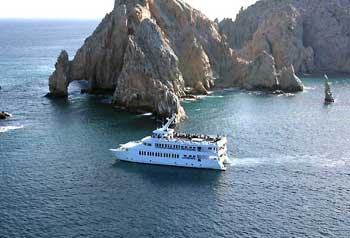 Caborey Dinner Cruise - With over 40 years offering tours in Mexico, Caborey has firmly established its reputation for quality, safety and fun. Reserving tours in advance through our website assures that you are purchasing tours from a reputable source and that the date and time of your reservation will be respected. Allow us the pleasure of providing these services for you.

Experience the natural wonder of Cabo San Lucas from aboard our luxurious 144' triple deck catamaran... From the moment you board the Caborey prepare yourself for an exhilarating experience. The majesty of the Land's End rock formations including Cabo's iconic "Arch" will spread out before you as the Caborey slips away from the marina and into Medano Bay. Live music and limitless cocktails accompany the breathtaking view from the upper deck of the Caborey as it follows its route along the tip of the Baja.

As the sun sinks into the horizon, tempt your palate with one of our 6 delectable entrees. Then as you take your last bite of scrumptious dessert, sit back and enjoy a Las Vegas-style show that will delight you with the sounds and rhythms of Latin America. - Caborey Cabo, reserv [ - a t - ] caborey.com, www.caborey.com, 143 8060, Cabo San Lucas

Salsa Lessons With Noralys Cantero - Guaycura is delighted to invite you to take salsa lessons with Noralys Cantero, this coming Wednesday June 29 at 05pm. $ 100 pesos per person, $ 150 pesos per couple. - Salsa Lessons With Noralys At Guaycura, reservation [-a t-]guaycura.com.mx, www.guaycura.com.mx, + 52 175 0800, Todos Santos

Michael's At The Gallery Restaurant - Michael's will be closed for 2 weeks starting July 1st. We will re-open Friday July 15th with our Summer menu featuring favorites such as Vietnamese Crab/Shrimp Summer Rolls and Cold Japanese Somen Noodle Soup. See you in July for a cold beer and a Summer Roll!
Open: Friday and Saturdays
Hours: 6:30PM - 9:00PM
The Galeria de Todos Santos will remain open for the month of July. - Michael Cope, mplcope [-a t-]yahoo.com, 612 - 145-0500, Todos Santos

---
Submit your Stepping Out - Food, Music and Entertainment announcements here: http://www.bajawesternonion.com/submitad.asp
Return to Top
---

---
Misc. Sales and Services Available/Wanted
---

'98 Toyota Camry LE - Great Car! - Selling our four-door Camry ASAP - great car and runs smooth! We've put the necessary work into it to make it reliable, and have been on top of the routine maintenance. We need to sell it before we head up to the States within the next two weeks. Has minor paint issue, which can be fixed or an equivalent amount can be taken off the price. Everything else is in excellent condition. Has Fronterizo plates and is current on all registration. Yearly Baja tax is only around $500 pesos. Asking $50,000 pesos or you can make a reasonable offer. - Stephanie Arteaga, s.arteaga1983 [-a t-]gmail.com 612-117-3295
Pacific Window Washing - Professional home window washing now servicing San Jose del Cabo, Cabo San Lucas, Rancho Migrino, Elias Calles, Rancho Nuevo, Pescadero, Todos Santos and anywhere in between. For free estimates, call Mark at 612-143-3316. www.pacificwindowwashing [-a t-]gmail.com
Summer Massage Special - Aloha Massage is offering one-hour therapeutic relaxation massage for $40 USD at out new downtown studio next to El Tecolote bookstore. Reiki, Foot Reflexology, Acupressure Facials, Lomilomi, Shiatsu and Deep Tissue Massage also available at discounted summer prices. Call Diana Moore at 612-119-7045 to book your treatment today! - alohamassagebaja [-a t-]gmail.com, Todos Santos
SUP Board Wanted - I'm looking for a used SUP board and paddle. Must be in relatively good condition with no major dings. Should be approximately 10' to 10'6" long, 28"-30" wide and 4.5"-5" thick. Tri-fin with slot for larger center fin. I want an all-around board that is buoyant and long enough for touring but also agile enough for surfing in small to medium waves. Carbon fiber or composite paddle preferred but will take aluminum. I'm located in Todos Santos but can pick up in Pescadero, Los Cabos and the East Cape up to Vinorama. I would like to be able to try it out once before buying. Can only pay in pesos. - Miguel, bvimiguel [-a t-]hotmail.com, 612-154-5102, Todos Santos
Small Bed/sleep Sofa Needed - In Todos Santos I need a bed/sleep sofa not more than 40" wide in good condition and good price. Thanks, Janel 145-0073 (no message machine) - Janel Beeman, janelb3 [-a t-]yahoo.com, 145-0073
Casa Decor, La Paz, Indoor And Outdoor Furniture - Interior design service. We custom make furniture:
* Largest Inventory In The Baja * Patio Furniture. * Wicker, Rattan And Marble * Lighting. * Rustic Hand Painted Furniture * Metal Furniture. * Copper Furniture * Kitchen Cabinets. * Doors * Floor and Wall Covering. * Art * Accessories * Fountains And Urns. * Imports From Around The World. * Unique Selection of Furniture And Accessories. * Mexican Furniture * Furniture Packages
Fine furniture made to order. Wholesale to the trade. The Best selection in the Baja at Casa Decor. Two Locations: Casa Decor La Paz, 560 Marquez de Leon, Tel: 612-129-3364. Casa Decor Cabo San Lucas: on 4 lane KM 3.5 next to Artisanos and Natural Marble and Stone, Tel: 624-178-8146. - richards77 [-a t-]pcisys.net, http://www.antiquerowmarket.com, Baja California Sur
Olea Surfboard for Sale - 7'6¨ Olea board with fins, leash, and wax. Board is in great condition, just isn't catching as many waves as it should be. Length of board makes it perfect for starters to keep balance and get up. Asking $275 USD or you can make an offer. Would like to sell in the next week. I can send pics if you are interested. - Stephanie Arteaga, s.arteaga1983 [-a t-]gmail.com, 612-117-3295, La Paz
Coffee Shop for Sale in Downtown San Jose Del Cabo - Turn Key Business! It includes all of the equipment that you need, our website, domain name and 2 days of training. I love my business but I´m also ready to retire. Asking price is $11,000 USD (does not include a very inexpensive $500 USD a month rent). We´re centrally located downtown San José del Cabo right in the middle of the action for both locals and foreigners. You can check out our website at www.laesquinadelcafe.com. Call and start your business today! - Daniella Coria, daniellacoria [-a t-]hotmail.com, www.laesquinadelcafe.com, 1431296, San Jose Del Cabo
Multiservicios Ryjos, Todos Santos - ofrece suministros de oficina y servicio de fotocopias, Internet y servicios informáticos. Ubicación: El Otro Lado, Calle Horizonte esq Nicolas Bravo, Colonia el Rio, frente a Café La Esquina, Todos Santos:
Papeleria - Venta de artículos escolares-oficina, Copias, Enmicados, Engargolados, Servicio de impresión negro y color. Copías CD/DVD.

Internet / Juegos - Servicio de mensajería instantánea, Skype, E-mail, descargas de musica y fotos, Xbox 360, servicio de Scanner. Wireless

WiFi / VoIP / Computadoras - Venta, instalacion y soporte de redes cableadas e inalámbricas, Voice Over IP (Vonage, Net2phone), computadoras.
Horarios: Lunes, Martes, Jueves, Viernes: 8:00 A.M - 9:30 P.M., Miercoles Y Sabados: 8.00 A.M - 4:00 P.M. Domingo: Cerrado
Ryjos Multi-services, Todos Santos - offering office supplies and copy services, internet and computer services. Location: "El Otro Lado, " Calle Horizonte at the corner of Nicolas Bravo, Colonia el Rio, in front of Café La Esquina, Todos Santos:
Stationary Store - Sales of School and office Supplies, Copies, Laminating, Binding, Black and While and Color Printing Service, Scanner service, CD/DVD Copies.

Internet / Games - Instant Messaging Service, Skype, E-mail, downloading music and photos, Xbox 360, Wireless Access

WiFi / VoIP / Computers - Sales, installation, service and support: wired and wireless networks, Voice Over IP (Vonage, Net2Phone), computers.
Hours: Monday, Tuesday, Thursday, Friday: 8 a.m. - 9:30 p.m., Wednesday and Saturday: 8 a.m. - 4 p.m. Sunday: Closed. Propietario/Owner: Josue Castillo Mayoral, Business Telephone: 612-178-0039, Cellular: 612-148-3786, jocama85 [-a t-]hotmail.com, Todos Santos

Need a Ride to or From the Airport? Or Someone to Assist You With Errands? - I am a young, bilingual Christian man and I can provide you with rides to or from the La Paz or San Jose Del Cabo airports. I can also help you with courier services, errands, or navigating the intricacies of dealing with Mexican businesses and the government; Car Registrations, TelCel and TelMex, CFE, Seguro Social, etc.

Reasonable Rates - Contact: Ernesto, Cel. 612-117-7497, ernie_net [-a t-]hotmail.com
Metal Hand Rail for Sale - 112 running feet of 1.5 inch, three-tube hand rail. vertical posts every 2 meters that are 3 feet high with four bolt base plate. $200.00 USD or best offer. Contact Tom at tominbaja [-a t-]hotmail.com - Tom Donini, tominbaja [-a t-]hotmail.com, 612-131-2969, Todos Santos
Hughesnet Satellite Internet
Now, Connect to The Internet No Matter Where You Live:
Always-On Connection, Available Where DSL and Cellular Won't Reach
PC, Mac, Wireless Compatible
Multiple Computers Can Share the Same Internet Connection Full-Time
Vacation Holds Available on All Plans
Anti-Virus And Email Spam Filter
No Phone Line Needed, No Busy Signals, No Missed Calls
Professional Installation Available Anywhere in Southern BCS
Purchase Your System From Baja Satellite Before June 30 and Get:
1. Mail-In Rebate for $199.99 off Equipment Purchase! 1

0.74 Meter Dish with 1 Watt Transmitter - Only $299 US After Rebate!. 0.98 Meter Dish with 2 Watt Transmitter - Only $699 US After Rebate!

2. Mail-In Rebate for $20 off Your First Three Months of Monthly Service ($60.00 Value)! 2

Data Plan
Download / Upload Speed 3
Monthly Service
Home
1.0 Mbps/128 Kbps
$39.99/mo, first three months!
Pro
1.2 Mbps/200 Kbps
$49.99/mo, first three months!
ProPlus
1.6 Mbps/250 Kbps
$59.99/mo, first three months!
Baja Satellite is an Authorized HughesNet Reseller. For more information Contact Us today: alan [-a t-]BajaSatellite.com, www.bajasatellite.com, (530) 903-4257 (From US), (01) 555 351 0882 (From Within Mexico), Baja California Sur
1 Prices shown are after $199 mail-in rebate, and do not include Mexican shipping, importation or installation. System must be purchased before June 30. 2 $20 off per month for 1st. three months, after $60 mail-in rebate. System must be purchased from Baja Satellite before June 30. All plans require 24-month contract. . 3 Absolute maximum speeds stated by HughesNet. Actual speeds will be less, and speeds will vary throughout the day and week depending upon total number of HughesNet subscribers sharing your satellite channel.
Piedra Rosada (rosy Stones) - I´m looking to buy around 50 piedras rosadas, max 10 by 10 inches (25cm). Will pick them up in La Paz or Todos Santos. Many thanks and have a great weekend! Call Esther at 044-612-156-5578 or hotel [-a t-]elangelazul.com - Esther hotel [-a t-]elangelazul.com, 612-125-5120, La Paz

Sliding Scale Acupuncture - For the months of July and August I will be offering sliding scale acupuncture treatments from a beautiful home in Todos Santos. I have over five years experience as a primary care provider. Conditions that I treat include, pain, ongoing injuries, neuropathy, digestive problems, infertility, womens health, insomnia, depression and emotional issues. Gentle, affordable, and relaxing treatments. I look forward to meeting you this summer! - Jesse Phelps, M.s., L.ac., B.sc., integratedmedicine [-a t-]gmail.com, phelpsacupuncture.com, Todos Santos
Lawn Mower Wanted - Do you have a lawn mower you are not using? If so, I will give you some pesos for it or trade for music/guitar lessons. Let me know. Thanks, David Ballard 612-134-8683 - David De La Valle, davidballard [-a t-]yahoo.com,, 612-134-8683, Pescadero

Summer Ad Special! - Put your ad in front of over 3, 100 Baja Western Onion subscribers in Four consecutive issues for only $10 dlls ($120 pesos). Get more coverage for your next Yard Sale, Vehicle, Misc. Wanted or For Sale ad.

For only $10 dlls US, we'll run your ad for a total of Four consecutive issues, allowing your ad to appear in each issue for two weeks. Also, we'll feature your ad within a red, highlighted box. This special offer applies only to text-based ads submitted by non-commercial, private parties, and is subject to our editorial policy. Sorry, this offer not available for display banner graphics ads, or ads for businesses, real estate or rentals available.
Payment: All Summer Special ads must be prepaid in advance of initial run date. You can make your payment online via PayPal athttps://www.paypal.com/cgi-bin/webscr?cmd=_xclick&business=advertising [-a t-]BajaWesternOnion.com, or call us at 001 530 903 4257 or 01 33 8421 1142 (From Mexico) to make payment directly by VISA, MasterCard, American Express or Discover Credit or Debit Card.
Free Ads: As always, you can place a Free text-based ad in the Baja Western Onion once every 14 days. Submit your Free Ad or Article here: www.bajawesternonion.com/submitad.asp. -
For more details on our advertising opportunities, please visit www.bajawesternonion.com/advertising.asp or send an Email to: advertising [-a t-]BajaWesternOnion.com
---
Submit your Misc. Sales and Services Available/Wanted articles here: http://www.bajawesternonion.com/submitad.asp
Return to Top
---

---
Real Estate, Rentals, and House Sitting - Available/Wanted
---
For Rent - Quaint cottage on a lovely ranch in Pescadero: 1 Bedroom, furnished, utilities not included. Please, telephone calls only at 612-176-3119 (Pescadero). - Mariposa, mariposabcsmx [-a t-]live.com
Beautiful Home in Cabo - For Sale By Owner: Never-lived-in home in Cabo San Lucas. Located in the private gated community of Paraiso Iguana. On city water but includes a backup cistern. Minutes away from downtown Cabo with easy access to the new Todos Santos highway. Offers views of both the Sea of Cortés and Pacific Ocean. 2 bedroom, 2 bath, approx. 1,000 sq. feet. Huge Rental Income Potential. Price Reduced - $85,000 USD OBO - Dax Morgan, ssmorgan5 [-a t-]aol.com, 612-140-
Lot For Sale in La Paz - For Sale by Owner: 287 m2 residential lot in beautiful La Paz. Clear Title. Includes documents and approved plans for custom, multi-story home with 3-car garage. Located in the tranquil community of Palmira Bellaterra in Lomas del Palmira. Minutes away from downtown with easy access to the Malecón. Breathtaking views of the city and bay! A million-dollar opportunity for only $100,000 USD. Photos and more available upon request - Dax Morgan, ssmorgan5 [-a t-]aol.com, 612-140-3070, La Paz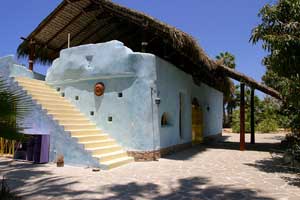 Todos Santos Beach House on a Tranquille Lush 5, 206.22 Sqmt Property - For Sale by Owner: - Two (2) separate driveway entries give the 5, 206.22 sq meter (1.25 acre) property privacy from both the front and back, giving flexibility to build additional homes or to split in the future. Soil on the property is rich organic black soil, ideal for other organic gardening.

* Property is an enclosed oasis and has unlimited access to farm water that nourishes the over 85 mature mango trees, 80 lush palm trees over 5 feet, passion fruit trees, citrus fruit trees and avocado trees, all of which give the property its cool shade that is coveted in the region and frequently not available on other properties of comparable or more value in the desert landscape.
* Property has power, water (both municipal and farm water), gas and Internet.
* A 6-minute walk takes you to the secluded beach, and a 5-minute drive finds you in the heart of TS.

If you have questions or would like to make an offer after viewing the property on YouTube (www.youtube.com/watch?v=krg9FEeiRtk), feel free to contact us. Save on the fee and make us a good offer. - Anh Walch, anhwalch [-a t-]yahoo.com, 212-692-0912, Todos Santos
House for Rent or Lease - 3 bedroom, 3 bath home for rent or lease in the beautiful, secluded San Sebastian area of Todos Santos. Gated, fenced yard with covered parking. Screened doors and windows. Large Bodega for storage. Just a few hundred yards from the beach. Pets OK. Long or short term. - Mike Lund, mikeandmirinbaja [-a t-]gmail.com, 612-1345-347, Todos Santos
Our Pescadero Palapa - We are looking to sell a developed lease-lot at Mountain Shadow. Our lot is located in a newly developed, adult oriented, gated park in Pescadero, BCS near San Pedrito and Ceritios beaches. This park is truly beautiful, private and safe, with a nice pool, lots of palms, lemon and banana trees, wifi and great neighbours (some year round). We have a steel framed, 1000 sq. foot Palapa, fully self-contained. Our space is walled, painted, with tile floors, two ceiling fans, your own water and hot water tanks, propane tank, electric power service, and satellite dish and complete bathroom. Included is a 32 foot trailer, skirted, with a rear bedroom. For a fraction of the cost to build; just move in and enjoy your new home. The park has room for a couple of guest RV's, full bathroom and laundry facilities. You can view the park website [-a t-] www.mountainshadowsrv.com For more information or pictures of our home contact: bajabrothers2 [-a t-]gmail.com - bajabrother2 [-a t-]gmail.com, Pescadero
---
Submit your Real Estate/Rentals/House Sitting/Property Management Services articles here: http://www.bajawesternonion.com/submitad.asp
Return to Top
---
Rides or Caravans Available/Wanted
NOTE: Ads will run for two weeks unless dated. Please list the date in the title, and specify which airport. Goes without saying, everyone shares expenses for beer, gas, food, etc

To remove your ad if you find a ride or caravan, let us know here: www.bajawesternonion.com/submitad.asp -
---
Vehicle Delivery? - Anyone need a vehicle delivered from US (mostly anywhere) to Baja Sur in the next 2 weeks? - Tom, carrollemail [-a t-]aol.com
June 28 - Ride Needed from Airport to T.S. - I am arriving at the Cabo airport June 28 at 1:40 p.m. and need a ride to Todos Santos. 1-541-350-6629 US cell - Gary Gaper, ggasper5 [-a t-]msn.com, 612-133-2321, Todos Santos
North Bound After June 30 - Heading back to the states after June 30, departure date is flexible but would like to leave by the first week of July. Preferably looking for someone to help with driving but will join a caravan if you're already driving yourself. F150 with myself and a pretty rad dog - spenfoldbrown [-a t-]gmail.com
Room for Stuff Going South by July 01 - We are traveling to Arizona and returning July 1 (approx.). Have space on enclosed truck bed. If anyone needs anything brought down, let us know - will exchange space for gas money. Thanks - Doug, extranheros [-a t-]hotmail.com, Pescadero
July 6: Need Ride From Cabo Airport To Todos Santos - I am arriving at the airport July 6 at 11:30 a.m. with some luggage and need a ride to Todos Santos. Will share expenses. - Thomas Garland, garlandtag [-a t-]gmail.com
Back to the States July 10 - Heading back to the States (as far as San Francisco if that's your destination too) on July 10 and would love to not be doing it solo. You could help with driving or just rest easy as co-pilot, either one is fine so long as a little gas cash gets chipped in. Folk/funk/rock/reggae ... whatever, it's all good as long as it keeps the good driving energy going. My girlfriend is heading straight home from the Galapagos, while I have the fun luck of returning to La Paz and getting our car and things back up to California. Let's take on this drive together! - gabriel.holt (at) gmail.com, Baja California Sur
---
Submit your Rides or Caravans Needed/Available articles here: http://www.bajawesternonion.com/submitad.asp
Return to Top
---
Pet Corner (Lost and Found pet articles will run for two weeks)
Let us know if you find or place your pet so we can remove your ad -
---
Adorable Kittens Seek Loving Home(s) - We were abandoned before our eyes were open (around 10 days) and a big brown dog found us. She is our rescue dog and her owner has given us a foster home to raise us up to be charming kittens. He spends lots of time with us and we love all the affection and give it right back. We are about 8 weeks old now and ready for our permanent homes! We are litter trained. We've had our first check-up at the vets and he proclaimed us healthy and ready for adoption. Won't you please adopt me or one of my sisters? Give Jaime a call or write Deborah an email if you'd like to meet us! That would be purrrrrrrrrrrfectly wonderful! - Jaime Wood, deborahhorn [-a t-]hotmail.com, 612-132-8893, Todos Santos
Dog Urgently Needs Your Help. - A good-tempered, sweet dog needs temporary immediate assistance and adoption. Present needs: A contained enclosure to manage shampoo bath every 3 days for 2 weeks, Flea/tick preventive med application, renew rabies shot. She has had care for over a year to bring her to good health but she can no longer remain on our commercial property. If no one steps forward to assistance by June 30, I have no choice but the unspeakable. - Lady, macnmoli [-a t-]yahoo.com, 612-118-3423, Pescadero
Lost Dog Seen At La Posa - A small white/cream-colored dog was seen running and hiding in the tall rushes at the north end of La Posa lagoon. It is similar to a poodle, with long floppy ears, wearing a pink and black dog-dress. Do you know of anyone who dresses their dog like that? Thanks - Serena S, brentserena [-a t-]gmail.com, 612-132-8913
Take Me! - I have a female dachshund with all her shots and I have her paper work. I really love her but I am having a baby this month; I can't take the risk of tripping over her and hurting my baby. Please, if you know of anybody who wants her, let me know. Thank you. - Taylor Daniels, taylor210210 [-a t-]hotmail.com, 612-104-8209
Beautiful Dog Needs Home - We fostered a female dog named Onyx since she was 8 weeks old. She has been at a trainer for 3 weeks. She has a lot of energy and really needs a lot of property to run on. She has been fixed, has all her shots, weighs 45 lbs. and is absolutely beautiful. Unfortunately, we couldn't foster her any more and she is at the Los Cabos Humane Society. You can contact Everesto at the shelter for more information. - Everesto, evaristoah [-a t-]hotmail.com, www.loscaboshumanesociety.com, 624-129-8346, Cabo San Lucas
3 Adorable Puppies Rescued - I rescued three starving, flea and tick infested female puppies from death by neglect. Two pups look like black lab mix, one is smaller and tan color. They are now strong, healthy and lively puppies ready to be relocated to good homes. I cannot keep three dogs so please open your heart and home to a sweet little pup. For more information, please write dianejoy39 [-a t-]yahoo.com, Todos Santos
Found Puppy - Monday, June 13: Female puppy approx. 4-8 weeks old in Pescadero/Los Cerritos. Black with tan boots and eyebrows. - Kelly Cline-sniechowski, kelbil2002 [-a t-]yahoo.com, 624 118 1603, Pescadero
---
Submit your Pet Corner articles here: http://www.bajawesternonion.com/submitad.asp (and remember to Spay and Neuter your pets)
Return to Top
---
Quote of the Day: " There is no more intrepid explorer than a kitten. " ~ Champfleury
---
Looking for the complete Community Events Calendar? Click Here!
---
Return to Top
---
---
Help Support The Baja Western Onion!

We can accept donations byCredit Card, PayPal, cash, check or direct deposit.

For more information, please visit our web site athttp://www.BajaWesternOnion.com/donate.asp.
Copyright © 2006 - 2011. The Baja Western Onion. All Rights Reserved. Published Using 100% Recycled Electrons :)
Return to Top
---