On The Web Site:
---
Today's Weather
---
Community Access
Policia Preventiva
Todos Santos Police
612 145-1052
Commandante Navarro


Ministero Publico
State Police
612 145 0198
Commandante Erigoyen


Bomberos
Fire Department
Cel. 612-142-6387
Commandante Cadena


---





---
Baja Western Onion
Alan Thompson - Publisher
Debra Webster - Advertising
e-mail For General Feedback
---
---
News and Events, Questions and Answers
---
Todos Santos Recycling - The number one environmental concern for all Todos Santonians should be our garbage dump. We all contribute to it - and it is a nasty landfill full of plastic, car tires, batteries, etc that is burnt 3-4 days out of the month (right next to 'supposedly' organic fields). And not to mention the endless sea of plastic that lines all roads and trails in the area.

So I'm proposing that we as a community come together this summer and put in place a properly run Recycling program. I believe it should target two main categories: 1. restaurants 2. homes

Restaurants in the area could become partner members and post a sign showing they are resposible recyclers. Once a week a truck could go around collecting the material from all the businesses and return it to a central processing location.

At the beginning home owners could drop off their sorted materials to the central depot - and ultimately the goal would be to coordinate with the delagdo to have a recycling truck driving through the neighborhoods along side the garbage truck.

So to brainstorm this idea - I would like to call a meeting of interested people from within the community to discuss this idea further: Todos Santos Recycling - Brainstorm Meeting, Friday, June 24, 10 a.m. at the Gemini Deli garden patio. See you there! - Michael Morel, info [-a t-]TheGeminiDeli.com, 612-147-7300, Todos Santos
Palapa Society Needs A Home - The Palapa Society is looking for a new rental. Suitable properties should be fenced or walled and allow for safe drop-off for the children. Adequate street parking is also needed. We are looking for a minimum of 70m2 under roof as well as yard space for outdoor classes and related activities. Central Todos Santos is preferred, but we are open to easy-to-find locations in other areas. Our budget allows us to pay approximately 5000 pesos per month as well as utilities. We will responsibly maintain your property. If you know of a suitable property, please contact Brenda Casilas. - Brenda Casilas, brendacasilas [-a t-]hotmail.com, 612-141-6297, Todos Santos
Beca Ceremony - The Palapa Society is so proud of the 18 CECYT students who have participated in the Beca (scholarship) Program and are graduating this year. We will honor them in a small ceremony at the Palapa Center on Friday, June 24, at 4 p.m. We want to express deep gratitude to all the Beca Angels who have helped make this possible. Congratulations y bien hecho! - Susan Doyle, timsudoyle [-a t-]hotmail.com
Incredible Humpback Whale Rescue Video (Courtesy, Baja Pony Express) - Michael Fishbach narrates his encounter with a humpback whale entangled in a fishing net in the Sea of Cortez. Gershon Cohen and he have founded The Great Whale Conservancy to help and protect whales. Visit their website www.eii.org/gwc/, facebook page, and join them in helping to save these magnificent beings. www.youtube.com/watch?v=EBYPlcSD490 -
"Thank You" Ministerial Police - My neighbor's house was broken into in Las Tunas sometime last week. When I noticed it Wednesday afternoon, I contacted the Policia Ministerial. Comandante Martin Javier Martinez De Los Santos responded and took pictures and notes. It was hard to say what was taken, as the place was not mine. The obvious was a few tools had been taken and food had been eaten and left at the home. On Saturday, Comandante Martin returned to my house and asked me to take photos of some items they had recovered, and to ask my neighbor if they belong to him. As it turns out there was a group of three people who broke into 3-4 houses in the area. They have been caught. I just want to express the gratitude for myself and my neighbor. These officers worked quickly and efficiently. Thank you so much. - David, theranchkidz [-a t-]yahoo.com, Todos Santos
Phone Books and Dictionaries - Phone books that cover all of BCS are available in La Paz at Seccion Amarillo. To find them, go down Nicholas Bravo street (by Chedraui store) to the Telmex office. Turn left there to Allende, about 2 blocks over, and another left gets you to the phone books. They happily gave me several and also have on hand the phone books of the principal Mexican cities for reference use there in the office. Telmex sent me to them and Telmex doesn't keep the directories on hand.

The Harper Collins hardback unabridged spanish-english dictionaries are really good to have. I find them a necessity if you are serious about learning spanish. I've not seen them for sale here but buy them in the USA from Barnes and Noble. Cost is about 30 bucks, very well spent. Easy to read, lots of words, well made. - Randy Echter, rke1951 [-a t-]gmail.com, La Paz
Curso de Verano (Courtesy, Baja Pony Express) - The Curso de Verano is sponsored by our Delegation, the Dif office and The Asociacion de Artes (Los Barriles). This three week program will run from July 11, 2011, through July 30, 2011. There are 110 children enrolled in this program that runs from 8am till 1:30pm Monday through Friday all three weeks. We are looking for some people who are willing to give us a couple of hours or more if you like during this program. We have swimming, dancing, many different art programs of your choice, jewelry making and last but not least English classes. Remember you do not need to speak Spanish to teach English. There are several different sports classes also that are covered at this point in time by local instructors. This program is very well organized by Francie and our local Delegation. We would like to help with additional volunteers to make this program a continued success for our community. Please contact me directly Kathy at kaojaa [-a t-]gmail.com and we will accommodate the time you have available. Thanks so very much! - Los Barriles
Tepoztlan Ashram/School Needs Help - Hi Baja community! This beautiful ashram (Tashirat)/community school (Ixaya) in central Mexico is desperately in need of help. Tashirat is an orphanage that's run by volunteers around the world who take children into their loving care, who practice yoga and meditate daily in order to raise this children with the principle of love with discipline. Everyone there is a vegeterian and they recieve children with special needs (who, incidently, are making great progress).

They started by first providing a school for their own children and all of the needy children in the community who weren't able to pay the government school fees. Ixaya has since provided every kid an education and a free meal. If you cannot help financially, please help by spreading word of their work. A beautiful video features the wonderful things they do for these Mexican children.www.youtube.com/watch?v=GodS-7e8xlQ&feature=related, www.saveixaya.com, www.tashirat.com - bereniles [-a t-]hotmail.com, Baja California Sur

Pemex Todos Santos - Be aware! On June 16, I stopped for gas at the Pemex in Todos Santos. The attendant managed to fill a 19 liter can with 22 liters! - Name Withheld By Request, United States
Dharma Talks By Robert Hall - Dharma Talks offered by Robert Hall, Sundays 10-11:30 am at La Arca located on Calle Topete corner of Pilar. The talks are preceded by a period of guided meditation with instructions in the Vipassana tradition and everyone is welcome. Select talks are also available online for listening from the blog site - Alvaro Colindres, eldharma [-a t-]prodigy.net.mx, roberthalldharmatalks.wordpress.com/, 612 145 0676, Todos Santos
Keep'n It Reel Fishing Tournament Palmas De Cortez (Courtesy, Baja Pony Express) - 6:30pm. If you are interested in participating in the Keep'n It Reel fish and chips tournament, you can register at the Poolbar at Hotel Palmas De Cortez, Los Barriles on Thursday June 23rd between 9am-4pm. $350 per team plus optional side Jackpots. Bikini Contest will be held at Palmas De Cortez on Friday, June 24th at 6:30pm. Anyone can enter and there will be a $500 cash prize for the winner. You can register for the bikini contest on June 23rd at the pool bar between 9am-4pm (no entery fee). For more information regarding KIR Tournament email eldharma [-a t-]prodigy.net.mxinfo [-a t-]keepnitreel.com or call reservation office at 141 0044. www.fishandchipstournament.com, Los Barriles
Sumer Wood Carving Workshop - Only Saturdays from 8 am till the body tires, Starting saturday 9 of july until agosto 13th in La Paz, in parque postal, in front of downtown post office. Kids, grownups, novice, experts, boys and girls every body is welcome.. The instructor: Homero Martinez. The idea: to carve a dead street tree, or two, to make urban totems with ideas from everybody.

Taller De Verano De Talla De Madera - Solo los Sabados de 8 am hasta que el cuerpo aguante. Empezamos el sabado 9 de julio hasta el sabado 13 de agosto. En La Paz, parque postal, frente a la oficina de correos del centro. Chicos, grandes, novatos, expertos, chicos y chicas todo mundo esta invitado.. El instructor: Homero Martinez, . La idea: tallar un arbol seco de la calle para hacer un totem citadino con ideas de todos. - Homero Martinez, homerochairez [-a t-]prodigy.net.mx, homeromartinezchairez.artelista.com, 612 167 74 84, La Paz
---
Submit your News and Events, Questions and Answers articles here: http://www.bajawesternonion.com/submitad.asp
Return to Top
---
---
Featured Events This Week
---
Thursday, June 23
Hawaiian Dance Clases - At Cafe La Esquina at 7 p.m. Hawaiian and Tahitian dance classes will be performed for adults. The teacher, Malucha, learned on the Island. Classes are held every Thursday. The price is 250 pesos per month or 70 pesos per class. - Paula, ballenatito [-a t-]yahoo.com.mx, 612-161-0232

Keep'n It Reel Fishing Tournament - 6:30pm. Register at the Poolbar at Hotel Palmas De Cortez, Los Barriles, between 9am-4pm. $350 per team plus optional side Jackpots. Bikini Contest on Friday, June 24th at 6:30pm. $500 cash prize for the winner. Los Barriles
Friday, June 24
Todos Santos Recycling - Brainstorm Meeting - 10 a.m. at the Gemini Deli garden patio. - Michael Morel info [-a t-]TheGeminiDeli.com, 612-147-7300, Todos Santos

Beca Ceremony - The Palapa Society will honor the 18 CECYT students who participated in the Beca (scholarship) Program during a small ceremony at the Center at 4 p.m. - Susan Doyle, timsudoyle [-a t-]hotmail.com

Final Pizza Nite for the Summer - Come try a variety of all our pizzas this Friday, June 24. All-you-can-eat special for $100 pesos adults, $50 pesos for kids. You can also order your own pizza. We will be back in the fall. - Bruce Kramer, bkmasonry [-a t-]yahoo.com, 612-348-9363, Todos Santos
Friday, June 24, and Saturday, 25
Figure/Portrait Painting Workshop - Workshop in Elias Calles (1 1/2 days). Michele Guilvezan Tanner, well-known portrait artist from Santa Cruz, Calif. Visit Michele's website, www.giulvezan.com - Penny Brozda, pennybrozda [-a t-]mac.com, 612-147-7550, Baja California Sur
---

---
Submit your Community Events and Workshops here: http://www.bajawesternonion.com/submitad.asp
Return to Top
---
---
Stepping Out - Food, Music and Entertainment
---

Great New Chinese Food - El Che is a great new Chinese food place in town next to the video store and across from Shut UP Frank's. The people at the resturant are very nice so grab some take-out and head to the beach for a sunset dinner when it gets hot - Kathy Gasper, kathygasper [-a t-]msn.com, Todos Santos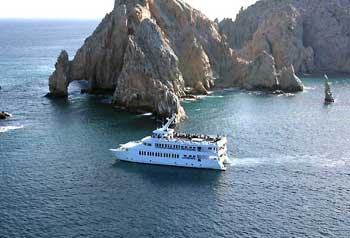 Caborey Dinner Cruise - With over 40 years offering tours in Mexico, Caborey has firmly established its reputation for quality, safety and fun. Reserving tours in advance through our website assures that you are purchasing tours from a reputable source and that the date and time of your reservation will be respected. Allow us the pleasure of providing these services for you.

Experience the natural wonder of Cabo San Lucas from aboard our luxurious 144' triple deck catamaran... From the moment you board the Caborey prepare yourself for an exhilarating experience. The majesty of the Land's End rock formations including Cabo's iconic "Arch" will spread out before you as the Caborey slips away from the marina and into Medano Bay. Live music and limitless cocktails accompany the breathtaking view from the upper deck of the Caborey as it follows its route along the tip of the Baja.

As the sun sinks into the horizon, tempt your palate with one of our 6 delectable entrees. Then as you take your last bite of scrumptious dessert, sit back and enjoy a Las Vegas-style show that will delight you with the sounds and rhythms of Latin America. - Caborey Cabo, reserv [ - a t - ] caborey.com, www.caborey.com, 143 8060, Cabo San Lucas

Hawaiian Dance Clases - Every Thursday at Cafe La Esquina at 7 p.m. Hawaiian and Tahitian dance classes will be performed for adults. The teacher, Malucha, learned on the Island and has her own school in La Paz but will come to Todos Santos once a week. The price is 250 pesos per month or 70 pesos per class. - Paula, ballenatito [-a t-]yahoo.com.mx, 612-161-0232

Final Pizza Nite for the Summer - We are done for the summer and want you all to come and try a variety of all our pizzas this Friday, June 24. We are doing an all-you-can-eat special for $100 pesos for adults and $50 pesos for kids. You can also order your own pizza just like any other night. So come pig out and help us clean out the kitchen! We also want to thank everybody who has been coming and supporting this little thing we've started, and to let you know we will be back in the fall. Thanks! - Bruce Kramer, bkmasonry [-a t-]yahoo.com, 612-348-9363, Todos Santos

---
Submit your Stepping Out - Food, Music and Entertainment announcements here: http://www.bajawesternonion.com/submitad.asp
Return to Top
---

---
Misc. Sales and Services Available/Wanted
---
Pacific Window Washing - Professional home window washing now servicing San Jose del Cabo, Cabo San Lucas, Rancho Migrino, Elias Calles, Rancho Nuevo, Pescadero, Todos Santos and anywhere in between. For free estimates, call Mark at 612-143-3316. www.pacificwindowwashing [-a t-]gmail.com
A Note from the Dentist - Hello dear friends, I am announcing that next week I will work only Tuesday, June 28, in Todos Santos because I will be in Mexico City taking a dental course (normally I work in Todos Santos on Mondays and Tuesdays). Thank you very much for your patience and understanding. - Dr. Angel Hernandez Baeza - Angel Hernandez, dentistabajasur [-a t-]gmail.com, 612-183-1734, Todos Santos
American Insurance In Mexico - Accidents and Emergencies Happen Every Day. Your medical insurance doesn't cover you in Baja. Yes, your provider may be willing to reimburse you for your costs after months and piles of paperwork but you will pay the billup frontt. Did you know Medicare does not cover you outside of the US? No re-imbursement, period! Can you really afford to take the risk?

For as little as $75 a month you can use an insurance card instead of your credit card. Our Patriot program has you covered while traveling here in Southern Baja. Policies available for a month, 4 months or up to 2 years. Coverage within 24 hours of application. Only pay for the time you are here

Don't Take The Risk. Emergencies Do Happen Every Day. Protect your vacation dollars. To find a rep, get an immediate quote or immediate coverage, visit us atwww.americaninsuranceinmexico.com or call us at 624-122-2806 - jbarrilesj [-a t-]yahoo.com, 624-122-2806, Baja California Sur
Byrne 6.6 Surf Board 4$ale - Selling my Byrne 6.6 ft surfboard with sock for 250 U.S Dollars, Come by Pascadero Surf Camp to check it out!

Vendo mi tabla de surf Byrne 6, 6 pies con calcetines de 250 dólares. vienen por Surf Camp Pascadero para comprarlo! - Mateusz Wiewiorowski, memateusz [-a t-]gmail.com, 612- 132-3434, Pescadero
SUP Board Wanted - I'm looking for a used SUP board and paddle. Must be in relatively good condition with no major dings. Should be approximately 10' to 10'6" long, 28"-30" wide and 4.5"-5" thick. Tr-fin with slot for larger center fin. I want an all around board that is buoyant and long enough for touring but also agile enough for surfing in small to medium waves. Carbon fiber or composite paddle preferred but will take aluminum. I'm located in Todos Santos but can pick up in Pescadero, Los Cabos and the East Cape up to Vinorama. I would like to be able to try it out once before buying. Can only pay in pesos. - Miguel, bvimiguel [-a t-]hotmail.com, 612-154-5102, Todos Santos
Confidential Home Inventory - Get your confidential home inventory now. Call for more information. - Kathy Gordon, katiejay99 [-a t-]gmail.com, 612-132-1586

Official Translator / Perito Traductor - Consistent with the State of B.C.S. Laws, I'm a certified translator, qualified to work as such. Whether your project is under 100 words or over 10, 000, I can provide you with a prompt and accurate translation. General translations can come in any format, including documents, reports, essays and web pages. I work six days a week and can be contacted at a short notice. I would be very pleased to assist with urgent jobs. - Claudia Beltran, claudiabeltranm [-a t-]gmail.com, 612-140-9194, La Paz
Casa Decor, La Paz, Indoor And Outdoor Furniture - Interior design service. We custom make furniture:
* Largest Inventory In The Baja * Patio Furniture. * Wicker, Rattan And Marble * Lighting. * Rustic Hand Painted Furniture * Metal Furniture. * Copper Furniture * Kitchen Cabinets. * Doors * Floor and Wall Covering. * Art * Accessories * Fountains And Urns. * Imports From Around The World. * Unique Selection of Furniture And Accessories. * Mexican Furniture * Furniture Packages
Fine furniture made to order. Wholesale to the trade. The Best selection in the Baja at Casa Decor. Two Locations: Casa Decor La Paz, 560 Marquez de Leon, Tel: 612-129-3364. Casa Decor Cabo San Lucas: on 4 lane KM 3.5 next to Artisanos and Natural Marble and Stone, Tel: 624-178-8146. - richards77 [-a t-]pcisys.net, http://www.antiquerowmarket.com, Baja California Sur
Dirt for Sale Todos Santos - We did some work with a backhoe on a piece of land and now have some dirt for sale. Good for compacting or leveling projects. - Esteban Salinas, estebansalinas [-a t-]prodigy.ne.mx, 612-127-1284, Todos Santos
Business Opportunity - Seeking a buyer for El Tecolote Bookstore and Gift Shop - A Todos Santos institution for 18 years, it is centrally located and a hub for local and tourist activity. Travel guides give it superlative reviews, and an experienced, dynamic manager is available for continued employment. Owner spends substantial time away and would like to transfer ownership to promote the store's continued vitality. Serious inquiries only, please. - janethowey [-a t-]yahoo.com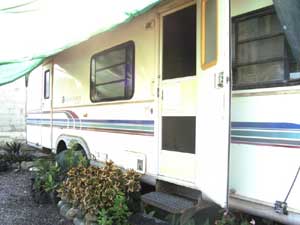 Move in Tomorrow! - For sale: 1994 Holiday Rambler 28' Trailer here in Todos Santos. Sleeps 4 comfortably. Has everything: AC, gas stove, fridge, microwave, shower/bath. And it all works great!

Owners anxious to sell. Want to hear all offers. - Ruben, rubenandlety [-a t-]hotmail.com, (cell) 612-119-3969
Grand Vitara 2001 for Sale - Imported with Mexican plates. Electric, 4x4, V6. Ideal for rough roads and for the beach. It is very safe and it is in good mechanical condition. We can e-mail you pictures if you are interested. Red wine color. $45, 000 pesos. Cell: 624-154-4785 and 624-158-0524. e-mail: thelma [-a t-]gaiacabo.com and pepe [-a t-]gaiacabo.com - Thelma Ramirez, thelma [-a t-]gaiacabo.com, Cabo San Lucas
Multiservicios Ryjos, Todos Santos - ofrece suministros de oficina y servicio de fotocopias, Internet y servicios informáticos. Ubicación: El Otro Lado, Calle Horizonte esq Nicolas Bravo, Colonia el Rio, frente a Café La Esquina, Todos Santos:
Papeleria - Venta de artículos escolares-oficina, Copias, Enmicados, Engargolados, Servicio de impresión negro y color. Copías CD/DVD.

Internet / Juegos - Servicio de mensajería instantánea, Skype, E-mail, descargas de musica y fotos, Xbox 360, servicio de Scanner. Wireless

WiFi / VoIP / Computadoras - Venta, instalacion y soporte de redes cableadas e inalámbricas, Voice Over IP (Vonage, Net2phone), computadoras.
Horarios: Lunes, Martes, Jueves, Viernes: 8:00 A.M - 9:30 P.M., Miercoles Y Sabados: 8.00 A.M - 4:00 P.M. Domingo: Cerrado
Ryjos Multi-services, Todos Santos - offering officesuppliess and copy services, internet and computer services. Location: "El Otro Lado, " Calle Horizonte at the corner of Nicolas Bravo, Colonia el Rio, in front of Café La Esquina, Todos Santos:
Stationary Store - Sales of School and office Supplies, Copies, Laminating, Binding, Black and While and Color Printing Service, Scanner service, CD/DVD Copies.

Internet / Games - Instant Messaging Service, Skype, E-mail, downloading music and photos, Xbox 360, Wireless Access

WiFi / VoIP / Computers - Sales, installation, service and support: wired and wireless networks, Voice Over IP (Vonage, Net2Phone), computers.
Hours: Monday, Tuesday, Thursday, Friday: 8 a.m. - 9:30 p.m., Wednesday and Saturday: 8 a.m. - 4 p.m. Sunday: Closed. Propietario/Owner: Josue Castillo Mayoral, Business Telephone: 612-178-0039, Cellularr: 612-148-3786, jocama85 [-a t-]hotmail.com, Todos Santos

Need a Ride to or From the Airport? Or Someone to Assist You With Errands? - I am a young, bilingual Christian man and I can provide you with rides to or from the La Paz or San Jose Del Cabo airports. I can also help you with courier services, errands, or navigating the intricacies of dealing with Mexican businesses and the government; Car Registrations, TelCel and TelMex, CFE, Seguro Social, etc.

Reasonable Rates - Contact: Ernesto, Cel. 612-117-7497, ernie_net [-a t-]hotmail.com
El Angel Azul B&B Inn - Because we will remodel our court yard garden June 24 - July 12, the Inn will be closed during this time. For more info, please contact us via email hotel [-a t-]elangelazul.com. Although the Angel will be closed, Allende Books remains open. Looking forward seeing you after July 12 with a gorgeous looking new garden! - Esther Ammann, hotel [-a t-]elangelazul.com, www.elangelazul.com, 612-125-5130, La Paz
Trailer, Motorhome Wanted - Looking for a relatively new pop-out trailer, min feet 29; or Class C motorhome medium length. - Chritine Douglas, cdoug1946 [-a t-]yahoo.com, 612-103-7021, Todos Santos
Hughesnet Satellite Internet
Now, Connect to The Internet No Matter Where You Live:
Always-On Connection, Available Where DSL and Cellular Won't Reach
PC, Mac, Wireless Compatible
Multiple Computers Can Share the Same Internet Connection Full-Time
Vacation Holds Available on All Plans
Anti-Virus And Email Spam Filter
No Phone Line Needed, No Busy Signals, No Missed Calls
Professional Installation Available Anywhere in Southern BCS
Purchase Your System From Baja Satellite Before June 30 and Get:
1. Mail-In Rebate for $199.99 off Equipment Purchase! 1

0.74 Meter Dish with 1 Watt Transmitter - Only $299 US After Rebate!. 0.98 Meter Dish with 2 Watt Transmitter - Only $699 US After Rebate!

2. Mail-In Rebate for $20 off Your First Three Months of Monthly Service ($60.00 Value)! 2

Data Plan
Download / Upload Speed 3
Monthly Service
Home
1.0 Mbps/128 Kbps
$39.99/mo, first three months!
Pro
1.2 Mbps/200 Kbps
$49.99/mo, first three months!
ProPlus
1.6 Mbps/250 Kbps
$59.99/mo, first three months!
Baja Satellite is an Authorized HughesNet Reseller. For more information Contact Us today: alan [-a t-]BajaSatellite.com, www.bajasatellite.com, (530) 903-4257 (From US), (01) 555 351 0882 (From Within Mexico), Baja California Sur
1 Prices shown are after $199 mail-in rebate, and do not include Mexican shipping, importation or installation. System must be purchased before June 30.. 2 $20 off per month for 1st. three months, after $60 mail-in rebate. System must be purchased from Baja Satellite before June 30. All plans require 24-month contract. . 3 Absolute maximum speeds stated by HughesNet. Actual speeds will be less, and speeds will vary throughout the day and week depending upon total number of HughesNet subscribers sharing your satellite channel.

2003 Harley Fat Boy For Sale - 100th anniversary edition, perfect condition. all chrome 16000 miles, imported all dues paid thru 2011 call 624 157 2373 or 14 33960 11000 usd or best offer - Heather Wilson, heatherfw57 [-a t-]aol.com, www.facebook.com/photo.php?fbid=10150281706738072&set=a.10150281706733072.384408.624083071&ty, 624 157 2373 or 1433960, Cabo San Lucas
Everything Must Go Sale Event - The School for Field Studies, July 5 - July 16, 10am-4pm, Puerto Acapulco, Puerto San Carlos, Comondu, Baja California Sur 23361, School is closing. Everything for sale to the highest bidder. OPEN HOUSE - Property for sale., Cars, boats, kayaks, kitchen equipment, dormitory fixtures and furniture, tools and much much more. - Ray Salamanca, rsalamanca [-a t-]fieldstudies.org, www.fieldstudies.org, (978) 239-2169, Baja California Sur
Thermador Kitchen - For Sale: Brand new, never used Thermador built-in oven/microwave/warming drawer. 5 burner cooktop and wall hood. Lists for $9200.00 dls. asking $5000.00 for everything or will seperate. - Dustin Meeker, dustingofish [-a t-]hotmail.com, 624 143 3199 wk., Cabo San Lucas

Summer Ad Special! - Put your ad in front of over 3, 100 Baja Western Onion subscribers in Four consecutive issues for only $10 dlls ($120 pesos). Get more coverage for your next Yard Sale, Vehicle, Misc. Wanted or For Sale ad.

For only $10 dlls US, we'll run your ad for a total of Four consecutive issues, allowing your ad to appear in each issue for two weeks. Also, we'll feature your ad within a red, highlighted box. This special offer applies only to text-based ads submitted by non-commercial, private parties, and is subject to our editorial policy. Sorry, this offer not available for display banner graphics ads, or ads for businesses, real estate or rentals available.
Payment: All Summer Special ads must be prepaid in advance of initial run date. You can make your payment online via PayPal athttps://www.paypal.com/cgi-bin/webscr?cmd=_xclick&business=advertising [-a t-]BajaWesternOnion.com, or call us at 001 530 903 4257 or 01 33 8421 1142 (From Mexico) to make payment directly by VISA, MasterCard, American Express or Discover Credit or Debit Card.
Free Ads: As always, you can place a Free text-based ad in the Baja Western Onion once every 14 days. Submit your Free Ad or Article here: www.bajawesternonion.com/submitad.asp. -
For more details on our advertising opportunities, please visit www.bajawesternonion.com/advertising.asp or send an Email to: advertising [-a t-]BajaWesternOnion.com
---
Submit your Misc. Sales and Services Available/Wanted articles here: http://www.bajawesternonion.com/submitad.asp
Return to Top
---

---
Real Estate, Rentals, and House Sitting - Available/Wanted
---
Ocean View House for Rent - Beautiful Ocean View 1500 sq. ft., 2 bed/2 bath home located in the Las Tunas/ Los Jardines area of Todos Santos with ocean and mountain views from every room. Situated on an elevated ˝ acre lot with patios, terraces, mature landscaping-palms, cactus, bougainvillea, giant birds of paradise and both city and agricultural water. Truly a gardener's paradise. Mexican Tiles and details throughout. For more photos and information visit www.bajawildheart.com. Seeking long-term renters. This house is also for sale. Rent $600-750/month depending on length of stay. - Leslie Lambert, llambert [-a t-]sonic.net, www.bajawildheart.com, 707-696-9064, Todos Santos
Big Lot Reduced - This lot measures 2900 m/2 and features city water and power. It also has a big palapa with bathroom. There are landscaped grounds along with a liveable trailier and bodega. The lot is located one block away from beach at the west end of Las Tunas (where the power lines end on the main road). Price is $125, 000 OBO. - lowerbaja [-a t-]yahoo.com, 612-161-4728, Todos Santos
My House for Sale - Finish it your way. There are some details that are missing so you can do it the way you want - your dream house! The land is 824 m2 (about 8, 869 ft2). The house is small, about 65m2 in the first story, the ceiling is 84m2, and the basements are ready to support a second and a third story. Just two blocks from Mercado El Sol 11 in Las Brisas. The house has water but not power. We are asking $60, 000 but we are open to any offers as we really need to sell it urgently. - Sigfrido Prado, sigfridoprado [-a t-]hotmail.com, houseforsalebcs.blogspot.com/, Todos Santos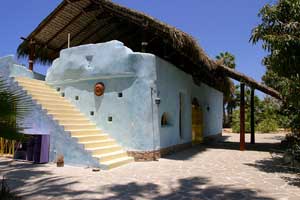 Todos Santos Beach House on a Tranquille Lush 5, 206.22 Sqmt Property - For Sale by Owner: - Two (2) separate driveway entries give the 5, 206.22 sq meter (1.25 acre) property privacy from both the front and back, giving flexibility to build additional homes or to split in the future. Soil on the property is rich organic black soil, ideal for other organic gardening.

* Property is an enclosed oasis and has unlimited access to farm water that nourishes the over 85 mature mango trees, 80 lush palm trees over 5 feet, passion fruit trees, citrus fruit trees and avocado trees, all of which give the property its cool shade that is coveted in the region and frequently not available on other properties of comparable or more value in the desert landscape.
* Property has power, water (both municipal and farm water), gas and Internet.
* A 6-minute walk takes you to the secluded beach, and a 5-minute drive finds you in the heart of TS.

If you have questions or would like to make an offer after viewing the property on YouTube (www.youtube.com/watch?v=krg9FEeiRtk), feel free to contact us. Save on the fee and make us a good offer. - Anh Walch, anhwalch [-a t-]yahoo.com, 212-692-0912, Todos Santos
House Sitting - Retired Banker 61 years young living in San Diego is avalable for your house sitting/Ppet sitting needs. Take that trip to see the kids or simply to get out of the hot Baja sun. Will fly to Cabo if you pick me up at the airport. Next day I drive you to airport and I use your car/truck. When you return I pick you up and get you home. Minimum housesitting 2 weeks. Must have air cond, TV and internet. My fee is free. Last assignment was in Punta Pescadero on the Sea Of Cortez, November and December of last year. While there I named the wild goats and donkeys I know the area and people, and love animals - Ted Lemanowicz, tlemanowic [-a t-]sbcglobal.net, 760-727-5063, Todos Santos
For Rent - Quaint cottage on a lovely ranch in Pescadero: 1 Bedroom, furnished, utilities not included. Please, telephone calls only at 612-176-3119 (Pescadero). - Mariposa, mariposabcsmx [-a t-]live.com
Bahia Asuncion Beach Front Home For Sale - Two Bedroom 1 bath house includes a Laundry Room, Walled Patio and Yard. Separate Large Guest Room with a Private Bathroom. Bodega/ Large Storage Room. Electricity and Municipal Water. There are two lots that equal 20 by 43.99 meters-879.89 meters and it is beach front. The current house and guest room are built toward the back of the lot which leaves lots of room for another house, vacation rentals, hotelito, or ??? Lots of potential in an area that is increasing in tourism since the road to Bahia Asunicon is now paved. Photos of the house and property are here: www.flickr.com/photos/60266763 [-a t-]N05/.

For more about Bahia Asuncion, see their Community Website at. www.bahiaasuncion.org. Serious buyers, please e-mail -trotterjd [-a t-]hotmail.com. We have a agent who will handle every thing - there are two lots involved, so it is a bit different and closing costs are more - least expensive way to purchase would be with a corporation. Agent has all the information. $149, 000 for all, OBO Open to serious offers - John Trotter, United States
---
Submit your Real Estate/Rentals/House Sitting/Property Management Services articles here: http://www.bajawesternonion.com/submitad.asp
Return to Top
---
Rides or Caravans Available/Wanted
NOTE: Ads will run for two weeks unless dated. Please list the date in the title, and specify which airport. Goes without saying, everyone shares expenses for beer, gas, food, etc

To remove your ad if you find a ride or caravan, let us know here: www.bajawesternonion.com/submitad.asp -
---
Room for Stuff Going South - We are traveling to Arizona and returning July 1 (approx.). Have space on enclosed truck bed. If anyone needs anything brought down, let us know - will exchange space for gas money. Thanks - Doug, extranheros [-a t-]hotmail.com, Pescadero
North Bound After June 30 - Heading back to the states after June 30, departure date is flexible but would like to leave by the first week of July. Preferably looking for someone to help with driving but will join a caravan if you're already driving yourself. F150 with myself and a pretty rad dog - spenfoldbrown [-a t-]gmail.com
July 6: Need Ride From Cabo Airport To Todos Santos - I am arriving at the airport July 6 at 11:30 a.m. with some luggage and need a ride to Todos Santos. Will share expenses. - Thomas Garland, garlandtag [-a t-]gmail.com
---
Submit your Rides or Caravans Needed/Available articles here: http://www.bajawesternonion.com/submitad.asp
Return to Top
---
Pet Corner (Lost and Found pet articles will run for two weeks)
Let us know if you find or place your pet so we can remove your ad -
---
Adorable Kittens Seek Loving Home(s) - We were abandoned before our eyes were open (around 10 days) and a big brown dog found us. She is our rescue dog and her owner has given us a foster home to raise us up to be charming kittens. He spends lots of time with us and we love all the affection and give it right back. We are about 8 weeks old now and ready for our permanent homes! We are litter trained. We've had our first check-up at the vets and he proclaimed us healthy and ready for adoption. Won't you please adopt me or one of my sisters? Give Jaime a call or write Deborah an email if you'd like to meet us! That would be purrrrrrrrrrrfectly wonderful! - Jaime Wood, deborahhorn [-a t-]hotmail.com, 612-132-8893, Todos Santos
Dog Urgently Needs Your Help. - A good-tempered, sweet dog needs temporary immediate assistance and adoption. Present needs: A contained enclosure to manage shampoo bath every 3 days for 2 weeks, Flea/tick preventive med application, renew rabies shot. She has had care for over a year to bring her to good health but she can no longer remain on our commercial property. If no one steps forward to assistance by June 30, I have no choice but the unspeakable. - Lady, macnmoli [-a t-]yahoo.com, 612-118-3423, Pescadero
Lost Dog Seen At La Posa - A small white/cream-colored dog was seen running and hiding in the tall rushes at the north end of La Posa lagoon. It is similar to a poodle, with long floppy ears, wearing a pink and black dog-dress. Do you know of anyone who dresses their dog like that? Thanks - Serena S, brentserena [-a t-]gmail.com, 612-132-8913
Take Me! - I have a female dochshound with all her shots and I have her paper work. I really love her but I am having a baby this month; I can't take the risk of tripping over her and hurting my baby. Please, if you know of anybody who wants her, let me know. Thank you. - Taylor Daniels, taylor210210 [-a t-]hotmail.com, 612-104-8209
Beautiful Dog Needs Home - We fostered a female dog named Onyx since she was 8 weeks old. She has been at a trainer for 3 weeks. She has a lot of energy and really needs a lot of property to run on. She has been fixed, has all her shots, weighs 45 lbs. and is absolutely beautiful. Unfortunately, we couldn't foster her any more and she is at the Los Cabos Humane Society. You can contact Everesto at the shelter for more information. - Everesto, evaristoah [-a t-]hotmail.com, www.loscaboshumanesociety.com, 624-129-8346, Cabo San Lucas
3 Adorable Puppies Rescued - I rescued three starving, flea and tick infested female puppies from death by neglect. Two pups look like black lab mix, one is smaller and tan color. They are now strong, healthy and lively puppies ready to be relocated to good homes. I cannot keep three dogs so please open your heart and home to a sweet little pup. For more information, please write dianejoy39 [-a t-]yahoo.com, Todos Santos
Found Puppy - Monday, June 13: Female puppy approx. 4-8 weeks old in Pescadero/Los Cerritos. Black with tan boots and eyebrows. - Kelly Cline-sniechowski, kelbil2002 [-a t-]yahoo.com, 624 118 1603, Pescadero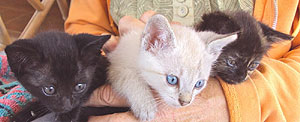 Kitties, Kitties, and More Kitties - It's been "raining" kitties! Four new arrivals at Kitty Heaven, three kitties at Dr. Franzoni's (soon to to go to Kitty Heaven) and two are in foster care. All colors, all very young and playful. For more information, call Angelique at 612-145-0250 or write her at BajaKitties [-a t-]Yahoo.com

Kitty Heaven is the only all-cat refuge in Baja California Sur. Visit us on the web athttp://bajarescue.org/#KittyHeaven. We survive via your kind donations. To send your support, please click the "Donate" button below:
---
Submit your Pet Corner articles here: http://www.bajawesternonion.com/submitad.asp (and remember to Spay and Neuter your pets)
Return to Top
---
Quote of the Day: " Anyone who says they're not afraid at the time of a hurricane is either a fool or a liar, or a little bit of both. " ~ Anderson Cooper
---
Looking for the complete Community Events Calendar? Click Here!
---
Return to Top
---
---
Help Support The Baja Western Onion!

We can accept donations byCredit Card, PayPal, cash, check or direct deposit.

For more information, please visit our web site athttp://www.BajaWesternOnion.com/donate.asp.
Copyright © 2006 - 2011. The Baja Western Onion. All Rights Reserved. Published Using 100% Recycled Electrons :)
Return to Top
---