On The Web Site:
---
Today's Weather
---
Community Access
Policia Preventiva
Todos Santos Police
612 145-1052
Commandante Navarro


Ministero Publico
State Police
612 145 0198
Commandante Erigoyen


Bomberos
Fire Department
Cel. 612-142-6387
Commandante Cadena


---






---
Baja Western Onion
Alan Thompson - Publisher
Debra Webster - Advertising
e-mail For General Feedback
---
---
News and Events, Questions and Answers
---
Figure/Portrait Painting Workshop - Workshop in Elias Calles June 24 and 25 (1 1/2 days). Michele Guilvezan Tanner, well-known portrait artist from Santa Cruz,Calif. Come join us near the beach in Elias Calles at a beautiful home and garden. Some lodging available. Please contact me for more information. You can also visit Michele's website, www.giulvezan.com - Penny Brozda, pennybrozda [-a t-]mac.com, 612-147-7550, Baja California Sur
Artists Work Wanted - We are looking for two or three local artists for a one-day exhibition at an Open House here in Todos Santos. We will bring a group of people from Cabo and want to introduce them to some of the local art. If you are interested, please contact me ASAP to get the info. The event will be held Saturday, July 2. - Pablo Lopez, pab_lopez [-a t-]yahoo.com, 612-151-4701
Assaults at ATM Machines Courtesy La Paz Gringos - Just a note of warning: There is a band of thieves operating in La Paz that are assaulting women at ATM machines. A young woman I work with was assaulted at knife point Wednesday. When she reported it to the police, they said it was the fourth report this week. A well dressed man approached and used the ATM next to her. When she left, he left behind her and said, excuse me you dropped something. When she looked down and around, he pushed her up against the building, pointed the knife at her, took her wallet etc. He said he would come to her house (he had her ID in the wallet) and find her if she called the police. This event took place at the ATM at SANTANDER in front of Soriana at about 10:00am. The thieves are apparently targeting women so everyone, use caution. -
New On-line Edition of the East Capers Newspaper - The East Cape Arts Association announced today that their East Capers newspaper is now available on-line. Readers who may not be able to pick up a print copy can now read the newspaper by going to the Association website at www.eastcapearts.com. All proceeds from the newspaper benefit the East Cape Arts Association (Asociación de Artes del Mar de Cortez A.C.) community programs that bring the arts to the local community and schools. Anyone interested in purchasing advertising in the East Capers newspaper can stop by Baja Beach Company in Plaza del Pueblo or Wolfe Property Management in Plaza Liberdad in Los Barriles and pick up an Advertising Kit or request one by sending an email to: eastcapearts [-a t-]gmail.com. Include the words "Advertising Kit" in the subject line. - Walter S. Zapotoczny, Jr., mail [-a t-]wzaponline.com

Need Help Crossing the Boarder by Car - I am planning to drive down Baja in the next month or so and would like to know if I can do so in a car that is registered in my wife's name? Can I get insurance on it? And can I bring things in with me such as a kayak, fishing equipment, other stuff? Thank you - Marcos Tsiames, bajabird [-a t-]optimum.net
Help For The Hogar - The Hogar del Niño is our local orphanage relying on the community for support as this home is not funded by the government. If you have not yet visited, come meet Joel and Alicia Hernandez and their staff of volunteers. This team cares for boys and girls placed by DIF who are in need of protective care. The Hogar del Niño is located north of Todos Santos just off the highway before the Pemex. Look for the signs. Cash donations are always in need. Donating is now available online on their website at www.hogardelnino.org.mx! Or you can make a deposit at the Banorte Bank - acct. # 0666456418 pesos and 0662765028 dollar. If you prefer to shop in lieu of a cash donation, a sewing kit is needed. The kids need: hand cream, black shoe polish, hair gel, shampoo, hair supplies, especially the little bands called ligas. Art supplies such as drawing paper and paints would be appreciated. Then there is always a need for food such as fruit, eggs, and cereal. If you would like to provide meals, contact Lisa Welch. Her email is: lwelsch [-a t-]cbriveras.com. * Thank you for making a difference in the life of a child. - Joel Hernandez, hogardelninoac [-a t-]hotmail.com, www.hogardelnino.org.mx, 6121450584
---
Submit your News and Events, Questions and Answers articles here: http://www.bajawesternonion.com/submitad.asp
Return to Top
---
---
Featured Events This Week
---
Saturday, June 18
Live Reggae Music - At the Sandbar starting at 9 p.m. - Helen Bay, helenbaysandbar [-a t-]gmail.com, sandbarbaja.com, 612-102-9135, Pescadero

Movie Night - "I Am Love," Teatro Luna Azul, Todos Santos, 7:30 p.m. Popcorn, cash bar. http://tsbmp.blogspot.com

Box En Vivo / Live Boxing; Canelo vs. Rhodes - 8:30 - 11:30 p.m., La Garra Restaurant/Sport Bar, Juarez e. Obregon and Ocampo, Todos Santos. -

Haute Basque Cuisine - With Basque Chef, Jose Uribe, at Il Guardino, Todos Santos. Reservations by Friday are a must. 145-0199 or 044 612-134-9946 - Sylvia Perel sylvia [-a t-]latinofilmsociety.org, Todos Santos

Live Reggae Music - 9 PM, The Sandbar. - Helen Bay, helenbaysandbar [-a t-]gmail.com, sandbarbaja.com, 612-102-9135, Pescadero
Saturday, June 18, and Sunday, June 19
Probaja Desert Series 2011 - PlayStation Coyote 300, La Paz, Nacional (Registrada ante la FMADAC por Club La Paz) www.probajaonline.com
Tuesday, June 21
Fiesta Del La Musica - San Jose Del Cabo - World Music Festival featuring a variety of Rock, Jazz, Salsa, Funk, Electronica, Tecno Music and more. At 4 p.m. in downtown San Jose del Cabo. Admission is Free. - fiestadelamusicaloscabos [-a t-]gmail.com, www.fiestadelamusicaloscabos.com, San Jose Del Cabo
Friday, June 24, and Saturday, 25
Figure/Portrait Painting Workshop - Workshop in Elias Calles (1 1/2 days). Michele Guilvezan Tanner, well-known portrait artist from Santa Cruz,Calif. Visit Michele's website, www.giulvezan.com - Penny Brozda, pennybrozda [-a t-]mac.com, 612-147-7550, Baja California Sur
---

---
Submit your Community Events and Workshops here: http://www.bajawesternonion.com/submitad.asp
Return to Top
---
---
Stepping Out - Food, Music and Entertainment
---

Sandbar News! - We are making more changes at The Sandbar. Today, June 18, we will have Live Reggae Music starting at 9 p.m. Every Wednesday, kids eat free during Pizza Night (under 12 and 3 kiddies per paying adult). Every Sunday is now Fish and Chips Night! Only 75 pesos for a plate of fresh, fried fish, pappas and coleslaw (Irish style, like the owner). And we are still going strong with Thursday Night with NY steak dinners for 100 pesos. See you at the Sandbar! We are open everyday but Tuesday during the Summer. - Helen Bay, helenbaysandbar [-a t-]gmail.com, sandbarbaja.com, 612-102-9135, Pescadero

Shut Up Franks Is Open! - We now have ice cold Negra Modelo and Modelo Especial beer on tap! 16 oz. pints are only $25 pesos all of the time. Happy Hour runs six days a week from 3-6 p.m. and means $20 peso cocktails and $20 peso Pacificos! - Steve Fidnick, Cabofiddy [-a t-]yahoo.com, 612-143-2179
---
Submit your Stepping Out - Food, Music and Entertainment announcements here: http://www.bajawesternonion.com/submitad.asp
Return to Top
---

---
Misc. Sales and Services Available/Wanted
---
Pacific Window Washing - Professional home window washing now servicing San Jose del Cabo, Cabo San Lucas, Rancho Migrino, Elias Calles, Rancho Nuevo, Pescadero, Todos Santos and anywhere in between. For free estimates, call Mark at 612-143-3316. www.pacificwindowwashing [-a t-]gmail.com
Windshield Repair - Hola! Special prices now offered for your "star" or "bullseye" windshield repairs. We can also repair the more serious long cracks as well. Call me on my cell, 612-348-2652. I'm located in La Paz in the car lot near the corner of Jalisco and Marcelo Rubio Ruiz. - Jose Sanchez, crackmaster70 [-a t-]hotmail.com, La Paz
American Insurance In Mexico - Accidents and Emergencies Happen Every Day. Your medical insurance doesn't cover you in Baja. Yes, your provider may be willing to reimburse you for your costs after months and piles of paperwork but you will pay the billup frontt. Did you know Medicare does not cover you outside of the US? No re-imbursement, period! Can you really afford to take the risk?

For as little as $75 a month you can use an insurance card instead of your credit card. Our Patriot program has you covered while traveling here in Southern Baja. Policies available for a month, 4 months or up to 2 years. Coverage within 24 hours of application. Only pay for the time you are here.
Don't Take The Risk. Emergencies Do Happen Every Day. Protect your vacation dollars. To find a rep, get an immediate quote or immediate coverage, visit us at www.americaninsuranceinmexico.com or call us at 624-122-2806 - jbarrilesj [-a t-]yahoo.com, 624-122-2806, Baja California Sur
Wanted Mountain Bike - Dual Suspension - Looking for an XL Mountain Bike with dual suspension and XT parts. Preferably no more than 3 years old. - Jim Pickell, jim.pickell [-a t-]gmail.com, 612-155-5480, Todos Santos
SUP Board Wanted - I'm looking for a used SUP board and paddle. Must be in relatively good condition with no major dings. Should be approximately 10' to 10'6" long, 28"-30" wide and 4.5"-5" thick. Tr-fin with slot for larger center fin. I want an all around board that is buoyant and long enough for touring but also agile enough for surfing in small to medium waves. Carbon fiber or composite paddle preferred but will take aluminum. I'm located in Todos Santos but can pick up in Pescadero, Los Cabos and the East Cape up to Vinorama. I would like to be able to try it out once before buying. Can only pay in pesos. - Miguelbvimiguel [-a t-]hotmail.com, 612-154-5102, Todos Santos

Casa Decor, La Paz, Indoor And Outdoor Furniture - Interior design service. We custom make furniture:
* Largest Inventory In The Baja * Patio Furniture
* Wicker, Rattan And Marble * Lighting
* Rustic Hand Painted Furniture * Metal Furniture
* Copper Furniture * Kitchen Cabinets
* Doors * Floor and Wall Covering
* Art * Accessories * Fountains And Urns
* Imports From Around The World
* Unique Selection of Furniture And Accessories
* Mexican Furniture * Furniture Packages
Fine furniture made to order. Wholesale to the trade. The Best selection in the Baja at Casa Decor. Two Locations: Casa Decor La Paz, 560 Marquez de Leon, Tel: 612-129-3364. Casa Decor Cabo San Lucas: on 4 lane KM 3.5 next to Artisanos and Natural Marble and Stone, Tel: 624-178-8146. - richards77 [-a t-]pcisys.net, http://www.antiquerowmarket.com, Baja California Sur
What's for Dinner? - I can cook for you and deliver dinner to your door -- the best traditional Mexican dishes or ask about your favorite. For more information, please call me at 612-161-6740. Also, if you have a large group gathering or a fiesta coming up, call me for menu and pricing - Laura Marquez, laurimar23 [-a t-]hotmail.com, 612-161-6740, La Paz
Business Opportunity - Seeking a buyer for El Tecolote Bookstore and Gift Shop - A Todos Santos institution for 18 years, it is centrally located and a hub for local and tourist activity. Travel guides give it superlative reviews, and an experienced, dynamic manager is available for continued employment. Owner spends substantial time away and would like to transfer ownership to promote the store's continued vitality. Serious inquiries only, please. - janethowey [-a t-]yahoo.com
Wanted: Furniture For Studio Apartment - Hi! Redecorating or moving? I want to buy a futon or sofabed and chairs for a studio apartment. Also looking for bookshelves, armoire, end tables, etc. -- ASAP. Thanks! - Susansfrascella [-a t-]aol.com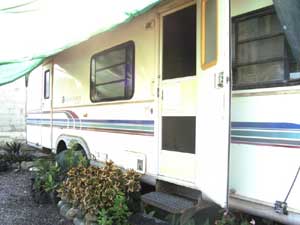 Move in Tomorrow! - For sale: 1994 Holiday Rambler 28' Trailer here in Todos Santos. Sleeps 4 comfortably. Has everything: AC, gas stove, fridge, microwave, shower/bath. And it all works great!

Owners anxious to sell. Want to hear all offers. - Ruben, rubenandlety [-a t-]hotmail.com, (cell) 612-119-3969
Multiservicios Ryjos, Todos Santos - ofrece suministros de oficina y servicio de fotocopias, Internet y servicios informáticos. Ubicación: El Otro Lado, Calle Horizonte esq Nicolas Bravo, Colonia el Rio, frente a Café La Esquina, Todos Santos:
Papeleria - Venta de artículos escolares-oficina, Copias, Enmicados, Engargolados, Servicio de impresión negro y color. Copías CD/DVD
Internet / Juegos - Servicio de mensajería instantánea, Skype, E-mail, descargas de musica y fotos, Xbox 360, servicio de Scanner. Wireless.
WiFi / VoIP / Computadoras - Venta, instalacion y soporte de redes cableadas e inalámbricas, Voice Over IP (Vonage, Net2phone), computadoras.
Horarios: Lunes, Martes, Jueves, Viernes: 8:00 A.M - 9:30 P.M., Miercoles Y Sabados: 8.00 A.M - 4:00 P.M. Domingo: Cerrado
Ryjos Multi-services, Todos Santos - offering officesuppliess and copy services, internet and computer services. Location: "El Otro Lado," Calle Horizonte at the corner of Nicolas Bravo, Colonia el Rio, in front of Café La Esquina, Todos Santos:
Stationary Store - Sales of School and office Supplies, Copies, Laminating, Binding, Black and While and Color Printing Service, Scanner service, CD/DVD Copies
Internet / Games - Instant Messaging Service, Skype, E-mail, downloading music and photos, Xbox 360, Wireless Access.
WiFi / VoIP / Computers - Sales, installation, service and support: wired and wireless networks, Voice Over IP (Vonage, Net2Phone), computers.
Hours: Monday, Tuesday, Thursday, Friday: 8 a.m. - 9:30 p.m., Wednesday and Saturday: 8 a.m. - 4 p.m. Sunday: Closed. Propietario/Owner: Josue Castillo Mayoral, Business Telephone: 612-178-0039,Cellularr: 612-148-3786, jocama85 [-a t-]hotmail.com, Todos Santos

1997 National Tropi-cal Motorhome - Cabo San Lucas - 1997 Class A Motorhome for sale. $27,500.00 US dollars, 36 ft., mileage: 29116.0. Has plenty of new items, as well as extras. 2-new a/c units, 2-new flat panel HD t.v.'s, New power converter. All new window coverings and aphostery is re-done in denim material. New batteries, All 8 tires new, a new Kenwood CD stereo with ipod docking station and a remote., new queen pillow top mattress. New denim comforter and curtains in bedroom. 5500 watt Generac air-cooled generator. 24 gal propane, 100 gal freshwater holding tank, 50gal gray holding tank, 50gal black holding tank. 75 gal gasoline tank/which is also run to generator.

Toilet has new gaskets/etc. Has side-by-side fridge/freezer with ice maker,corian counter tops, washer/dryer combo unit, microwave/convection oven combo, 3 burner LP stove with oven, under counter coffee pot, tub/shower with glass doors combo, rear viewing camera and monitor system, auto start generator from coach, auto hydraulic leveling system, single auto/electric step, propane/electric heater, water heater and fridge, also has tag axle, satellite and TV antennas, 12ft slide out contains dining and couch.

Lots of photos available at photobucket.com listed as CaboTarzan. s1236.photobucket.com/albums/ff442/CaboTarzan/ - Michael or Jeff, michael.radde [-a t-]yahoo.com, 624-154-1128, Cabo San Lucas
Inflatable Boat - For sale: 14' Mercury Inflatable boat with 25hp Mercury two-stroke outboard. As new. Only 30 hours use. Complete with 2009 Highliner trailer. Paid (new) $6,700 USD. Selling price: $4,500. Please email for photos and information. - davidinbaja [-a t-]gmail.com
Need A Ride To Or From The Airport? Or Someone To Assist You With Errands? - I am a young, bilingual Christian man and I can provide you with rides to or from the La Paz or San Jose Del Cabo airports. I can also help you with courier services, errands, or navigating the intricacies of dealing with Mexican businesses and the government; Car Registrations, TelCel and TelMex, CFE, Seguro Social, etc.

Reasonable Rates - Contact: Ernesto, Cel. 612-117-7497, ernie_net [-a t-]hotmail.com
Xperia for Sale - Sony Ericsson Xperia X10 mini. I want 2,300 pesos for it. It works in the US and runs with AT&T and Telcel in Mexico. Features a 5 mpx camera, Android Google phone, free internet. Comes with: Gmail, Email, Windows live, Internet Explorer, Android market, youtube, maps and Facebook, all for free unlimited use. Comes in original box with everything in it, including an Eglish user manual. - Taylor Daniels, taylor210210 [-a t-]hotmail.com, 612-104-8209
Hughesnet Satellite Internet
Now, Connect to The Internet No Matter Where You Live:
Always-On Connection, Available Where DSL and Cellular Won't Reach
PC, Mac, Wireless Compatible
Multiple Computers Can Share the Same Internet Connection Full-Time
Vacation Holds Available on All Plans
Anti-Virus And Email Spam Filter
No Phone Line Needed, No Busy Signals, No Missed Calls
Professional Installation Available Anywhere in Southern BCS
Purchase Your System From Baja Satellite Before June 30 and Get:
1. Mail-In Rebate for $199.99 off Equipment Purchase! 1

0.74 Meter Dish with 1 Watt Transmitter - Only $299 US After Rebate!
0.98 Meter Dish with 2 Watt Transmitter - Only $699 US After Rebate!

2. Mail-In Rebate for $20 off Your First Three Months of Monthly Service ($60.00 Value)! 2

Data Plan
Download / Upload Speed 3
Monthly Service
Home
1.0 Mbps/128 Kbps
$39.99/mo, first three months!
Pro
1.2 Mbps/200 Kbps
$49.99/mo, first three months!
ProPlus
1.6 Mbps/250 Kbps
$59.99/mo, first three months!
Baja Satellite is an Authorized HughesNet Reseller. For more information, Contact Us today: alan [-a t-]BajaSatellite.com, www.bajasatellite.com, (530) 903-4257 (From US), 01 33 8421 1142 (From Within Mexico), Baja California Sur
1 Prices shown are after $199 mail-in rebate, and do not include Mexican shipping, importation or installation. System must be purchased before June 30.
2 $20 off per month for 1st. three months, after $60 mail-in rebate. System must be purchased from Baja Satellite before June 30. All plans require 24-month contract.
3 Absolute maximum speeds stated by HughesNet. Actual speeds will be less, and speeds will vary throughout the day and week depending upon total number of HughesNet subscribers sharing your satellite channel.


Summer Ad Special! - Put your ad in front of over 3,100 Baja Western Onion subscribers in Four consecutive issues for only $10 dlls ($120 pesos). Get more coverage for your next Yard Sale, Vehicle, Misc. Wanted or For Sale ad.

For only $10 dlls US, we'll run your ad for a total of Four consecutive issues, allowing your ad to appear in each issue for two weeks. Also, we'll feature your ad within a red, highlighted box. This special offer applies only to text-based ads submitted by non-commercial, private parties, and is subject to our editorial policy. Sorry, this offer not available for display banner graphics ads, or ads for businesses, real estate or rentals available.
Payment: All Summer Special ads must be prepaid in advance of initial run date. You can make your payment online via PayPal at https://www.paypal.com/cgi-bin/webscr?cmd=_xclick&business=advertising [-a t-]BajaWesternOnion.com, or call us at 001 530 903 4257 or 01 33 8421 1142 (From Mexico) to make payment directly by VISA, MasterCard, American Express or Discover Credit or Debit Card.
Free Ads: As always, you can place a Free text-based ad in the Baja Western Onion once every 14 days. Submit your Free Ad or Article Here: www.bajawesternonion.com/submitad.asp. -
For more details on our advertising opportunities, please visit www.bajawesternonion.com/advertising.asp or send an Email to: advertising [-a t-]BajaWesternOnion.com
---
Submit your Misc. Sales and Services Available/Wanted articles here: http://www.bajawesternonion.com/submitad.asp
Return to Top
---

---
Real Estate, Rentals, and House Sitting - Available/Wanted
---
Elias Calles Lot for Sale - Ocean, river and sierra views; new cell tower on hilltop; new highway to La Paz/Cabo. Measures 1,500 meters with +2 small constructions. Features include water meter and contract with city, fencing and good access. Includes outdoor bathroom with black-water purification system beneath, kitchen palapa over 10,000 gallon water pila, unique. Reduced price: $65K USD. Title, tax number. - S. Padilla, SSPADIS [-a t-]HOTMAIL.COM, 624-198-5695 or 624-137-7004, Elias Calles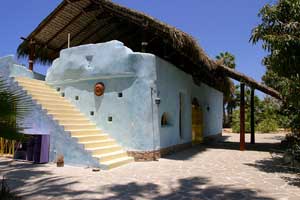 Todos Santos Beach House on a Tranquille Lush 5, 206.22 Sqmt Property - For Sale by Owner: - Two (2) separate driveway entries give the 5,206.22 sq meter (1.25 acre) property privacy from both the front and back, giving flexibility to build additional homes or to split in the future. Soil on the property is rich organic black soil, ideal for other organic gardening.

* Property is an enclosed oasis and has unlimited access to farm water that nourishes the over 85 mature mango trees, 80 lush palm trees over 5 feet, passion fruit trees, citrus fruit trees and avocado trees, all of which give the property its cool shade that is coveted in the region and frequently not available on other properties of comparable or more value in the desert landscape.
* Property has power, water (both municipal and farm water), gas and Internet.
* A 6-minute walk takes you to the secluded beach, and a 5-minute drive finds you in the heart of TS.

If you have questions or would like to make an offer after viewing the property on YouTube ( www.youtube.com/watch?v=krg9FEeiRtk), feel free to contact us. Save on the fee and make us a good offer. - Anh Walch, anhwalch [-a t-]yahoo.com, 212-692-0912, Todos Santos
TS Studio Apartment in Town - $250 USD per month. Large room with kitchen area and bathroom. Located at the north end of town near, Obregon and Cuauhtemoc (a family neighborhood). For more information, write me at eileen_brophy [-a t-]yahoo.com - eileen_brophy [-a t-]yahoo.com, cell 612-118-6108
For Rent - Quaint cottage on a lovely ranch in Pescadero: 1 Bedroom, furnished, utilities not included. Please, telephone calls only at 612-176-3119 (Pescadero). - Mariposa, mariposabcsmx [-a t-]live.com
---
Submit your Real Estate/Rentals/House Sitting/Property Management Services articles here: http://www.bajawesternonion.com/submitad.asp
Return to Top
---
Rides or Caravans Available/Wanted
NOTE: Ads will run for two weeks unless dated. Please list the date in the title, and specify which airport. Goes without saying, everyone shares expenses for beer, gas, food, etc.

To remove your ad if you find a ride or caravan, let us know Here: www.bajawesternonion.com/submitad.asp -
---
Ride North Available - Leaving Southern Baja by June 21. Flexible departure time. Driving all the way up I-5 to western Canada. Driving full size ford truck with plenty of room. - Susan sue-kiwi [-a t-]hotmail.com, 624-130-2008 or 624-166-3381. (Submitted June 11)
Room for Stuff Going South - We are traveling to Arizona and returning July 1 (approx.). Have space on enclosed truck bed. If anyone needs anything brought down, let us know - will exchange space for gas money. Thanks - Doug, extranheros [-a t-]hotmail.com, Pescadero
---
Submit your Rides or Caravans Needed/Available articles here: http://www.bajawesternonion.com/submitad.asp
Return to Top
---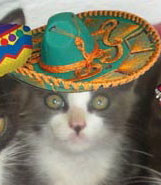 Pet Corner (Lost and Found pet articles will run for two weeks)
Let us know if you find or place your pet so we can remove your ad -
---
I Am So Lonesome - My brother and sister were adopted and I'm all alone here at my foster home. The older cats here hiss at me, but I do get along well with the dogs. I just have no one to play with. I am indoor/outdoor trained, understand English and gringo Spanish. Maybe you could love me? - Pam Cobb, senoracobb [-a t-]yahoo.com, 612-102-7983, Todos Santos
Take Me! - I have a female dochshound with all her shots and I have her paper work. I really love her but I am having a baby this month; I can't take the risk of tripping over her and hurting my baby. Please, if you know of anybody who wants her, let me know. Thank you. - Taylor Daniels, taylor210210 [-a t-]hotmail.com, 612-104-8209
3 Adorable Puppies Rescued - I rescued three starving, flea and tick infested female puppies from death by neglect. Two pups look like black lab mix, one is smaller and tan color. They are now strong, healthy and lively puppies ready to be relocated to good homes. I cannot keep three dogs so please open your heart and home to a sweet little pup. For more information, please write dianejoy39 [-a t-]yahoo.com, Todos Santos
Found Puppy - Monday, June 13: Female puppy approx. 4-8 weeks old in Pescadero/Los Cerritos. Black with tan boots and eyebrows. - Kelly Cline-sniechowski, kelbil2002 [-a t-]yahoo.com, 624 118 1603, Pescadero
East Cape A.L.M.A. Animal Rescue Needs Help!! - If any of you "stateside" locals has family or friends thinking of adopting a pet, why not a Baja dog or pup? We have three or four adult dogs: well-behaved, housebroken, already trained companions needing homes. We also have some of the cutest, most adorable pups you've ever seen. We can transport them to some cities in the U.S. for free! Even better, they will arrive with their shots and health certificates and, in the case of the adult dogs, spayed or neutered.

Visit our website to see some pics, www.almacares.com. We also have a Facebook page. If you send out this notice to ten of your friends and ask them to send it to ten of theirs, our message will get out to thousands of people. Help us find these beautiful pets a wonderful home. Call Sheila or Janel, 624-137-7683 or 624-175-9102, or email janelinmex [-a t-]yahoo.com or bajasheila [-a t-]yahoo.ca - Janel Faraci, janelinmex [-a t-]yahoo.com, 624-137-7683, Los Barriles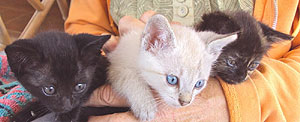 Kitties, Kitties, and More Kitties - It's been "raining" kitties! Four new arrivals at Kitty Heaven, three kitties at Dr. Franzoni's (soon to to go to Kitty Heaven) and two are in foster care. All colors, all very young and playful. For more information, call Angelique at 612-145-0250 or write her at BajaKitties [-a t-]Yahoo.com

Kitty Heaven is the only all-cat refuge in Baja California Sur. Visit us on the web at http://bajarescue.org/#KittyHeaven. We survive via your kind donations. To send your support, please click the "Donate" button below:
---
Submit your Pet Corner articles here: http://www.bajawesternonion.com/submitad.asp (and remember to Spay and Neuter your pets)
Return to Top
---
Quote of the Day: " In summer, the song sings itself. " ~ William Carlos Williams
---
Looking for the complete Community Events Calendar? Click Here!
---
Return to Top
---
---
Help Support The Baja Western Onion!

We can accept donations by Credit Card, PayPal, cash, check or direct deposit.

For more information, please visit our web site at http://www.BajaWesternOnion.com/donate.asp.
Copyright © 2006 - 2011. The Baja Western Onion. All Rights Reserved.
Published Using 100% Recycled Electrons :)
Return to Top
---