On The Web Site:
---
Today's Weather
---
Community Access
Policia Preventiva
Todos Santos Police
612 145-1052
Commandante Navarro


Ministero Publico
State Police
612 145 0198
Commandante Erigoyen


Bomberos
Fire Department
Cel. 612-142-6387
Commandante Cadena


---






---
Baja Western Onion
Alan Thompson - Publisher
Debra Webster - Advertising
e-mail For General Feedback
---
---
News and Events, Questions and Answers
---
Information Meeting On Gold Mine - Information presented by two important scientists opposed to the planned mines in the Sierra de la Laguna. On Saturday, June 5, the public was invited to attend (another) meeting for a presentation given by two very knowledgeable scientific representatives giving facts regarding the gold mine planned in the Sierra de la Laguna. The content of the presentation was excellent. Using photographs, charts and analysis gave us a lot of basic information that was understandable and emphasized the urgency of acting quickly to stop the planned mines.

Perhaps it was the timing of the meeting or that there had been a prior meeting that so few attended but there were some 15 persons present, Mexicans and ex-pats. It was sad that there were so few of us representing only a fraction of all the business and private individuals who would be seriously affected if the mines happen.

In an emotional summary one man expressed his frustration to the group against the future gold mines. "It is really deplorable that in a fight of this magnitude that there are people who seek personal recognition instead of just contributing their capabilities to the benefit of the community. If I were a representative of the gold mine I would be very content to see that the opponents are fighting amongst themselves instead of pulling the same string against a serious and disastrous 'Money Machine'."

Conclusion: We have not given up hope that all the opponents to the gold mine will work together and we ask all persons and parties involved to come to their senses and work together for a good and healthy life with a future in Todos Santos.- Jurg Wiesendanger, lapoza [-a t-]prodigy.net.mx, 612-145-0400
Armed Robbery - Has anyone heard details on the armed robberies in Pescadero? Did they really take place? We all need to know if bad guys may be changing the climate here. - Name witheld by request
Are You Looking for a Creative Outlet? - For your decorating, DJ, makeup, sewing skills or community involvement? If so, Mangos Magicos is the answer. They meet every Tuesday at 3:30 p.m. in the Mutualista Hall and need your help for their Noche de Moda (fashion show) in June. chambaretcat [-a t-]mac.com. Also, mango season is approaching which means the "Mango Chutney Production Crew" needs glass jars; if you return last year's, you'll get a credit for this year's purchase. Call me, please.

Many, many thanks for the donations of Wendy and Wendy. Also Ruth, Connie and Linda. And to Larry for bringing their parcels from San Diego. - Scotty Mclemore, scottybcs [-a t-]hotmail.com, 612-100-5872

Tow Truck Service in Todos Santos? - I've heard there's a tow truck service in Todos Santos but don't know where to find it. Let me know if you do ... and before I pull out the tow rope and do it myself. Thanks! - Doug Newcomb, dnewcomb [-a t-]gorge.net, 310-570-9197 (USA), Todos Santos
The Healthful Living Newsletter - The June 2011 edition is now available. This month's feature article is, "What's Wrong with Wheat?" If you have not received an email link from me, and want to receive the newsletter, just drop me an email. - Jane Sipe, L. Ac., jasi57 [-a t-]juno.com, 612 -151-7972
---
Submit your News and Events, Questions and Answers articles here: http://www.bajawesternonion.com/submitad.asp
Return to Top
---
---
Featured Events This Week
---
Wednesday, June 15
Gardel De Bergerac: Cada Día Canta Mejor, La Paz - Musical comedy, based on the life of the famous argentinian singer Carlos Gardel. 8:30 p.m., Corazón Café (Revolución esq. Constitución) downtown La Paz. $130 pesos pp (one drink and show); $190 pesos pp (one drink, small "botana" and show); $295 pesos pp (full dinner, drink and show). Info/ reservations: 612-128-8985, Facebook "Restaurante Corazón" - Alfonso Figueroa, info [-a t-]elcolectivochunique.com, www.elcolectivochunique.com, 612-159-3653, La Paz
Saturday, June 18
Movie Night - "I Am Love," Teatro Luna Azul, Todos Santos, 7:30 p.m. Popcorn, cash bar. http://tsbmp.blogspot.com

Box En Vivo / Live Boxing; Canelo vs. Rhodes - 8:30 - 11:30 p.m., La Garra Restaurant/Sport Bar, Juarez e. Obregon and Ocampo, Todos Santos. -

Haute Basque Cuisine - With Basque Chef, Jose Uribe, at Il Guardino, Todos Santos. Reservations by Friday are a must. 145-0199 or 044 612-134-9946 - Sylvia Perel sylvia [-a t-]latinofilmsociety.org, Todos Santos
Saturday, June 18 thru Sunday, June 19
Probaja Desert Series 2011 - PlayStation Coyote 300, La Paz, Nacional (Registrada ante la FMADAC por Club La Paz) www.probajaonline.com
Tuesday, June 21
Fiesta Del La Musica - San Jose Del Cabo - World Music Festival featuring a variety of Rock, Jazz, Salsa, Funk, Electronica, Tecno Music and more. At 4 p.m. in downtown San Jose del Cabo. Admission is Free. - fiestadelamusicaloscabos [-a t-]gmail.com, www.fiestadelamusicaloscabos.com, San Jose Del Cabo
---

---
Submit your Community Events and Workshops here: http://www.bajawesternonion.com/submitad.asp
Return to Top
---
---
Stepping Out - Food, Music and Entertainment
---
Travel Advisors 2011 Award Of Excellence To Pancho's Restaurant & Tequila Bar - 19 years of providing our clients with Authentic Mexican Cuisine, great service and a fun atmosphere! Pancho`s Restaurant is the premier "Come Back" restaurant for frequent visitors and also a must for those who have never visited it. John and Mary Bragg, the owners, want each and every visitor to leave the restaurant having had the best, most delicious Mexican meal, sampled some of Mexico`s amazing tequilas, and enjoyed the best service to be had in Cabo San Lucas.

Pancho`s Restaurant & Tequila Bar, known worldwide for its best selection of tequilas in the world, fine service, delicious Mexican food. Awarded Travel Advisors 2011 Award of Excellence. Experience "old Mexico" at Pancho`s. Open 8 a.m. – 11 p.m. Address: Hidalgo Street,downtown Cabo San Lucas, Mexico - bragg [-a t-]panchos.com, www.panchos.com, 01152 624-143-2891 Ext. 17, Baja California Sur

Zen Garden Café - Zen Garden Café is evolving! We now serve exotic Thai, modern Japanese, organic Chinese, fresh Vietnamese and Korean BBQ. Daily specials every day:
Three Sushi Rolls for The Price of Two!
Chinese Combo: 2 Items With Fried Rice.
Great Vegetarian Dishes And Tofu.
Lunch and Dinner 12-9 p.m., Closed Tuesdays.
Please come to discover our delicious dishes and best deal in town! - Zen Garden Cafe, yanggum [-a t-]zengardencafe.com, www.zengardencafe.com, 612-145-1088
Haute Basque Cuisine - A sensational chef from Spain is in Todos Santos! At Il Giardino we had the most exciting, surprising dining experience we ever had. Jose Uribe, the new owner, is an amazing chef from the Basque Country. His tasting menu reflected a variety of uses of fresh fish with a very creative and personal style. We highly recommend to take advantage of this unique culinary opportunity ONLY this coming Saturday, June 18. Reservations by Friday are a must. Call 145-0199 or 044 612-134-9946 - Sylvia Perel sylvia [-a t-]latinofilmsociety.org, Todos Santos
Baja Boar New Opening Hours - we are open daily from 9 am - 2 pm and 5 pm - 9 pm. Closed on Wednesdays. Come and enjoy a Boarger & Onion, our now famous Boarito or treat yourself to a steak and egg breakfast. We have the best pork steaks and chops anywhere in the Baja!! Homemade breads and tortillas, yum. Call for delivery 612 154 8118 and find us on Facebook under Baja Boar. - bajaboar [-a t-]yahoo.com, 612 154 8118, Pescadero
---
Submit your Stepping Out - Food, Music and Entertainment announcements here: http://www.bajawesternonion.com/submitad.asp
Return to Top
---

---
Misc. Sales and Services Available/Wanted
---
American Insurance In Mexico - Accidents and Emergencies Happen Every Day. Your medical insurance doesn't cover you in Baja. Yes, your provider may be willing to reimburse you for your costs after months and piles of paperwork but you will pay the billup frontt. Did you know Medicare does not cover you outside of the US? No re-imbursement, period! Can you really afford to take the risk?

For as little as $75 a month you can use an insurance card instead of your credit card. Our Patriot program has you covered while traveling here in Southern Baja. Policies available for a month, 4 months or up to 2 years. Coverage within 24 hours of application. Only pay for the time you are here.
Don't Take The Risk. Emergencies Do Happen Every Day. Protect your vacation dollars. To find a rep, get an immediate quote or immediate coverage, visit us at www.americaninsuranceinmexico.com or call us at 624-122-2806 - jbarrilesj [-a t-]yahoo.com, 624-122-2806, Baja California Sur

Summer Special - San Jose Storage offers a summer special - Rent a garage for $80 USD per month! Call us today for more details. - Nathan Visser, info [-a t-]sjstorage.com, www.sjstorage.com, 624-146-1390
Casa Decor, La Paz, Indoor And Outdoor Furniture - Interior design service. We custom make furniture:
* Largest Inventory In The Baja * Patio Furniture
* Wicker, Rattan And Marble * Lighting
* Rustic Hand Painted Furniture * Metal Furniture
* Copper Furniture * Kitchen Cabinets
* Doors * Floor and Wall Covering
* Art * Accessories * Fountains And Urns
* Imports From Around The World
* Unique Selection of Furniture And Accessories
* Mexican Furniture * Furniture Packages
Fine furniture made to order. Wholesale to the trade. The Best selection in the Baja at Casa Decor. Two Locations: Casa Decor La Paz, 560 Marquez de Leon, Tel: 612-129-3364. Casa Decor Cabo San Lucas: on 4 lane KM 3.5 next to Artisanos and Natural Marble and Stone, Tel: 624-178-8146. - richards77 [-a t-]pcisys.net, http://www.antiquerowmarket.com, Baja California Sur
This Is Just An Idea - It could be a very difficult summer for some local businesses, so just for these summer months, I will produce (on a $ sliding-scale) a web-page for the little guy or an event or a charity. (Spanish pages must be pre-proofed because my language skills are not so good---AguaValeMasQueOro.com was all pre-edited and it turned out OK.) To get a feel for the viability of this idea, please send me an e-mail explaining who you are, what you do, what you would like on your webpage. I will reply with the lowest possible quote/monthly-rent amount to accommodate you and your needs. I believe in advertising, especially at the grass roots level; where having a link to an immediate visual image, can produce interest toward you & what you do. We always benefit from co-operative sharing. Your internet address page would be TodosSantos.me/YOU (with a link to your personal email etc.).

This is just an idea. For now I would like to formulate a collective of small entrepreneurs in our area. A sliding-scale may not seem fair, but what if 80 pesos per month could make someone famous, or popular or happy? This concept will also allow a person to sponsor someone that needs a spotlight etc. Well, thank you for helping me explore this idea! It all depends on the response I receive. - Jan Be [-a t-]TodosSantos.me, www.TodosSantos.me
Business Opportunity - Seeking a buyer for El Tecolote Bookstore and Gift Shop - A Todos Santos institution for 18 years, it is centrally located and a hub for local and tourist activity. Travel guides give it superlative reviews, and an experienced, dynamic manager is available for continued employment. Owner spends substantial time away and would like to transfer ownership to promote the store's continued vitality. Serious inquiries only, please. - janethowey [-a t-]yahoo.com

Bath/Pool/Table Top Glass Tile - I have 200 square feet of pool/spa/bathroom light blue/with another light blue mix 1-inch tiles, was going to make a spa but my plans have changed. Perfect for the bathroom or kitchen counter top too. These cost over 20.00 clams a square foot in baja, and 13.00 clams in USA. Minimum I will sell is 1 box which is 20 square feet, at 10 clams/sq. foot, or buy it all at 8 clams/sq. foot. See color picture on Craig's List, http://bajasur.en.craigslist.com.mx/mat/2440260363.html - Dean Devolpi, dean [-a t-]la-ventana.com, bajasur.en.craigslist.com.mx/mat/2440260363.html, 612-114-0202, La Paz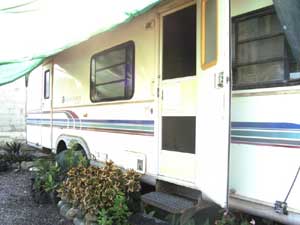 Move in Tomorrow! - For sale: 1994 Holiday Rambler 28' Trailer here in Todos Santos. Sleeps 4 comfortably. Has everything: AC, gas stove, fridge, microwave, shower/bath. And it all works great!

Owners anxious to sell. Want to hear all offers. - Ruben, rubenandlety [-a t-]hotmail.com, (cell) 612-119-3969
Electronics For Sale - Garmin GPS eTrex Legend HCx - 2500 pesos. Apple iPod Touch 32gb 2nd generation - 2000 pesos. Uniden Handheld Two-Way VHF Marine Radio MHS350 Submersible - 1300 pesos. Belkin Wireless Router N150 - 350 pesos. See craigslist Baja Sur and search "Pescadero" for more info or email/call. - Doug extranheros [-a t-]hotmail.com, 612-154-3393, Pescadero
Got Rental Car? - Do you have a car or truck left unattended or not in use? Husband and wife surfers staying in Cerritos for several weeks and looking for a car/truck to rent or borrow. We are responsible teachers taking our summer vacation and setting up our property. Contact Nikki at nik_lewen [-a t-]hotmail.com - Nikkinik_lewen [-a t-]hotmail.com, Todos Santos
Multiservicios Ryjos, Todos Santos - ofrece suministros de oficina y servicio de fotocopias, Internet y servicios informáticos. Ubicación: El Otro Lado, Calle Horizonte esq Nicolas Bravo, Colonia el Rio, frente a Café La Esquina, Todos Santos:
Papeleria - Venta de artículos escolares-oficina, Copias, Enmicados, Engargolados, Servicio de impresión negro y color. Copías CD/DVD
Internet / Juegos - Servicio de mensajería instantánea, Skype, E-mail, descargas de musica y fotos, Xbox 360, servicio de Scanner. Wireless.
WiFi / VoIP / Computadoras - Venta, instalacion y soporte de redes cableadas e inalámbricas, Voice Over IP (Vonage, Net2phone), computadoras.
Horarios: Lunes, Martes, Jueves, Viernes: 8:00 A.M - 9:30 P.M., Miercoles Y Sabados: 8.00 A.M - 4:00 P.M. Domingo: Cerrado
Ryjos Multi-services, Todos Santos - offering officesuppliess and copy services, internet and computer services. Location: "El Otro Lado," Calle Horizonte at the corner of Nicolas Bravo, Colonia el Rio, in front of Café La Esquina, Todos Santos:
Stationary Store - Sales of School and office Supplies, Copies, Laminating, Binding, Black and While and Color Printing Service, Scanner service, CD/DVD Copies
Internet / Games - Instant Messaging Service, Skype, E-mail, downloading music and photos, Xbox 360, Wireless Access.
WiFi / VoIP / Computers - Sales, installation, service and support: wired and wireless networks, Voice Over IP (Vonage, Net2Phone), computers.
Hours: Monday, Tuesday, Thursday, Friday: 8 a.m. - 9:30 p.m., Wednesday and Saturday: 8 a.m. - 4 p.m. Sunday: Closed. Propietario/Owner: Josue Castillo Mayoral, Business Telephone: 612-178-0039,Cellularr: 612-148-3786, jocama85 [-a t-]hotmail.com, Todos Santos
Tesoro Escondido - Tesoro Escondido would like to thank everyone for all your support (consignment and donations). It's been a great year and we look forward to staying open all through the summer season. Please come and visit me when you're having coffee at La Esquina. You never know what you can find (clothing, books, baskets, gifts, kitchen accessories, etc). Looking forward to seeing you. - Nancy Lipford, nancys.53 [-a t-]hotmail.com, 612-142-3565
1997 National Tropi-cal Motorhome - Cabo San Lucas - 1997 Class A Motorhome for sale. $27,500.00 US dollars, 36 ft., mileage: 29116.0. Has plenty of new items, as well as extras. 2-new a/c units, 2-new flat panel HD t.v.'s, New power converter. All new window coverings and aphostery is re-done in denim material. New batteries, All 8 tires new, a new Kenwood CD stereo with ipod docking station and a remote., new queen pillow top mattress. New denim comforter and curtains in bedroom. 5500 watt Generac air-cooled generator. 24 gal propane, 100 gal freshwater holding tank, 50gal gray holding tank, 50gal black holding tank. 75 gal gasoline tank/which is also run to generator.

Toilet has new gaskets/etc. Has side-by-side fridge/freezer with ice maker,corian counter tops, washer/dryer combo unit, microwave/convection oven combo, 3 burner LP stove with oven, under counter coffee pot, tub/shower with glass doors combo, rear viewing camera and monitor system, auto start generator from coach, auto hydraulic leveling system, single auto/electric step, propane/electric heater, water heater and fridge, also has tag axle, satellite and TV antennas, 12ft slide out contains dining and couch.

Lots of photos available at photobucket.com listed as CaboTarzan. s1236.photobucket.com/albums/ff442/CaboTarzan/ - Michael or Jeff, michael.radde [-a t-]yahoo.com, 624-154-1128, Cabo San Lucas
Need To Sell! - Android 2.1 OS, 2.55" compact touchscreen. 5 Megapixel camera. Unlimited FREE fabeook app. 3G and Wi-Fi with original box and English user's manual, phone protector and screen protector. Price: 2500 pesos. It cost me 3800 pesos and is just three weeks old but I need to sell it. For more info, email me. - Taylor Daniels, taylor210210 [-a t-]hotmail.com, 612-104-8209
Surf Community Research - If you've surfed in Baja California Sur in the last year, we need your input! Please take our survey. WiLDCOAST, Surfers Without Borders and five other environmental organizations have designed a Surfonomics study that will help us to better understand the social, environmental, and economic contributions of the surfing community to the Mexican state of B.C.S. in order to be better represented when proposed coastal development projects threaten marine and coastal ecosystems, and our favorite surf breaks. - Aj Schneller, aj [-a t-]wildcoast.net, www.surferswithoutborders.org/Surfonomics.html, 619-333-9087, Baja California Sur
Need A Ride To Or From The Airport? Or Someone To Assist You With Errands? - I am a young, bilingual Christian man and I can provide you with rides to or from the La Paz or San Jose Del Cabo airports. I can also help you with courier services, errands, or navigating the intricacies of dealing with Mexican businesses and the government; Car Registrations, TelCel and TelMex, CFE, Seguro Social, etc.

Reasonable Rates - Contact: Ernesto, Cel. 612-117-7497, ernie_net [-a t-]hotmail.com
Great Furniture- Reasonable Prices - Mas Milagros is a home boutique located in Hotel Los Milagros in Cabo San Lucas. We offer new and gently used furniture for your home. Everything is hand selected and designed to work together. We sell everything from beds and couches, to pillows and candles. Please visit our website or contact us for more information. Thank you kindly, Rachel and Sandra - Sandra Scandiber, scandiber [-a t-]yahoo.com, masmilagros.weebly.com, 624-129-8691 , Cabo San Lucas
Hughesnet Satellite Internet
Now, Connect to The Internet No Matter Where You Live:
Always-On Connection, Available Where DSL and Cellular Won't Reach
PC, Mac, Wireless Compatible
Multiple Computers Can Share the Same Internet Connection Full-Time
Vacation Holds Available on All Plans
Anti-Virus And Email Spam Filter
No Phone Line Needed, No Busy Signals, No Missed Calls
Professional Installation Available Anywhere in Southern BCS
Purchase Your System From Baja Satellite Before June 30 and Get:
1. Mail-In Rebate for $199.99 off Equipment Purchase! 1

0.74 Meter Dish with 1 Watt Transmitter - Only $299 US After Rebate!
0.98 Meter Dish with 2 Watt Transmitter - Only $699 US After Rebate!

2. Mail-In Rebate for $20 off Your First Three Months of Monthly Service ($60.00 Value)! 2

Data Plan
Download / Upload Speed 3
Monthly Service
Home
1.0 Mbps/128 Kbps
$39.99/mo, first three months!
Pro
1.2 Mbps/200 Kbps
$49.99/mo, first three months!
ProPlus
1.6 Mbps/250 Kbps
$59.99/mo, first three months!
Baja Satellite is an Authorized HughesNet Reseller. For more information, Contact Us today: alan [-a t-]BajaSatellite.com, www.bajasatellite.com, (530) 903-4257 (From US), 01 33 8421 1142 (From Within Mexico), Baja California Sur
1 Prices shown are after $199 mail-in rebate, and do not include Mexican shipping, importation or installation. System must be purchased before June 30.
2 $20 off per month for 1st. three months, after $60 mail-in rebate. System must be purchased from Baja Satellite before June 30. All plans require 24-month contract.
3 Absolute maximum speeds stated by HughesNet. Actual speeds will be less, and speeds will vary throughout the day and week depending upon total number of HughesNet subscribers sharing your satellite channel.
Private Transportation Door-to-Door - Safe Ride in Baja Sur - Offering a 10% discount on any round trip booked before June 30, 2011, for travel dates any time this year. Why take the bus, we offer door to door service. Contact us at saferideinbajasur [-a t-]gmail.com for a quote for visit our website. - Safe Ride, saferideinbajasur [-a t-]gmail.com, www.saferideinbajasur.wetpaint.com, Pescadero

Solar Electric Panels - For sale, 26 brand new under warranty solar panels on the pallet as imported. Major brand name, warrantied by the factory and ready to provide up to 5 kilowatts of electricity per hour. Perfect for new house or commercial building. Installation service available by Qualified trained technologist with years of experience. Available as a whole or half pallet order. Below U.S. Retail price, FOB your door, $650.00 per panel. - Erwin Lapschies, erwinecosmart [-a t-]gmail.com, 624-166-9473, Baja California Sur
5,000 Btu A/C For Sale - I have a 110 V, 5,000 BTU window unit Air Conditioner for sale. New, never used. $1,200 pesos - Kathy Gordon, katiejay99 [-a t-]gmail.com, 612-132-1586, Todos Santos

Summer Ad Special! - Put your ad in front of over 3,100 Baja Western Onion subscribers in Four consecutive issues for only $10 dlls ($120 pesos). Get more coverage for your next Yard Sale, Vehicle, Misc. Wanted or For Sale ad.

For only $10 dlls US, we'll run your ad for a total of Four consecutive issues, allowing your ad to appear in each issue for two weeks. Also, we'll feature your ad within a red, highlighted box. This special offer applies only to text-based ads submitted by non-commercial, private parties, and is subject to our editorial policy. Sorry, this offer not available for display banner graphics ads, or ads for businesses, real estate or rentals available.
Payment: All Summer Special ads must be prepaid in advance of initial run date. You can make your payment online via PayPal at https://www.paypal.com/cgi-bin/webscr?cmd=_xclick&business=advertising [-a t-]BajaWesternOnion.com, or call us at 001 530 903 4257 or 01 33 8421 1142 (From Mexico) to make payment directly by VISA, MasterCard, American Express or Discover Credit or Debit Card.
Free Ads: As always, you can place a Free text-based ad in the Baja Western Onion once every 14 days. Submit your Free Ad or Article Here: www.bajawesternonion.com/submitad.asp. -
For more details on our advertising opportunities, please visit www.bajawesternonion.com/advertising.asp or send an Email to: advertising [-a t-]BajaWesternOnion.com
---
Submit your Misc. Sales and Services Available/Wanted articles here: http://www.bajawesternonion.com/submitad.asp
Return to Top
---

---
Real Estate, Rentals, and House Sitting - Available/Wanted
---
Long Term House Rental - 2bd/2ba house in Las Tunas. Five-minute walk to the beach. Full ocean view. Avaliable August 1. $600 USD/month. Does not include utilities or internet service - Dominique Sawyer, dominiquesawyer [-a t-]hotmail.com, 612-102-3301
Beachfront Rental Available - 4-bedroom, 4500 sq. ft home available for monthly rental July through November. Overlooking the San Pedrito surf break. Right on the beach, fully furnished, privacy wall, security system, wi fi available. Very nice home. Brand-new viewing deck and cable TV. $1500.00 per month, all utilities included. Email for more info or photos - Wendy tropicalcasitas [-a t-]hotmail.com, www.tropicalcasitas.com, 624-191-2831 or 612-133-3880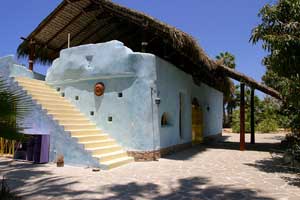 Todos Santos Beach House on a Tranquille Lush 5, 206.22 Sqmt Property - For Sale by Owner: - Two (2) separate driveway entries give the 5,206.22 sq meter (1.25 acre) property privacy from both the front and back, giving flexibility to build additional homes or to split in the future. Soil on the property is rich organic black soil, ideal for other organic gardening.

* Property is an enclosed oasis and has unlimited access to farm water that nourishes the over 85 mature mango trees, 80 lush palm trees over 5 feet, passion fruit trees, citrus fruit trees and avocado trees, all of which give the property its cool shade that is coveted in the region and frequently not available on other properties of comparable or more value in the desert landscape.
* Property has power, water (both municipal and farm water), gas and Internet.
* A 6-minute walk takes you to the secluded beach, and a 5-minute drive finds you in the heart of TS.

If you have questions or would like to make an offer after viewing the property on YouTube ( www.youtube.com/watch?v=krg9FEeiRtk), feel free to contact us. Save on the fee and make us a good offer. - Anh Walch, anhwalch [-a t-]yahoo.com, 212-692-0912, Todos Santos
Small Casita For Rent - Amazing Ocean & Orchard Views - This unique casita is a 2-bedroom home located 6 miles south of Todos Santos, neighboring the Pescadero Huertas, in between Cerritos and San Pedrito surf breaks. The house sits 1 mile from the beach, in a peaceful and contemplative desert landscape. The place has outstanding ocean and orchard views. Visit site for pictures and more information. - Rodrigo Menendez, rmenende [-a t-]gmail.com, casitaoasispescadero.blogspot.com/, Pescadero
For Rent - Quaint cottage on a lovely ranch in Pescadero: 1 Bedroom, furnished, utilities not included. Please, telephone calls only at 612-176-3119 (Pescadero). - Mariposa, mariposabcsmx [-a t-]live.com
---
Submit your Real Estate/Rentals/House Sitting/Property Management Services articles here: http://www.bajawesternonion.com/submitad.asp
Return to Top
---
Rides or Caravans Available/Wanted
NOTE: Ads will run for two weeks unless dated. Please list the date in the title, and specify which airport. Goes without saying, everyone shares expenses for beer, gas, food, etc.

To remove your ad if you find a ride or caravan, let us know Here: www.bajawesternonion.com/submitad.asp -
---
Ride North Available - Leaving south Baja within the next week to 10 days. Flexible departure time. Driving all the way up #5 to western Canada. Driving full size ford truck with plenty of room. - Susan sue-kiwi [-a t-]hotmail.com, 624-130-2008 or 624-166-3381. (Submitted June 11)
Room for Stuff Going North - We are traveling to the States through Nogales up to Arizona leaving June 18 and returning July 1 (approx.). Have space on enclosed truck bed. If anyone needs anything brought "up or down," let us know - will exchange space for gas money. Thanks - Doug, extranheros [-a t-]hotmail.com, Pescadero
---
Submit your Rides or Caravans Needed/Available articles here: http://www.bajawesternonion.com/submitad.asp
Return to Top
---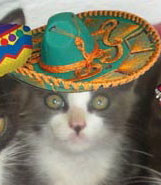 Pet Corner (Lost and Found pet articles will run for two weeks)
Let us know if you find or place your pet so we can remove your ad -
---
I Am So Lonesome - My brother and sister were adopted and I'm all alone here at my foster home. The older cats here hiss at me, but I do get along well with the dogs. I just have no one to play with. I am indoor/outdoor trained, understand English and gringo Spanish. Maybe you could love me? - Pam Cobb, senoracobb [-a t-]yahoo.com, 612-102-7983, Todos Santos
3 Adorable Puppies Rescued - I rescued three starving, flea and tick infested female puppies from death by neglect. Two pups look like black lab mix, one is smaller and tan color. They are now strong, healthy and lively puppies ready to be relocated to good homes. I cannot keep three dogs so please open your heart and home to a sweet little pup. For more information, please write dianejoy39 [-a t-]yahoo.com, Todos Santos
Found Puppy - Monday, June 13: Female puppy approx. 4-8 weeks old in Pescadero/Los Cerritos. Black with tan boots and eyebrows. - Kelly Cline-sniechowski, kelbil2002 [-a t-]yahoo.com, 624 118 1603, Pescadero
Baja Dogs: Please Help Save Eli! - We would like to introduce ELI: She was found standing alone on the road near CIB. Her entire body was covered with Mange. She had so many open sores on her body she hardly had any hair left. Her back, elbows, feet, legs, rear end and tail were totally red and full of sores. Her entire body itched constantly. She had no energy, and had just given up on life.

After a few sessions of mange treatment we could see the difference in her: the itch had subdued, the sores are healing, and her hair has grown back. This girl is a trooper. She is full of love, easy-going and gentle. She has endured so much already, but unfortunately we have recently found out she has heartworm. This disease is from a mosquito bite and will kill her without your help!

Heartworm is treatable, but far too expensive for our refuge to undertake on its own. The treatment will cost $3300 pesos and if we cannot raise the money, she will have to be put to sleep. If you can find it in your heart to make any kind of a donation to help this beautiful young girl, your donation will literally save her life. If you care to help Eli, please mark your donations "ELI" so they go directly to her care. If you would like to see a photo of Eli I would be happy to forward it if you email me. Baja Dogs is a registered Mexican non-profit organization that relies completely on Private donations, as we receive no government funding.

For more information, visit www.bajadogslapaz.org; or call 612-155-8948(Spanish), or 612-140-2575 (English). You can also write us at bdlp [-a t-]bajadogslapaz.org. - Cindy Crane, bdlp [-a t-]bajadogslapaz.org , www [-a t-]bajadogslapaz.org, 612-140-2575 , La Paz
These Kitties are the Cutest Ever - I've seen other photos in recent issues of BWO and those kitties are cute but these four, one black, one grey striped, two calico are even more precious. They are now ready in Todos Santos for permanent homes. We are taking applications (that's a joke!) Janel 145-0073 - Janel Beeman, janelb3 [-a t-]yahoo.com, 145-0073, Todos Santos
East Cape A.L.M.A. Animal Rescue Needs Help!! - If any of you "stateside" locals has family or friends thinking of adopting a pet, why not a Baja dog or pup? We have three or four adult dogs: well-behaved, housebroken, already trained companions needing homes. We also have some of the cutest, most adorable pups you've ever seen. We can transport them to some cities in the U.S. for free! Even better, they will arrive with their shots and health certificates and, in the case of the adult dogs, spayed or neutered.

Visit our website to see some pics, www.almacares.com. We also have a Facebook page. If you send out this notice to ten of your friends and ask them to send it to ten of theirs, our message will get out to thousands of people. Help us find these beautiful pets a wonderful home. Call Sheila or Janel, 624-137-7683 or 624-175-9102, or email janelinmex [-a t-]yahoo.com or bajasheila [-a t-]yahoo.ca - Janel Faraci, janelinmex [-a t-]yahoo.com, 624-137-7683, Los Barriles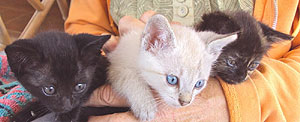 Kitties, Kitties, and More Kitties - It's been "raining" kitties! Four new arrivals at Kitty Heaven, three kitties at Dr. Franzoni's (soon to to go to Kitty Heaven) and two are in foster care. All colors, all very young and playful. For more information, call Angelique at 612-145-0250 or write her at BajaKitties [-a t-]Yahoo.com

Kitty Heaven is the only all-cat refuge in Baja California Sur. Visit us on the web at http://bajarescue.org/#KittyHeaven. We survive via your kind donations. To send your support, please click the "Donate" button below:
---
Submit your Pet Corner articles here: http://www.bajawesternonion.com/submitad.asp (and remember to Spay and Neuter your pets)
Return to Top
---
Quote of the Day: " A girl in a bikini is like having a loaded pistol on your coffee table — there's nothing wrong with them, but it's hard to stop thinking about it. " ~ Garrison Keillor
---
Looking for the complete Community Events Calendar? Click Here!
---
Return to Top
---
---
Help Support The Baja Western Onion!

We can accept donations by Credit Card, PayPal, cash, check or direct deposit.

For more information, please visit our web site at http://www.BajaWesternOnion.com/donate.asp.
Copyright © 2006 - 2011. The Baja Western Onion. All Rights Reserved.
Published Using 100% Recycled Electrons :)
Return to Top
---