On The Web Site:
---
Today's Weather
---
Community Access
Policia Preventiva
Todos Santos Police
612 145-1052
Commandante Navarro


Ministero Publico
State Police
612 145 0198
Commandante Erigoyen


Bomberos
Fire Department
Cel. 612-142-6387
Commandante Cadena


---






---
Baja Western Onion
Alan Thompson - Publisher
Debra Webster - Advertising
e-mail For General Feedback
---
---
News and Events, Questions and Answers
---
First Storm of The 2011 Eastern North Pacific Hurricane Season - Tropical Storm Adrian - Adrian close to hurricane strength. At 8:00 AM PDT, the government of Mexico has issued a tropical storm watch for the coast of Mexico from Acapulco westward to Punta San Telmo. Summary of 8:00 AM PDT information:
Location, 12.9° N, 100.8° W
About 285 Mi, 455 KM SSW of Acapulco, Mexico
About 335 Mi, 540 KM S of Zihuatanejo, Mexico
Maximum Sustained Winds, 70 Mph, 110 KM/H
Present Movement, Nw or 335 Degrees At 5 Mph, 7 KM/H
Minimum Central Pressure, 994 mb, 29.35 Inches

The center of tropical storm Adrian was located near latitude 12.9 north, longitude 100.8 west. Adrian is moving toward the north-northwest near 5 mph, 7 km/h. A general motion toward the northwest or north-northwest is expected for the next 12 to 24 hours, followed by a gradual turn toward the west-northwest. On the forecast track the center of Adrian is expected to remain offshore of the coast of mexico, however any deviation to the right of the forecast track could bring tropical storm conditions to the coast within the watch area tomorrow and friday.

Maximum sustained winds have increased to near 70 mph, 110 km/h, with higher gusts. Additional strengthening is likely during the next couple of days, and Adrian could become a hurricane later today.
Forecast Positions And Max Winds:
INIT 08/1500Z 12.9N 100.8W 60 KT 70 MPH
12H 09/0000Z 13.5N 101.4W 70 KT 80 MPH
24H 09/1200Z 14.2N 102.4W 85 KT 100 MPH
36H 10/0000Z 14.9N 103.4W 90 KT 105 MPH
48H 10/1200Z 15.5N 104.6W 95 KT 110 MPH
72H 11/1200Z 16.5N 106.3W 95 KT 110 MPH
96H 12/1200Z 17.5N 108.0W 75 KT 85 MPH
120H 13/1200Z 18.5N 110.5W 60 KT 70 MPH
Tropical storm force winds extend outward up to 80 miles, 130 km from the center. The estimated minimum central pressure is 994 mb, 29.35 inches. National Hurricane Center, Miami, Fl: www.nhc.noaa.gov/refresh/graphics_ep1+shtml/143212.shtml?3-daynl. -
Excellent Site To Monitor This Year's Storms - EEB Mike does an excellent job every year of consolidating information from various US and Mexican government sites to bring you summary text and graphics of each storm. Find them online at: www.eebmike.com -
Festival Marearte 2011 - Jun 11 thru the 17th., La Paz. Festival Marearte 2011 is the first multidisciplinary festival of art and culture inspired by the sea, which will integrate different cultural and artistic expressions, local, national and international. The festival program will hold over 20 events in visual arts, photography, film, music and food, aimed at all audiences.

Marearte offers a comprehensive cultural space for creative exchange between artists, naturalists, the local and global community with a high content in form and substance. Marearte is expression, senses, experimentation and innovation. Download the complete program (PDF format): www.marearte.com.mx/images/program_baja.pdf, Revolución 1035 col. Centro, La Paz, Tel. 123.53.84, marearte2011 [-a t-]gmail.com, www.marearte.com.mx

Jun. 11 al 17., La Paz. Festival Marearte 2011 es el primer festival multidisciplinario de arte y cultura inspirado en el mar, el cual integrará distintas expresiones artísticas y culturales, locales, nacionales e internacionales. Dentro de la programación del festival tendrán lugar más de 20 eventos de artes plásticas, fotografía, cine, música y gastronomía, dirigidos a todo tipo de público.

Marearte representa una oferta cultural integral, un espacio de intercambio creativo entre artistas, naturalistas, comunidad local y global, con un alto contenido en fondos y formas. Marearte es expresión, sentidos, experimentación y vanguardia. Descarga la programa completa (Formato PDF): www.marearte.com.mx/images/program_baja.pdf, Revolución 1035 col. Centro, La Paz, Tel. 123.53.84, marearte2011 [-a t-]gmail.com, www.marearte.com.mx
Medio Ambiente y Sociedad, Mas - Medio Ambiente Y Sociedad A.C.(MAS) thanks everyone who joined us on Saturday, June 4. We will announce our next meeting in the Baja Western Onion. Thank you!

Medio Ambiente Y Sociedad A.C.(MAS) les da las gracias a todas las personas que vinieron el sabado 4. Les avisaremos con tiempo la proxima reunion en el Baja Western Onion. Muchas Gracias. - Roberto Romero Salgado, robertors_40 [-a t-]hotmail.com - Roberto Romero Salgado, robertors_40 [-a t-]hotmail.com, Baja California Sur
Salvavidas Junior / Junior Lifeguards - ¡Divertirte y Aprender este Verano! (Have fun and Learn this Summer!) Salvavidas Junior de Todos Santos regresara este Julio. Los participantes recibiran instruccion en: (Participants receive instruction in:)
Seguridad de Playa/ Beach Safety
Corrientes/ Rip Currents
Primeros Auxilios/ First Aide
Snorkel/ Snorkeling
Kayak de Mar/ Kayaking
Surfear/ Surfing
Educación Ambiental/ Environmental Education
El programa ayuda a formar una base de conocimientos, aptitudes y habilidades para que los jóvenes lleguen a ser futuros salvavidas. (This program provides young people with skills and knowledge to become future lifeguards.) Inscribete ya! Register today! 11-14 julio y 18-21 julio - Francesca, tortugueroslasplayitas [-a t-]gmail.com, www.todostortugueros.org, 145-0353, Todos Santos

Jose Meza Almanza - Jose Meza Almanza has been transferred from the pediatric hospital in Mexico City to the National Institute of Medical Sciences and Nutrition. At this time he is being treated for a serious kidney infection. Since he has been moved, his parents are in need of financial assistance. They are in a delicate situation and our support is necessary for them to remain in Mexico City.

Jose is a feisty kid who loves to fish with his dad and play soccer with his brothers. Hopefully he will respond to treatment so that the doctors can go ahead with the surgery that is needed for his wellbeing. Donations can be made at Buenos Suenos and will be wired to Mexico City. We are located across the street from the bus station and diagonally across from the park.Thank you. - Diamond Moran

Jose Meza Almanza ha sido transferido del hospital en la Ciudad de Mexico al Instituto Nacional de Ciencias Medicas y Nutricion. En este momento, esta siendo tratado por su infeccion de rinon muy serio. Desde que lo movieron, sus papas han necesitado asistencia financial. Estan en una situacion muy delicada y nuestro apoyo es necesario para que puedan quedarse en la Ciudad de Mexico.

Jose es un muchacho lleno de vida que le gusta pescar con su papa y jugar futbol con sus hermanos y esperamos que va a responder al tratamiento para que los doctores pueden seguir con la cirugia que se necesita para su bienestar. Aceptamos donaciones en Buenos Suenos para mandarlos a la Ciudad de Mexico. Estamos localizados en frente de la parada de autobus diagonalmente en frente del parque. Gracias. - Diamond Moran, diamondmoran [-a t-]yahoo.com, 612-145-0249

Break-in in Las Tunas - Last week, one or two men broke into our home by smashing a window on the ground floor and used a ladder to try to enter the second floor but were unsuccessful. Personal items such as clothing, shoes, toiletries, bedding, and food items such as sugar, cookies, and alcohol were stolen. They arrived on foot and, for various reasons, we suspect them to be transient workers working on a nearby construction project. The police were notified and responded immediately. Unfortunately, the culprits were long gone. - bajanomads [-a t-]hotmail.com, Todos Santos

News of the Road - Thanks to all of you, the road was graded Monday and paid by the municipality. We know it is not going to last but we have to wait for the new mayor election this next weekend. We can consider paving with contributions by the municipality and by participation of us all. Mr. Romex was in favor, saying asphalt is not too expensive and all business owners were ready to contribute to cover the costs.

Here is some information I received regarding the damages of grading the road too often: "It has become known to me that the water pipes are not buried very deep under the road and that grading on a monthly schedule could create more problems. The water department will not bury the pipes deeper unless the individual property owners that are serviced by those pipes pay for this to be done. Rather than grading on a monthly basis, it seems best to grade less frequently when absolutely necessary."

I just found out that the water pipes problem stops at El Sol 2 but I need to verify. Thanks for all your encouragement and pledges - Cat Chambaret, chambaretcat [-a t-]mac.com, 612- 102-8393, Todos Santos
Mark Your Calendars! Food and Wine Pairing Evening to Benefit Hogar Del Nino - December 19, 2011, 5 p.m. at the beautiful Villa Santa Cruz, La Pastora. Multi-course gourmet dinner with wines and very special silent auction items. Come enjoy the evening and support the work being being done to provide care for children at Hogar del Nino. More information will follow as the event date nears. For now, Mark Your Calendars! Contacts for event: Nancy Naigle, Nancy Serfas Nancyserfas [-a t-]aol.com, and Rebecca Krida, rebecca.krida [-a t-]gmail.com. - Nancy Naigle, nnaigle [-a t-]att.net, 612-178-0040
Baja Road Report - Courtesy Of Ventana View - Road report and free wireless on La Paz malicon, After going both ways recently, I have found that for southern Baja you want to travel on Sunday as they are doing construction and the work south of Loreto in the mountains has no delays because they have that day off. When I went by on a weekday it was several delays up to 30 minutes each. And same with driving up north heading south on a Saturday there were no construction delays as no one was working on Saturday. Also there is significantly less truck traffic on Sunday, Saturday seemed about the same.

I crossed southbound at Otay Mesa because I had items to declare, and also the traffic from there south was minimal vs a weekday. I also did a photo section on where including where to park and how to declare items at Otay Mesa to make it simple, this took me 10-15 minutes. And if need be you can walk back and do visa work. very secure parking there. I have also updated my site with where specifically aduana is in TJ (San Ysidoro) to get or have a temproary car sticker removed, it is a bit tricky so I have the printable details at www.la-ventana.info under travel by land also.

Also listed on that website under travel: by land; there is a new service that can text you current border crossing updates and in the future they claim they will have live video feeds of the major crossing locations. - dean [-a t-]la-ventana.com
Belly Dance Classes - Belly Dance Classes with Susan, Tuesdays and Thursdays from 7 p.m. - 8 p.m. at the DIF in Todos Santos. - Susan Simon, susan_bellydance [-a t-]hotmail.com, 612-149-3096, Todos Santos
Saturday Morning Men's Breakfast - Here's a chance to get out of the house and enjoy conversation with some of your neighbors. Let's start at 10 a.m. on Saturdays at Las Fuentes restaurant (at the corner of the stop signal) and have an enjoyable hour of light conversation and a breakfast or a coffee you can order off the menu. See you there! - carlosylina [-a t-]hotmail.com, Todos Santos
Friends And Women In Art - Opening Exhibition of Friends and Women in Art, 6pm this coming Saturday, June 11, 2011, at the Art House La Paz, Revolución 655 e/ Gpe. Victoria y Morelos, La Paz. Artists include: Nikki King, Nora White, Sidne Byars, Terry Gloeckler, and Helga Kuhne. Art House La Paz will present an exhibition as part of the MareArte Fest, World Ocean Day Cultural Event, www.marearte.com.mx, Revolucion 1035, La Paz, Mexico. - Sidne Byars, sidne [-a t-]galeria-la-paz.com, www.facebook.com/profile.php?id=100002312650059, 612 165 5020, La Paz
Wanted! Generator Repair - Can anyone recommend a good generator repairman? We have an air-cooled Generac LP 7kw geny that needs some attention. Thanks for your help. - Doug extranheros [- at-] hotmail.com, Pescadero
US Notary - I am looking for a US notary in or around Todos, La Paz, and or Cabo (Todos is preferred). Anyone around? Please email me your email address so when I need you, I can find you. - Marty Padget, mpadget [-a t-]yahoo.com
Montessori School In Todos Santos - Can anyone give me the contact information for the Montessori School in Todos Santos? I cannot find you on the Montessori website. Thanks - Shannon Dayley, Info [-a t-]bearcovecottages.ca, 1-877-949-7939, Todos Santos
USA Cell Phone Pay As You Go - Courtesy Of Ventana View - I just purchased an AT&T "go phone" pay as you go cell phone, with a US plan of $2.00 a day for unlimited calls. and was able to call Mexico with it for $0.26 cents a minute while in the USA..
Now I tested it today in Mexico (roaming) and was able to call here in Mexico for $0.26 cents a minute. and received a call for $0.26 cents a minute. Looked at the online bill and they did not charge me the $2.00 for the daily use just the above per minute fee.
So this is a very good deal for those of us who do not live on our cell phones and do go up to the USA for trips.
I bought the this phone for $20.00 and it had $30.00 of credit. and only pay the $2.00 a day for unlimited USA calls when I actually use the phone. it is active for 3 months and then i have to add credit. If I add $100.00 of credit it is active for 1 year. a copy of this is posted on the site www.la-ventana.info if you need this information later. - dean [-a t-]la-ventana.com
---
Submit your News and Events, Questions and Answers articles here: http://www.bajawesternonion.com/submitad.asp
Return to Top
---
---
Featured Events This Week
---
Thursday, June 9
La Paz Ladies Luncheon - Las Palmas at La Concha Hotel and Resort. Greet and meet, 12:15 p.m. Lunch, 1 p.m. $150 pesos. The charity this month is La Cuidad de los Ninos. Reserve by e-mail at luizalanoy [-a t-]yahoo.com - Luiza.

Gourmet Chicken Macaroni - Gemini Deli, all day. With roasted veggies. - Vicky Morel, Info [-a t-]TheGeminiDeli.com, TheGeminiDeli.com, 612.145.0098, Todos Santos
Friday, June 10
Live Music at Shut Up Frank's - Big Chihuahua from 6-9 p.m. - Bonnie O'neill, bajapeacewear [-a t-]hotmail.com, Todos Santos
Saturday, June 11
Saturday Morning Men's Breakfast - 10 a.m. at Las Fuentes restaurant (at the corner of the stop signal). Light conversation, breakfast and/or coffee ordered off the menu. - carlosylina [-a t-]hotmail.com, Todos Santos

Festival Marearte 2011 Begins - Jun 11 thru the 17th., La Paz. Over 20 events in visual arts, photography, film, music and food, aimed at all audiences. Download the complete program (PDF format): www.marearte.com.mx/images/program_baja.pdf, Revolución 1035 col. Centro, La Paz, Tel. 123.53.84, marearte2011 [-a t-]gmail.com, www.marearte.com.mx, La Paz
Tuesday, June 14
Three-Day Workshop with Artist Jill Logan Begins, Todos Santos - June 14, 7 until 10 p.m.; Wednesday, June 15, 10 a.m. to 4 p.m.; and Thursday, June 16, from 10 a.m. to 4 p.m. $300 US. Class size limited. Beginners welcome. Contact Jill Logan 612-145-0151, or email jilllogan [-a t-]yahoo.com, www.jilllogan.com.
Wednesday, June 15
Gardel De Bergerac: Cada Día Canta Mejor, La Paz - Musical comedy, based on the life of the famous argentinian singer Carlos Gardel. 8:30 p.m., Corazón Café (Revolución esq. Constitución) downtown La Paz. $130 pesos pp (one drink and show); $190 pesos pp (one drink, small "botana" and show); $295 pesos pp (full dinner, drink and show). Info/ reservations: 612-128-8985, Facebook "Restaurante Corazón" - Alfonso Figueroa, info [-a t-]elcolectivochunique.com, www.elcolectivochunique.com, 612-159-3653, La Paz
Saturday, June 18 thru Sunday, June 19
Probaja Desert Series 2011 - PlayStation Coyote 300, La Paz, Nacional (Registrada ante la FMADAC por Club La Paz) www.probajaonline.com
---

---
Submit your Community Events and Workshops here: http://www.bajawesternonion.com/submitad.asp
Return to Top
---
---
Stepping Out - Food, Music and Entertainment
---
Big Chihuahua at Shut Up Frank's - C'mon on out to Shut Up Frank's for some live music on Friday, June 10, from 6-9 p.m. We'll have a rockin' good time! - Bonnie O'neill, bajapeacewear [-a t-]hotmail.com, Todos Santos

El Zaguan Summer Drinks - Now that the weather has been warming up we have come up with some great summer cocktails! Enjoy a Strawberry & Ginger Mojito, a Mango & Ginger Mojito or a Delicious Bitter orange Margarita! And remember, locals have a 15% discount so please ask for it! - Erik Castellanos, esturemark [-a t-]gmail.com, Todos Santos
Zen Garden Café - Zen Garden Café is evolving! We now serve exotic Thai, modern Japanese, organic Chinese, fresh Vietnamese and Korean BBQ. Daily specials every day:
Three Sushi Rolls for The Price of Two!
Chinese Combo: 2 Items With Fried Rice.
Great Vegetarian Dishes And Tofu.
Lunch and Dinner 12-9 p.m., Closed Tuesdays.
Please come to discover our delicious dishes and best deal in town! - Zen Garden Cafe, yanggum [-a t-]zengardencafe.com, www.zengardencafe.com, 612-145-1088
Thurs Jun 9th At Gemini: Gourmet Chicken Macaroni - Please come enjoy one of our favorite comfort foods: our cheesy gourmet chicken macaroni with roasted veggies!

We've also still got our great beef and chicken burger and fries, and our yummy deli sandwiches.

Cookies, brownies and our new Belgium chocolate mousse available for dessert.

See you there! - Vicky Morel, Info [-a t-]TheGeminiDeli.com, TheGeminiDeli.com, 612.145.0098, Todos Santos
---
Submit your Stepping Out - Food, Music and Entertainment announcements here: http://www.bajawesternonion.com/submitad.asp
Return to Top
---

---
Misc. Sales and Services Available/Wanted
---
American Insurance In Mexico - Accidents and Emergencies Happen Every Day. Your medical insurance doesn't cover you in Baja. Yes, your provider may be willing to reimburse you for your costs after months and piles of paperwork but you will pay the billup frontt. Did you know Medicare does not cover you outside of the US? No re-imbursement, period! Can you really afford to take the risk?

For as little as $75 a month you can use an insurance card instead of your credit card. Our Patriot program has you covered while traveling here in Southern Baja. Policies available for a month, 4 months or up to 2 years. Coverage within 24 hours of application. Only pay for the time you are here.
Don't Take The Risk. Emergencies Do Happen Every Day. Protect your vacation dollars. To find a rep, get an immediate quote or immediate coverage, visit us at www.americaninsuranceinmexico.com or call us at 624-122-2806 - jbarrilesj [-a t-]yahoo.com, 624-122-2806, Baja California Sur
SUP Board Wanted - I'm looking for a used SUP board and paddle. Must be in relatively good condition with no major dings. Should be approximately 10' to 10'6" long, 28"-30" wide and 4.5"-5" thick. Tr-fin with slot for larger center fin. I want an all around board that is buoyant and long enough for touring but also agile enough for surfing in small to medium waves. Carbon fiber or composite paddle preferred but will take aluminum. I'm located in Todos Santos but can pick up in Pescadero, Los Cabos and the East Cape up to Vinorama. I would like to be able to try it out once before buying. Can only pay in pesos. - Miguelbvimiguel [-a t-]hotmail.com, 612-154-5102, Todos Santos
Casa Decor, La Paz, Indoor And Outdoor Furniture - Interior design service. We custom make furniture:
* Largest Inventory In The Baja * Patio Furniture
* Wicker, Rattan And Marble * Lighting
* Rustic Hand Painted Furniture * Metal Furniture
* Copper Furniture * Kitchen Cabinets
* Doors * Floor and Wall Covering
* Art * Accessories * Fountains And Urns
* Imports From Around The World
* Unique Selection of Furniture And Accessories
* Mexican Furniture * Furniture Packages
Fine furniture made to order. Wholesale to the trade. The Best selection in the Baja at Casa Decor. Two Locations: Casa Decor La Paz, 560 Marquez de Leon, Tel: 612-129-3364. Casa Decor Cabo San Lucas: on 4 lane KM 3.5 next to Artisanos and Natural Marble and Stone, Tel: 624-178-8146. - richards77 [-a t-]pcisys.net, http://www.antiquerowmarket.com, Baja California Sur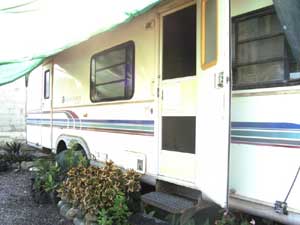 Move in Tomorrow! - For sale: 1994 Holiday Rambler 28' Trailer here in Todos Santos. Sleeps 4 comfortably. Has everything: AC, gas stove, fridge, microwave, shower/bath. And it all works great!

Owners anxious to sell. Want to hear all offers. - Ruben, rubenandlety [-a t-]hotmail.com, (cell) 612-119-3969
Acupuncture Clinic to Close for Vacation - July 1 marks the date. I will be working throughout the month of June, so if you have a (mind, body or spirit) health issue you want to focus on, call or email soon to make an appointment. - Jane Sipe, L. Ac., jasi57 [-a t-]juno.com, 612 151 7026
1997 National Tropi-cal Motorhome - Cabo San Lucas - 1997 Class A Motorhome for sale. $27,500.00 US dollars, 36 ft., mileage: 29116.0. Has plenty of new items, as well as extras. 2-new a/c units, 2-new flat panel HD t.v.'s, New power converter. All new window coverings and aphostery is re-done in denim material. New batteries, All 8 tires new, a new Kenwood CD stereo with ipod docking station and a remote., new queen pillow top mattress. New denim comforter and curtains in bedroom. 5500 watt Generac air-cooled generator. 24 gal propane, 100 gal freshwater holding tank, 50gal gray holding tank, 50gal black holding tank. 75 gal gasoline tank/which is also run to generator.

Toilet has new gaskets/etc. Has side-by-side fridge/freezer with ice maker,corian counter tops, washer/dryer combo unit, microwave/convection oven combo, 3 burner LP stove with oven, under counter coffee pot, tub/shower with glass doors combo, rear viewing camera and monitor system, auto start generator from coach, auto hydraulic leveling system, single auto/electric step, propane/electric heater, water heater and fridge, also has tag axle, satellite and TV antennas, 12ft slide out contains dining and couch.

Lots of photos available at photobucket.com listed as CaboTarzan. s1236.photobucket.com/albums/ff442/CaboTarzan/ - Michael or Jeff, michael.radde [-a t-]yahoo.com, 624-154-1128, Cabo San Lucas
"Chocolates" to Return in the Fall - "Chocolates La Laguna" wishes everyone a relaxing summer. I will be back at the market with new flavours in October, depending on the heat! However, if you would like to order chocolates for a special occasion, they are still available. Two days notice to fill an order please! Minimum order: 12. Thanks for all your support; it's been fun. - Shauna Hughes, shaunahughesdesign [-a t-]yahoo.ca, 612-105-1825, Pescadero
Need A Ride To Or From The Airport? Or Someone To Assist You With Errands? - I am a young, bilingual Christian man and I can provide you with rides to or from the La Paz or San Jose Del Cabo airports. I can also help you with courier services, errands, or navigating the intricacies of dealing with Mexican businesses and the government; Car Registrations, TelCel and TelMex, CFE, Seguro Social, etc.

Reasonable Rates - Contact: Ernesto, Cel. 612-117-7497, ernie_net [-a t-]hotmail.com
Homemade Apple Pie - Gourmet Dinners - Dianejoy is baking again. The best apple pie, peach pie, mango pie, strawberry pie and more. Healthy, delicious, catering for dinner parties and/or gourmet meals for family. Vegetarian, seafood, meat/poultry specialties. organic produce as available. References gladly supplied. Don't cook tonight - dianejoy can do it for you! Contact me by email at dianejoy39 [-a t-]yahoo.com - dianejoy39 [-a t-]yahoo.com, Todos Santos
Special Limited-time Hughesnet Satellite Internet offers From Baja Satellite!
Now, Connect to The Internet No Matter Where You Live in Baja:
Always-On Connection, Available Where DSL and Cellular Won't Reach
PC, Mac, Wireless Compatible
Multiple Computers Can Share the Same Internet Connection Full-Time
Vacation Holds Available on All Plans
Anti-Virus And Email Spam Filter
No Phone Line Needed, No Busy Signals, No Missed Calls
Professional Installation Available Anywhere in Southern BCS
Purchase Your System From Baja Satellite Before June 30 and Get:
1. Mail-In Rebate for $199.99 off Equipment Purchase! 1

0.74 Meter Dish with 1 Watt Transmitter - Only $299 US After Rebate!
0.98 Meter Dish with 2 Watt Transmitter - Only $699 US After Rebate!

2. Mail-In Rebate for $20 off Your First Three Months of Monthly Service ($60.00 Value)! 2

Data Plan
Download / Upload Speed 3
Monthly Service
Home
1.0 Mbps/128 Kbps
$39.99/mo, first three months!
Pro
1.2 Mbps/200 Kbps
$49.99/mo, first three months!
ProPlus
1.6 Mbps/250 Kbps
$59.99/mo, first three months!
Baja Satellite is an Authorized HughesNet Reseller. For more information, Contact Us today: alan [-a t-]BajaSatellite.com, www.bajasatellite.com, (530) 903-4257 (From US), 01 33 8421 1142 (From Within Mexico), Baja California Sur
1 Prices shown are after $199 mail-in rebate, and do not include Mexican shipping, importation or installation. System must be purchased before June 30.
2 $20 off per month for 1st. three months, after $60 mail-in rebate. System must be purchased from Baja Satellite before June 30. All plans require 24-month contract.
3 Absolute maximum speeds stated by HughesNet. Actual speeds will be less, and speeds will vary throughout the day and week depending upon total number of HughesNet subscribers sharing your satellite channel.
One Book Can Make A World Of Difference - Published in 2006, the China Study, shatters everything we think we know about health and disease, and it is expecially important for those of us in our fifties and beyond. It explains how to prevent, and even cure, all the major killers, heart disease, cancer, etc. And, it is written by one of the most esteemed US epidemiologists, T. Colin Campbell. And that is not all. Just recently, Forks Over Knives, the movie based upon this book was released and is playing in theaters all over the US. The movie has received substantial viewer acclaim as well has high marks from professional critics from Entertainmnet Weekly, LA Times, etc.

If you can find a showing near you, don´t miss it! And, definitely order the book from thechinastudy dot com) ... and enjoy worry free living for the rest of your life! - Cheryl Maietta, allinharmony [-a t-]gmail.com, 612 102 5617, La Paz
Multiservicios Ryjos, Todos Santos - ofrece suministros de oficina y servicio de fotocopias, Internet y servicios informáticos. Ubicación: El Otro Lado, Calle Horizonte esq Nicolas Bravo, Colonia el Rio, frente a Café La Esquina, Todos Santos:
Papeleria - Venta de artículos escolares-oficina, Copias, Enmicados, Engargolados, Servicio de impresión negro y color. Copías CD/DVD
Internet / Juegos - Servicio de mensajería instantánea, Skype, E-mail, descargas de musica y fotos, Xbox 360, servicio de Scanner. Wireless.
WiFi / VoIP / Computadoras - Venta, instalacion y soporte de redes cableadas e inalámbricas, Voice Over IP (Vonage, Net2phone), computadoras.
Horarios: Lunes, Martes, Jueves, Viernes: 8:00 A.M - 9:30 P.M., Miercoles Y Sabados: 8.00 A.M - 4:00 P.M. Domingo: Cerrado
Ryjos Multi-services, Todos Santos - offering officesuppliess and copy services, internet and computer services. Location: "El Otro Lado," Calle Horizonte at the corner of Nicolas Bravo, Colonia el Rio, in front of Café La Esquina, Todos Santos:
Stationary Store - Sales of School and office Supplies, Copies, Laminating, Binding, Black and While and Color Printing Service, Scanner service, CD/DVD Copies
Internet / Games - Instant Messaging Service, Skype, E-mail, downloading music and photos, Xbox 360, Wireless Access.
WiFi / VoIP / Computers - Sales, installation, service and support: wired and wireless networks, Voice Over IP (Vonage, Net2Phone), computers.
Hours: Monday, Tuesday, Thursday, Friday: 8 a.m. - 9:30 p.m., Wednesday and Saturday: 8 a.m. - 4 p.m. Sunday: Closed. Propietario/Owner: Josue Castillo Mayoral, Business Telephone: 612-178-0039,Cellularr: 612-148-3786, jocama85 [-a t-]hotmail.com, Todos Santos
1999 GMC Sierra Truck 4WD - 175,000 miles, V8, 4.8 Liter, automatic, 4WD, SLT, ABS, A/C, Power Windows, Doors, Locks, Steering, Cruise Control, Cassette, AM/ Fm, CD, Wired for Sirius, Leather, Third Door, Shell, Grill Guard, Tow Package. Great Baja Truck. KBB $5800, Good Condition - khpescado [-a t-]gmail.com

Moving Sale - We are moving and have some items that might interest you for your home or hotel or restaurant. There will be more items added in the next few days: www.baja2go.com/for-sale/. - nellpam [-a t-]yahoo.com, La Paz
Solar Hot Water Systems Designed for Baja Sur - Let us help you harvest the sun to heat water for you home or pool with our latitude-specific systems. Solstice Solar of Baja, serving Los Cabos, Todos Santos, East Cape, Los Barriles, and La Ventana. - skip [-a t-]solsticesolarofbaja.com, www.solsticesolarofbaja.com, 624-142-8002 or Cell: 624-358-9889, Baja California Sur

Summer Ad Special! - Put your ad in front of over 3,100 Baja Western Onion subscribers in Four consecutive issues for only $10 dlls ($120 pesos). Get more coverage for your next Yard Sale, Vehicle, Misc. Wanted or For Sale ad.

For only $10 dlls US, we'll run your ad for a total of Four consecutive issues, allowing your ad to appear in each issue for two weeks. Also, we'll feature your ad within a red, highlighted box. This special offer applies only to text-based ads submitted by non-commercial, private parties, and is subject to our editorial policy. Sorry, this offer not available for display banner graphics ads, or ads for businesses, real estate or rentals available.
Payment: All Summer Special ads must be prepaid in advance of initial run date. You can make your payment online via PayPal at https://www.paypal.com/cgi-bin/webscr?cmd=_xclick&business=advertising [-a t-]BajaWesternOnion.com, or call us at 001 530 903 4257 or 01 33 8421 1142 (From Mexico) to make payment directly by VISA, MasterCard, American Express or Discover Credit or Debit Card.
Free Ads: As always, you can place a Free text-based ad in the Baja Western Onion once every 14 days. Submit your Free Ad or Article Here: www.bajawesternonion.com/submitad.asp. -
For more details on our advertising opportunities, please visit www.bajawesternonion.com/advertising.asp or send an Email to: advertising [-a t-]BajaWesternOnion.com
---
Submit your Misc. Sales and Services Available/Wanted articles here: http://www.bajawesternonion.com/submitad.asp
Return to Top
---

---
Real Estate, Rentals, and House Sitting - Available/Wanted
---
Housesitter - My wife and I are currently caring for a house/pet in Todos Santos until the end of June and are looking for another one to look after for the rest of the summer or longer. - Michaelbajahomesitter [-a t-]gmail.com, Todos Santos
House Sit - We are a married couple, 37 and 33, looking to house sit. I'm a retired federal worker and my wife is a homemaker. We love ALL animals and yard work. We are very security mined and don't smoke, drink or party. Thanks! - Chuck Wilson, La_countyline [-a t-]yahoo.com, 707-322-7385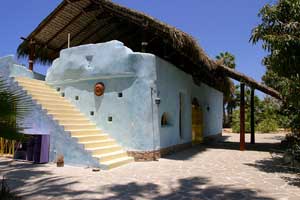 Todos Santos Beach House on a Tranquille Lush 5, 206.22 Sqmt Property - For Sale by Owner: - Two (2) separate driveway entries give the 5,206.22 sq meter (1.25 acre) property privacy from both the front and back, giving flexibility to build additional homes or to split in the future. Soil on the property is rich organic black soil, ideal for other organic gardening.

* Property is an enclosed oasis and has unlimited access to farm water that nourishes the over 85 mature mango trees, 80 lush palm trees over 5 feet, passion fruit trees, citrus fruit trees and avocado trees, all of which give the property its cool shade that is coveted in the region and frequently not available on other properties of comparable or more value in the desert landscape.
* Property has power, water (both municipal and farm water), gas and Internet.
* A 6-minute walk takes you to the secluded beach, and a 5-minute drive finds you in the heart of TS.

If you have questions or would like to make an offer after viewing the property on YouTube ( www.youtube.com/watch?v=krg9FEeiRtk), feel free to contact us. Save on the fee and make us a good offer. - Anh Walch, anhwalch [-a t-]yahoo.com, 212-692-0912, Todos Santos
Custom Home for Rent $750 - 3b/3b, 2250 sq ft, 2 palapas, 1/2 acre, ocean view from every roon, large windows, ac, dw, furnished, 11 ft cielings, highend finishes, quiet, peaceful area. Pictures available looking for a one-year lease. In pescadero 6 minutes south of Todos Santos overlooking San Pedrito/Cerritos - pescaderobcsrental [-a t-]hotmail.com
For Rent - Quaint cottage on a lovely ranch in Pescadero: 1 Bedroom, furnished, utilities not included. Please, telephone calls only at 612-176-3119 (Pescadero). - Mariposa, mariposabcsmx [-a t-]live.com
Lot for Sale or Trade - Here is a lot of 1540 m/2 only one block away from beach in the area of Las Tunas. Will consider trade and cash. Asking price is $65,000 USD. Water and power at lot. - lowerbaja [-a t-]yahoo.com, 612-161-4728, Todos Santos
---
Submit your Real Estate/Rentals/House Sitting/Property Management Services articles here: http://www.bajawesternonion.com/submitad.asp
Return to Top
---
Rides or Caravans Available/Wanted
NOTE: Ads will run for two weeks unless dated. Please list the date in the title, and specify which airport. Goes without saying, everyone shares expenses for beer, gas, food, etc.

To remove your ad if you find a ride or caravan, let us know Here: www.bajawesternonion.com/submitad.asp -
---
June 9 (or so) - Driving South from Los Angeles - I'm heading down around June 9 to Todos Santos. Would consider rider to help with driving and gas. This will be a 2-day trip, staying 2 days then on the ferry and driving to Tulum. If interested, please call my toll free number (888)300-4386 (this rings in my office here in Tulum) or my Mexican cell 984-133-5859 Tulum - Larry Crowson, larrycrowson2010 [-a t-]gmail.com, 984-133-5859, United States
---
Submit your Rides or Caravans Needed/Available articles here: http://www.bajawesternonion.com/submitad.asp
Return to Top
---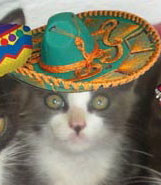 Pet Corner (Lost and Found pet articles will run for two weeks)
Let us know if you find or place your pet so we can remove your ad -
---
I Am So Lonesome - My brother and sister were adopted and I'm all alone here at my foster home. The older cats here hiss at me, but I do get along well with the dogs. I just have no one to play with. I am indoor/outdoor trained, understand English and gringo Spanish. Maybe you could love me? - Pam Cobb, senoracobb [-a t-]yahoo.com, 612-102-7983, Todos Santos
3 Adorable Puppies Rescued - I rescued three starving, flea and tick infested female puppies from death by neglect. Two pups look like black lab mix, one is smaller and tan color. They are now strong, healthy and lively puppies ready to be relocated to good homes. I cannot keep three dogs so please open your heart and home to a sweet little pup. For more information, please write dianejoy39 [-a t-]yahoo.com, Todos Santos
Baja Dogs: Please Help Save Eli! - We would like to introduce ELI: She was found standing alone on the road near CIB. Her entire body was covered with Mange. She had so many open sores on her body she hardly had any hair left. Her back, elbows, feet, legs, rear end and tail were totally red and full of sores. Her entire body itched constantly. She had no energy, and had just given up on life.

After a few sessions of mange treatment we could see the difference in her: the itch had subdued, the sores are healing, and her hair has grown back. This girl is a trooper. She is full of love, easy-going and gentle. She has endured so much already, but unfortunately we have recently found out she has heartworm. This disease is from a mosquito bite and will kill her without your help!

Heartworm is treatable, but far too expensive for our refuge to undertake on its own. The treatment will cost $3300 pesos and if we cannot raise the money, she will have to be put to sleep. If you can find it in your heart to make any kind of a donation to help this beautiful young girl, your donation will literally save her life. If you care to help Eli, please mark your donations "ELI" so they go directly to her care. If you would like to see a photo of Eli I would be happy to forward it if you email me. Baja Dogs is a registered Mexican non-profit organization that relies completely on Private donations, as we receive no government funding.

For more information, visit www.bajadogslapaz.org; or call 612-155-8948(Spanish), or 612-140-2575 (English). You can also write us at bdlp [-a t-]bajadogslapaz.org. - Cindy Crane, bdlp [-a t-]bajadogslapaz.org , www [-a t-]bajadogslapaz.org, 612-140-2575 , La Paz
My 3 Boxers Have Gone Missing!! - Three of my four Boxer dogs have gone missing since Monday morning in the La Cachora area. If you see them, please let me know or return to La Garra Restaurant in town. One is the Mother (Bella), honey/brown in color and currently pregnant! The other two are her sons Paco and Bob (both 1 year old). Paco is tiger stripped and Bob is honey/brown like his mama. All three are very friendly, wonderful dogs and my family misses them! - Happy & Chuy Cota, happymoreno1 [-a t-]yahoo.com, 612-145-0472
These Kitties are the Cutest Ever - I've seen other photos in recent issues of BWO and those kitties are cute but these four, one black, one grey striped, two calico are even more precious. They are now ready in Todos Santos for permanent homes. We are taking applications (that's a joke!) Janel 145-0073 - Janel Beeman, janelb3 [-a t-]yahoo.com, 145-0073, Todos Santos
East Cape A.L.M.A. Animal Rescue Needs Help!! - If any of you "stateside" locals has family or friends thinking of adopting a pet, why not a Baja dog or pup? We have three or four adult dogs: well-behaved, housebroken, already trained companions needing homes. We also have some of the cutest, most adorable pups you've ever seen. We can transport them to some cities in the U.S. for free! Even better, they will arrive with their shots and health certificates and, in the case of the adult dogs, spayed or neutered.

Visit our website to see some pics, www.almacares.com. We also have a Facebook page. If you send out this notice to ten of your friends and ask them to send it to ten of theirs, our message will get out to thousands of people. Help us find these beautiful pets a wonderful home. Call Sheila or Janel, 624-137-7683 or 624-175-9102, or email janelinmex [-a t-]yahoo.com or bajasheila [-a t-]yahoo.ca - Janel Faraci, janelinmex [-a t-]yahoo.com, 624-137-7683, Los Barriles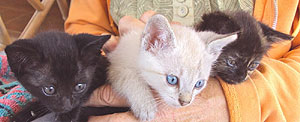 Kitties, Kitties, and More Kitties - It's been "raining" kitties! Four new arrivals at Kitty Heaven, three kitties at Dr. Franzoni's (soon to to go to Kitty Heaven) and two are in foster care. All colors, all very young and playful. For more information, call Angelique at 612-145-0250 or write her at BajaKitties [-a t-]Yahoo.com

Kitty Heaven is the only all-cat refuge in Baja California Sur. Visit us on the web at http://bajarescue.org/#KittyHeaven. We survive via your kind donations. To send your support, please click the "Donate" button below:
---
Submit your Pet Corner articles here: http://www.bajawesternonion.com/submitad.asp (and remember to Spay and Neuter your pets)
Return to Top
---
Quote of the Day: " The trouble with weather forecasting is that it's right too often for us to ignore it and wrong too often for us to rely on it. " ~ Patrick Young
---
Looking for the complete Community Events Calendar? Click Here!
---
Return to Top
---
---
Help Support The Baja Western Onion!

We can accept donations by Credit Card, PayPal, cash, check or direct deposit.

For more information, please visit our web site at http://www.BajaWesternOnion.com/donate.asp.
Copyright © 2006 - 2011. The Baja Western Onion. All Rights Reserved.
Published Using 100% Recycled Electrons :)
Return to Top
---