On The Web Site:
---
Today's Weather
---
Community Access
Policia Preventiva
Todos Santos Police
612 145-1052
Commandante Navarro


Ministero Publico
State Police
612 145 0198
Commandante Erigoyen


Bomberos
Fire Department
Cel. 612-142-6387
Commandante Cadena


---








---
Baja Western Onion
Alan Thompson - Publisher
Debra Webster - Advertising
e-mail For General Feedback
---
---
News and Events, Questions and Answers
---
Dharma Talks by Robert Hall - Dharma Talks offered by Robert Hall, Sundays 10-11:30 a.m. at La Arca located on Calle Topete corner of Pilar.

The talks are preceded by a period of guided meditation with instructions in the Vipassana tradition. Everyone is welcome. Select talks are also available online for listening from the blog site. - Alvaro Colindres, eldharma [-a t-] mac.com , roberthalldharmatalks.wordpress.com, 612-145-0676, Todos Santos
NOAA Predicts Below Normal 2011 Eastern Pacific Hurricane Season - Although the 2011 Hurricane season officially started on May 15, things are still pretty quiet on the Eastern Front. The 2011 NOAA Outlook, issued 19 May 2011, calls for a 5 percent probability of an above normal season, a 25 percent probability of a near normal season and a 70 percent probability of a below normal season:
Climate patterns similar to those expected this year have historically produced a wide range of activity. Allowing for uncertainties, NOAA estimates a 70% chance of occurrence for each of the following ranges of activity this season:

9-15 Named Storms
5-8 Hurricanes
1-3 Major Hurricanes

The seasonal activity is expected to fall within these ranges in 7 out of 10 seasons with similar climate conditions and uncertainties to those expected this year. They do not represent the total possible ranges of activity seen in past similar years. The 1981-2010 averages for the eastern Pacific hurricane season are 15-16 named storms, 8-9 hurricanes, and 4 major hurricanes.
Read the complete NOAA outlook here: www.cpc.ncep.noaa.gov/products/Epac_hurr/Epac_hurricane.html. Also, read the Baja Insider's take on the current forecast: http://www.bajainsider.com/weather/2011easternpacifichurricaneoutlook.htm -
Zumba - Zumba classes are offered Monday and Wednesday at 10 a.m. in Todos Santos, and Tuesday and Thursday at 4 p.m. at Rancho Pescadero. Todos Santos classes are held in Las Brisas. If you are heading west from the pila (large water tank), take the first right turn. We are on the left in an open-air back patio. Just follow the signs. Cost is 50 pesos per class, with the first class being free. Tennis shoes recommended. The Zumba instructor is Jan "Juanita" Turner. For more information, call 612-348-1111. Come join the fun! - Jan Turner, jant [-a t-] aol.com, 612-348-1111

East Cape A.L.M.A. Animal Rescue Needs Help!! - If any of you "stateside" locals has family or friends thinking of adopting a pet, why not a Baja dog or pup? We have three or four adult dogs: well-behaved, housebroken, already trained companions needing homes. We also have some of the cutest, most adorable pups you've ever seen. We can transport them to some cities in the U.S. for free! Even better, they will arrive with their shots and health certificates and, in the case of the adult dogs, spayed or neutered.

Visit our website to see some pics, www.almacares.com. We also have a Facebook page. If you send out this notice to ten of your friends and ask them to send it to ten of theirs, our message will get out to thousands of people. Help us find these beautiful pets a wonderful home. Call Sheila or Janel, 624-137-7683 or 624-175-9102, or email janelinmex [-a t-] yahoo.com or bajasheila [-a t-] yahoo.ca - Janel Faraci, janelinmex [-a t-] yahoo.com, 624-137-7683, Los Barriles
A Little Girl and Her Family Need Help - A little two-year-old girl has been scheduled for heart surgery in Mexico City at the beginning of June and another round-trip ticket to and from Mexico City is needed. The cost is approximately 4,700 pesos. If we all pull together, we can raise this money in no time. Please help this family! Time is of the essence. Please contact Angelique at 612-145-0250 to donate. Thank you. bajakitties [-a t-] yahoo.com, Baja California Sur
New Internet-delivered TV Service? - I just came across US TV NOW, http://www.ustvnow.com, an Internet-delivered TV service, now in Beta. It looks like they're targeting users outside the US, and are going to offer the "Big Four" Networks (ABC, CBS, NBC and FOX), as well as PBS, ESPN, CW, A & E, Animal Planet, Bravo, Comedy Central, Discovery Channel, History Channel, TBS, TNT, USA Network, and other channels. From their web site:
We love TV! Our dream is to have all the TV in the world available instantly to everyone, wherever they are.

But for the time being, our service is only available for those of you that are traveling overseas or reside abroad and have no other way to watch TV from the US.

If you are traveling outside the continental U.S.A. our service is available to all Americans or those who would normally be able to watch US cable, satellite or broadcast TV. Below you are able to pre-register for the service and already schedule the programs you want to record*. As soon as you are abroad you will be able to watch the shows you recorded or watch live from home TV.

In the U.S.A we're not able to offer our service to you until your local cable or satellite provider becomes an USTVNow TV Anywhere partner. We're really sorry about this, but it takes time to get every TV and broadband provider on board. You can help by giving them a call and asking when USTVNow TV Anywhere will be available to you.
The web site is a little clunky, and I could not set up an account (possibly because it detected I'm currently in the US), but I'd be interested in hearing from others how/if this is working in Mexico in various formats; through TelMex, TelCel, Satellite Internet, IPad, IPhone, Roku, Google TV, etc. - Alan, alan [-a t-] bajasatellite.com, 612-348-1111
---
Submit your News and Events, Questions and Answers articles here: http://www.bajawesternonion.com/submitad.asp
Return to Top
---
---
Featured Events This Week
---
Saturday, May 28
Music at Hotel California, Todos Santos - Bluz Explozion, La Paz's Best Blues Band, 8pm. No Cover. - info [-a t-] hotelcaliforniabaja.com, www.hotelcaliforniabaja.com, 612 145.0525, Todos Santos

Movie Night in Las Tunas - "Black Swan," 8 p.m., Teatro Luna Azul, Todos Santos. Info: http://tsbmp.blogspot.com - bluemooninbaja [-a t-] yahoo.com

Arts And Creativity - VII Semana del Creador Events Conclude, La Paz - Folkloric Dance - Luis Alberto Parra Salgado, acoustic guitar recital - José ángel Soto Romero. 6 to 7 p.m., esplanade of the Malecón. Free Admission - La Paz

Chamber Music Recital, Guitarist Guillermo Avilés, La Paz - Works by Vivaldi, with string quartet from la Escuela de Música del Estado. Concert coordinated by Guillermo Avilés and Luis Peláez García. Recital 7 p.m. in the Sala de Conciertos, La Paz. Admission 20 pesos.- La Paz

Theatre, El Otro (The Other), La Paz - 8:30 p.m., Teatro-Espacio Angular Esterito. Admission: 75 pesos. Cheese, bread and wine served after performance. - La Paz
Sunday, May 29
Theatre, Cosas De Papá Y Mamá by Alfonso Paso, La Paz - 7:00 p.m., La Hostería Theatre Group, directed by Diego Barajas, Patio, Centro Cultural La Paz. Admission by donation. - La Paz

Compañía de Ballet Clásico and Neoclásico del Estado Dance Performance, La Paz - 7:00 p.m., Teatro de la Ciudad. Admission: 50 pesos. - La Paz
Tuesday, May 31
4 Week Cultivating Creativity Workshop, Todos Santos - Zoë Edmonds, MA will be teaching a four week Workshop starting Tuesday, May 31st, 2-4 PM, La Arca, Todos Santos. Suggested donation $600 pesos. - Zoë Edmonds, zoe [-a t-] artforlifebaja.com, www.artforlifebaja.com, 612-105-0056, Todos Santos
Thursday, June 02
Gardel De Bergerac: Cada Día Canta Mejor, La Paz - Musical comedy, based on the life of the famous argentinian singer Carlos Gardel. 8:30 p.m., Corazón Café (Revolución esq. Constitución) downtown La Paz. $130 pesos pp (one drink and show); $190 pesos pp (one drink, small "botana" and show); $295 pesos pp (full dinner, drink and show). Info/ reservations: (612) 128 8985, Facebook "Restaurante Corazón" - Alfonso Figueroa, info [-a t-] elcolectivochunique.com, www.elcolectivochunique.com, (612) 159 3653, La Paz
Friday, June 03
Performance by Tenor Alejandro Magallon Robertshaw And Soprano Alisa White, La Paz - Houston Grand Opera Members, at La Encantada Galeria, Deli Y Cava, La Paz, 8:00 pm. - laencantada.galeriacavadeli [-a t-] gmail.com, www.galerialaencantada.com, 612 140 0391
Saturday, June 4
Benefit Luncheon and Fashion Show for Baja Dogs and Centro Mujeres, La Paz - 1 p.m. to 4 p.m. Palermos Restaurant, La Paz. Cost is 250 pesos. Featured fashions from Jonï "Gypsy Rags", jewelry (silver), bathing suits and cover-ups. A great variety of items will also be featured during a silent auction. Tickets at Palermos or by email: cindycrane2000 [-a t-] yahoo.ca

Guitar and Lute Concert, La Paz - Tomas and Yudy Dúo, classical and Latin American Music. 8:30 p.m., Galeria Tonantzin, Constitucion 320, between Revolución and Serdán, El Centro (close to Central Post Office), La Paz. Pre-Sale Tickets: $50 pesos. Info: 122-7625 -

Judith Farber Steet Photography Workshop - "The Art of Seeing," Todos Santos - 3-6 p.m. - Alvaro Colindres, ac [-a t-] alvarobaja.com, www.facebook.com/SundaysInNewYork, 612-108-1030

Cooking With Solar Ovens Workshop - 5 course Indian Curry Dinner, 10am, Teatro Luna Azul; 400 pesos. http://tsbmp.blogspot.com - bluemooninbaja [-a t-] yahoo.com
---

---
Submit your Community Events and Workshops here: http://www.bajawesternonion.com/submitad.asp
Return to Top
---
---
Stepping Out - Food, Music and Entertainment
---
Baja Beans Roasting Co. - Summer is coming and we would like to announce our new cafe hours. We wold also like to thank everyone for their support in our first season. We have had so much fun meeting everyone and doing business in such an amazing place. hank you. Muchas gracias.

Starting June 6 and continuing through July, our hours of operation will be Wednesday thru Sunday, 8 a.m.-3 p.m. We will be closed Mondays and Tuesdays. - Baja Beans, info [-a t-] bajabeans.com, 6121572021
Hotel California - Music
Saturday May 28, Bluz Explozion, La Paz's best blues band,
Margaritas, Beers, and Dancing! 8 PM to 11 PM No Cover.

Santo Vino Eclectic Bistro & Wine Bar: Baja wines by the glass, creative margaritas and cocktails, daily menu creations, dessert sample platters. Hours 5:30 to 10:30 PM Daily Closed on Sunday

Selected Specials for the week include:
Mexican style yellowtail carpaccio.
Grilled asparagus wrapped with prosciutto and drizzled with pesto.
Baja fish and seafood chowder with roasted tomatoes and saffron.
Local halibut with black olive tapenade, pesto and toasted pine nuts.
Pasilla pepper flavored fusilli, smoked marlin, shrimp and scallops in a Baja Chardonnay creamy dill sauce.
12 oz grilled Rib Eye or New York Angus steak with a mushroom, blue cheese and Hotel California Tequila cream sauce.
Eve pie with apples, almonds and vanilla liqueur.
Mango and star anise "tarte tatin" with homemade vanilla bean and white chocolate agave ice cream.

Click Here to view our Online Store. Get the latest info by joining our facebook fan page

- info [-a t-] hotelcaliforniabaja.com, www.hotelcaliforniabaja.com, 612 145.0525, Todos Santos
Playoffs at La Garra Sports Bar! - We WILL be showing all the playoff games at La Garra Sports Bar - NBA and NHL!! Come and join us. Today, May 28, starting at 7 p.m. - UFC 130 - Rampage vs. Hamill. We will be closed Monday, May 30, as we will open Tuesdays for the scheduled games.
NBA Playoffs schedule: Mavericks vs. Heat
Game #1- Tuesday May 31 -7:00 pm
Game #2- Thursday June 2 - 7:00 pm
Game #3- Sunday June 5 - 6:00 pm
Game #4- Tuesday June 7 - 7:00 pm
Game #5- Thursday June 9 - 7:00 pm*
Game #6- Sunday June 12 - 6:00 pm*
Game #7- Tuesday June 14 - 7:00 pm*
NHL- Stanley Cup Playoffs: Vancouver vs. ? (Boston or Tampa Bay)
Game #1- Wednesday June 1- 6:00 pm
Game #2- Saturday June 4- 6:00 pm
Game #3- Monday June 6t- 6:00 pm
Game #4- Wednesday June 8- 6:00 pm
Game #5- Friday June 10- 6:00 pm*
Game #6- Monday June 13- 6:00 pm*
Game #7- Wednesday June 15- 6:00 pm *
*denotes if necessary


- Happy & Chuy Cota, lagarrarsb [-a t-] gmail.com, 612-145-0004

Buena Vida's New Menu and Hours! - Things have slowed down so we're changing our Spring season hours. We're open Friday-Monday, 5-9:30 p.m. We now have an Early Bird Special from 5-7 p.m. nightly. Order any pizza and your second pizza is half price.

I have changed the way things are being cooked up at Buena Vida. I have chucked my menu and I am now winging it. My menu will change daily according to what's fresh and available at the fish markets, butcher and the local organic gardens. It's all fresh from the source and right to your table. I will always have pizza options but I'm shifting my focus to fish, meats and poultry. Some of my dishes so far have been:
Stewed Octopus
Sizzling Shrimp
Bahian fish stew
Seared Scallops, etc.
Please e-mail me if you want to receive my blog of nightly specials Fri.-Mon. You can still call ahead for the organic chicken in a clay pot. I only need an hours notice! Don't forget: We deliver (no minimum charge or delivery fees), including Las Tunas. I'll even go to Pescadero for BIG orders. Please support your local restaurants both old and new during the low season. - Jessie Rutowski, jessierutowski [-a t-] gmail.com, www.buenavidapizzeria.com, 612-151-1431, Todos Santos
Movie Night in Las Tunas - Academy Award winner "Black Swan" will be playing today, May 28, at Teatro Luna Azul. We just got a new theater style popcorn machine and will be making a variety of delicious toppings. Hot and cold drinks available. Dress for "under the stars." Starts at 8 p.m. More details can be found at http://tsbmp.blogspot.com - bluemooninbaja [-a t-] yahoo.com
Zen Garden Café - Zen Garden Café is evolving! We now serve exotic Thai, modern Japanese, organic Chinese, fresh Vietnamese and Korean BBQ. Daily specials every day:
Three Sushi Rolls for The Price of Two!
Chinese Combo: 2 Items With Fried Rice.
Great Vegetarian Dishes And Tofu.
Lunch and Dinner 12-9 p.m., Closed Tuesdays.
Please come to discover our delicious dishes and best deal in town! - Zen Garden Cafe, yanggum [-a t-] zengardencafe.com, www.zengardencafe.com, 612-145-1088
All June Is 2 x 99.99 Pesos At Cafelix - Hello Palomilla! How is it going? Long time no see u around here at the most helpful site in Baja! We have this deal for our friends, 2 x 99.99 pesos! That means 2 people, 2 persons, 2 guys, 2 bros, 2 dudes, 2 friends, or one couple order 2 breakfast and 2 coffees, for 100 pesos total! You can order 2 pancakes or 2 waffle or 2 fruit cocktails or 2 molletes or 2 quesadillas, or 2 eggs any style and 2 coffees for 99.99 pesos. Come all through June for this promo bring yer lap or bring your familly why not! We're here ready to give you a good service! - Felix Vazquez, salesboy_vagu [-a t-] hotmail.com, 6121450568, Todos Santos
---
Submit your Stepping Out - Food, Music and Entertainment announcements here: http://www.bajawesternonion.com/submitad.asp
Return to Top
---
---
Misc. Sales and Services Available/Wanted
---

American Insurance In Mexico - Accidents and Emergencies Happen Every Day. Your medical insurance doesn't cover you in Baja. Yes, your provider may be willing to reimburse you for your costs after months and piles of paperwork but you will pay the bill upfront. Did you know Medicare does not cover you outside of the US? No re-imbursement, period! Can you really afford to take the risk?

For as little as $75 a month you can use an insurance card instead of your credit card. Our Patriot program has you covered while traveling here in Southern Baja. Policies available for a month, 4 months or up to 2 years. Coverage within 24 hours of application. Only pay for the time you are here.
Don't Take The Risk. Emergencies Do Happen Every Day. Protect your vacation dollars. To find a rep, get an immediate quote or immediate coverage, visit us at www.americaninsuranceinmexico.com or call us at 624-122-2806 - jbarrilesj [-a t-] yahoo.com, 624-122-2806, Baja California Sur
San Jose Storage Offers Airport Parking - San Jose Storage is conveniently located next to the San Jose del Cabo International airport. We offer daily and monthly parking with outside, covered, or garages available with airport transportation and car wash/vehicle maintenance while you are gone. San Jose Storage also offers mini storage units from 5x5 to 10x40. San Jose Storage is open 7 days a week, 365 days a year with bilingual managers to assist you. We have 24/7 security, guard dogs, video cameras with digital back-up, security lighting at night, and electronic access to the yard. Call us today and reserve your space! - Nathan Visser, info [-a t-] sjstorage.com, www.sjstorage.com, 624-146-1390, Baja California Sur
Casa Decor, La Paz, Indoor And Outdoor Furniture - Interior design service. We custom make furniture:

* Largest Inventory In The Baja * Patio Furniture * Wicker, Rattan And Marble
* Rustic Hand Painted Furniture * Lighting * Metal Furniture * Copper Furniture
* Kitchen Cabinets * Doors * Floor and Wall Covering * Art * Accessories
* Fountains And Urns * Mexican Furniture * Imports From Around The World
* Very Unique Selection Of Furniture And Accessories * Furniture Packages


Fine furniture made to order. Wholesale to the trade. The Best selection in the Baja at Casa Decor. Two Locations: Casa Decor La Paz, 560 Marquez de Leon, Tel: 612-129-3364. Casa Decor Cabo San Lucas: on 4 lane KM 3.5 next to Artisanos and Natural Marble and Stone, Tel: 624-178-8146. - richards77 [-a t-] pcisys.net, http://www.antiquerowmarket.com, Baja California Sur
Insulate Your Concrete Block House - Cabo Construction Management is now the authorized dealer for InSoFast foam panels. This system can be used in new construction or retro. Save energy. We can sell you the panel or can install it. Go to our site or InSoFast, ccmbaja.com - Jim Coulson, jimcoulsoncontractor [-a t-] yahoo.com, www.insofast.com/, 612-183-1077, Pescadero
Special Limited-time Hughesnet Satellite Internet Offers From Baja Satellite!
Now, Connect to The Internet No Matter Where You Live:
Always-On Connection, Available Where DSL and Cellular Won't Reach
PC, Mac, Wireless Compatible
Multiple Computers Can Share the Same Internet Connection Full-Time
Vacation Holds Available on All Plans
Anti-Virus And Email Spam Filter
No Phone Line Needed, No Busy Signals, No Missed Calls
Professional Installation Available Anywhere in Southern BCS
Purchase Your System From Baja Satellite Before June 30 and Get:
1. Mail-In Rebate for $199.99 Off Equipment Purchase! 1

0.74 Meter Dish with 1 Watt Transmitter - Only $299 US After Rebate!
0.98 Meter Dish with 2 Watt Transmitter - Only $699 US After Rebate!

2. Mail-In Rebate for $20 Off Your First Three Months of Monthly Service ($60.00 Value)! 2

Data Plan
Download / Upload Speed 3
Monthly Service
Home
1.0 Mbps/128 Kbps
$39.99/mo, first three months!
Pro
1.2 Mbps/200 Kbps
$49.99/mo, first three months!
ProPlus
1.6 Mbps/250 Kbps
$59.99/mo, first three months!
Baja Satellite is an Authorized HughesNet Dealer. For more information, Contact Us today: alan [-a t-] BajaSatellite.com, www.bajasatellite.com, (530) 903-4257 (From US), 01 33 8421 1142 (From Within Mexico), Baja California Sur
1 Prices shown are after $199 mail-in rebate, and do not include Mexican shipping, importation or installation. System must be purchased before June 30.
2 $20 off per month for 1st. three months, after $60 mail-in rebate. System must be purchased from Baja Satellite before June 30. All plans require 24-month contract.
3 Absolute maximum speeds stated by HughesNet. Actual speeds will be less, and speeds will vary throughout the day and week depending upon total number of HughesNet subscribers sharing your satellite channel.
For Sale: 1994 Toyota Pickup - 1994 Toyota Pickup, 2WD, 4 cyl, 5 nearly new BF Goodrich All Terrain tires, new head, new timing belt, imported, 103k miles, great running condition, cold A/C, economical. Excellent Baja truck, email for photos, truck is in Todos Santos - $2250 US or equivalent pesos. - Howard howarde [-a t-] gmail.com, 612-178-0007, Todos Santos

Bolo's Boutique - New Summer Stock from Bali - Come in and see our new range of ladies clothing: Sun dresses, pants, sarongs, pashminas, jewelry. We will re-open Thursday, June 2, and will be open Wednesday to Saturday from 11 a.m. to 4 p.m. (Abierto: Miercoles a Sabado 11 - 4). Directions: Follow signs for Rancho Pescadero. Turn right at their entrance and left at next corner. We are on the left before beach access.

Direcciones: Entrega el letrero de Rancho Pescadero. Gire a la derecha en la entrada de Rancho Pescadero y gire a la izquierda en la esquina. Bolo's Boutique esta en la izquierda antes de acceso a la playa. El Pescadero - Bolo's Boutique, bolosboutique [-a t-] yahoo.com, Pescadero
Multiservicios Ryjos, Todos Santos - Ofrece suministros de oficina y servicio de fotocopias, Internet y servicios informáticos. Ubicación: El Otro Lado, Calle Horizonte esq Nicolas Bravo, Colonia el Rio, frente a Café La Esquina, Todos Santos:
Papeleria - Venta de artículos escolares-oficina, Copias, Enmicados, Engargolados, Servicio de impresión negro y color. Copías CD/DVD
Internet / Juegos - Servicio de mensajería instantánea, Skype, E-mail, descargas de musica y fotos, Xbox 360, servicio de Scanner. Wireless.
WiFi / VoIP / Computadoras - Venta, instalacion y soporte de redes cableadas e inalámbricas, Voice Over IP (Vonage, Net2phone), computadoras, accesorios para computadoras /celulares.
Horarios: Lunes, Martes, Jueves, Viernes: 8:00 A.M - 9:30 P.M., Miercoles Y Sabados: 8.00 A.M - 4:00 P.M. Domingo: Cerrado
Ryjos Multi-services, Todos Santos - Offering office suppies and copy services, internet and computer services. Location: "El Otro Lado," Calle Horizonte at the corner of Nicolas Bravo, Colonia el Rio, in front of Café La Esquina, Todos Santos:
Stationary Store - Sales of School and Office Supplies, Copies, Laminating, Binding, Black and While and Color Printing Service, Scanner service, CD/DVD Copies
Internet / Games - Instant Messaging Service, Skype, E-mail, downloading music and photos, Xbox 360, Wireless Access.
WiFi / VoIP / Computers - Sales, installation, service and support: wired and wireless networks, Voice Over IP (Vonage, Net2Phone), computers, accessories for computers and cellular telephones.
Hours: Monday, Tuesday, Thursday, Friday: 8:00 AM - 9:30 PM, Wednesday and Saturday: 8.00 AM - 4:00 PM Sunday: Closed. Propietario/Owner: Josue Castillo Mayoral, Business Telephone: 612 178 0039, Celular: 612 148 3786, jocama85 [-a t-] hotmail.com, Todos Santos
'99 F-150 4x4 Extra Cab - '99 Ford f-150, new engine, new transmission, 4 wheel drive. Clean body, clean inside, power everything. 4 door with many new parts. $4500 usd. Email me with your telephone number. jmolea [-a t-] sbcglobal.net - John Molea, jmolea [-a t-] sbcglobal.net, 760- 967-7608, Todos Santos
For Sale: Dining Table - Honey pine finish, country style, oval shape, 6 ft. long dining table with 6 matching hardwood chairs. Excellent condition. Located in Todos Santos. $500 US. Email for photos. - Howard howarde [-a t-] gmail.com, 612-178-0007, Todos Santos
Jeep Cherokee for Sale Cheap - 1989 4wd., 6cyl. Runs OK, looks rough. 10,000 pesos. - Scott Cole, scott [-a t-] lgcc.com, 612-134-0684, Pescadero

Wind Generator - A brand new, in-the-box southwestwindpower 400 watt/24 volt unit. Selling for landed cost of $650.00 Can install for you as well for extra amount. 624-166-9473 - rainsave [-a t-] hotmail.com
Need a ride to or from the airport? Or someone to assist you with errands? - I am a young, bilingual Christian man and I can provide you with rides to or from the La Paz or San Jose Del Cabo airports. I can also help you with errands, or navigating the intricacies of dealing with Mexican businesses and the government; Car Registrations, TelCel and TelMex, CFE, Seguro Social, etc.

Reasonable Rates - Contact: Ernesto, Cel. 612-117-7497, ernie_net [-a t-] hotmail.com
4 Wheel Camper Rig/or Trailer/or Rv Wanted - We live in Las Tunas, Todos Santos. please call or email. - Christine Douglas, cdoug1946 [-a t-] yahoo.com, 612-103-7021, Todos Santos
Gold Fish and Water Lillies! - Beautiful gold-color gold fish for sale, and also white and yellow water lillies. If you are interested, please contact by email. - parratownsend [-a t-] hotmail.com

Summer Ad Special! - Put your ad in front of over 3,100 Baja Western Onion subscribers in Four consecutive issues for only $10 dlls ($120 pesos). Get more coverage for your next Yard Sale, Vehicle, Misc. Wanted or For Sale ad.

For only $10 dlls US, we'll run your ad for a total of Four consecutive issues, allowing your ad to appear in each issue for two weeks. Also, we'll feature your ad within a red, highlighted box. This special offer applies only to text-based ads submitted by non-commercial, private parties, and is subject to our editorial policy. Sorry, this offer not available for display banner graphics ads, or ads for businesses, real estate or rentals available. All Summer Special ads must be prepaid in advance of initial run date. You can make your payment online via PayPal at https://www.paypal.com/cgi-bin/webscr?cmd=_xclick&business=advertising [-a t-] BajaWesternOnion.com, or call us at 001 530 903 4257 to make payment directly by Credit or Debit Card.
For more details on our advertising opportunities, please contact: advertising [-a t-] BajaWesternOnion.com, or visit www.bajawesternonion.com/advertising.asp
As always, you can place a Free text-based ad in the Baja Western Onion once every 14 days. Submit your Free Ad or Article Here: www.bajawesternonion.com/submitad.asp. -
---
Submit your Misc. Sales and Services Available/Wanted articles here: http://www.bajawesternonion.com/submitad.asp
Return to Top
---

---
Real Estate, Rentals, and House Sitting - Available/Wanted
---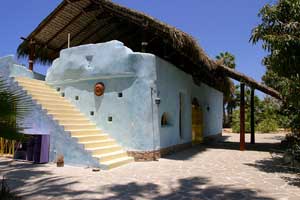 Todos Santos Beach House on a Tranquille Lush 5, 206.22 Sqmt Property - For Sale by Owner: - Two (2) separate driveway entries give the 5,206.22 sq meter (1.25 acre) property privacy from both the front and back, giving flexibility to build additional homes or to split in the future. Soil on the property is rich organic black soil, ideal for other organic gardening.

* Property is an enclosed oasis and has unlimited access to farm water that nourishes the over 85 mature mango trees, 80 lush palm trees over 5 feet, passion fruit trees, citrus fruit trees and avocado trees, all of which give the property its cool shade that is coveted in the region and frequently not available on other properties of comparable or more value in the desert landscape.
* Property has power, water (both municipal and farm water), gas and Internet.
* A 6-minute walk takes you to the secluded beach, and a 5-minute drive finds you in the heart of TS.

If you have questions or would like to make an offer after viewing the property on YouTube ( www.youtube.com/watch?v=krg9FEeiRtk), feel free to contact us. Save on the fee and make us a good offer. - Anh Walch, anhwalch [-a t-] yahoo.com, 212-692-0912, Todos Santos
Affordable Condo in Cabo San Lucas For Rent - Have company? Need a get away? Family with children visiting? How about a night or more in Cabo San Lucas? Two bedroom, two bath fully furnished condo with 60-foot balcony overlooking grass courtyard with the largest heated pool in Cabo, restaurant/bar. Marina Sol Condos, located one block from Medano Beach, harbor, and Puerto Paraiso Mall. No need for a car. Handicap access and A/C. $120 first night, $100 for each additional night for two people. Modest fee for additional guests. For information call Mike Turner at 612-145-0684 - Mike Turner, janmiketurner [-a t-] hotmail.com, www.turnercasaincabo.com, 612-145-0684
Los Barriles Rental Available - Trailer for rent at Playa Norte. 45 ft. 5th wheel Weekend Warrior with every amenity! Like new with full kitchen, full bath, 2 TV's. Separate step-up, private master bedroom with tons of closet space and storage. Right on the water at Playa Norte. Available for rent by the week or by the month. We still have a few holiday weeks available. Call or email Janel and David at janelinmex [-a t-] yahoo.com or 310-592-0139 (US Cell) or 624-175-9102 (Mexican Cell). This is not your normal "trailer" - this is home on wheels! - Janel Faraci, janelinmex [-a t-] yahoo.com, 624-175-9102, Los Barriles
For Rent - Quaint cottage on a lovely ranch in Pescadero: 1 Bedroom, furnished, utilities not included. Please, telephone calls only at 612-176-3119 (Pescadero). - Mariposa, mariposabcsmx [-a t-] live.com
Long-term Rental Wanted - We are looking for a 2-3 bedroom rental home in Todos Santos or Pescadero for next season. We would be willing to clear out for the owner for a period of time, if necessary. Please let me know if you have a rental that might work for us. Thank you. - Andreaandrea [-a t-] bellasol.org, 612-118-6031, Todos Santos
---
Submit your Real Estate/Rentals/House Sitting/Property Management Services articles here: http://www.bajawesternonion.com/submitad.asp
Return to Top
---
Rides or Caravans Available/Wanted
NOTE: Ads will run for two weeks unless dated. Please list the date in the title, and specify which airport. Goes without saying, everyone shares expenses for beer, gas, food, etc., and let us know if you find a ride or caravan so we can remove your ad -
---
Heading South Soon - I am driving south from San Diego shortly to Southern Baja (La Ventana) with a small trailer and have room for light items. I also have room for one person. Call me on my US cell phone, 702-460-0245, and email me (I have intermittent email access but my cell phone is with me). - Dean dean [-a t-] la-ventana.com, La Paz
May 29 - Ride From SJD Airport To TS - Ride from SJD airport to TS on Sunday, May 29, my flight arrives at 2:45pm. Share gas - Patricia Baum, teampaty1 [-a t-] hotmail.com, 612 145-0882
June 2 - Ride To SJD - The sad day has come... so am looking for a ride to SJD airport on June 2... flying WestJet... leave Todos Santos around 10am or 11am... my flight is at 2:45... share company and gas ... please call Doris [-a t-] 612 132 5087 - Dorisdorisdmg [-a t-] telus.net, 612 132 5087
June 2 - Safe Driver to Take Your Vehicle North - Safe, responsible driver and 2 wonderful great danes would like to drive your SUV, truck or wagon North for you. We can deliver your vehicle as far north as Seattle. Caravaning up with others June 2. - Dawn, dawnwaldal [-a t-] yahoo.com
June 2 - Driving to LA from San Jose del Cabo - Senior woman with dog looking to caravan north slowly (3-4 nights), leaving June 2, crossing at Tecate. Have done it many times would enjoy company. - Robertabajadome [-a t-] hotmail.com
June 3 - Need Car Driven to San Jose Airport Before Then - I need someone to drive my car to San Jose Storage anytime before Friday, June 3. I fly in that day, and would like to pick up my car there to drive home. - Linda Hamilton, linda [-a t-] lindahamiltondesigns.com, 415-381-9087
June 9 (or so) - Driving South from Los Angeles - I'm heading down around June 9 to Todos Santos. Would consider rider to help with driving and gas. This will be a 2-day trip, staying 2 days then on the ferry and driving to Tulum. If interested, please call my toll free number (888)300-4386 (this rings in my office here in Tulum) or my Mexican cell 984-133-5859 Tulum - Larry Crowson, larrycrowson2010 [-a t-] gmail.com, 984-133-5859, United States
---
Submit your Rides or Caravans Needed/Available articles here: http://www.bajawesternonion.com/submitad.asp
Return to Top
---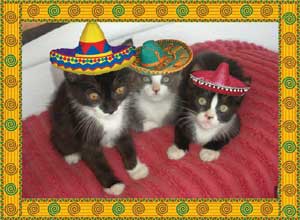 Pet Corner (Lost and Found pet articles will run for two weeks)
Let us know if you find or place your pet so we can remove your ad -
---
Take Me Home... - We are homeless Punta Lobos kitties, adorable, litter trained and able to bring endless free entertainment into your home. There are more like us at Franzoni's and Kitty Heaven so please help us find a place to live. There are still 3 puppies out at Punta Lobos looking for love. I will deliver to your door. - Pam Cobb, senoracobb [-a t-] yahoo.com, 612-102-7983, Todos Santos
Puppies - Free To Good Home! - Three adorable female puppies, white, black and brown markings. Fur soft as down, gentle disposition -- they look like little teddy bears. Will spay puppies at 6 months for new owners. Contact Mark or Jayne at 612-119-6016 - Mark Garrity, ohsojayne [-a t-] msn.com, 612-119-6016, Todos Santos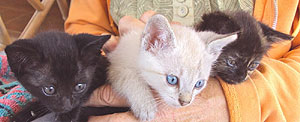 Kitties, Kitties, and More Kitties - It's been "raining" kitties! Four new arrivals at Kitty Heaven, three kitties at Dr. Franzoni's (soon to to go to Kitty Heaven) and two are in foster care. All colors, all very young and playful. For more information, call Angelique at 612-145-0250 or write her at BajaKitties [-a t-] Yahoo.com

Kitty Heaven is the only all-cat refuge in Baja California Sur. Visit us on the web at http://bajarescue.org/#KittyHeaven. We survive via your kind donations. To send your support, please click the "Donate" button below:
---
Submit your Pet Corner articles here: http://www.bajawesternonion.com/submitad.asp (and remember to Spay and Neuter your pets)
Return to Top
---
Quote of the Day: " All human beings search for either reasons to be good, or excuses to be bad. " ~ From the novel "Tell All," by Chuck Palahniuk
---
Looking for the complete Community Events Calendar? Click Here!
---
Return to Top
---
---
Help Support The Baja Western Onion!

We can accept donations by Credit Card, PayPal, cash, check or direct deposit.

For more information, please visit our web site at http://www.BajaWesternOnion.com/donate.asp.
Copyright © 2006 - 2011. The Baja Western Onion. All Rights Reserved.
Published Using 100% Recycled Electrons :)
Return to Top
---