On The Web Site:
---
Today's Weather
---
Community Access
Policia Preventiva
Todos Santos Police
612 145-1052
Commandante Navarro


Ministero Publico
State Police
612 145 0198
Commandante Erigoyen


Bomberos
Fire Department
Cel. 612-142-6387
Commandante Cadena


---








---
Baja Western Onion
Alan Thompson - Publisher
Debra Webster - Advertising
e-mail For General Feedback
---
---
News and Events, Questions and Answers
---
Toxic Mine Meeting Recorded? - Is there any possibility that the Toxic Mine Meeting presented by Elena Moreno last Wednesday was recorded and can become available for those of us who missed it? I heard rave reviews that it was wonderfully organized and educational and am so sorry to have missed it. - Tracy Monk Durland, mazytronk [-a t-] hotmail.com, 612 154 4729, Todos Santos
Road Report - Expect delays heading through the mountains between Ciudad Constitution/Insurgentes and Loreto due to extensive road reconstruction. I waited there 40 minutes, and then twice again, more briefly, just north of Loreto. - Name Witheld By Request
A Little Girl and Her Family Need Help - A little two-year-old girl has been scheduled for heart surgery in Mexico City at the beginning of June and another round-trip ticket to and from Mexico City is needed. The cost is approximately 4,700 pesos. If we all pull together, we can raise this money in no time. Please help this family! Time is of the essence. Please contact Angelique at 612-145-0250 to donate. Thank you. bajakitties [-a t-] yahoo.com, Baja California Sur
---
Re: Who Needs A Better Road To La Pastora? - Dear Cat, While love this ideal and Rodrigo (Mr. Romex), I have a big problem with it. First of all the Delegado had promised to grade the road when he took office and yet I have donated $100 to $200 pesos every time the road has been graded. Secondly, every time the road has been graded in recent history a race has come through shortly after.

My issue is that I'm paying to have the road groomed for race car drivers to just ruin it again. Why are they not charged a fee before the race to grade the road after the race. Also after the road was graded this last time, which I again paid $200 pesos towards, hundreds of dump trucks were and are still driving all the way past Las Playitas to a private building site, from what I hear in addition to the race that went through. Maybe you can ask Rodrigo what he thinks about getting the Delegado to start charging the racers or private developments for tearing up our road.

I am posting this letter on the Onion too, so that if anyone has any connection with the Delegado maybe they can ask him this question also. In the meantime if Rodrigo is going to grade the road soon, I will be happy to give him a donation. - srherda [-a t-] gmail.com
Premaculture Course by Andrew Jones - Andrew Jones, world-renowned premaculture guide from Santiago, will give an "Introducion to Premaculture" course at the Earthship in Todos Santos. The course will be divided into two modules of three days each starting May 26, 27, 28 (for the first module) and returning mid-June for the second module (also for three days). If interested, please contact Anna Sorrentino by email at anita.sorrentino [-a t-] gmail.com. Don't delay as only nine spaces are available. - Anna Sorrentino, anita_sorrentino [-a t-] hotmail.com, 612-159-5793
Seeking Artist for Gallery in San Jose - I am interested in opening a new art gallery in San Jose Del Cabo near the plaza in the historical district. I have found a great space and I would like to meet with artists from Todos Santos to discuss the possibility of showing your work in San Jose. I need to choose five artists to show. Please contact me if you are serious about selling your work and you have a collection of fine art ready to display. - Buck David Woodall, buckwoodall [-a t-] yahoo.com, 612-149-8787, Todos Santos
The Baja Sun - The free summer edition of the Baja Sun is now available. This is the best ever! It contains an interview with Graham MacIntosh and Mike Younghusband after Mike completed his Baja walk. Articles on "Living off the Grid" by Georgia Tanner, solar hot water, permaculture, a talk by Robert Saltzman on "What is Awakening," and much, much more! - thebajasun [-a t-] gmail.com, www.thebajasun.com

Banditos Of Todos Santos - Looking for new or used copy of this book - Gitte gittelz [-a t-] yahoo.com, 612 1188 057
Need 1 Package Driven From USA To Todos Santos Or Cabo - I need a tennis ball machine brought down from any were in the good old US of A. I can order it online and have it delivered to your address. I am willing to pay you what ever is considered fair to drive it down. The dimensions are 30 x 23 x 18.5 inches and it weighes 68 pounds. - Pat Light, patluz1 [-a t-] gmail.com, Elias Calles
Ways to Make the Apocalypse More Fun - Harold Camping, Family Radio president, predicted powerful earthquakes and five months of hell on Earth beginning today. Camping reportedly came up with May 21, 2011, "from evidence found in the Bible." David Letterman read his suggestions on ways to make the event more fun during his Wednesday night show. Letterman's special apocalypse-themed Top 10 list is as follows:

10. Hosted by Neil Patrick Harris.
9. Crazy hats like at the royal wedding.
8. All-you-can-eat baby back ribs with Chili's Aporkalypse special.
7. Instead of four horsemen, three horsemen and a monkey riding a dog.
6. Telecast of the 'Real Housewives' being vaporized.
5. Live Tweet it.
4. Hilarious slide whistle sound effect when the righteous ascend to heaven.
3. Raffle drawing for a Broyhill dinette set.
2. People's panicked pleas for mercy are critiqued by Piers Morgan, Sharon Osbourne and Howie Mandel.
1. More fun? What's more fun than the apocalypse?

---
Submit your News and Events, Questions and Answers articles here: http://www.bajawesternonion.com/submitad.asp
Return to Top
---
---
Featured Events This Week
---
Saturday, May 21
End of The World/Judgment Day - Sorry, ***Event Canceled*** We'll let you know when/if it has been rescheduled :)

Live Cuban Night at Guaycura, Todos Santos - Dance to salsa, rumba, cumbia and more with Noralys Cantero on the Guaycura Hotel Sky Deck at 7:30 p.m. Downtown on Legaspi and Topete streets. - Guaycura Hotel at Sky Deck, reservation [-a t-] guaycura.com.mx, www.guaycura.com.mx, 612-175-0800

Music at Hotel California, Todos Santos - Riddim Forz, Reggae Music and Dancing, 8pm. No Cover. - info [-a t-] hotelcaliforniabaja.com, www.hotelcaliforniabaja.com, 612 145.0525, Todos Santos

Festejar A Las Madres Todosanteñas - Celebrating Todos Santos Mothers - 17:00 a 20:00 horas en la plaza publica Todos Santos. Festival artistico y rifa de regalos. 5:00 p.m. to 8 p.m. Todos Santos Public Plaza. Artistic festival and gifts raffle. - Jose Luis Castillo, www.facebook.com/event.php?eid=218262864870173

Recital De Canto, Todos Santos - Tenor Enrique Astorga and pianist Cristina Montero. 8 P.M., Theater Márquez de León. Sábado 21 de Mayo; 8 P.M. Canciones Napolitanas. Música Mexicana Zarzuela. Entrada gratuita. Donations welcome. - Heriberto Parra Hake, hparra [-a t-] prodigy.net.mx, 612 117 3945

ALMA´s Dancing Under The Stars, Los Barriles - 7 p.m. at Hotel Pescadores. Tickets $25 US. Dinner and live band included. Silent auction and raffle. Tickets at Buzzards, Wolf Management Office, Vet Clinic at North Beach, and from ALMA volunteers. For information contact Sheila M. at 044-624-137-7683, bajasheila [-a t-] yahoo.com
Wednesday, May 25
Live Piano Concert and Art Opening, La Paz - Mexican Tenor, Alberto Angel "El Cuervo," 8:00 pm, La Encantada Galeria, Deli Y Cava Gardens. Tickets $600 pesos for concert, wine, cheese, fruit and bread. Info: 612 140 0391, laencantada.galeriacavadeli [-a t-] gmail.com

Mulege Dorado Tournament - mulegefishingtournament.com/pages/futuretournaments.html, or email mulegefishingtournament [-a t-] gmail.com - Mulege, BCS
---

---
Submit your Community Events and Workshops here: http://www.bajawesternonion.com/submitad.asp
Return to Top
---
---
Stepping Out - Food, Music and Entertainment
---
Hotel California - Music
Saturday May 21st The laid-back reggae vibe of Riddim Forz
Margaritas, Beers, and Dancing! [-a t-] 8pm. No Cover.

Santo Vino Eclectic Bistro & Wine Bar: Baja wines by the glass, creative margaritas and cocktails, daily menu creations, dessert sample platters. Hours 5:30 to 10:30 PM Daily Closed on Sunday

Selected Specials for the week include:
Mexican style yellowtail carpaccio.
Grilled asparagus wrapped with prosciutto and drizzled with pesto.
Baja fish and seafood chowder with roasted tomatoes and saffron.
Local halibut with black olive tapenade, pesto and toasted pine nuts.
Pasilla pepper flavored fusilli, smoked marlin, shrimp and scallops in a Baja Chardonnay creamy dill sauce.
12 oz grilled Rib Eye or New York Angus steak with a mushroom, blue cheese and Hotel California Tequila cream sauce.
Eve pie with apples, almonds and vanilla liqueur.
Mango and star anise "tarte tatin" with homemade vanilla bean and white chocolate agave ice cream.

Click Here to view our Online Store. Get the latest info by joining our facebook fan page

- info [-a t-] hotelcaliforniabaja.com, www.hotelcaliforniabaja.com, 612 145.0525, Todos Santos

Buena Vida's New Menu and Hours! - Things have slowed down so we're changing our Spring season hours. We're open Friday-Monday, 5-9:30 p.m. We now have an Early Bird Special from 5-7 p.m. nightly. Order any pizza and your second pizza is half price.

I have changed the way things are being cooked up at Buena Vida. I have chucked my menu and I am now winging it. My menu will change daily according to what's fresh and available at the fish markets, butcher and the local organic gardens. It's all fresh from the source and right to your table. I will always have pizza options but I'm shifting my focus to fish, meats and poultry. Some of my dishes so far have been:
Stewed Octopus
Sizzling Shrimp
Bahian fish stew
Seared Scallops, etc.
Please e-mail me if you want to receive my blog of nightly specials Fri.-Mon. You can still call ahead for the organic chicken in a clay pot. I only need an hours notice! Don't forget: We deliver (no minimum charge or delivery fees), including Las Tunas. I'll even go to Pescadero for BIG orders. Please support your local restaurants both old and new during the low season. - Jessie Rutowski, jessierutowski [-a t-] gmail.com, www.buenavidapizzeria.com, 612-151-1431, Todos Santos
Zen Garden Café - Zen Garden Café is evolving! We now serve exotic Thai, modern Japanese, organic Chinese, fresh Vietnamese and Korean BBQ. Daily specials every day:
Three Sushi Rolls for The Price of Two!
Chinese Combo: 2 Items With Fried Rice.
Great Vegetarian Dishes And Tofu.
Lunch and Dinner 12-9 p.m., Closed Tuesdays.
Please come to discover our delicious dishes and best deal in town! - Zen Garden Cafe, yanggum [-a t-] zengardencafe.com, www.zengardencafe.com, 612-145-1088

Zumba At The Ranch! - Zumba is back at Rancho Pescadero! Get your groove on with Juanita every Tuesday and Thursday at 4:00pm from now through June in our Yoga Center. The cost is 50 pesos. See you there! - rancho1 [-a t-] ranchopescadero.com, www.ranchopescadero.com
Baja Biscuits At Cañada Del Diablo - We are still at Cañada del Diablo Farmer's Market on Saturdays from 9 am to 1 pm. We are cooking up breakfast skillets, and this Saturday, May 21, we will have breakfast burritos with chipotle sauce. For lunch we have our pulled BBQ pork and Italian sausage sandwiches with coleslaw. We also have our new Veggie Grill sandwich. And don't forget those apple fritters! If you want to get some frozen sausage, please e-mail or call Ace, and he will have it waiting for you. - Ace Shawver, aceandlinda [-a t-] yahoo.com, (612) 149-3572, Todos Santos
Enjoy our 2 for 1 specials this weekend at Il Giardino - Saturday 2 for 1 beers all afternoon , and Sunday buy one pizza get one half price, all day! See you there!! - Il Giardino ilgiardino [-a t-] gmail.com, 1450199
---
Submit your Stepping Out - Food, Music and Entertainment announcements here: http://www.bajawesternonion.com/submitad.asp
Return to Top
---
---
Misc. Sales and Services Available/Wanted
---
Casa Decor, La Paz, Indoor And Outdoor Furniture - Interior design service. We custom make furniture:

* Largest Inventory In The Baja * Patio Furniture * Wicker, Rattan And Marble
* Rustic Hand Painted Furniture * Lighting * Metal Furniture * Copper Furniture
* Kitchen Cabinets * Doors * Floor and Wall Covering * Art * Accessories
* Fountains And Urns * Mexican Furniture * Imports From Around The World
* Very Unique Selection Of Furniture And Accessories * Furniture Packages


Fine furniture made to order. Wholesale to the trade. The Best selection in the Baja at Casa Decor. Two Locations: Casa Decor La Paz, 560 Marquez de Leon, Tel: 612-129-3364. Casa Decor Cabo San Lucas: on 4 lane KM 3.5 next to Artisanos and Natural Marble and Stone, Tel: 624-178-8146. - richards77 [-a t-] pcisys.net, http://www.antiquerowmarket.com, Baja California Sur
Learning Trip To Cuba. - Cuba is deliciously different. It provides travellers tired of mass homogenised culture with something to get their anti-imperialist teeth into. Join us in a 7 day trip visiting Havana and nearby towns.Best dance holiday package tuition with visit to clubs where you can dance the night away. Study Spanish at the University of Havana, one of the more popular ways to study enroling in interesting programs. Departing June 23 returning June 30. Guillermo Bueron, Instruction and Travel. - Guillermo Bueron Prieto, g_bueron [-a t-] yahoo.com, 612 161 4165, Todos Santos

American Insurance In Mexico - Accidents and Emergencies Happen Every Day. Your medical insurance doesn't cover you in Baja. Yes, your provider may be willing to reimburse you for your costs after months and piles of paperwork but you will pay the bill upfront. Did you know Medicare does not cover you outside of the US? No re-imbursement, period! Can you really afford to take the risk?

For as little as $75 a month you can use an insurance card instead of your credit card. Our Patriot program has you covered while traveling here in Southern Baja. Policies available for a month, 4 months or up to 2 years. Coverage within 24 hours of application. Only pay for the time you are here.
Don't Take The Risk. Emergencies Do Happen Every Day. Protect your vacation dollars. To find a rep, get an immediate quote or immediate coverage, visit us at www.americaninsuranceinmexico.com or call us at 624-122-2806 - jbarrilesj [-a t-] yahoo.com, 624-122-2806, Baja California Sur
Ipod For Sale - Almost new iPod 8 GB, $1,800 pesos buys you an incredible toy to listen to music, news, check your email, read books and many other functions. Write me at colemercedes [-a t-] hotmail.com, or call my home phone 612-124-0276, or cell phone 044-612-137-9747 - Mercedes Cole, colemercedes [-a t-] hotmail.com, 612-124-0276

News From La Canada Del Diablo - Everything in the store is marked down. We must make room for our new shipments. Ten, twenty, thirty, forty, EVEN fifty percent off on furniture, lamps, mirrors and decor items. Come in and take advantage of the great savings. Sale ends soon.


Storage Unit Specials Do you need a place to store your treasures? Don't leave your valuables unprotected while you are away for the summer. Units as low as $2.50 per day. Call, write, or come by for details. Don't forget, we have storage for your car too. Leave your auto with us for just $1.00 per day. Reserve your spot today.

Charles Stewart Artwork This may be your last chance to buy a Charles Stewart original in Todos Santos. Very soon, we will be shipping the remaining works of Charles Stewart, Todos Santos' founding foreign artist, to Taos, New Mexico to be sold in a gallery there. This is an opportunity to buy a piece of Todos Santos history. U.S. checks will be accepted.

Farmer's Market Every Saturday through June. Hours: 9 a.m. to 12 noon, under our big mango tree.

Our store hours are Monday through Saturday 9 a.m. to 6 p.m. Sunday by appointment. Thank you, Barbara, Pedro, and the Dogs. - Barbara Perkins, barbara_perkins [-a t-] hotmail.com, www.lacanadadeldiablo.com, 612-140-0069, Baja California Sur

Need a ride to or from the airport? Or someone to assist you with errands? - I am a young, bilingual Christian man and I can provide you with rides to or from the La Paz or San Jose Del Cabo airports. I can also help you with errands, or navigating the intricacies of dealing with Mexican businesses and the government; Car Registrations, TelCel and TelMex, CFE, Seguro Social, etc.

Reasonable Rates - Contact: Ernesto, Cel. 612-117-7497, ernie_net [-a t-] hotmail.com
Single Bed or Cot - Looking for a single bed or cot for sleeping outside. - Leirion leirion2 [-a t-] gmail.com, 612-131-3334
Your Ad Here - As always, you can place a Free text-based ad in the Baja Western Onion once every 14 days. Submit your Free Ad or Article Here: www.bajawesternonion.com/submitad.asp.
Put your ad in front of over 3,000 Baja Western Onion subscribers in three consecutive issues. Get more coverage for your next Yard Sale, Vehicle, Misc. Wanted or For Sale ad. For only $10 dlls US ($120 pesos), we'll extend your free private-party text-based ad for two additional issues for a total of three consecutive issues, allowing your ad to run for 14 Days. Also, we'll feature your ad in all three issues within a red, highlighted box like the one shown here.
This special offer applies only to text-based ads submitted by non-commercial, private parties, and is subject to our editorial policy. All Spring Special ads must be prepaid in advance of initial run date. Sorry, this offer not available for display banner graphics ads, or ads for businesses, real estate or rentals available. For details contact: - advertising [-a t-] BajaWesternOnion.com, www.bajawesternonion.com/advertising.asp,
---
Submit your Misc. Sales and Services Available/Wanted articles here: http://www.bajawesternonion.com/submitad.asp
Return to Top
---

---
Real Estate, Rentals, and House Sitting - Available/Wanted
---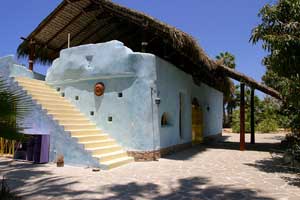 Todos Santos Beach House on a Tranquille Lush 5, 206.22 Sqmt Property - For Sale by Owner: - Two (2) separate driveway entries give the 5,206.22 sq meter (1.25 acre) property privacy from both the front and back, giving flexibility to build additional homes or to split in the future. Soil on the property is rich organic black soil, ideal for other organic gardening.

* Property is an enclosed oasis and has unlimited access to farm water that nourishes the over 85 mature mango trees, 80 lush palm trees over 5 feet, passion fruit trees, citrus fruit trees and avocado trees, all of which give the property its cool shade that is coveted in the region and frequently not available on other properties of comparable or more value in the desert landscape.
* Property has power, water (both municipal and farm water), gas and Internet.
* A 6-minute walk takes you to the secluded beach, and a 5-minute drive finds you in the heart of TS.

If you have questions or would like to make an offer after viewing the property on YouTube ( www.youtube.com/watch?v=krg9FEeiRtk), feel free to contact us. Save on the fee and make us a good offer. - Anh Walch, anhwalch [-a t-] yahoo.com, 212-692-0912, Todos Santos
House-sitting Position Sought - A retiree who is very experienced in Baja living is looking for someone who needs their casa taken care of full- or part-time. Prefers Todos Santos. Retiree is neat, loves to garden and would love to get back to Baja and take care of your place. Contact Barb at 209-469-4881 or e-mail her friends at gmatos [-a t-] icfi.com. Thank you. - Barbara Hofmann, gmatos [-a t-] icfi.com, 209.469.4881
For Rent - Quaint cottage on a lovely ranch in Pescadero: 1 Bedroom, furnished, utilities not included. Please, telephone calls only at 612-176-3119 (Pescadero). - Mariposa, mariposabcsmx [-a t-] live.com
House for Sale - We urgently need to sell our house! Finish it your own way. Even though we love this house, we need to sell it. Just two blocks from Mercado El Sol 2 in Las Brisas and 10 minutes walk to the beach. The land is 824 m2, about 8,869 ft2. There are some details that are missing so you can do it the way you want it, in other words, create your dream house. The house is 65m2 in the first story and the basements are ready to support a second and a third story. We want 60,000 USD, but we can negociate and deal with the best offer. For more information, please contact us. Thank you in advance, Marcela and Sigfrido - Sigfrido Marcela, sigfridoprado [-a t-] hotmail.com, houseforsalebcs.blogspot.com/, Todos Santos
---
Submit your Real Estate/Rentals/House Sitting/Property Management Services articles here: http://www.bajawesternonion.com/submitad.asp
Return to Top
---
Rides or Caravans Available/Wanted
NOTE: Ads will run for two weeks unless dated. Please list the date in the title, and specify which airport. Goes without saying, everyone shares expenses for beer, gas, food, etc., and let us know if you find a ride or caravan so we can remove your ad -
---
Heading South Soon - I am driving south from San Diego shortly to Southern Baja (La Ventana) with a small trailer and have room for light items. I also have room for one person. Call me on my US cell phone, 702-460-0245, and email me (I have intermittent email access but my cell phone is with me). - Dean dean [-a t-] la-ventana.com, La Paz
May 22 San Jose Airport to Todos Santo - I need ride from the airport to Todos Santos around 3:30 p.m. I have two large pieces of luggage but will pay for gas. - John Mcintosh, john [-a t-] mcintoshco.com, 707-287-3210
May 25 - Ride To SJD Airport From TS - Ride for up to 4 people and luggage to SJD airport from Todos Santos, Pescadero or Elias Calles, Wednesday, May 25th, leave TS at 11:00m. - Patricia Baum, teampaty1 [-a t-] hotmail.com, 612 145-0882
May 29 - Ride From SJD Airport To TS - Ride from SJD airport to TS on Sunday, May 29, my flight arrives at 2:45pm. Share gas - Patricia Baum, teampaty1 [-a t-] hotmail.com, 612 145-0882
June 2 - Safe Driver to Take Your Vehicle North - Safe, responsible driver and 2 wonderful great danes would like to drive your SUV, truck or wagon North for you. We can deliver your vehicle as far north as Seattle. Caravaning up with others June 2. - Dawn, dawnwaldal [-a t-] yahoo.com
late June-early July - Ride Available to Northern California - Seeking driver/s for a late June-early July migration from Todos Santos to Northern California. There's room for two people and luggage. Pet negotiable. Only good drivers need reply!! - Jane, janesipe [-a t-] gmail.com
ATV Transport Needed Need quad transported from Northern California to Todos Santos. Standard 400cc quad. Contact Lou - lparrague [-a t-] capturet.com, 510-551-9666
---
Submit your Rides or Caravans Needed/Available articles here: http://www.bajawesternonion.com/submitad.asp
Return to Top
---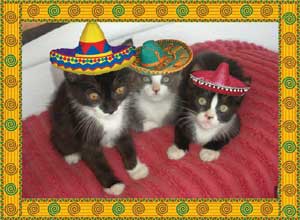 Pet Corner (Lost and Found pet articles will run for two weeks)
Let us know if you find or place your pet so we can remove your ad -
---
Adopt Now ->>>>> - Kitties and puppies galore. Can't you take just one? There are three puppies left out at Punta Lobos (see Carlos), I have 3 adorable kittens (see picture), and Angelique has another batch (see ad below). We really need your help.

Just one? I'll be happy to deliver. - Pam Cobb, senoracobb [-a t-] yahoo.com, 612-102-7983, Todos Santos
Dog For Sale/ Se Vende - Se venden hermosos cachorros raza salchicha de 1 mes de nacido buen precio. Para mas informacion, celular: 04412-151-4978, gelacio_tds [-a t-] hotmail.com - Gelacio Orozco, gelacio_tds [-a t-] hotmail.com, Todos Santos
Puppies - Free To Good Home! - Three adorable female puppies, white, black and brown markings. Fur soft as down, gentle disposition -- they look like little teddy bears. Will spay puppies at 6 months for new owners. Contact Mark or Jayne at 612-119-6016 - Mark Garrity, ohsojayne [-a t-] msn.com, 612-119-6016, Todos Santos
Gold Fox - A small dog, looks like a yellow fox, a mix of some sort, has showed up, has slight limp, hungry, bright eyes. Do you own him? - Mary, 612-142-1140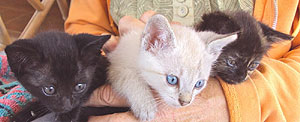 Kitties, Kitties, and More Kitties - It's been "raining" kitties! Four new arrivals at Kitty Heaven, three kitties at Dr. Franzoni's (soon to to go to Kitty Heaven) and two are in foster care. All colors, all very young and playful. For more information, call Angelique at 612-145-0250 or write her at BajaKitties [-a t-] Yahoo.com

Kitty Heaven is the only all-cat refuge in Baja California Sur. Visit us on the web at http://bajarescue.org/#KittyHeaven. We survive via your kind donations. To send your support, please click the "Donate" button below:
---
Submit your Pet Corner articles here: http://www.bajawesternonion.com/submitad.asp (and remember to Spay and Neuter your pets)
Return to Top
---
Quote of the Day: " "It's the end of the world as we know it and I feel fine." " ~ REM
---
Looking for the complete Community Events Calendar? Click Here!
---
Return to Top
---
---
Help Support The Baja Western Onion!

We can accept donations by Credit Card, PayPal, cash, check or direct deposit.

For more information, please visit our web site at http://www.BajaWesternOnion.com/donate.asp.
Copyright © 2006 - 2011. The Baja Western Onion. All Rights Reserved.
Published Using 100% Recycled Electrons :)
Return to Top
---