On The Web Site:
---
Community Access
Policia Preventiva
Todos Santos Police
612 145-1052
Commandante Navarro


Ministero Publico
State Police
612 145 0198
Commandante Erigoyen


Bomberos
Fire Department
Cel. 612-142-6387
Commandante Cadena


---








---
Baja Western Onion
Alan Thompson - Publisher
Debra Webster - Advertising
e-mail For General Feedback
---
---
News and Events, Questions and Answers
---
Standing Women - All mothers, women, girls: Join us at 1p.m. at Pescadero's Central Plaza, La Concha, to "stand together to save the world" this Sunday, May 8, 2011. To better understand the purpose behind this gathering, as well as how "Standing Women" have multiplied world-wide from two to millions, go to www.standing women.org. Men and children are welcome too. - Leirion, leirion2 [- a t -] gmail.com, www.standingwomen.org, 612-131-3334, Pescadero
Eta Aquarids Meteor Shower - Courtesy Baja Pony Express - May 5-6, 2011. The Eta Aquarids are a light shower, usually producing about 10 meteors per hour at their peak. The shower's peak usually occurs on May 5 & 6, however viewing should be good on any morning from May 4 - 7. The radiant point for this shower will be in the constellation Aquarius. Best viewing is usually to the east after midnight. -
Judith Farber Steet Photography Workshop, Todos Santos, Bcs June 4, 3-6 P.m. - Whether you're a beginner looking to improve your compositional skills or a pro needing inspiration Judith Farber's photography work shop in Todos Santos will help bring your photographs up a notch. An acclaimed documentary photographer who trained with the likes of Ansel Adams, Judith Farber aims to teach us the "art of seeing." We'll explore the historic downtown of Todos Santos BCS with her expert eye training us to see the micro moments that stand out for a photographer, as well as how to best use the camera to capture them. Get professional feedback right as you click the shutter, and try out suggestions and improve your photographic eye in just a couple hours. Strengthen your compositional skills and create perfect framing in your viewfinder; learn to use shadows, backgrounds, lines, and patterns, as well as how to incorporate the concepts of light and simplicity. Farber has taught compositional skills to every age level for the last 12 years, and known for her Sundays in NY, a street photography workshop that brings participants on inspiring excursions on the streets of NY. Suggestions, tips & feedback are offered as participants click the shutter, improving their photographic eye. She has written a number of articles on composition, simplicity, self-editing, judging, critiquing, "how to see," and is also a co-founder of photoworkshop.com, the first online educational photographic website. Judith Farber will be in Todos Santos June 4, 3-6 p.m. so don't miss out on this opportunity to study with a pro! The class is half full with six spaces remaining, so reserve your space today and come away with a whole new perspective on street photography. - Alvaro Colindres, ac [- a t -] alvarobaja.com, www.facebook.com/SundaysInNewYork, 612-108-1030 Cel, Todos Santos
More About ATM Safety - Courtesy Baja Pony Express - Sounds like its time to review security at the ATM's. There are two items the thief needs to steal your account information and money. First, the thief needs a copy of the magnetic strip on the back of the card. That can be done in a variety of ways, most topically done with a card scanner placed there by the thief. Second and most important, the thief needs your pin number. The Pin is encoded on the strip but the thief cannot get that coding from the strip. They must see you insert the PIN!!! Here is my personal security plan: First, I pull on the card reader or card slot. If it's loose, there is a card reader attached. In fact, you may be able to pull it off. It is either magnetically attached or attached by clips. Second, I always cover the keypad when I enter my pin. The guy standing beside you talking on the phone is really taking an HD video of your pin entry with his camera phone. If the card sticks, the thief could be using the trap method. In all cases, the theives need the PIN!!! Never use a free standing ATM at a convenience store. A used ATM can be purchased on Ebay for under $3000. That machine can be reprogrammed to record your magnetic strip information and PIN entry. That info is immediately transmitted overseas and your account will be emptied. Links to the most popular types of ATM scams. Look and read carefully: www.snopes.com/fraud/atm/atmcamera.asp www.snopes.com/fraud/atm/atmtheft.asp Here is another reminder about credit card security. When you purchase with a credit card, hold the card until the cashier is ready for the card. The person standing in line talking on the phone is really taking a video of your card. In the past I the turned the card over (upside down) - bad idea!!! They can read the number in reverse and the back of the card shows your "security number". Remember the Iphone 4 has HD video capability. - the computer guy Most of the year we live in Baja Norte, near Ensenada. This ATM scam has been up there for awhile. Unfortunately, it looks as though the scammers have moved down South. Do not allow anyone near you when using the ATM. If they crowd you, leave or loudly tell them to leave. This happened at all ATMs in Baja Norte, not just one banko. Everyone be alert and keep your eyes open! Don't let anyone "help" you with your ATM card. Good luck!! Patti LaMunyon plamunyon [- a t -] yahoo.com
Talking ATM Machine - Here is a very funny video of a talking ATM machine. Make sure your computer's sound is on: www.youtube.com/watch?v=DLM-ZXOyDyA -
Medication Needed. - If you are coming or know someone coming from the States soon, I would be very thankful if this person could bring to Todos Santos a pain supplement that will arrive to his-her door from Amazon. Please, let me know. - Sylvia Perel, sylvia [- a t -] latinofilmfestival.org
ALMA´s Dancing Under The Stars - Courtesy Baja Pony Express - Don´t miss ALMA´s Dancing Under The Stars this year! 21st of May, 7pm [- a t -] Hotel Pescadores, Los Barriles. tickets $25 USD. Dinner and life band included. Apart from lots of dancing we´ll hold a silent auction and raffle our cool ALMA Dune Buggy. Tickets available at Buzzards, Wolf Management Office, Vet Clinic at North Beach and from ALMA volunteers. For more info contact Sheila M. 044 624 137 7683 or e-mail to bajasheila [- a t -] yahoo.ca -

Mosquitoes - Courtesy of Ventana.View [- a t -] gmail.com - Here is another story about screening off septic tanks vents, house vents, and vent tubes on water pilas. Three days ago all the sudden I had 40 mosquitoes in my bathroom closest to the road. And some in the room with the water heater. I had no idea where these were coming from, from none to many in 1 day. Then while discussing it on the phone with a friend it hit me a week before across the street they were working on hooking up a water line to a new business. It is to be a laundry mat. So I looked and I could see a septic vent sticking out of the roof, it is basically a week for hatching time. I went over with ladder, screen and wire and closed it off. They had plastic bags in the drain tubes. And noticed they used a tee for the vent at the water tank and inserted screen within that too. Results next day no mosquitoes in my bathroom or hot water heater room. Mosquitoes track carbon dioxides, that is why some expensive traps burn propane. If you have mosquitoes they are coming from a source nearby and right now it should be septic tank or construction related. Be proactive now. - dean
---
Submit your News and Events, Questions and Answers articles here: http://www.bajawesternonion.com/submitad.asp
Return to Top
---
---
Featured Events This Week
---
Wednesday, May 04
Jumping, Juicing And Cleansing Workshop - 11 a.m. - 1 p.m. (includes lunch), Serendipity B&B in Todos Santos, $200 pesos or $20 usd for workshop and lunch. Limited space. Contact Corine Arnaud, 624-161-0294, corine [- a t -] jump4life.com.mx
Thursday, May 05
Cinco de Mayo - Celebrates the victory of the Mexican Army against French forces on May 5, 1862. Not a national holiday in Mexico, but is an official holiday in the State of Puebla where the battle took place. - Source: Wikipedia, en.wikipedia.org/wiki/Cinco_de_Mayo -

Gardel De Bergerac: Cada Día Canta Mejor - Musical comedy, based on the life of the famous argentinian singer Carlos Gardel. 8:30 p.m., Corazón Café (Revolución esq. Constitución) downtown La Paz. $130 pesos pp (one drink and show); $190 pesos pp (one drink, small "botana" and show); $295 pesos pp (full dinner, drink and show). Info/ reservations: (612) 128 8985, Facebook "Restaurante Corazón" - Alfonso Figueroa, info [- a t -] elcolectivochunique.com, www.elcolectivochunique.com, (612) 159 3653, La Paz
Friday, May 06 thru Sunday, May 08
Probaja Desert Series 2011 - XVIII Dos Mares 500, La Paz, Nacional (Registrada ante la FMADAC por Club La Paz) www.probajaonline.com
Saturday, May 07
Scavenger Hunt/Car Rally to Benefit Baja Dogs - La Paz, 11am to 6 p.m.. Registration $1000 pesos for team of 4. Business Sponsorships available. Contact Ben Lopez - lopezbenjamin1 [- a t -] hotmail.com

Mother's Day Concert - Tracy Durland, Vocalist, Cafelix, Todos Santos, 7:30 p.m. - Tracy Durland, mazytronk [- a t -] hotmail.com, 612 154 4729

Mexican Night - Guaycura Hotel presents Angelica Valenzuela and her show "Alma Mexicana." 6:30 pm. on the SkyDeck - Mariana Salgado, reservation [- a t -] guaycura.com.mx, www.guaycura.com.mx, 612 1750800, Baja California Sur
Sunday, May 8
Standing Women - Public Demonstration of Solidarity - 1p.m., Pescadero's Central Plaza, La Concha. - Leirion, leirion2 [- a t -] gmail.com, www.standingwomen.org, 612-131-3334, Pescadero
Tuesday, May 10
Mother's Day In Mexico -
---

---
Submit your Community Events and Workshops here: http://www.bajawesternonion.com/submitad.asp
Return to Top
---
---
Stepping Out - Food, Music and Entertainment
---
Mexican Night - Guaycura hotel invites you to have a wonderful night with Angelica Valenzuela and her show "alma Mexicana" on Saturday 7th May at 6:30 pm. We wait for you at our sky deck where you can enjoy a fantastic view to the sea and look at the sun set. - Mariana Salgado, reservation [- a t -] guaycura.com.mx, www.guaycura.com.mx, 612 1750800, Baja California Sur

Buena Vida's New Menu And Hours! - Things have slowed down so we're changing our Spring season hours. We're open Friday-Monday 5:00-9:30pm. We now have an Early Bird Special 5-7p nightly. Order any pizza and your second pizza is half price. I have changed the way things are being cooked up at Buena Vida. I have chucked my menu and I am now winging it. My menu will change daily according to whats fresh and available at the fish markets, butcher and the local organic gardens. Its all fresh from the source and right to your table. I will always have pizza options but I am shifting my focus to fish, meats and poultry. Some of my dishes so far have been: Stewed Octopus Sizzling Shrimp Bahian fish stew Seared Scallops and so on. Please email me if you want to receive my blog of my nightly specials Fri-Mon. You can still call ahead for the Organic Chicken in a clay pot. I only need an hours notice! Don't forget we Deliver (no min charge or delivery fees) including Las Tunas. I'll even go to Pescadero for BIG orders. Please support your local restaurants both old and new during the low season. - Jessie Rutowski, jessierutowski [- a t -] gmail.com, www.buenavidapizzeria.com, 612-151-1431, Todos Santos

Tracy Durland Sings At Cafelix For Mother's Day On Saturday May 7 at 7:30 p.m. - An eclectic mix of songs in Spanish and English (with a surprise third one as well!) featuring Jazz Standards and Romantic Classics of Mexico. Mark your calendars for an unusual evening of music dedicated to all mothers and joining our community in sharing songs of love and passion from both our countries. Tracy Durland Canta El 7 De Mayo at Cafelix, 7:30 de la noche Para El Dia De Las Madres, una mescla de canciones en Espanol y Ingles (con una sorpresa de un tercer idioma tambien!) incluyendo canciones tipicas de Jazz y Classicas Romanticas de Mexico. Marca tu calendario para una noche especial de musica, dedicada a todas las madres (el Sabado antes de Dia de Las Madres) y uniendo nuestros communidades para experimentar las canciones de amor y de passion de ambos paises. - Tracy Durland, mazytronk [- a t -] hotmail.com, 612 154 4729, Todos Santos
This Will Go Fast So Come Early - New Sesame Black Bean Chicken Sausage is a winner. I have a limited amount, as it is a first run trial batch and it is a keeper. I also have Chinese Pork Sausage, Jalapeno and Garlic Sausages, Sweet Fennel Italian and Chicken Apple Sausages. I will still be at the Farmers Markets on Wednesdays and Saturdays as long as you keep coming. I will continue to carry Organic Chickens, Thick Sliced Smoked Bacon, a variety of cheeses both cow and goat, milk when I can get it and artisan breads. See you at the market! - Andrea Park, andrea [- a t -] bellasol.org, 612-118-6031, Todos Santos

Zen Garden Café - Zen Garden Café is evolving! We now serve exotic Thai, modern Japanese, organic Chinese, fresh Vietnamese and Korean BBQ. Daily specials every day:
Three Sushi Rolls for The Price of Two! Chinese Combo: 2 Items With Fried Rice. Great Vegetarian Dishes And Tofu. Lunch And Dinner 12 P.M. To 9 P.M., Closed: Tuesdays
Please come to discover our delicious dishes and best deal in town! - Zen Garden Cafe, yanggum [- a t -] zengardencafe.com, www.zengardencafe.com, 612-145-1088
---
Submit your Stepping Out - Food, Music and Entertainment announcements here: http://www.bajawesternonion.com/submitad.asp
Return to Top
---
---
Misc. Sales and Services Available/Wanted
---
Casa Decor, La Paz, Indoor And Outdoor Furniture - Interior design service. We custom make furniture:

* Largest Inventory In The Baja * Patio Furniture * Wicker, Rattan And Marble * Rustic Hand Painted Furniture * Lighting * Metal Furniture * Copper Furniture * Kitchen Cabinets * Doors * Floor and Wall Covering * Art * Accessories * Fountains And Urns * Mexican Furniture * Imports From Around The World * Very Unique Selection Of Furniture And Accessories * Furniture Packages

Fine furniture made to order. Wholesale to the trade. The Best selection in the Baja at Casa Decor. Two Locations: Casa Decor La Paz, 560 Marquez de Leon, Tel: 612 1293364. Casa Decor Cabo San Lucas: on 4 lane KM 3.5 next to Artisanos and Natural Marble and Stone, Tel: 624 1788146. - richards77 [- a t -] pcisys.net, http://www.antiquerowmarket.com, Baja California Sur

American Insurance In Mexico - Accidents and Emergencies Happen Every Day. Your medical insurance doesn´t cover you in Baja. Yes, your provider may be willing to reimburse you for your costs after months and piles of paperwork but you will pay the bill upfront. Did you know Medicare does not cover you outside of the US? No re-imbursement, period! Can You Really Afford To Take The Risk?

For as little as $75.00 a month you can use an insurance card instead of your credit card. Our Patriot program has you covered while traveling here in Southern Baja. Policies available for a month, 4 months or up to 2 years. Coverage within 24 hours of application. Only pay for the time you are here.

Don't Take The Risk. Emergencies Do Happen Every Day. Protect Your Vacation Dollars. To find a rep, get an immediate quote or immediate coverage, visit us at www.americaninsuranceinmexico.com or call us at 624-122-2806 - jbarrilesj [- a t -] yahoo.com, www.americaninsuranceinmexico.com, 624-122-2806, Baja California Sur

Recikleo The New Store By Gotbaja? - Los invitamos a que conozcan Recikleo, una tienda en donde encontraras objetos originales y prácticos hechos con materiales reusados, perfectos para regalos o para tu casa. La tienda de la que todos estan hablando. Estamos en GotBaja Juarez e/ Hidalgo y Topete, Todos Santos We invite you to visit Recikleo, a store where you will find original and usefull objects made of reused materials, perfect for gifts or for your home. The store everyone is talking about. Bring your empty liquor bottles and get a discount in some of our products. We are located at GotBaja, Juarez between Hidalgo and Topete. - info [- a t -] gotbajamaps.com, www.facebook.com/recikleo, 178 0067, Todos Santos
Need A Ride To Or From The Airport? Or Someone to Assist You With Errands? - I am a young, bilingual Christian man and I can provide you with rides to or from the La Paz or San Jose Del Cabo airports. I can also help you with errands, or navigating the intricacies of dealing with Mexican businesses and the government; Car Registrations, TelCel and TelMex, CFE, Seguro Social, etc.

Reasonable Rates - Contact: Ernesto, Cel. 612-117-7497, ernie_net [- a t -] hotmail.com

Toyota Camry 1997 - Vendo Toyota Camry XLE modelo 97, importado con placas fronterizas aire acondicionado, stereo CD, 135, 000 miles, transmision automatica, motor V6, interiores muy reconfortables y exterior en buen estado. buena suspension. $3300 USD or 40, 000 pesos. - Josue Castillo, jocama85 [- a t -] hotmail.com, 6121483786, Todos Santos
Selling a 1997 Toyota Camry XL, Imported, with border plates, air conditioning, , stereo CD, 135, 000 miles, automatic transmission, V6 engine, very comfortable interior and exterior in good condition. Good suspension. $3300 USD or 40, 000 pesos - - Josue Castillo, jocama85 [- a t -] hotmail.com, 6121483786, Todos Santos
American Notary In Todos Santos? - Looking for someone to notarize some bank documents that we have been sent here, and need to send back to the States. Are you a U.S. Notary Public, or do you know where we might find one here in town? Thanks for any help! - kaye.karen3 [- a t -] gmail.com, Todos Santos

Transportation To Cabo Special Offer - Safe Ride in Baja Sur is announcing the "Annual Spring Discount". We hope we can help with your spring visitors flying into Cabo who may need transportion to Todo Santos or for those folks who plan to return home. We are offering a 10% discount on our regular fare. Please email us for a quote. Saferideinbajasur [- a t -] .... Offer expires May 30th, 2011. Thanks www.saferideinbajasur.wetpaint.com Please visit our website - Safe Ride In Baja Sur, saferideinbajasur [- a t -] gmail.com, Todos Santos
Your Ad Here - As always, you can place a Free text-based ad in the Baja Western Onion once every 14 days. Submit your Free Ad or Article Here: www.bajawesternonion.com/submitad.asp.
Put your ad in front of over 3, 000 Baja Western Onion subscribers in three consecutive issues. Get more coverage for your next Yard Sale, Vehicle, Misc. Wanted or For Sale ad. For only $10 dlls US ($120 pesos), we'll extend your free private-party text-based ad for two additional issues for a total of three consecutive issues, allowing your ad to run for 14 Days. Also, we'll feature your ad in all three issues within a red highlighted box like the one shown here.
This special offer applies only to text-based ads submitted by non-commercial, private parties, and is subject to our editorial policy. All Spring Special ads must be prepaid in advance of initial run date. Sorry, this offer not available for display banner graphics ads, or ads for businesses, real estate or rentals available. For details contact: - advertising [- a t -] BajaWesternOnion.com, www.bajawesternonion.com/advertising.asp,
---
Submit your Misc. Sales and Services Available/Wanted articles here: http://www.bajawesternonion.com/submitad.asp
Return to Top
---

---
Real Estate, Rentals, and House Sitting - Available/Wanted
---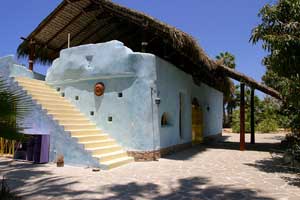 Todos Santos Beach House On A Tranquille Lush 5, 206.22 Sqmt Property - For Sale By Owner: - Two (2) separate driveway entries give the 5, 206.22 sq meter (1.25 acre) property privacy from both the front and back, giving flexibility to build additional homes or to split in the future. Soil on the property is rich organic black soil, ideal for other organic gardening.

* Property is an enclosed oasis and has unlimited access to farm water that nourishes the over 85 mature mango trees, 80 lush palm trees over 5 feet, passion fruit trees, citrus fruit trees and avocado trees, all of which give the property its cool shade that is coveted in the region and frequently not available on other properties of comparable or more value in the desert landscape.
* Property has power, water (both municipal and farm water), gas and Internet.
* A 6-minute walk takes you to the secluded beach, and a 5-minute drive finds you in the heart of TS.

If you have questions or would like to make an offer after viewing the property on YouTube (www.youtube.com/watch?v=krg9FEeiRtk), feel free to contact us. Save on the fee and make us a good offer. - Anh Walch, anhwalch [- a t -] yahoo.com, 212-692-0912, Todos Santos

Housesitting - We are a retired couple from Vancouver Island, BC and have been house sitting for over 20 years in various areas of Canada. We recently spent over 4 months in Baja traveling the whole peninsula with our small trailer and loved every minute of it. We are not just plant watering,animal care specialists. We come with a long list of maintenance,landscaping, janitorial and business skills, just to mention a few. We will be returning to Baja again later this year and would really like to help someone out if they see a need for our skill set. - jduyf [- a t -] hotmail.com
Lookng To House-sit Or Rent In Pescadero/todos Santos - Responsible individual with many local references looking to house sit over the summer. Please call for interview. (rarely check email...) - Alex Mood, alexmbcs [- a t -] yahoo.com, 612.133.0483, Todos Santos
Summer House Sitting Position Available Pescadero Todos Santos - Extremely responsible non drinking, non smoking senior citizen on social security seeks a summer residence. I have impeccible house sitting Mexico references, and I adore plants and gardens. A house sitter unlike a renter is a conservator, for maintenance and improvements. Even though partially disabled, I am a retired industrial commercial electrician with documented extensive experience with off grid solar voltaic and genset batteries engineering, troubleshooting and classroom teaching. - David E., mexbungalows [- a t -] gmail.com, Baja California Sur
Room Rental - It is beautiful and tranquil out here by the beach. This is a gated community, but very rustic. Two minute walk to the beach plus a wonderful view. The bedroom is large with its own beautiful bathroom and big closet. I would like a mature, non-smoking roommate for a minimum of one month. Longer would be better. 20 minutes from Cabo in Rancho Migrino, and the new highway makes it so much easier. All utilities are included and internet use and dish TV in living room, washer/dryer/ large kitchen to share. You will never want to leave. $7000 pesos/mo or $550 US. Everything furnished except your food. Write soon. - Jeanne Durban, caboqt [- a t -] hotmail.com, none, n/a, Cabo San Lucas
New Home With Pool - Selling a brand new home with a nice swimming pool here at Todos Santos. Asking $120,000 USD obo. Two bedroom and two baths with lot area of 500 m/2. Views of the Pacific Ocean. All utilities are in and working. - lowerbaja [- a t -] yahoo.com, 612-161-4728, Todos Santos
---
Submit your Real Estate/Rentals/House Sitting/Property Management Services articles here: http://www.bajawesternonion.com/submitad.asp
Return to Top
---
Rides or Caravans Available/Wanted
NOTE: Ads will run for two weeks unless dated. Please list the date in the title, and specify which airport. Goes without saying, everyone shares expenses for beer, gas, food, etc., and let us know if you find a ride or caravan so we can remove your ad -
---
ATV Transport - need quad transported from norcal to todos santos. standard 400cc quad. contact lou - lparrague [- a t -] capturet.com, 510-551-9666
May 3 or 4th - Caravan / Ride With Me - I am leaving the Baha on May 3 or 4th. I would like to follow someone north or find someone to ride with me. (preferable female) I am going as far as Vegas. Contact me [- a t -] 624-154-1137 - Lori Ahlbrandt, ahlbrandtlori [- a t -] yahoo.com, 624-154-1137
May 10 / 11th - Arizona/California Via Baja Ferry - Traveling via the Baja Ferries from La Paz mid May 10/11th 2011 and looking for someone to caravan with through Nogales and points north California, Arizona. I speak fluent Spanish and would be happy to help translate if needed. Since the ferry arrives to Topolobampo late at night, there is the Hotel Marina and Restaurant for an over night and leave the next day for the border. About 120 miles south of the Nogales border crossing there is a junction that takes you to Mexico 3 and crosses the border at Mexacali and Tecate for people traveling to California and points northwest.

I travel with 2 nice dogs and stay at pet friendly motels/hotels. I do believe its pretty safe crossing any of the borders, it just always seems better safety in numbers. Please feel to e-mail or call me, treaturfeet [- a t -] yahoo.com, 624-141-0332 and let me know if this works with your plans to caravan back to Arizona or California via the Baja Ferries. - Sylvia, treaturfeet [- a t -] yahoo.com, 624-141-0332, Los Barriles
---
Submit your Rides or Caravans Needed/Available articles here: http://www.bajawesternonion.com/submitad.asp
Return to Top
---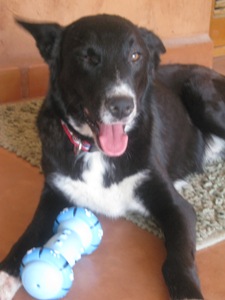 Pet Corner (Lost and Found pet articles will run for two weeks)
Let us know if you find or place your pet so we can remove your ad -
---
"Guapo Is Lost" - Lost- Beautiful black border collie mix with white chest. Pointed wolf ears. About 1 yr. old, male, recently neutered. Sleek and trim. Was wearing a red and white collar. Last seen in San Sebastian. If you have seen him, please call or write Marilyn at Flora del Mar - Marilyn Martin, redcliffproperties [- a t -] gmail.com, 612-153-5354
Baja Dogs In Need Of Transporters - Are you flying Cabo to Calgary before April 30th via Westjet? Would you be willing to take 3 dogs who would be travelling in Cargo. Baja Dogs will do everything they can to make this as easy as possible for you. They will have someone with you at check in and take care of all the paper work. The adopters of these dogs would be willing to pay a small amount towards your airfare. Please contact dhorearyon [- a t -] hotmail.com as soon as possible if you can help! - Dhorea Ryon, www.bajadogslapaz.org, 612-140-2575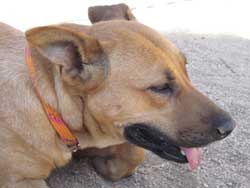 Cynthia Needs A Loving Home - Cynthia showed up in our neighborhood in Las Tunas ready to have pups. She had them, homes were found for them, we spayed her, and now it's time for her to find her special home. She is medium size, light brown, and has lovely caring eyes. Please call me or Zephr at 612-178-0155. - Christina Douglas, cdoug1946 [- a t -] yahoo.com, 612-103-7021, Todos Santos
Gold Fox - A small dog, looks like a yellow fox, a mix of some sort, has showed up, has slight limp, hungry, bright eyes. Do you own him? - Mary, 612 142 1140
---
Submit your Pet Corner articles here: http://www.bajawesternonion.com/submitad.asp (and remember to Spay and Neuter your pets)
Return to Top
---
Quote of the Day: " Folks can't carry around money in their pocket. They've got to go to an ATM machine, and they've got to pay a few dollars to get their own dollars out of the machine. Who ever thought you'd pay cash to get cash? That's where we've gotten to. " ~ Bill Janklow
---
Looking for the complete Community Events Calendar? Click Below:

---
Return to Top
---
---
Help Support The Baja Western Onion!

We can accept donations by Credit Card, PayPal, cash, check or direct deposit.

For more information, please visit our web site at http://www.BajaWesternOnion.com/donate.asp.
Copyright © 2006 - 2011. The Baja Western Onion. All Rights Reserved.
Return to Top
---