On The Web Site:
---
Community Access
Policia Preventiva
Todos Santos Police
612 145-1052
Commandante Navarro


Ministero Publico
State Police
612 145 0198
Commandante Erigoyen


Bomberos
Fire Department
Cel. 612-142-6387
Commandante Cadena


---








---
Baja Western Onion
Alan Thompson - Publisher
Debra Webster - Advertising
e-mail For General Feedback
---
---
News and Events, Questions and Answers
---
Help Needed For The Hogar. - The Hogar del Niño is located north of Todos Santos just off the highway before the Pemex on a mini ranch. This home (some refer to as an orphanage) is caring for boys and girls placed by DIF who need protective care. The home is locally run and NOT funded by the government. Joel and Alicia Hernandez rely solely on donations from the community to feed and house the twenty two children in their care, along with a staff of volunteers.

Currently the hogar needs money for food and shoes for the kids. Please consider giving to this home not only now but on a regular basis. Donations can soon be made on-line through their web site www.hogardelnino.org.mx but currently may be made at the Banorte Bank. The acct. # is: 0615296470. If you would like to provide meals, contact Lisa Welch. Her email is: lwelsch [- a t -] cbriveras.com. Thank you for giving to the children of the Baja! - Diane Phillips, www.hogardelnino.org.mx, 612 145-0584 , Todos Santos
Red Autismo Non-profit - OXXO convenience stores has chosen Red Autismo [Autism Network] non profit for the round up to the nearest pesos for the months of April, May and June of 2011. With your help buying at all OXXO convenient stores in La Paz, Cabo San Lucas y San Jose del Cabo, we can raise funds for the construction of our center. For further information contact: Lemonia 624-1668186 - Lemonia Aretos, redautismo [- a t -] hotmail.com
Expressive Arts Workshop Moved To Saturday May 14th - Cultivate Creativity Expressive Arts Workshop will now be held on Saturday, May 14th, 1-4 PM at La Arca, in Todos Santos. Fee is by donation. Come and unleash your creativity! In the workshop we will play and experiment with meditation, drawing, movement, writing, and drama.

Zoë Edmonds, MA, brings her experience as expressive arts therapist, muliti-disciplinary artist and teacher to Todos Santos to help people tap into their creativity. Open to artists working in any medium or anyone who wants to deepen their creative expression.

Workshop space is limited and pre-registration is required for participation. Deadline to register is Saturday, May 7th. Please visit art for life website for more information. - Zoe Edmonds, zoe [- a t -] artforlifebaja.com, www.artforlifebaja.com, 612-105-0056, Todos Santos
Dharma Talks By Robert Hall - Dharma Talks offered by Robert Hall, Sundays 10 to 11:30 am at La Arca located on Calle Topete corner of Pilar. The talks are preceded by a period of guided meditation with instructions in the Vipassana tradition. Everyone is welcome. Select talks are also available on-line for listening from the blog site. If you missed the talk, The Psychology of Awakening, a conversation between Robert Hall and Robert Saltzman, the talk is also available for listening. - Alvaro Colindres, eldharma [- a t -] mac.com, roberthalldharmatalks.wordpress.com/, 6121450676, Todos Santos
ATM Alert - Courtesy Baja Pony Express - This afternoon my husband Stephen and I went to the Banamex ATM machine to withdraw money. As my husband entered the ATM room a Mexican man came in behind him. Stephen offered to let the man go first, but the man stepped back. The ATM machine did not work, it did not give the money and the transaction could not be cancelled. The man stepped up, too close, and asked if Stephen wanted dollars or pesos. As Stephen removed his ATM card from the machine, the man quickly slid his card into the machine. Stephen knew immediately that somehow he had been ripped off. As soon as we got home, we checked our online information and $867 had been withdrawn at the Banamex ATM in Los Barriles. The transaction has been reported to the fraud unit of our bank, and we are reporting this to the manager of Banamex. Beware! Holly Burgin - burgin.holly [- a t -] gmail.com, Los Barriles
Qi Gong - A Special Presentation - Monday, May 2nd, 3-6pm - Don't Miss It! - Practice and learn simple essential tools for your health and well-being. The program offers a balance of standing postures or performing simple repetitive movements, breathing meditations standing and sitting, and relaxation exercises on floor mats, all which circulate your chi energy to heal what needs attention.

This is a one-time opportunity to experience two Qi Gong instructors from different backgrounds sharing a teaching here in Baja. Rhoda Jacobs, certified T'ai Chi Foundation instructor since 1974, has invited Daniela Hauptmann as a guest instructor for this program. Daniela currently teaches in Napa Valley and is certified by Sifu Sam Tam of Vancouver to teach Tai Chi and Qi Gong worldwide.

Wear comfortable clothing. Yoga mats and cushion/zafus provided. Yandara Yoga School 3-6pm $30 USD / $350 pesos, includes a light meal following the program. For more information: Email/call Rhoda (see below)

Yandara is on the beach about 20 min. South of Todos Santos at km 74. Pass the Los Cerritos Beach club entrance and pass Rancho Nuevo. 1km past Rancho Nuevo, turn Right at the big empty billboard structure (km 74). The road will "T". Turn Right and go 1/2 km. Yandara is on the left at the cement water tower where you can park. You will see palapas, and a Qi Gong sign. If you get lost call Shane at 044-612-161-4353. - barakabaja [- a t -] gmail.com, 044 612 157 6088, Todos Santos
Warning To Dog Owners - Please keep your dogs out of the huertas/chili fields. There have been several deaths lately and near deaths because the growers are putting poison in the fields to keep dogs out. - Maryann, maryanndoug [- a t -] gmail.com
Library News - We are in need of donations for our Spanish section - any books in good condition gratefully accepted. Did you know that your membership dues for the library help pay the rent for the building that we share with the Palapa society? We also rely on your membership and donations to purchase supplies such as scotch tape, paper towels, etc.

We are open Monday, Wednesday and Friday from 10:00 a.m.to 1:00 p.m. and we plan to stay open all summer. We are located on Calle Obregon. - info [- a t -] palapasociety.org, 14-50-299
Mexico Travel Warning In Perspective - Courtesy Baja Insider - "April 22, 2011 The US Department of State has renewed the Travel Warning for Mexico. The travel warning is very carefully worded and we recommend you read the document with equal care. It is important to note that despite with glaring headlines in the US decry, the travel statement has not changed significantly since being upgraded to a travel warning in April of 2010."

Here is a link to the full article on the Baja Insider Web site: www.bajainsider.com/baja-california-travel/mexico-travel-warning.htm -

Bureaucracy Thwarted / La Burocracia Frustrado - Anyone who has made repeated attempts to get anything done when working with a government bureaucracy, whether it's getting a driver's license, a passport or a residency permit, will appreciate this short video from the Jameson Notodo Filmfest. In Spanish, with English sub titles. Note: Some videos on this site may not be suitable for all audiences: www.notodofilmfest.com/#/Home/Ficha/29817/

Cualquier persona que ha hecho repetidos intentos de hacer nada cuando se trabaja con una burocracia gubernamental, si se trata de obtener una licencia de conducir, un pasaporte o un permiso de residencia, podrán apreciar este breve vídeo del Festival de Cine de Jameson Notodo. En Español, con subtítulos Inglés. Nota: Algunos videos en este sitio puede no ser adecuado para todos los públicos: www.notodofilmfest.com/#/Home/Ficha/29817/

Notodofilmfest.com is an initiative of Notodo.com based on Javier Fesser's original idea: a festival that puts Internet at the service of cinema as a formula for discovering new talent in order to experiment with a new medium within the reach of everyone and achieve a very wide dissemination. With eight editions behind it, Notodofilmfest.com is widely recognised in Spain as Internet's reference film competition.

Jameson Notodofilmfest es una iniciativa de Notodo.com a partir de una idea original de Javier Fesser: un festival que pone Internet al servicio del cine como fórmula para descubrir el nuevo talento, para poder experimentar con un nuevo medio al alcance de todos, y para conseguir una muy amplia difusión. Con ocho ediciones a sus espaldas, Jameson Notodofilmfest es ampliamente reconocido en España como la convocatoria de referencia del cine en Internet. -
---
Submit your News and Events, Questions and Answers articles here: http://www.bajawesternonion.com/submitad.asp
Return to Top
---
---
Featured Events This Week
---
Saturday, April 30
Dia Del Niño - Children's Day, Mexico - Annual celebration observed throughout Mexico. Information in Spanish: diadelnino.yaia.com/historia.html

San Jose Del Cabo 3rd Annual Organic Spring Festival - Music, workshops, entertainment, dance, food, and presentations. All day/night, beginning 9:00 AM. www.sanjomo.com for directions. - Sanjomo Market Committee, info [- a t -] sanjomo.com, 044 624 108 4235, San Jose Del Cabo

Live Rumba-pop at Guaycura - "Los Pulpos en su tinta," 6:30 pm to close. Sky Deck Guaycura Hotel, reservation [- a t -] guaycura.com.mx, www.guaycura.com.mx, + 52 (612) 1750800, Todos Santos

5th Annual Dogs-n-Dogs End Of Season Concert - Zacs Bar and Grill, Zacatitos on the East Cape. Live music by The Lost Dogs. Starts about an hour before sundown. Info: - David Racette, drdlrmd [- a t -] gmail.com, Zacatitos, Baja California Sur

Los Traviesos De Marcelo Mendoza Norteño Music Group - La Garra Restaurant Sports Bar, 9:00pm to 3 AM. Cover $ 80 pesos. - Happy & Chuy Cota, lagarrarsb [- a t -] gmail.com, 612-145-0004, Todos Santos
Sunday, May 01
Indian Curry Night At Mario's Bar, The Hotelito - 2 sittings 6pm and 8pm. 200 pesos per person including desert, 1 beer or glass of wine. Reservations essential. - Jenny Armit, elhotelito [- a t -] mac.com, 612 145 0099, Todos Santos
Monday, May 02
Labor Day / Día del Trabajo - Commemorates the Mexican workers' union movements, specifically, the 1906 Cananea, Sonora, and the 1907 Río Blanco, Veracruz, labor unrest and repression. Normally celebrated on May 1, this year it will be moved from Sunday to Monday, May 02. Banks, government offices, some businesses will be closed. -

Qi Gong Workshop - Yandara Yoga School, 3-6pm. Qi Gong instructors Rhoda Jacobs and Daniela Hauptmann. Wear comfortable clothing. Yoga mats and cushion/zafus provided. $30 USD / $350 pesos, includes light meal following program. Directions call Shane, 044-612-161-4353. - Rhoda Jacobs, barakabaja [- a t -] gmail.com, 044 612 157 6088, Todos Santos
Wednesday, May 04
Jumping, Juicing And Cleansing Workshop - 11 a.m. - 1 p.m. (includes lunch), Serendipity B&B in Todos Santos, $200 pesos or $20 usd for workshop and lunch. Limited space. Contact Corine Arnaud, 624-161-0294, corine [- a t -] jump4life.com.mx
Thursday, May 05
Cinco de Mayo - Celebrates the victory of the Mexican Army against French forces on May 5, 1862. Not a national holiday in Mexico, but is an official holiday in the State of Puebla where the battle took place. - Source: Wikipedia, en.wikipedia.org/wiki/Cinco_de_Mayo -

Gardel De Bergerac: Cada Día Canta Mejor - Musical comedy, based on the life of the famous argentinian singer Carlos Gardel. 8:30 p.m., Corazón Café (Revolución esq. Constitución) downtown La Paz. $130 pesos pp (one drink and show); $190 pesos pp (one drink, small "botana" and show); $295 pesos pp (full dinner, drink and show). Info/ reservations: (612) 128 8985, Facebook "Restaurante Corazón" - Alfonso Figueroa, info [- a t -] elcolectivochunique.com, www.elcolectivochunique.com, (612) 159 3653, La Paz
Friday, May 06 thru Sunday, May 08
Probaja Desert Series 2011 - XVIII Dos Mares 500, La Paz, Nacional (Registrada ante la FMADAC por Club La Paz) www.probajaonline.com
Saturday, May 07
Scavenger Hunt/Car Rally to Benefit Baja Dogs - La Paz, 11am to 6 p.m.. Registration $1000 pesos for team of 4. Business Sponsorships available. Contact Ben Lopez - lopezbenjamin1 [- a t -] hotmail.com

Mother's Day Concert - Tracy Durland, Vocalist, Cafelix, Todos Santos, 7:30 p.m. - Tracy Durland, mazytronk [- a t -] hotmail.com, 612 154 4729
---

---
Submit your Community Events and Workshops here: http://www.bajawesternonion.com/submitad.asp
Return to Top
---
---
Stepping Out - Food, Music and Entertainment
---
Hotel California - Music
Saturday April 30th Agua Luz
Margaritas, Beers, and Dancing! [- a t -] 8pm. No Cover.

Santo Vino Eclectic Bistro & Wine Bar
Hours 5:30 to 10:30 PM Daily Closed on Sunday
Selected Specials for the week include:

Avocado stuffed with crab and shrimp in a chipotle, Hotel California Tequila cream sauce.
Red snapper fillet with black olives, roasted garlic and anchovy "tapenade".
Mangos stewed in Baja Merlot, white chocolate-orange sauce.
Click Here to view our Online Store
Get the latest info by joining our facebook fan page. Follow us on facebook - info [- a t -] hotelcaliforniabaja.com, www.hotelcaliforniabaja.com, 612 145.0525, Todos Santos

Live Rumba-pop at Guaycura Hotel Sky Deck - Guaycura is pleased to invite again to the great event with live music with the famous band "Los Pulpos en su tinta" playing rumba-pop music. Great music, unique view and delicious appetizers. Saturday April 30th at 6:30 pm to close. - at Sky Deck Guaycura Hotel, reservation [- a t -] guaycura.com.mx, www.guaycura.com.mx, + 52 (612) 1750800, Todos Santos

Tracy Durland Sings At Cafelix For Mother's Day On Saturday May 7 at 7:30 p.m. - An eclectic mix of songs in Spanish and English (with a surprise third one as well!) featuring Jazz Standards and Romantic Classics of Mexico. Mark your calendars for an unusual evening of music dedicated to all mothers and joining our community in sharing songs of love and passion from both our countries.

Tracy Durland Canta El 7 De Mayo at Cafelix, 7:30 de la noche Para El Dia De Las Madres, una mescla de canciones en Espanol y Ingles (con una sorpresa de un tercer idioma tambien!) incluyendo canciones tipicas de Jazz y Classicas Romanticas de Mexico. Marca tu calendario para una noche especial de musica, dedicada a todas las madres (el Sabado antes de Dia de Las Madres) y uniendo nuestros communidades para experimentar las canciones de amor y de passion de ambos paises. - Tracy Durland, mazytronk [- a t -] hotmail.com, 612 154 4729, Todos Santos

50 Pesos Full Breakfast All American + Mexican + Drinks - Zen Garden cafe is evolving! We now serve exotic Thai, modern Japanese, organic Chinese, fresh Vietnamese and Korean BBQ.

Full Breakfast, only 50 Pesos (all american and mexican) + drinks! Bacon, ham, sausage $10 pesos extra. Wide variety to choose from: eggs any style, omelettes, pancakes, french toast, chilaquiles, quesadillas, fresh fruit, etc. Organic mix of juices for only $30 pesos.

Sunday Brunch: 9 AM to 1 p.m.
Lunch and dinner 12 p.m. to 9 p.m., Closed: Tuesdays

Please come to discover our delicious dishes and best deal in town! - Zen Garden Cafe, yanggum [- a t -] zengardencafe.com, www.zengardencafe.com, 612-145-1088
---
Submit your Stepping Out - Food, Music and Entertainment announcements here: http://www.bajawesternonion.com/submitad.asp
Return to Top
---
---
Misc. Sales and Services Available/Wanted
---
San Jose Storage - San Jose Storage is conveniently located next to the San Jose del Cabo International airport. We offer daily and monthly parking with outside, covered, or garages available with airport transportation and car wash / vehicle maintenance while you are gone. San Jose Storage also offers mini storage units from 5x5 to 10x40.

Looking for a reliable moving service company in Los Cabos? San Jose Storage offers moving services throughout the peninsula with our brand new 18ft moving truck complete with loading ramps, dolly's, tie straps, quilted moving blankets, plastic wrap, and cardboard boxes. Our trained movers have all the necessary training and expertise to ensure you goods arrive safely to their destination.

San Jose Storage is open 7 days a week, 365 days a year with bilingual managers to assist you. We have 24/7 security, guard dogs, video cameras with digital back-up, security lighting at night, and electronic access to the yard. Call us today and reserve your space! - info [- a t -] sjstorage.com, www.sjstorage.com, 624-146-1390, Baja California Sur
Casa Decor, La Paz, Indoor And Outdoor Furniture - Interior design service. We custom make furniture:

* Largest Inventory In The Baja * Patio Furniture * Wicker, Rattan And Marble
* Rustic Hand Painted Furniture * Lighting * Metal Furniture * Copper Furniture
* Kitchen Cabinets * Doors * Floor and Wall Covering * Art * Accessories
* Fountains And Urns * Mexican Furniture * Imports From Around The World
* Very Unique Selection Of Furniture And Accessories * Furniture Packages


Fine furniture made to order. Wholesale to the trade. The Best selection in the Baja at Casa Decor. Two Locations: Casa Decor La Paz, 560 Marquez de Leon, Tel: 612 1293364. Casa Decor Cabo San Lucas: on 4 lane KM 3.5 next to Artisanos and Natural Marble and Stone, Tel: 624 1788146. - richards77 [- a t -] pcisys.net, http://www.antiquerowmarket.com, Baja California Sur

American Insurance In Mexico - Accidents and Emergencies Happen Every Day. Your medical insurance doesn´t cover you in Baja. Yes, your provider may be willing to reimburse you for your costs after months and piles of paperwork but you will pay the bill upfront. Did you know Medicare does not cover you outside of the US? No re-imbursement, period! Can You Really Afford To Take The Risk?

For as little as $75.00 a month you can use an insurance card instead of your credit card. Our Patriot program has you covered while traveling here in Southern Baja. Policies available for a month, 4 months or up to 2 years. Coverage within 24 hours of application. Only pay for the time you are here.

Don't Take The Risk. Emergencies Do Happen Every Day. Protect Your Vacation Dollars. To find a rep, get an immediate quote or immediate coverage, visit us at www.americaninsuranceinmexico.com or call us at 624-122-2806 - jbarrilesj [- a t -] yahoo.com, www.americaninsuranceinmexico.com, 624-122-2806, Baja California Sur

Need A Ride To Or From The Airport? Or Someone to Assist You With Errands? - I am a young, bilingual Christian man and I can provide you with rides to or from the La Paz or San Jose Del Cabo airports. I can also help you with errands, or navigating the intricacies of dealing with Mexican businesses and the government; Car Registrations, TelCel and TelMex, CFE, Seguro Social, etc.

Reasonable Rates - Contact: Ernesto, Cel. 612-117-7497, ernie_net [- a t -] hotmail.com

Toyota Camry 1997 - Vendo Toyota Camry XLE modelo 97, importado con placas fronterizas aire acondicionado, stereo CD, 135, 000 miles, transmision automatica, motor V6, interiores muy reconfortables y exterior en buen estado. buena suspension. $3300 USD or 40, 000 pesos. - Josue Castillo, jocama85 [- a t -] hotmail.com, 6121483786, Todos Santos
Selling a 1997 Toyota Camry XL, Imported, with border plates, air conditioning, , stereo CD, 135, 000 miles, automatic transmission, V6 engine, very comfortable interior and exterior in good condition. Good suspension. $3300 USD or 40, 000 pesos - - Josue Castillo, jocama85 [- a t -] hotmail.com, 6121483786, Todos Santos
Mother's Day Gift - Chica's Salon has gift certificates. Treat a special Mom to a pedicure, manicure or both. Call or email to purchase. - Kathie Cullinane, chicassalon [- a t -] gmail.com, 612-142-3160, San Jose Del Cabo
Studio Easel On Wheels - Avanti II steel double post easel with side tray. White. Wheels with brakes. Canvas to 72" high. Adjustable painting angle. Some rust. $50.00 US or equivalent in pesos. Located in El Pescadero. - Gitte, gittelz [- a t -] yahoo.com, 612 1188 057, Pescadero
Making Ice - For sale by change of city. Equipment for making ice cubes. 3 tons per day capacity, 4 machines Monitowac 1800, 12 cooler 4 horizontal tank with 5000 liters, water filters purifiers, all installed in la Paz. Includes 2001 delivery vehicle. Incredible price. Information Call 612-3483048. Excellent opportuniy.

Se vende por cambio de ciudad equipo para fabricar hielo en cubos, capacidad de 3 toneladas diarias, 4 maquinas monitowac 1800, 12 enfriadores horizontales, 4 depositos de agua para 5000 litros, filtros purificadores, Todo instalado en la ciudad de La Paz.Incluye vehiculo de reparto 2001. Precio Increible. INFORMACION LLAME AL 612-3483048. Excelente oportunidad - Luis, sfjohnter [- a t -] gmail.com, 6123483048, La Paz
La Paz Mini Storage / Airport Parking Sale - Here it is La Paz Mini Storage / Airport Parking Sale La Paz and area largest mini storage yard. Very close to airport. Over 5 acres and over 1.5 acres under roof.

May Madness Sale For first time customers we are offering 50% off for Park 'n Fly Services... including free airport shuttle.....and also buy one month receive one month FREE on a Mini Storage (bodega) rental. www.lapazstorage.com thanks karl herbold - karl herbold, moderator [- a t -] bajawesternonion.com, www.lapazstorage.com, La Paz

Nissan Truck For Sale - 1985, Nissan King Cab, flat-tilt bed, 5 speed manual transmission with 152,000 original miles. The brakes, motor, tires are all in great shape U.S.$2100.00 Call Bob or Bonnie. - Bob Shellman, 612 148 2908, Pescadero
4GB Compact Flash & 58mm Uv Filter - Scan Disc Ultra 4GB CompactFlash card 30/mb sec $120 pesos. Hoya HMC multicoated 58mm UV filter (haze absorption and lens protection) fits most DSLR zoom lenses $120 pesos or trade either or both for scan disc high speed SD 2GB or 4GB card. Both new in box, never mounted, purchased from B & H Photo - Patricia Baum, teampaty1 [- a t -] hotmail.com, 612 145-0882
Rv Tailer For Sale - Equipment is complete and well maintained. Perfect for full time living (1-2 people). Just relocate trailer to your property. Approx 28ft. US$ 5600 (price is not negotiable)! Please only serious and solvent potential buyers. - b.boschung [- a t -] yahoo.com, La Paz
Your Ad Here - As always, you can place a Free text-based ad in the Baja Western Onion once every 14 days. Submit your Free Ad or Article Here: www.bajawesternonion.com/submitad.asp.
Put your ad in front of over 3, 000 Baja Western Onion subscribers in three consecutive issues. Get more coverage for your next Yard Sale, Vehicle, Misc. Wanted or For Sale ad. For only $10 dlls US ($120 pesos), we'll extend your free private-party text-based ad for two additional issues for a total of three consecutive issues, allowing your ad to run for 14 Days. Also, we'll feature your ad in all three issues within a red highlighted box like the one shown here.
This special offer applies only to text-based ads submitted by non-commercial, private parties, and is subject to our editorial policy. All Spring Special ads must be prepaid in advance of initial run date. Sorry, this offer not available for display banner graphics ads, or ads for businesses, real estate or rentals available. For details contact: - advertising [- a t -] BajaWesternOnion.com, www.bajawesternonion.com/advertising.asp,
---
Submit your Misc. Sales and Services Available/Wanted articles here: http://www.bajawesternonion.com/submitad.asp
Return to Top
---

---
Real Estate, Rentals, and House Sitting - Available/Wanted
---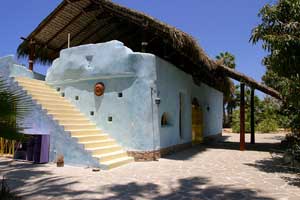 Todos Santos Beach House On A Tranquille Lush 5, 206.22 Sqmt Property - For Sale By Owner: - Two (2) separate driveway entries give the 5, 206.22 sq meter (1.25 acre) property privacy from both the front and back, giving flexibility to build additional homes or to split in the future. Soil on the property is rich organic black soil, ideal for other organic gardening.

* Property is an enclosed oasis and has unlimited access to farm water that nourishes the over 85 mature mango trees, 80 lush palm trees over 5 feet, passion fruit trees, citrus fruit trees and avocado trees, all of which give the property its cool shade that is coveted in the region and frequently not available on other properties of comparable or more value in the desert landscape.
* Property has power, water (both municipal and farm water), gas and Internet.
* A 6-minute walk takes you to the secluded beach, and a 5-minute drive finds you in the heart of TS.

If you have questions or would like to make an offer after viewing the property on YouTube (www.youtube.com/watch?v=krg9FEeiRtk), feel free to contact us. Save on the fee and make us a good offer. - Anh Walch, anhwalch [- a t -] yahoo.com, 212-692-0912, Todos Santos
House Sitting - I am a resident of cerritos and am considering house sitting. I can vacate in 24 hrs for visits and move back in as needed because I am comfortable in my 35 ft r.v property and site but would enjoy a nice house with all utilities and views or beach!!! I am 61 years and single while my wife retrains in usa as a nurse. let's meet. - reggiecollins [- a t -] att.net, Pescadero
Property For Sale - Get out of the traffic, new highway from Cabo to to Todos/La Paz will make trip a breeze; Ocean, river and sierra views, buy my property in up and coming Elias Calles: new cel tower on hilltop, new families and artists moving to the area, business or residential, 1,500 meters squared, +2 small buildings, +water meter and contract with city, +fenced, dirt road access. bathroom with black-water purification system, kitchen palapa over 10,000 gallon water pila, unique. Needs TLC, reduced price [- a t -] us$65k. Title, tax number. - Silvia. P., gmanflash [- a t -] yahoo.com, 6241377004, Elias Calles
---
Submit your Real Estate/Rentals/House Sitting/Property Management Services articles here: http://www.bajawesternonion.com/submitad.asp
Return to Top
---
Rides or Caravans Available/Wanted
NOTE: Ads will run for two weeks unless dated. Please list the date in the title, and specify which airport. Goes without saying, everyone shares expenses for beer, gas, food, etc., and let us know if you find a ride or caravan so we can remove your ad -
---
ATV Transport - need quad transported from norcal to todos santos. standard 400cc quad. contact lou - lparrague [- a t -] capturet.com, 510-551-9666
Ride To La, Sf, Portland Or Seattle - My boogie board still needs a ride north to LA, SF, Portland or Seattle. Anyone got room to carry for me? Thanks! - Sal, wildponyplaying [- a t -] hotmail.com
May 1 - North to California Caravan Or Passenger Needed - Leaving for California on May 1 and would like to find someone who would like to caravan together and/or a passenger who is traveling without very much luggage. Thanks! - Jeanne Rogers, jeannerogers [- a t -] ymail.com, 612-171-3148
May 3 or 4th - Caravan / Ride With Me - I am leaving the Baha on May 3 or 4th. I would like to follow someone north or find someone to ride with me. (preferable female) I am going as far as Vegas. Contact me [- a t -] 624-154-1137 - Lori Ahlbrandt, ahlbrandtlori [- a t -] yahoo.com, 624-154-1137
May 10 / 11th - Arizona/California Via Baja Ferry - Traveling via the Baja Ferries from La Paz mid May 10/11th 2011 and looking for someone to caravan with through Nogales and points north California, Arizona. I speak fluent Spanish and would be happy to help translate if needed. Since the ferry arrives to Topolobampo late at night, there is the Hotel Marina and Restaurant for an over night and leave the next day for the border. About 120 miles south of the Nogales border crossing there is a junction that takes you to Mexico 3 and crosses the border at Mexacali and Tecate for people traveling to California and points northwest.

I travel with 2 nice dogs and stay at pet friendly motels/hotels. I do believe its pretty safe crossing any of the borders, it just always seems better safety in numbers. Please feel to e-mail or call me, treaturfeet [- a t -] yahoo.com, 624-141-0332 and let me know if this works with your plans to caravan back to Arizona or California via the Baja Ferries. - Sylvia, treaturfeet [- a t -] yahoo.com, 624-141-0332, Los Barriles
---
Submit your Rides or Caravans Needed/Available articles here: http://www.bajawesternonion.com/submitad.asp
Return to Top
---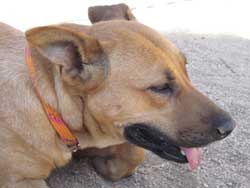 Pet Corner (Lost and Found pet articles will run for two weeks)
Let us know if you find or place your pet so we can remove your ad -
---
Cynthia Needs A Loving Home - Cynthia showed up in our neighborhood in Las Tunas ready to have pups. She had them, homes were found for them, we spayed her, and now it's time for her to find her special home. She is medium size, light brown, and has lovely caring eyes. Please call me or Zephr at 612-178-0155. - Christina Douglas, cdoug1946 [- a t -] yahoo.com, 612-103-7021, Todos Santos
Baja Dogs In Need Of Transporters - Are you flying Cabo to Calgary before April 30th via Westjet? Would you be willing to take 3 dogs who would be travelling in Cargo. Baja Dogs will do everything they can to make this as easy as possible for you. They will have someone with you at check in and take care of all the paper work. The adopters of these dogs would be willing to pay a small amount towards your airfare. Please contact dhorearyon [- a t -] hotmail.com as soon as possible if you can help! - Dhorea Ryon, www.bajadogslapaz.org, 612-140-2575
Gold Fox - A small dog, looks like a yellow fox, a mix of some sort, has showed up, has slight limp, hungry, bright eyes. Do you own him? - Mary, 612 142 1140
Golden Retriever Found - Found a skinny Golden Retriever female, obviously has had some litters, running door to door in downtown CSL. Wearing a blue/green collar. - Dooglas Pi, dooglaspi [- a t -] prodigy.net.mx, 624-147-5516, Cabo San Lucas
---
Submit your Pet Corner articles here: http://www.bajawesternonion.com/submitad.asp (and remember to Spay and Neuter your pets)
Return to Top
---
Quote of the Day: " You will never understand bureaucracies until you understand that for bureaucrats procedure is everything and outcomes are nothing. " ~ Thomas Sowell (American Writer and Economist, b.1930)
---
Looking for the complete Community Events Calendar? Click Below:

---
---
Help Support The Baja Western Onion!

We can accept donations by Credit Card, PayPal, cash, check or direct deposit.

For more information, please visit our web site at http://www.BajaWesternOnion.com/donate.asp.
Copyright © 2006 - 2011. The Baja Western Onion. All Rights Reserved.
Return to Top
---