News and Events, Questions and Answers
---
Study On American Retiree Giving And Volunteerism In Mexico - The International Community Foundation released its report "Civic Engagement, Volunteerism and Charitable Giving: Americans Retiring in Mexico's Coastal Communities" to highlight the American commitment to volunteerism, civic engagement and charitable giving among U.S. retirees in Mexico. - Richard Kiy, rkiy [-at-] icfdn.org, www.icfdn.org/publications/civic/index.php , 1-619-336-2256
---
Wednesday's Garbage Clean-up - The clean up was a great success. Many thank to all who participated their time and efforts. Have since spoken with the Delegado and have come to an agreement to have a regular scheduled monthly clean up on the last Wednesday of each month. I will post the next location and meeting spot. I hope to see you all next time and maybe there will be many others. - Emanuela, emagard [-at-] mac.com, 612-161-2907
---
Baja Foreign Business Group (BFBG) - The Baja Foreign Business Group (BFBG) is going into a social-only mode for the summer, until the 2nd Tuesday of November. We will meet the second Tuesday of the month, no host, at the Tailhunter Cantina on the Malecon at 7-ish, music at 8 by Bluz Explosion jazz group. A great way to meet others in business here in Baja and informally network. All welcome! Questions? Contact: Juli Goff, Se Habla La Paz, Spanish Language School, Fco. I. Madero #540 (between Republica & Guerrero) La Paz, BCS, MX 23020 011-52-612-122-7763 www.sehablalapaz.com SKYPE julidelapaz - , Baja California Sur
---
New Blog: Baja In Depth - Thoughtful articles with a "how-to" twist written by a 30-year veteran journalist. Focus on travel, culture, arts, entertainment, building, gardening, travel, sports, work and social life, the environment, religion, politics. Check it out. - Mike Brozda, mike.brozda [-at-] yahoo.com, mikebrozda.wordpress.com, 612-134-7359
---
Back To Paradise - Hello Everyone! Some of you already know that I'm thrilled to be back in TS. Maybe you've heard I'm working at Bancomer, where I can gladly help you with your financial issues. For those of you, whom I still have not yet met, I will be more than happy to assist you in any service you require.
Besides introducing myself as your private banker, I want to inform you, of a new law in Mexico, that just started last Monday June 21st, in addition to the prior one, where there is a 3% tax, when you exceed $15,000 pesos or the equivalent in USD monthly cash deposits into your accounts. Now according to this new law, you won't be able to deposit more than 4,000 USD into your MXP or USD account per month. These two laws are meant to avoid money laundering, and ONLY apply for CASH deposits, not for any electronic transaction or checks. So I would recommend everybody to bring their money either in foreign checks and/or wire transfers (even if the wire transfers have a fee). I will try to keep you posted in all these issues as they appear. Please feel free to call me or write me an e-mail to clear all your doubts.
Best regards, Vivianne Jáuregui Mariño, Private Banker, Preferred Customers' Unit, Blvd. Benito Juárez esq. Zaragoza s/n, Colonia Centro, Todos Santos, B.C.S., Tel: (612)145-0785 Direct Line. - Vivianne Jauregui, vivianne.jauregui [-at-] bbva.bancomer.com , 145-0785, Todos Santos
---
Zumba Exercise And Dance Classes For Boys & Girls - Now Zumba Boys & Girls ! We are thrilled to let everyone know, children and teenagers can have fun in a class especially for them . We hope you can join us at Mutualista from 6:30 pm to 7:30 Monday through Thursday.
Ahora Zumba Boy & Girls ! Nos emociona decirles que ahora todos los niños y niñas, asi como adolescentes tienen una clase especialmente para ellos. Esperamos se unan a nosotros en la Mutualista de Lunes a Jueves, de 6:30 a 7:30 pm. - Dra. Oliva, 1450201, Todos Santos
---
Surf Swap Meet This Weekend - Saturday,July 10 and Sunday, July 11 from 9am - 12 noon at La Sirena Eco Adventures. All proceeds go directly to ProPlayas efforts to get certified lifeguards on our local beaches. Items already donated include: boogieboards, wetsuits, fins, masks, surf attire, blankets, camping supplies and more! Clean out your bodegas, donate your items, or donate baked goods to sell. Donated items accepted through Saturday at La Sirena. Hope to see you this weekend! - Francesca , lasirena.ts [-at-] gmail.com, www.usptodossantos.webs.com, 145-0353
---
Seed Saving Workshop - At Buena Fortuna Gardens, in La Ribera Saturday July 10th from 10:30 am to 12:30 By: Gabriel Howearth (Cofounder of Seeds of Change) & Kitzia Danel Workshop & refreshments: $ 10 USD/ $120 pesos per person Organic Brunch $10 USD/ $120 pesos per personPlease make your reservations - Kitzia Danel, luz.holistica [-at-] gmail.com, 624 1683225, La Ribera
---
To All Las Tunas Residents - We are re-activating the Las Tunas Homeowners Association. So many new neighbors have moved into the area since we originally banded together to bring in electricity all those years ago so if you are a Las Tunas resident and wish to have a voice on issues that concern our area, please let us know who you are so we can compile the updated list of our members. There will be an upcoming election of new officers and board of directors, so if you or anyone you want to suggest might be interested in any of those posts, please let us know. It is not critical if you are in town or not. We just want to know who you are. We will be handling all announcements, voting, and future meeting invitations through an internet service.

The Las Tunas Homeowners Association is a legal entity, and it is important for us to fulfill our role as a voting body in order to have an official voice on issues that concern us. It is an opportunity for you to have a voice and a vote. It is the most effective way for us to get "heard" by the various powers that be, whether on a municipal, state or federal level. We look forward to hearing from you.. Thanks, Brenda Casillas, past President. If you have any questions, or to email your contact info, please send all inquiries to wendyrains [-at-] earthlink.net.
---
Another Nasty Email Virus Trick - Beware of Emails designed to infect your computer by pretending to be a bounced Email report. They will look like this:
Subject: Delivery Status Notification (Failure)
From: postmaster [-at-] somedomain.com [this is a random Email address]
Attachment: Delivery Status Notification (Failure).html
The attached file, "Delivery Status Notification (Failure).html," contains an encoded program that opens your browser and sends you to a web site where a virus is downloaded. You may see a window similar to the one at right indicating that the Java application in your computer is starting up. This is result of the virus payload being downloaded to your computer.

Delete these Emails and DO NOT click on or open the attachments they carry. Your curiosity will get your computer infected if it hasn't already done so. Once infected, your computer can be hacked to steal you credit cards, banking info, and passwords, as well as commandeering your computer to launch spam attacks and infect other computers, all without your knowledge. - Alan, alan [-at-] bajasatellite.com
---

---
Featured Events This Week
---
Saturday, July 10
Surf Swap Meet This Weekend - from 9am - 12 noon at La Sirena Eco Adventures.

La Canada del Diablo's Farmers' Market 9 am- 1 pm.

Seed Saving Workshop - Buena Fortuna Gardens, La Ribera. 10:30 am to 12:30. Reservations - Kitzia Danel, luz.holistica [-at-] gmail.com, 624 1683225, La Ribera

Mario's Bar and Sushi At Hotelito - 6 pm until 11 pm wines, cocktails and sushi to order. Locals night 10% food discount. , elhotelito [-at-] mac.com, www.thehotelito.com, 612 145 0099

Michael's At The Gallery - Restaurant open at 6:30 pm. Michael Cope, mplcope [-at-] yahoo.com, 145-0500, Todos Santos
Sunday, July 11
Surf Swap Meet This Weekend - from 9am - 12 noon at La Sirena Eco Adventures.
---
Don't Forget, our complete Community Calendar including Recurring Events, Meetings and Workshops is always located near the bottom of each issue of the Baja Western Onion
---
Submit your News, Events and Announcements articles for next week's Baja Western Onion: http://www.bajawesternonion.com/submitad.asp
---
---
---
Rides or Caravans Needed/Available - New This Week
---
July 14 - Ride needed for two TS to SJD - flight leaves at 5 pm. - Don Campbell, dcampbell608 [-at-] gmail.com
---
July 23 - Need Ride To SJD - If anyone is taking a 7:30 AM flight and has room for one person please email me. Will pay for gas. - Scotty Mclemore, scottybcs [-at-] hotmail.com
---
July 28 - Driving Toyota Tundra San Diego area to Todos Santos. - Driving pickup with camper shell from Leaving S.D. on July 28, arriving T.S. on July 30. Lots of room to bring things down in exchange for help with the gas. Lots of local references. Returning to S.D. on Aug. 10, if you need anything sent north. Judy Brown, judysings4u [-at-] yahoo.com, 612-178-0092
---
Airport Ride Calendar
Let us know if you find a ride so we can remove your ad -
---
July 13 - Ride Needed SJD to Palmilla Area - July 13, land at 2:30. one person, 1 bag, need ride to toyota dealer on hwy 1 just past Palmilla. - John Mcintosh, john [-at-] themcintoshs.com, 707-287-3210

July 14 - Ride needed for two TS to SJD - flight leaves at 5 pm. - Don Campbell, dcampbell608 [-at-] gmail.com

July 23 - Ride Needed To SJD - If anyone is taking a 7:30 AM flight and has room for one person please email me. Will pay for gas. - Scotty Mclemore, scottybcs [-at-] hotmail.com
---
Caravans/Ride shares North and South Calendar
Let us know if you find a caravan so we can remove your ad -
---
July 17 - Ride To Northern California Available. - jasi57 [-at-] juno.com

July 18 - San Diego-Todos Santos - Must pick up car nr Mulege, can you drive SUV to TS ? I pay SUV gas- Gillian Herbert, gillyndolly [-at-] hotmail.com,

July 28 - Driving from San Diego area to Todos Santos. - Leaving S.D. on July 28, arriving T.S. on July 30. Returning to S.D. on Aug. 10 -bring things down in exchange for help with the gas. Judy Brown, judysings4u [-at-] yahoo.com, 612-178-0092
---
Submit your Rides Needed/Available articles here: http://www.bajawesternonion.com/submitad.asp
---
---
Stepping Out - Restaurants and Entertainment
---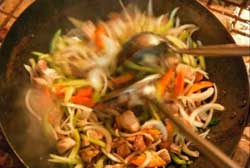 Zen Garden Cafe - Come try our summer menu! New combinations, Special price!

Open 2-9, Closed Tuesday

Space available for your special event or workshop

612 145 1088 - yanggum [-at-] zengardencafe.org, www.zengardencafe.org
---
Submit your Stepping Out News articles here: http://www.bajawesternonion.com/submitad.asp
---
---
Misc. Sales and Services Available/Wanted
---
Painting Class. One On One - Creating beautiful color is easy. If you have been frustrated, wondering how to achieve color harmony in your paintings, let me help. I have room for a few more private students this summer. Let's paint! - Marsha Dahlquist, maraquist [-at-] hotmail.com, 612 108 0390, Todos Santos
---
Excellent Work Van For Sale - 1994 Ford Econoline 250, new transmission, Oregon plates. $2,000 U.S. - Janet Howey, janethowey [-at-] yahoo.com
---
Dell Power Cord - The power cord for my Dell laptop has pooped out and I am looking for an A03 cord with a round connector to replace it. - , nancyserfas [-at-] aol.com
---
Undermount Sink For Sale - I have a new Sterling by Kohler 36" undermount stainless steel double sink for sale. Retails for $225. Asking $75.00 - , nancyserfas [-at-] aol.com
---
---
Fantastic Baja Car, Cheap - I have a 1983 Toyota, 2 door, corolla 5 speed, with only 180,000 miles. has been maintained and has no leaks anywhere. 38 mph, very strong motor, trans great, tires new, breaks almost new, lights work. could even be made into a surfers car by removing the back window, and cheaper than a ATV! its ugly outside, but for 800usd who cares!! in 2 years neva a problem! - Mike Johnson, zzooo9 [-at-] yahoo.com, cell 612-152-3564
---
Photoshop - Help! Does anyone have a fairly recent photoshop program for windows xp that I can borrow? My computer hard drive crashed and I lost the program. I'm willing to pay for the use. thanks - Marsha Dahlquist, maraquist [-at-] hotmail.com, 612 108 0390
---
---
Honda X Monster Cr 250 - On Sale Honda Cr 250 2004 lots of accesories, excel wheels, maxxis tires, perfect condition price: 2200 USD - Adrien, apallottinimc [-at-] hotmail.com, 612 1493902, Baja California Sur
---
Susuki 98 - Susuki Sidekick 98, 4x4, good conditions, 113,000 miles, overhaul every 3 months, $3200, in Todos Santos, with Walter or Liliana, wataille [-at-] netcourrier.com, 6121348364 - , Baja California Sur
---
Se Habla la Paz Summer Language School Schedule - 50% Discount for small groups! 3 person min. per class 20 hours/week/Mon-Fri, 8:30-1 Homestay families available for accommodations
July 12th Advanced Beginners
July 19th Intermediate
July 26th Advanced
August 2nd Conversation & Fluency
August 7th Advanced Beginners
August 14th Intermediate
August 21st Advanced
August 28th Conversation & Fluency
Call us at 122-7763 for a reservation or information Juli Goff, Director, Se Habla La Paz, SC Fco. I. Madero #540 (between Republica & Guerrero) La Paz, BCS, MX 23020 011-52-612-122-7763 SKYPE julidelapaz - www.sehablalapaz.com
---

---
For Sale In Pescadero - Selling TWO Intex 15 foot circular metal frame above ground swimming pools, both in good conditions, comes with pumps, hoses, chemicals, etc. $125 each or $200 both. Also selling 14.1 cubic feet Whirlpool Custom Series fridge, 28 inches wide x 26 x 63 high, in okay condition $150. Sell all THREE items for $325, or well swap for? - Bill, info [-at-] bajabell.com, 045-612-132-4710, Pescadero
---
Submit your Misc. Sales and Services Available/Wanted articles here: http://www.bajawesternonion.com/submitad.asp
---

---
Real Estate/Rentals/House Sitting
---
For Rent One Bedroom Casita - located on las tunas area, with parking and air conditioner,Long term Nov-april $1,000 usd May-Jun $800usd July-Oct $600 usd Short term Nov-april $100 usd night May-Jun $75 usd July-Oct $50 usd. - Brenda Casillas, brendacasillas [-at-] hotmail.com, 6121416297
---
One Year Lease - One bedroom casita with parking & AC, Las tunas area $600 usd per month plus utilities - Brenda Casillas, brendacasillas [-at-] hotmail.com, 6121416297
---
Submit your Real Estate/Rentals/House Sitting articles here: http://www.bajawesternonion.com/submitad.asp
---

---
Pet Corner (Lost and Found pet articles will run for two weeks)
Let us know if you find or place your pet so we can remove your ad -
---
Que Pasa? - I have gotten tired of my desert home even though I am only 10-12 weeks old. Not sure how I got out here anyway. I'm thinking my momma was Shepard or? but If I had to guess, I would grow up to be a of female of medium height and weight. I am very healthy, love to play with people and other dogs and spent the last couple of days learning how to be a watch dog from my foster family. I am fluent in Spanish, English, Italian and French and will do windows. Please consider me as your next loving family member as my foster family already has 3 other dogs, a cat and a bird. Did I tell you I love cats? Bye Bye, Adios, Arrivederci, Au revoir - , carrollemail [-at-] aol.com, 044-612-119-8047, Todos Santos
---
Brown Male W/ Black Cloth Collar - A very well socialized brown male dog approx 50 lbs with a black cloth collar is roaming around my neighborhood in Pescadero. He sure seems like a wonderful dog and someone's pet. Please give me a call ASAP. I am located at the south end of Pescadero, by the Los Cerritos hills. - Kelly Cline-sniechowski, kelbil2002 [-at-] yahoo.com, 612-157-6166 (cel), Pescadero
---
---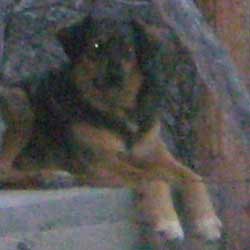 I Need A Home - For several months I have survived feeding off construction crew garbage during the week and water from irrigation system. I only travel between an unoccupied lot in the brush to a construction site once a day around 7PM. I'm shy & won't let you approach. I will be a challenge & it will take time to earn my trust. A good meal or two delivered to my hideout would go along ways to that end. I would be your best friend for life. - Paws, southbeachcom2010 [-at-] yahoo.com, 612 118 3423, Pescadero
---
Submit your Pet Corner articles here: http://www.bajawesternonion.com/submitad.asp (and remember to Spay and Neuter your pets)
---
---
Quote of the Day: " The scientific theory I like best is that the rings of Saturn are composed entirely of lost airline luggage. " - Mark Russell (1932 - )